The Retro: Bill Barber on Bobby Clarke, superstitions, and his only regret
Over the course of the 2017-18 season, theScore will run a series of interviews with former players in which they recall some of the greatest moments of their career. This edition focuses on Hall of Fame forward Bill Barber, who racked up 883 points over 903 games and won a pair of Stanley Cup titles in a 12-year playing career spent entirely with the Philadelphia Flyers.
On what he remembers from his first NHL game:
I had spent some time in the minors playing for the Richmond Robins, and I joined the team from Hershey. It was an exciting time. I thought I was just okay; I needed to get better, and wanted to make a mark so I could stay in the NHL. It was in Toronto, and I had an average game, but it was exciting.
On his first NHL goal:
We were in Buffalo. I believe Joey Watson had taken a shot from the point, and I ended up tipping it in. It was a game that I think got me over the hump, where I knew that I was a fit on the team and I knew I could play in the league and be a factor. It's a goal I won't forget; it gave me the confidence I needed to stay and play in the NHL and play for the Flyers.
On who hit him the hardest in his career:
The one thing about that era: When you got hit, you were going to get hit fair - unless you deserved to get more than that. Bobby Baun, he hit hard. You had to watch for him. Tim Horton ... Pat Quinn, they were all good hitters. You really had to be careful and be aware of where they were on the ice. They'd hit you hard enough to wind you, or get you a little dizzy.
I'll even go with Denis Potvin. He was a very thick guy. You had to watch him coming through the middle on you. He caught me in junior one time in Ottawa. I shouldn't have been looking down to grab the puck, but we were on the power play, and I paid the price.
On the influence head coach Fred Shero had on him:
Freddy was a very special man, a special coach. The one thing I'll say about Freddy, he gave me every opportunity to make the team and be a factor on the team. He gave me an opportunity to expand my role, other than just playing a regular shift. He played me on the power play, he had me killing penalties, and he showed a lot of confidence.
He had a quiet way of reaching you. He was like a father figure; he wasn't a yeller or a screamer. Little was said. When you didn't play up to your standards, you felt bad - like you let him down. The older players absolutely loved him and the younger players cherished him because they gave him an opportunity to play. He sure helped me have a great career.
On his 50-goal, 112-point career year in 1975-76:
We had a line of three different kinds of players on it - the LCB line. We scored a lot of goals. Reggie (Leach) was a sniper and a shooter, (Bobby) Clarke did a lot of forechecking and grunt work, and I was the in-between guy where I needed to play some offense and also play defensively, too, which I took pride in. I always wanted to be someone that played both ends of the ice.
We just seemed to complement one another. We knew where one another were on the ice at all times. We knew how to get open, and when to take a chance, and when not to take a chance. It was definitely a special year for us. In today's game, any line that could put our numbers up would be considered a very, very special line.
On the best talkers of his era:
We had a team where no one talked too much. (laughs) We had a bunch of guys that would get on your nerves a little bit. But we weren't teased too much or talked to on the ice, I can assure you of that. And when they did talk, I wasn't paying any attention to it. I was in a different zone when I was on the ice or on the bench, I was totally focused on helping the team win.
On his favorite officials:
I can name two guys that I thought were very special officials: Art Skov and Lloyd Gilmour. Those are the two guys I remember the most. If you had a penalty, you could comment and they would come right back at you, and then you would let it go. They would let you play the game.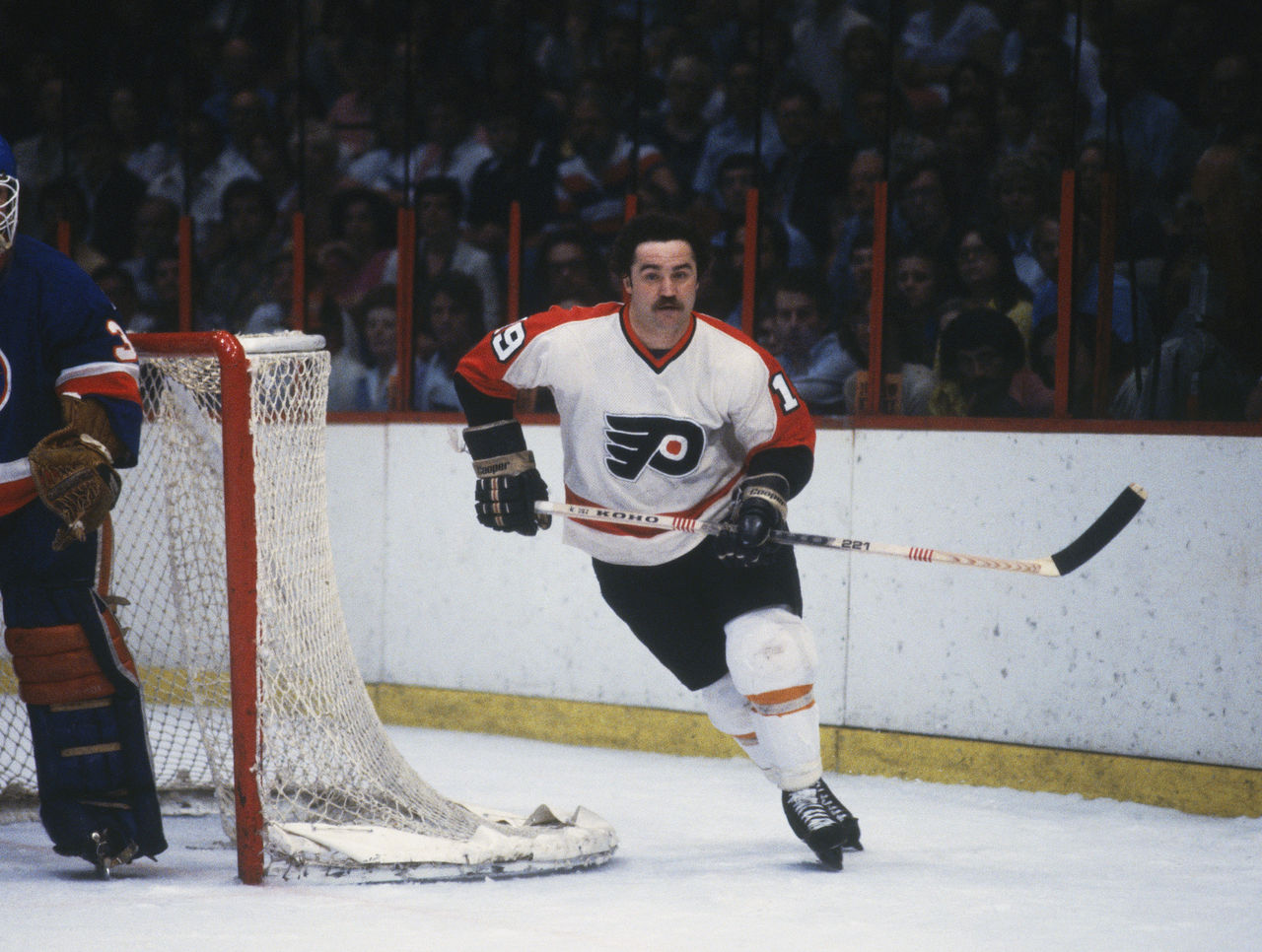 On the most underrated player from his career:
I'll mention a couple of guys from our hockey team that probably deserved more recognition. Rick MacLeish is one of them; he was a very talented centerman that would shoot the puck and skate with the best of them.
Ross Lonsberry took me under his wing a little bit and helped me play the game the proper way, both offensively and defensively. Orest Kindrachuk was a good little player that could skate on the top line on any given night. Those are the guys I know best. They were truly special players.
On what made Bobby Clarke great:
He was tenacious, so focused. And he was a team player, period. Anyone who played with him, he made the player better. He definitely made me better. He never gave up on anything; he was determined, a player you would love to have. He was a leader. All he played for was the team. He was a great teammate and player and is a great friend.
On his favorite story from the Flyers' back-to-back Stanley Cup titles:
Everyone had their superstition. If Terry Crisp came across hockey sticks that were crossed in the dressing room, they had to be uncrossed. Terry Harris, the second year we won the Cup, every time we won a game, he would talk about building his tractor. "There's another wheel on the tractor," he would say.
Everyone had a little something that they did. Putting their socks on a certain way. Hanging their jersey. All sorts of stuff that people on the outside would like to see if they were inside the dressing room.
On his superstition:
Everything had to be laid out in front of me so that when I got dressed, I wasn't fumbling around. My socks had to be a certain way on the floor. The marking of a certain sock had to be on my left, not my right. My gloves had to be put down a certain way.
A lot of times, I kept my gloves in a garbage bag. The old leather gloves used to stiffen up from sweat, and then they would harden, and the stick would turn in your hands. Mind you, it didn't smell too good (laughs). But they would stay softer that way.
On his favorite visiting arena:
Chicago and Boston, because the rinks were smaller. There wasn't a lot of room out there, and if you could shoot the puck a little bit, you always had a chance to score a goal there.
Chicago, I think, would be my choice because of the fans they had there and the way the old building was structured. It was a lot of fun playing in Chicago.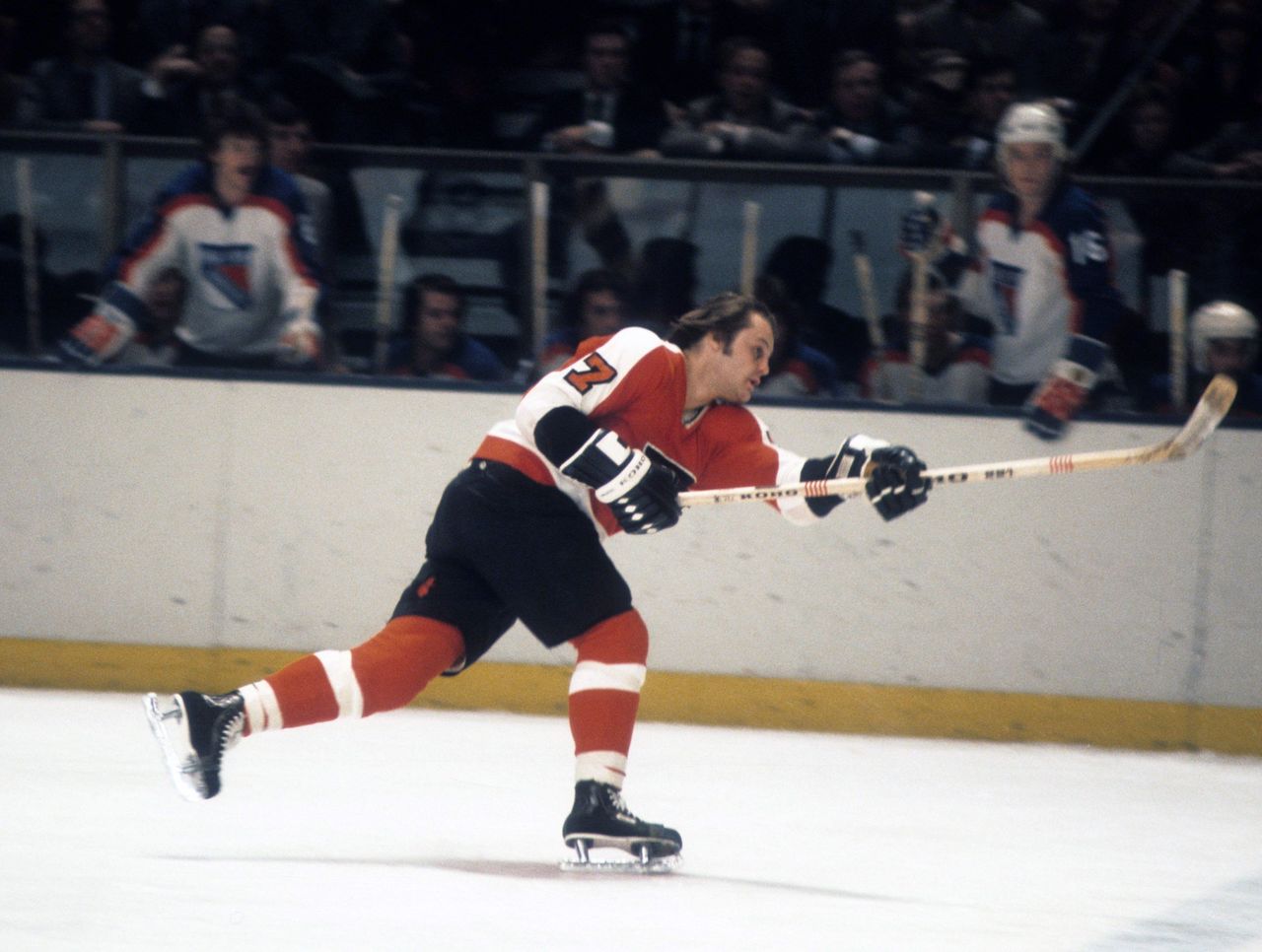 On what he remembers from his last NHL game:
I was hurt, and I didn't say too much to the doctors about my injury. The game before that, I could feel that something wasn't quite right.
I was having a so-so year. The last couple of years of my career, I was battling a really bad knee problem. I got the seasons in, but truthfully, I wasn't very pleased about them. So that last game, I was in warm-up and I came off the ice and said, "I can't play." I had broken a piece of bone off my femur in my knee joint, and I had to have reconstructive surgery.
I knew going in (to surgery) I wouldn't be playing again.
On whether he has any regrets after being forced to retire at 31:
The only thing that I wanted to do was to change positions to play longer.
I grew up a defenseman, and at a young age they moved me up because I was always up ice and didn't get back half the time. I would have loved to have the opportunity to go back and play defense for a couple of years. I did that for Pat Quinn when he was coaching; we had a defense problem, so I ended up playing about seven or eight games as a defenseman.
I loved it, because you're pretty much out there every second shift. And Quinn would say, "I don't want you to change - I want you up the ice with the puck. If you get the chance to go, I want you going." That's the only thing I wish I could have had a shot at; it would have been like being a young kid again, trying to make the team as a defenseman at an older age.
__________
Rapid Fire
The best player he ever played with: Bobby Clarke
The best player he ever played against: Bobby Orr
The best goalie he ever faced: Ken Dryden
The best coach he ever had: Fred Shero, Pat Quinn
__________
Fact File
Born: July 11, 1952, Callander, ON
Drafted: First round (7th overall), 1972, Philadelphia Flyers
Team: Philadelphia Flyers (1972-84)
Awards: First-Team All-Star (1975-76), Second-Team All-Star (1978-79, 1980-81), Stanley Cup (1973-74, 1974-75), Hockey Hall of Fame (1990)
| STATS | GP | G | A | P | PIM |
| --- | --- | --- | --- | --- | --- |
| Regular Season | 903 | 420 | 463 | 883 | 623 |
| Playoffs | 129 | 53 | 55 | 108 | 109 |
(Photos courtesy: Getty Images)
Other entries in this series:
Comments
✕
The Retro: Bill Barber on Bobby Clarke, superstitions, and his only regret
  Got something to say? Leave a comment below!