The Retro: Mike Rupp on firefighting, Scott Hartnell, and that Jagr salute
Warning: Story contains coarse language
Over the course of the 2017-18 season, theScore will run a series of interviews with former players in which they recall some of the greatest moments of their career. This edition focuses on former forward and current NHL Network analyst Mike Rupp, who played 610 NHL games with six teams and won a Stanley Cup with New Jersey in 2003.
On being drafted ninth overall by the New York Islanders in 2000 but ultimately not signing a contract:
We just couldn't come to an agreement on where things were as far as where I was drafted and the structure of the contract. It got to a point where we just kind of parted ways - and I knew I had to go back into the draft. And that was kind of scary; I didn't really want to do it, because chances are you're not going to be drafted anywhere near where you were the first time.
It ended up working out, because I got picked up by a team in New Jersey where those guys were really patient with their players that were going through the system in Albany at the time. I had to do some catching up in terms of adjusting to the game; I didn't take a normal route and wasn't playing at the highest level before I was drafted.
On nearly leaving the sport while in the minors:
I was in Albany, and I played two full seasons there and didn't get a sniff. I just started thinking about things; I had always dreamt about playing in the NHL ... but some of the guys I was drafted with and some of my peers had been called up. So I didn't know if this was going to work out.
It's funny; the Professional Hockey Players' Association had a program where you'd go somewhere in Canada and take a firefighter course. And I always wanted to be a firefighter as kind of a backup plan when I was a kid, so I got some information on that. I had one more year left on my entry-level contract, and I remember telling my wife and family, "I'm gonna play out this year, and if it looks like it isn't gonna change, we might open a new chapter here."
That summer was interesting because Bobby Holik had left to go to the Rangers, and there was a vacancy at the center position. I remember Lou Lamoriello flew me in. He was saying what an opportunity it was (for me) with Bobby leaving to come into camp and make it. I remember working my tail off that summer. And I come to training camp, and Pat Burns was there coaching, and I was in the first group of guys sent down (laughs).
I was so upset about it, and thought that I would just play out that year. But I ended up getting called up on my birthday, Jan. 13. That was my first NHL game, playing against the Florida Panthers. It was crazy.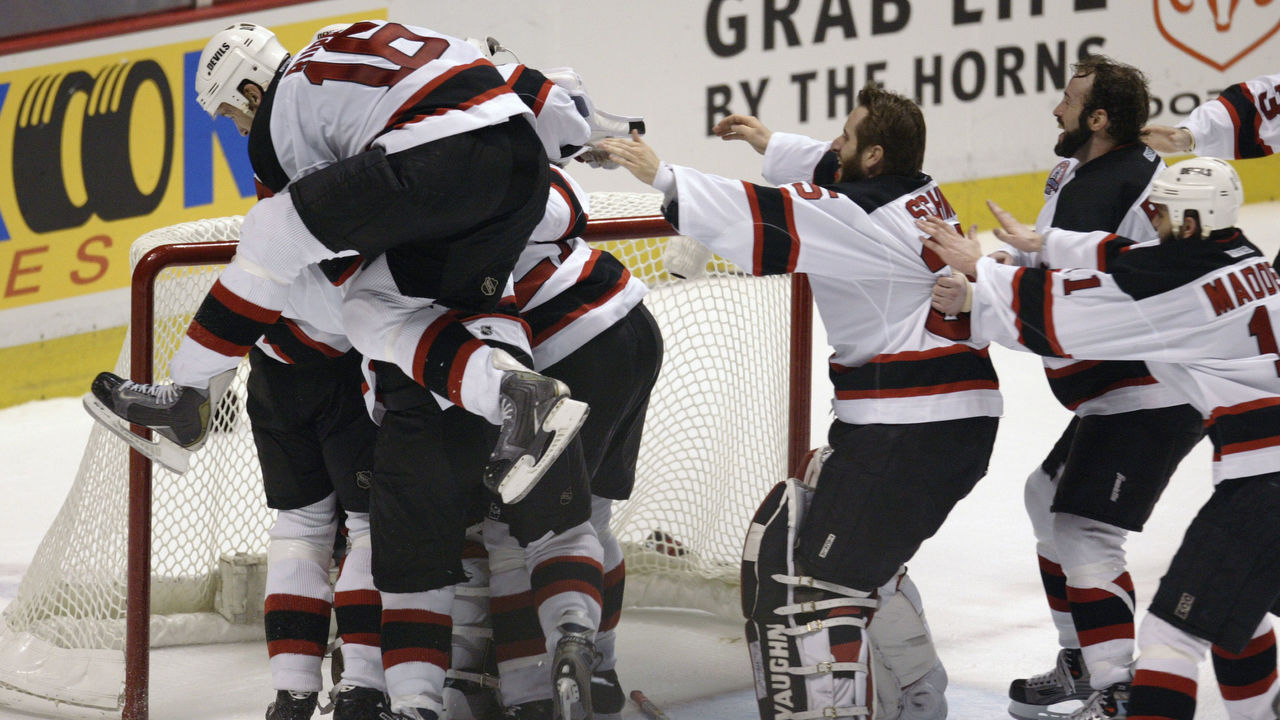 On winning the Stanley Cup as a rookie in 2003:
I think you can look at it from two sides. I was able to be part of a team that won a Cup in my rookie year, but it also really set the bar high - and I think you're naive at that time as a young player.
I thought, "This Devils team won the Cup in '95, 2000, 2003 ... eight years, three Cups. If I can just stay with this team, with Martin Brodeur, Scott Stevens, Scott Niedermayer and Patrik Elias, I'm gonna be playing for multiple Cups." But it didn't happen that way (laughs). It took a long time to even get out of the first round after that.
Now that everything's done and I know that I'm not lacing them up in the NHL anymore, I can appreciate it more.
On playing for the Danbury Trashers of the United Hockey League during the 2004-05 NHL lockout:
My wife and I were expecting our second child, and when he was born, he had a bit of a breathing issue where we had to monitor him pretty closely. So come December, January, before the season was canceled, I didn't feel like (playing). We had a few scary moments where we had to rush him in, so I didn't want to be in another country.
So I got a phone call, and apparently there was this team in the United Hockey League where the owner really wanted to win the league. I figured it was worth a shot. It was a good situation because I would just practice in Erie with the (OHL's) Otters, and then I went, and all I had to do was make 10 roster appearances and then I could play for them in the playoffs.
There were actually some really good players in that league, AHL players that were pushed down because of the trickle-down effect (of NHL players going to the AHL during the lockout). But I just wanted to get my legs going; I didn't want to fight. I knew how NHL players were viewed when playing in other leagues, there was kind of an opportunity for other guys to make a name for themselves. And I didn't want to do that.
And the owner assured me, "You've got nothing to worry about. You take a look at our roster, and no one will touch you, I'm sure." So I look, and there are like four or five guys with 300 penalty minutes (laughs). I always felt bad for the other team; most teams have one tough guy, and we had six who wanted a piece of the action.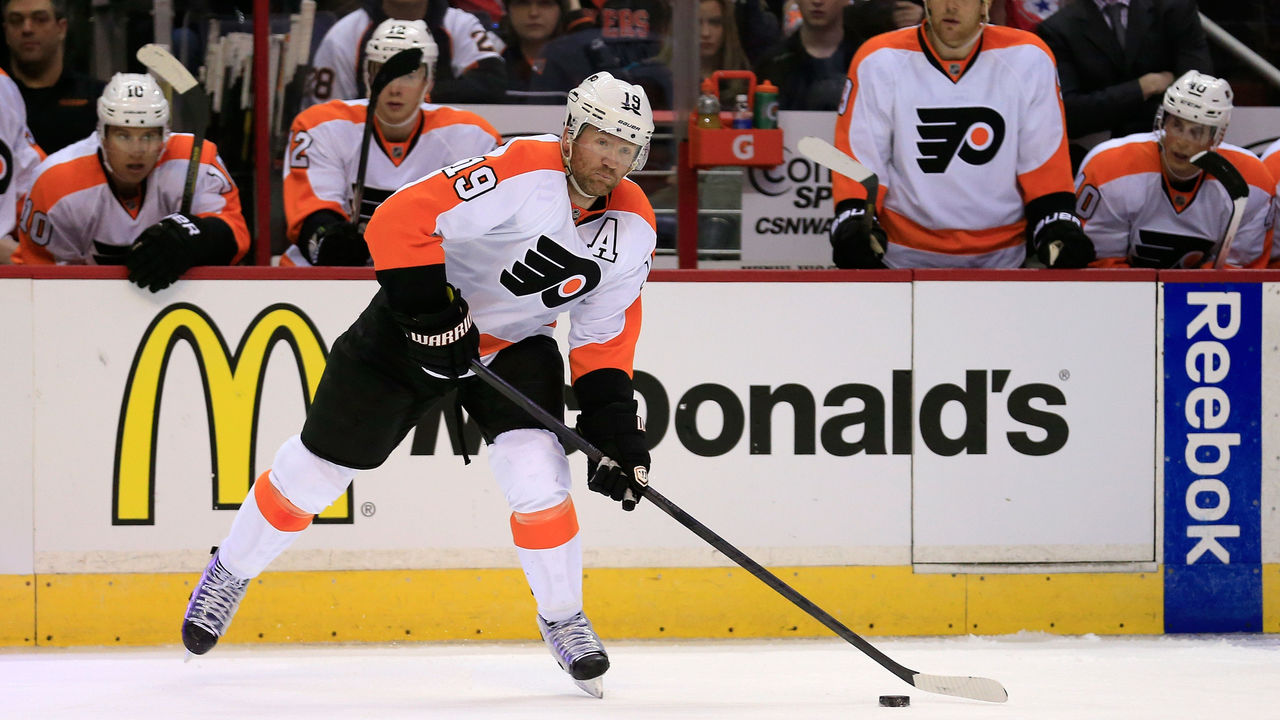 On the best trash talker during his playing days:
Scott Hartnell was one for me. I thought I was good at it on occasion and pretty quick on my toes, but Scotty Hartnell was good.
I remember that he signed a big deal in Philly. And I don't know what it was exactly, but he had probably a goal or two around Christmas, and was making some pretty good money, maybe like $4 million a year. And I remember thinking before the game, "I'm gonna be all over this guy, lettin' him know." And we get on the ice, and I'm like, "What a flop, Hartsy. You're a bust."
And Scotty Hartnell doesn't even care. He just kind of looks at me, shrugs his shoulders, and says, "Better to be overpaid than underpaid." And I'm like, "Huh. That's a pretty good answer. As a matter of fact, it is." (laughs) He was a slippery one in the verbal department.
On his run-in with Hall of Fame official Bill McCreary:
Sometimes in the heat of the moment, when you feel like a penalty should have been called or something happened, you get hot-headed and you yell. And I felt like it happened with Bill a number of times where, before the next game, I'd see on the list that we got Bill McCreary, and I would say, "Oh, man, I gotta patch things up with him."
This one time, I remember we were playing in New Jersey. He was on the ice, and I was on the bench. And there was what I thought was a missed call against us. So I stand up on the bench and I start yelling, "Hey! Where's the trip?" And I start banging my stick on the boards. And that's a bad look; you're basically showing up the referee.
So he whips his head around and looks at me, and I say, "Wake up!" And I remember there was a whistle, so I bent over to tie my skates. And I look up and Bill McCreary is eye to eye with me. And he said, "You'd better shut your mouth! Do you have a problem with me?" And I said, "Yeah," and he said, "If you got a problem with me, why don't you come do something about it?"
So I say, "Really? Are you challenging me to a fight?" And he just backs away, like he's a player. And he says, "You got a problem, just climb over the boards." And that just set me off even more. "Are you serious, Billy? I'm not wasting my time doing that, I'll never play in this league again!" But he knew exactly what he was doing (laughs).
On the controversy surrounding his famous Jaromir Jagr salute at the 2012 Winter Classic:
A lot of people are like, "Hey, was that premeditated?" Absolutely not. I don't know how it could be. I didn't score consistently enough to be like, "Hey, I'm gonna score today, and piss off everybody in Philly."
I'll give you the backstory. I was a free agent before I signed with the Rangers; I was UFA. And the situation in Pittsburgh was, myself, Pascal Dupuis, and Tyler Kennedy were the UFAs. And this was when Jagr was coming back from Russia. And because he was coming from Russia, he could talk to teams before July 1. So he kind of had a head start on things.
He had showed interest in coming back to Pittsburgh. We were reading that he wanted to make things right by Mario (Lemieux), and come back to Pittsburgh, where it all started. And certainly Pittsburgh was capable of being a contender. His quotes were, "I want to go out the right way and win a Cup."
I wanted to stay in Pittsburgh more than anything, that was my home. And I was coming off two pretty good years there. But what ended up happening was, myself, Pascal Dupuis, and Tyler Kennedy were put on the back burner because they had to figure out the Jagr situation. And I'm thinking, I didn't want to get to July 1. But this kept dragging along.
And the next thing we know, Jagr turns around and signs in Philly. So I was like, "What a jerk." This affected my situation. He said all he wanted to do was win, and he goes and signs with a worse team because they paid him more. So I was like, "Okay, whatever." And I never thought about it again, but then we're playing in that atmosphere (at the Winter Classic), and ... yeah.
So we're going into that game, and there's quite a bit of a buildup. We played them a number of times, and I didn't realize the level of hatred between the teams until I became a Ranger. And I get this pass from Brandon Prust and shoot through a screen and beat Sergei Bobrovsky, and as soon as I scored, it was like, "Screw these guys." I don't know where the salute came from.
After I did it, I was thinking, "Maybe I shouldn't have done that." But as soon as I saw the reaction ... every Flyer on the ice is yipping at me and focused on getting me, I was thinking, "This is perfect. We have a game to win, and they aren't even thinking about that. They want to get me." And we got the momentum going and scored the next two goals (to win).
I relished the opportunity to play on the road and get booed in other places. There's something about going into certain barns and pissing off 18,000 people. It was kind of cool.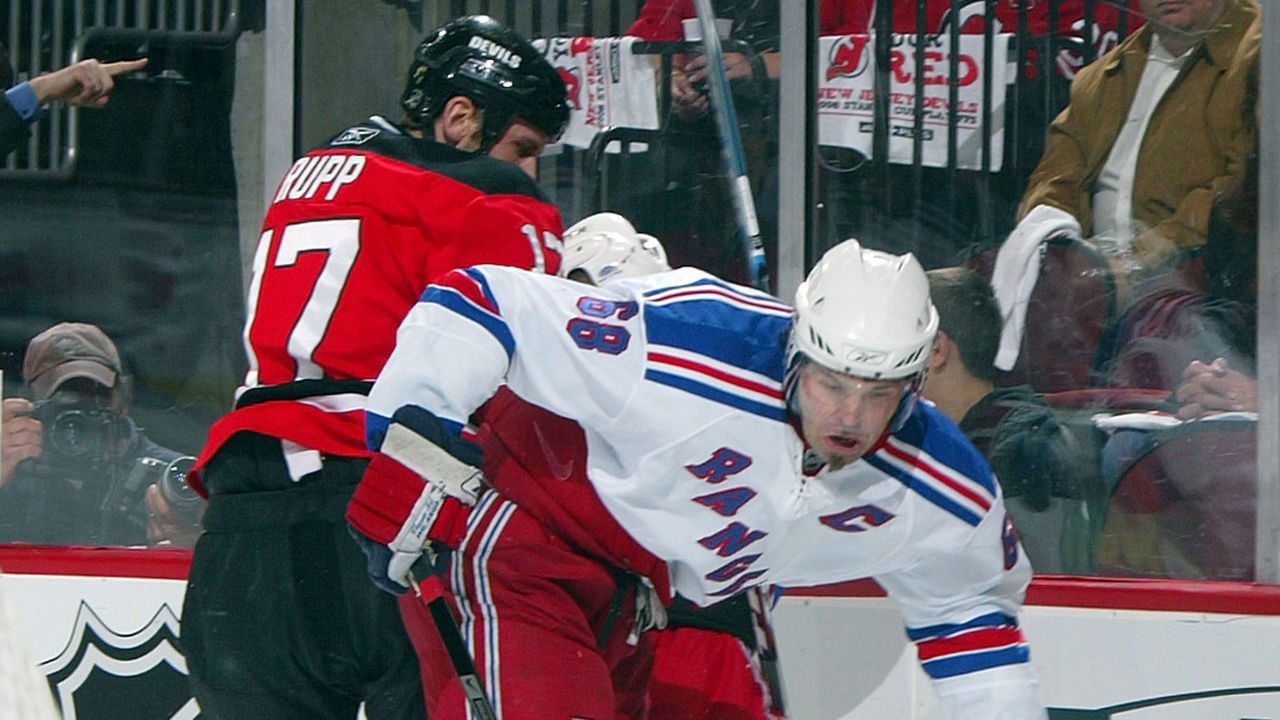 On eventually resolving things with Jagr:
Last year in L.A., I was covering the All-Star Game with NHL Network. And I don't know Jagr, I had never spoken with him. I had my daughter with me, and we were going to Disneyland. So we went to a rental car place, and I walk in, and the only person in the rental car place is Jagr - at the desk, renting a car.
He turns and looks at me - and I didn't even know if Jagr knows who I am. And he goes, "Hey Rupper, how are you?" And I go, "Yep, okay, I guess he does." (laughs) So we make small talk, and I'm standing back with my daughter, and I think, "Okay, I gotta say something."
So I walk back up to him and say, "Hey, listen, man. You might not even care, but I just wanted to say, back in the Winter Classic, I didn't mean to be disrespectful to you. That was my job, just to be an annoying person to play against. I don't know, it just happened."
He was like, "Oh, don't even worry about it. Whatever. I don't even care. I thought it was funny." And I said, "You're one of the greatest players. I wasn't trying to insult you." And he said, "No problem at all."
Then he pauses and goes, "Hey, great job on TV. You do really well." I say, "Thanks." And he says, "Yeah, you're way better at that than you were at playing." And I was like, "You asshole!" (laughs) But he was a pretty good guy about it.
__________
Rapid Fire
The best player he ever played with: Sidney Crosby
The best player he ever played against: Evgeni Malkin
The best goaltender he ever faced: Jaroslav Halak
His favorite head coach at any level: Tony Granato
His favorite visiting arena: Bell Centre, Air Canada Centre
__________
Fact File
Born: Jan. 13, 1980, Cleveland, Ohio
Drafted: First round (ninth overall), 1998, New York Islanders (unsigned); third round (76th overall), 2000, New Jersey Devils (re-entry)
Teams: New Jersey Devils (2002-04, 2006-09), Phoenix Coyotes (2004-05), Columbus Blue Jackets (2005-06), Pittsburgh Penguins (2009-11), Minnesota Wild (2013-14)
Awards: Stanley Cup (2003)
| STATS | GP | G | A | P | PIM |
| --- | --- | --- | --- | --- | --- |
| Regular Season | 610 | 54 | 45 | 99 | 855 |
| Playoffs | 67 | 2 | 6 | 8 | 83 |
(Mike will be providing pre- and post-game analysis on NHL Network for the Winter Classic game between the Buffalo Sabres and New York Rangers at Citi Field on Jan. 1 beginning at 11 a.m. ET.)
Other entries in this series:
Comments
✕
The Retro: Mike Rupp on firefighting, Scott Hartnell, and that Jagr salute
  Got something to say? Leave a comment below!