The Retro (Part II): Kerry Fraser on gentle Georges, angry Chelios, and his cancer fight
Warning: Story contains coarse language.
Over the course of the 2017-18 season, theScore will run a series of interviews with former players, coaches, and officials in which they recall some of the greatest moments of their careers. This two-part edition focuses on Kerry Fraser, who spent 30 years as an official and worked 13 Stanley Cup finals. (You can find Part I here.)
On his favorite memory of the 1998 Olympics in Nagano:
Before we went over, we had a meeting in Toronto. And (IIHF president) Rene Fasel was there, and he was giving us the difference between the international rules and the NHL rules. Most of the top guys were in attendance.
Rene said, "All officials will wear a helmet and visor as mandated in international hockey." Ray Scapinello raised his hand and said, "Mr. Fasel, I don't wear a helmet." Rene said, "If you don't wear a helmet, you won't work in the Olympics." Ray said, "I take a size 7 1/2 helmet." (laughs)
What was interesting was, the Japanese culture dictates that they revere the oldest, most senior. I was the senior referee, and probably the most recognizable at that time. We had a room attendant for the games, and he would say, "Mr. Fraser, I have family that would like a picture for you." So I go out and take a picture. I was getting photographed everywhere I went.
It was a terrific experience. (NHL VP of hockey operations) Brian Burke was terrific. He ran the officials like he was the general manager of a team.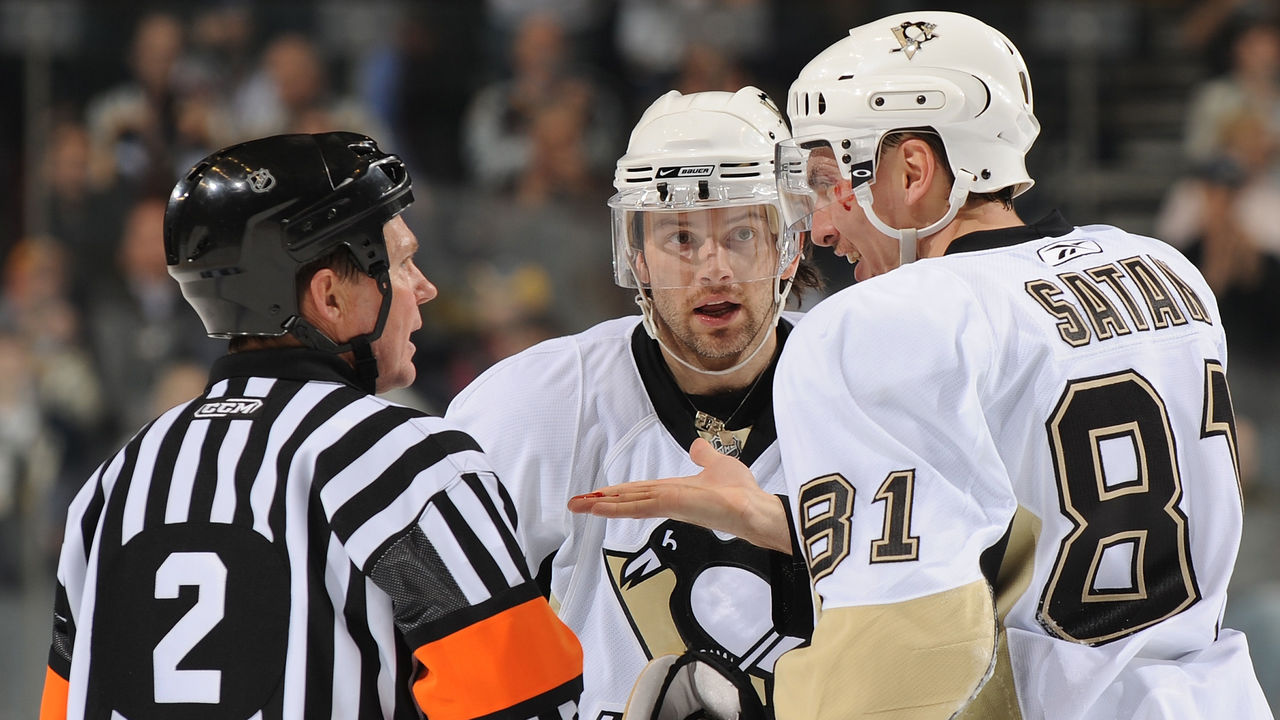 (Photo courtesy: Getty Images)
On controlling his emotions when dealing with players:
I worked very hard on developing positive relationships with players. As you will recall, back in the 70s and the early 80s, the game was really aggressive. And the intensity - forget the playoffs, even just the rivalries - you really had to control it. So I worked at developing relationships, especially with the tough guys or the leaders of a team.
In the course of that, I recognized that my Type A personality - that aggressive little hockey player that hated bullies and fought a lot and stood up for his teammates - that while it may have served me well as a player, it was not going to serve me well as an official.
My body became a thermometer - and when I would be in a confrontation with a player or a coach, and they're F-bombing me, and we're nose to nose, I needed to bring that temperature down. So if I felt my internal thermometer start to rise, before it got to my neck, I'd take a breath and face the player with palms open, which is a gesture of peace.
That, most times, would bring the confrontation down to the level where we could at least have a conversation.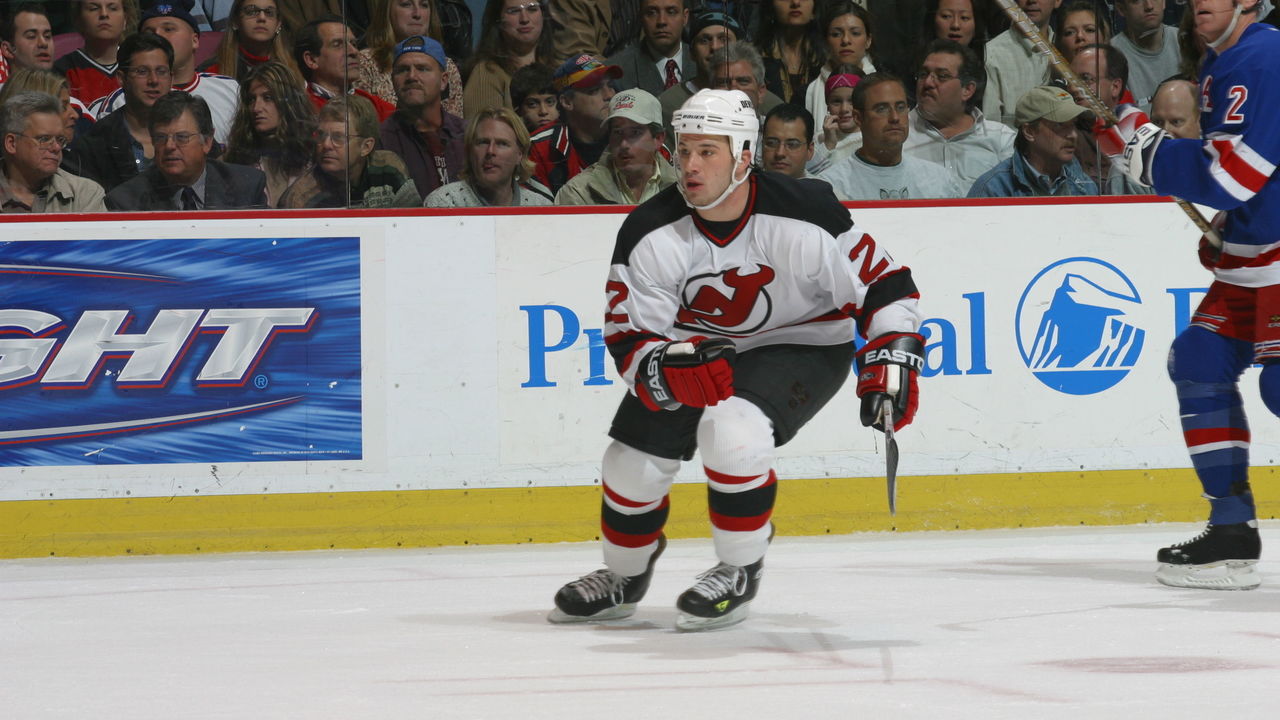 (Photo courtesy: Getty Images)
On his encounter with former NHLer and ex-convict Mike Danton:
It's a preseason game in New Jersey. And I looked at (Danton's) eyes, and I went, "Uh oh. There's trouble here. This guy is trouble." I saw something in his eyes. Everybody wanted to kill him.
He scored a goal, and he came back to the center-ice faceoff circle. And I said, "Mike, that was a terrific play. Really nice goal." And he looked at me sideways, turned his lip up and said, "Are you serious?" And I said, "Mike, you made a terrific play. Keep playing like that and you're gonna stick here." He said, "Man, thanks a lot. I never had a referee talk to me like that."
There was a moment right there between him and I. This guy expected every referee to talk down to him, to give him penalties, to show him disrespect. And he, in turn, showed disrespect to everyone else. He was still the focus of a lot of shit, but I could go to him and say, "Mike. Whoa. Calm down."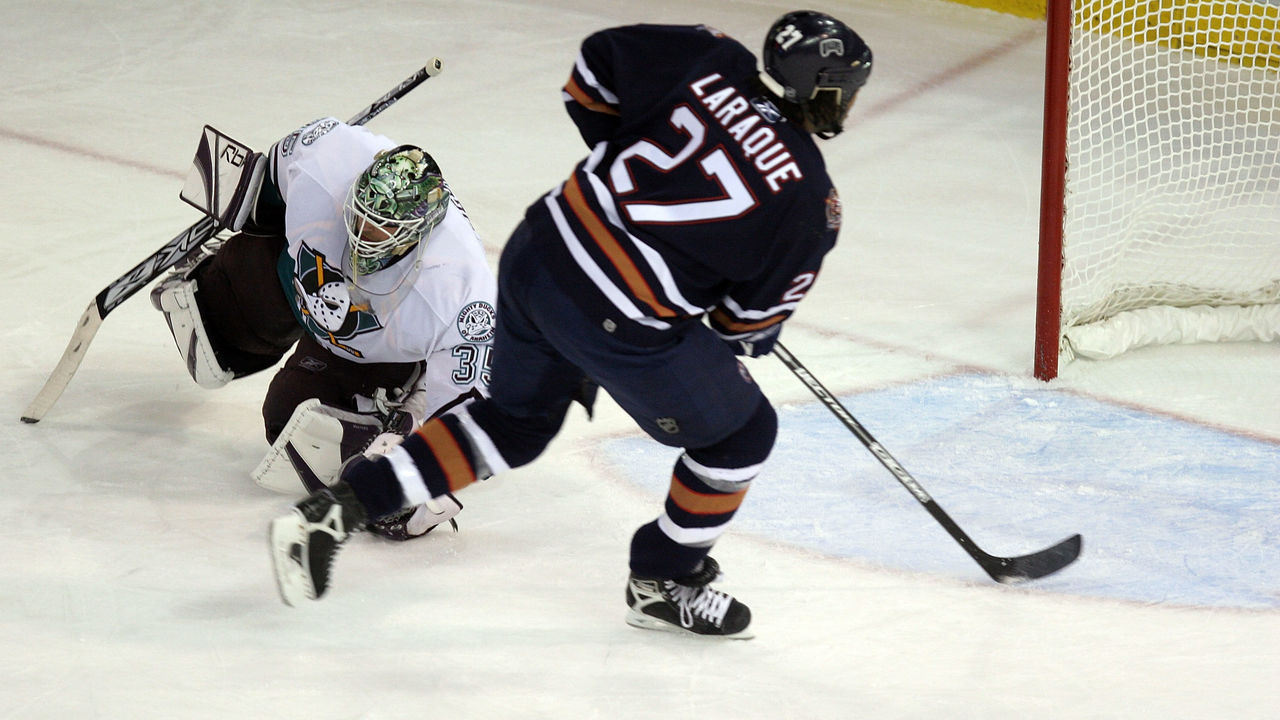 (Photo courtesey: Getty Images)
On impressing former NHL tough guy Georges Laraque:
He was playing for the Edmonton Oilers at the time. The Vancouver Canucks were the visiting team, and they wanted to give Georges lots of space because they didn't want to have to battle him.
So he's in the corner, he's got the puck, and the defenseman's playing off him, fronting him. And George is handling the puck in the corner, doing this and that, moving the puck around. He had the puck for about 30 seconds on his stick; he kept it below the goal line, going behind the net.
The play turns up ice, and the whistle blows. Inside the blue line, we have a scrum, and in comes big Georges. Linesman Brad Lazarowich is getting ready to rock and roll with these guys. And I skated up beside Georges and gave him a tug on his jersey - and he's a big man. And he's looking down at me.
I look up at him and say, "Hey, Georges. Georges. Have you been working on your puck-handling skills?" And he looked at me and said, "Are you serious?" And I said, "Seriously! You handled the puck down there like I've never seen. They couldn't get it off your stick. You had puck possession for 30 seconds."
He said, "As a matter fact, I have been working on my puck-handling. Thank you very much." (laughs) So they all part, and Brad Lazarowich is standing there, and he says to me, "I don't fucking believe this. I wrestle with these guys all game - and all you had to do was go up and tell Georges Laraque he has great puck-handling skills, and he thanks you and walks away." (laughs)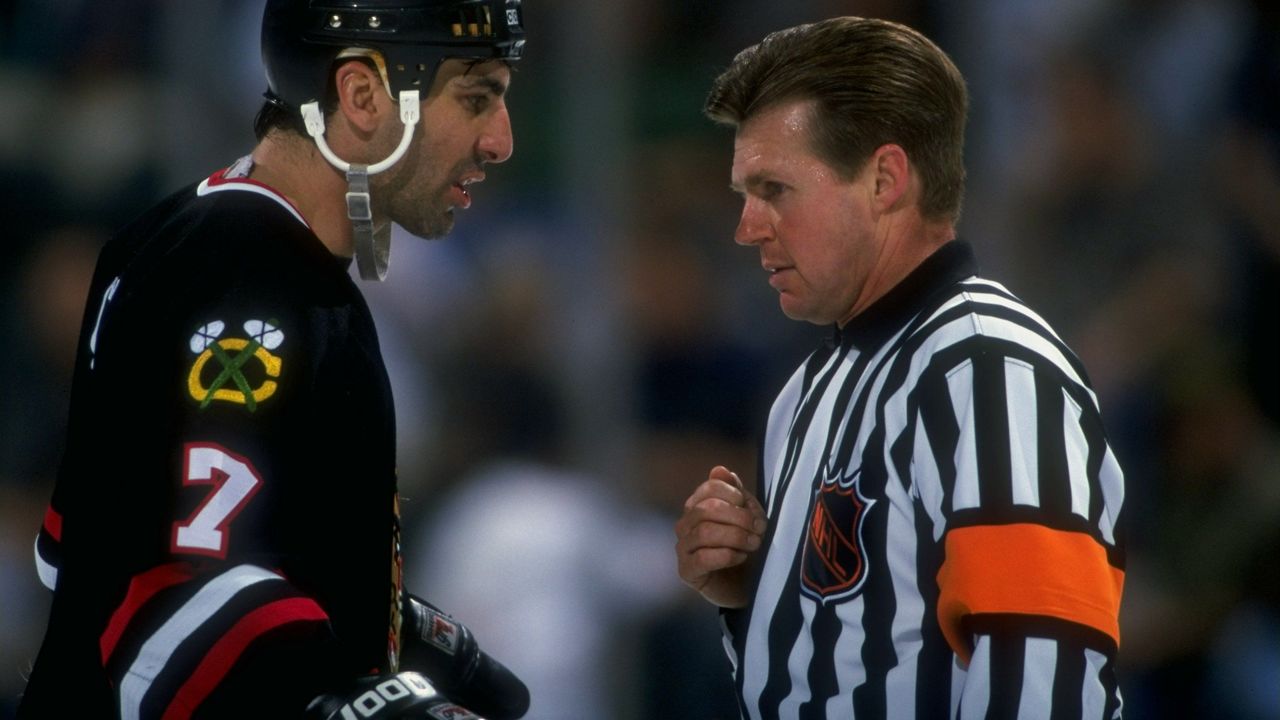 (Photo courtesy: Getty Images)
On being on Hall of Fame defenseman Chris Chelios' bad side:
It was Chris Pronger's rookie year; he and the Hartford Whalers were facing the Chicago Blackhawks at Chicago Stadium.
Brian Propp had joined Hartford from Minnesota. And he and Chris Chelios had a long-running feud. When Chelios was with Montreal (during the 1989 playoffs), he hit Propp with an elbow that looked to me like it was a shoulder. Propp's head hit the stanchion, it knocked him out and he fell backwards. His helmet stayed on, but his head was cut and he was taken off on a stretcher.
I asked Chelios, "You just hit him with a shoulder, right?" And he said, "Oh, no, I hit him right in the effing head with an elbow. I got him good." So I said, "Thanks for that, I'll remember that." That was the playoff year where (Flyers goalie) Ron Hextall went apeshit and pounded him with his blocker, and he got a seven- or eight-game suspension into the next season.
In this particular game, Hartford was winning handily. Early in the third period, Brad McCrimmon was on defense for Hartford, and Jeremy Roenick, who never knew when to take the foot off the gas, ran McCrimmon into the boards with a couple of minutes left in the game. And in the ensuing scrum, over by the bench, Chelios sucker-punches Propp right in the kisser.
So Chelios is in the middle of this, and he wants to get over to another fight. And his jersey and shoulder pads are off, and the linesman was trying to control Chelios - and he was water-skiing behind Chelios on his suspenders. So Chelios gets to the fight, and sucker-punches Adam Burt right in the eye.
I go back to Chicago Stadium after Chelios serves his suspension. And I wanted to get my skates sharpened, so I walk down to the trainer's room and I start talking to Randy Lacey, the Blackhawks' equipment guy. And he's sharpening my skates, and Chelios comes out with his skates tied and all of his lower gear on.
He looks at me and says, "What are you doing here?" I say, "I'm just talking to my friend. He says, "You don't have any fucking friends." So I went, "Lace, I probably shouldn't be here. When you're done with my skates, please send them down to the (officials) room."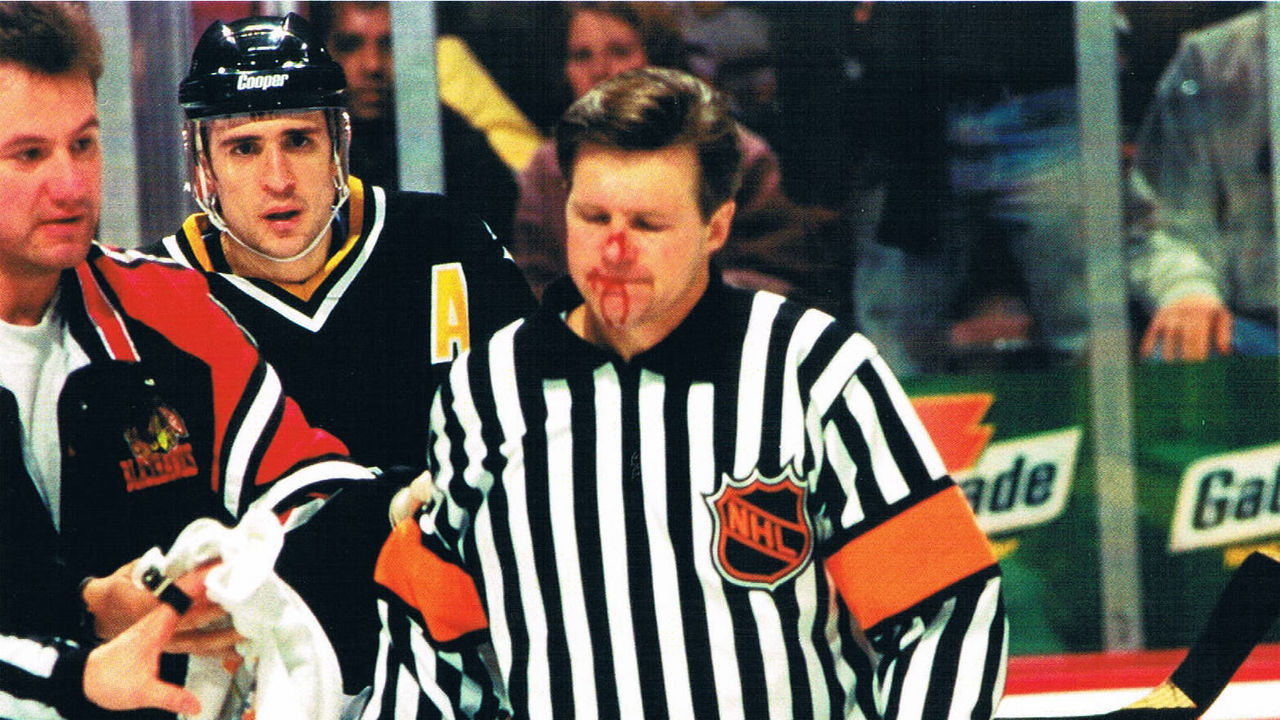 (Photo courtesy: Kerry Fraser)
As I'm walking away, Chris says, "You're fucking right you shouldn't be here - and I'm going to shoot a puck right at your head tonight." I turned and said, "What did you say?" And he said: "You heard me. I'm going to shoot a fucking puck at your head tonight."
I said, "I'll tell you what." And I pointed at him and said, "You might not want to finish getting dressed, because you might not be playing tonight." And I turned, and walked away. Chelios dressed, but he never said anything, never looked at me. Game over, no incidents.
The next year, we're in Chicago Stadium, and the Penguins are the visitors. One referee. Midway through the third period, the Hawks are down by a goal. Pittsburgh dumps the puck down. Chelios goes back and gets the puck behind the net. I'm following Tony Amonte, a left winger, down his side. I go as deep as the deepest forechecker, eight feet from Amonte, up the wall.
There was no outlet beyond me for the Hawks. If the puck comes to Amonte, he could stop and skate with the puck, or throw it to the far side. But he had no outlet. Chelios fired an excessively hard pass along the ice. Tony, being a left-hand shot, has his stick ready to take the puck. At the very last second, he saucered the stick, which launched the puck up toward my face.
I put my elbow up immediately to try and block the puck with my elbow pad, and I just missed it. It came through, broke my nose, cut my lip for seven stitches down the middle, and broke a tooth. I blew the whistle to kill the play, and blood went flying out of the hole.
I stop the game, go over to (Chicago head coach) Darryl Sutter, and say, "Suds, we gotta stop the game here. I gotta get stitched up. And typical Sutter, he says, "Holy fuck, Frase. Hurry up and get back, we're pressing." I went into the locker room, the doctor zips seven (stitches) in really quick, and I came back out and finished the game.
Chris and I developed a positive relationship after that, but I never asked him how they set it up. It just didn't make any sense that on the power play, with no outlet up top, that Amonte would saucer his stick to redirect the puck into my face. You be the judge.
(Photo courtesy: Kerry Fraser)
On officiating the NHL Alumni game on Hall of Fame weekend, just two weeks after revealing he has a rare chronic blood disorder:
The thing I miss is the relationships with players and coaches. That's what I miss the most. I love the game, I love being on the ice. My reflexes and instincts of knowing where the puck is going to go are still intact.
So I'm back in that setting, now dressing in the same dressing room, and looking around and seeing Wendel Clark, and Mark Messier, and Dave Andreychuk, and Paul Kariya, and (Teemu) Selanne, all of the guys. Every time I see a player's face, I have a story. I have a personal situation that flashes from my memory banks of that player.
I was recently diagnosed with this rare form of leukemia; they have no treatment for it, it's incurable. But it's a good one - it's as good as you can get, because if it stays in this form, and I manage it - and I can, and will - the over/under is 10 to 20 (years). And I'm betting on the over. I'm gonna be around for a while. But it's a shock.
All of the players see me individually, and I can see their concern in their eyes: "Kerry, how are you? How are you doing?" And I wanted to make them feel better. "It's okay, Mess. I'm really fortunate. What I have is the very best you can possibly get. So I'm in good shape. All I have to do is keep my weight down, watch my cholesterol, and keep my emotions under control."
I got an email from (longtime coach Glen Sather) before I went to the game, a few days before. His first email was really short, but I read between the lines. He didn't know what to say. I responded with a lengthy email outlining what I have, hoping to make him feel better. He then responded back with a lengthier letter. It was almost like it was a release for him.
The day of the game, he comes in the dressing room. Mark Messier was walking across the floor, and Sather walked across the room. And Mess' eyes lit up, and they both extended their hands. And I could see the love. And Slats then came up to me, and we hugged and chatted. We had a really good conversation, a good visit.
Being around hockey people really makes me feel better.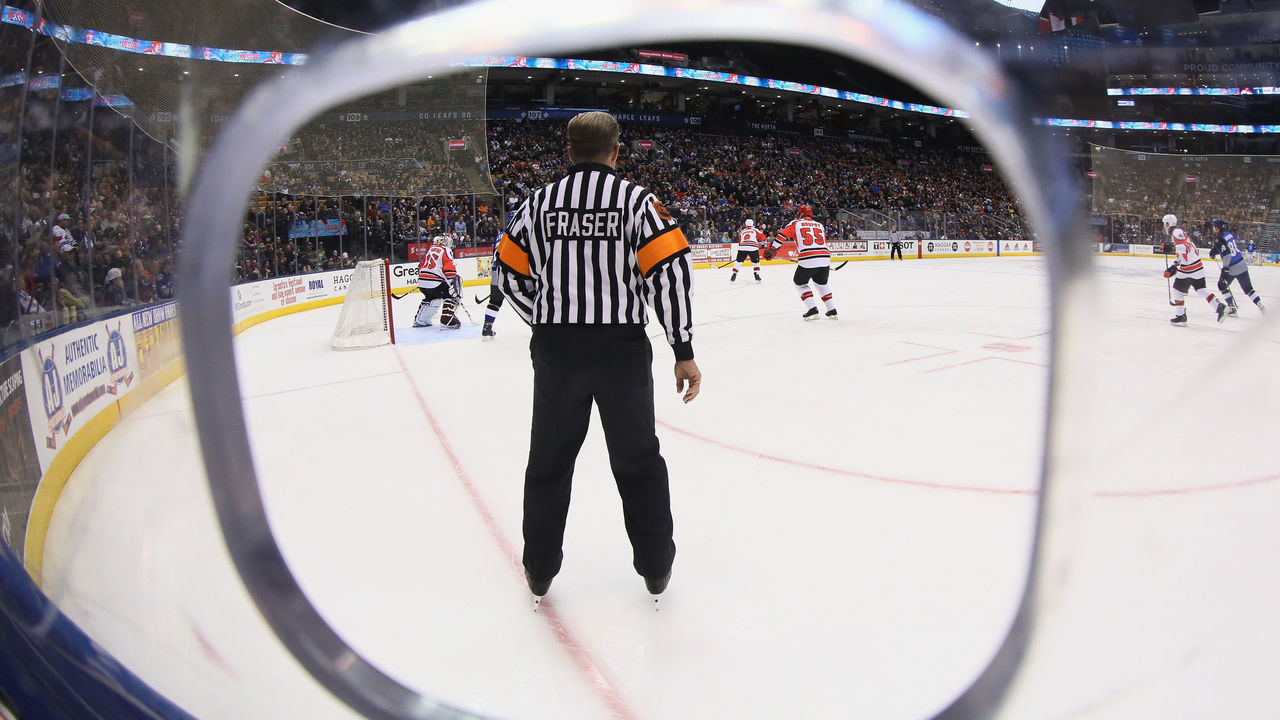 (Photo courtesy: Getty Images)
On what fans might not know about him:
I wear my heart on my sleeve, but ... and I think this is true of everybody who performs in front of a crowd ... people have a preconceived notion of what Kerry Fraser is like. They wouldn't necessarily understand that that little hard-ass that they didn't like or who they thought was a hot dog who was more worried about his hair, they wouldn't know how much I loved the game.
I always tried to give more than I got. It's something I learned from my father who, when I signed my first contract with the NHL, said, "Kerry, you're gonna see the same people on the way up as you do on the way down. Treat everyone the same, and how you want to be treated." And it was great advice.
I think people have this vision of the guy who missed the Gretzky high stick because he didn't have the courage to give Gretzky a penalty. And that bothers me, because if there's one thing I know I have, it's courage.
Certain things trigger certain referees. I would rather be cursed at in a vile form than have someone call me gutless. If someone said I was gutless, or a homer, it was an automatic trigger to me - and I would bang them with an unsportsmanlike misconduct.
The suggestion that I would favor a player like Gretzky and not call a penalty that I saw is ludicrous. It's offensive to me. And the fans that think that don't know Kerry Fraser at all. They haven't really followed my career and the decisions that I had to make that were not popular, but took courage.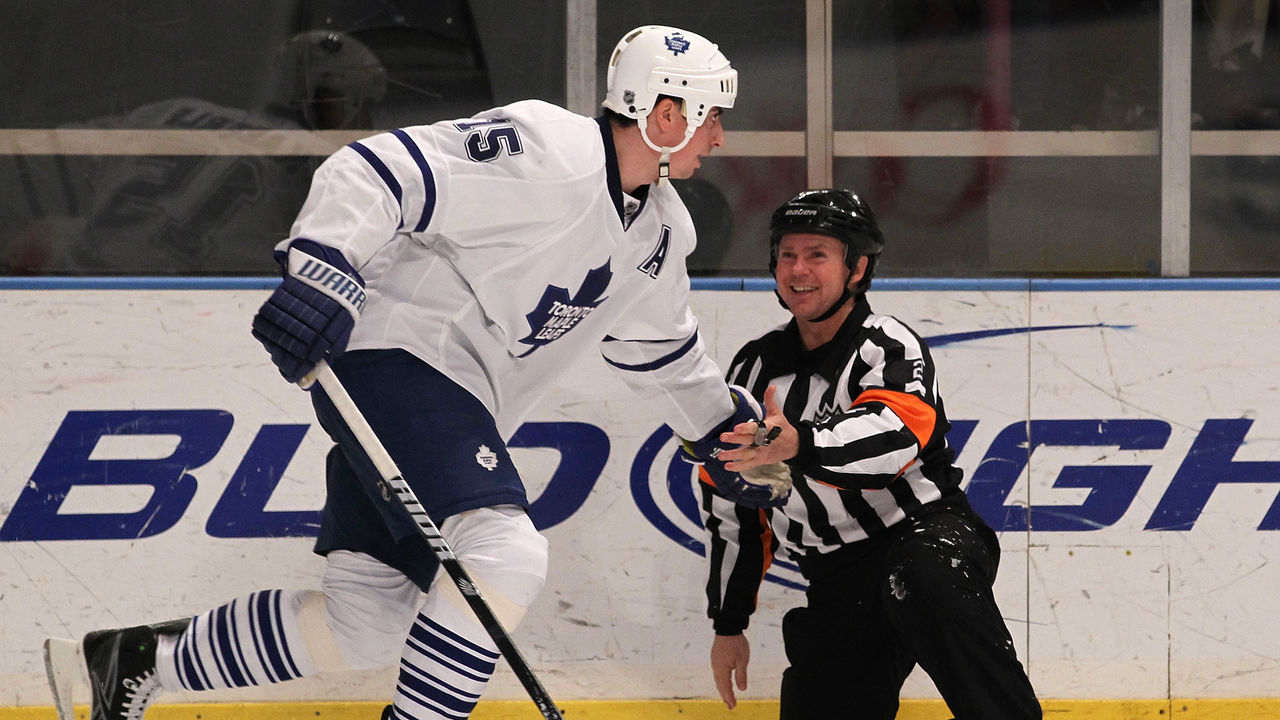 (Photo courtesy: Getty Images)
On the lingering anger among some fans over the Gretzky non-call in the 1993 Western Conference Final:
The Canadian hockey fan is like no other with the emotion, sometimes anger, leaning toward animosity, and I would go so far as to say, hatred.
I recently had dinner with my daughter, Jessica, and her family. And she is the most loyal person. She was in a Twitter war with some clown who was saying, "Good for (Kerry), I hope he dies so I can piss on his casket," that sort of thing. I started laughing because she was getting so worked up about it.
I said, "Jess, there are certain things that you'll change, and there are certain attitudes that you can't. And some people will just never, ever, ever forgive Kerry Fraser for missing that high stick in '93." And I understand that.
Other entries in this series:
Comments
✕
The Retro (Part II): Kerry Fraser on gentle Georges, angry Chelios, and his cancer fight
  Got something to say? Leave a comment below!