The Retro: Kris Draper on Yzerman, the Claude Lemieux hit, and being a cheater
Over the course of the 2017-18 season, theScore will run a series of interviews with former players in which they recall some of the greatest moments of their career. This edition focuses on Kris Draper, who won four Stanley Cups in a 20-year playing career spent almost exclusively with the Detroit Red Wings.
On what he remembers of his first NHL game:
It was actually memorable. I made the Winnipeg Jets as a 19-year-old; it was definitely not expected. I was going into my first pro training camp, I had no expectations whatsoever, and all of a sudden things were going well for me.
I started looking at some newspapers and I saw some positive articles, so I was kind of thinking I might have a chance to make this team. And I made the opening roster, and the first game was in Winnipeg against the Maple Leafs. I grew up in Toronto and grew up a Leafs fan as a kid, so my mom and dad jumped on a plane and came out. It was unreal.
I know I couldn't sleep; I certainly remember that. I was trying to embrace the moment. And it was unreal. I ended up scoring in my first game, and I ended up getting in a fight in my first game. It was a pretty eventful debut for me. But after that game, I figured out two things: I wasn't going to be a scorer in the NHL, and I wasn't going to be a fighter in the NHL.
On that first career goal:
It was the all-important seventh goal in a 7-1 victory. (laughs)
Pat Elynuik, a shifty right-winger, I remember him coming over the blue line. He kind of cut from right to left and I was coming up, and he dropped the puck. I ended up taking a wrist shot and it deflected off the Toronto defenseman's stick and it ended up beating Jeff Reese for my first NHL goal.
On how the infamous Claude Lemieux hit in the 1996 Stanley Cup playoffs (seen below) affected his play afterward:
(Video courtesy: YouTube)
To be honest with you, that was the only thing I could control from that; coming back and making sure that I played the way that I had always played.
I was a third-, fourth-line player, I was a role player. I kind of had to play on the edge. I knew how I had to play to stay in the NHL, and that was with "controlled chaos," which is how I describe my style of play. That's one thing I wanted to make sure of: That when I came back, I played the same way.
We lost out in Game 6 of the conference finals, so I had the whole summer (to recover). And it was a tough summer; my jaw was wired shut for six weeks, I ended up losing a lot of weight. But when I got back, I wanted to play as many preseason games as possible to get back into it.
It was a tough summer and a tough hit, but in the end I came back and was able to the way I wanted to. That was something very important that I wanted to do. I couldn't hesitate, I couldn't think about it, because otherwise it was going to limit me as a hockey player.
On the biggest trash-talkers in his day:
I would probably say that Kirk Maltby was one of the best trash-talkers. Maltby had some really good one-liners; he frustrated and pissed off a lot of players with the way that he played. I remember hearing Malts chirp a lot.
Steve Ott was really quick-witted and had great one-liners, too. He was a Red Wing last year and I kind of got to get to know him; you could just kind of see that dry humor and quick wit that he had.
Another good one I played with and played against was Sean Avery. I'd say those guys always had a lot of things to say. Those are the type of players that, when you think of the Maltbys and the Steve Otts ... Brad Marchand probably would be a guy now that can frustrate teams with the way he plays and how competitive he is, and he backs it up with the points he produces.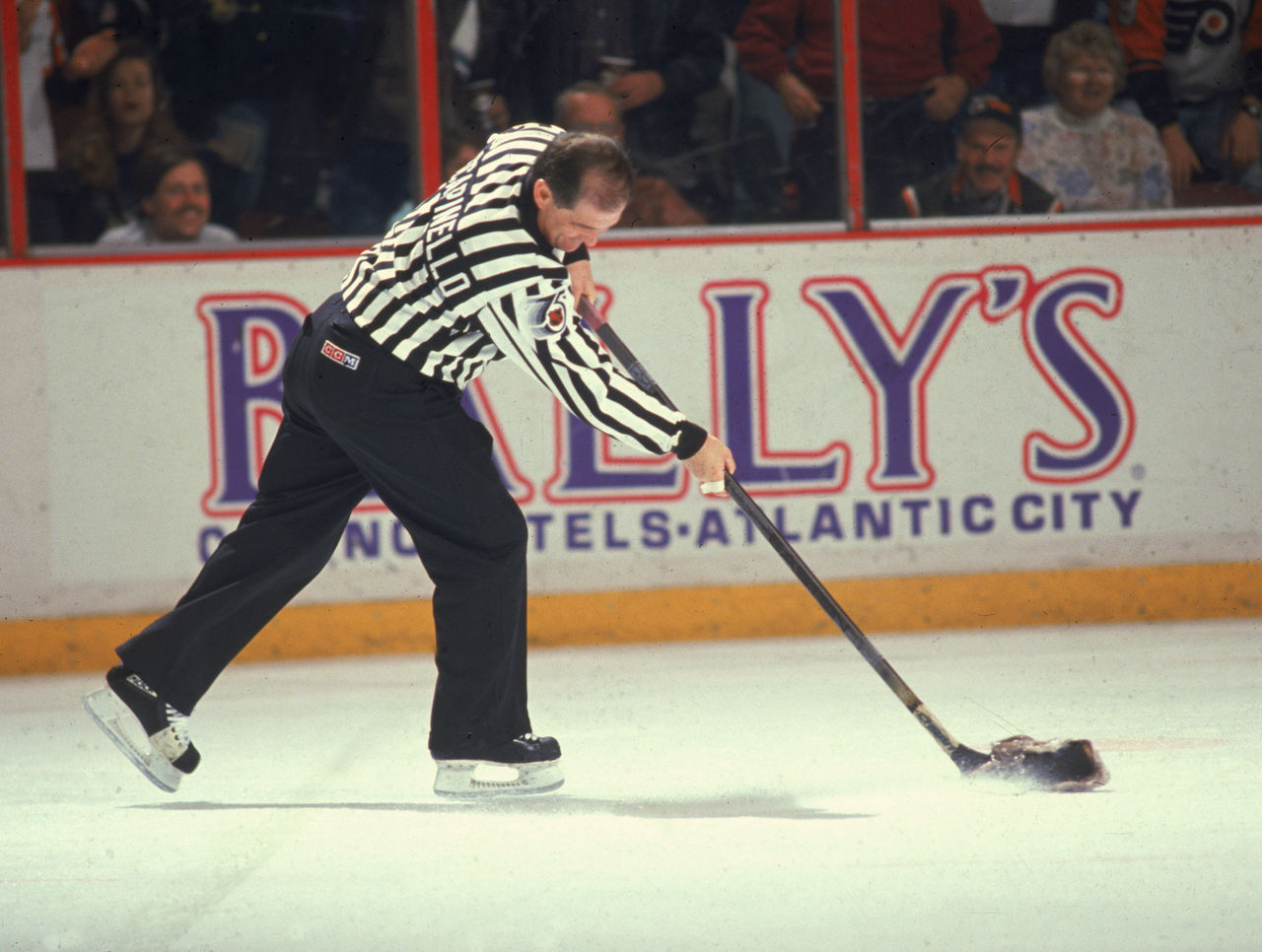 On his favorite referee/linesman story:
So one night we're playing at Joe Louis Arena, and you have to remember: A big part of what I did for the Red Wings involved taking a lot of faceoffs. I took a lot of defensive zone and penalty kill faceoffs, took a lot of faceoffs at the end of the game. And in this game, (linesman Ray Scapinello) kept tossing me out. And I'm looking at him and saying, "Scampy, you can't do this to me."
And he said, "You gotta stop cheating. You gotta stop cheating." And I kind of told him, "I'm not cheating. I'm anticipating the drop, but you gotta drop the puck faster. We gotta work together here." And he kind of smiled a little bit.
So there was a stoppage in play, a commercial break, and (Red wings head coach) Scotty Bowman asked Scampy, "What do you have against Draper? Why do you keep throwing him out? That's what he's gotta do for us." And I was a little worried about the answer that was coming. And Scampy says to Scotty, "I'm going to tell you right now: He's the biggest cheater on faceoffs I've ever had."
Scotty kind of looked at him, and looked at me, and said, "Draper, you're a cheater! He said it! You're a cheater!" And the three of us are going around and around in this conversation, and Scotty's like, "The biggest ever?" And he's asking about all the games Scampy has worked, and Scampy says, "The biggest ever!" And I'm just thinking, "This is not good."
On what made him such a good defensive forward:
My best years were playing with Kirk Maltby and Darren McCarty; we were known as the "Grind Line." We played against Wayne Gretzky when he was with St. Louis, we played against Sakic, Forsberg, Modano, Nieuwendyk ... we had some really big responsibilities. And we knew that if we could shut down the other team's top line, we were going to put our team in a good spot.
Everyone wants to be the go-to guy, but I knew what my role was with the Red Wings. And I embraced it. I had Steve Yzerman and Sergei Fedorov ahead of me, so I had to find that third- and fourth-line role. And from there, I knew that if I could do it right and be the best at it, I would be the kind of player Scotty Bowman trusted a lot.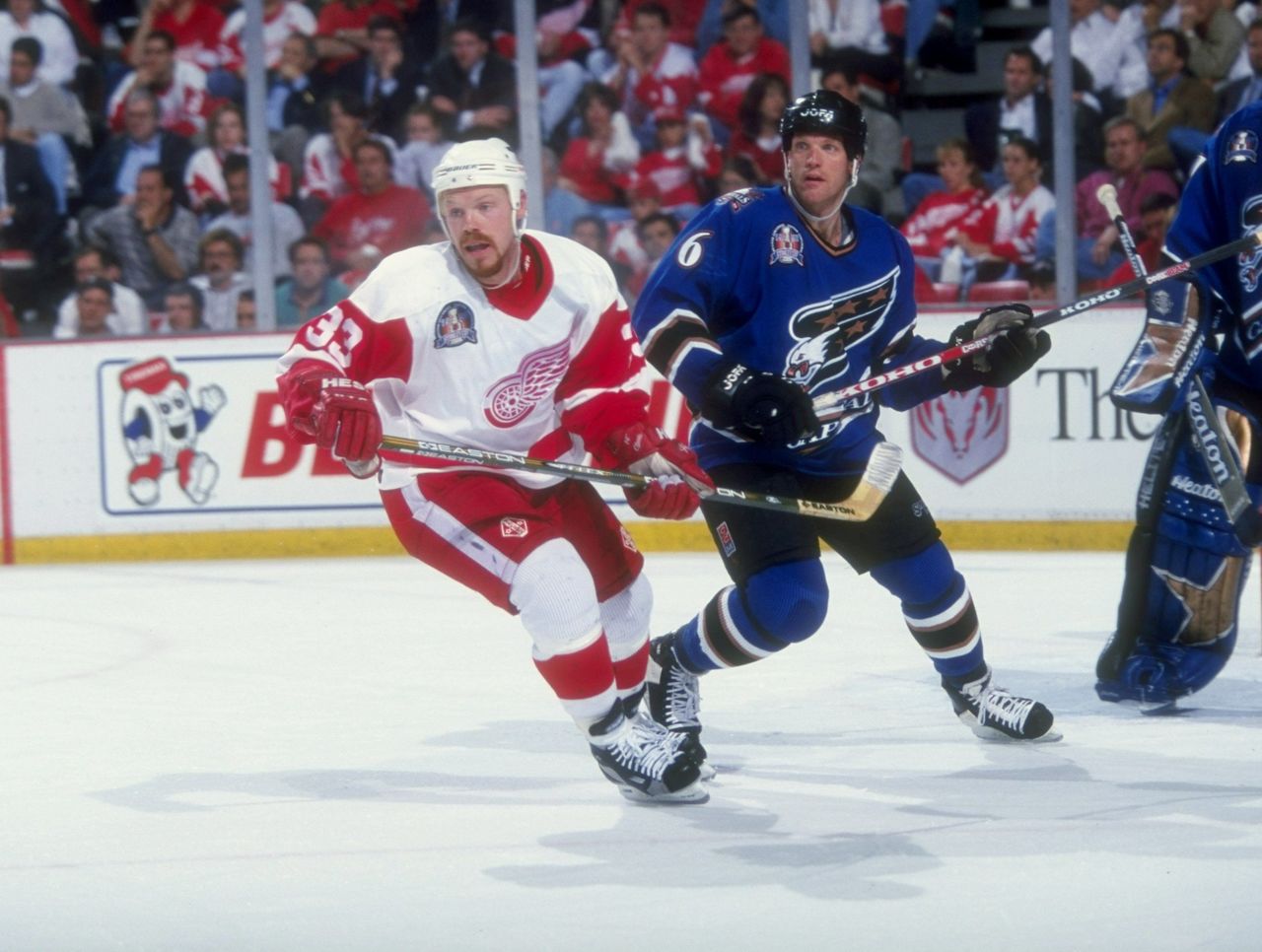 On the greatest game he ever played:
One of my greatest moments was when I scored the overtime winner against Washington in Game 2 of the 1998 Stanley Cup Final.
It's kind of a funny story: We're at the pregame skate, and we're up 1-0 in the series, and I was actually the only forward who hadn't scored a goal all playoffs. And Scotty being Scotty, he comes up to me in the pregame skate and says, "Are you ever going to score a goal?" And I had a big smile on my face, and I said, "Tonight, Scotty. I'm gonna get one tonight for you."
I remember it was a wild game. We ended up down 5-2 going into the third period and we tied it up 5-5; Doug Brown scored late to tie it up.
It's something I'll never forget. Igor Larionov comes on a line change. Brendan Shanahan and Marty Lapointe are still out on the ice. Shanny causes a turnover and the puck comes to the half-wall on the right side, and Marty, being a right-handed shot, just fires it toward the net as I'm driving back post.
The puck ended up right on my stick. It was a bang-bang play, and I put it in the open net past (Washington netminder) Olie Kolzig. And I remember doing a little bit of a dance, a little bit of a celebration as everyone comes out.
So we're skating off the ice, and sure enough, Scotty's standing right by the door, and Scotty being Scotty, he asked, "Who got the goal? Who got the goal?" (laughs) And I said, "Scotty, I told you I was going to get one for you tonight." And he gave me a little pat on the back.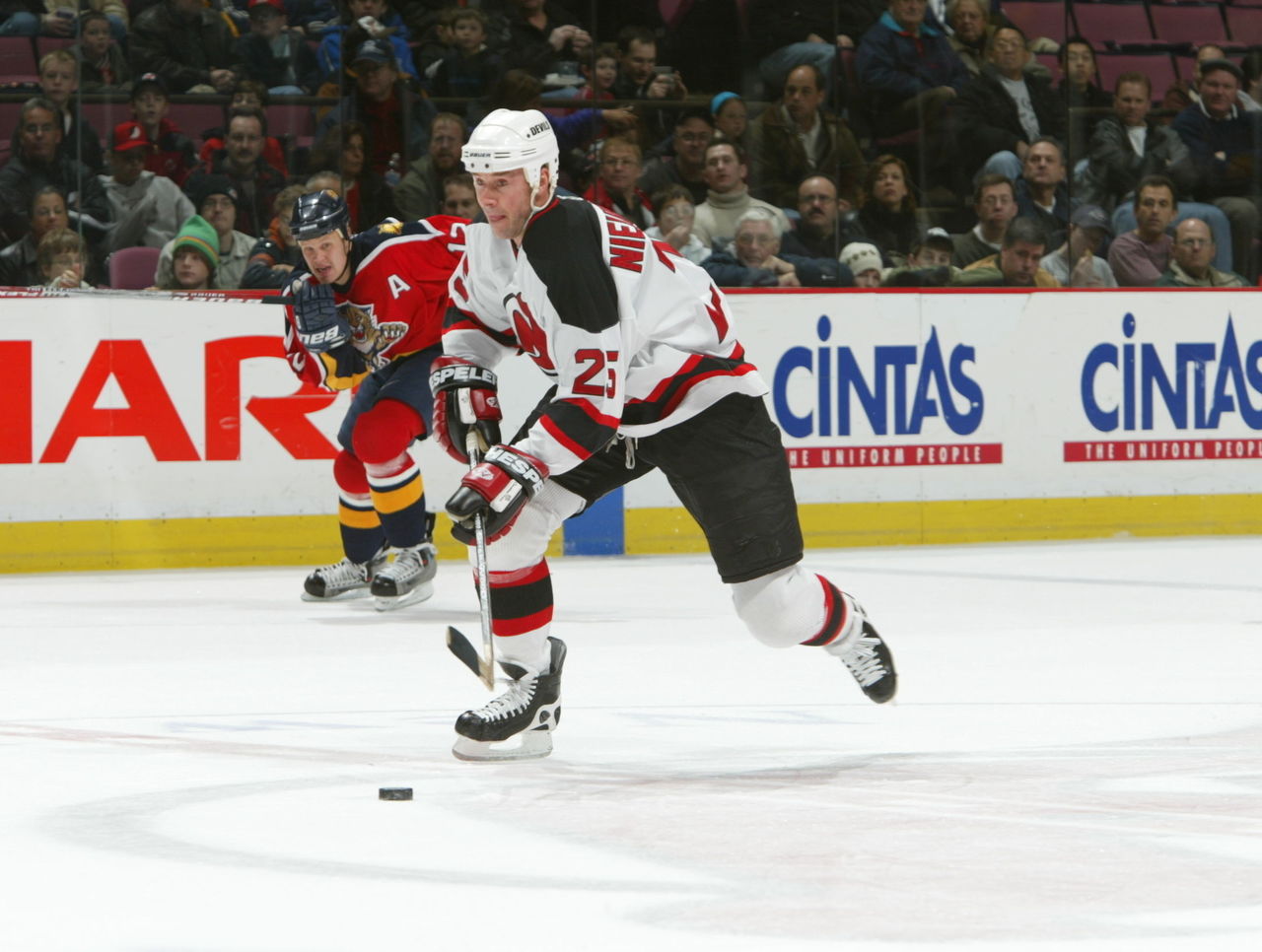 On the most underrated player he encountered:
It's tough to call Joe Nieuwendyk an underrated player because he's in the Hall of Fame, but the way Joe played the game, the guy was just a winner. He was a big, strong center, played a 200-foot game, and his hockey sense was unreal. He always had a knack to score big goals or make big plays.
When you think of the Dallas Stars, you think of Mike Modano. When you think of the New Jersey Devils, you think of Martin Brodeur. But those teams won Stanley Cups with Joe Nieuwendyk - and he brought so much to those hockey teams. You can't call a Hall of Famer underrated, but to me, you just didn't hear a lot about Joe Nieuwendyk.
On what he remembers from his last NHL game:
It's funny, because I didn't realize it was going to be my last game. Even though I was 39 at the time, I thought I had more hockey in me; I guess that's the way that we're wired, we feel we're going to play forever.
It was Game 7 against San Jose in the 2011 playoffs. We were down 3-0 in the playoffs and ended up forcing a seventh game. For so many reasons, you want to win this game because you want to extend your season, because you're one step closer to the ultimate prize. So that was my preparation going into that game - another opportunity to extend our season.
I was never thinking it was going to be my last game played in the NHL. And then you lose the game, and everything kind of sets in. And to be honest, I still thought I was going to be playing the following year. I take my usual 10 days off and start training, and then the realization started to come that I might never play again. And it hit me hard.
For me, and my family, we were hockey players. My wife loved going to the game, my kids loved that their dad was a Deroit Red Wing. So this decision wasn't just about me retiring - it was impacting my entire family, from my mom and dad driving from Toronto to Detroit hundreds of times to watch me play to my wife getting the kids ready and putting on their Draper jersey and watching me play at Joe Louis Arena.
It was a very, very emotional time for me and my family. I'm almost glad that I didn't know it was my last game. I probably would have been an absolute mess going to the rink and would have been a non-factor in the game.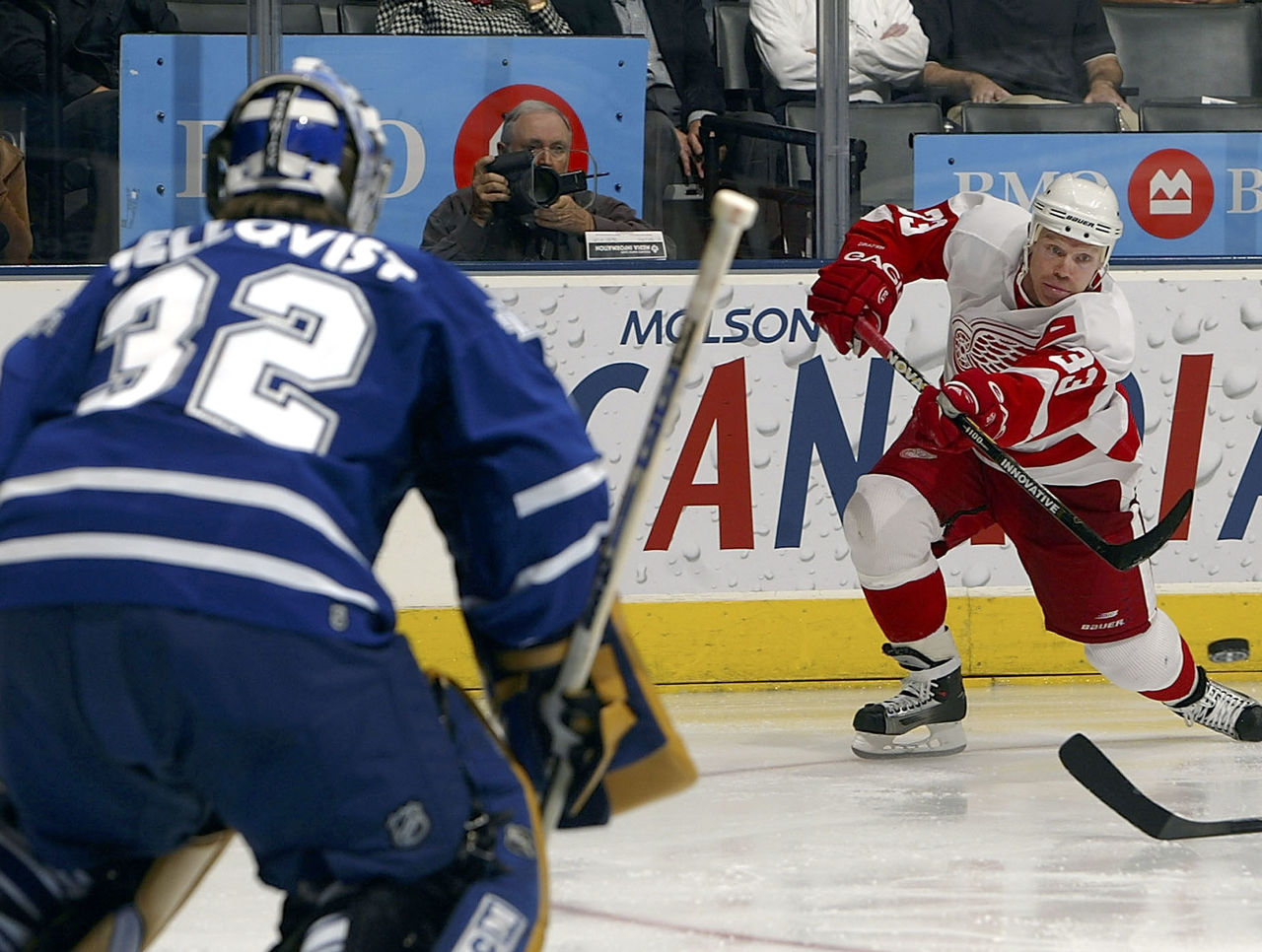 On his favorite visiting arena:
It has to be Maple Leaf Gardens. Being a Toronto kid, I remember wearing my Don Mills Flyers black leather jacket and going down to watch the Leafs play with my dad. And all of a sudden, I'm in an Original Six rivalry, Detroit-Toronto, playing at Maple Leaf Gardens.
To me, the most memorable rink to walk into was Maple Leaf Gardens, just because I did it so many times as a kid, and then here I was, playing for another Original Six team, so many great games and rivalries, and I was a part of it. So walking into that rink was the best for so many reasons.
On his favorite Stanley Cup playoff story:
In 2002, we started against the Vancouver Canucks. We lost both games at home and left right after we lost Game 2. And this was the 2002 team that, from the day training camp started, if we didn't win the Stanley Cup, it was going to be a major disappointment.
I just remember when we got on the bus, there was a huge cavalry of Vancouver Canucks fans, following the bus, heckling the bus, they had the brooms out, yelling "Sweep!" and all this stuff. I remember when we got to the hotel, we all met in a conference room and had a team meal and a casual conversation; it was players-only.
Stevie just kind of came up and said, "You know what? All we gotta do is win Game 3. We do that, we're back in the series, and we go from there. We're gonna win Game 3, and we're gonna win this series." And it was just the way he said it. There was no doubt that this was going to happen. And sure enough, we end up winning Game 3.
When you think about one of the greatest leaders in the game ... Stevie Y comes in and addresses the team, and it was just how he said it. It's something that I never forget, sitting in that hotel and having that team meal. And sure enough, we won Game 3 and went on to win the Stanley Cup.
__________
Rapid Fire
The best players he ever played with: Steve Yzerman, Pavel Datsyuk
The best players he ever played against: Wayne Gretzky, Joe Sakic
The best goaltenders he ever faced: Ed Belfour, Patrick Roy
_____
Fact File
Born: May 24, 1971, Toronto, ON
Drafted: Third round (62nd overall), 1989, Winnipeg Jets
Teams: Winnipeg Jets (1990-93), Detroit Red Wings (1993-2011)
Awards: Selke Trophy (2003-04), Stanley Cup (1996-97, 1997-98, 2001-02, 2007-08)
| STATS | GP | G | A | P | PIM |
| --- | --- | --- | --- | --- | --- |
| Regular Season | 1157 | 161 | 203 | 364 | 790 |
| Playoffs | 222 | 24 | 22 | 46 | 160 |
(Photos courtesy: Getty Images)
Other entries in this series:
Comments
✕
The Retro: Kris Draper on Yzerman, the Claude Lemieux hit, and being a cheater
  Got something to say? Leave a comment below!