The Retro: Jeremy Roenick on Mike Keenan, tears, and 'ugly' Darren McCarty
Warning: Story contains coarse language.
Over the course of the 2017-18 NHL season, theScore will run a series of interviews with former players in which they recall some of the greatest moments of their careers. This edition focuses on Jeremy Roenick, who became one of the best power forwards of his generation while tallying 1,216 points over his 20-year NHL career.
On the memory of his first NHL game:
I remember how scared I was in the locker room.
I remember I was 158 pounds, and I should have been a senior in high school - and here I am starting my first NHL game. I remember just being so in awe of the size of the guys, and how intimidated I was. They were like gladiators, and here I am, a scrawny little kid trying to survive. It was exciting, but it was extremely scary at the same time.
On his first NHL goal:
It was a pretty cheap goal - but you go to the net, and good things happen.
Brian Noonan and I had played together in the summer leagues, so we were on the same team for three or four summers. And it just so happened that we would be playing together in Minnesota (where the Blackhawks were facing the North Stars.)
I got called back up from junior in February - it was Valentine's Day - and I remember almost missing the flight because of a snowstorm. I remember getting into Minnesota just before the pregame skate, so I didn't even get to participate. I hadn't skated in a month and a half because of a knee injury; I had everything going against me.
I remember Brian throwing the puck into the crease, and it slipped through (North Stars goaltender) Kari Takko's feet and was sitting right on the goal line. And all I had to do was skate by and tap it in. That was my first goal. It wasn't anything pretty, but it was memorable because of who assisted on it and because of the circumstances.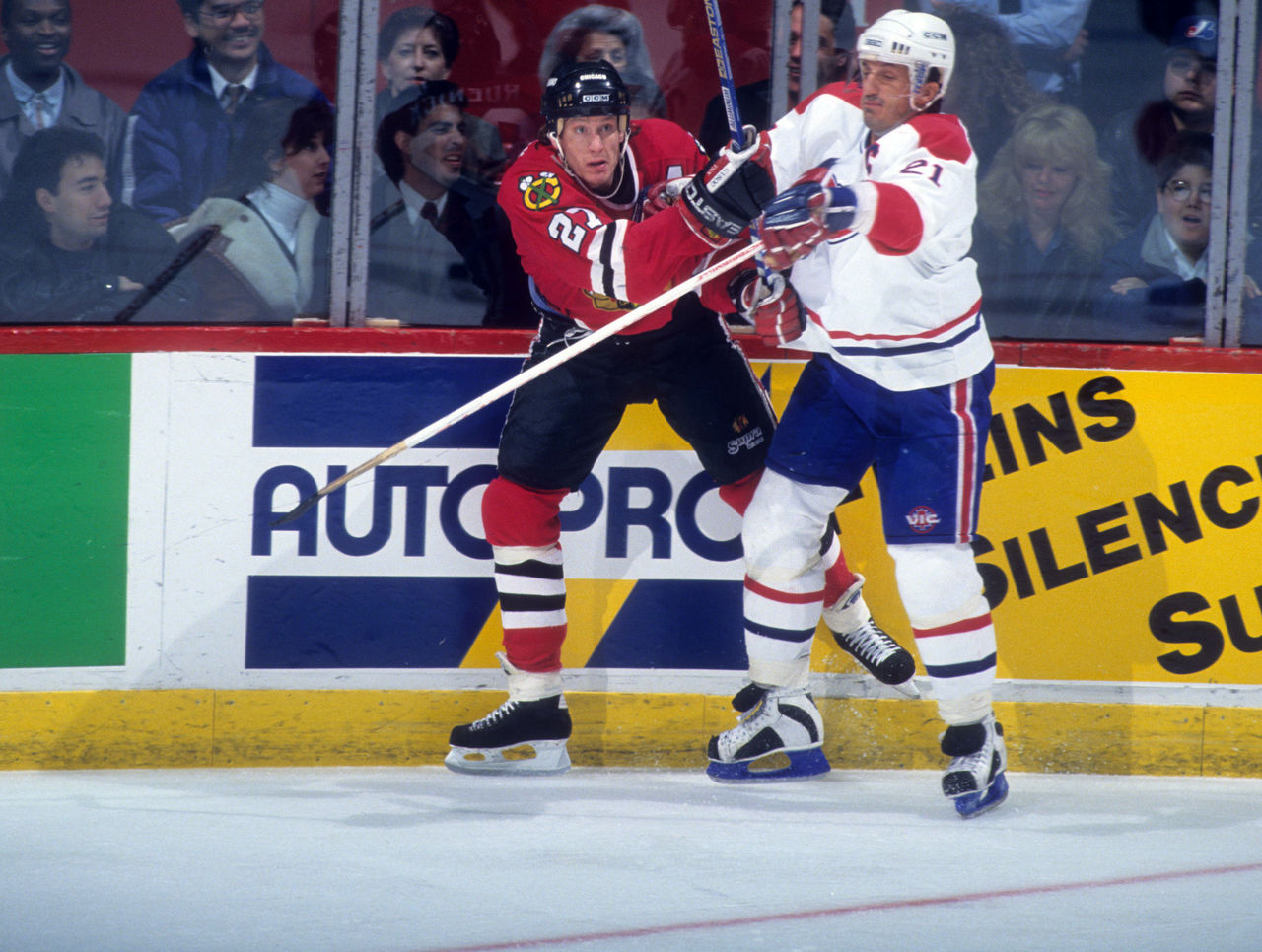 On playing a physical game as a small forward:
I was really afraid. I was forced to do it by Mike Keenan. He grabbed me by the throat on the bench in Kalamazoo in one of my first preseason games, because I wouldn't hit anybody. I would always swing by and wouldn't finish my check - and that's just not acceptable for Mike Keenan. So he said I wouldn't play a single game for him as long as I continued to swing by checks.
I was fearful of what would happen if I didn't finish my check, even though I was small and weak. So I used my speed to turn myself into a human torpedo. I would have ice packs all over my body after games. But the fans seemed to like it, and I seemed to enjoy it, and then I would score goals and make big hits all at the same time, so it was pretty cool.
It probably took a few years (to feel comfortable playing a physical game). I started putting on some weight, and felt much stronger. I totally enjoyed it, but I took a real beating on my body. It was just getting into that mentality of having to hit everybody that was pretty scary.
On who hit him the hardest:
Jim Johnson hit me with an elbow one time and knocked me out. That was 15 minutes of my life that I don't even remember anymore, so that was scary. Scott Pearson hit me in Toronto, and it stopped me in my tracks. All the wind got blown out of me.
I've been hit hard by a lot of guys. Darcy Tucker absolutely launched his entire body at me and hit me as hard as he could. But I loved the competition with those guys. I would go around and hit people, and they would do it to me. That's just what the game was all about.
On the best trash-talkers he encountered in his career:
Kevin Stevens was a great trash-talker. Dallas Drake was a phenomenal trash-talker, as was Keith Tkachuk. These guys were just so funny to listen to. Stu Grimson, Mike Pleuso, they always threw out funny one-liners.
I remember Dallas Drake commenting as (Red Wings teammate) Darren McCarty was skating off the ice. Drake said he told him to get off the ice and go to the locker room before he scared all little kids in the stands. He was so ugly that he was scaring kids out of the building. (laughs) Just stupid little one-liners that come out when you're not expecting it.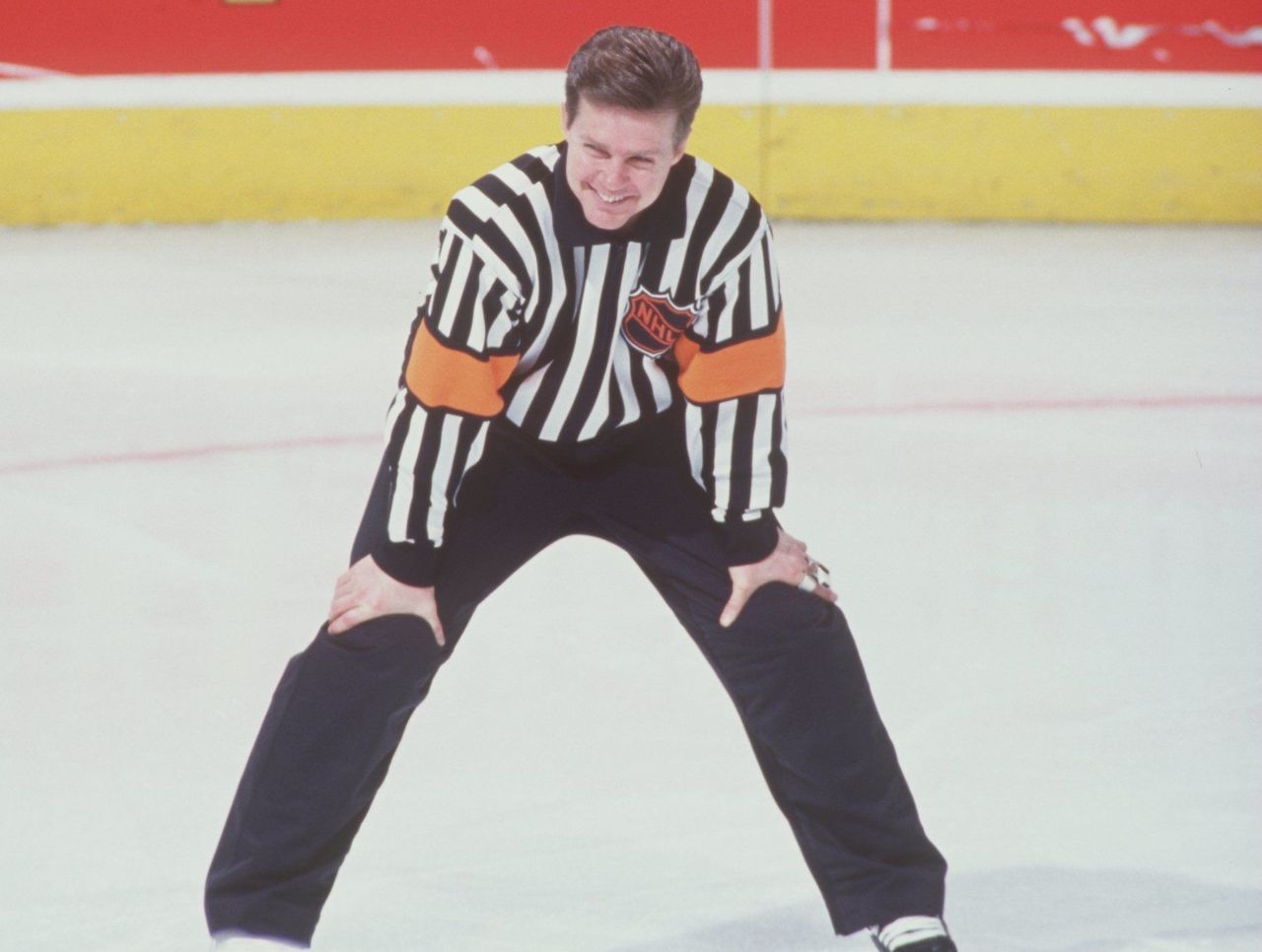 On his favorite referee memory:
I have a bunch. And I really respected the referees, even though I didn't show it a lot of times because I was a whiner, complainer, bitcher.
I remember one time I was skating down the ice, and I was flying. And I got tripped by an opposing player. Kerry Fraser was the referee. And I turned around and yelled at him, "What the fuck, Kerry? How could you not call that a tripping penalty?" And Kerry goes, "Tripping? You fell. You fell on your own."
I said, "What? Are you kidding me? I'm one of the best skaters on the planet. You think I would just fall for no reason?" And he looked right at me and started laughing his ass off. He's told that story to so many people. We both got a good chuckle out of that.
On players he considers underrated even to this day:
People don't understand how really good competitive guys like Chris Chelios and Tkachuk were. Not only were they great, but they did so many little things and the competitive effort was so far off the map that you wouldn't believe it watching it day by day.
There were defenseman that were flashier, that were better goal scorers or offensive threats, guys like Paul Coffey and Ray Bourque - guys like that who took the spotlight away from Chelios because they had better offensive prowess or looked like better skaters. Chelios was not a good-looking skater - he had to work for everything he had. He had to dig harder than most guys.
He wasn't the biggest guy, but his heart and his dedication and his commitment were triple that of most guys I've ever seen. With Coffey, he would be behind his own net and next thing you knew, the puck was in the back of the net. Chelios didn't look graceful, or look like he was dominating, but he did a lot of little things that helped win games.
Justin Williams is another guy that I think was under the radar. He scored more Game 7 goals and points than anybody in history. He was a guy who found a way to get it done.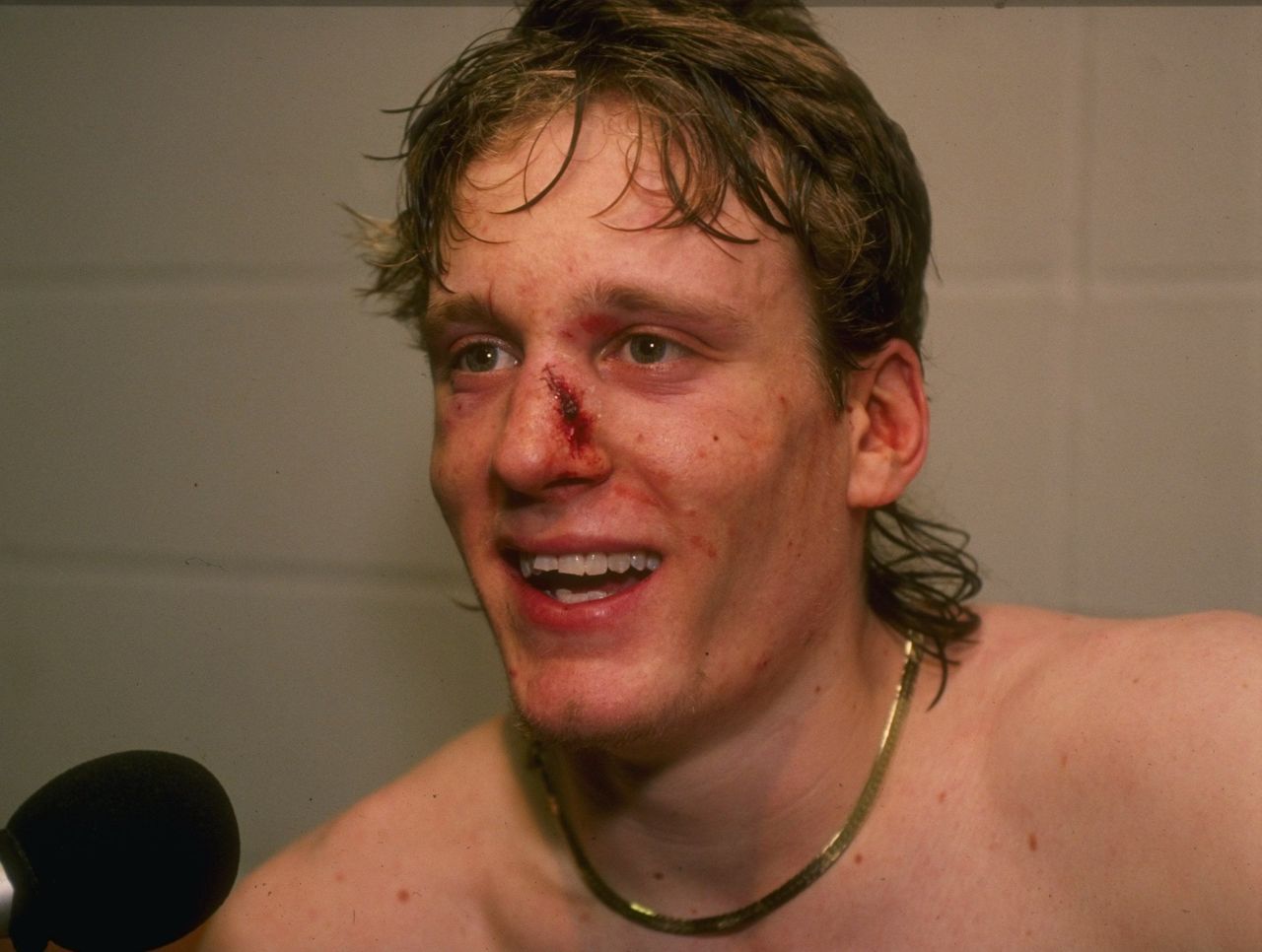 On the greatest game he ever played:
I think I'd have to pick my first year, in 1989, in the playoffs against St. Louis, where I lost my teeth and had 15 stitches. I had a skate blade that hit my nose in the first period, and Glen Featherstone cross-checked me in the mouth and knocked out three teeth.
I got a two-minute penalty, and he got a five-minute major. I came out of the box and scored the game-winning goal in that game. That was kind of like a coming-out party for me. It's where my reputation was kind of written out and created. I always have that in the back of my mind.
The 2002 Olympics, playing the Canadians in the gold-medal game, is probably one of my proudest, favorite moments as an athlete. Even though we lost, that put a stamp on USA Hockey being a world power, playing on such a large stage for the gold medal against our archrivals. It was pretty cool.
On what stands out from the last NHL game he ever played:
How pissed off I was, and how much I hated (Ducks goalie Jonas) Hiller.
We (the San Jose Sharks) were one of the best teams in the league again; we won the Presidents Cup in 2009 and we lost in the first round to the Ducks because of Hiller. He just stood on his head; he was invincible. He pretty much beat us by himself. I think I won the Presidents Cup trophy three or four times and lost in the first round twice.
I think that frustration and disappointment, and that hatred for that goaltender because of how well he played, is what sticks with me.
On his favorite hockey story that he hasn't shared much:
I remember my second year, we were playing the Edmonton Oilers in the conference finals. And I was having so much fun playing the game and competing through the playoffs; I remember it was the time of my life.
Before our elimination game at home, right before the game started, I was filled with so much emotion and fear that the season could be over that night that it overcame me. I ran into the changing room where we put all our clothes, and I sat in my stall and literally cried my eyes out because I was so afraid that the season could be over that night, and I didn't want it to be over.
I loved playing so much that the fear of the season ending was the end of the world to me. And then I went out and watched one of the best performances I've ever seen by an NHL player. Mark Messier beat us pretty much single-handedly and ended our season. I've seen some pretty good individual efforts in my time, and Messier's was one of them.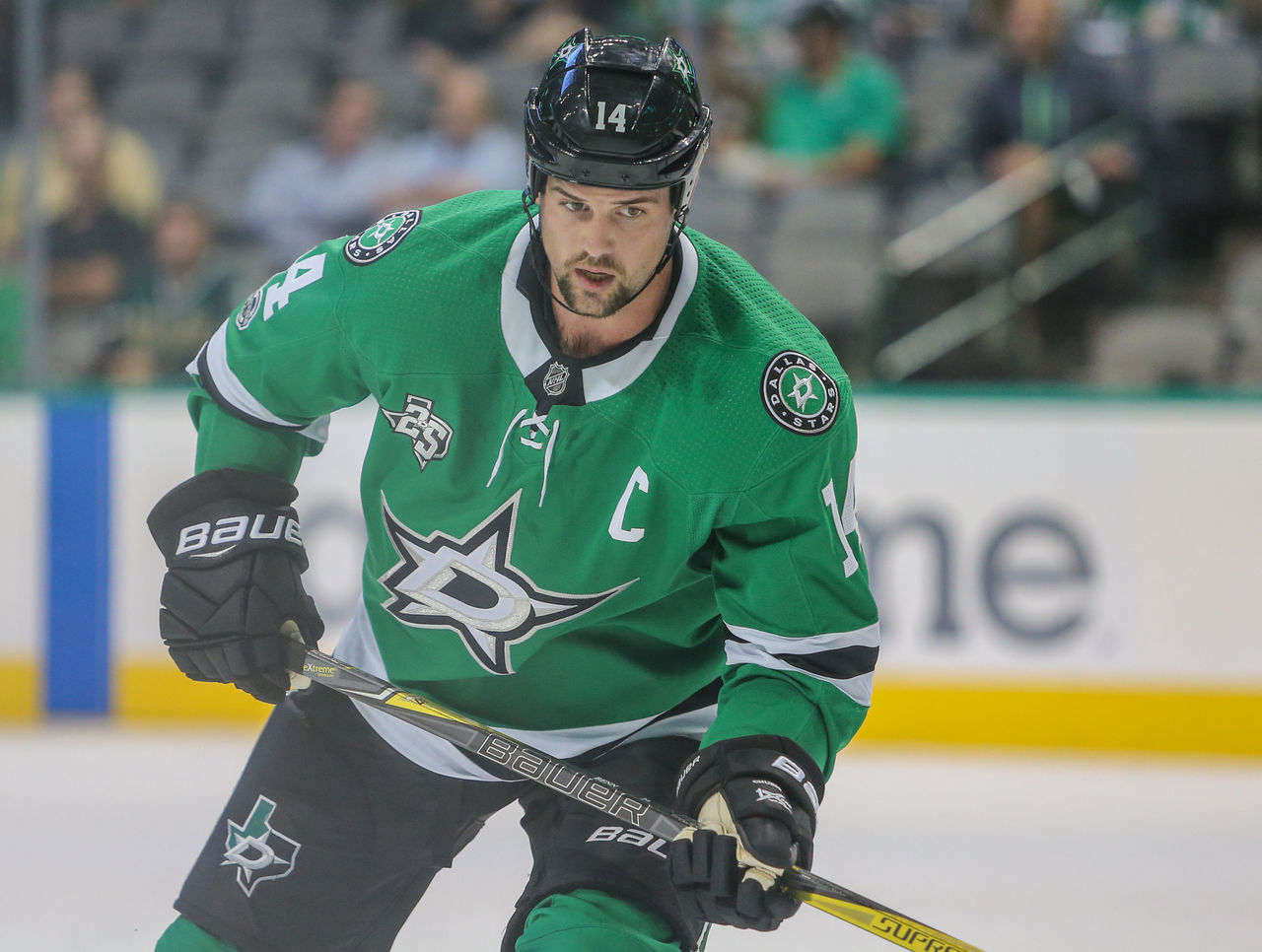 On which active player reminds him most of himself:
I think in watching Jamie Benn play ... fierce, hard-hitting, he'll fight, scores beautiful goals, I think his mentality probably is the closest to the way I played. I think I hit a lot more than Jamie does. I think I hit a lot more than any player does these days.
I've been asked this question before, and I really can't think of anybody that hit as much as I did, or ran around and threw the body as much as I did and scored as much as I did, points-wise. That might sound egotistical, but not to the level and extent that I did.
__________
Rapid Fire
The greatest player he ever played with: Chris Chelios
The greatest player he ever played against: Mark Messier
The best goaltender he ever faced: Martin Brodeur
The best coach(es) he ever had: Mike Keenan, Todd McLellan
__________
Fact File
Born: January 17, 1970, Boston, MA
Drafted: First round (8th overall), 1988, Chicago Blackhawks
Teams: Chicago Blackhawks (1988-96), Phoenix Coyotes (1996-2001, 2006-07), Philadelphia Flyers (2001-04), Los Angeles Kings (2005-06), San Jose Sharks (2007-09)
| STATS | GP | G | A | P | PIM |
| --- | --- | --- | --- | --- | --- |
| Regular Season | 1363 | 513 | 703 | 1216 | 1463 |
| Playoffs | 154 | 63 | 69 | 122 | 115 |
(Special thanks to the NHL Alumni Association for its assistance.)
(Photos courtesy: Getty Images)
Other entries in this series:
Comments
✕
The Retro: Jeremy Roenick on Mike Keenan, tears, and 'ugly' Darren McCarty
  Got something to say? Leave a comment below!