The Retro: Doug Gilmour on beer, bets, and what he would change as NHL commish
(Warning: Story contains coarse language.)
Over the course of the 2017-18 season, theScore will run a series of interviews with former players in which they recall some of the greatest moments of their career. This edition focuses on Doug Gilmour, who racked up 1,414 points in 1,474 career NHL games with seven teams.
On breaking in with the St. Louis Blues as a late-round pick:
Most teams weren't going to give me a chance to play. Gord Woods drafted me (to the Cornwall Royals) and made me from a defenseman to a center, and we won the Memorial Cup - and then (Dale) Hawerchuk and Scott Arniel left, and all of a sudden they needed a No. 1 center. And I happened to take over that role. Gordie was a backbone, he really helped me.
When I got drafted in the seventh round, I had a chip on my shoulder. I was pissed. (Teammates) were drafted in front of me, and there was speculation that I was going to go in the second, third round. I was playing ball hockey the day before, and got in a fight and hurt my knee, so I was on the train coming back, and I was going to have part of my cartilage taken out. I got off the train, and my mom said I was picked up in the seventh round (by) St. Louis.
When I got there, we had (Bernie) Federko, (Blake) Dunlop, (Mike) Zuke, Larry Patey, Alain Lemieux, and Guy Chouinard. So (Blues head coach) Jacques Demers said, "We got a lot of offense here. We need defense. Can you check?" And I said, "Sure." That taught me another side of the game.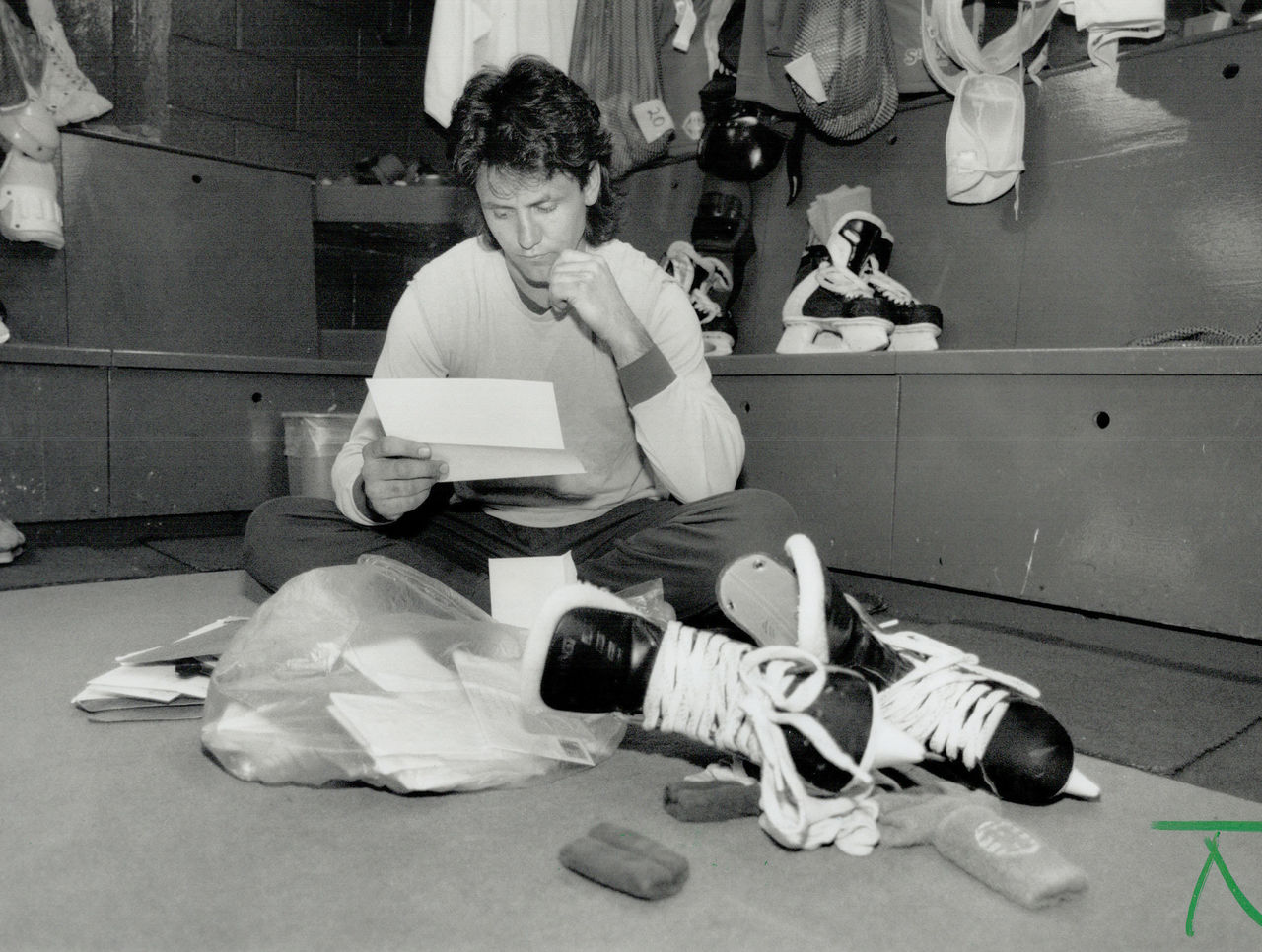 His favorite story from his nine-game stint with Rapperswil-Jona of the Swiss League during the 1994-95 NHL work stoppage:
We practiced in the morning and again in the evening, and then we would go to a team dinner. It was mandatory; everybody had to go. So we're at this big table, and there's one player on one side of me, and one player on the other side of me. And there are, like, three guys who can speak English.
So the guy sitting across from me says, "Doug, you ever seen a blowfish?" I say, "No, I know what it is, but I've never seen one." Well, both guys beside me, with beer in their mouths, spit right on my face. So I go, "OK, this is what we're doing now."
After that, we went to a bar ... and don't forget, the town of Rapperswil has about 15,000 people. And Bruno Hug was the (team) owner and general manager. We're in there, having beers, and they have those little shot bottles. You take the cap off, put it on the end of your nose somehow, put the bottle in your mouth, drink, and then spit the bottle on the ground.
So Bruno walks in, and all of a sudden I see one tall defenseman, I forget his name, and he has scissors with him. And he walks over and cuts (Bruno's) tie off. And Switzerland is really expensive; he probably has a $5,000 suit on. And now (the defenseman is) cutting the sleeves off Bruno's suit coat. And I'm going, "Where the hell am I?"
His other favorite story from Switzerland:
So I take the guys out for a fondue dinner, because I'm leaving in three days and I want to say thank you to the team. But I'll fast forward a little bit: I had a car accident that night.
What happened was, we're all at a big table at this fondue place, and I bought this jacket over there, it was $500 or something like that, a leather jacket that goes over my suit coat. It was really nice.
So I'm sitting there, we're almost done dinner, and I see the scissors come out. I run out of the restaurant, fly out the front door, go down a hill, headfirst into a Mercedes car door. That's my car accident. (laughs) So we left a note on the window.
I go see Bruno the next day, and he says, "You had a car accident last night. I got a call today ... $3,000 damage. What happened?" I said, "Well, I was getting chased out of the restaurant with the scissors, and I slid down the hill and I hit a car door with the side of my head and my shoulder."
He said, "You weren't driving?" And I said, "No." (laughs)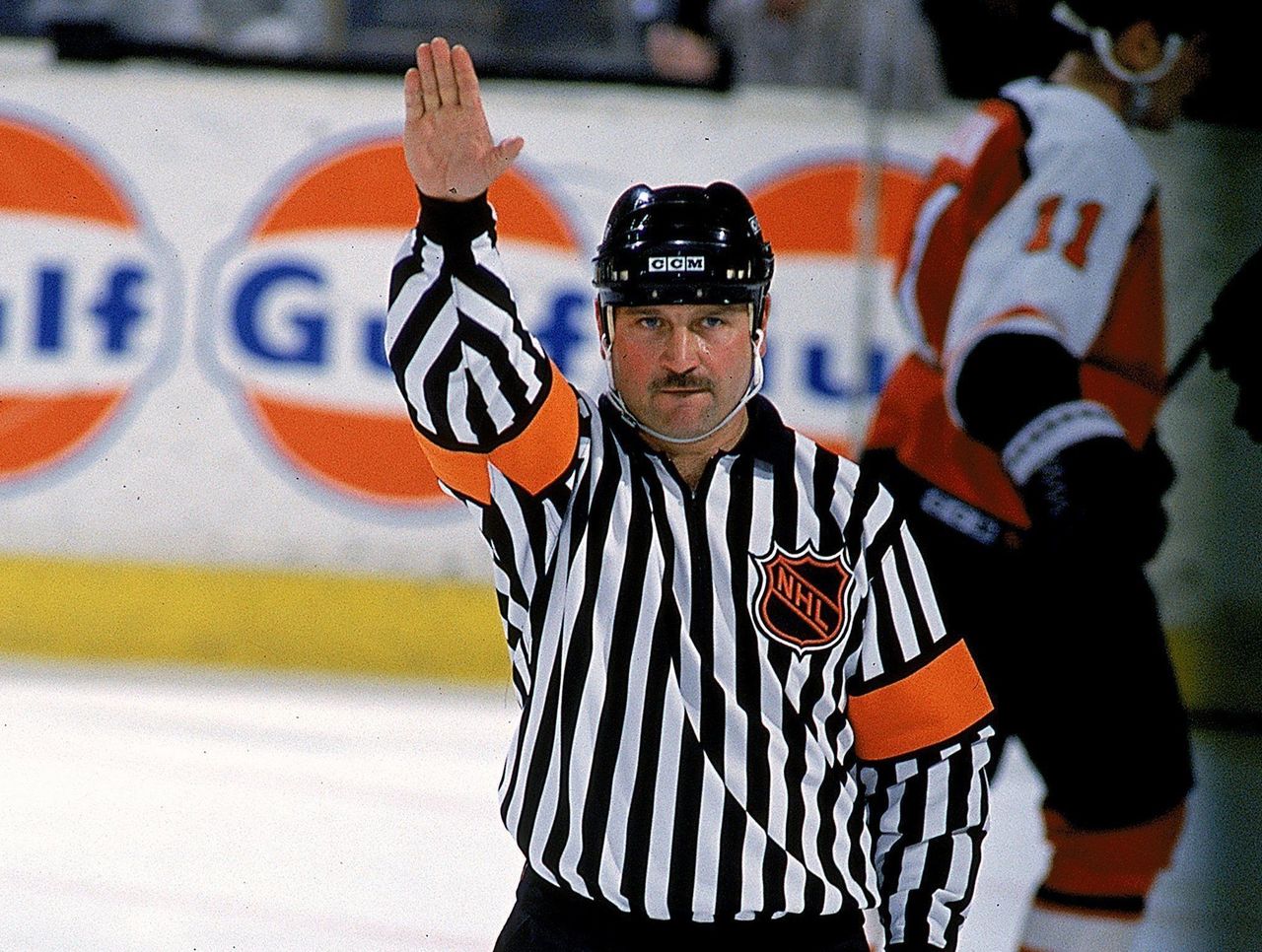 His favorite referee story:
The one with (Don Koharski), and Gary Roberts, and the case of beer.
Koho, I knew him, he lived in the Burlington/Oakville area. You get to know the referees, and what you can get away with and what you can't get away with. I think we were winning 6-2, and (I get a minor penalty), and I said to Koho, "Don't give me two. I need 10." And he goes, "You're kidding me, right?"
And I say, "No, you fucking asshole." And he said, "I'm not giving you 10." And I said, "Koho, you're a fucking asshole. Give me 10. I need 10 minutes." He goes, "Really?" And I said, "Yeah."
So he said, "OK, 10 minutes." And I said, "Thanks." (laughs) And I went off the ice and back to the dressing room, and started laughing.
So (Flames head coach Terry Crisp) is trying to figure out why I got kicked out, because I hadn't told anybody. And he goes, "You wanna tell me what that was all about?" And I go, "Well, it was a bet." And he says, "What the fuck are you talking about?"
I go, "Well, I asked Koho to give me 10 minutes. I didn't want two minutes, I needed 10 minutes. And there was only two minutes left in the game. And I just won a case of beer because I beat Roberts in penalty minutes." And he says, "OK. That's good." And he starts laughing.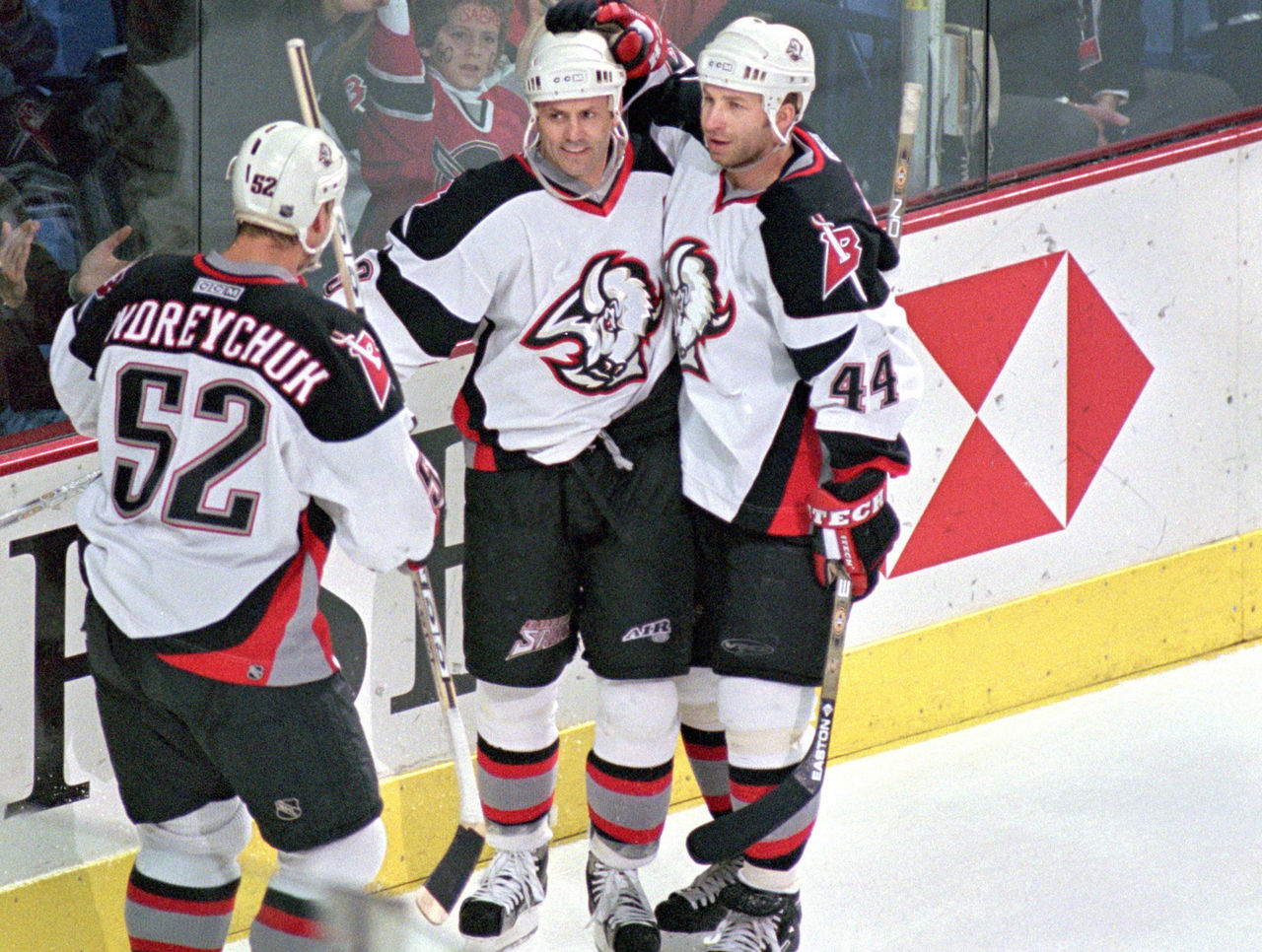 The player he considers most underrated from his era:
I'd have to say Dave Andreychuk.
I played against him in junior hockey when he was with Oshawa. He was a bona fide goal-scorer. He took a beating. I asked him sometimes, "Why are you shooting right at the goalie?" He would shoot right at the goalie's stick or the pad, and it would come back to him, and he had that reach to get it around. And he would say, "Sometimes I just can't pick the corners."
I played with him in New Jersey, and Buffalo, after (Toronto). And we never played on the same line. We were roommates, and we'd look at each other and say, "We ever going to play together again?" We had a little bit of success ... did everybody forget about this? (laughs) It was hilarious.
What he would change as NHL commissioner:
I would add an extra 10 feet to the width of the rinks - not the length, the width. So 5 feet on each side. It will give your skill players that much more room to be that much more creative.
When I watch the European game, they trap. But when you have the puck down low, you want to see something. And to me, with the way the game has gone, let's see more skill. There's just not enough room for certain guys.
__________
Fact File
Born: June 25, 1963, Kingston, ON
Drafted: Seventh round (134th overall), 1982, St. Louis Blues
Teams: St. Louis Blues (1983-88), Calgary Flames (1988-92), Toronto Maple Leafs (1992-97, 2003), New Jersey Devils (1997-98), Chicago Blackhawks (1988-2000), Buffalo Sabres (2000-01), Montreal Canadiens (2001-03)
Awards: Selke Trophy (1992-93), Stanley Cup (1988-89), Hockey Hall of Fame (2011)
| STATS | GP | G | A | P | PIM |
| --- | --- | --- | --- | --- | --- |
| Regular Season | 1474 | 450 | 964 | 1414 | 1301 |
| Playoffs | 182 | 60 | 128 | 188 | 235 |
(Photos courtesy: Getty Images)
Other entries in this series:
Comments
✕
The Retro: Doug Gilmour on beer, bets, and what he would change as NHL commish
  Got something to say? Leave a comment below!