The Retro: Bernie Nicholls on L.A. life, Chelios, and Gretzky's McDonalds obsession
Warning: Story contains coarse language.
Over the course of the 2017-18 season, theScore will run a series of interviews with former players, coaches, and officials in which they recall some of the greatest moments of their career. This edition focuses on Bernie Nicholls, who racked up more than 1,200 career points and had a 70-goal, 150-point season next to Wayne Gretzky in the late-1980s.
On what he remembers from his first NHL game:
My first game was in Calgary, at the old Calgary Corral, where the boards seemed like they were five feet high, and hard. I remember Jerry Korab got hit from behind into the boards, it might have been my first shift out on the ice. And there's a fan banging on the glass, and I go over, and (Jerry's) teeth are sitting on the ledge of the boards.
So, I'm sitting there going, "Damn, here's my first shift in the NHL and a guy just got his teeth knocked out on a hit from behind." (laughs) I don't remember who won the game, or how well I did, but that's what I remember.
On his first NHL goal:
We're in Colorado. I get a breakaway, and I deke Chico Resch and score.
I actually had someone send me a picture of me deking past him and shooting it into the empty net. And that was back before we had iPhones and things like that. I actually have that picture with my jersey hanging up, where I'm shooting the puck into the empty net. And Chico Resch signed his goalie stick for me, so I have that.
It was actually a pretty nice goal for my first NHL goal.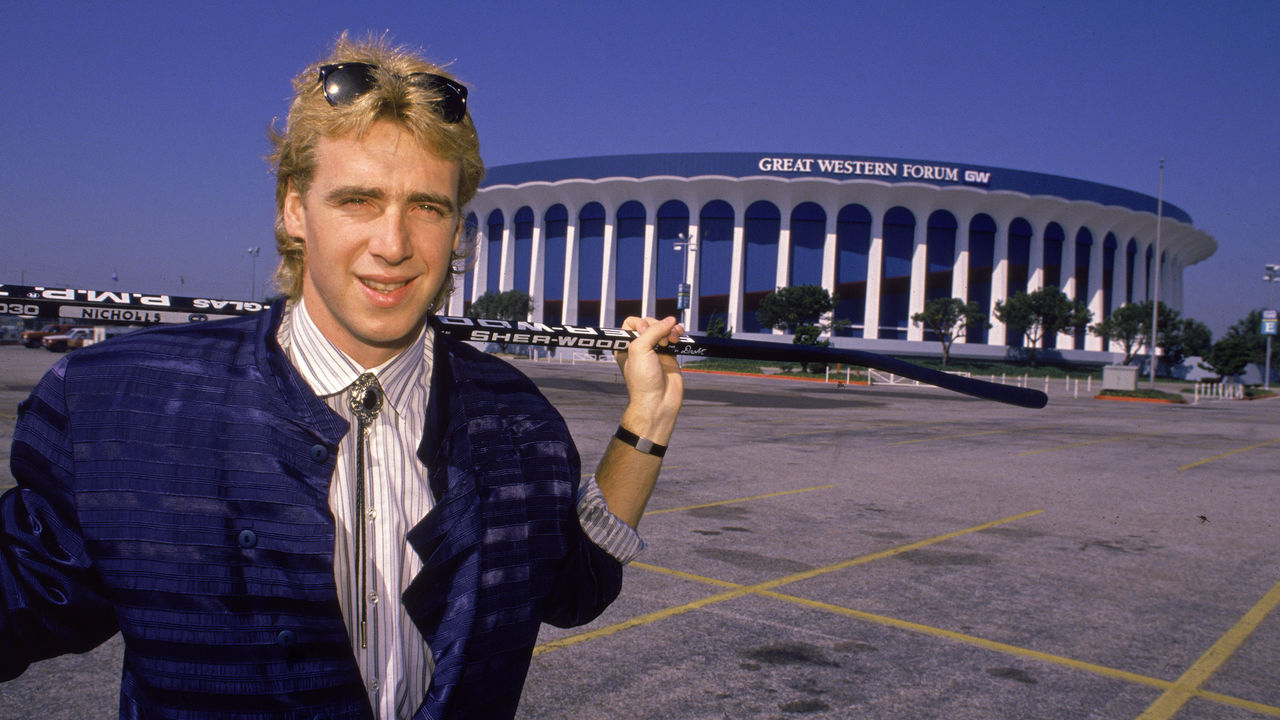 On adjusting to life in L.A. after growing up in West Guilford, Ontario:
I'll never forget flying into L.A. ... where I come from, there may be 75 people in my hometown. There are trees, it's back in the bush. I'm flying into Hollywood ... you actually fly right over the (Great Western Forum). I remember that. And then you land, and there are, like, 10 million people. I go from one extreme to the next.
I love horse racing; Hollywood Park was right there. (Lakers owner Jerry) Buss had celebrities there all the time. Tom Hanks would be at the games. Sylvester Stallone, Goldie Hawn, Kurt Russell. We played every Saturday night and the Lakers played every Friday night. I'd go to the games and stand on the floor, and hang out with Magic Johnson and the rest of the Lakers.
I always found I can adapt anywhere. You want to take me to Alaska, I can go live there. I love that part of the world. Hollywood was an easy transition, and I enjoyed it. I got my pink silk suit; I could dress the part. It was pretty cool.
On whether he still fancies wearing fur coats as he did in L.A.:
You know what? I still have one; I haven't worn it in a while.
When I was in junior, my billet owned a fur store. So that's where I kind of got the reputation there as an 18-year-old, playing junior hockey, traveling out with a full-length wolf coat. I guess it followed me out to L.A.
On his favorite on-ice talkers:
Ken Baumgartner was tough. He'd always give you the old, "Daddy's home!" or, "You want to party?" But he could back it up. He was good that way.
Another one was Glen Sather - he was so fitting for the Oilers. Cocky young kids, and their coach was cocky and arrogant, but they could all back it up. Glen would have that shit-ass grin on his face behind the bench, chirping at you, but he could really back it up.
A lot of the tough guys would just kind of tell you what they were going to do. Marty McSorley was one of those guys. I love Marty, and I got to play with him, but I'll never forget one time when we're in L.A., and the whistle goes. And the referee, he's over by the penalty box. And Marty's giving me a face wash, 'cause he knows there's nothing I can do about it. (laughs)
So I turned and punched him as hard as I can right in the head, and then I skated as fast as I could to the penalty box and stood right beside the referee and said, "He's comin'." And sure enough, he came and speared me right in front of the referee. (laughs) That's our friend Marty.
On his favorite referee interaction:
I remember Andy Van Hellemond was a big horse guy, and he knew I was. So when he'd come to L.A., he'd be at the track, and we'd be on the ice and he'd tell me he had a good day, or ask me, "Do you know anything for tomorrow?" I lived with a jockey there, and was a friend with a couple of them ... they used to be in the penalty box in L.A., opening the door on the visitors' side.
Andy knew I was friends with them, so he'd always ask me if I had any tips for him, or just tell me how well he did that day.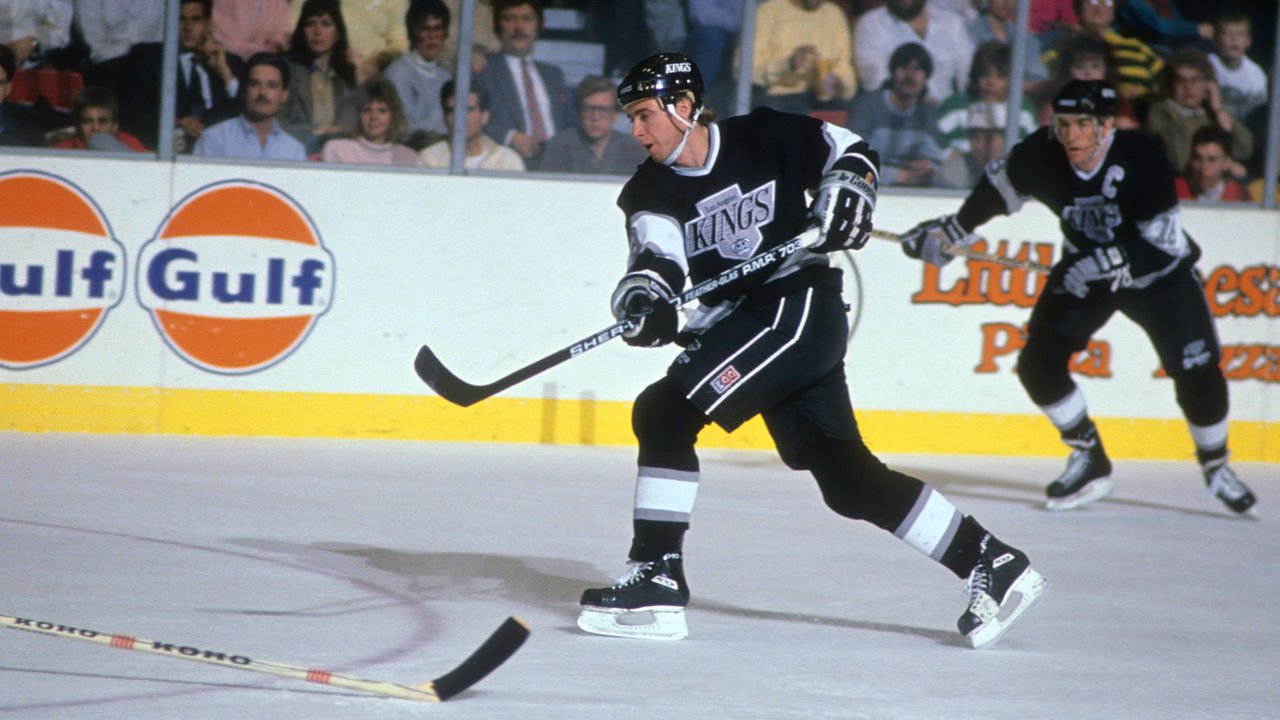 On how he developed into one of the best shooters of his era:
I think that was more natural ability than work. I've always said, if I could ever do one thing over again in my career, it would be that. We never worked on our craft like kids do today. We never worked out. I didn't start working out until I got to Chicago in '94. We never even had a bike in L.A.
When I got to Chicago, with Chris Chelios, all of a sudden I'm doing push-ups and sit-ups in the sauna, working out every day and loving it. But that was much later in my career. So for me, I think most of (my shooting ability) was God-given. My endurance was probably as good as anybody's. But I still loved shooting in practice.
People always said I had a deceptive shot, or that when I came down the ice, they never knew where I was going for the puck. I guess that was fortunate for me, when goalies couldn't read me. A lot of guys telegraph their shot, and I guess mine was a little different.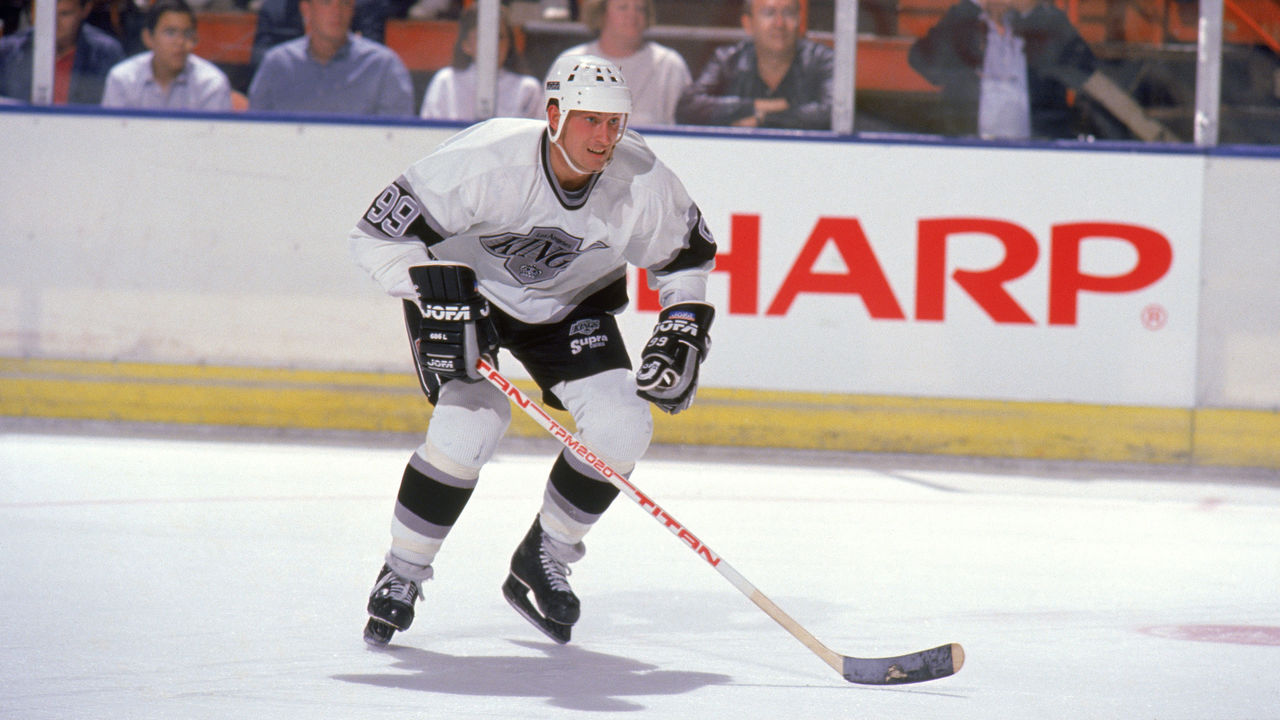 On the moment he found out the Kings had acquired Wayne Gretzky from the Edmonton Oilers:
I was actually in Tahoe at a celebrity golf event, and Jeremy Roenick said he had just heard that (the Kings) had got Wayne Gretzky. I was absolutely shocked. And I was good friends with Bruce McNall, who had just taken over. He had never really mentioned anything about that.
But it was like Christmas day; I was like, "You gotta be kidding me." I was just so excited to have the opportunity to play with Wayne.
On his relationship with Gretzky during their time together:
I've asked different people - and I don't know how Wayne was in Edmonton or on other teams, if he had one player that he hung with - but I was Wayne's shadow. Every day Wayne took me to lunch. When we went on the road, it was Wayne and I. Went to dinner, went to movies. Every day, I was with him.
We had a McDonald's 200 yards up the street (from the arena). Wayne loved McDonald's. Wayne would say, "Hey, Bern, let's go to lunch." When Wayne says "Let's do something," we're doing it. Let's go. So it's McDonald's. And to this day, I hate McDonald's. (laughs). We went every day.
I'll never forget game days. Wayne was a quiet leader, obviously leading by example. And he would come over to me - and he might have gone over to everybody, I don't know that - but he would give me a little tap privately on my knee pads and say, "I need you tonight." And in your mind you're going, "Oh my God, that's Wayne."
Great players bring out the best in everybody. They always do it. And that's how it was with Wayne. Obviously you want to play well for your team, but I always wanted to play well with Wayne. He had that kind of an impact on me. It was just a dream for me to play and hang with Wayne.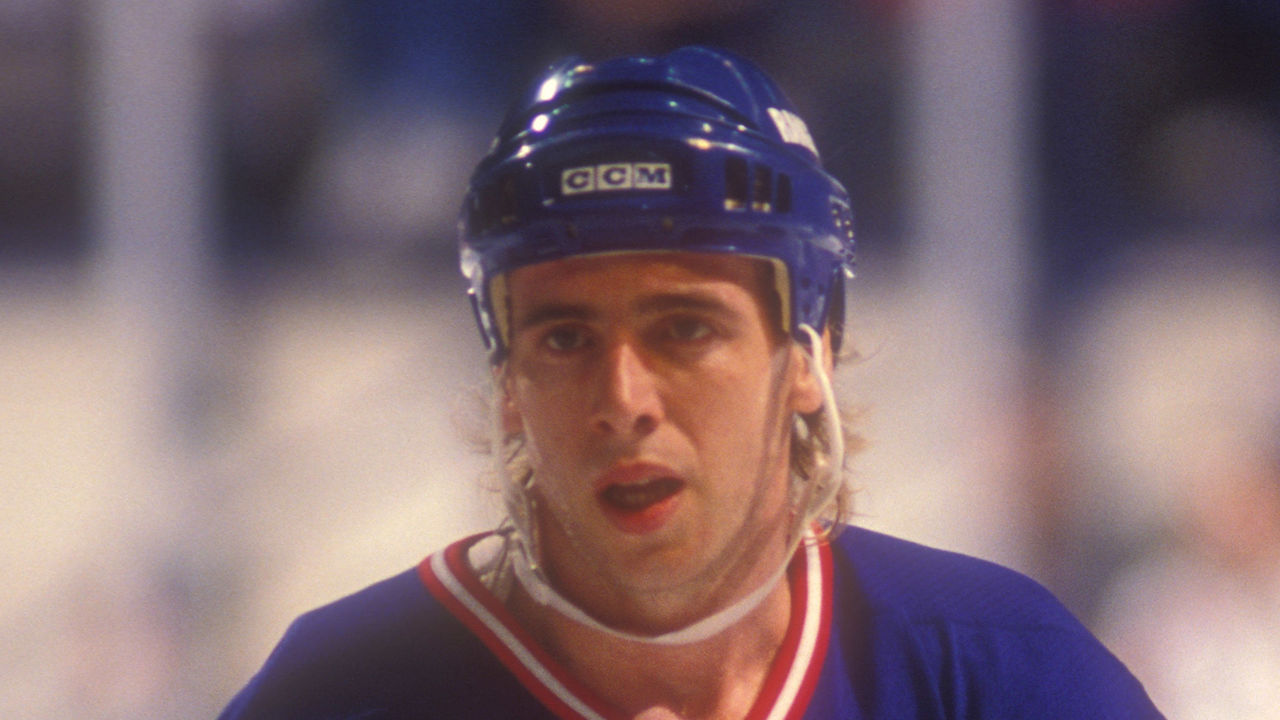 On whether being traded out of L.A. in a 1989 deal with the Rangers might have cost him a shot at the Hockey Hall of Fame:
Oh, absolutely. Any time you get traded ... obviously, after you get traded once it's a little easier ... but the toughest part for me was because of that.
You score 70 goals, you play with the greatest player in the game, and all of a sudden, it's like they tease you: they let you play with him just for a little bit, and that's it. For me, I was absolutely honored and fortunate to play with him for a year and a half, but wow, would it have been fun to play with him for a few more years.
That was absolutely the toughest part. That hurt.
On who he considers most underrated from his era:
I couldn't imagine what it would have been like to play with Gretz for 10 years. It was so much fun. But I've always said that if I could play with one person for my entire career, it would be Chris Chelios.
Chris' work ethic was second to none. He gave me nine stitches in my ear in practice one time as I was trying to go around him. He battled you in practice like it was a game. He always said he wanted to play 60 minutes, and I really truly believe he could have. If I had been the coach, I would have let him try.
Everybody knows that Chris would party hard off the ice at times, but he was the first person on the ice the next day. Always. And Chris was always the hardest-working player out there. No one battled harder than him. He was unbelievable.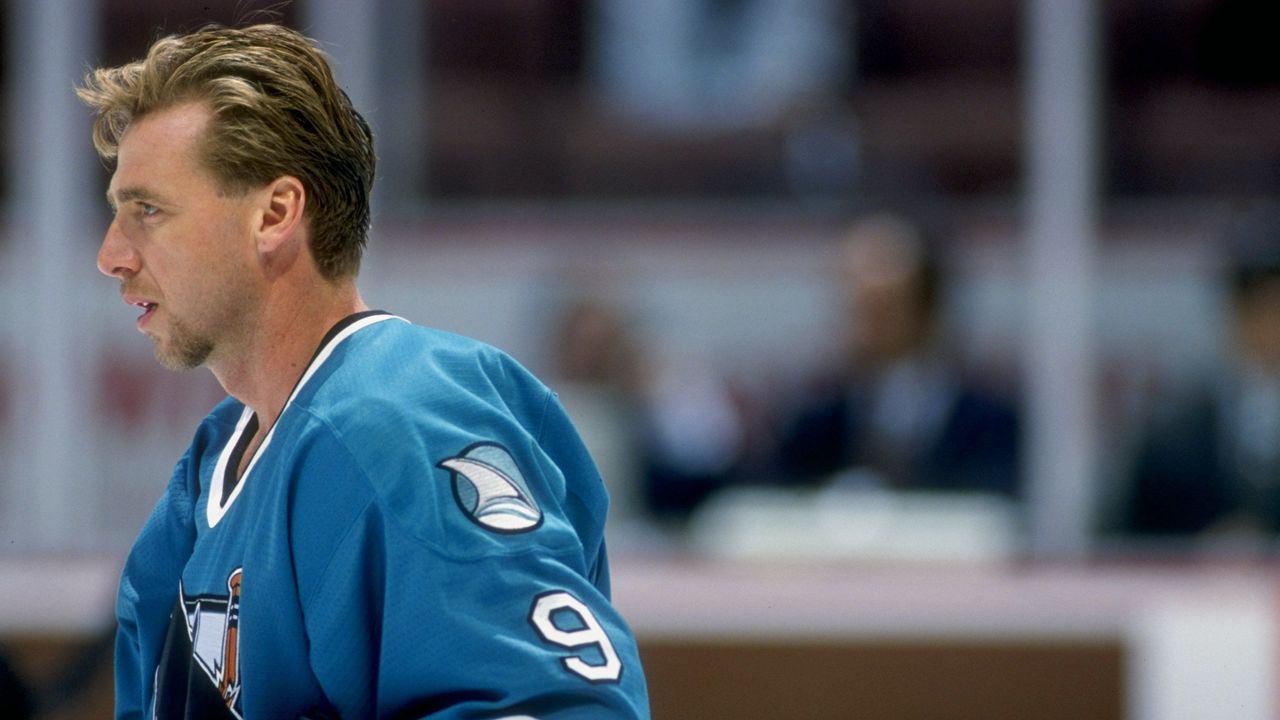 On winding down his career with the San Jose Sharks in the late-1990s:
The role was going to be different. I know when I signed there, I talked to the general manager, and he had a plan: "We want you to lead the team." They had just drafted Patrick Marleau, and said, "Later on, we want you to take on a lesser role, be more of a role model for the younger kids and teach them."
I loved the idea. To me, there's nothing better than watching young kids in any sport do well. And I've always said that the older players play such a big role to the younger kids. When I first broke in, you know that you gotta take someone else's job. You're not going to get support from the other center. It's the older guys that know that you're going to be a valuable part of the team going forward that take you under your wing.
For me, going there, I had an opportunity to help young kids, Patrick Marleau, Marco Strum, guys like that. And I really loved that idea.
On an unsatisfying end to his NHL career:
This one is a touchy one. I knew I wasn't done yet. The problem is, Darryl Sutter was the coach. I love Darryl, I had him twice. But he had his brother there, Ronnie. And Ronnie was playing that fourth-line role. But I already had an agreement with (GM) Dean Lombardi. Dean brought me in for that role.
So Darryl decides he's going to keep his brother ahead of me. And I can understand that; I probably would have done the same thing. But it's up to Dean Lombardi, the general manager, who knows I'm a better fit. And Dean wouldn't stand up for me against Darryl.
A year later he apologized, but my thought is, you didn't have the balls to stand up to Darryl and do the right thing for the team. So I was done. That didn't sit well for a long time. And like I said, I had no problem with Darryl; he kept me on as a coach there, and he hired me in L.A. as a coach. I can understand from his point; you do a lot of things for your family.
Dean knew I was the better person for the job, and that was the deal when I signed there. So that part stung - and it still hits a nerve.
On how he wished things had ended:
I wanted to play 20 years. And if I couldn't help the team, then I would know it's time. Obviously my goal scoring wasn't there, but I could still play well on defense, still take faceoffs, still really good for the young kids. And I loved the opportunity to play that role.
Even when I was coaching with the Kings, I hung with the players more than with the coaches. I loved being around the players, loved helping the players. I didn't get to do it enough (as a player), and I really would have liked to do it for a couple more years.
__________
Rapid Fire
Best goalie he ever faced: Patrick Roy
Best player he ever played with (aside from Gretzky): Mario Lemieux
Favorite coach of all time: His dad, Pat Quinn, Jacques Lemaire
Favorite visiting arena: Chicago Stadium
__________
Fact File
Born: June 24, 1961, Haliburton, ON
Drafted: Fourth round (73rd overall), 1980, Los Angeles Kings
Teams: Los Angeles Kings (1981-89), New York Rangers (1989-91), Edmonton Oilers (1991-93), New Jersey Devils (1993-94), Chicago Blackhawks (1994-96), San Jose Sharks (1996-98)
| STATS | GP | G | A | P | PIM |
| --- | --- | --- | --- | --- | --- |
| Regular Season | 1127 | 475 | 734 | 1209 | 1292 |
| Playoffs | 118 | 42 | 72 | 114 | 164 |
(Special thanks to the NHL Alumni Association for its assistance.)
(Photos courtesy: Getty Images)
Other entries in this series:
Comments
✕
The Retro: Bernie Nicholls on L.A. life, Chelios, and Gretzky's McDonalds obsession
  Got something to say? Leave a comment below!