1992-93 Revisited: 20 other cool things that happened that season
James Bisson celebrates the 25th anniversary of the 1992-93 season with a look back at the most memorable moments of the greatest campaign in NHL history. This edition focuses on other highlights from the campaign not covered in previous posts:
A lot happened during the 1992-93 NHL season. A lot.
So much, in fact, that we couldn't fit it all into five days' worth of posts. So here's a condensed look at 20 other major happenings from that magical campaign, including a few record-setters who deserve their due:
Chris Chelios won the Norris Trophy - and nobody would be surprised if voters chose him because they feared what would happen if they didn't. The Chicago Blackhawks star produced 15 goals and 58 assists that year, but it was the 282 penalty minutes he racked up that really stood out; it's the highest total by a Norris Trophy winner in NHL history. And nobody else has come remotely close.
While Pat LaFontaine generated plenty of accolades for his runner-up finish in the points race, the player he was traded to Buffalo for was terrific in his own right. New York Islanders phenom Pierre Turgeon finished fifth in Hart Trophy voting after racking up a career-best 132 points (58 goals, 74 assists); he also copped his lone Lady Byng Trophy after compiling an un-Chelios-like 26 penalty minutes.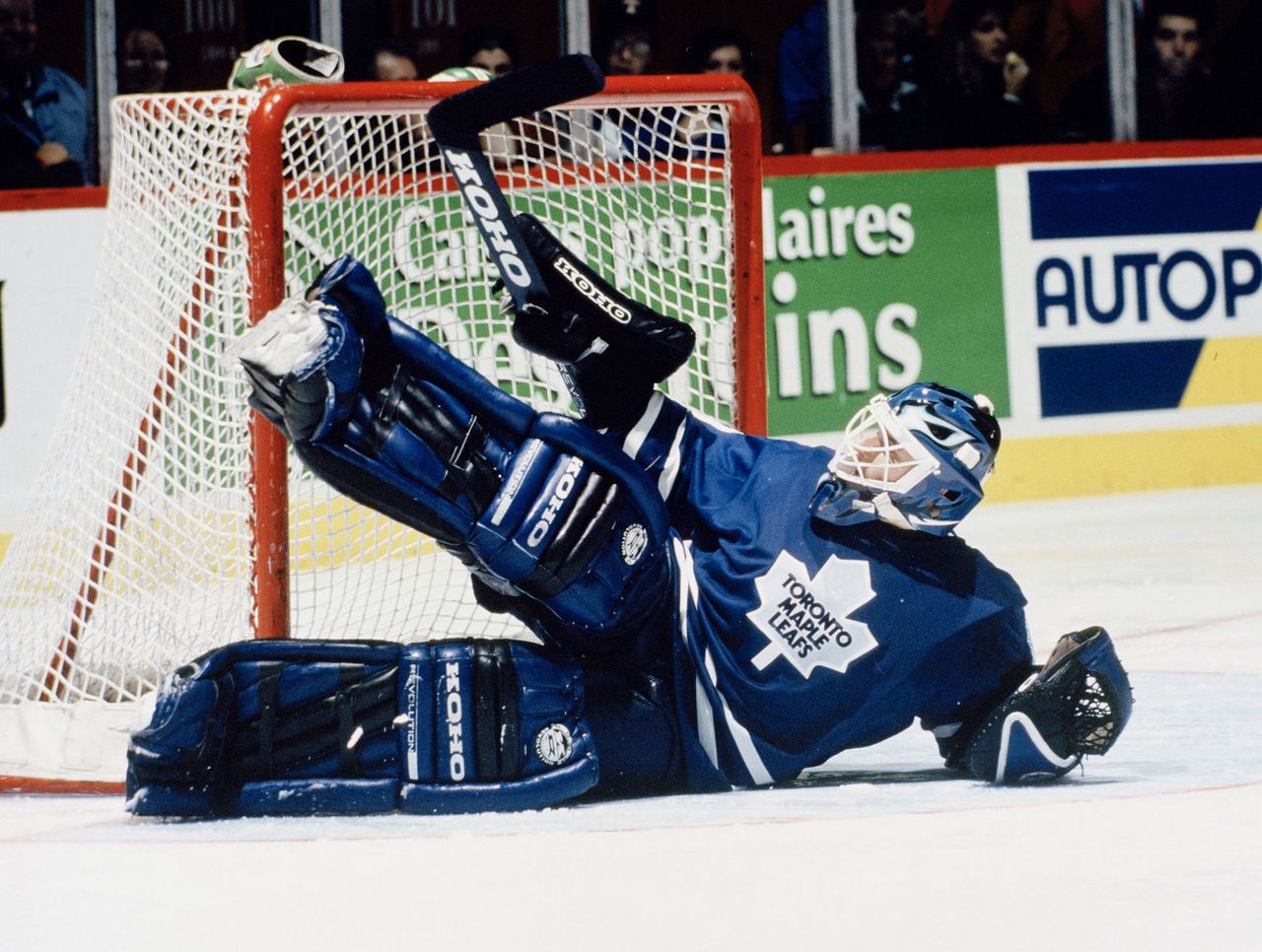 Doug Gilmour will always be seen as the catalyst for the Toronto Maple Leafs' success that season - but even Killer will tell you there would have been no playoff run without Felix Potvin. The enigmatic rookie burst onto the scene in 1992-93, posting a 25-15-7 record while leading the NHL with a 2.50 goals-against average; he would go on to finish third in Calder Trophy voting and fourth in the Vezina Trophy race.
Pittsburgh Penguins winger Kevin Stevens solidified himself as hockey's ultimate power forward for the second year in a row, combining elite scoring prowess (111 points) with a heck of a mean streak (177 penalty minutes). He and Paul Coffey are the only players with at least 110 points and 170 penalty minutes in a season; Stevens has done it twice, having put up 123 points and 254 PIMs in 1991-92. Unreal.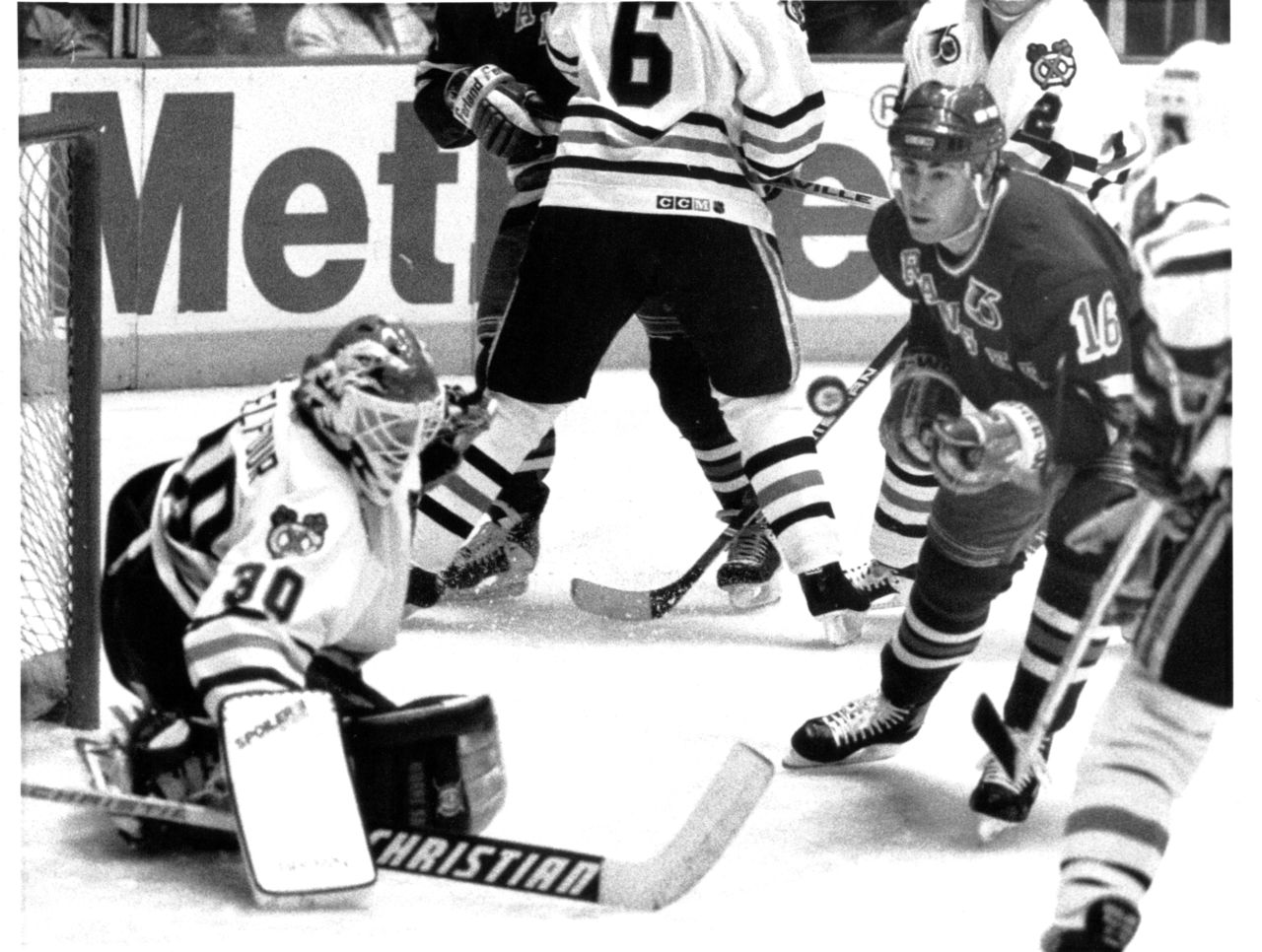 Blackhawks netminder Ed Belfour rebounded from a difficult sophomore campaign to win his second Vezina Trophy in just three full seasons in the league. The future Hall of Famer posted 41 victories over a league-high 71 starts while leading the NHL in shutouts with seven. While Eddie the Eagle wouldn't win another Vezina, the undrafted Manitoba native would go on to finish in the top seven in voting seven more times.
Neutral-site games littered the NHL schedule that year, with 24 taking place in non-league cities. Four of them - Phoenix, Atlanta, Dallas, and Miami - would gain their own NHL teams in the coming years. A pair of Canadian cities were the most popular neutral-cite locales, with Copps Coliseum in Hamilton, Ontario, hosting four regular-season NHL games and SaskPlace in Saskatoon, Saskatchewan, hosting three.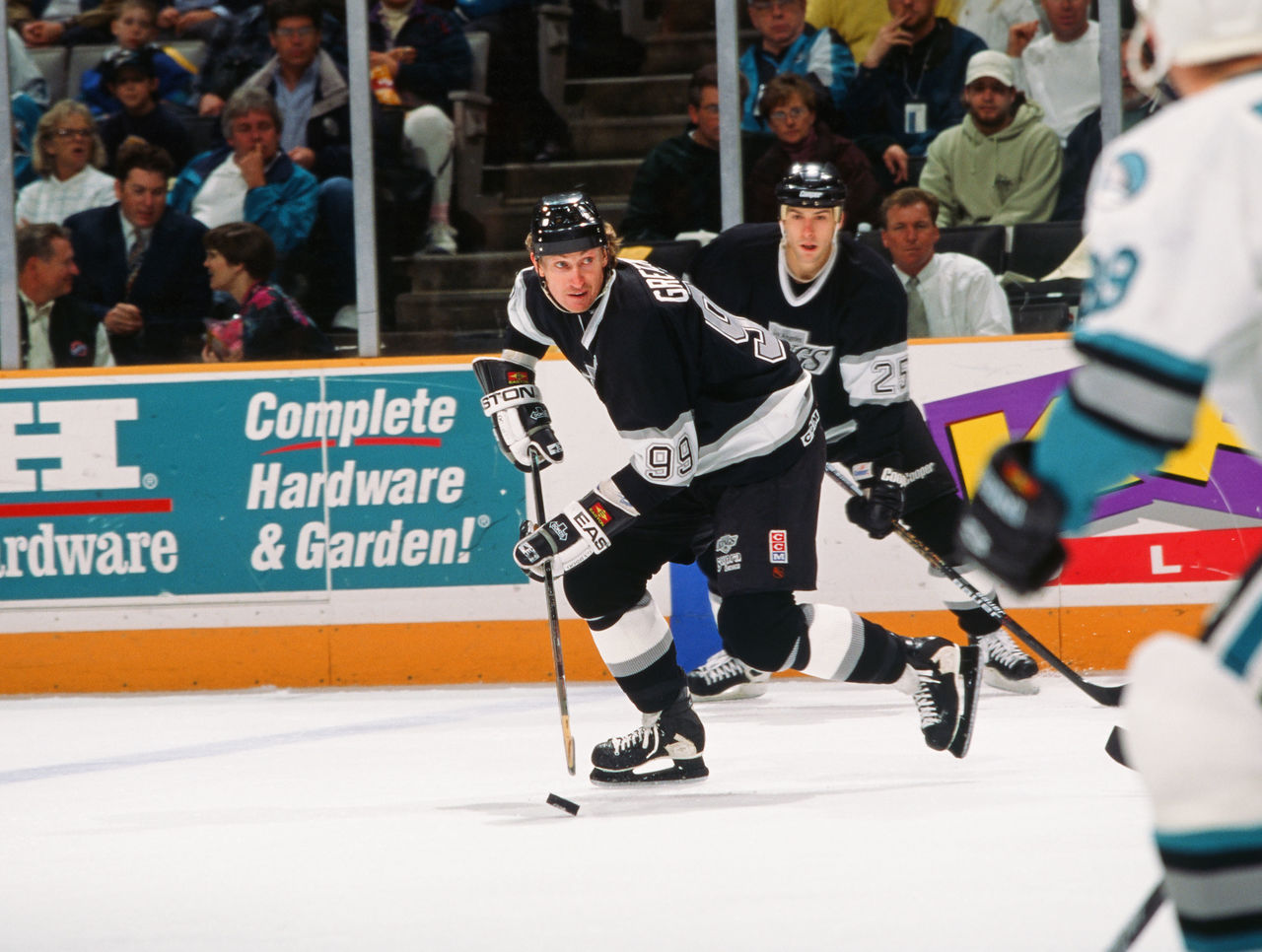 One of the biggest stories involved Los Angeles Kings megastar Wayne Gretzky, who suffered a herniated thoracic disk in his back that had doctors giving him less than a 50 percent chance of playing that season. Gretzky recovered sufficiently to return to action in early January and would go on to record 65 points in 45 games - marking the first time in his NHL career he failed to finish in the top three in scoring.
The 1992-93 season saw the official launch of the Russian Rocket. Coming off a Calder Trophy-winning campaign a year earlier, Vancouver Canucks star Pavel Bure improved by leaps and bounds, racking up 60 goals and 110 points; the goal tally remains a franchise record, while the single-season points mark stood until 2009-10. Bure also led the league in shots (407) and shorthanded goals (seven).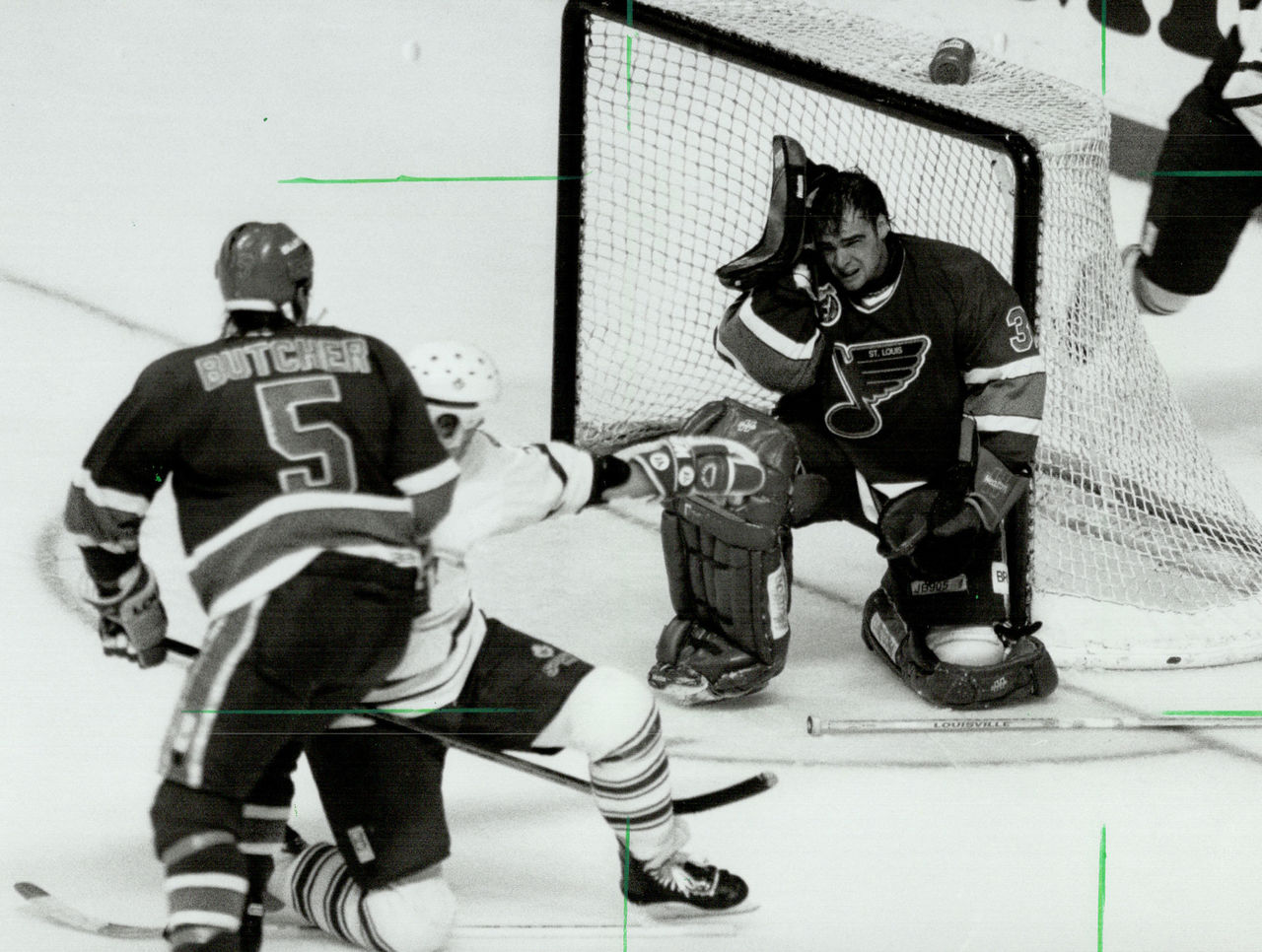 Most hockey fans know just how much of a beating St. Louis Blues netminder Curtis Joseph took in his second-round playoff series against Toronto. But Joseph was used to it - he faced a whopping 2,202 shots in the regular season, the most in history since the league began tracking the stat. The mark has since been surpassed 10 times; Roberto Luongo holds the record with 2,488 shots faced in 2005-06.
Remember how effortless Dave Andreychuk looked on the power play, using his towering frame and 10-foot stick to create havoc in front of the opposing net? He was never better than during the 1992-93 season, when he scored a whopping 32 power-play goals. It remains the second-highest single-season total in history - Tim Kerr had 34 in 1985-86 - and no player has even managed more than 27 since 1995-96.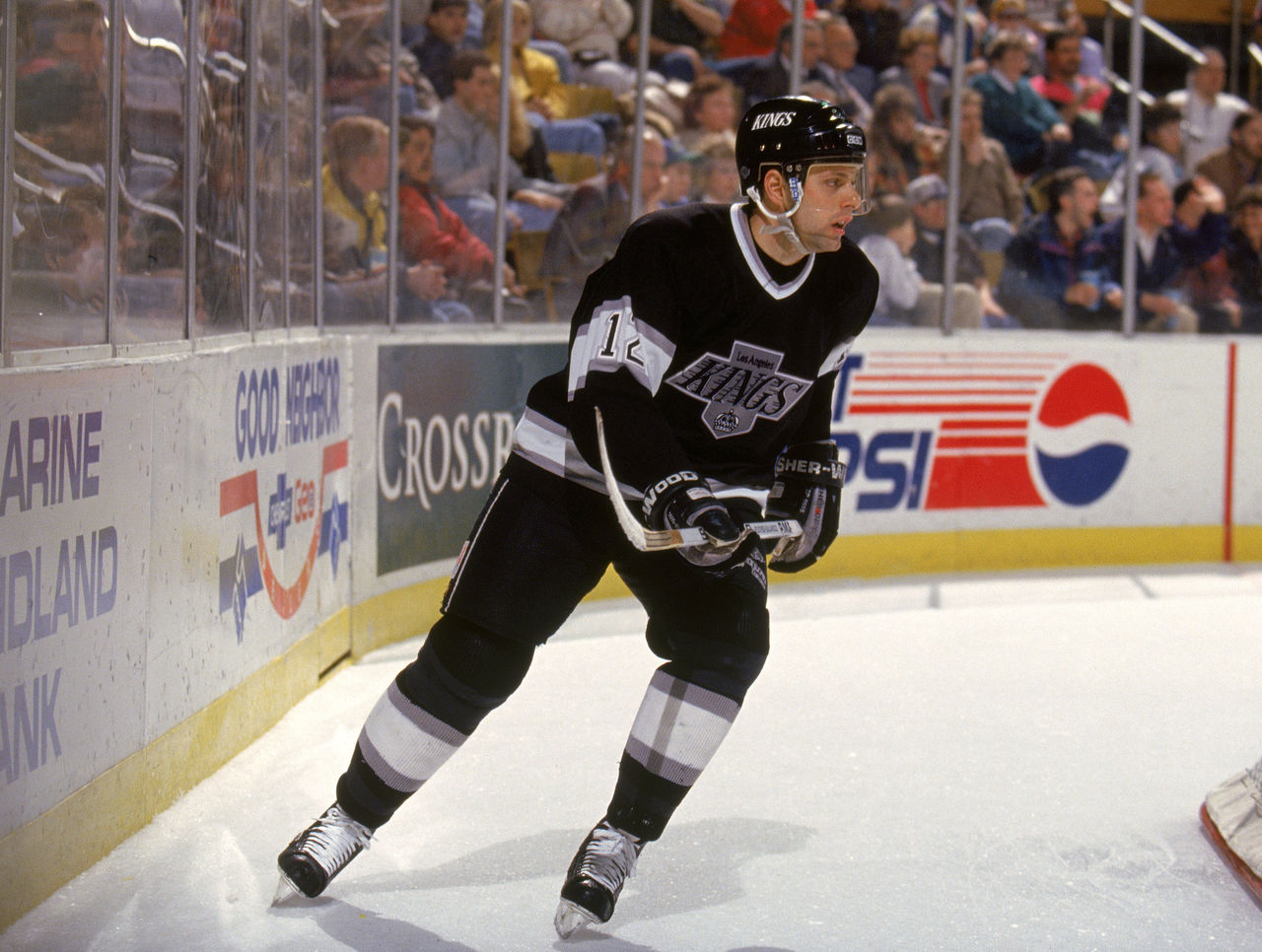 Jimmy Carson had a decent season, scoring 37 goals and adding 36 assists in 86 games. But that final number stands out - Carson set an NHL record for regular-season games played that year, gaining a pair of contests after being traded from Detroit to Los Angeles; Bob Kudelski tied the mark the following season, and no player has appeared in more than 84 games since before the 2004-05 lockout.
Kings defenseman Marty McSorley had a playoff run to remember, becoming Public Enemy No. 1 in Toronto after kneeing Doug Gilmour in Game 1 of the Western Conference Final, and wearing the goat horns after getting called for an illegal stick blade in Game 2 of the Stanley Cup Final. He also reached an impressive level of thuggery in the regular season, racking up 399 penalty minutes - the fifth-highest total in history.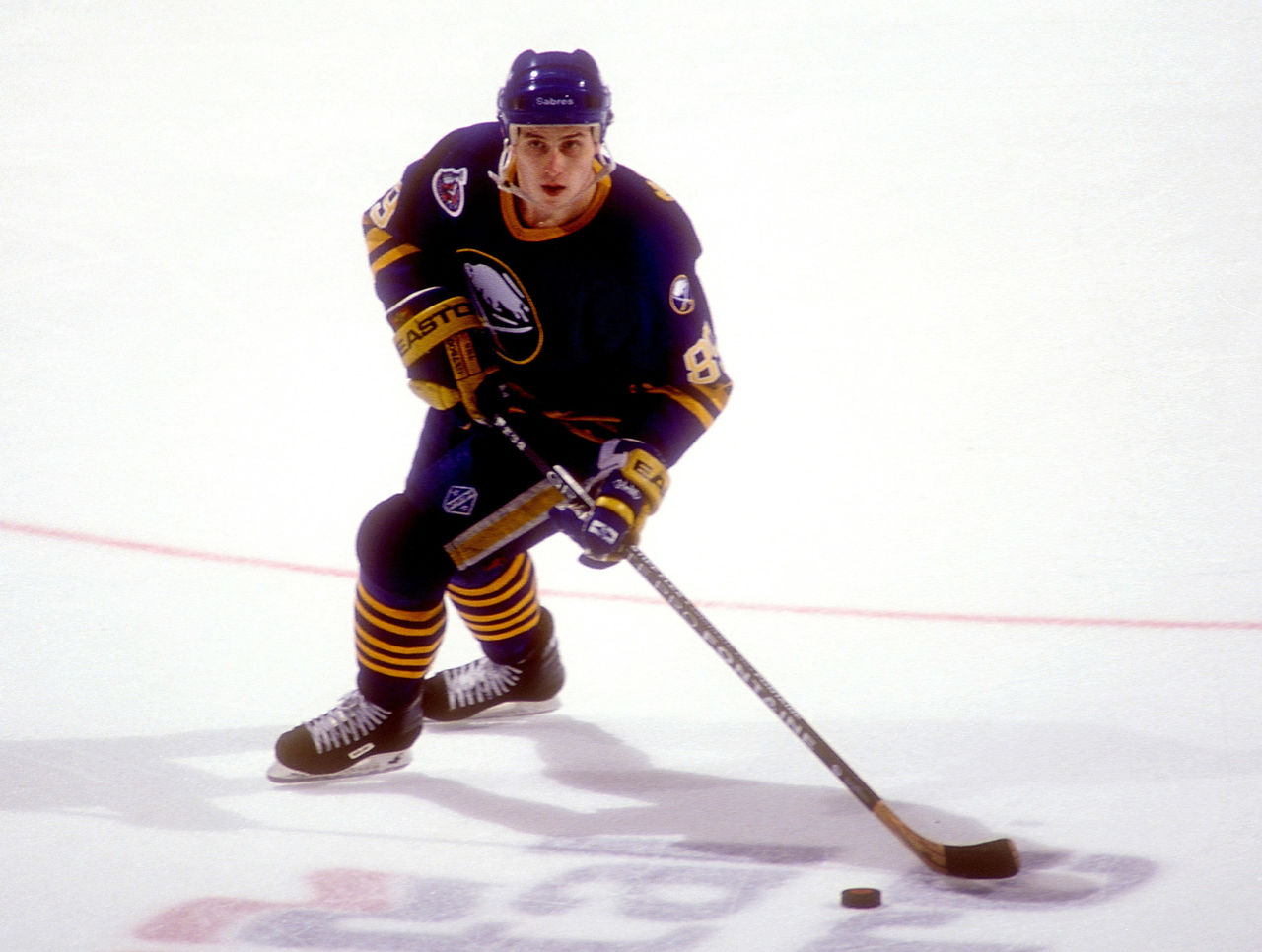 Alexander Mogilny cost a lot of people their headwear that season. The Sabres speedster recorded a whopping seven hat tricks en route to a league-high-tying 76 goals; three of those came during an incredible run in late December and early January during which he potted 13 goals in five games. To put that in perspective, no player has produced more than three hat tricks in a single season since the 2010-11 campaign.
Multi-point games are no big deal - but when a goaltender achieves the feat it's way cooler. Jeff Reese of the Calgary Flames did just that, setting an NHL record for points in a game by a netminder with three assists in a 13-1 shellacking of the San Jose Sharks. That output represented half the career point total of the journeyman goalie, who set up tallies by Robert Reichel (two) and Gary Roberts (one).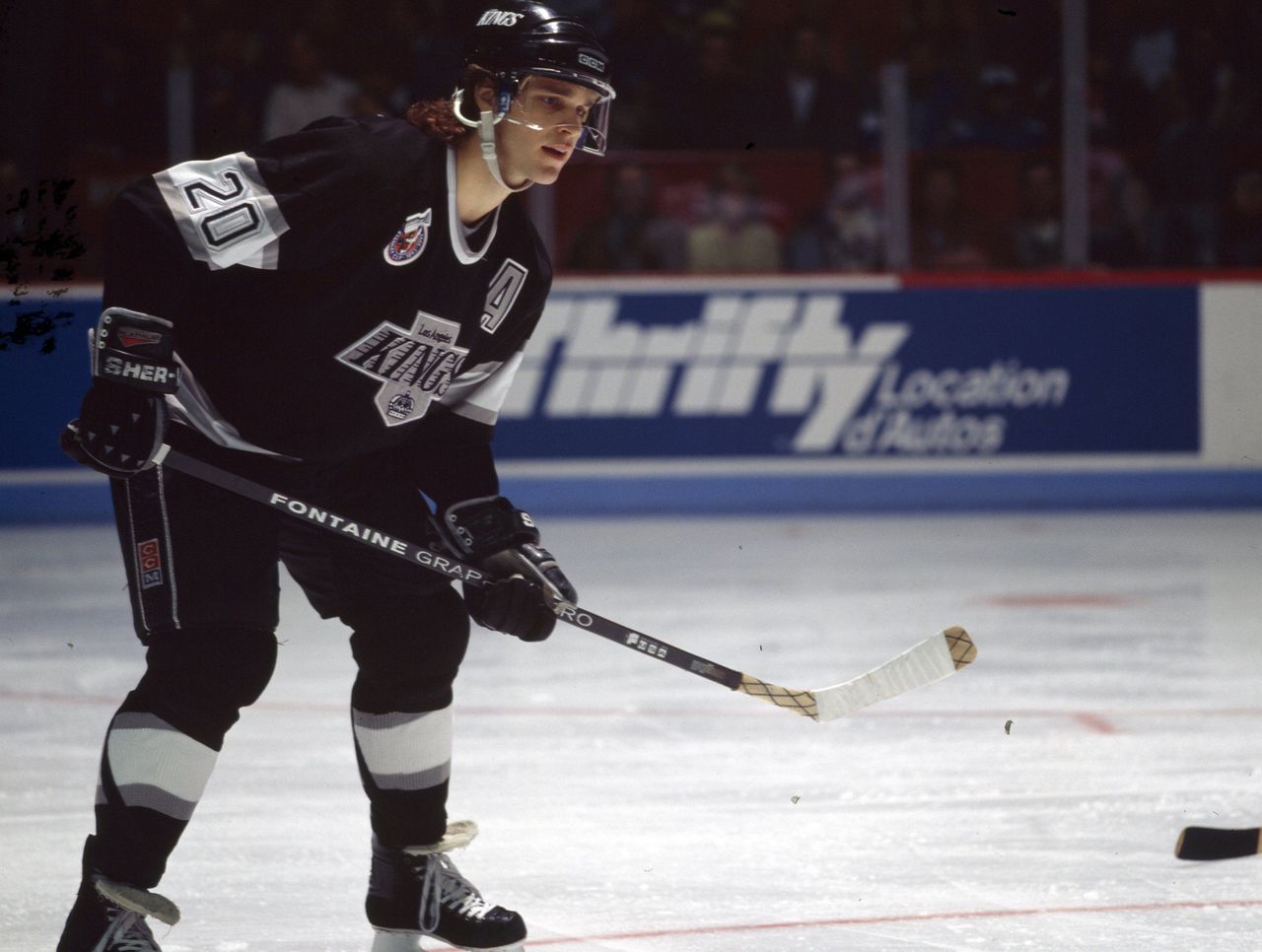 Luc Robitaille's contributions often went underappreciated, and 1992-93 was no exception. While Mario Lemieux, Teemu Selanne, and Gilmour dominated the headlines, all Robitaille did was establish single-season standards for goals (63) and points (125) by a left winger. And while that was enough to earn him All-Star honors, Robitaille wasn't even in the running for the Hart Trophy. Tough crowd.
The campaign produced a record number of 100-point scorers; 21 players reached triple digits in 1992-93, including a pair of rookies in Selanne and Joe Juneau. The season also saw a league-record 14 players score 50 or more goals, including five who reached the 60-goal plateau: Mogilny, Selanne, Lemieux, Robitaille, and Bure. Those records remain intact to this day.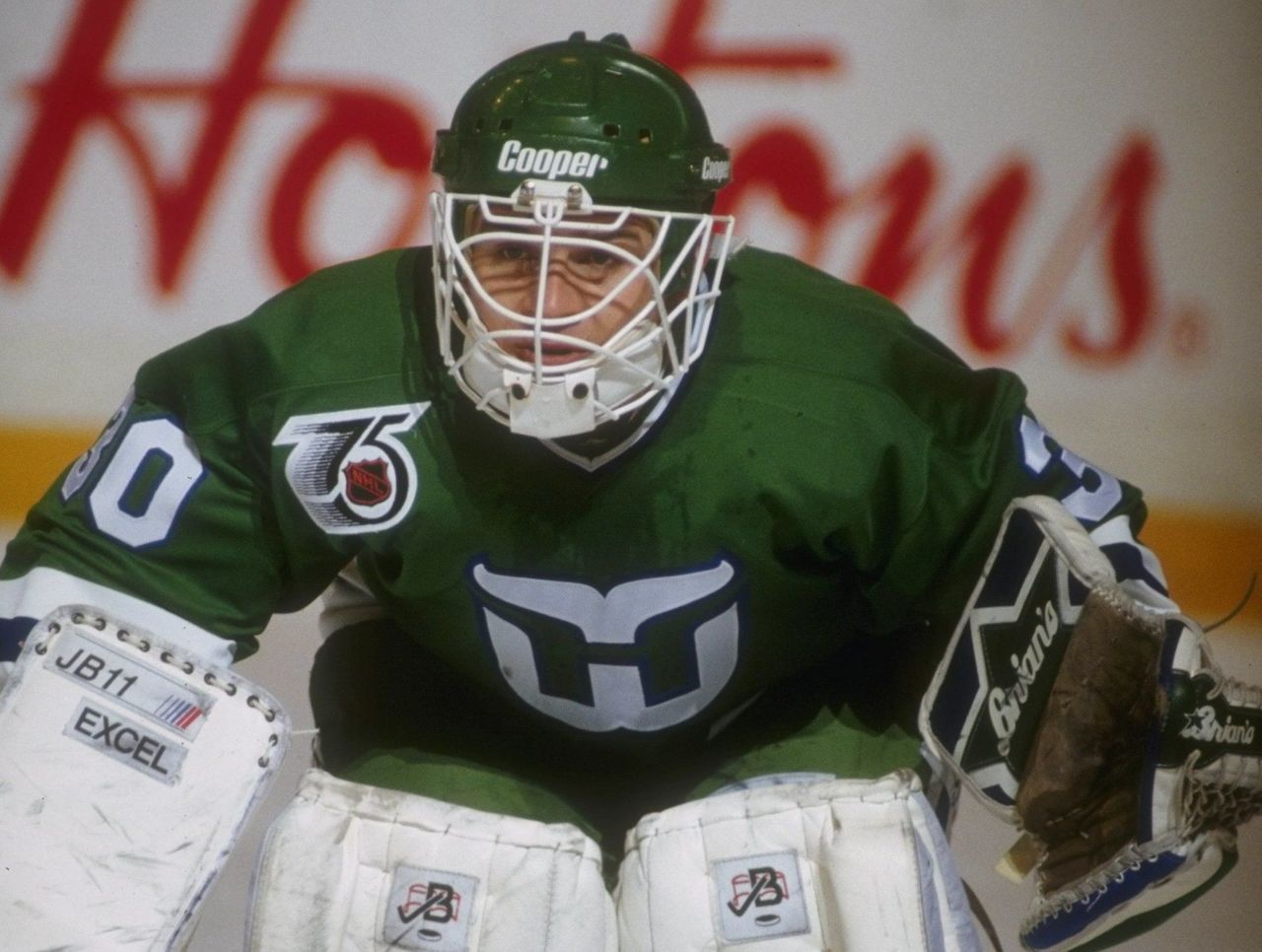 The 1992-93 season was a boon for a number of players, but not everyone had a roaring good time. Ottawa Senators netminder Peter Sidorkiewicz, pictured here during much happier days in Hartford, suffered the third-most losses of any goalie in a single season (46); his eight victories were also the fewest of any netminder to register 40 or more defeats in a single campaign.
One of the feel-good stories of the season involved Kings netminder Rick Knickle, who finally reached the NHL 13 years after debuting in the International Hockey League. The 32-year-old didn't look completely out of place, posting a 6-4 record with a 3.95 goals-against average and an .880 save percentage; he would play four more games with Los Angeles the following year before returning to the IHL.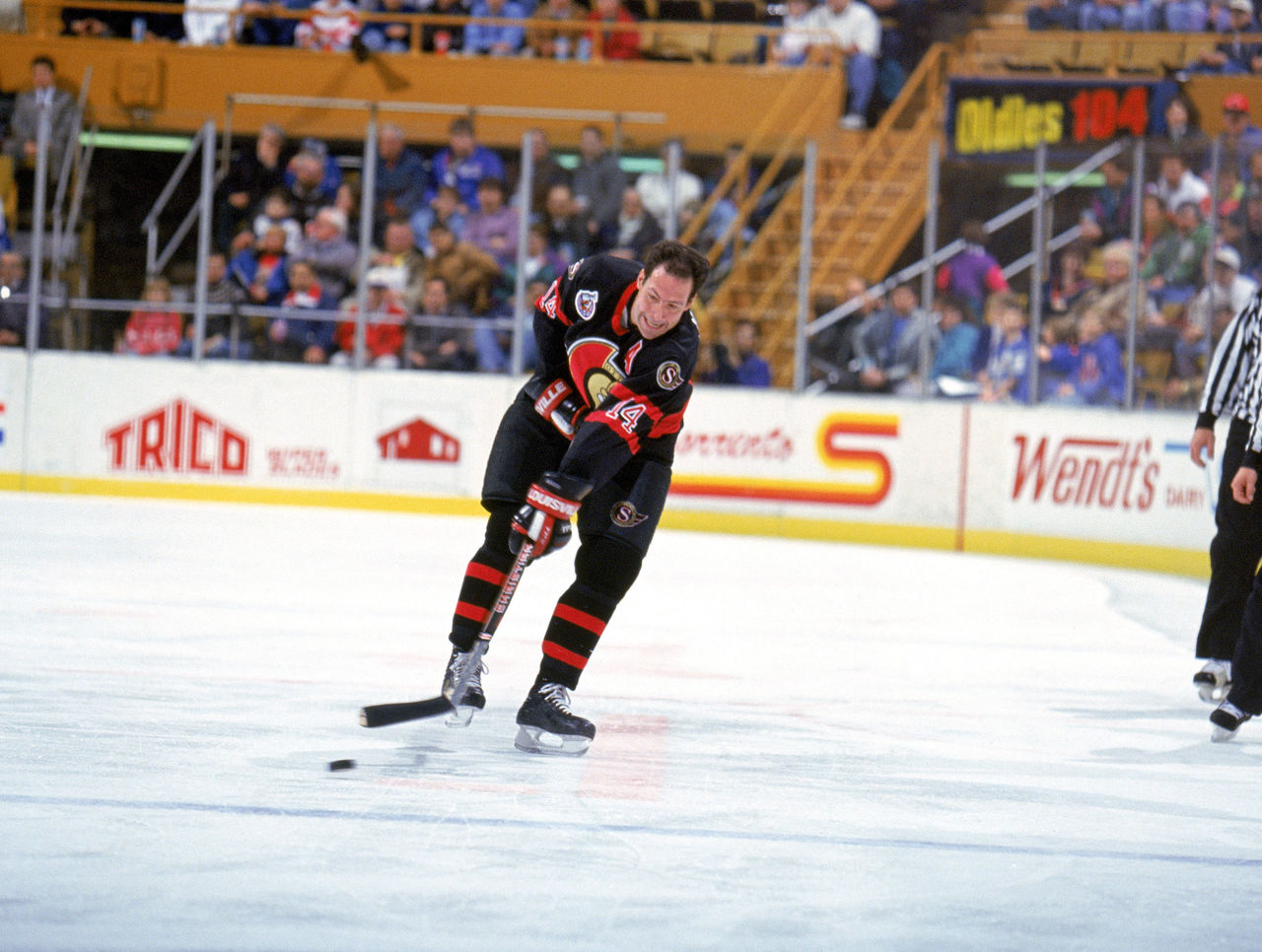 Fans bade farewell to four of the five remaining helmetless players in league history: defensemen Brad Marsh (pictured above), Rod Langway, Doug Wilson, and Randy Carlyle. Their retirements left just one active player in the league without a helmet - Edmonton Oilers forward Craig McTavish. The grandfathered rule allowed McTavish to continue playing without a lid until his retirement in 1997.
The Montreal Canadiens get the last factoid by virtue of their incredible Stanley Cup run, in which they reeled off 10 straight overtime victories. But here's something you might not have known - the Canadiens remain the last Cup-winning team with a Finals roster made up entirely of players born in North America - and with the game having expanded as far as it has, that mark might never be equaled again.
Other entries in the series:
(Photos courtesy: Getty Images)