1992-93 Revisited: Pat LaFontaine piles up the points
James Bisson celebrates the 25th anniversary of the 1992-93 season with a look back at the most memorable moments of the greatest campaign in NHL history. This edition focuses on Buffalo Sabres superstar Pat LaFontaine, who reached a point plateau few others have ever visited:
You could easily forgive Pat LaFontaine for feeling like a bit of a forgotten man whenever the 1992-93 season is mentioned.
Between Mario Lemieux's astounding run to the scoring title, Teemu Selanne obliterating rookie scoring marks, and even LaFontaine's own teammate Alexander Mogilny scoring an otherworldly 76 goals, it can be easy to overlook the fact that LaFontaine became just the sixth player in history to record at least 148 points in a single season.
LaFontaine had earned a reputation as one of the league's most dangerous offensive threats well before arriving in Buffalo. The St. Louis native was selected third overall by the New York Islanders in the 1983 draft following a sensational junior career that saw him rack up 234 points in just 70 games with Verdun of the Quebec Major Junior Hockey League.
Expectations were high for an Islanders fan base that was struggling with a rebuild after seeing its team win four consecutive Stanley Cup titles in the late 1970s and early 1980s. And LaFontaine made good on his immense potential, recording back-to-back 40-goal seasons in his early 20s before erupting for career highs in goals (54) and points (105) in 1989-90.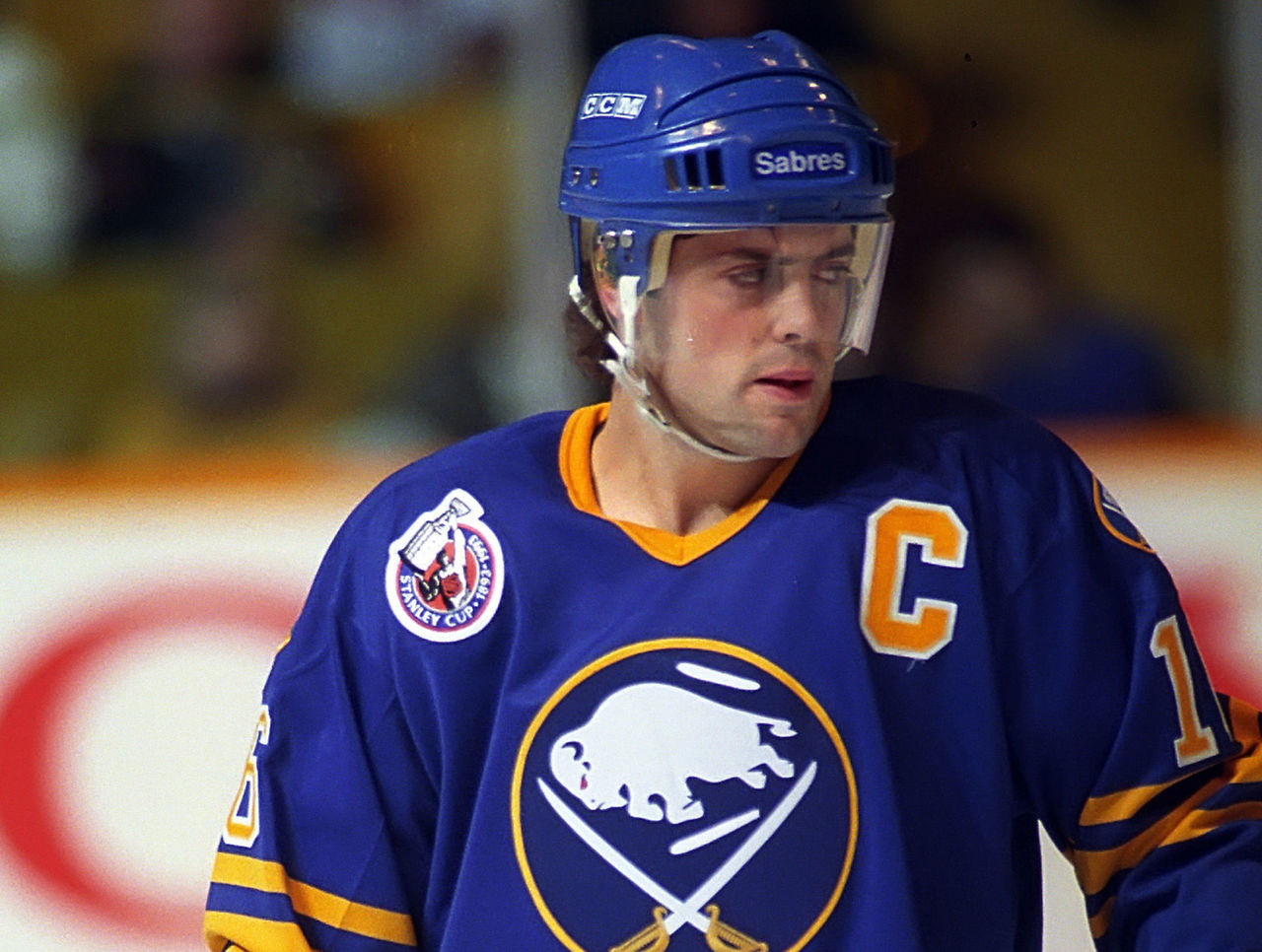 But things didn't stay rosy for long. LaFontaine and the Islanders found themselves in a contract dispute following the 1991-92 season, and LaFontaine stayed home rather than report to the team. That spurred the Islanders to make one of the biggest trades in history, shipping him to Buffalo for a package that included former No. 1 overall pick Pierre Turgeon.
Blessed with a fresh start following a sour finish to his Long Island tenure, LaFontaine became an instant hit with the Sabres. He scored 46 goals and added 47 assists in just 57 games with his new team, guiding Buffalo to a playoff spot in the Adams Division. But the run was short-lived, as the Sabres fell in seven games to the rival Boston Bruins.
Hopes were high in Buffalo the following season - and why not? With a forward core featuring LaFontaine, veteran playmaker Dale Hawerchuk, towering scorer Dave Andreychuk, and speedy sniper Mogilny, the Sabres boasted an impressive attack. And LaFontaine wasted no time showcasing that in 1992-93, racking up 29 points in his first 10 games:
| DATE | OPP | SCORE | G | A | P |
| --- | --- | --- | --- | --- | --- |
| Oct. 8 | vs. QUE | L 5-4 | 1 | 3 | 4 |
| Oct. 10 | at HAR | W 5-2 | 0 | 2 | 2 |
| Oct. 11 | vs. MTL | W 8-2 | 1 | 0 | 1 |
| Oct. 13 | at PIT | L 6-5 | 0 | 2 | 2 |
| Oct. 16 | vs. TB | W 5-4 (OT) | 1 | 1 | 2 |
| Oct. 21 | at WAS | L 6-4 | 1 | 1 | 2 |
| Oct. 23 | vs. CHI | W 4-1 | 1 | 2 | 3 |
| Oct. 28 | vs SJ | W 5-4 | 2 | 3 | 5 |
| Oct. 30 | at TOR | T 4-4 | 0 | 3 | 3 |
| Oct. 21 | vs. OTT | W 12-3 | 2 | 3 | 5 |
LaFontaine went on to finish October with 30 points in 11 contests, putting him on the same level as the league's top scorers. His November pace slowed considerably - he recorded just 17 points in 14 games for the month - but the 27-year-old caught fire again in December and January, piling up 45 points over 27 contests. And the Sabres (26-20-6) were benefiting greatly.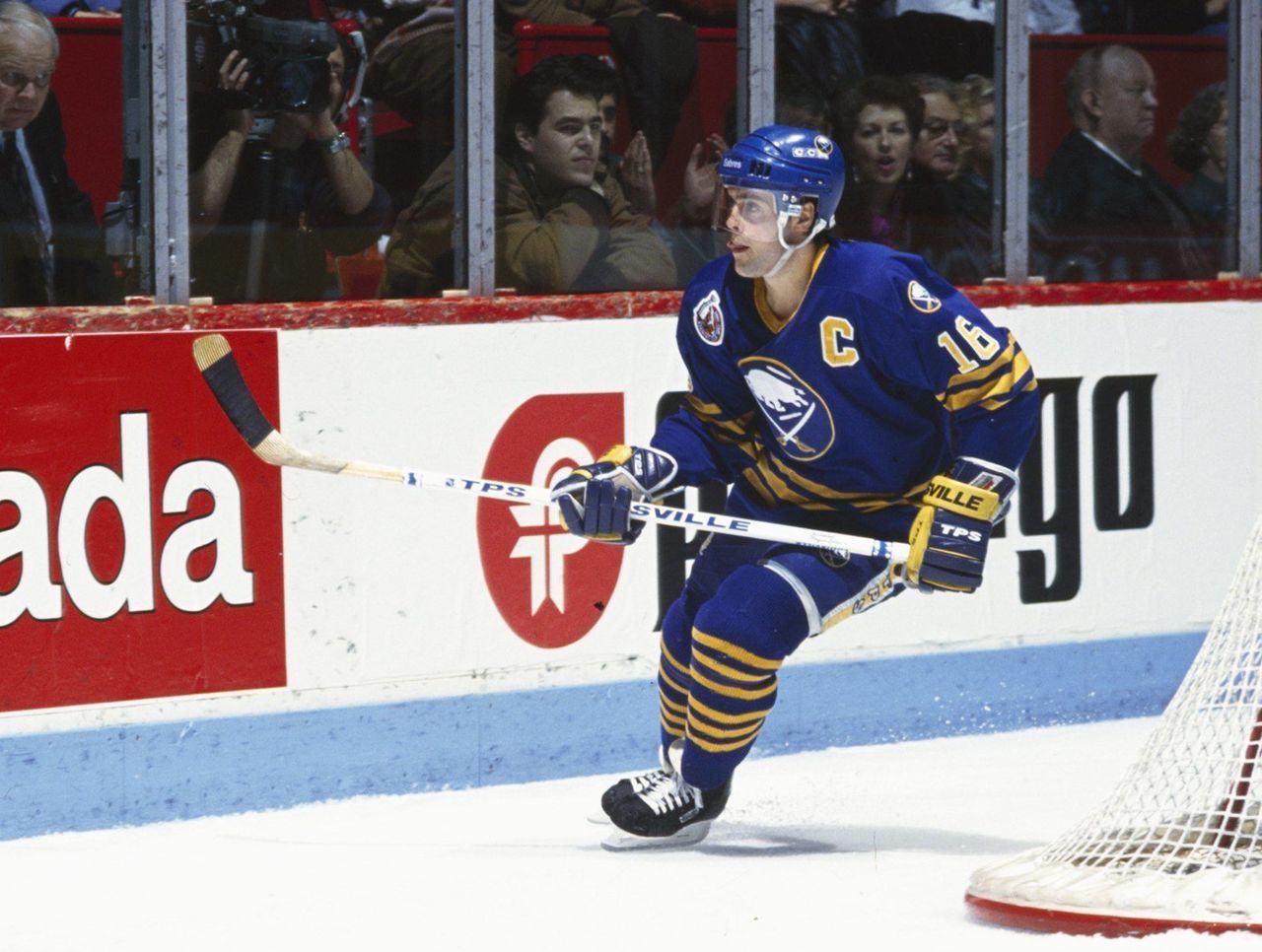 February saw a significant roster shakeup, as the Sabres dealt Andreychuk and goaltender Daren Puppa, along with a first-round pick, to the Toronto Maple Leafs in exchange for veteran netminder Grant Fuhr. The deal sent shockwaves through the division, providing the Sabres with some much-needed stability in goal but carving a major swath through their offense.
Yet, despite the loss of Andreychuk, LaFontaine continued chugging along, scoring eight goals and chipping in 14 assists across 10 February contests. By the beginning of March, he'd built up a double-digit lead in the scoring race over Lemieux, who'd been forced out of action for two months after being diagnosed with non-Hodgkin lymphoma in early January.
There wasn't much more LaFontaine could have done in March to improve his Art Ross chances; he scored 10 goals and added 18 assists in 15 games, but actually lost ground to Lemieux, who returned to amass an absurd 37 points over that span. And Le Magnifique saved his best for last, adding 19 points in April to LaFontaine's seven, winning the scoring title by 12.
But LaFontaine could hardly be disappointed about the end result: He set franchise records for assists (95) and points (148), while helping Mogilny establish a new team mark for goals. LaFontaine finished third in Hart Trophy voting - behind Lemieux and Doug Gilmour - while also placing third in Lady Byng voting and making the NHL's All-Star second team.
The Sabres, despite losing the final seven games of the regular season, saw a 12-point improvement over the previous campaign - and that earned them a rematch with the Bruins in Round 1. The result was quite different in 1993, as the Sabres swept their rivals out of the postseason behind a one-goal, six-assist performance from LaFontaine.
But that's as far as the Sabres would get, as they ran into a charmed Montreal Canadiens team that won four straight 4-3 decisions - the final three in overtime - to complete a second-round sweep. LaFontaine did his part with five points in the first three contests, but missed Game 4 with a knee injury and wouldn't get another chance to keep Buffalo's playoff hopes alive.
Concussions cut LaFontaine's career short; he played just 194 more games before being forced to call it quits at 33. But with 1,013 points over 865 regular-season contests, he was deservedly inducted into the Hockey Hall of Fame in 2003 - and he'll forever have a place in hockey annals after producing one of the greatest seasons in NHL history.
Other entries in the series:
(Photos courtesy: Getty Images)
Comments
✕
1992-93 Revisited: Pat LaFontaine piles up the points
  Got something to say? Leave a comment below!