1992-93 Revisited: Sad-sack San Jose Sharks set NHL futility record
James Bisson celebrates the 25th anniversary of the 1992-93 season with a look back at the most memorable moments of the greatest campaign in NHL history. This edition focuses on the San Jose Sharks, who put together one of the worst regular seasons in league history:
The 2016-17 Colorado Avalanche had a season to forget, finishing dead last in the NHL with 48 points while boasting a frightful minus-112 goal differential.
The 1992-93 San Jose Sharks would have taken that result in a heartbeat.
As the curtain raises on the 2017-18 season, we celebrate the 25-year anniversary of what is easily one of the worst campaigns in NHL history. Here are the gory details of what the Sharks accomplished in '92-'93:
| GP | W | L | T | PTS | GF | GA |
| --- | --- | --- | --- | --- | --- | --- |
| 84 | 11 | 71 | 2 | 24 | 218 | 414 |
Only the expansion Washington Capitals in 1974-75 (8-67-5) recorded fewer points in a season of at least 80 games, while the first-year Ottawa Senators also finished with 24 points that year, registering one fewer win, one fewer loss, and two more ties. The Sharks' 71 losses are the most in NHL history, while the minus-196 goal differential is second only to the '74-'75 Caps (minus-265).
Just how bad was it for a second-year Sharks team that finished with 29 fewer points than the Tampa Bay Lightning, a team that didn't even exist a year earlier? Here's a position-by-position breakdown: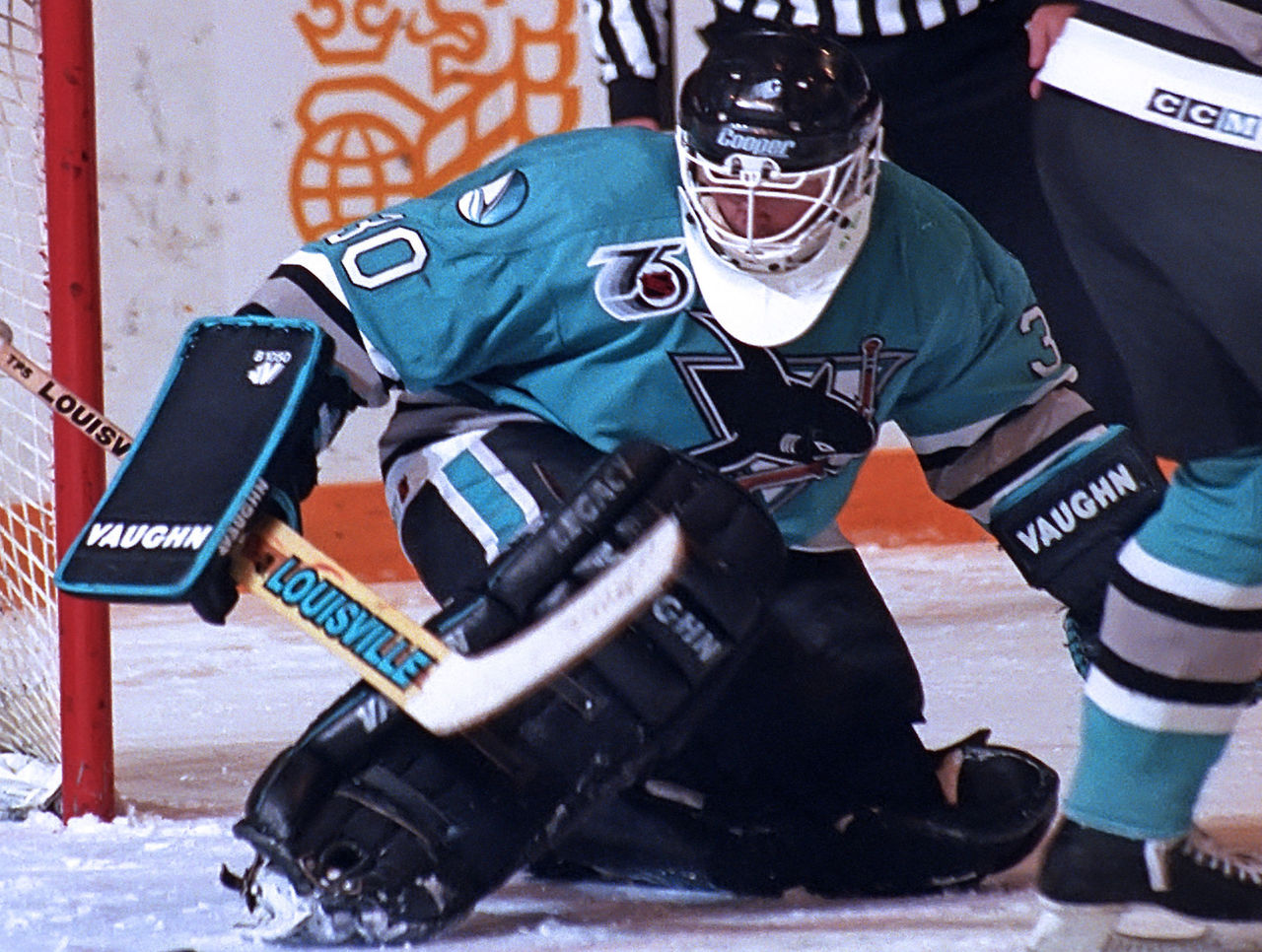 Goaltenders
As you can imagine, the goaltending in San Jose wasn't what you would call "upper tier" in 1992-93. Three different players appeared in at least 18 games that season; Arturs Irbe was the only one of the trio to win more than two games. He finished with a 7-26-0 record while leading the team in goals-against average (4.11) and save percentage (.886). Yep, those led the team.
Veteran Brian Hayward, a three-time Jennings Trophy winner as Patrick Roy's backup in Montreal, found things much tougher in San Jose; he went 2-14-1 that season, boasting a hideous 5.55 GAA and an .846 save percentage. He allowed five or more goals 10 times, including a nine-goal rout by the Penguins and two eight-goal outings.
Option No. 3, the above-pictured Jeff Hackett, made out worst of all. His 2-30-1 record might never be duplicated in NHL history - nor will his 5.28 GAA or .856 percentage in 36 games. Then 24, he went on to become a serviceable netminder in Chicago and Montreal, but his stint with the Sharks didn't do him any favors.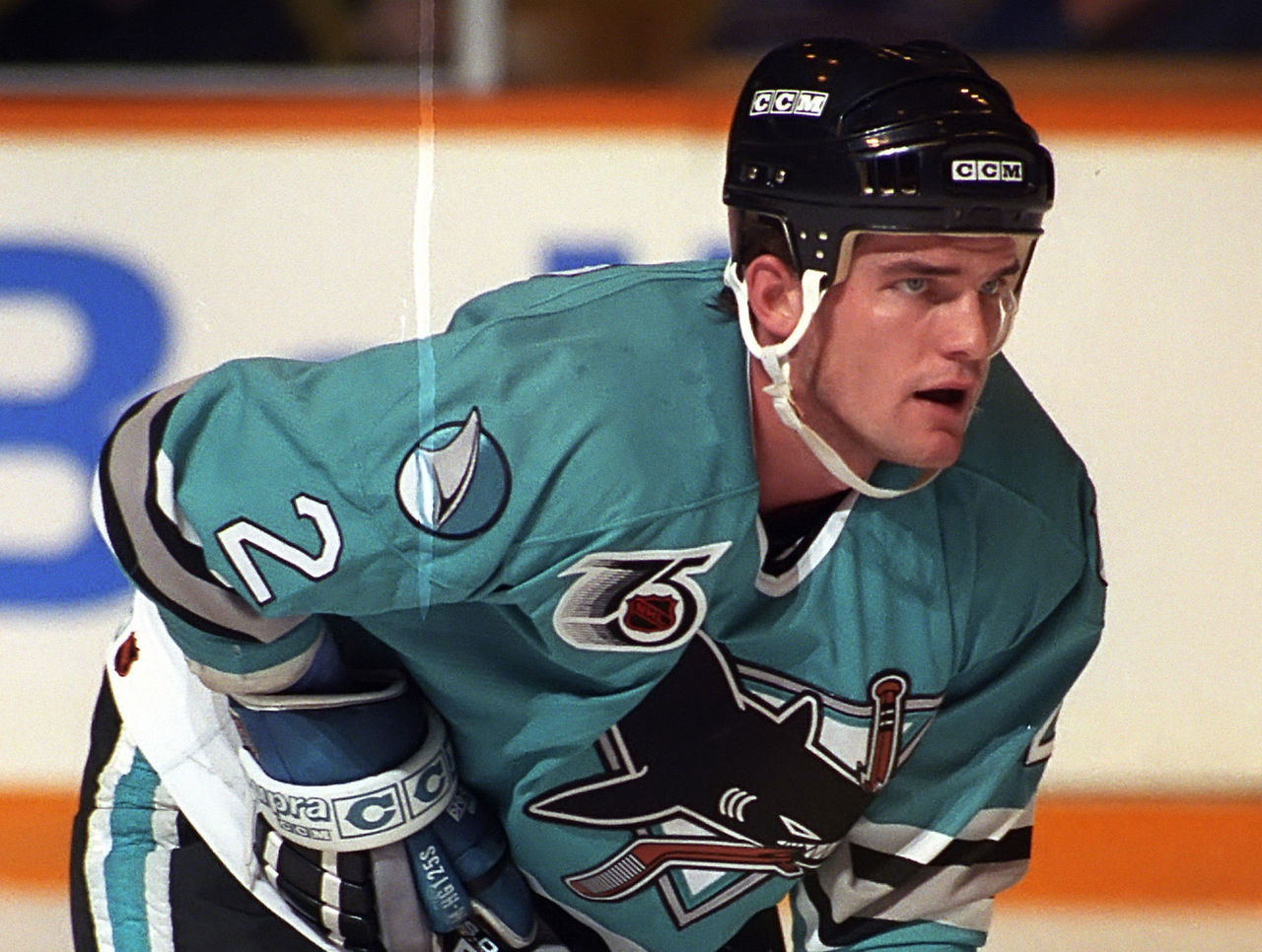 Defensemen
As bad as San Jose's goaltending may have been, its defense was equally poor. No one better personified the blue-line struggles than young stay-at-home defenseman Rob Zettler (shown above), who finished the year with what can only be described as a fantasy owner's worst nightmare:
| GP | G | A | PTS | +/- |
| --- | --- | --- | --- | --- |
| 80 | 0 | 7 | 7 | -50 |
It took a lot to go without a goal over 80 games in the highest-scoring season in the modern era, but Zettler found a way. He didn't exactly help his cause by firing just 60 shots on goal; in fact, of the six San Jose defensemen to play at least 40 games, Doug Wilson led the way with 110 shots on goal. Wilson was 35 at the time.
Three Sharks defensemen finished at a league-worst minus-50 that year: Zettler, Doug Zmolek, and Neil Wilkinson. Jay More was a minus-35 in 73 games, while Wilson was a minus-28 despite playing just 42 games. And in an era when goal-scoring was plentiful, the San Jose defense corps managed just 31 combined goals; Sandis Ozolinsh and Tom Pederson led the way with seven each.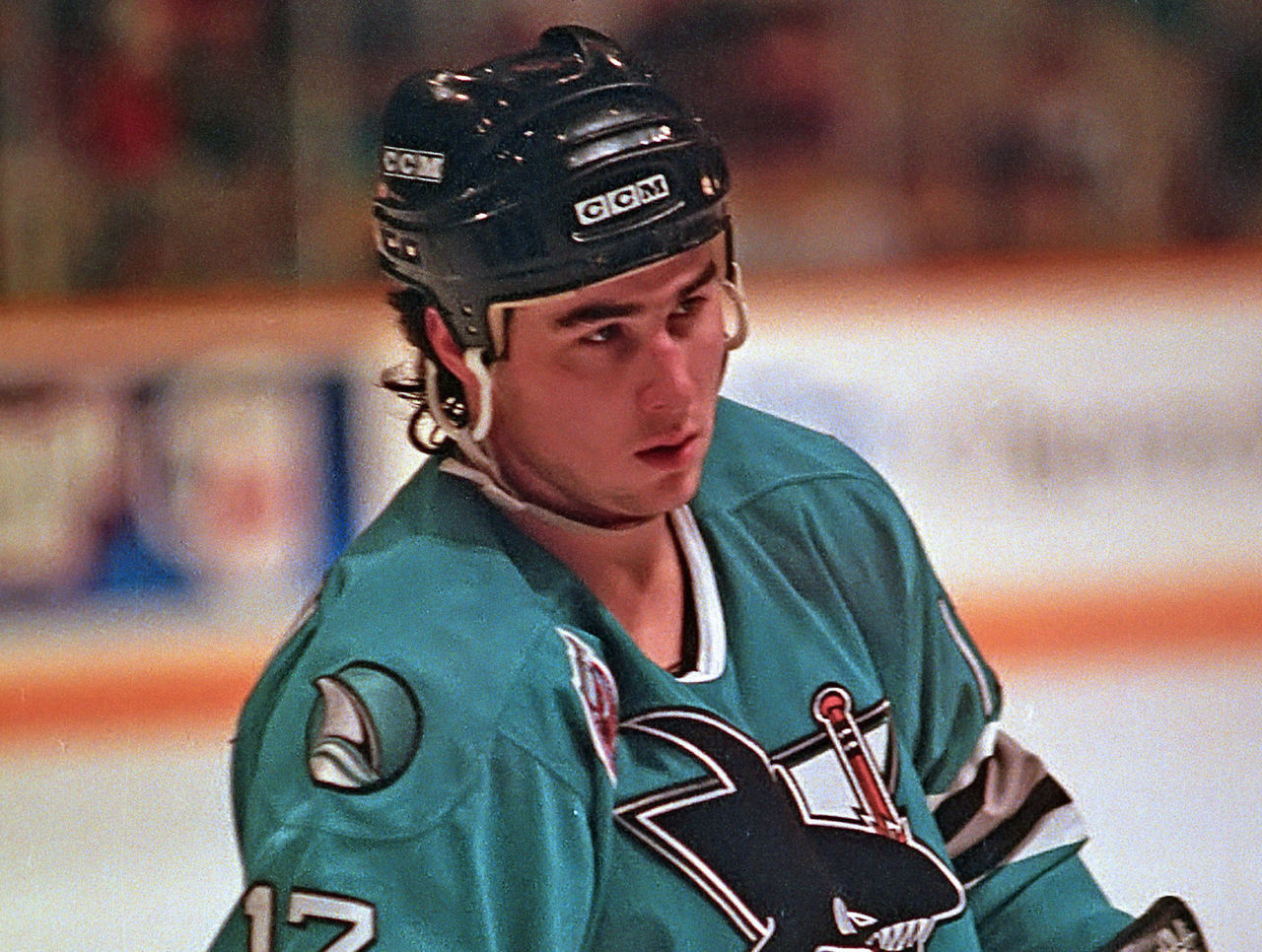 Forwards
It wasn't all doom and gloom up front, where the Sharks produced a 78-point scorer in Kelly Kisio and a 66-point winger in Johan Garpenlov. Kisio represented the Sharks at the All-Star Game in Montreal, while Garpenlov and Rob Gaudreau (23 goals) combined to give the Sharks a pair of 20-goal scorers under the age of 25.
But the Sharks simply didn't have enough consistent offensive contributors to keep the team in games. Pat Falloon, taken second overall in 1991, was limited to 41 games due to injury and finished with just 28 points; his former junior linemate, Ray Whitney, would become a reliable option in later years, but was just 20 years old that season and finished with 10 points in 26 games.
Not surprisingly, the Sharks' special teams struggled as well. San Jose scored on just 16.1 percent of its power-play opportunities that year, well below the league average of 19.6 percent, while killing just 76.6 percent of opponents' man-advantage chances; the league average was 80.4 percent. Truth be told, there wasn't one thing the '92-'93 Sharks did all that well.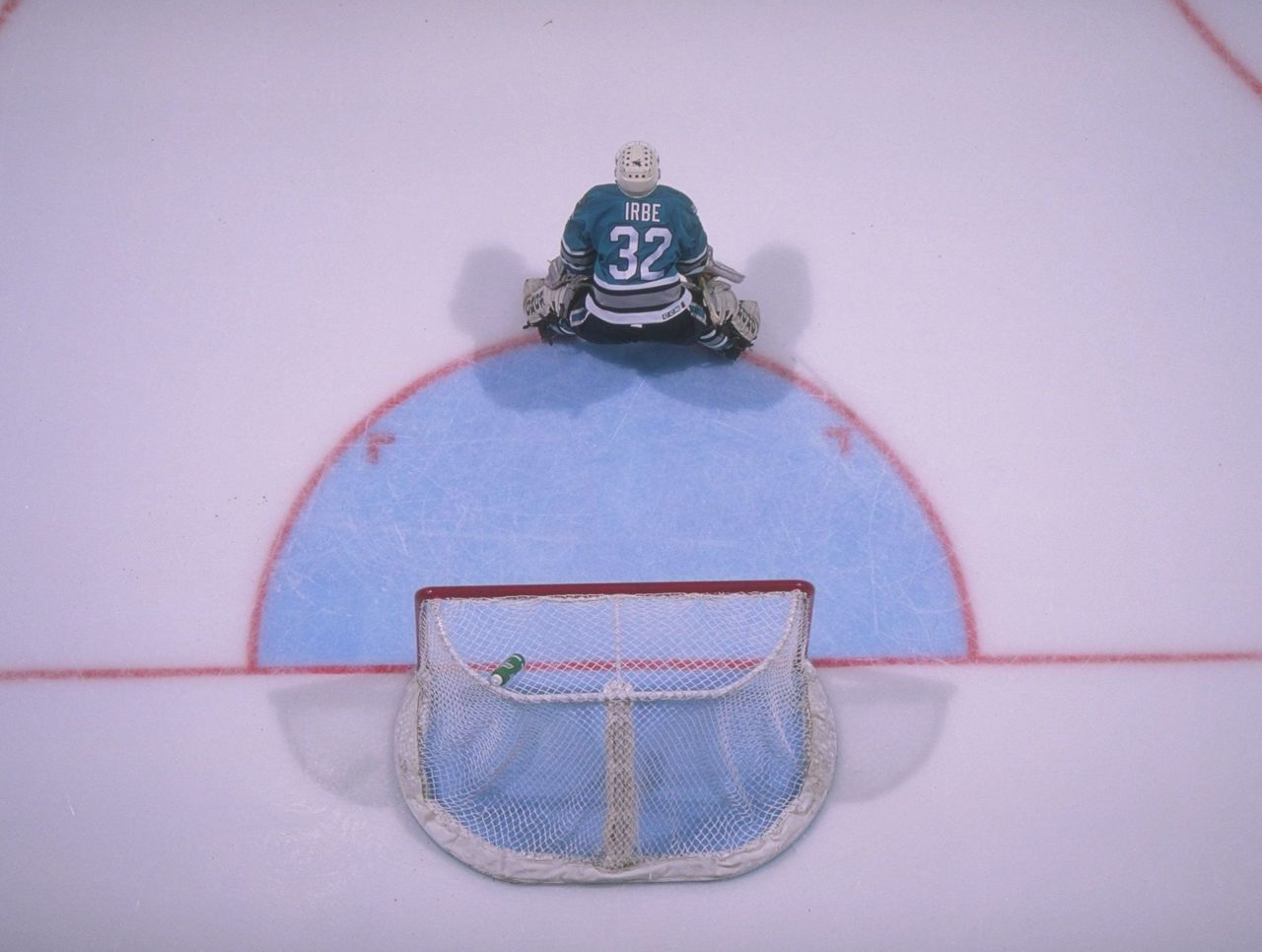 What happened next?
The debacle of '92-'93 spurred the Sharks' front office to action - and the results were dramatic. San Jose added significant veteran presence the following season, bringing in former KLM linemates Sergei Makarov and Igor Larionov and adding underrated center Todd Elik; those three, along with a much-improved Irbe, helped lead the Sharks to a stunning playoff berth.
If that wasn't enough, San Jose shocked the hockey world in the opening round of the postseason, upsetting the top-seeded Detroit Red Wings in seven games. The Sharks came within a Garpenlov crossbar of reaching the Conference Finals, but ultimately squandered a 3-2 series lead and fell to the Toronto Maple Leafs in seven.
It didn't take long for San Jose to become a respectable franchise; the team has missed the playoffs just four times since '92-'93 and reached the Stanley Cup Final in 2016. But no matter how well the Sharks perform moving forward, they'll always be the team that lost 71 of 84 games in a single season; not even the 2016-17 edition of the Avalanche can say that.
Other entries in the series:
(Photos courtesy: Getty Images)
Comments
✕
1992-93 Revisited: Sad-sack San Jose Sharks set NHL futility record
  Got something to say? Leave a comment below!