1992-93 Revisited: Manon Rheaume suits up for the Tampa Bay Lightning
James Bisson celebrates the 25th anniversary of the 1992-93 season with a look back at the most memorable moments of the greatest campaign in NHL history. This edition centers around Manon Rheaume, who became the first woman to compete with a men's North American pro sports team when she played an exhibition game for the Tampa Bay Lightning:
The final line score might not look that impressive: two goals against on nine shots in 20 minutes of an exhibition game. But for Manon Rheaume, all that mattered was the real result: the 20-year-old had made history as the first woman to appear in a men's professional hockey league.
Not bad for a woman who played in just one major junior game in her career - a stint with the Trois-Rivieres Draveurs of the Quebec Major Junior Hockey League in which she received a rude awakening to live action, as she explained to NHL.com's Arpon Basu in a 2012 interview:
I think I finished the second period and I started the third, but I got a slap shot in the third period and it cut my mask. My cage broke and it cut my eye. As I'm playing, I could barely see because the blood was coming in my eye, but I didn't know I was cut at the time and I was wondering what was going on. I kept playing until the whistle, and when the whistle blew I took my helmet off and I had blood all over me. They had to take me out of the game to get stitches.
That high heater to the mush might have knocked her out of action, but it did nothing to sour veteran Tampa Bay scout Jacques Campeau, who sent general manager Phil Esposito a tape of Rheaume's performance from that night. Esposito was suitably impressed - and that was before he discovered that she was, in fact, a female.
With the expansion Lightning set to begin their inaugural season that fall, Esposito realized that bringing in a woman could generate big publicity - so he did just that, inviting Rheaume to camp in Tampa Bay.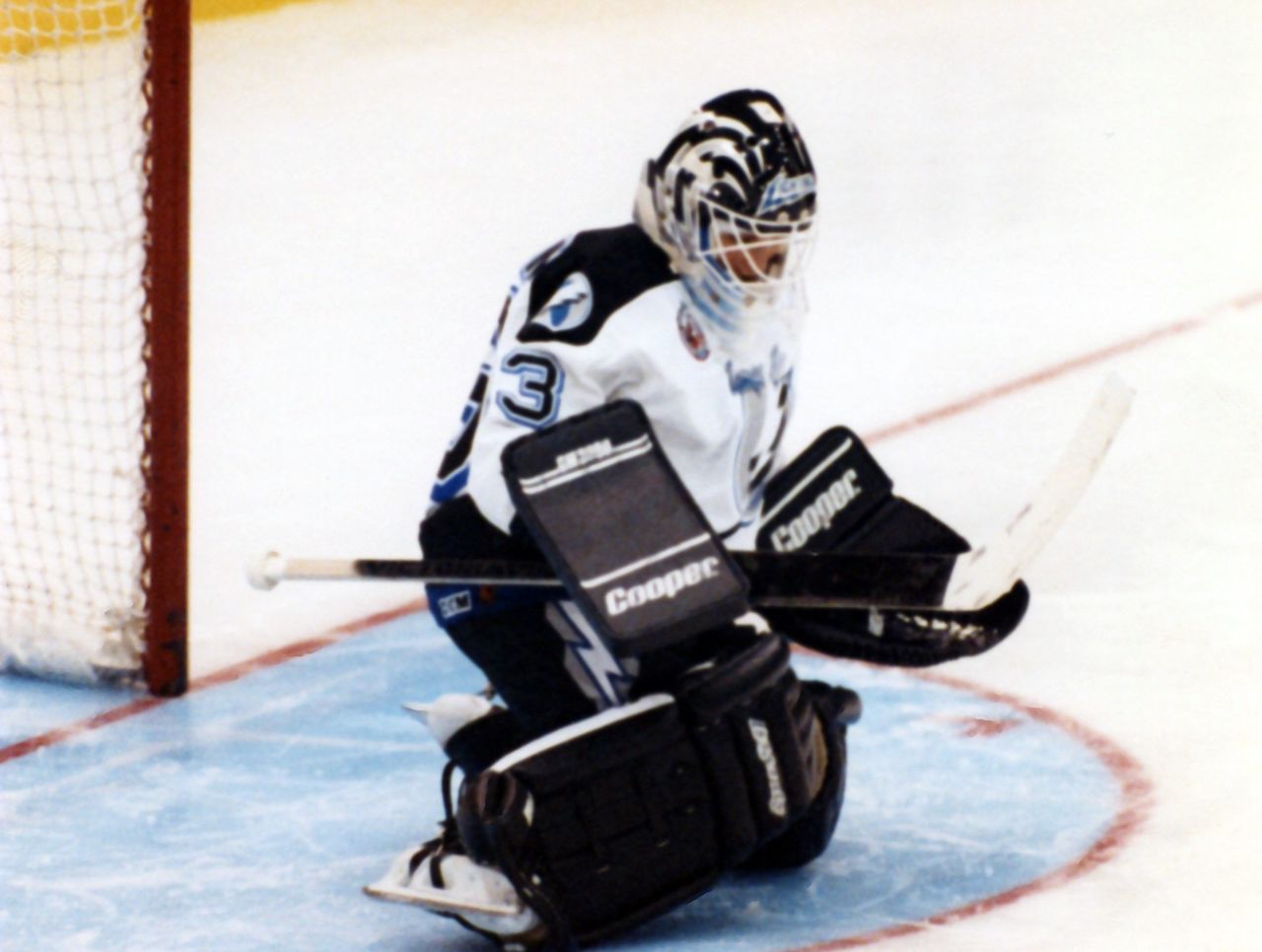 Rheaume was no stranger to high-level hockey. She allowed just two goals in three games played while leading Canada to gold at the 1992 IIHF Women's World Hockey Championship in Tampere, Finland, posting a .957 save percentage in the process. But this was different - much different. And at 5-foot-3 and 135 pounds, she and her small stature stood out in a big way.
Esposito dealt with criticism from within the organization over the decision to bring Rheaume to camp. He outlined his response to Basu:
I said, 'Guys, we're an expansion team. We're not going to win (anything) anyways. We need the publicity.' Why do you think I drafted Brent Gretzky in the third round (of the 1992 NHL Draft)? We had to get people in the building. My whole strategy was once we get them in the building to see the game, we've got them. I did what I had to do. No matter what it took, we were going to get it done.
As for Rheaume, she recalled being so nervous "I could barely breathe" in an interview with Lonnie Herman of the Lightning's official website in 2010, but received a wonderful surprise prior to stepping onto the ice for an exhibition game against the St. Louis Blues:
I had a big bouquet of flowers from a Quebec radio station and a card saying 'you can do this, we're all behind you.' It made me feel great. I had my parent's support and my friend's support but to have my home town sending me this and telling me that they are behind me, it made me feel better and helped take the nerves away.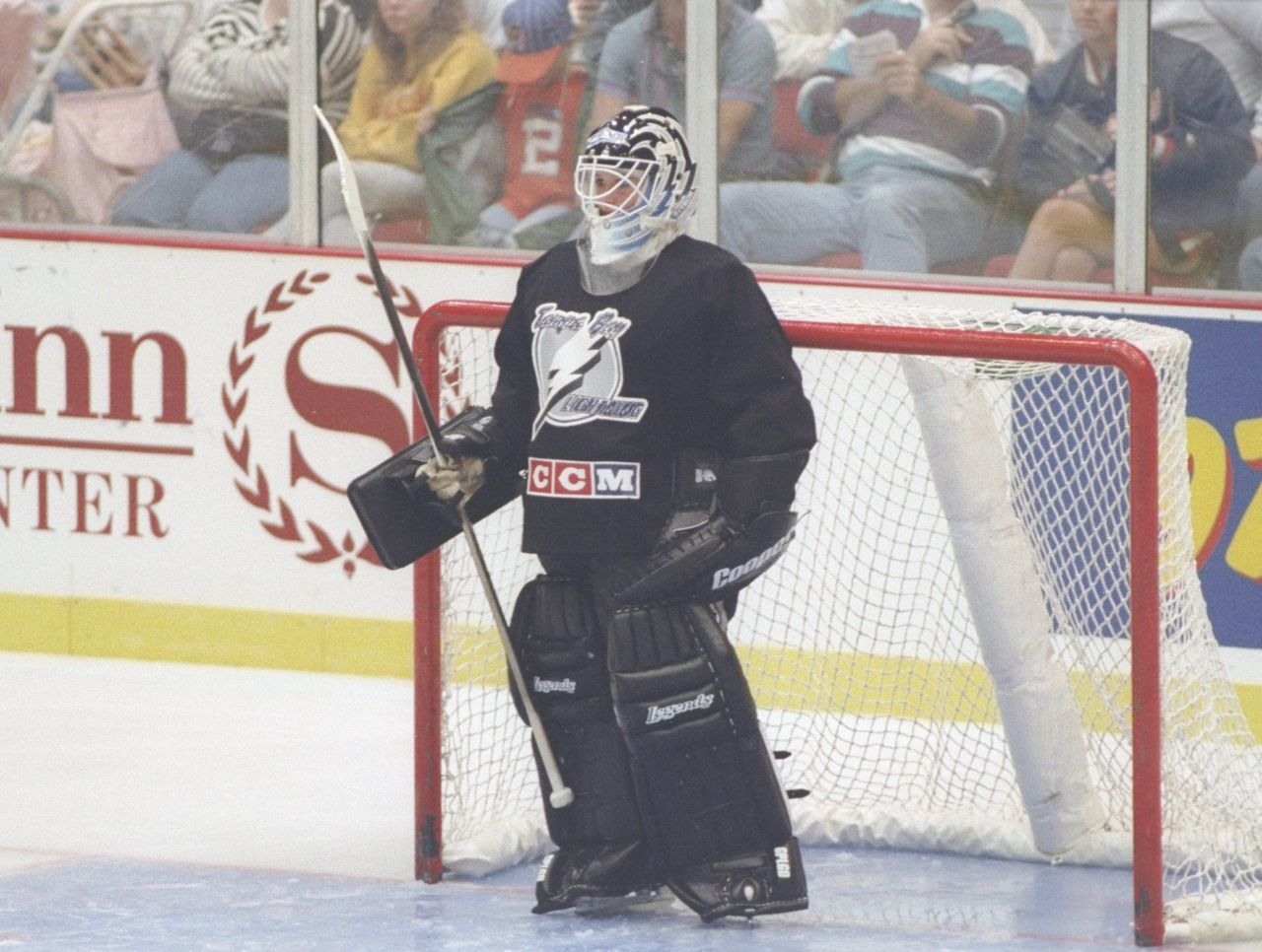 Rheaume showed some early jitters, allowing a Jeff Brown goal from 35 feet out; it still sticks with her, as she shared with Basu:
The long shot (by Brown), I was not happy with that. It was a long shot, it was a little bit outside the blue line, it hit the inside of one pad and the inside of the other pad and went in. It was just one of those fluky goals. But as upset as I was about this goal, every year when I watch the NHL it happens three, four or five times a year. It could have happened to anybody, it just so happens that it happened to me. But, obviously, there was so much on me that day - I wish I had that one back.
A Brendan Shanahan one-timer eluded her later in the period, but that was it - she stopped everything else that was sent her way, leaving to a warm ovation before giving way to Wendell Young for the start of the second period.
Rheaume went on to sign a pro contract with the IHL's Atlanta Knights and suited up for two games with the team, stopping 29 of 36 shots. She would also spend time in the ECHL and the WCHL before calling it quits to focus on her family. Her best stint came with the ECHL's Nashville Knights in 1993-94, when she went 3-0-0 with a 3.64 GAA and a .901 SV% in four games.
While Rheaume's achievement hasn't since been repeated at the NHL level, she inspired countless young girls to take up the sport - and other women have enjoyed success at a professional level even without reaching the top league in the world. Hayley Wickenheiser is the most notable example, playing 23 games for Salamat of Finland's second-division league in 2002-03.
Rheaume told Herman the significance of her accomplishment 25 years ago at Expo Hall in Tampa took a while to sink in:
I had no clue that my life would change the way it did. To be honest with you, I didn't understand the impact it would have until later in life. Now I have young girls coming up to me and saying, 'you inspire me.' I never imagined it would affect so many people's lives. I had no clue.
Other entries in the series:
(Photos courtesy: Getty Images)
Comments
✕
1992-93 Revisited: Manon Rheaume suits up for the Tampa Bay Lightning
  Got something to say? Leave a comment below!