1992-93 Revisited: The Leafs' season as remembered by Doug Gilmour - Part II
Presented by

Doug Gilmour was the star of one of the most successful Toronto Maple Leafs franchises of the past 50 years, coming oh-so-close to reaching the 1993 Stanley Cup Final. Nearly 25 years later, I caught up with Gilmour to talk about his memories of the 1992-93 Maple Leafs (Part I can be found here):
So you get to the playoffs, and draw a familiar first-round opponent in the Detroit Red Wings. How would you describe that series to those who didn't see it?
Roller coaster. Going in there, losing both games, coming back, winning twice, going back there, winning again, coming back and getting our (butts kicked) … and then we go back in there and we're down a couple early, and we fight back. As we got closer to the end of regulation, we needed one goal. And we got it. And everything changed once (Nikolai Borschevsky) scored.
Yeah, that series was a roller coaster. After we won that third game, we really started to get a little confidence. Had we lost that game, history would have changed a little bit.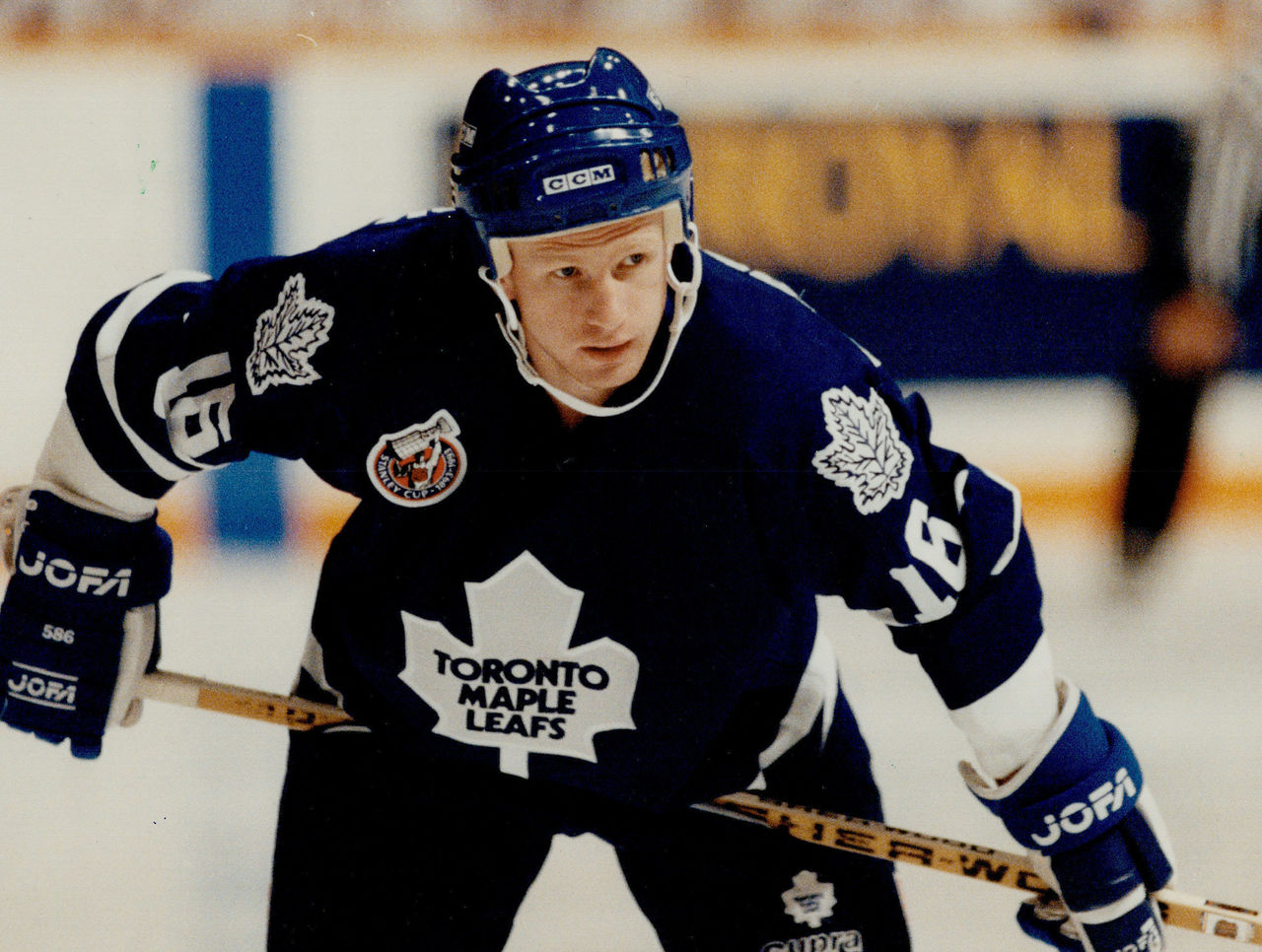 Most Leaf fans remember Borschevsky's goal for the sheer magnitude of it. But you guys are fishing for the summer if you don't score the tying goal with 2:43 left in regulation. What do you recall of that play?
I was just coming in front of the net, and I believe it deflected off somebody. I got it and went glove side, and it actually went under (Red Wings goaltender Tim Cheveldae's) glove, not over the glove. I was just trying to get it on net. I didn't know if it went in or not. I put my arms up, and obviously it went in.
They had a good hockey team over there, and I'm sure going into overtime they had a little more confidence than we did. We were the underdogs, so the expectations weren't as high going in, but we just got shots on net. Nothing's changed in our game. Crazy things have happened.
Next up was the St. Louis Blues, who were getting elite goaltending from Curtis Joseph. What do you do when you're facing a guy who's red-hot?
You don't really know. They had a pretty good hockey club over there with (Brett) Hull and (Brendan) Shanahan … you don't have a lot of time to think about this. The next day, you go in and prep your lines - who's going to play against whom, who's on the power play, who's on the penalty kill.
I think with the high of winning the Detroit series, we didn't look at St. Louis the same way. We thought Detroit was better. But that was a tough series. It took a lot out of us. I don't think we took them for granted, but we felt that (St. Louis) wasn't as good as Detroit at the time. So we were pretty upbeat that we were gonna beat them.
You got off to a good start with that memorable wraparound goal to win Game 1 in double OT. You were behind the net for what seemed like forever - what was going through your mind?
I learned from the best, obviously, with Gretzky. That was kind of my place to hide. Nicky was in the high slot, the defensemen were covered up high, and Andreychuk was going back and forth trying to get into a good spot, so in reality, I was waiting for him to get into a good spot and get it to the net. I didn't know I was going to spin, but I did, and as I started to come around, there was that one little opening. I can't explain it. It was just there.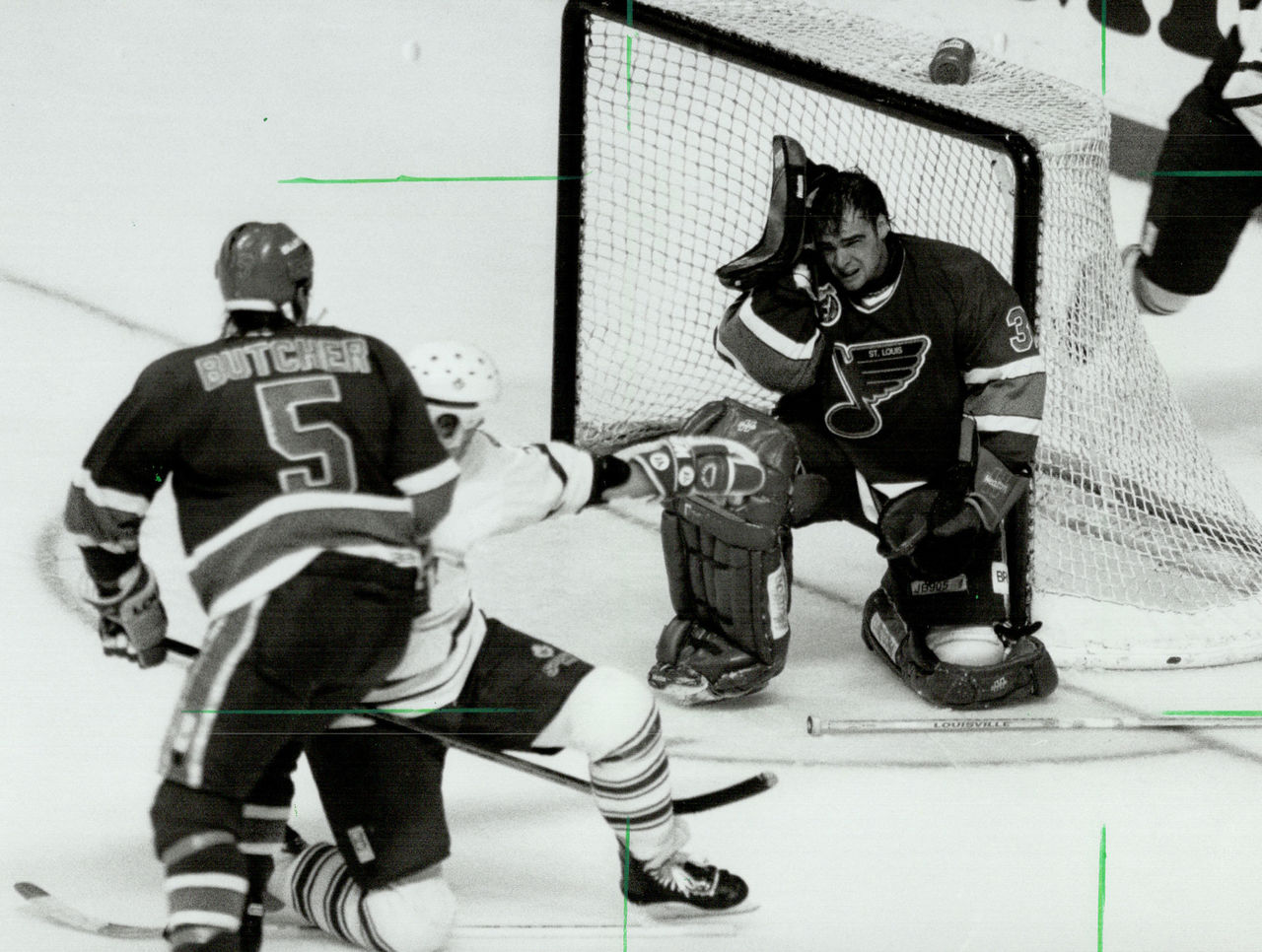 That series was so closely contested until Game 7, when you rolled to a 6-0 win. Did you do anything differently, or did the pucks just find ways in?
They were just finding ways in. I don't think CuJo was tired, but he could have been tired; he had faced a lot of rubber. There's nothing better than getting a lead, and that was our thing - if we can just get one, and then two, and three. And that's what happened. The game is still hard-hitting now, but it was a war out there against those guys. They had some big bodies and a lot of talent.
So next up is Wayne Gretzky and the Los Angeles Kings in the Western Conference Final …
I wish I could play that series over. The whole thing. I know we could have beaten them, even with the non-call. Gretzky, he had a horseshoe up his ass in Game 7. We made some mistakes, and we didn't usually make mistakes. But it was still close. You look back at some of the mistakes and the chances we did have where we didn't score - I wish we could go back, even to Game 7, just play that one. I'd love to.
No kidding. What a series. It didn't take long for the two teams to get acquainted, as Marty McSorley delivered an open-ice hit on you in Game 1 that led to a lengthy fracas. What did that hit do to change the series?
I don't know. Not long after that, I headbutted him. It didn't really change a lot. That first game, it was kind of a wake-up call, the way you feel these guys out. (Wendel Clark) settled the score, too (by locking horns with McSorley in a long and memorable fight immediately following the hit). Who else was going to go out there and say anything to Clarkie now? Nobody.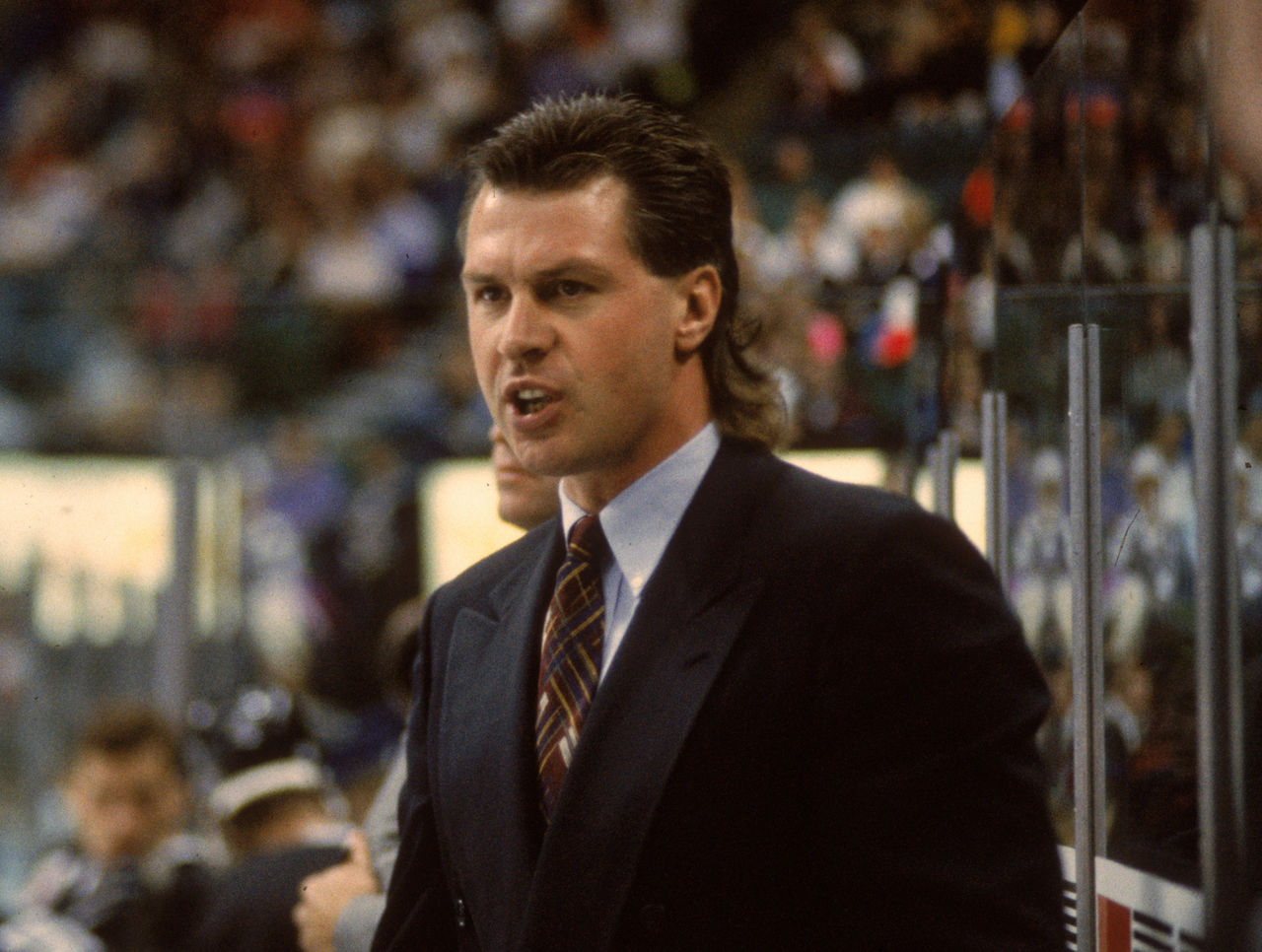 I loved how Burns trying to get at Kings head coach Barry Melrose during the post-hit scuffle brought about Don Cherry's famous description of Melrose as "Billy Ray Cyprus" …
(Laughs) That was quite the hairdo. I've had some bad ones, but that might be the worst.
Pat was on fire in that moment. What was he like in the locker room after that game? Was he back to normal?
Yes. He'll say a couple things after games, but everything happens so quick in the playoffs. Every other day you're playing. He just went back and said, "Here's what we have to do." We just let it go and prepared for the next one. That's all you can do. Burnsy was pretty quiet afterward.
I want to talk about what gets overlooked in that memorable Game 6 - Wendel's three-goal explosion.
We have a chance to win in their building, and Burnsy's going to switch lines up here and there. Wendel scored a couple, and we pulled the goalie. I had the puck behind the net and I threw it out to him, and if you watch the highlights, I ducked. I knew that puck was coming.
That was Wendel. He was going through a lot of pain playing, and he played hard. He was intimidating out there.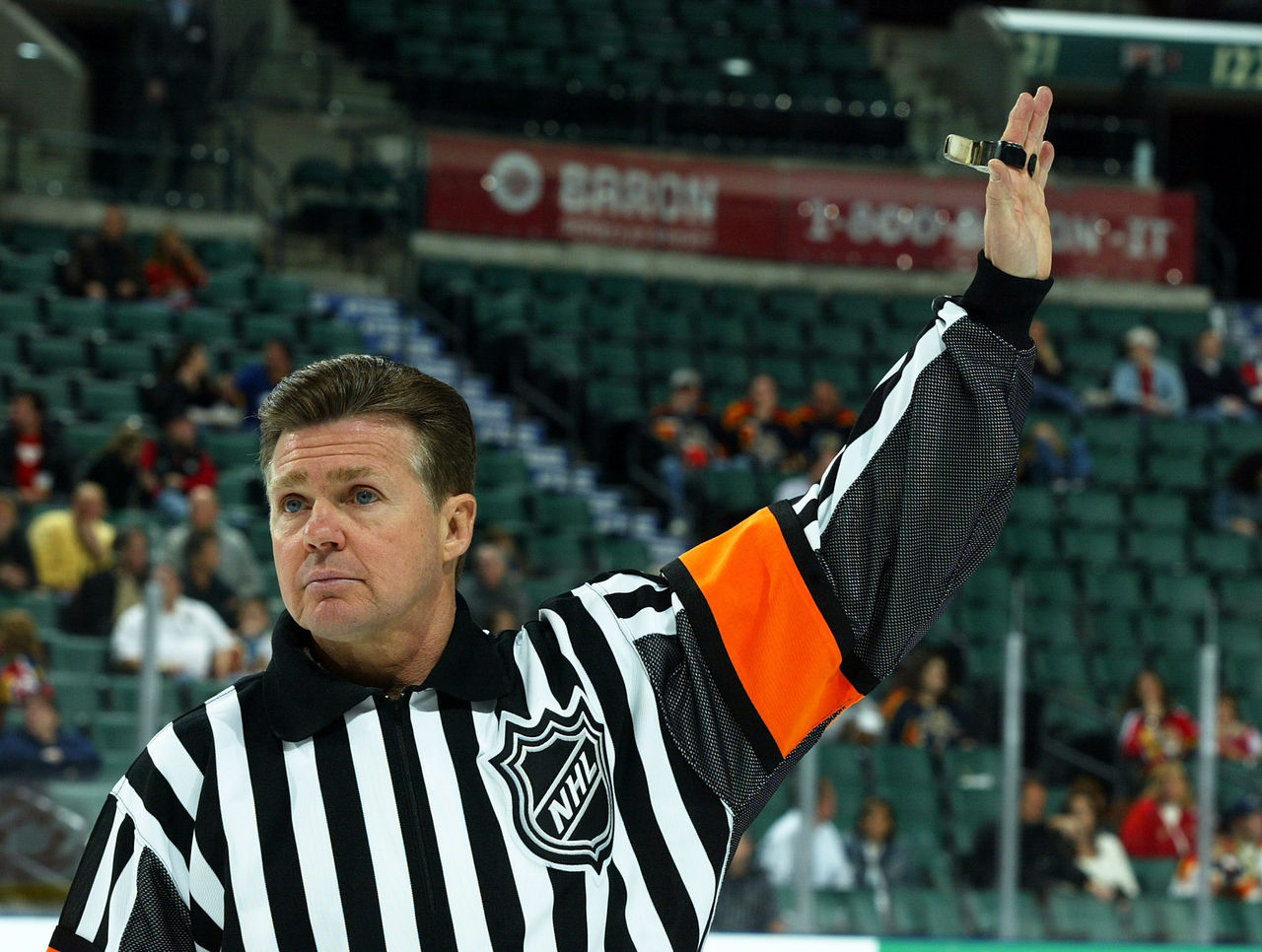 I cover Gretzky's high-stick non-call on you in my feature on the 1992-93 Leafs, so I won't reopen old wounds here. But did you check out Kerry Fraser's explanation of his decision in the Players' Tribune last year?
No.
Have you spoken with him much? How is that relationship? Is there one?
I've seen him before. It's fine. It's over.
The biggest part about it is, there were two other linesmen on the ice that could have lied to him and said, "Yeah, pretend you saw it." Being in the (Great Western) Forum, I think there would have been a riot if Gretzky had been kicked out, so nothing was going to happen. (Gilmour was bleeding, which would have resulted in a five-minute major penalty and a game misconduct for Gretzky.)
Again, I keep saying it, but we had Game 7 at home, and we lost. Their best player beat us.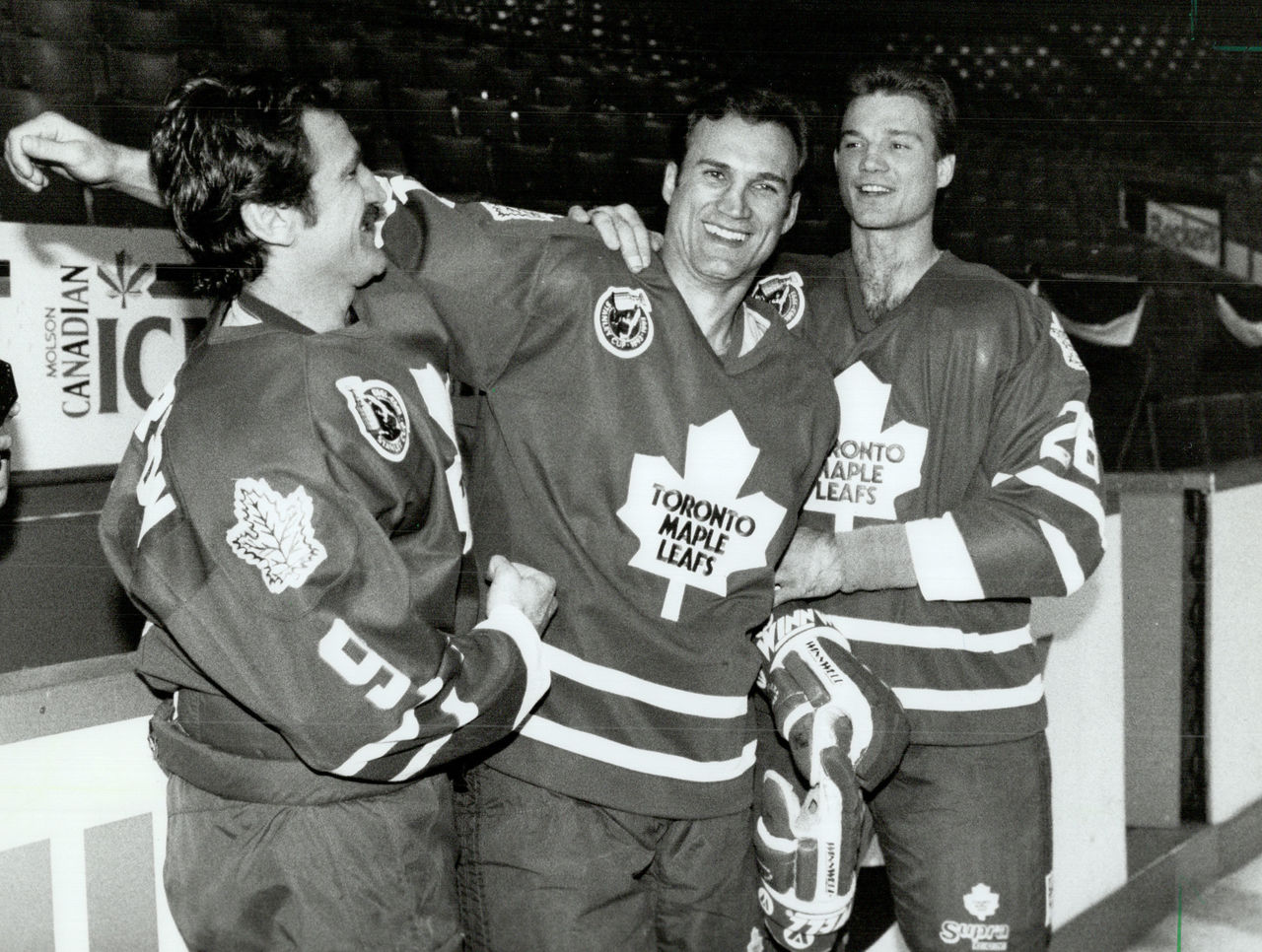 I'd like to know how you look back on that season now, nearly 25 years later. Do you think about it much, or does it only come to mind when someone brings it up?
It's more when someone brings it up. I think the biggest thing is, when you get traded during a season, you go in and try to make a small impact, but you're new to it. The next year, you come in and you get a full season - and that's what I was looking forward to.
Obviously a lot of things went right that year, but I don't rule out the following year. We had a great start, and a good hockey team. We ended up losing to Vancouver, but that team could have been just as good. Obviously there wasn't anything like the wraparound goal, but it was exciting for us in the room saying, "Here we are again, we've got this chance again." I thought we were better than L.A. in 1993, and I thought we were better than Vancouver.
You know what? There were so many little things that year that went on. It was great to get to know Burnsy, to figure out what he was all about. At the end, when we lost, we all went out together - trainers, coaches … we were all a big family. It's a shame that we didn't win.
I know Burnsy won a Cup (in New Jersey), but he came back for a reunion a couple years before he passed; he wanted to be here to see the guys. That's the bond we had. Everybody had a relationship with him. He was a meanie to some guys, but he was also a gentle giant. It was fun. I miss it.
Other entries in the series:
(Photos courtesy: Getty Images)
Comments
✕
1992-93 Revisited: The Leafs' season as remembered by Doug Gilmour - Part II
  Got something to say? Leave a comment below!