1992-93 Revisited: The Toronto Maple Leafs' roller-coaster season
James Bisson celebrates the 25th anniversary of the 1992-93 season with a look back at the most memorable moments of the greatest campaign in NHL history. This edition focuses on the Toronto Maple Leafs, who gave fans one of the most entertaining - and ultimately heartbreaking - seasons on record:
Ask a Maple Leafs fan of a certain vintage what he or she remembers most from the 1992-93 season, and you probably won't hear about Doug Gilmour's career-best campaign or Dave Andreychuk's late-season goal binge. Nikolai Borschevsky's franchise-altering playoff goal? Pat Burns' Jack Adams Award-winning coaching performance? Those likely won't spring to mind, either.
No, if you ask that question of a die-hard Leafs fan, you should expect to hear all about Wayne Gretzky, Kerry Fraser, and the blown high-stick call that cost the Maple Leafs a dream Stanley Cup encounter with the Montreal Canadiens.
Yet, to boil the entire 105-game campaign down to that one moment does a great disservice to a Maple Leafs team that arguably remains one of the franchise's best in the last 50 years. And while the Game 6 non-call remains a bitter memory to most fans, the Los Angeles Kings still needed what Wayne Gretzky called "the best game of my career" to finish Toronto off.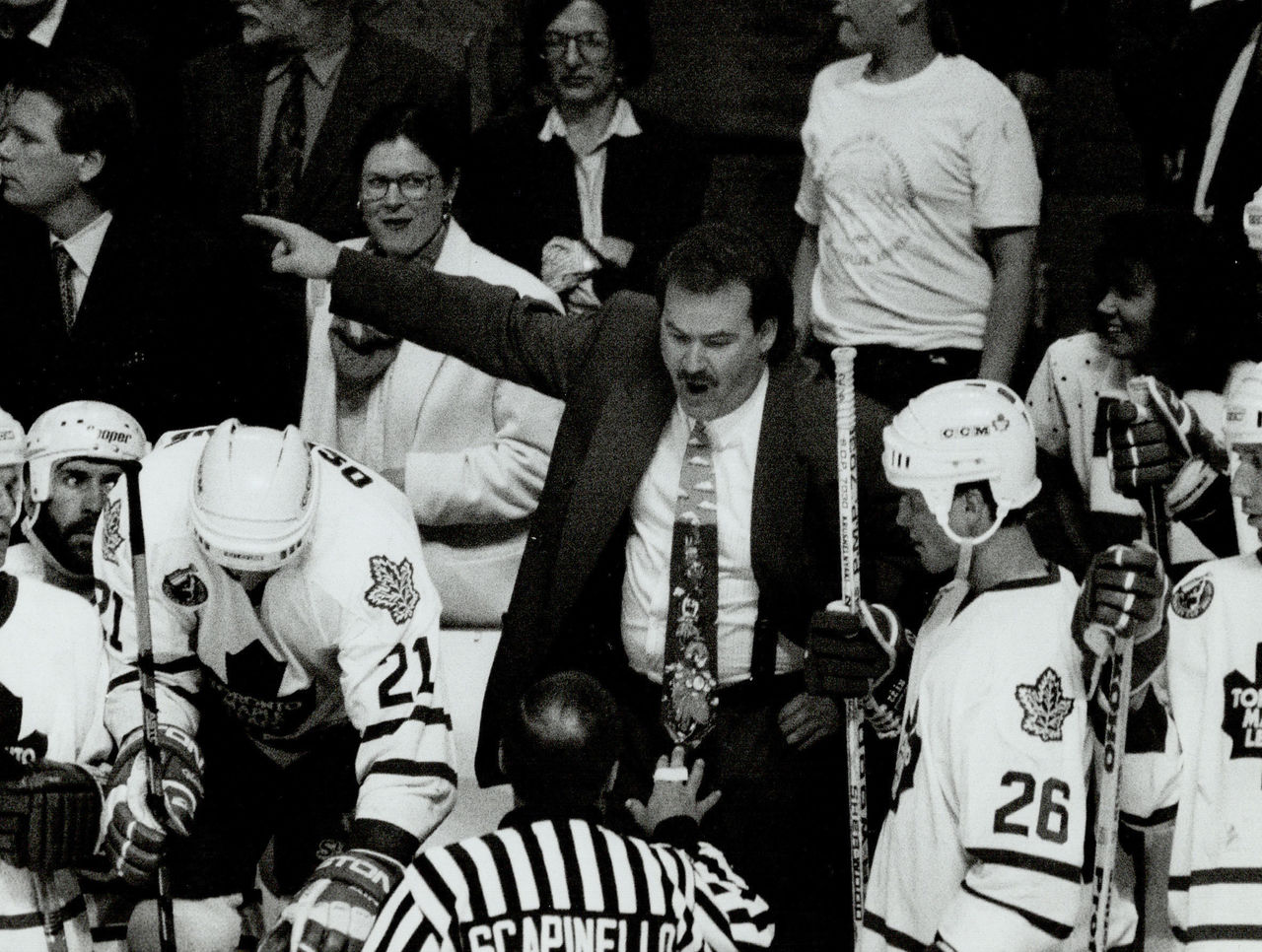 While fans couldn't have imagined that their team would reach the Stanley Cup final following a dismal 67-point showing the season before, there was reason for optimism.
Gilmour, who had joined Toronto the season before in a blockbuster deal with Calgary, recorded 49 points in 40 games with the Maple Leafs and looked ready to take a major step forward. Burns was brought in to replace Tom Watt, and instantly brought respectability to the Toronto dressing room after a successful four-year stint with the Canadiens.
Yet, despite improving both on the ice and behind the bench, Toronto languished for the first half of the season, sitting at 16-17-7 following a 5-2 loss to the Vancouver Canucks on Jan. 6, 1993. Less than a month later, Leafs GM Cliff Fletcher pulled the trigger on an other major deal - acquiring Andreychuk, goaltender Daren Puppa, and a 1993 first-round pick from Buffalo in a trade that sent netminder Grant Fuhr to the Sabres.
The trade invigorated the Leafs. Andreychuk scored 25 goals in 31 regular-season games with his new team, while Gilmour racked up 53 points over that same span en route to a 127-point campaign, setting franchise records in assists (95) and points while finishing tied for seventh in league scoring with Sabres superstar Alexander Mogilny.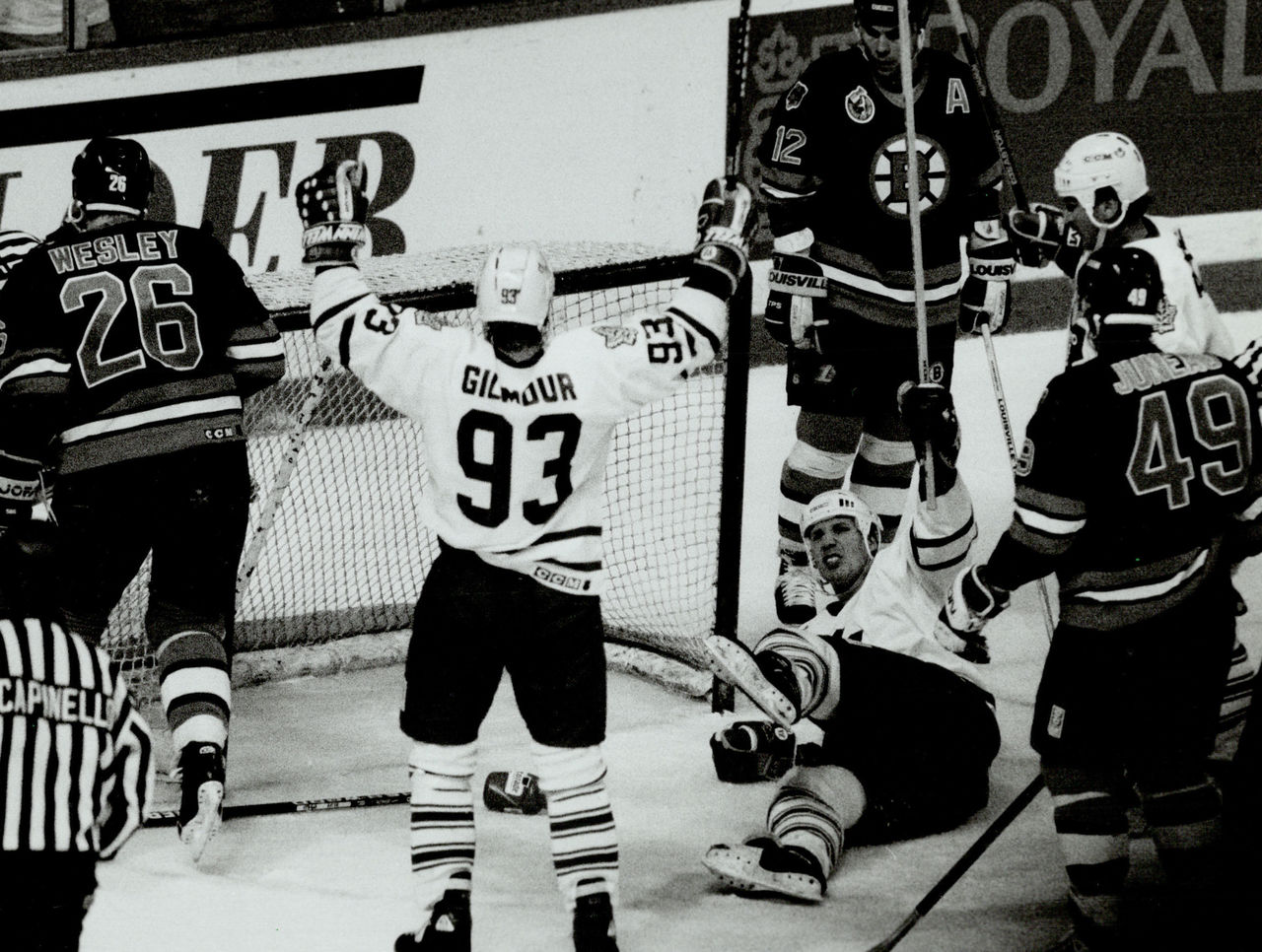 Most significantly, Toronto caught fire the rest of the way, going on a 20-9-3 run to establish a then-franchise record for victories (44) and points (99). While the offense came to life after Andreychuk arrived, the defense was the real catalyst for the team's dramatic turnaround, as the Maple Leafs allowed the second-fewest goals in the league.
Toronto drew a tough first-round matchup with the rival Detroit Red Wings, who finished four points ahead of the Maple Leafs in the competitive Norris Division. The home team won each of the first four games of the series, but Toronto pulled ahead on Mike Foligno's goal 2:05 into overtime in Game 5. Detroit responded with a 7-3 rout in Toronto two nights later.
The Red Wings led 3-2 late in Game 7, but Gilmour converted with 2:43 remaining in regulation to force OT. And in extra time, Borschevsky scored one of the most memorable goals in franchise history:
The Maple Leafs endured a similarly exhausting series with the St. Louis Blues, who had knocked off the division-leading Chicago Blackhawks in the opening round behind the goaltending of Curtis Joseph. Gilmour's now-famous swerve-wraparound goal in double-OT lifted Toronto to a Game 1 win, but the Blues responded with wins in Games 2 and 3.
Toronto posted convincing 4-1 and 5-1 victories in Games 4 and 5 to take a series stranglehold, but Joseph was at it again in Game 6, turning aside 40 of 41 shots in a 2-1 triumph that sent the series to a seventh and deciding game. And it was then that Joseph's magic finally ran out, as the Leafs shelled him for four first-period goals en route to a series-clinching 6-0 rout.
With a trip to the Stanley Cup final on the line, tensions were understandably high, as the Leafs and Kings kicked things off in Toronto. And while the Maple Leafs emerged as 4-1 victors, the game was remembered for something else - specifically, Kings defenseman Marty McSorley doing this to Gilmour:
The ensuing melee resulted in 57 minutes in penalties, countless cups of liquid tossed onto the Maple Leaf Gardens ice, and the two head coaches nearly coming to blows (leading to a hilarious postgame rant in which hockey personality Don Cherry refers to Melrose as "Billy Ray Cyprus," a not-quite-accurate shot at Melrose's Hall of Fame hockey mullet.)
The Kings earned a split in Toronto with a 3-2 victory in Game 2 on Tomas Sandstrom's goal with 7:40 remaining. Los Angeles pulled ahead with a 4-2 home win in Game 3, while the Leafs responded with a 4-2 triumph in Game 4. That set the stage for a thrilling Game 5, in which Toronto's Glenn Anderson scored 19:20 into OT to put the Leafs within one game of their first Stanley Cup appearance in 26 years.
Things looked good in the early going for the Leafs, who went ahead just 58 seconds into the game on an Anderson goal and jumped back in front nearly four minutes into the second frame after Tony Granato had evened the score just past the midway point of the first. But three straight Toronto penalties - two by Foligno - led to three Kings goals and a 4-2 L.A. lead after two.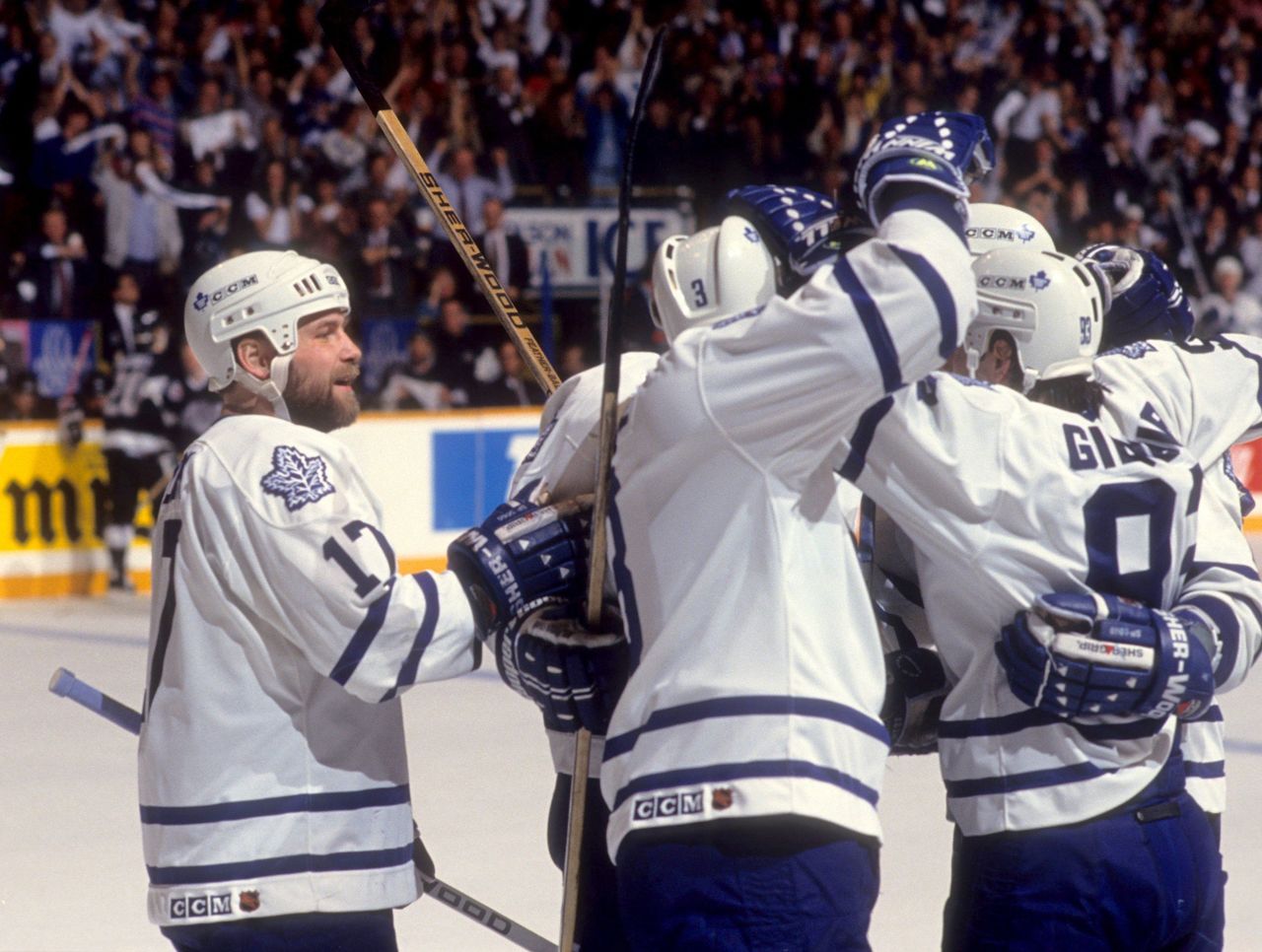 Yet, just when it looked like a seventh game was inevitable, Wendel Clark took over. His second goal of the game with 8:52 left in regulation made it a one-goal affair, and he stunned the Great Western Forum crowd with just 1:21 left, converting a Gilmour feed to complete the hat trick. Neither team scored over the final 81 seconds, resulting in a second straight overtime game.
Then, in the early moments of extra time, this happens (or, in the eyes of Kerry Fraser, doesn't happen):
Gilmour went down immediately after taking Gretzky's stick to the chin - but none of the officials witnessed the infraction, as Fraser explains in his captivating recount of the incident for the Players' Tribune in 2016:
I'm starting to think, Did I miss this? I skated to my linesmen and said, "Guys, help me out." Rob Finn had the balls of an elephant. He said, "Kerry, I didn't see it. I was looking through their backs." Kevin Collins, who had conducted the end zone face-off said, "Well … I dunno." I had to make a decision. In referee school, they hammer it into you: Call what you see. Don't guess. The honest to God truth is, I didn't see it. I had to eat it. I said, "No penalty."
The non-call would change everything. Gretzky scored the overtime winner a short time later, sending the series back to Toronto for a seventh game. Despite the Maple Leafs' best efforts, Gretzky would not be denied his first Stanley Cup appearance in a Los Angeles uniform, recording a hat trick to send the Kings to a 5-4 win and a berth in the championship round.
It was a gut-punch finish to what remains one of the most entertaining seasons in Toronto sports history. The Leafs would reach the conference final twice more over the next 25 years, but failed to advance to the Stanley Cup on both occasions. And while the future in Toronto is bright at the moment, fans of that 1992-93 team will always wonder what might have been.
Other entries in the series:
(Photos courtesy: Getty Images)
Comments
✕
1992-93 Revisited: The Toronto Maple Leafs' roller-coaster season
  Got something to say? Leave a comment below!