1992-93 Revisited: Rocket scientist Juneau was no ordinary Joe
James Bisson celebrates the 25th anniversary of the 1992-93 season with a look back at the most memorable moments of the greatest campaign in NHL history. This edition focuses on Boston Bruins winger Joe Juneau, who put together one of the quietest 100-point rookie seasons ever:
Joe Juneau will go down in NHL annals as a capable forward who finished with 572 points over 828 games with six different teams. He didn't win a Stanley Cup, but did play in two finals while reaching the playoffs eight times. All in all, it was a decent career for the native of Pont-Rouge, Quebec.
But Juneau is so much more than that.
For one, he's an actual rocket scientist - he earned a degree in aeronautical engineering from Rensselaer Polytechnic Institute before playing in the NHL, providing him the kind of job security few players have. It's part of the reason why he opted not to join the Bruins immediately following his time with RPI, as he explained to Patrick Cwiklinski of the Hockey News in 2011:
If you have a two-way (contract) it's too easy for teams to send you to the minors and to forget about you so I didn't want to be in that situation. I had a pretty good degree to fall back on so I said "what's the point of me going to play in the minors in Portland for $30,000 a year when I could start working as an engineer and work on a nice career?"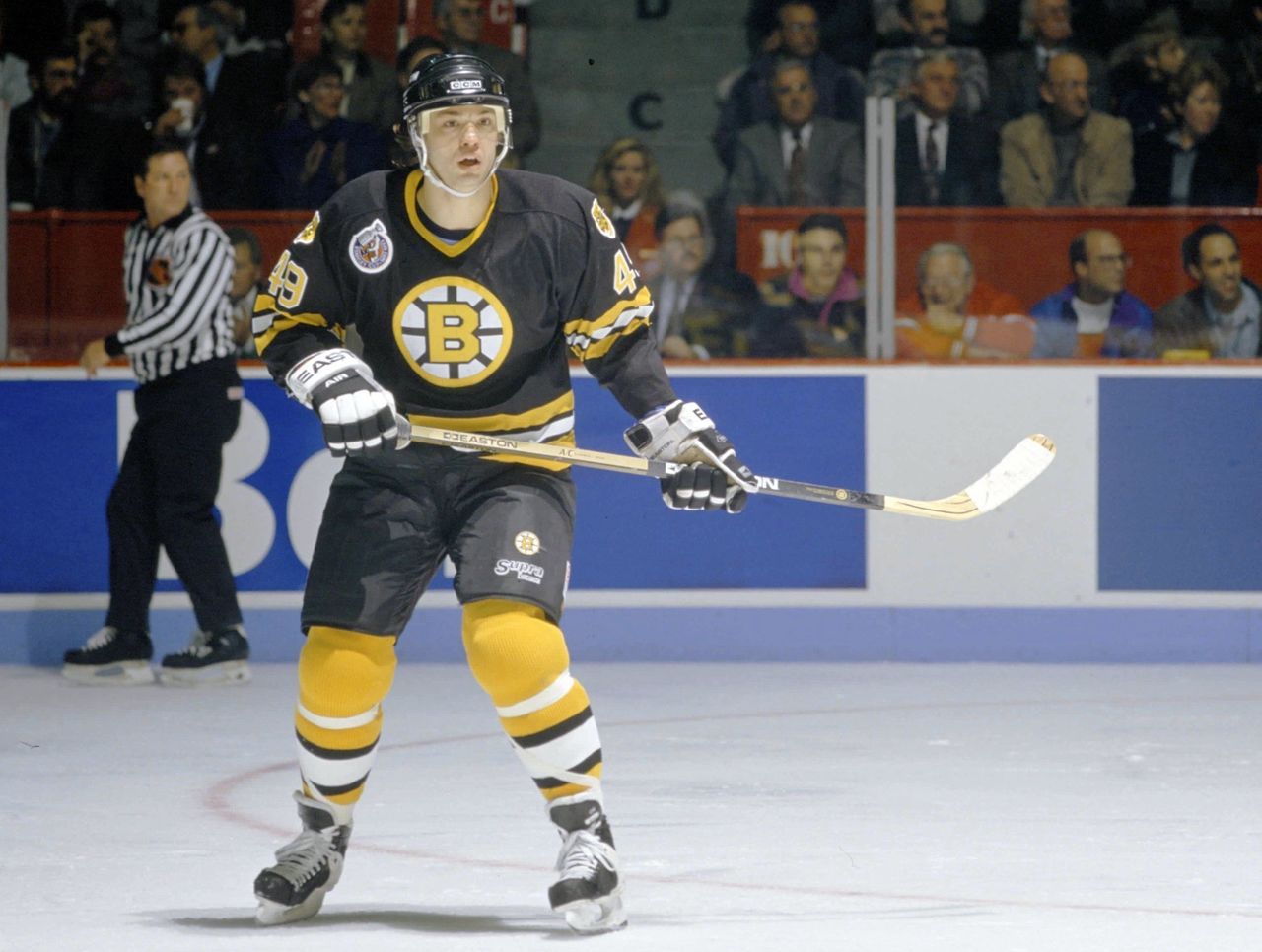 The decision was a wise one, as Juneau entered the NHL as a skilled 24-year-old and piled up 19 points in 14 regular-season games - and another 15 in the postseason - to provide the Bruins a much-needed boost. He followed that up with one of the greatest-ever performances by a rookie, setting an NHL record for most assists by a left-winger that still stands today.
The 1992-93 Bruins weren't exactly world-beaters on offense, at least on paper; their top goal-scorer, bruising winger Cam Neely, wound up playing just 13 games that season due to injury. No. 1 center Adam Oates was known more for his playmaking abilities, while Boston fans didn't know what to expect out of Russian forward Dmitri Kvartalnov, a 1992 first-round pick.
With Neely hobbled, the Bruins relied heavily on a first line consisting of Oates, Juneau, and Kvartalnov. The results were stunning.
Both Juneau and Kvartalnov opened the season with points in each of their first 14 games; Juneau racked up 15 assists over that span, and finished the month with five goals and 12 assists in 10 games. He continued his surge through November, adding another five goals and 13 assists to challenge Winnipeg Jets phenom Teemu Selanne for the rookie scoring lead.
It was more of the same all the way to the All-Star break, by which time Juneau had amassed 22 goals and 47 assists through 54 games, though it wasn't enough to earn him a spot on the Wales Conference roster for the mid-season spectacle in Montreal. Undeterred, he carried a point-per-game pace after the break, putting him within reach of the left-wing assists record.
Juneau needed four helpers entering April to set the mark established a season earlier by Pittsburgh Penguins bruiser Kevin Stevens. He was limited to just one assist through his first three games of the month, but came alive in the regular-season finale in Ottawa, setting up the first three Boston goals in a 4-2 win for his 68th, 69th, and 70th assists of the season.
Juneau's sensational season went largely overlooked because of everything else going on in the league at the time, but it stands as one of the top showings by a rookie in NHL history. He finished with 102 points, making him one of only five rookies at that time to record 100 or more points. His 70 assists also remain the standard for rookie skaters.
Juneau's pass-happy ways also had huge impacts on his linemates. Kvartalnov finished with 30 goals - fourth among first-year players that season - while Oates piled up a career-best 45 goals, helping him to finish with 142 points; only Mario Lemieux and Pat LaFontaine had more.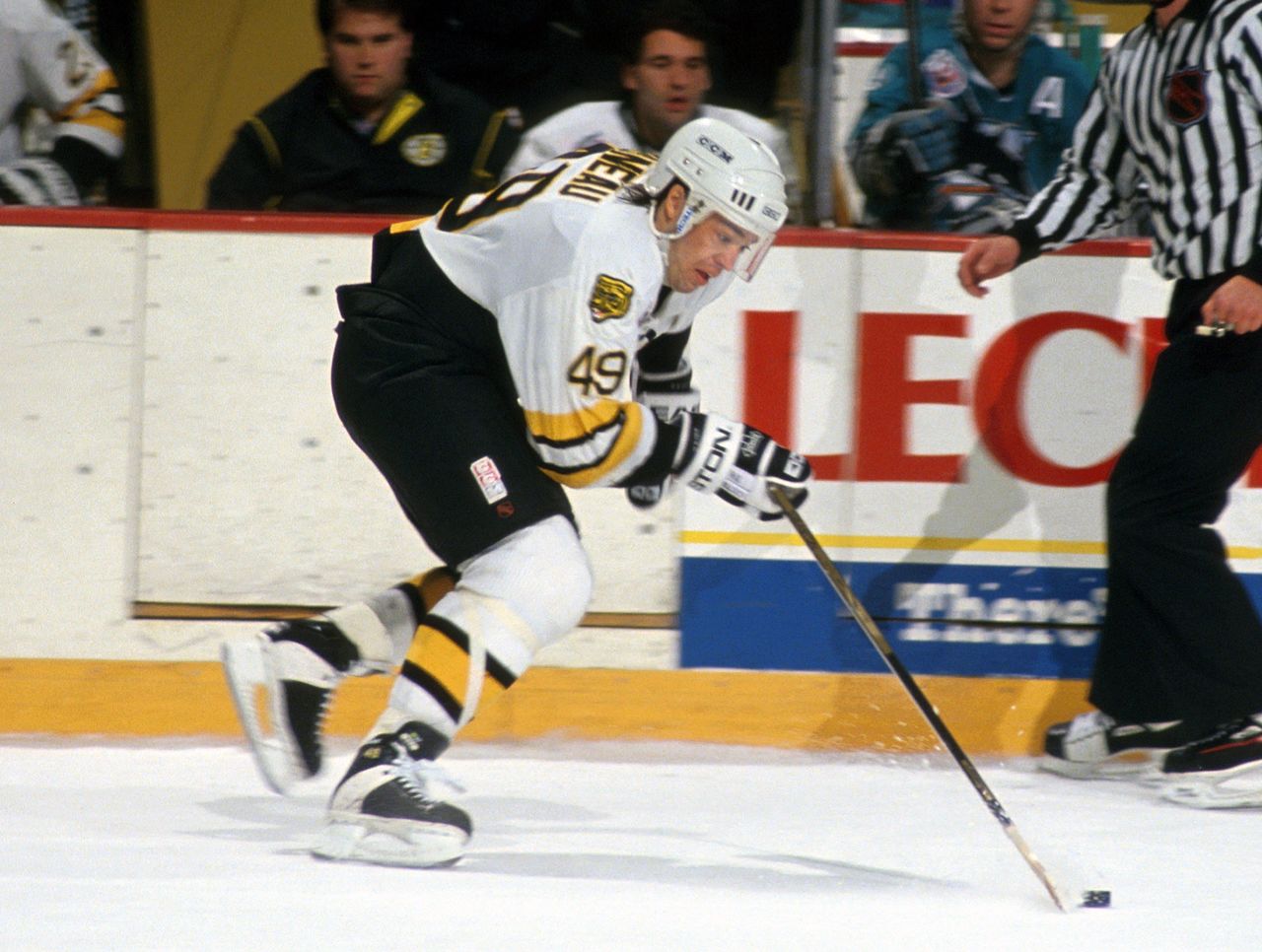 Juneau finished a distant second to Selanne in the Calder Trophy voting, edging out Toronto Maple Leafs netminder Felix Potvin and Philadelphia Flyers superstar Eric Lindros for runner-up honors. He finished fourth at his position in All-Star voting - behind only Luc Robitaille, Stevens, and Dave Andreychuk - and was a slam-dunk choice for the All-Rookie Team.
Unfortunately for Juneau, his time with the Bruins was short-lived. Despite wanting to stay in Boston, he was shipped to the Washington Capitals on March 21, 1994 in a one-for-one deal for defenseman Al Iafrate. Juneau recorded 85 points that season, but never again reached those lofty heights as his skills waned and defensive hockey took over.
Juneau wrapped up his career with the Montreal Canadiens in 2003-04, registering five goals and 10 assists in 70 games. It was a quiet finish to what might look like an unspectacular career at first glance, but includes one of the most memorable seasons ever posted by a first-year player. And if the NHL hadn't worked out, at least Juneau had something really cool to fall back on.
Other entries in the series:
(Photos courtesy: Getty Images)
Comments
✕
1992-93 Revisited: Rocket scientist Juneau was no ordinary Joe
  Got something to say? Leave a comment below!