1992-93 Revisited: A Wales of an All-Star rout
James Bisson celebrates the 25th anniversary of the 1992-93 season with a look back at the most memorable moments of the greatest campaign in NHL history. This edition focuses on the 1993 All-Star Game, a one-sided affair in which the Wales Conference steamrolled its Campbell Conference counterpart:
Considering everything else that helped solidify it as one of the greatest seasons in NHL history, the 1992-93 campaign deserved a memorable All-Star Game - and boy, did it get one.
Led by New York Rangers winger Mike Gartner and his stunning four-goal performance, the Wales Conference cruised to a 16-6 drubbing over the Campbell Conference, establishing a single-game goals record that stood until 2015. Gartner wasn't even supposed to play, but was named as a late replacement for teammate Mark Messier, who was nursing a wrist injury.
Gartner's scoring exploits put a cap on one of the most entertaining All-Star weekends in history, even with two of the league's biggest stars out of action. In addition to Messier sitting out, Pittsburgh Penguins megastar and league scoring leader Mario Lemieux was forced to miss the game due to treatments for Hodgkin lymphoma.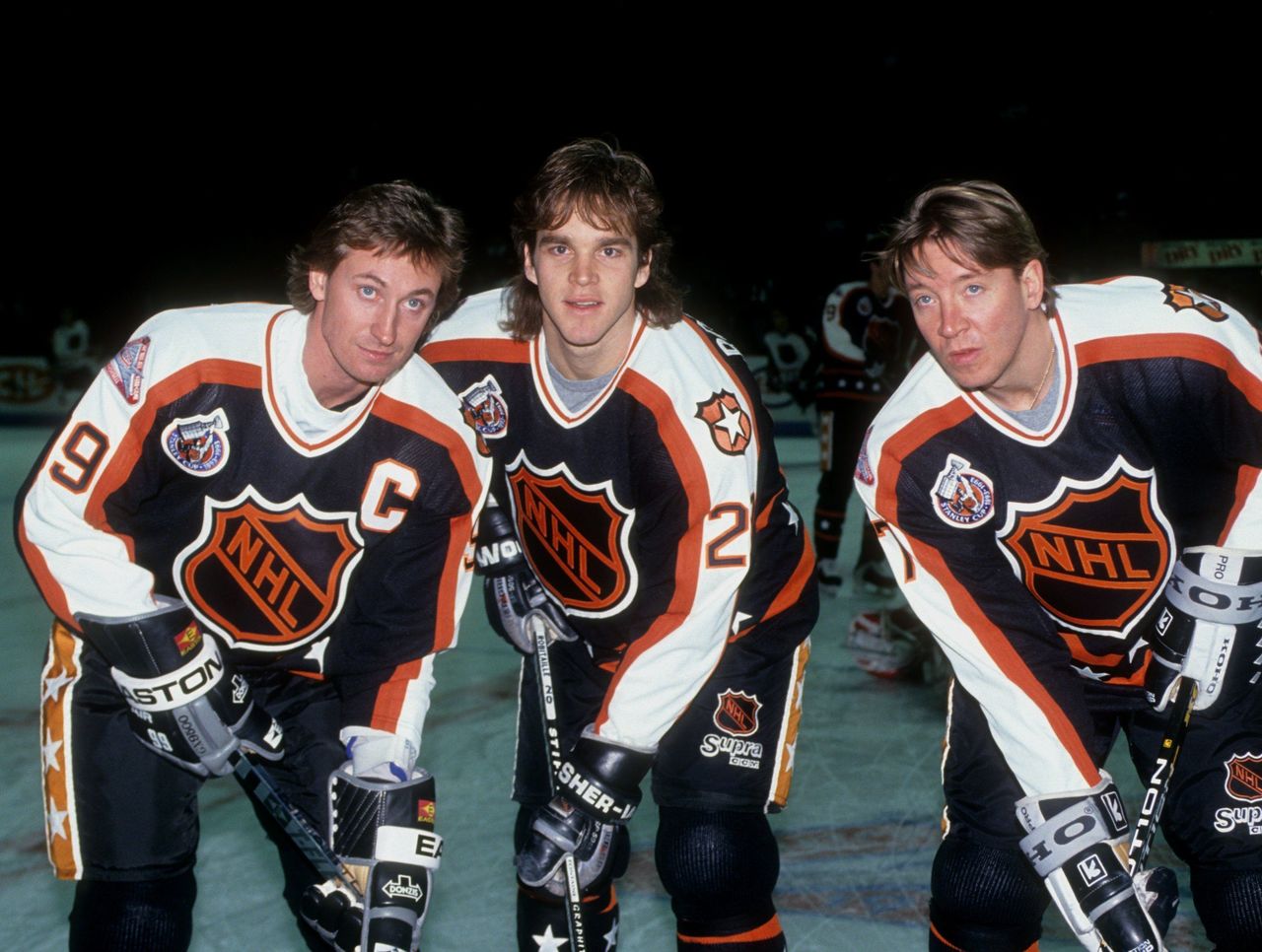 Even still, both sides had plenty of star power. The Campbell Conference's starting lineup featured a Hall of Fame sextet that included Chicago Blackhawks netminder Ed Belfour, Detroit Red Wings center Steve Yzerman, and St. Louis Blues sharpshooter Brett Hull. Among the reserves: A Los Angeles Kings trio of Wayne Gretzky, Luc Robitaille, and Jari Kurri. Not bad.
The Wales Conference boasted plenty of firepower itself, headlined by an all-Pittsburgh Penguins starting forward line of Rick Tocchet, Kevin Stevens, and Jaromir Jagr. Gartner was joined on the reserves list by fellow snipers Peter Bondra of the Washington Capitals, Alexander Mogilny of the Buffalo Sabres, and Joe Sakic of the Quebec Nordiques. Equally not bad.
Yet, despite the perceived parity in lineups, this one was over in a hurry. Gartner scored a pair of goals on his first shift, and his hat-trick marker with 6:38 remaining in the first period put the Wales Conference ahead 6-0. He added his fourth of the game 3:33 into the middle frame.
It was a defining moment for Gartner, who spent the majority of his career in the shadows of Gretzky, Lemieux, and others despite reaching the 700-goal plateau. He'd entered the 1992-93 season as the only player in NHL history to register 14 consecutive 30-goal campaigns, and even showed off his wheels by winning the Fastest Skater competition a day earlier - at age 33, no less.
The four-goal burst tied him with Gretzky, Lemieux, and Vincent Damphousse for the most in a single All-Star Game - a mark that's been equaled by Dany Heatley (2003) and John Tavares (2015). Gartner's linemates tried setting him up for a fifth, but it wasn't to be.
While Gartner made the biggest headlines, he certainly wasn't alone. Rick Tocchet (No. 22, shown below) had a pair of second-period goals, including the eventual game-winner just 19 seconds into the frame, while Pierre Turgeon of the New York Islanders added two goals and two assists in the win. Adam Oates of the Boston Bruins chipped in with four assists.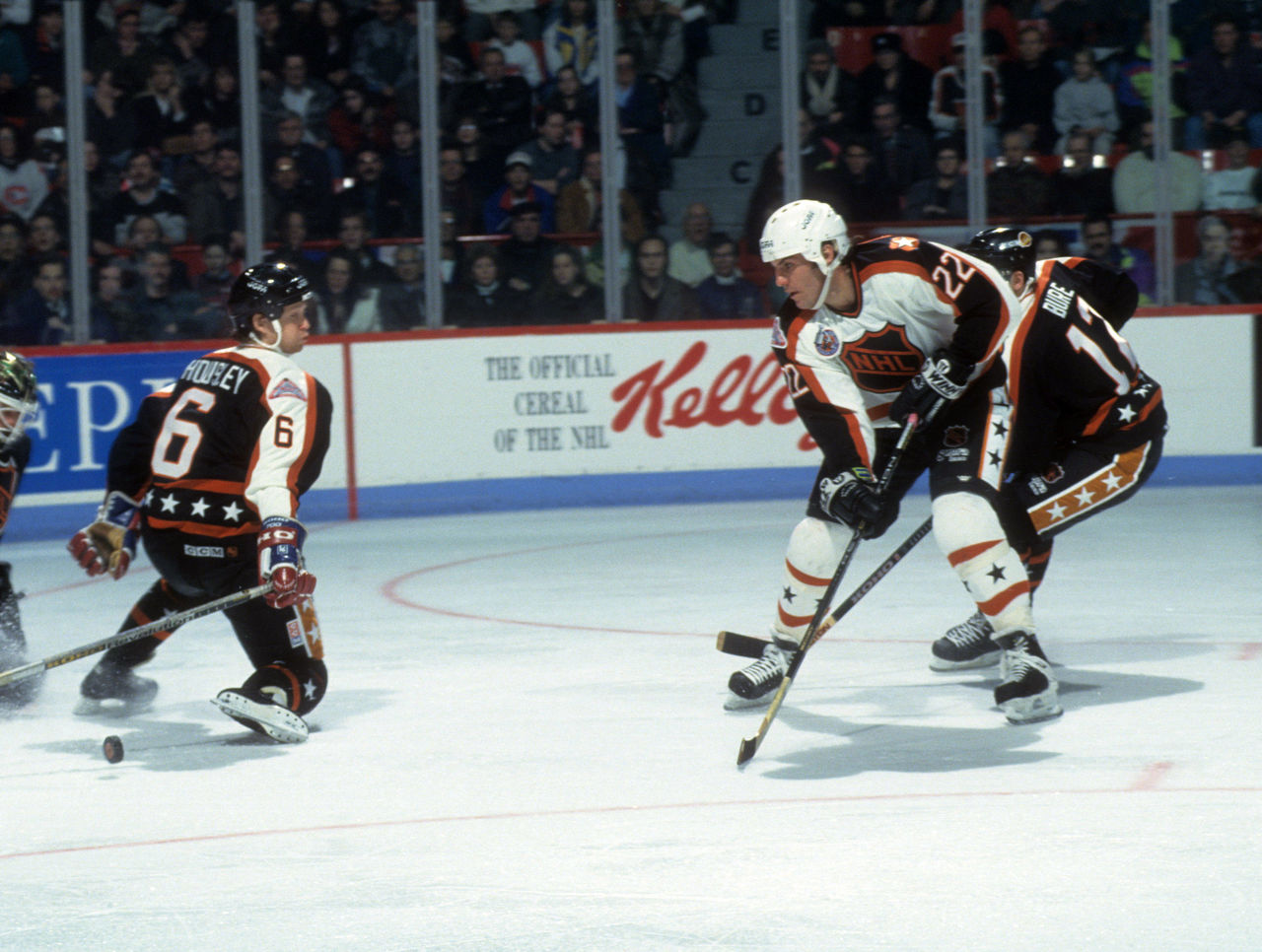 Even defenseman Brad Marsh of the expansion Ottawa Senators got in on the action, tallying at 12:52 of the third period to give the Wales Conference an absurd 15-2 advantage. How significant was that goal? Marsh, the commissioner's pick for the Wales roster, finished his NHL career with just 23 goals in 1,086 games. (Hey, when you're hot, you're hot.)
It was a rough day for the Gretzky-Robitaille-Kurri Campbell Conference triumvirate, which finished without a point. Pavel Bure of the Vancouver Canucks scored a pair of goals in defeat, while Jeremy Roenick of the Blackhawks, Kelly Kisio of the San Jose Sharks, and rookie phenom Teemu Selanne of the Winnipeg Jets each added a goal and an assist.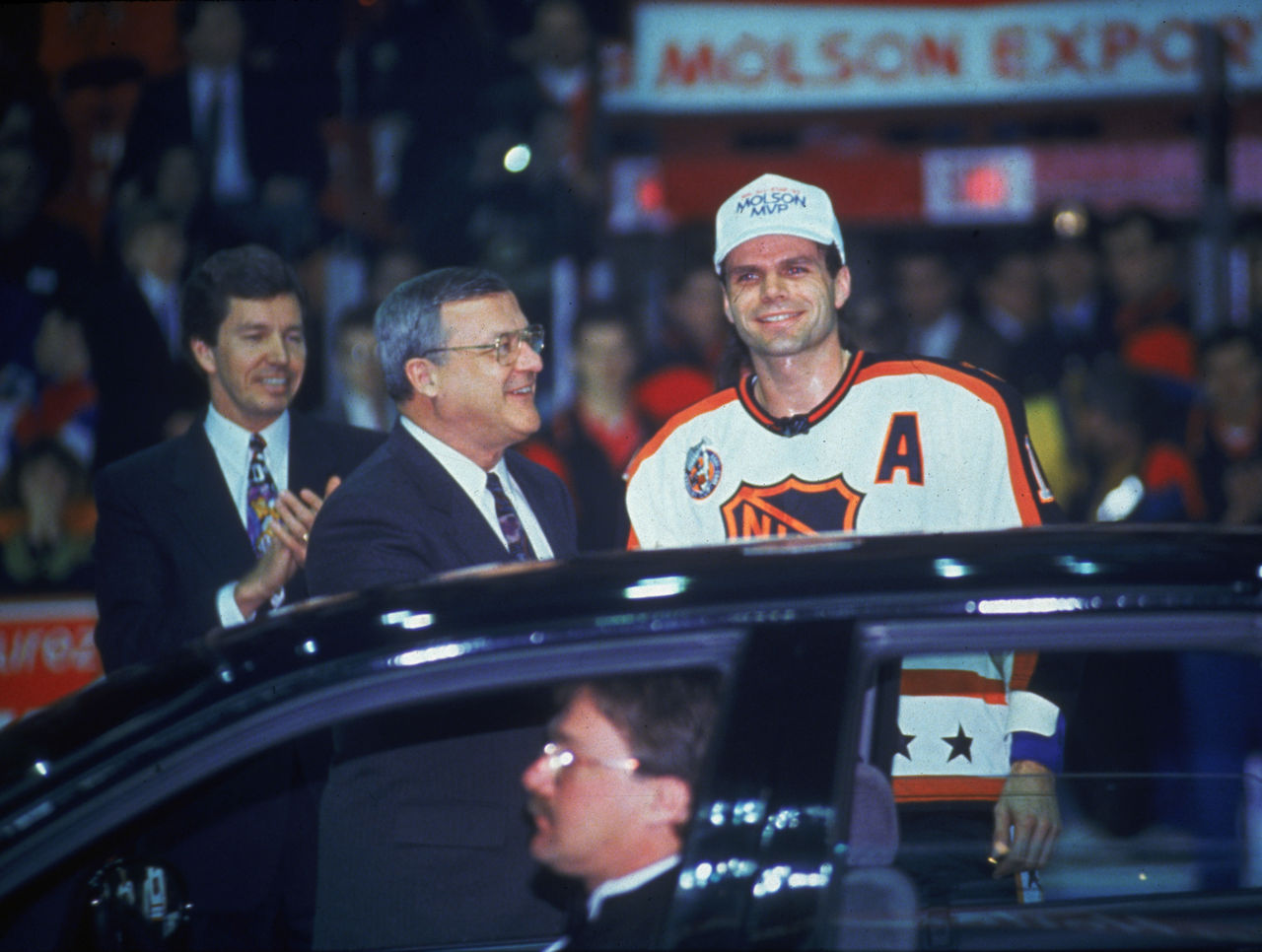 To no one's surprise, Gartner was awarded All-Star Game MVP honors, taking home a 1993 Chrysler Intrepid for his efforts. And he had a message for the guy whose roster spot he claimed.
"Mark Messier gets a big handshake and a thank you very much," Gartner joked with reporters after the game. "If you're watching, Mess, thank you. I'll buy you dinner for this."
Other entries in the series:
(Photos courtesy: Getty Images)
Comments
✕
1992-93 Revisited: A Wales of an All-Star rout
  Got something to say? Leave a comment below!