1992-93 Revisited: Pat LaFontaine recalls his greatest NHL season
Presented by

Pat LaFontaine was one of the best forwards of his generation, racking up 1,013 points in 865 games over his 15-year NHL career. And like many other players, his best work came during the 1992-93 season, when he amassed 148 points with the Buffalo Sabres - one of the top 20 single-season totals in NHL history. I recently spoke with LaFontaine about that historic performance:
So that 1992-93 season was incredible, not just for you, but for a lot of guys. Do you find yourself talking about it much these days?
I do. When I run into hockey fans, they either want to talk about the Easter Epic (when LaFontaine scored the winning goal for the New York Islanders at 8:47 of the fourth overtime period in a playoff win over Washington) or the 1992-93 season. The stars seemed to align for so many players and teams that year. Obviously it was a career year for me from a stats perspective.
Let's start with the season before. Without getting into the specifics of the nature of the trade, how did you feel about leaving Long Island and starting the next stage of your career in Buffalo?
Obviously I have strong ties to Long Island. My wife is from there, my oldest daughter was born there ... it is near and dear to my heart. I really enjoyed my time with the Islanders; I had the privilege of playing with five Hall of Famers, I played for the Stanley Cup, and I learned a lot from guys who had won multiple championships.
I prided myself on consistent, high-level play - and I had enjoyed some success playing with (Brian) Trottier, (Mike) Bossy, Bob Nystrom, and Denis Potvin. And with Al Arbour as the coach, I learned so much at a young age. There was a great foundation there. But then we went through a dismantling; the team was trying to rebuild.
The trade was about principle for me (LaFontaine and the Islanders were embroiled in a contract dispute that led to him sitting out the start of the season.) But between Alexander Mogilny and Dave Andreychuk, and other guys like Dale Hawerchuk, Doug Bodger, and Donald Audette, I felt there were a lot of great players in Buffalo. And we found chemistry right off the bat.
You had enjoyed some offensive success with the Islanders, but in your first year in Buffalo, you hit a whole other level. What changed?
I think for me, I was just fortunate. (The Islanders) were going through a period of transition; reloading didn't work, so they went with a rebuild, focusing on younger players. They were going in a different direction. I was in the middle of my career when I arrived in Buffalo, and I was fortunate to be put between two terrific players in Andreychuk and Mogilny.
It must have been exciting to be flanked by two elite goal scorers.
I remember thinking, "Mogilny has so much talent." I have never seen anyone faster between the blue lines. So I tell him, "Let's do some give-and-gos. You're so quick between the lines, just let me get the puck to you." I also encouraged him to shoot more; he had a great shot, but didn't shoot enough.
There's a story I like to tell. Alex had three areas of the ice where he liked to shoot from. I told Alex, "Trust me to get you the puck there. If you do, I guarantee you'll score 50 goals." And when he skated away, I told the trainer "If he does that, I bet you he'll score 70." The trainer laughed and walked away. And sure enough, Alex scored 76.
Andreychuk was that big body who tipped a lot of pucks. He was great at creating traffic in front of the net. We had such great chemistry; things just took off. We had a lot of fun playing together. I felt like I had a sixth sense out there, and it made for some fun synergy.
You wound up losing a heartbreaking seven-game series to the Boston Bruins in the opening round of the 1992 playoffs. Did that sit with you?
It was tough. We were still learning, evolving, and growing as a team. So it was a good learning experience. It was definitely frustrating, but it was a stepping stone for us.
John Muckler took over behind the bench during that season, and 1992-93 represented his first full campaign in Buffalo. What did he bring to the team that year?
John is a really brilliant systems guy. He's so good at breaking down film and coming up with a game plan for the best way to attack an opponent through puck pursuit and other areas. He was part of a high-tempo offensive attack in Edmonton, and he brought a lot of that with him to Buffalo.
I saw him recently, and thanked him for bringing such high-tempo, high-IQ hockey to that team. The focus on puck pursuit, faceoffs, tempo ... it made the game a lot more fun to play. I really enjoyed it.
You had an opportunity to play with Hawerchuk, one of the greatest passing centers in history. What did you learn from him?
He was Gretzky-like in his hockey IQ. I remember watching him in Windsor for the Memorial Cup when he was playing with Cornwall; I followed him. His ability to see the ice, his amazing hands ... he had his own style, very high thinking, high IQ. We made such a great 1-2 punch in Buffalo.
You look at some of the best teams in history, you have Gretzky-Messier, you have Crosby-Malkin. Great teams often have multiple threats up the middle. Dale and I also played on the power play together that season, and there are times the puck would just appear on my stick. It was amazing.
So you get off to a great start, and the Sabres put together a nice run heading into February. And then, the trade: Andreychuk and Daren Puppa to Toronto for Grant Fuhr. What was your reaction?
It was tough. Dave brought size, goal-scoring, and that ability to cause traffic in front of the net. He had amazing hands, and was great as the third guy high in the slot. He was a huge presence, a huge contributor to our success.
You have to trust management - and in this case, it was a win-win trade. We paid a price, but I had the privilege of being inducted into the Hall of Fame with Grant Fuhr. He's a great player and an unbelievable person. You can think about what would have happened had the trade not taken place, but the deal worked out for us.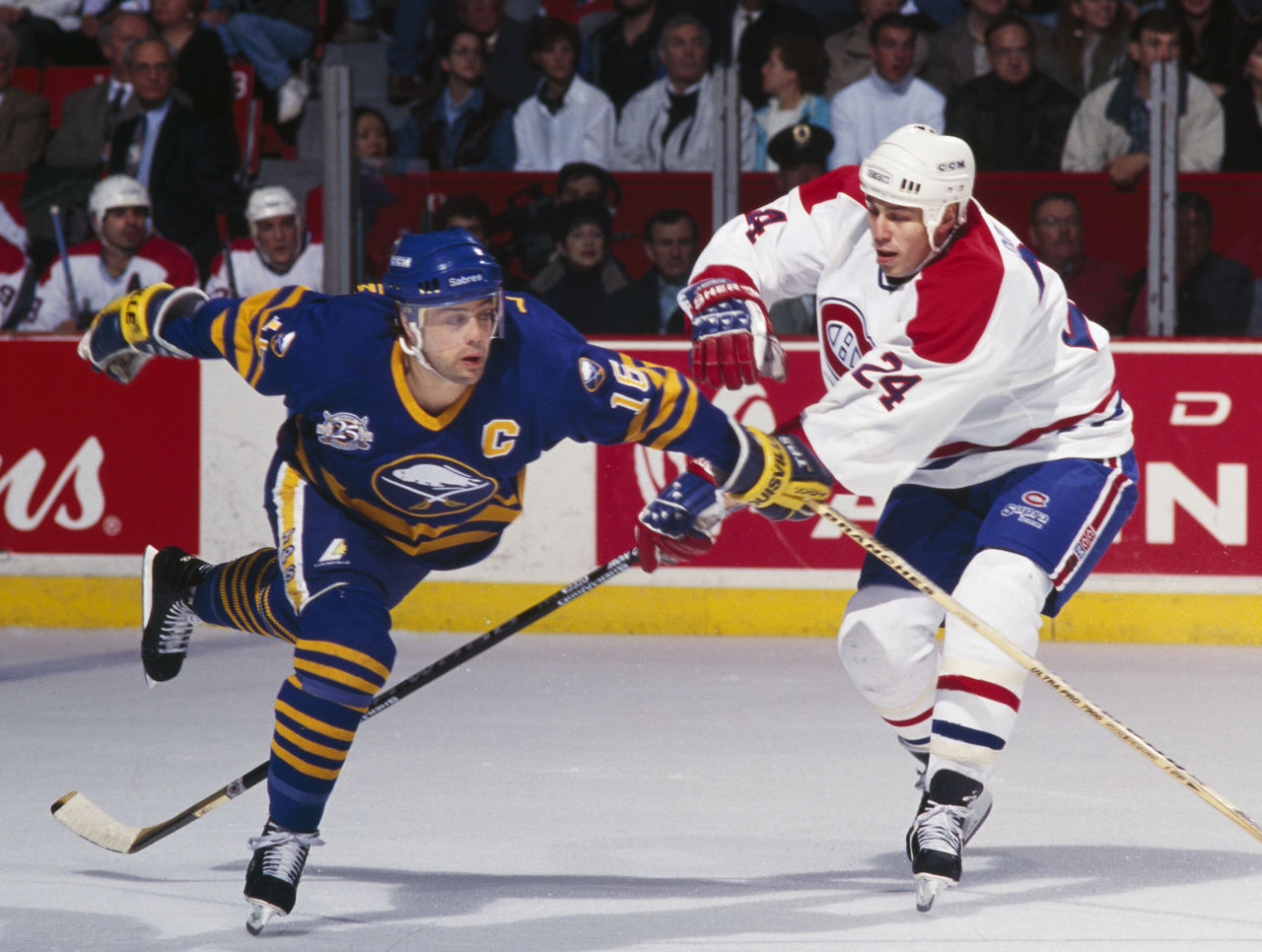 You take the scoring lead and hold it into March, sitting with a double-digit advantage over Mario Lemieux upon his return from treatment for Hodgkin's disease. Did you think you might win the scoring title?
I wasn't personally following it. I was focused on our chemistry and going about my business - but the guys brought it up. And I remember Mario going on an amazing tear to end the season. But the guys made more of it as the season went along. I remember being on the bus after a win, and I had four points in that game, and someone shouted, "Mario had five!" (laughs)
Mario and I have history going back to junior. Laval-Verdun was the marquee matchup (in the QMJHL); he played for Laval, and I played for Verdun. I was 17, he was 16. He had a huge lead on me at Christmas, and our team went out and got Gerard Gallant. The two of us clicked, and I came back to beat him by 50 points. I think he remembered. (laughs)
Were you disappointed at not coming out on top?
I have the greatest respect for Mario. What he did that season was not only important for hockey, but it was important for Hodgkin's awareness. I was happy to finish second, happy to ride his coattails. It was special.
So it was a sensational year for you, obviously, but the Sabres went into the postseason on a sour note, losing their last seven regular-season games. Were you concerned?
It's funny ... this was back when parity wasn't prevalent, and teams were securing playoff spots in January. You knew the season would go in waves and phases, where you'd face a bunch of hot teams in a row, and then get hot yourselves. Things kind of peaked at that point, where we lost seven straight and Boston entered the playoffs on fire (16-2-0 over its final 18 games). And then we went on to sweep them.
It was a big deal for us, since it had been 10 years since the team had made it to the second round. We wanted to go a lot further, too. You see these eight seeds, Nashville, the Kings (from 2014) ... who would have thought these teams would compete for the Stanley Cup? It's all about momentum.
So then you face Montreal, and ... heartbreak again. Every game 4-3, the last three settled in OT. How much did that sting? Does it still sting?
When I look back ... you need to be lucky enough to stay healthy, and you have to be deep. And we were a deep team, for sure, but we had too many key guys get hurt at the same time. I had to have knee surgery after the season. Alex broke his ankle (in the Canadiens series). Dale was banged up. Grant had something wrong with his knee.
Everything has to come together at the right time - and (Patrick Roy) was on a roll. And who could have predicted that the Canadiens would win 10 straight overtime games and go on to win the Cup? That's just kind of the way it goes.
I owe so much to the game of hockey; I look back with fondness, not thinking about what could have been. I choose to focus on the positives of the game. Even after we retire, the game lives on through us. And we take that into everything we do in our life. It would have been great to win a Stanley Cup, but to look back on my career, I feel very fortunate.
Here was this kid born in St. Louis, playing on an outdoor rink in Kirkwood, Missouri, moving to Detroit when I was seven ... if you had told me then that there was an opportunity to play hockey, it was unheard of. I never thought I would be here talking to you about this incredible season I had 25 years ago.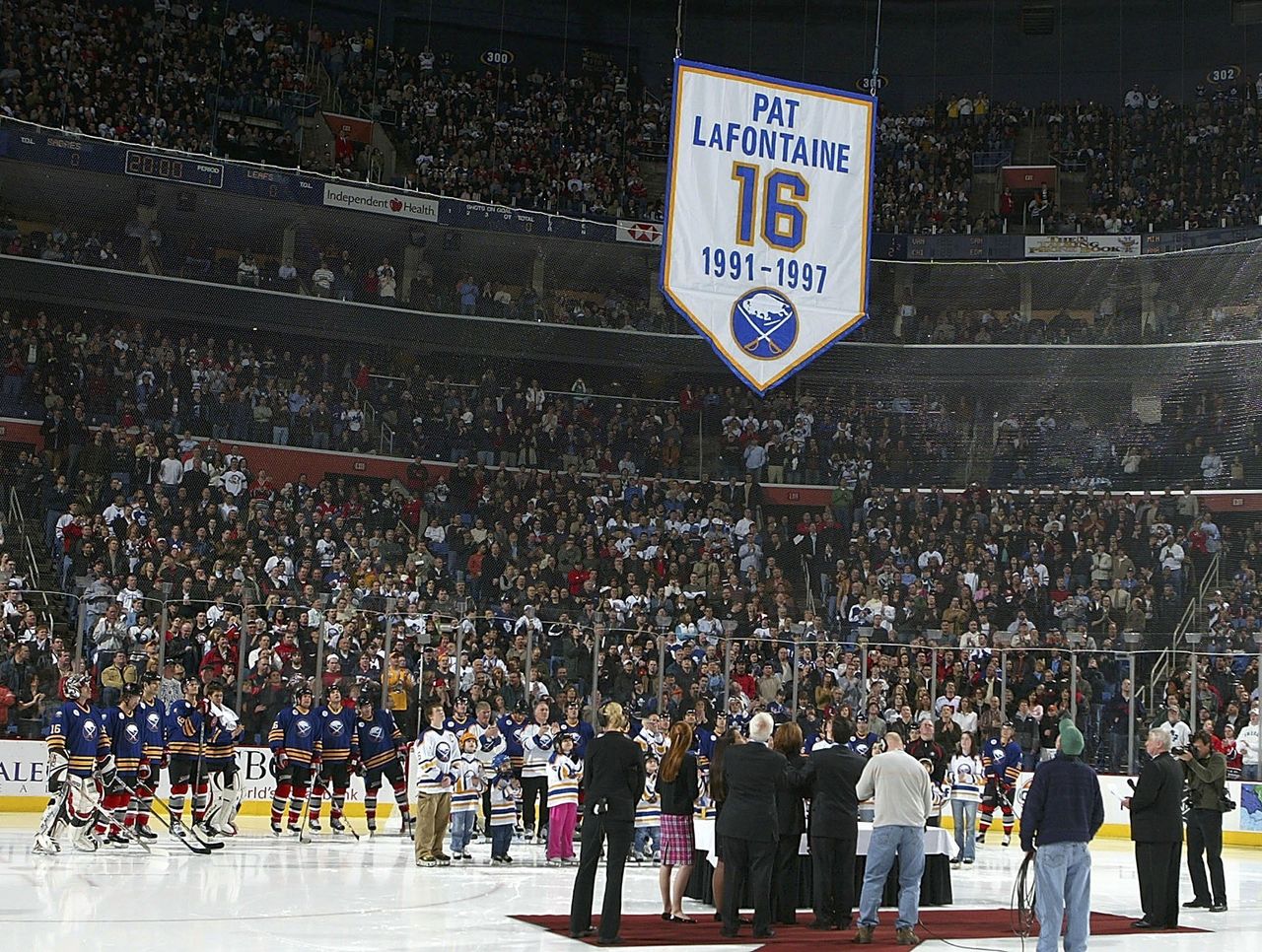 Well said, Pat. So will we ever see a season like 1992-93 again?
It'll be hard. With the video and technology, with the speed and size, with the systems ... it's going to be very hard. I think 1992-93 was really the peak, where everything came together. Never say never, but it's highly unlikely.
Other entries in the series:
(Photos courtesy: Getty Images)
Comments
✕
1992-93 Revisited: Pat LaFontaine recalls his greatest NHL season
  Got something to say? Leave a comment below!