It's difficult to wrap your head around the enormity of the moment while you're technically still in the moment, but, 2020 will undoubtedly go down as one of the most unique and bizarre calendar years the hockey world has ever faced.
From COVID-19 derailing the 2019-20 regular season, to extending the collective bargaining agreement amid a pandemic, to NHL players speaking out against racial injustice while inside the playoff bubbles, to the Tampa Bay Lightning winning the Stanley Cup the year after the club's historic regular season, to a second return-to-play plan being finalized … it's been a trip.
Here are some of the most significant touchstones from 2020.
Play of the year
As short as it was, the 2019-20 regular season offered a surplus of highlight-reel material, including Andrei Svechnikov pulling off a pair of lacrosse-style goals, Matthew Tkachuk sniping an improbable between-the-legs overtime goal, and Marc-Andre Fleury diving to make a poster-worthy glove save.
All four of those sequences occurred in the calendar year of 2019, however. And, if we're being completely honest and objective, none of them displayed the kind of skill involved in the true play of the year, which was Connor McDavid's undressing of Morgan Rielly during a January game in Toronto:
Oh boy, the false information McDavid gives off by keeping his head on a swivel and alternating speeds is genius. Rielly's life basically flashes before his eyes when McDavid, the best skater on the planet, unleashes a few of his trademark crossovers midway through the play. In a matter of seconds, McDavid turns a stalemated one-on-one into a can't-catch-me breakaway.
There are some serious basketball vibes to the play, too, with McDavid going from an ankle-breaking burst of energy and change of direction during the undressing to a windmill-esque deke and flip shot on poor Leafs goalie Michael Hutchinson. The stickhandling and release combination, given the speed, is extremely impressive. And, as a capper, he goes top corner.
The play is the perfect encapsulation of McDavid's brilliance, showcasing why he's a one-of-a-kind talent. "That might have been the nicest goal I've ever seen," Oilers winger Alex Chiasson said after the game. "Just pure skill."
Team of the year
By default, the most recent champion is always in the mix for team-of-the-year honors. Sometimes, though, another club has an undeniable narrative arc. Perhaps it went on an unexpected playoff run. Maybe it battled through a ton of adversity. There are all kinds of possibilities.
But, no, not this year. There's simply no need to overthink it in 2020.
The Tampa Bay Lightning were head and shoulders above the rest in regards to on-ice performance and their journey to get to the top of the mountain provided great theater. The Lightning, in head coach Jon Cooper's words, "went from the outhouse to the penthouse."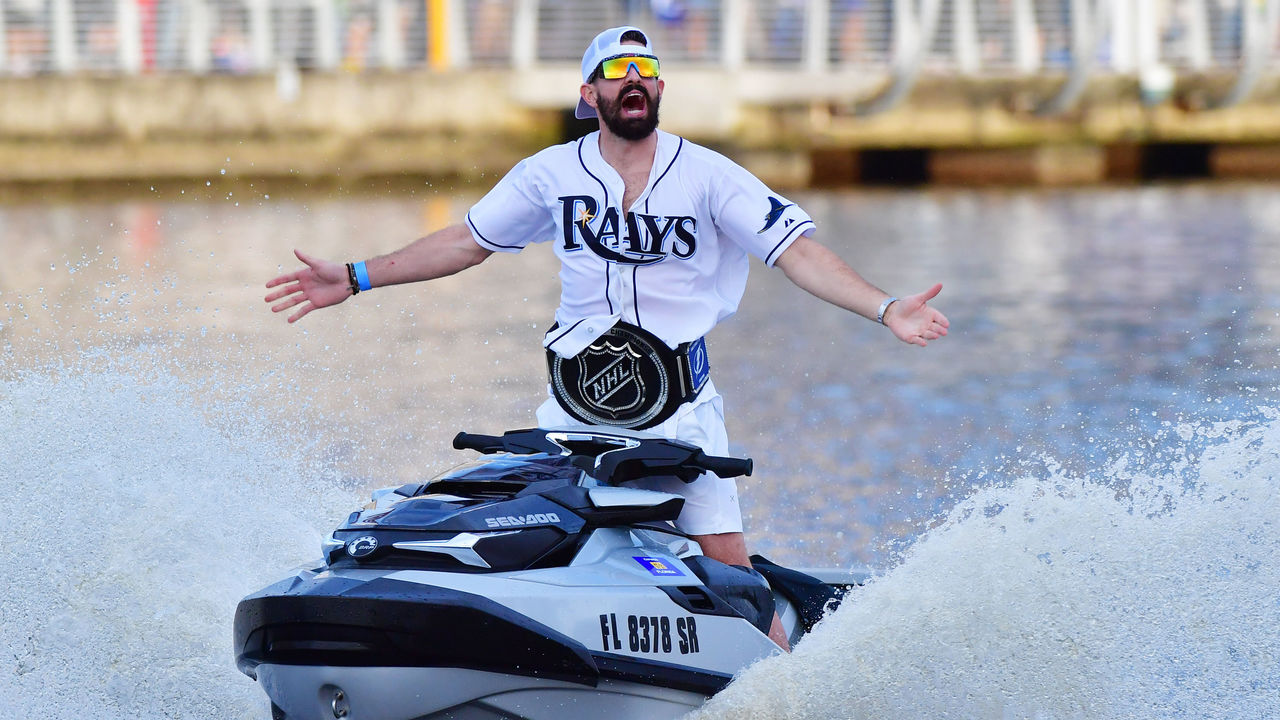 Indeed, the Lightning, who were swept by the Columbus Blue Jackets last spring after tying an NHL record for most regular-season wins, completely redeemed themselves in 2020. Tampa Bay outlasted every team in a mentally draining bubbled postseason, beating the Dallas Stars in the Cup final.
Props to owner Jeff Vinik and general manager Julien BriseBois for retaining Cooper and keeping the core intact after the 2019 disappointment. Mind you, BriseBois didn't sit on his hands, reeling in a handful of reinforcements - Blake Coleman, Barclay Goodrow, and Pat Maroon up front, and Kevin Shattenkirk, Luke Schenn, and Zach Bogosian on the back end - to bolster an already stacked lineup. Tampa Bay left nothing to chance.
This approach paid dividends in the bubble and, perhaps most importantly, the team's best players performed at a very high level throughout the playoffs. The Conn Smythe Trophy ultimately went to Victor Hedman, but Brayden Point, Andrei Vasilevskiy, and Nikita Kucherov would have all been deserving recipients as well. Don't forget, the Lightning won the franchise's second Cup largely without the services of captain Steven Stamkos, which is a testament to the supreme talent and air-tight depth of the roster BriseBois compiled.
Comebacks of the year
The circumstances aren't quite the same, yet Philadelphia Flyers forward Oskar Lindblom and Calgary Flames assistant general manager Chris Snow both count as two beacons of hope - two off-ice warriors - in 2020.
Last December, the 24-year-old Lindblom was diagnosed with Ewing's sarcoma, a rare form of cancer, cutting his campaign short after 30 regular-season games. He powered through months of treatment, though, and amazingly managed to appear in two postseason games during the Flyers' 17-game run in Toronto.
Lindblom - who is a key part of Philadelphia's future after signing a three-year, $9-million extension in July - is now officially cancer-free. "What a year!" Lindblom's girlfriend, Alma Lindqvist, wrote on Instagram in mid-December. "369 days ago we found out that Oskar had cancer, and today we got to know that the scans are clear after his second checkup."
Snow's battle against ALS, meanwhile, has been equal parts inspiring and heartbreaking. He and his wife, Kelsie Snow, have been open about the fight, and the couple's fundraising efforts led to a $200,000 donation toward ALS research through the Flames' charitable foundation. ALS, also known as Lou Gehrig's disease, is a progressive nervous system disease currently without a cure.
Chris, a 39-year-old father of two who has lost multiple family members to ALS, was given 6-18 months to live when he was diagnosed in June 2019. He's been participating in an experimental gene therapy trial.
"I've already beaten the odds," Snow, who has continued to work for the Flames, told the L.A. Times' Helene Elliott in the summer. "I just want to really beat them."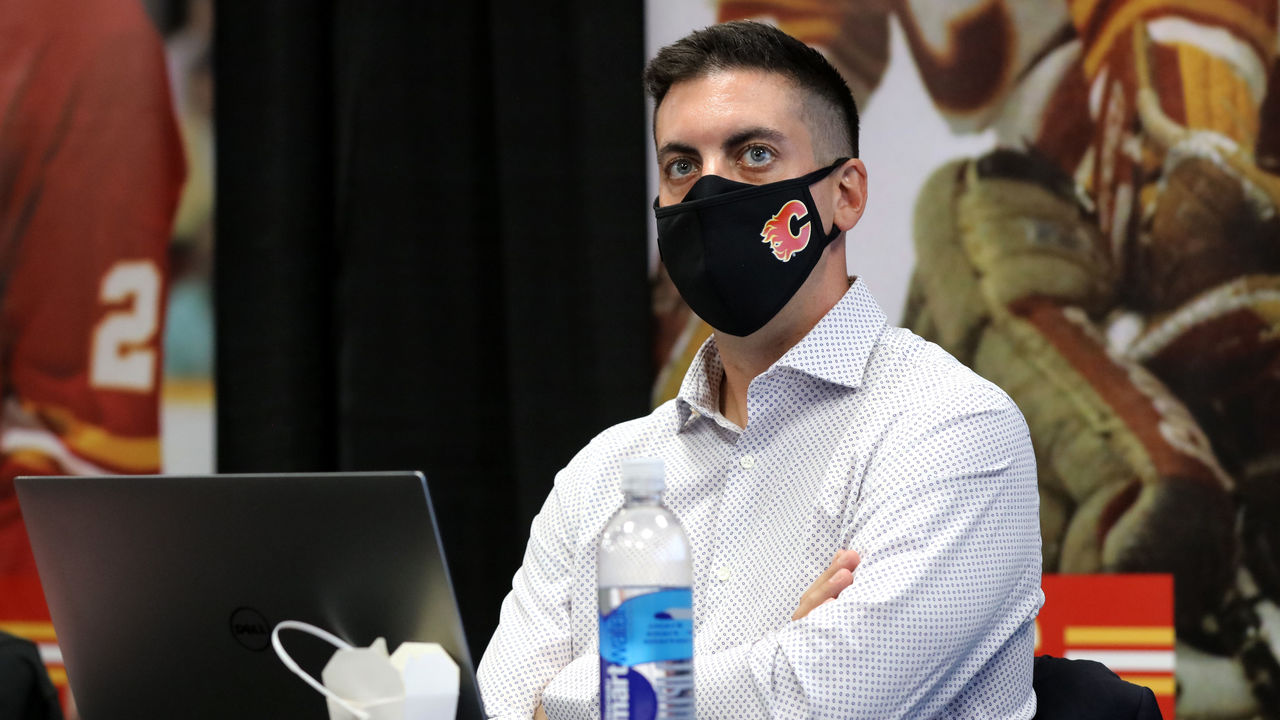 Hustle of the year
This year has been, in a word, heavy.
Fortunately, the NHL's game operations crew found a way to break the tension with an assortment of lighthearted gags during the fanless games played inside the postseason bubbles in Edmonton and Toronto.
"At the conclusion of tonight's game … Please exit your couch safely," read one message on the center-ice video board inside Rogers Place.
"Still overtime," deadpanned a giant screen stationed to the left of the Blue Jackets' net amid Columbus' five-overtime game at Scotiabank Arena.
Other messages included a ban on the wave, a call for a seventh-period stretch during the five-overtime game between Tampa Bay and Columbus, an official attendance count of zero, and a thank-you to all the "fans."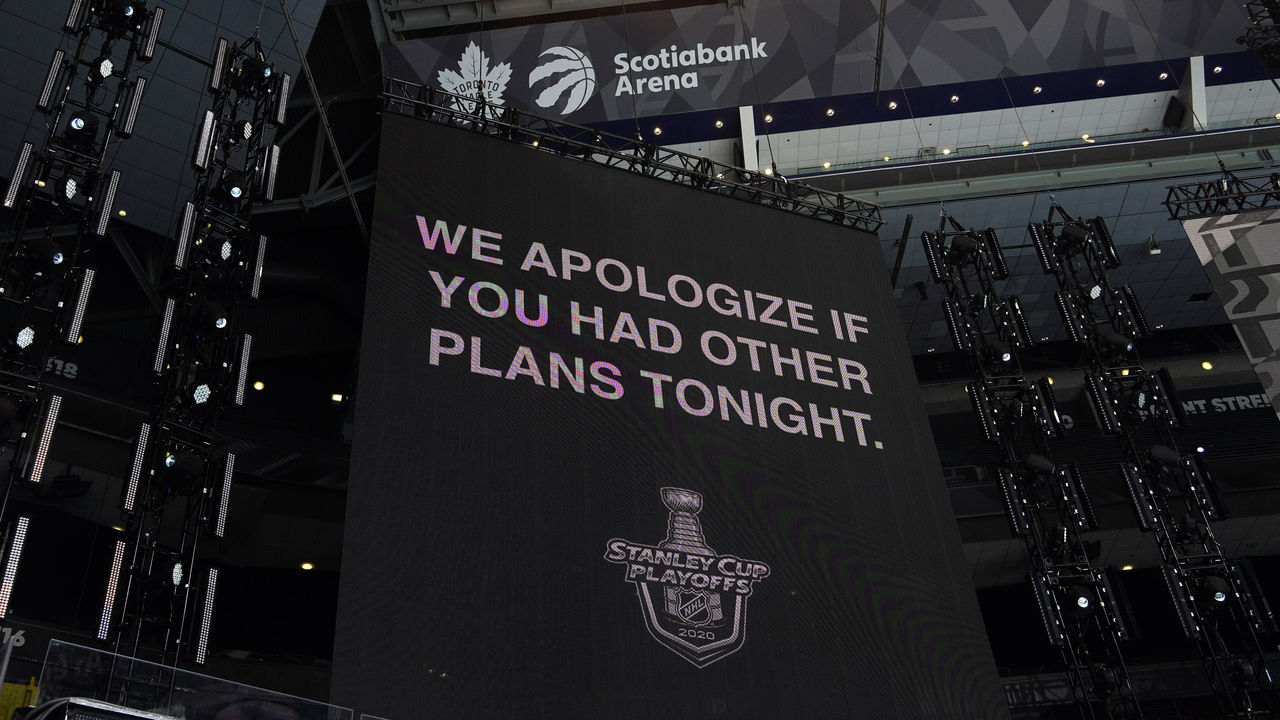 Asked about the ongoing bit in September, Steve Mayer, the league's chief content officer and the man behind many of the dad jokes, noted the NHL has recently adopted "the mindset that you can't always take it so seriously."
"One of the misconceptions of the NHL is that we're just too serious, the No Humor League. I say just the opposite," he said during a mid-playoffs Q&A. "If you watch our awards show, if you watch a lot of the things that we've done over the course of the last few years, there are plenty of opportunities where we either poke fun at ourselves - like Chance The Rapper, Lazlo Holmes, did - or just have some fun. We're not afraid to do that, and we think it's fine."
Quote of the year
Matt Dumba became the first NHLer to kneel for a national anthem on Aug. 1.
Prior to an opening-night qualifying round game between the Edmonton Oilers and Chicago Blackhawks, Dumba - a 26-year-old Minnesota Wild defenseman who is half Filipino - protested during the U.S. anthem after delivering a poignant and powerful three-and-a-half-minute speech on national TV.
"During this pandemic, something unexpected but long overdue has occurred," Dumba said while sporting a Hockey Diversity Alliance hoodie. "The world woke up to the existence of systematic racism and how deeply rooted it is within our society. For those unaffected by systematic racism, or unaware, I'm sure that some of you believe that this topic has garnered too much attention during the last couple of months. But, let me assure you, it has not. Racism is a man-made creation and all it does is deteriorate from our collective prosperity. Racism is everywhere … and we need to fight against it."
Dumba added, "I know firsthand, as a minority playing the great game of hockey, the unexplainable and difficult challenges that come with it. The Hockey Diversity Alliance and the NHL want kids to feel safe, comfortable, and free-minded every time they enter an arena. So I stand in front of you today, on behalf of those groups, and promise you that we will fight against injustice … and fight for what is right. I hope this inspires a new generation of hockey players and hockey fans because Black lives matter. Breonna Taylor's life matters. Hockey is a great game. But it could be a whole lot greater. And it starts with all of us."
Dumba's pregame appearance commanded the hockey world's attention amid a wave of social unrest around the globe in response to the police killings of Taylor and George Floyd. Along with other founding members of the Hockey Diversity Alliance, including Akim Aliu and Evander Kane, and fellow 2020 playoff competitor Ryan Reaves, who was instrumental in the player-driven postponement of four postseason games, Dumba delivered a straightforward message about eradicating systemic racism within hockey and society at large.
In memoriam
The hockey world lost a number of memorable players, coaches, managers, and broadcasters in 2020. The list includes Colby Cave, Hall of Famer Henri Richard, luminary Eddie Shack, trailblazer Fred Sasakamoose, respected executive Pierre Lacroix, and longtime play-by-play man Howie Meeker.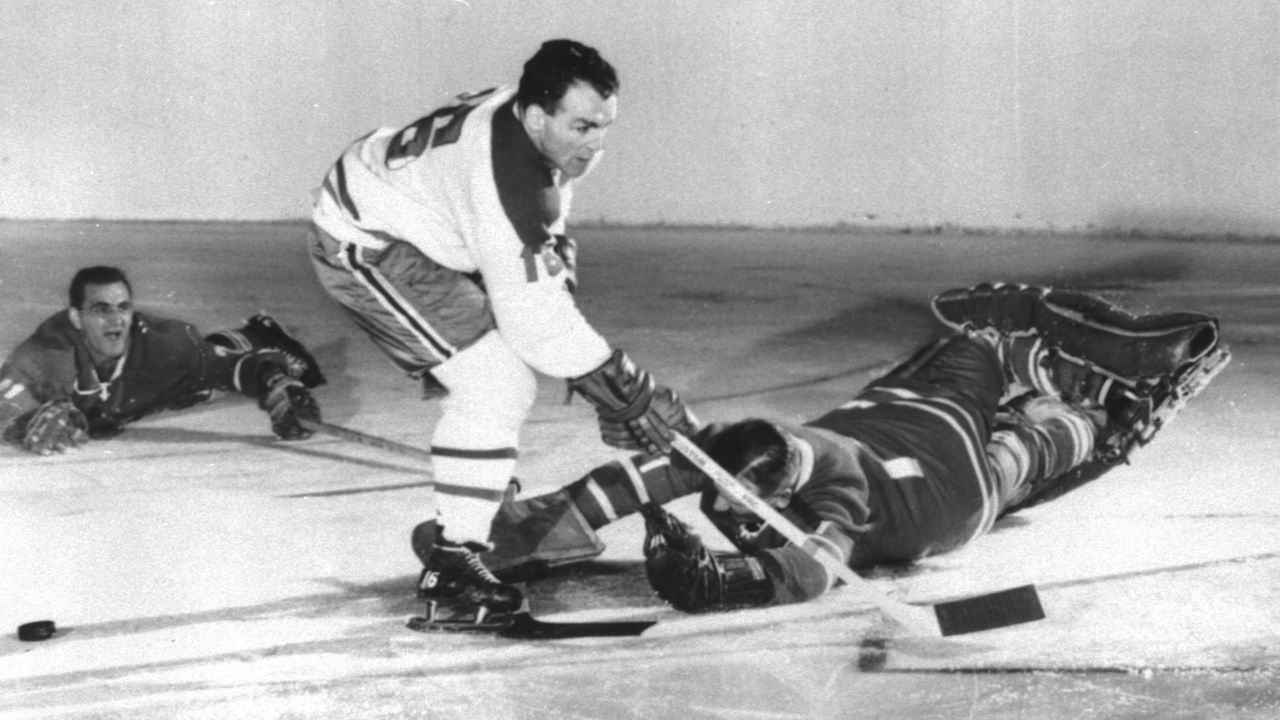 Dale Hawerchuk, the first overall pick in the 1981 NHL draft and a member of the 2001 Hockey Hall of Fame class, died of stomach cancer in August. He was 57. Described as a "low-maintenance superstar," Hawerchuk was beloved by teammates and coaches during stints in Winnipeg, Buffalo, St. Louis, and Philadelphia. He recorded 518 goals and 1,409 points in 1,188 regular-season games, reaching the 100-point plateau on six occasions.
"What an incredible human being," former Jets teammate Teemu Selanne tweeted as news of Hawerchuk's death trickled out.
"He was truly a superstar as a hockey player," Jets chairman Mark Chipman added, "but I think why he was so loved here was not just that but largely the fact that he made this his home and became one of us. I think everybody shared that sense of pride in Dale's career as a player."
Moment of the year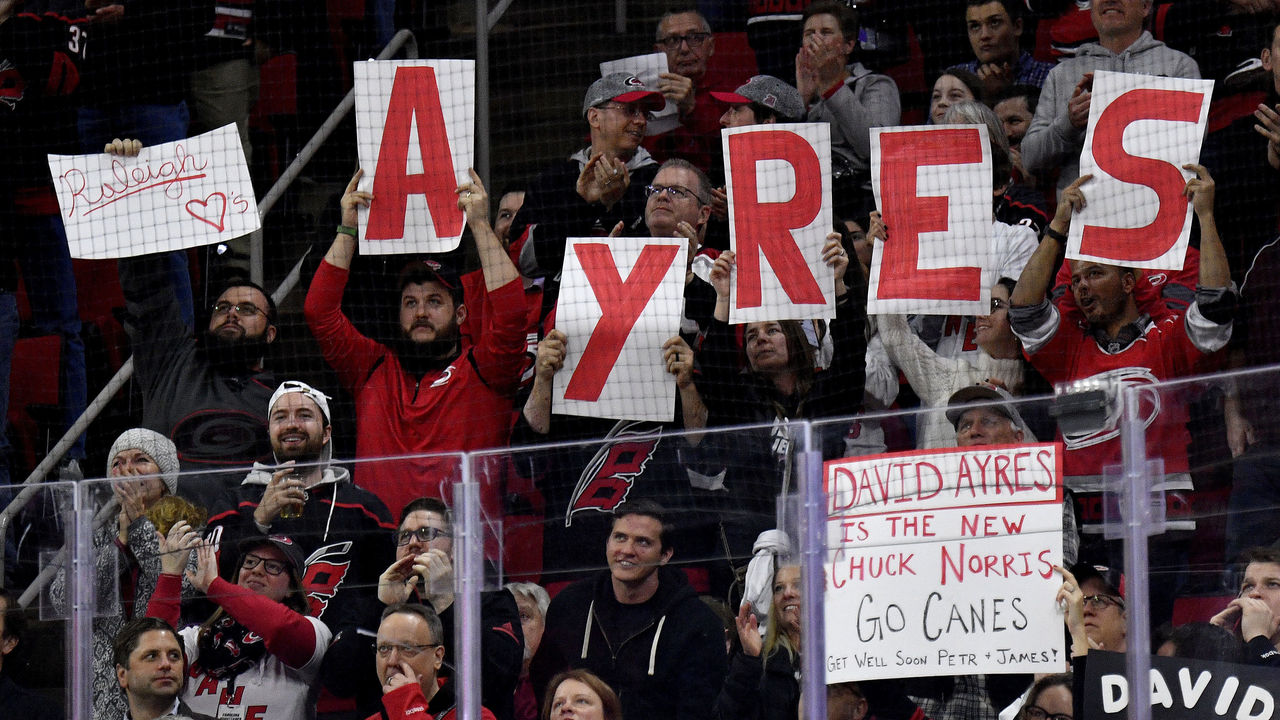 Sports is the ultimate form of reality TV. Absolutely anything can happen.
Like that time on Feb. 22 when a 42-year-old emergency backup goalie earned an official NHL win against the Toronto Maple Leafs after playing almost half of a game for the Carolina Hurricanes.
Think about all of the layers to this story: David Ayres, a building operations manager for a Toronto arena who underwent kidney transplant surgery in 2004, somehow defeated the Maple Leafs as a temporary member of the Hurricanes. Ayres let in the first two shots before turning aside eight more in his 28 minutes and 41 seconds in the spotlight. He was awarded the first star in a 6-3 Carolina victory, leaving Scotiabank Arena with a souvenir Hockey Night in Canada towel and an unbelievable story.
The twist: Ayres already knew the Leafs' players thanks to regular on-ice sessions as a practice goalie for the club's AHL affiliate. The kicker: This all happened 40 years to the day of the Miracle on Ice at the 1980 Olympics.
Ayres' game-used stick ended up in the Hall of Fame, while his 15 minutes of fame included spots on "The Today Show," "The National," and "SportsCenter." The Hurricanes' players, coaches, and staff gave him the red-carpet treatment, including in the dressing room following the surreal cameo.
"That's a f------ memory I'm going to have forever," Canes head coach Rod Brind'Amour told the team, including Ayres, during his postgame remarks.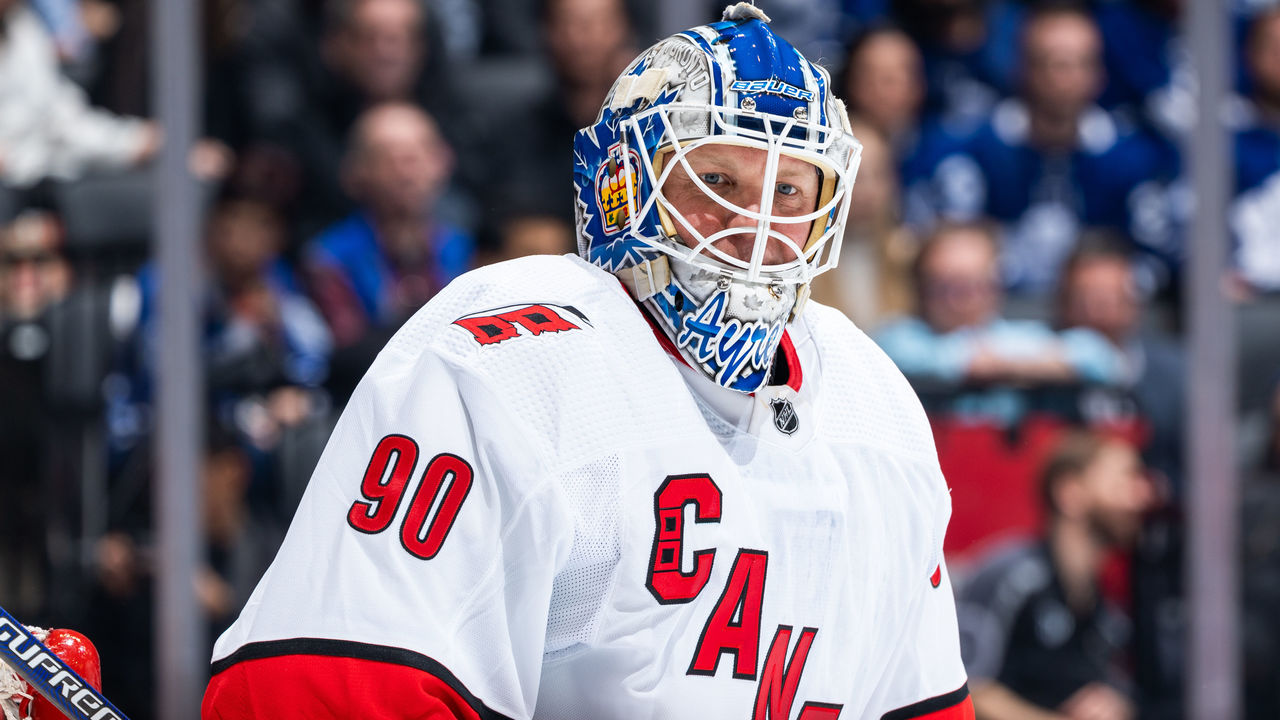 Player of the year
No NHL player did more for his stock in 2020 than Leon Draisaitl, who is widely considered to be a top-five player in the world heading into 2021.
The Edmonton Oilers superstar center recorded 43 goals - including 10 game-winners - and 67 assists, 39 of which were primary helpers, for a whopping 110 points in 71 regular-season games. In his sixth NHL season, he scooped three trophies - Hart, Art Ross, Ted Lindsay - for his MVP-level efforts, giving anyone who doubted his abilities the proverbial middle finger in the process.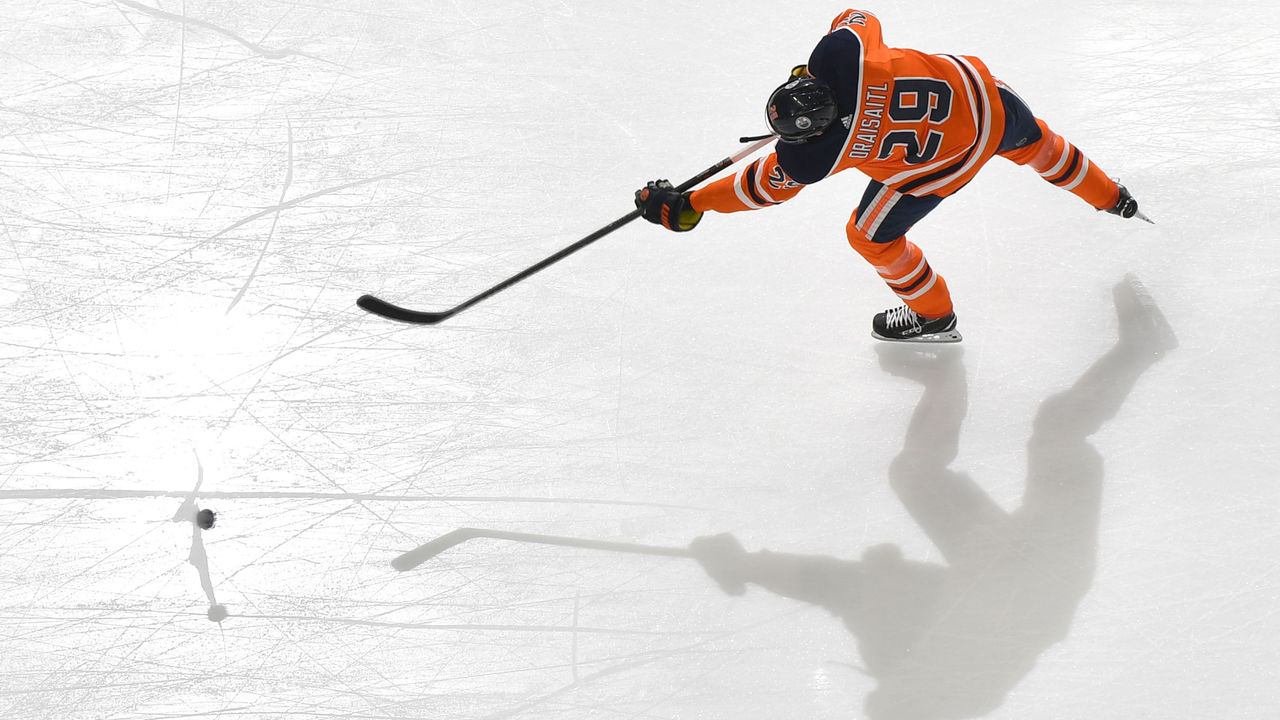 Previously knocked for his dependence on McDavid, Draisaitl in 2019-20 skated alongside McDavid for a grand total of 868 minutes, accounting for roughly 54% of his total ice time (1,605 minutes). In five-on-five situations, they skated together only 47.5% of the time. For context, Draisaitl and McDavid were on the ice together for 63% of Draisaitl's minutes in 2018-19 and 58.5% while playing five-on-five, according to Natural Stat Trick.
The pair will inevitably share the ice on the top-unit power play and some even-strength shifts, but Edmonton coach Dave Tippett, hired last May, obviously sees no downside to separating his two elite forwards.
Draisaitl's dominant campaign coincided with three fellow Germans going in the first 35 picks of the 2020 draft - Tim Stuetzle to the Senators third overall, Lukas Reichel to the Blackhawks 17th, and John-Jason Peterka to the Sabres with pick No. 34. It was a banner year for the burgeoning hockey country and its current standard-bearer.
Coach of the year
Rick Bowness wasn't even close to winning the 2019-20 Jack Adams Award. The 65-year-old Dallas Stars bench boss finished tied for 12th in voting, receiving one second-place vote and two third-place votes when broadcasters submitted ballots during the months-long COVID-19 hiatus.
That lackluster support doesn't mean he wasn't the coach of the year, though. Amid a completely unique moment in time in the bubble, Bowness was resilient, vulnerable, and empathetic. In a way, he stole the show in the restart.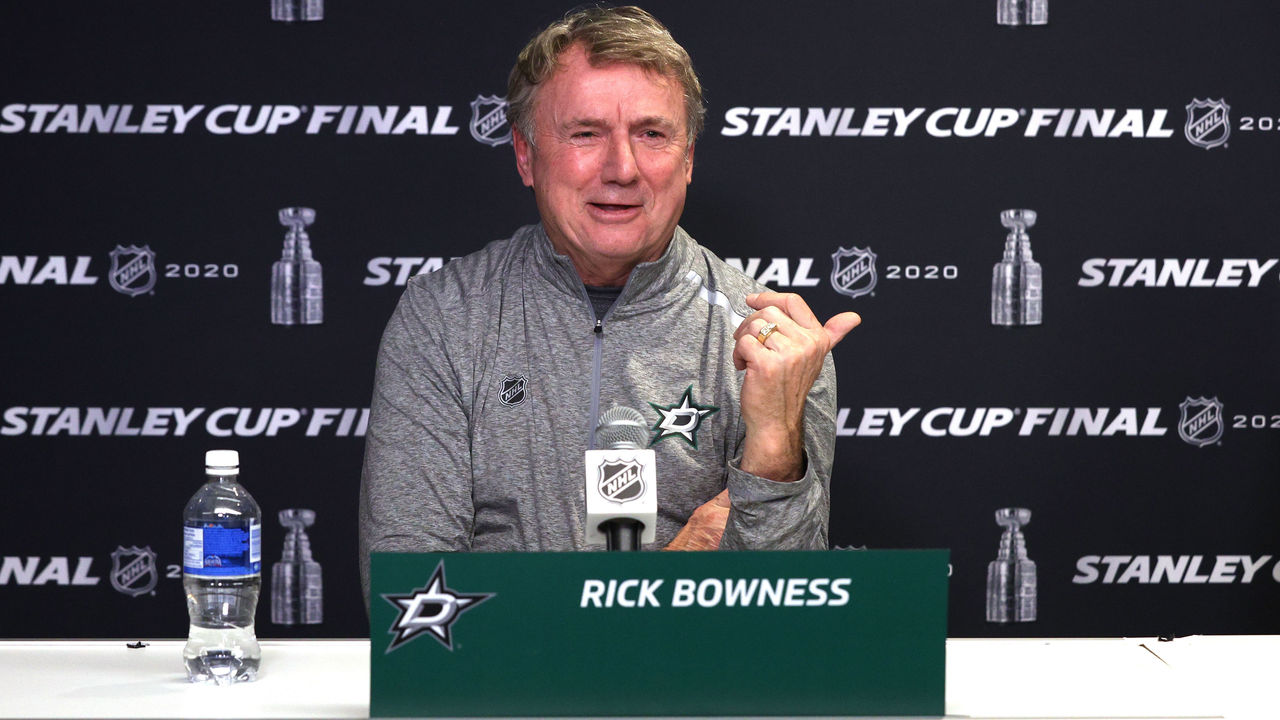 Bowness not only guided a flawed and limping Stars team to the Stanley Cup Final as its interim head coach, but he was also the first NHL player, coach, or manager to talk at length about the mental health battle being waged inside the two playoff bubbles. He showed tremendous leadership by letting his guard down, and he was authentic throughout the Stars' memorable postseason run.
It's rare for a group of players to unequivocally support an interim bench boss as both a tactician and a leader. But the Stars did, and it sure didn't seem to be lip service. "He's a coach you just want to do everything for, lay your body on the line for," typically stoic captain Jamie Benn said.
For countless people outside the Stars organization, Bowness, the quintessential hockey lifer, also became an easy person to get behind. Although he fell short of claiming his first Cup victory, there's no doubt he added plenty to his legend.
John Matisz is theScore's national hockey writer. Contact him via email (john.matisz@thescore.com) or through Twitter (@MatiszJohn).