'Running on fumes and adrenaline': Q&A with NHL bubble boss Steve Mayer
Dave Zhong / Getty Images
On Aug. 3, the third day of the 2020 NHL playoffs, a thunderstorm ripped through Edmonton, one of two cities playing host to the bubbled postseason.
Among the damage was a section of fencing near the Sutton Place, the high-end hotel housing half of the Western Conference playoff teams. Since a downed piece of infrastructure could potentially threaten the integrity of the Edmonton operation, security personnel quickly formed a human fence to stop any intruders. Not long after, the crisis was averted as new fencing was installed.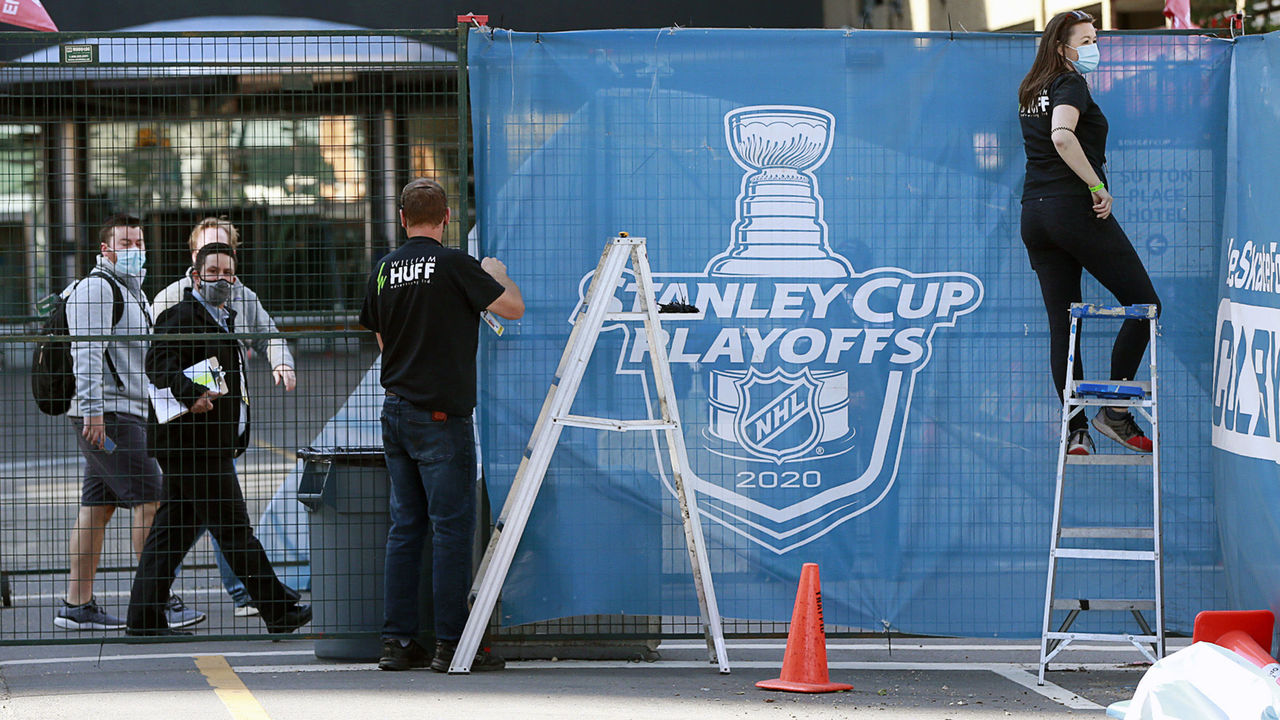 These are the types of problems Steve Mayer, the NHL's chief content officer, is tackling. Somehow, with the Toronto bubble disassembled and the conference finals underway inside Edmonton's Rogers Place, there still hasn't been a single positive case of COVID-19 reported by the NHL following six weeks of frantic activity in both places.
"It's a mini miracle that we've had no positive tests. Sorry, but it is," Mayer said in a phone interview late last week.
Hired in 2016, Mayer is the NHL's point man for two essential areas of the restart: the development and maintenance of the bubbles, and game presentation. He's also an executive producer for the ESPN+/YouTube docuseries "Quest For The Stanley Cup." It's not a stretch to suggest Mayer - whose last name is appropriately pronounced "mayor" - is on the short list of most influential (and busiest) people involved in the 24-team tournament.
"You know what, I'll sleep in October after the draft. We'll find some time then. You're running on fumes and adrenaline," Mayer joked from Edmonton, where he's been stationed with his team since the middle of July.
theScore chatted with Mayer about what's unfolded behind the scenes during the restart. Below is an abridged version of that conversation.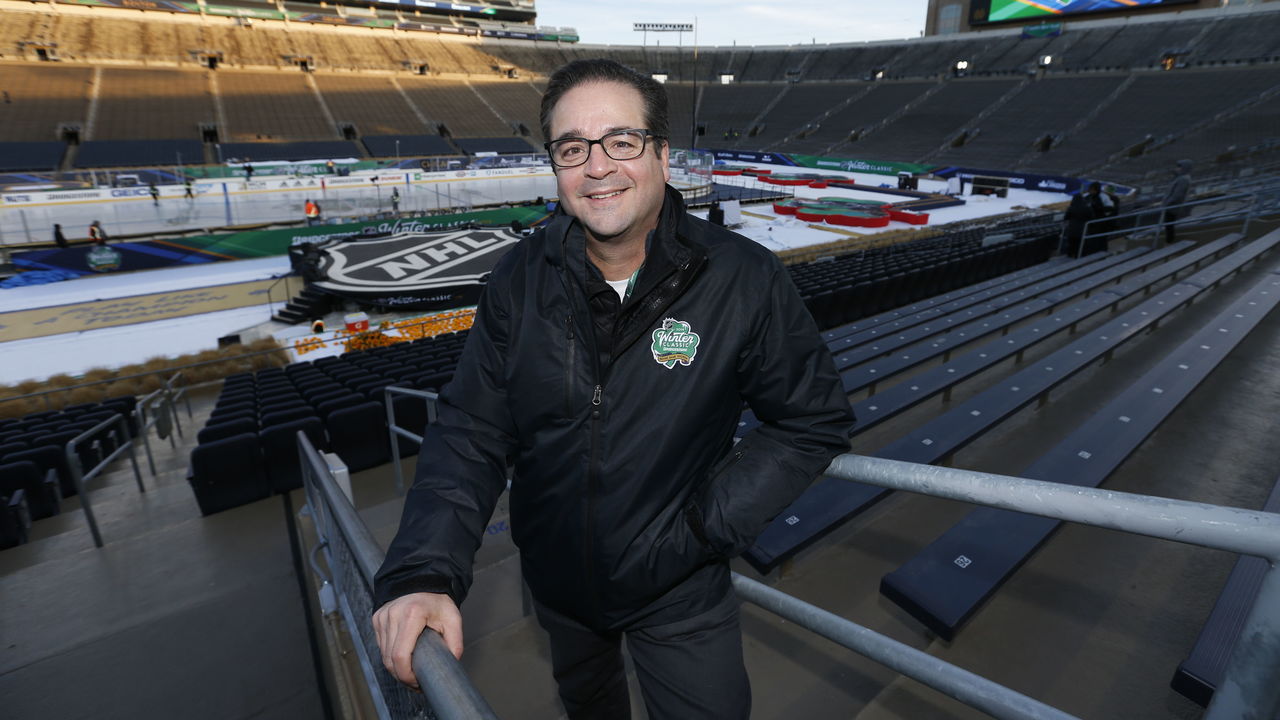 theScore: You're a seasoned vet in the sports and entertainment business. You've seen just about everything over your career. I'm wondering, what has surprised you about this totally unique, unprecedented experience?
Mayer: I never understood how confining this could be. Listen, we all knew we were going to be in a bubble. But when you're in one place for this amount of time, where you can go left, you can go right, but you can't go backwards and forwards, it's tough for everyone.
We've been trying to add things, whether it's something simple like changing a menu or adding a new activity to an outdoor area. We're constantly trying to come up with what, from an experiential standpoint, is going to feel different.
I don't think much surprised me. I felt like we were pretty well prepared and understood what setting up a bubble meant and how it might be perceived. I say this a lot, and I truly mean it: I was nervous that we would set this up and the teams and players - who are used to luxury and going on the road and going to a hotel and owning that hotel and having things at their beck and call - would be tough (to win over), that they're going to be a tough critic.
(But) the No. 1 thing I hear on a daily basis is, 'This is so much better than I thought it would be, thanks.' And so, expectations, for one reason or another, weren't that high. And I think we have done a good job of getting it to the point for everybody where it's a liveable bubble. There's a lot of options. If you were in the greatest resort in the world for this long of time, yeah, it would get to you after a while.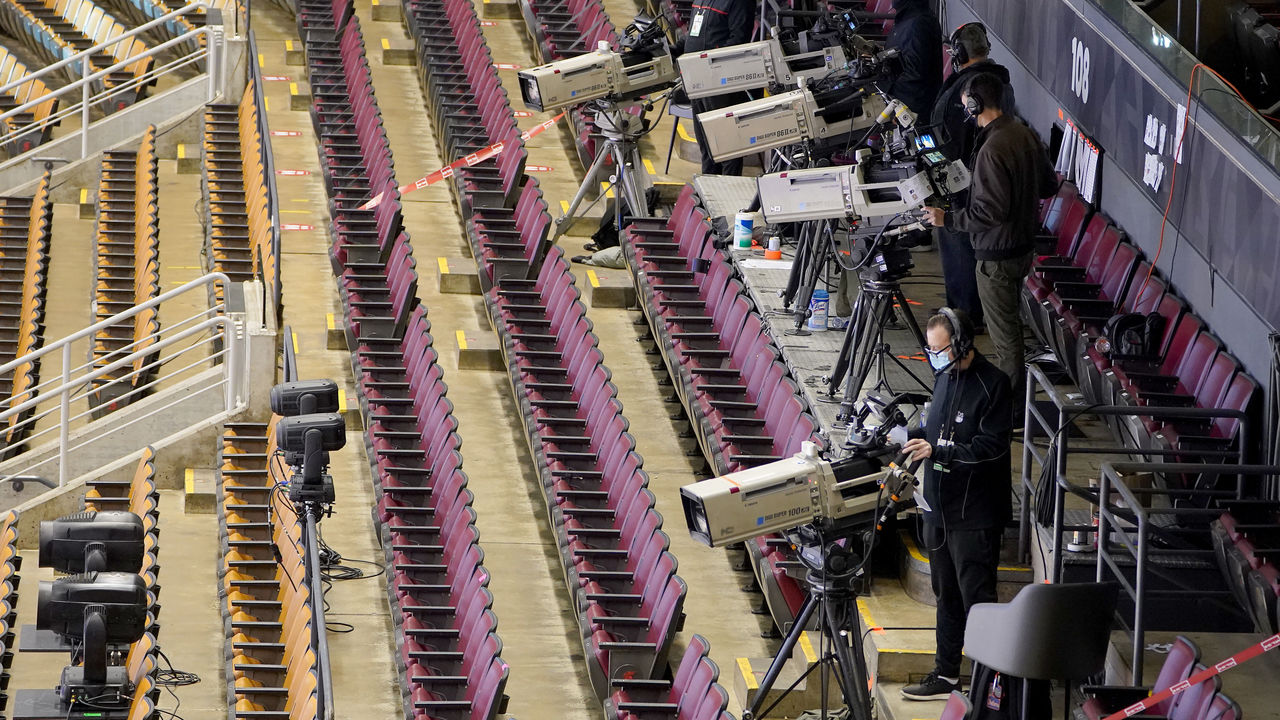 theScore: Is there anything that's been introduced during the restart - the way the game is being presented on TV, the logistics behind the scenes, anything of that nature - that the league could possibly carry over to "normal times" when we're back to the regular flow, look, and feel of the NHL?
Mayer: There are camera angles that are subtle but really effective.
We changed little things that a lot of people might not know but in some ways, in your mind, you'll understand it's better. We've changed the tone of the music. We've gone from classic rock to pop and hip hop a little more.
Some of the ways we're highlighting our stars (is another transferable element) … When Bo Horvat has a giant picture of himself and his name in lights, that goes a long way in developing star players. Those are things that I think we will push when we come back to fans. How do we keep that momentum going and that presentation going in some form, even in arenas that are filled?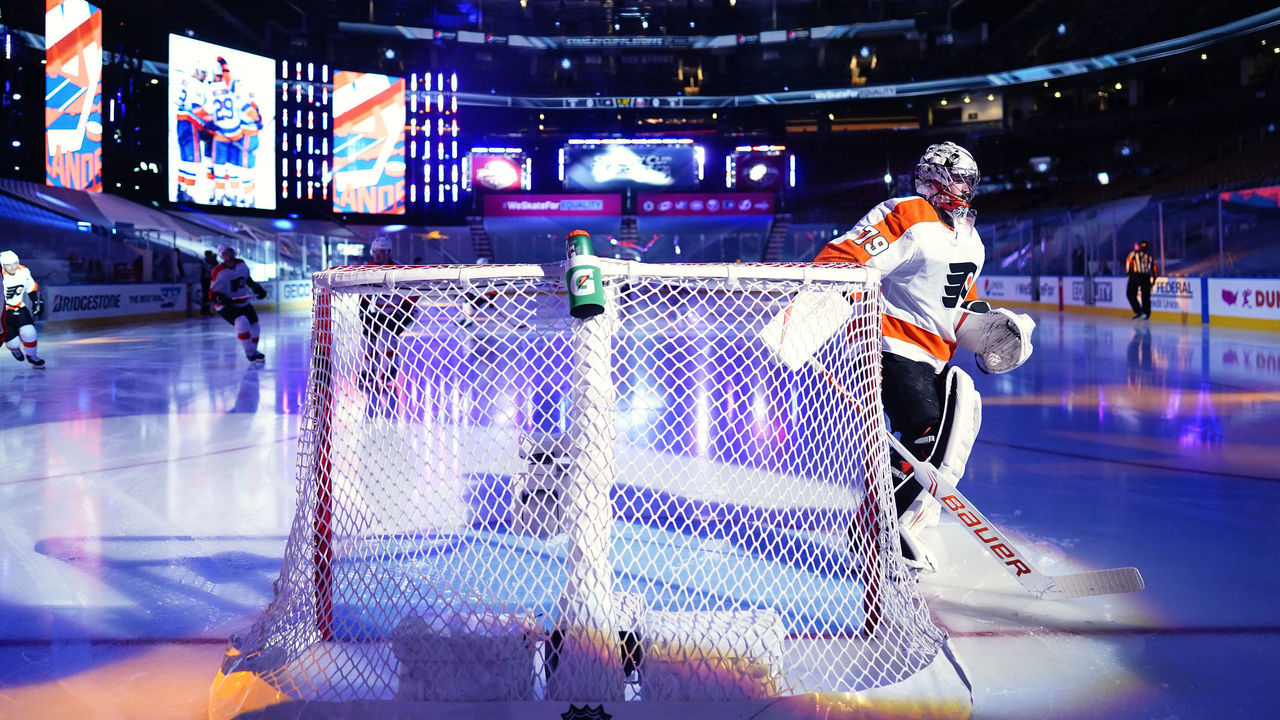 theScore: Why do you think it took the bubble environment for that to happen? Was it simply a matter of wanting to fill those giant sideline screens with something? What was the train of thought in pumping up the stars more?
Mayer: We've heard the criticism. We have a sport that's team over individual. We looked at this as an opportunity since the focus is so on the players, on the games, where we could highlight the guys on that ice and really start to develop these star players. That was one vehicle we knew would be effective.
We're a very local, regional sport in many ways, and we want people in New York to tune into Vegas-Vancouver because they now know all of the players, they're familiar with the guys, they know the names, and they want to watch Vancouver with Horvat and (Quinn) Hughes and (Elias) Pettersson. That's the goal.
We've found this was an amazing opportunity, given how many games we were playing in such a short period of time and how we were presenting the game as a television show and not as a fan-facing, in-arena event. We had this wonderful opportunity to build stars, so it is something we've focused on heavily from Day 1 of this tournament. We think it's going well and we think that certain players have emerged as the next wave of stars in the NHL and we're hoping we're just beginning the promotion of those players.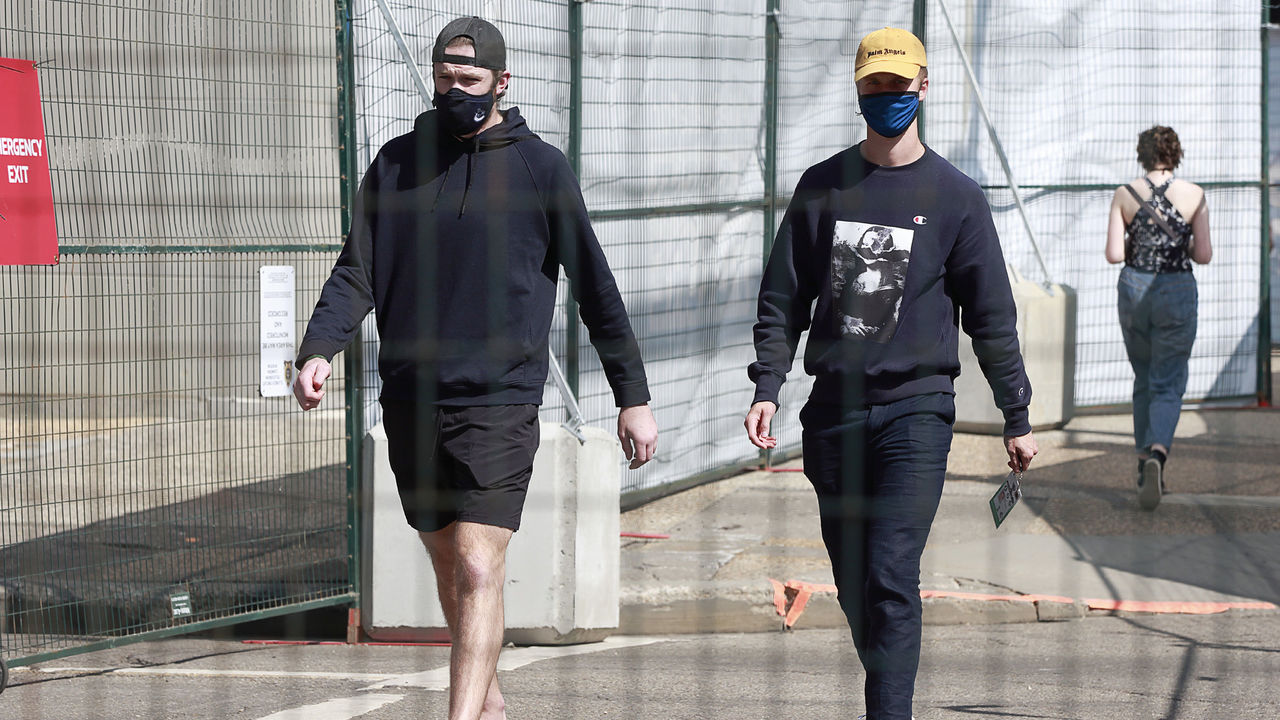 theScore: On the flip side, what's something you and your team won't be doing ever again? Maybe something you didn't quite hit out of the park and are looking forward to retiring after this postseason wraps?
Mayer: No more bubbles! I don't want to do a bubble again! I'm done with bubbles! Ah, no, I'm joking. Well, we may have to do a bubble again, who knows …
Would I have liked to have been able to get people out of the (secure zones) we're in and outside to do things that are unique but controlled? (Yes), I'd like to do that a little more. It's been very, very difficult to get approvals. Because things are going so well, we've been very averse to risk, and so have the governments in Alberta and Ontario.
We get beat up by players a bit, (who say), 'I want to play golf, I want to do this.' And it's just been very, very difficult to get approvals … I'm just trying to think out loud. The players want movies, for instance, and we had a real movie theater in Toronto but we didn't have one in Edmonton. Would I make sure we did it the next time around? Sure.
And these are things we just didn't realize. We had a player committee that we engaged with in the days and the weeks leading up to here. But until you're in the bubble, you don't understand what the players want to do, what their interests are, what makes them happy, what makes them not happy.
There are things that aren't perfect. They're not. At the same time, there isn't anything here where I'm like, 'Wow, that's embarrassing, we should never have done that.' I just think we could have expanded on certain things or added certain things if we had the right amount of time. Or, we could really have been a little more choicey - I don't even know if that's a word - on where we went. We went to the safest place, period, and we said we're going to make this work. Period.
I truly believe this is the absolute, one-million-percent way that it should be done for all businesses, for schools. It works. We feel very safe. Every one of us here in the bubble, we're tested every day, we've followed protocol, we wear masks, we social distance, and no one complains. Everybody has bought in. Players, staff, coaches.
At the end of the day, I think what we're most proud of - and we're not done, we have so much more to go, close to 30 days - is that we all see the end of the tunnel and we don't let up and everybody is in the same boat.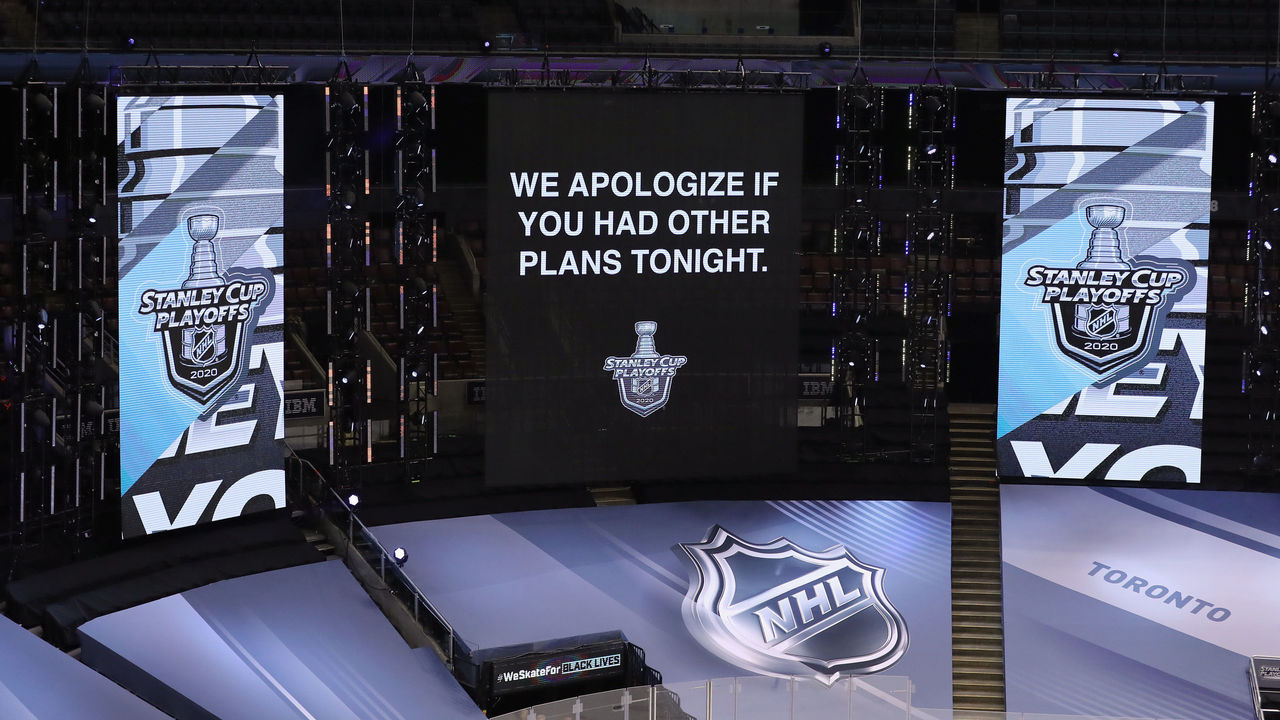 theScore: The game operations crew has dropped a few jokes on the in-arena screens, thrown hats on the ice following a hat trick. How important has it been to break the tension, keep a sense of humor through all of this?
Mayer: We are of the mindset that you can't always take it so seriously. You've got to have some fun with it. The 'Tonight's Attendance: 0' (on-screen joke) was the first one we did. I have to admit, many of them come from my crazy, dad-joke mind.
One of the misconceptions of the NHL is that we're just too serious, the No Humor League. I say just the opposite. If you watch our awards show, if you watch a lot of the things that we've done over the course of the last few years, there are plenty of opportunities where we either poke fun at ourselves - like Chance The Rapper, Lazlo Holmes, did - or just have some fun. We're not afraid to do that and we think it's fine.
We have about 10 more (jokes) lined up and ready to go, including noise meters, kiss cams, and 'This Date In NHL History' - obviously we've never played games at this time - to just have fun with all of this. So there's a time and a place, but we're really happy with the response. I think it leads to us having a lot more fun in the future with our content and our presentation and being OK with that.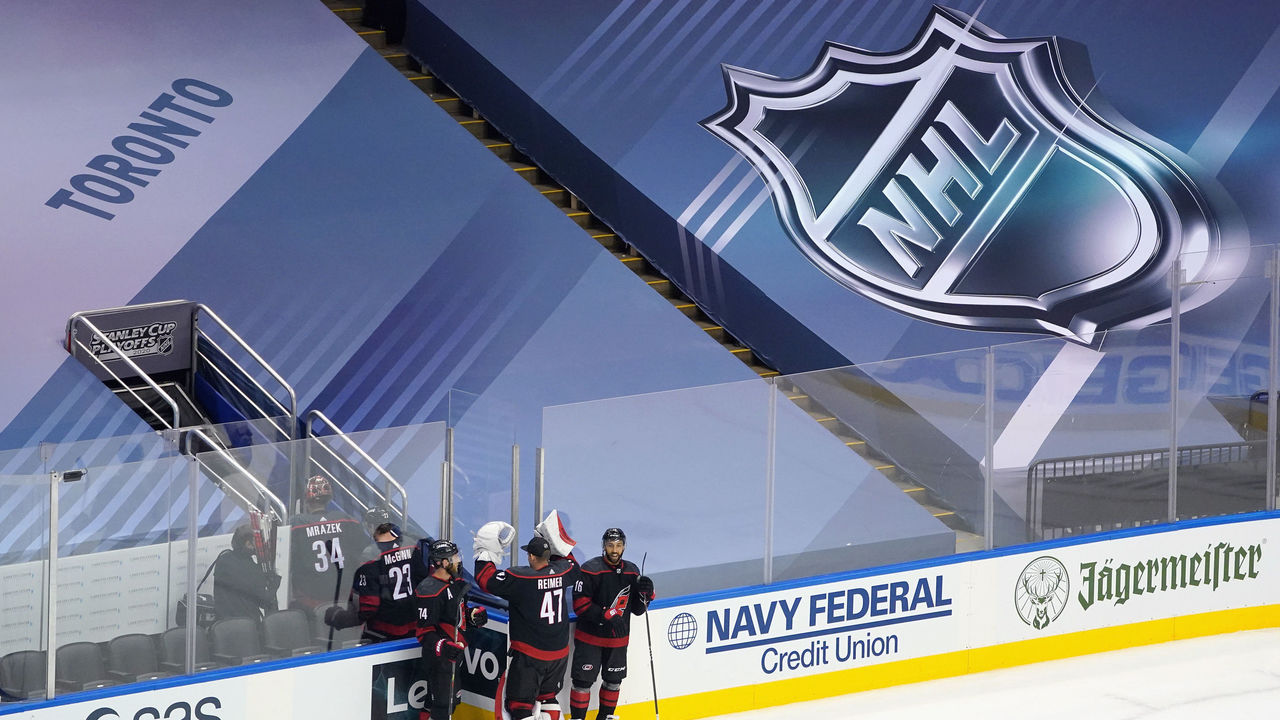 theScore: Given the tight schedule of putting this whole thing together, how much time and energy was spent on the little details? Say, the diagonal lines on the tarps that are covering the lower-bowl seats. Were the lines a big discussion within the NHL offices or was it a quick sign-off? How much did you care about that stuff?
Mayer: To know how I operate and how our team operates is to know how detail-oriented we are. The difference between this (tournament) and, say, one of our outdoor games was the timeline. Talk about not sleeping. We worked around the clock. I have the best team in the entire world. We made quick decisions. We had to. There was no other choice.
It was like, 'We're getting on a Zoom call. We're going to leave this call and this is what we're going to do.' We didn't have the luxury of going back and forth 10 times. I have to admit, we're pretty proud to have made some good decisions.
With the seat covers, we understood clearly that we had to go to a neutral color so you could pick up the puck and the goalie wouldn't be (distracted). Knowing that, we knew that on television there needed to be something, those lines, that gave it a little more feeling, a little more depth so it wasn't just plain light blue or grey.
Knowing we were going to come back in this environment (amid a pandemic and with no fans), I knew that I wanted to do something that was a television set. We were working on that for a while. It didn't matter where we went, we knew that was going to be the design. But all of these decisions, everything that we've done, we just made them quickly. We've trusted everybody on our team to lean on their experience and just go for it. We've been right more than we've been wrong, but I think the amount of experience we all have has led to being able to put this together as quickly as we have.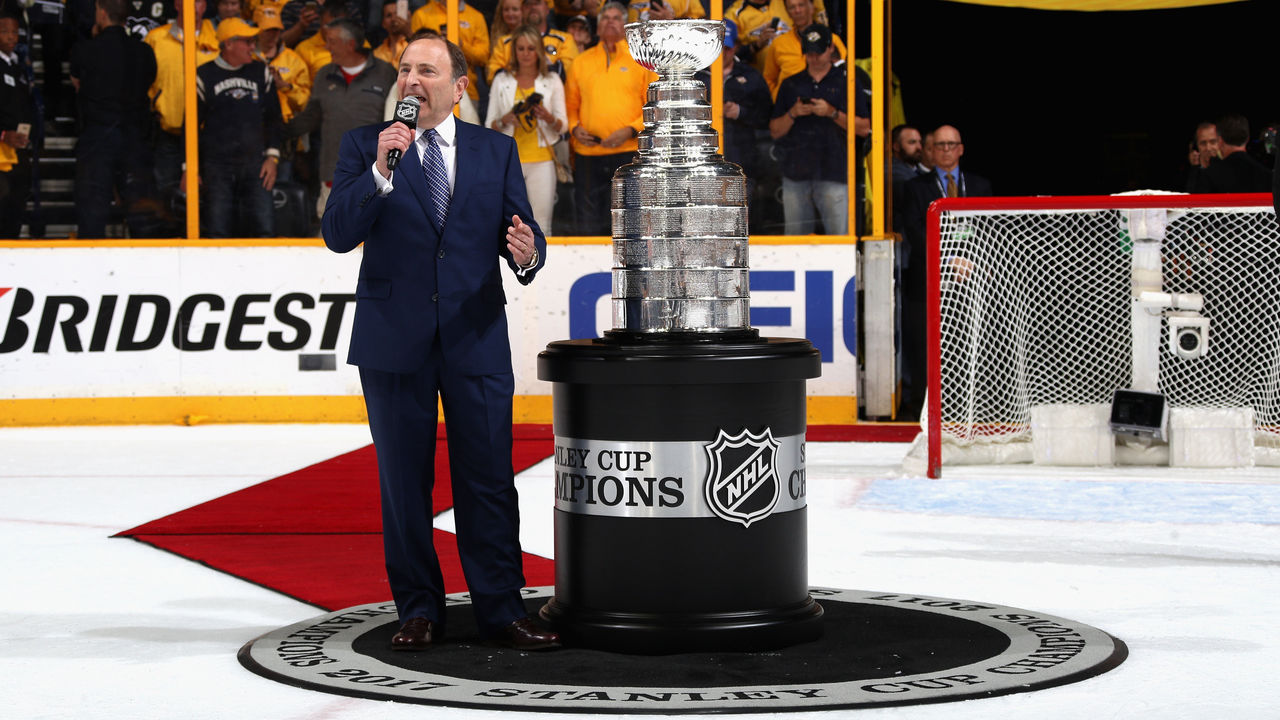 theScore: Lastly, it's my duty as a representative for hockey fans everywhere to follow up on an important matter: What's the latest on Gary Bettman getting the boo-bird treatment during the Stanley Cup trophy presentation?
Mayer: There's been a lot that's happened over the past six months. A lot. I cannot say enough unbelievable things about our commissioner and what he's done and how he's led all of us to this position that we're in, where we're less than a month away from handing out the Cup. I actually believe - and this is me - public sentiment has gone from booing to potentially cheering. If there's ever a year to stop the booing, it could be this year, with all that's happened and the fact that we've come back and we're all safe. In a minor miracle, we're so close to getting to that position where he hands the Cup to the captain of the winning team.
We have a sound effect (to pipe in through the speakers), we have a booing sound effect, we do. I hope we don't use it. But, if he wants to keep up the humor, hey, listen, we can play along. Right now, there are no plans to use it. In fact, you'll hear a lot of crying and emotion because when we get to that moment, I think that's where my team will become very emotional, for all that we've gone through and all of the sacrifices that they've made to be away from their families and how hard they've worked. That'll be a very emotional time for everyone here in the bubble.
John Matisz is theScore's national hockey writer.