How NHL players and coaches are managing 'cabin fever' in the bubble
Dave Sandford / Getty Images
Tuukka Rask didn't reveal a whole lot when he opted out of the NHL restart.
In a short statement released on his way out of the Eastern Conference bubble Aug. 15, the Bruins' No. 1 goalie said that despite the fact that he wanted to compete for a Stanley Cup with his teammates, he needed to be with his young family back in Boston.
What exactly pulled Rask home remains unclear, but it's evident the mental strain of being separated from the people he cares about most reached a breaking point for Rask. His departure midway through a heated first-round series against the Carolina Hurricanes reminded the hockey world that these exceptionally talented, well-paid athletes are human beings, too, and the playoff grind during a pandemic extends far beyond physical endurance.
"It's a unique situation that no one's been a part of before," Vancouver Canucks defenseman Alexander Edler said. "Once you're playing in the games, you're very focused on that. But, away from the rink, it's hard to be away from your family. That's the biggest challenge."
Sunday marks six weeks since parties of 52 players, coaches, and staff from 24 teams traveled to either Edmonton or Toronto for the beginning of the 2020 postseason. That's 42 days of the same surroundings inside the closely monitored, fenced-in "secure zones" erected in both hub cities.
"It kind of feels like a long, long road trip for us, you know?" Dallas Stars forward Radek Faksa said. "I think the NHL did a very good job with the setup, but, mentally, it's tough doing the same routine every day."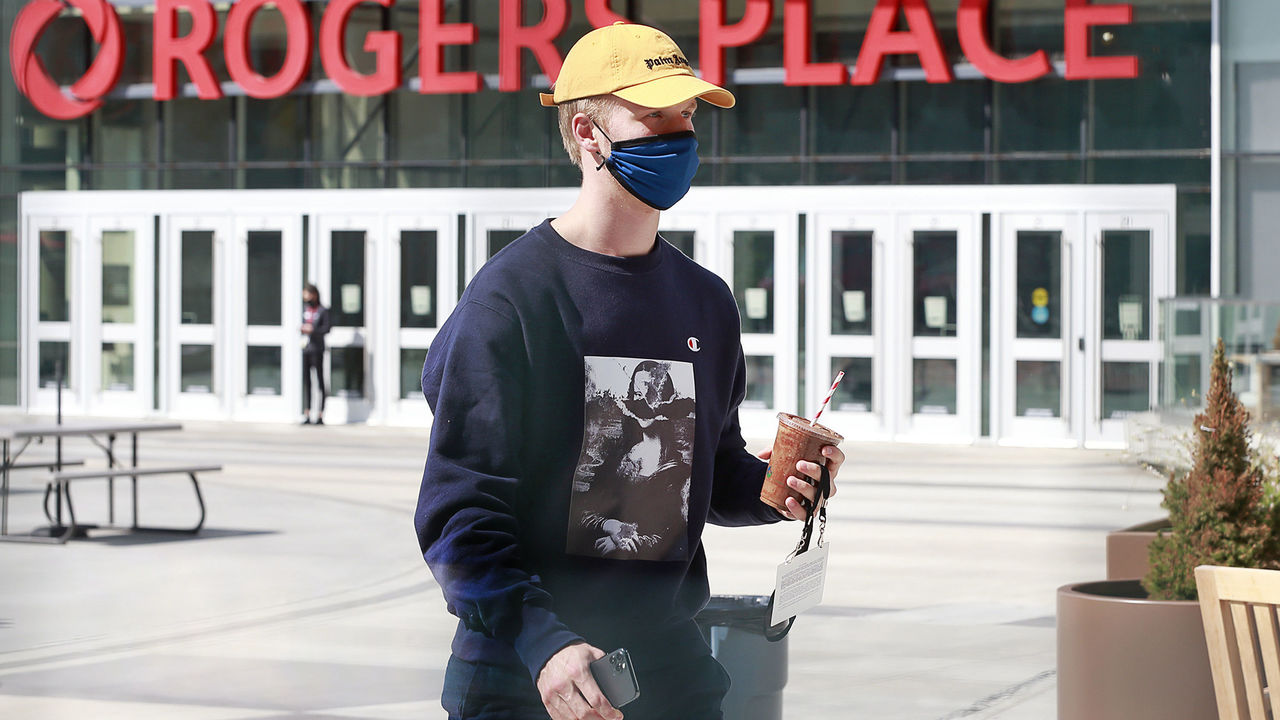 From a health and safety perspective, the NHL's record is sparkling clean. There hadn't been a single positive COVID-19 test as of last week despite daily required tests from everyone inside the bubbles. The league is cramming in as many games as possible into its schedule - Friday's slate had to accommodate two Game 7s at Rogers Place - in an effort to award the Cup later this month. Air travel will be limited to a pair of cross-country flights: the two Eastern Conference finalists heading west as the league consolidates in one place for the last two rounds.
Steve Mayer, the league's chief content officer and the man tasked with creating and maintaining the bubbles for the NHL, admits he was initially nervous about how players and coaches would react to both setups given the life of luxury those in pro sports are accustomed to. The feedback he's received directly has been pleasantly surprising.
"The No. 1 thing I hear on a daily basis is, 'This is so much better than I thought it would be, thanks,'" Mayer said. "And so, expectations, for one reason or another, weren't that high. I think we have done a good job of getting it to the point for everybody that it's a liveable bubble. … (Even) if you were in the greatest resort in the world for this long of time, yeah, it would get to you after a while."
"They've made us all feel safe, we're secure here," Dallas Stars interim head coach Rick Bowness said a couple of weeks ago. "Everyone's getting tested, everyone's wearing masks. So, there's no issues that you're worried about. That being said, it's not like we're walking out to a park. We're going to a courtyard and there's three other teams sitting there. You go to the gym and you're working out with the people you're playing against that night."
"It's definitely not normal life," Vegas Golden Knights coach Pete DeBoer said the next day. "At the same time, we try and remind ourselves every day to embrace it. It's an opportunity of a lifetime."
DeBoer then dropped a fun spin on the isolation: "Even on the worst day in here, there's all the hockey you can watch and all the beer you can drink, so it's not a bad day."
As DeBoer showed, the NHL bubble is what its inhabitants make of it. The more hockey games you win, the closer you come to lifting the Cup. But the longer you last in the playoffs, the longer you are confined to the same spaces - the rink, hotel, courtyard, nearby football stadium, and, well, not much else - with nobody but teammates, coaches, team staff, and event staff to interact with.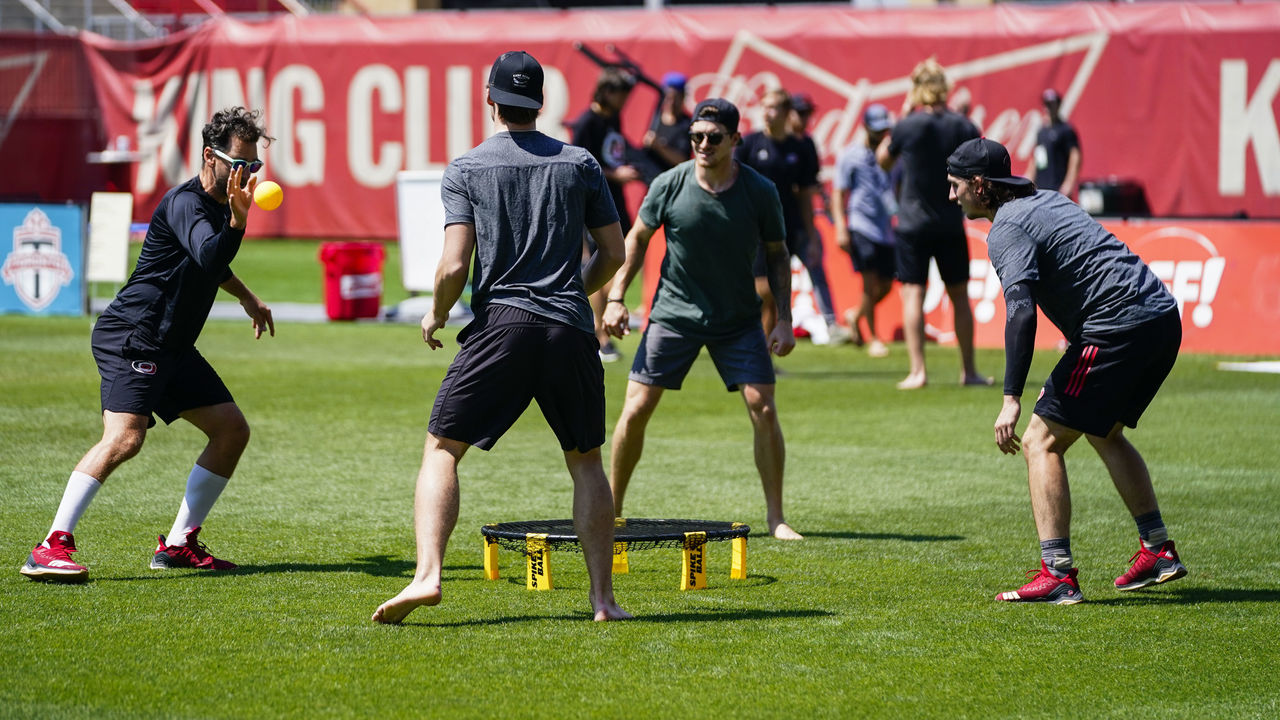 For 22-year-old Avalanche defenseman Samuel Girard, he'd never played so many playoff games before Colorado was eliminated Friday by Dallas. He'd also never, ever played so much cornhole.
"I'm getting better in cornhole," Girard said earlier this week.
"A lot! A lot of cornhole," Avs captain Gabriel Landeskog said, interrupting to elicit a smile and a laugh from his teammate during a dual media availability.
"So, that's a good thing," Girard continued. "It's (the) playoffs, so it's fun. We have fun (being) all together here and we're not ready to leave."
Everyone's experience is not the same, though. One prominent player agent says he's received "mixed reviews" from his agency's clients, noting some in Edmonton have been less than happy with the setup and amenities. A second agent reports, "The players are mostly miserable in the bubble." A third contrasts the perspectives of a veteran who's consistently a healthy scratch being away from his kids for several weeks with that of an ambitious, unproven NHL prospect now enjoying uptempo summer practices and plenty of one-on-one time with star teammates.
"If you're a hockey player and loving playing hockey right now, the bubbles definitely present an opportunity," Andrika Rook, a clinical therapist specializing in performance for SHIFT Collab in Toronto, said. "If that's all you want to do, you can do it. You're living, breathing hockey, and then going back to the hotel and playing video games. You're with your team at all times."
"A 23-year-old versus a 38-year-old player," she continued, "there's a big difference in lifestyle and routine."
Beyond cornhole and golf, facilities and equipment for spikeball, pingpong, basketball, baseball, billiards, squash, and tennis are readily available. Players planned ahead, too, packing instruments, video game consoles, board games, and books to kill time. It may seem like an impressive list of distractions, but like anything else in life, the shine can wear off quickly. That's why Eastern Conference players and coaches earlier this week were treated to a private screening of "Tenet," the new Christopher Nolan sci-fi film, and why, out west, the Golden Knights formed a "fun committee" for the purpose of breaking up the monotony of bubble life.
"You get cabin fever a little bit. It's tough, there's not a lot of sunlight, not a lot of grass you get to see," Vegas forward Reilly Smith said. "But our team and our organization (have) done a good job trying to make the most of the experience, really giving us every opportunity to get our mind away from the game and the bubble as well as they could. We're fortunate."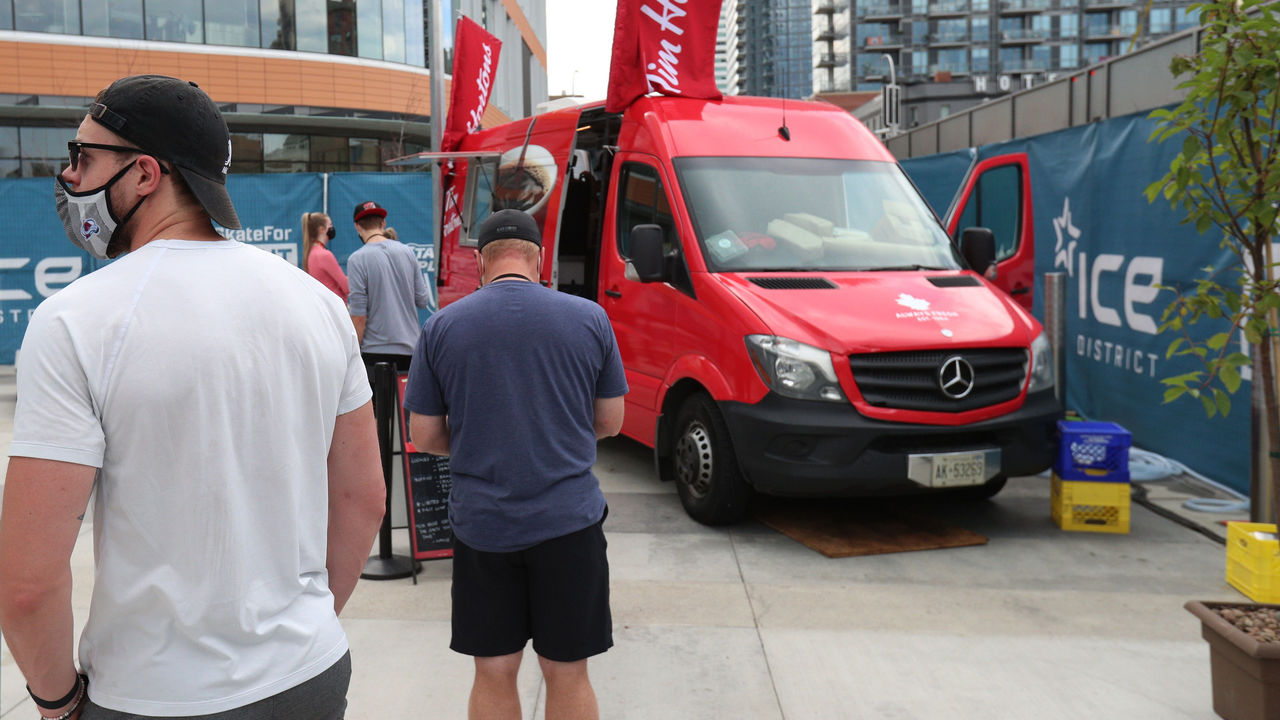 Canucks third-string goalie Louis Domingue seemingly embraced his abundance of downtime by baking pies for his teammates. In general, the NHL has been lauded for offering a variety of food options, and the food businesses in both hub cities are surely reaping the benefits of long-term hotel guests. Tim Hortons has a truck stationed inside both bubbles, serving coffee and donuts. (The signature Iced Capp is apparently a huge hit.) But that's hardly enough for some of the bubble's residents.
"I was thinking about that the other day; how I really don't think I've been outside in a couple of days," Stars forward Jason Dickinson noted in his Aug. 24 diary entry for The Athletic. "I've stepped outside, walked to Tim Hortons, and grabbed a coffee, but I didn't actually sit outside or spend any time out there. … On top of that, the days are all blending together. I don't even know what day it is anymore. We feel so distanced from the world and what's going on back home because all you are focused on is where you are in this seclusion."
Paul George of the Los Angeles Clippers opened up about his battle with anxiety and depression inside the NBA bubble in Orlando. There's no reason why some NHL players might be feeling similarly. Players struggling with mental health issues can contact the NHL Players' Association for support. Since 1996, the union has offered direct assistance and resources, free of charge, to its membership. In the bubble, a Zoom call with a mental health professional can be arranged for the player or a member of the player's family.
"There's the risk of boredom, a lack of stimulation, being in this environment day in and day out," said psychologist Kim Foster Yardley, who works with high-performance athletes. "We all experienced it with the (COVID-19) lockdown and had to find creative ways to stay interested in life. Our brains like novelty."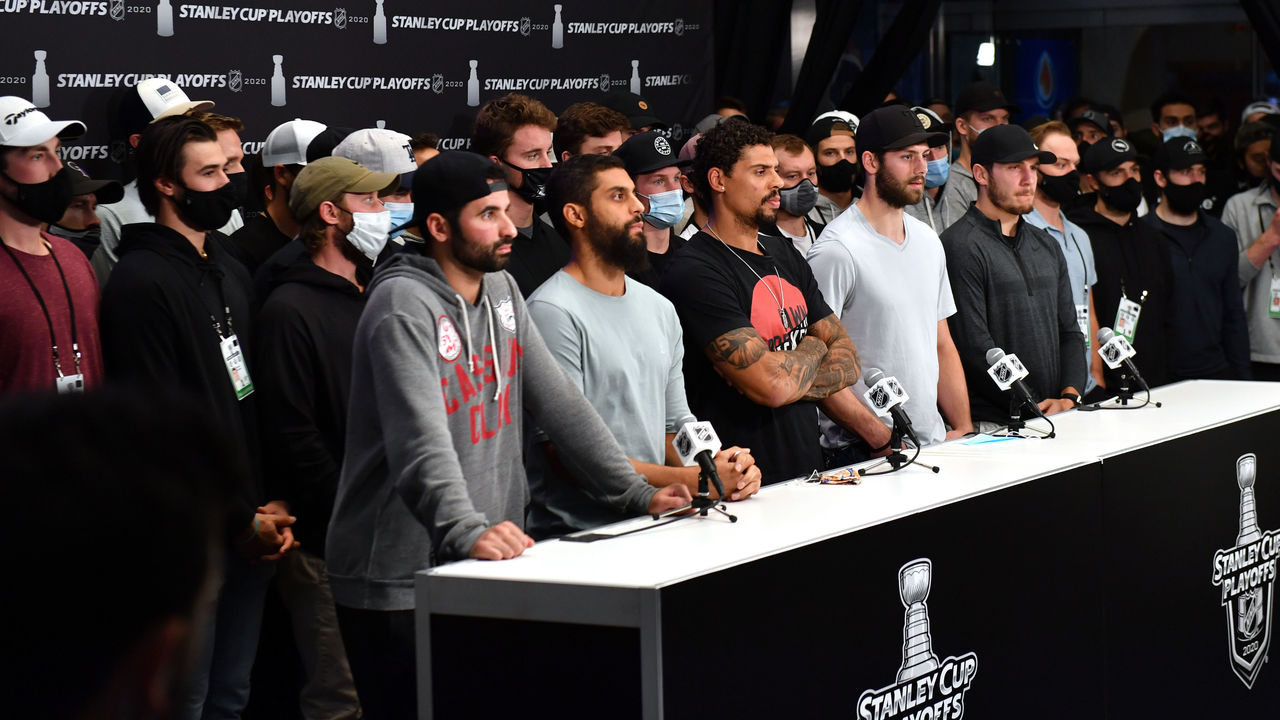 On the other hand, the bubble can foster collaboration between rivals. Dickinson was one of five Western Conference players who manned a microphone last week to address reporters after the players' walkout in protest of racial injustice. Most, if not all players in Edmonton attended the press conference. Being in close proximity - being stuck with each other - proved to be helpful and powerful.
"It's unique in a sense that we're in this bubble and we're together," Stars forward Joe Pavelski said following the walkout. "For me, it's been good being around teammates and other competitors, and learning a little bit more (about social issues) and hearing and being a part of it. You try to educate yourself along the way, but there's always more to come, for sure."
However, by all accounts, the main quibble players have with bubble life is the absence of their loved ones. On that front, the NHL is in discussions with Alberta and Canada government officials about loosening the quarantine periods for family members hoping to travel to Edmonton and enter the bubble for the conference finals and Cup final.
"Every team is completely different in terms of their interest and so there's been a bit of a process," Mayer said Friday. "We're not fully approved. Plans are in place to try to make it happen, but nothing is solidified yet."
Some have argued the 2020 NHL playoffs should carry an asterisk, that winning the Cup this postseason should be viewed as a poor man's championship. Talk to anybody who's spent a second in the bubble - or take one look at the grueling schedule - and you'll realize these playoffs have simply presented different challenges. If there's going to be an asterisk, it should shine brightly and point toward the unique grind these players, coaches, and staff are enduring. Cabin fever affects all.
John Matisz is theScore's national hockey writer.