An oral history of the 1992-93 Montreal Canadiens
Presented by

James Bisson celebrates the 25th anniversary of the 1992-93 season with a look back at the most memorable moments of the greatest campaign in NHL history. This edition focuses on the Montreal Canadiens, who rode one of the most improbable streaks in history to their 24th Stanley Cup title. Several members of the team agreed to share their memories of that incredible run.
After being swept by the Boston Bruins in the second round a year earlier, widespread change was the theme heading into Canadiens training camp. Gone was fiery head coach Pat Burns, who made the trek westward to become the new bench boss of the Toronto Maple Leafs. He was replaced by Jacques Demers, who had last coached in the NHL with Detroit in 1989-90.
Gilbert Dionne: Pat was dealing with stress, as I realized later on in my career ... he spent four years in Montreal, faced a lot of pressure there, and things weren't working out, so changes had to be made. So Pat was on his way out and ended up going to Toronto, which back then we thought was our nemesis. The Toronto Maple Leafs, just down the road! (laughs) I'm like, "Wow, Pat's going there?"
Stephan LeBeau: I had played the three years prior under Pat Burns. I was playing great hockey, but didn't have a lot of ice time. I'm not saying it was a big battle between me and Pat - it was a battle between the media and Pat Burns regarding my situation. I was a French-Canadian, I was putting up the numbers for the ice time I had, so often the reporters were challenging Pat - not the best thing to do if you don't want to upset him. I struggled to get more ice time, and I felt it was a conflict of who's right in my situation - the reporters or Pat Burns. With Pat, it was step by step. "You're young, take your time, don't rush things." So when Jacques arrived, it was a complete change.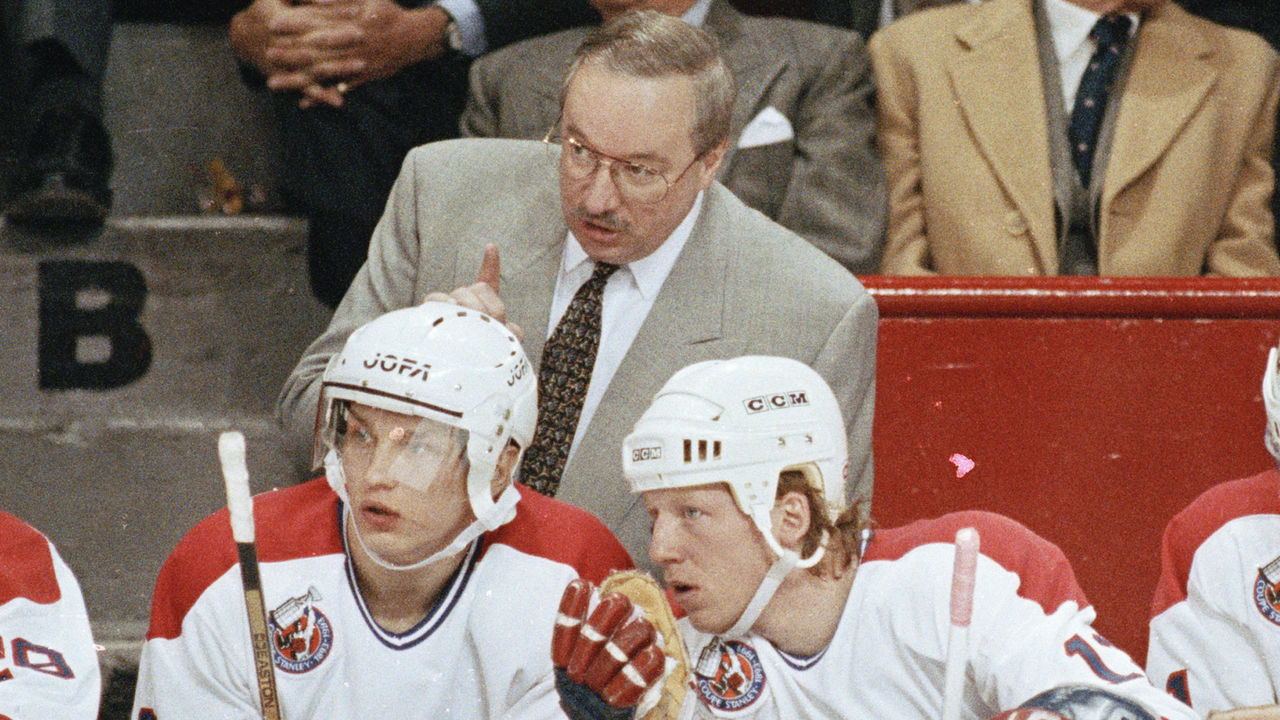 Burns and Demers couldn't have been more different. While Burns motivated largely through tough talk, Demers was known best for being a player's coach - and that made an immediate impact on a team whose average age among players who suited up that season was 24.9.
Vincent Damphousse: Jacques had a strong message for us. He was a very strong motivator. That was his strength. He was the best coach I ever had in my career. He was able to get the best out of everybody and find a role for everybody. He wasn't an Xs and Os coach or a tactical coach - just a guy who gets you to believe that you're really important, from the first to the last guy.
John LeClair: It wasn't about yelling. It was just his approach to things. Burnsie had his own approach and that's how he was successful, but Jacques' was successful in a way where he was positive, and that positive feeling was something that the team really took in and thrived on.
Dionne: When Jacques came in, we felt totally refreshed. For me, as a younger player, Pat was kind of harder on the young kids coming in. When Jacques came in he was more open to the rookies and made us feel welcome and want to be part of the team. We had a great coaching staff for that, with (assistants) Jacques Laperriere and Charles Thiffault ... these guys were there to teach us, not to punish us. I really enjoyed it when Jacques showed up and brought some positives to the team and helped us believe in ourselves.
LeBeau: Confidence is a key element of success both as teams and individuals; Jacques not only believed in us, he made us feel like we could do it. I don't remember how many exactly, but several players on that team had the best seasons of their career in 1992-93.
Demers' impact on the fresh-faced Canadiens was immediate. No longer was the bulk of the ice time reserved for the team's veteran skaters. Everyone got a chance to contribute across all forward lines and defense pairings.
Dionne: Back then, everyone was looking for a 50-goal scorer. But we weren't going with one man only to get us 50 goals. Jacques and the coaching staff said, "If we can go with four lines, and maybe limit some of these guys' ice time by a minute or two (per game), something good is going to come out of it." And sure enough, that gave me a great opportunity, getting some second-unit and power-play time, and getting a few goals here and there.
LeClair: Any time you get a new coach, there's always that boost of energy. Guys are excited to play for a new guy and show him what they can do. He gave guys different roles, me being one of them. I had a little bit of a bigger role with Jacques there than I did with Pat. You're a little bit more excited to play, and I think we proved that in our game.
LeBeau: I don't remember exactly when, but very early in training camp, Jacques brought me in his office and said to me, "Stephane, I know what you've been through, but I really need you this year. And you're going to have a big impact on the hockey team." That was his first message to me, and I walked out of his office, and I was relieved. I was lighter. For once, I felt the trust that my role was going to increase. And it did happen - and that's why I had my best season.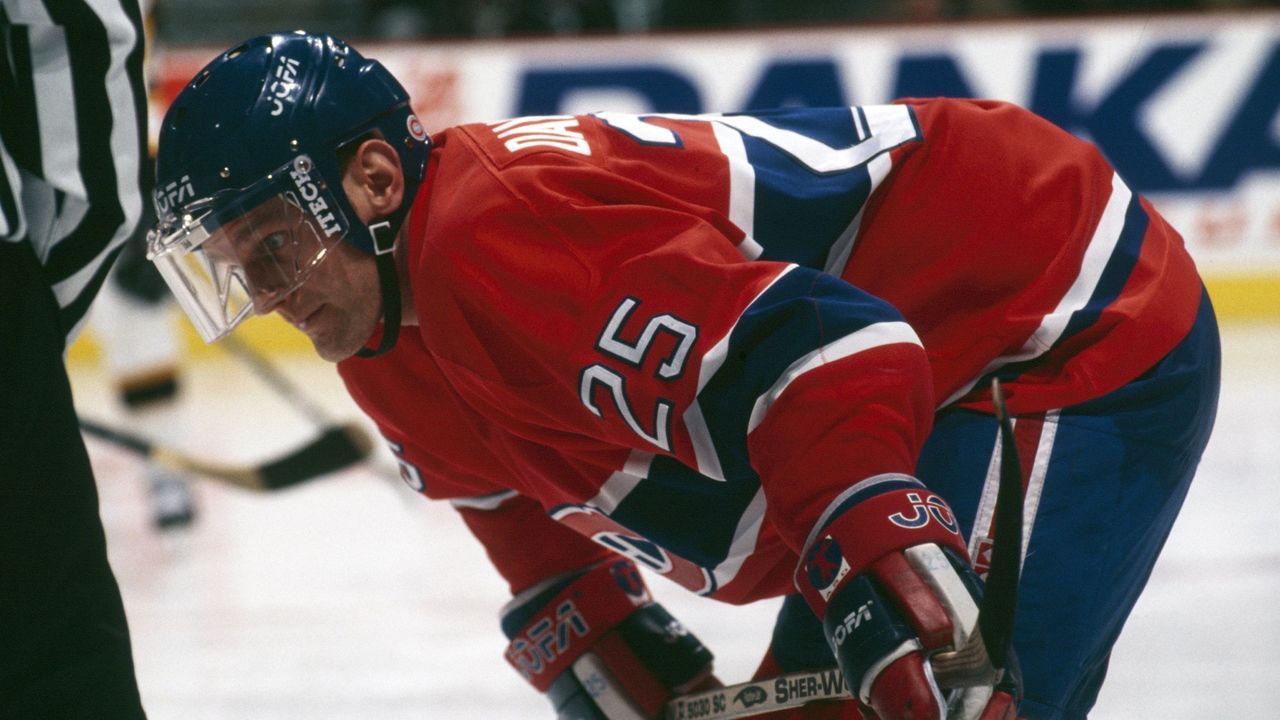 Demers wasn't the only new face in town. The Canadiens made two significant moves just prior to the start of the season; they acquired Damphousse from Edmonton for Shayne Corson, Brent Gilchrist, and Vladimir Vujtek, and snagged Brian Bellows from the Minnesota North Stars for Russ Courtnall.
While goal prevention was the trademark of the Patrick Roy-led Canadiens, the addition of Damphousse and Bellows - who combined for 68 goals and 96 assists in 1991-92 - was expected to bolster a moribund Montreal offense that ranked 14th in the 22-team league a season earlier.
Damphousse: I was traded in August, a week before a training camp. For me to come home and wear that jersey was unbelievable.
LeClair: With Bellows, he was a pure goal-scorer. He knew how to put the puck in the net. And obviously Vinny was a big offensive guy, too. Adding those two guys, you hope that you will see some increase. Shayne was more of a two-way player. He could score, but he had more of an all-around game. (Courtnall) was a goal-scorer, but he was streaky. With what we got, we were hoping to get more consistent goal-scoring out of those two guys.
Dionne: I think that helped big time; teams were coming in and they were confused, because even if the top line was shut down, we had the second and third lines stepping in and doing the job.
Despite the influx of scoring and an emphasis on youth, nobody was picking the Canadiens to go all the way - nobody, that is, except for Demers, who came out prior to the season and proclaimed that Montreal would shock the world and win the Cup.
Patrick Roy (as told to Hugo Fontaine of canadiens.com in March 2017): I remember when Jacques came out on the ice for our first practice and said that, we all just looked at each other with these confused expressions and wondered if maybe we hadn't heard him correctly or something.
LeBeau: I always think that we were underestimated. No, we weren't the favorite, and I won't argue that we weren't the best team in the league that year, but we were certainly one of the best. We didn't have a Mario Lemieux or a Steve Yzerman offensively, but our team was a quality one - and that's why I think we were underestimated. But it didn't feel like we were young. The way we handled adversity and success made it feel like we were a mature team.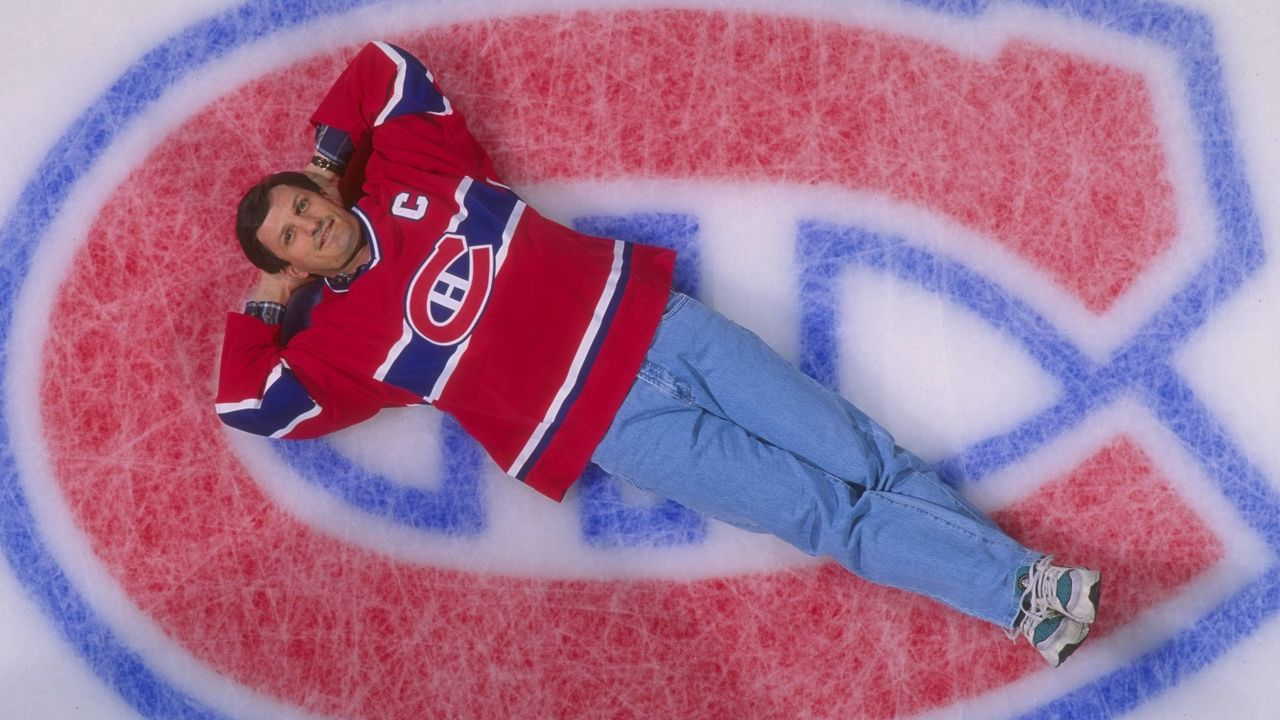 Also working in the Habs' favor that season: leadership. Not only did they feature Guy Carbonneau as captain and a host of vocal veterans in Mike Keane, Kirk Muller, and Patrick Roy, but Canadiens players had access to more than a few guys who had played for the Cup before.
LeClair: Guy was huge. When you talk about us being a young team, the reason we were able to be successful was because of the leadership we had - and that started with Carbo. The guy doesn't panic, he doesn't change, he's the same temperament no matter the situation, always says the right thing. His leadership on the ice was fabulous. He's the biggest team guy I ever played with. He's one of those guys that everybody loves to play with. I have tremendous respect for the guy.
Dionne: We had great support up top with Serge Savard winning Stanley Cups, and with Maurice Richard and Jean Beliveau and Guy Lafleur coming in the dressing room. I would ask them, "What did you guys used to do back in the day?" Communication with the alumni guys was huge for me. It helped me big time. Mario Tremblay worked for a local radio station, and he would come to practice. I would say, "Mario, I'm struggling on the wing here. What's up?" And he would guide me. That worked for me, and I appreciated it.
The Canadiens came out on fire, putting together a 13-1-1 stretch from Oct. 17 to Nov. 17 en route to a 14-4-2 start to the year. But an 8-10-2 stretch over the next 20 games quelled much of the enthusiasm over the hot start - and typified the regular season for Montreal, which ran hot and cold for the majority of the campaign.
LeClair: I can't speak for everybody, but that was only my second full year in the league. I wasn't by any means a polished pro, and it takes a while to get that consistency in your game. Any pro has ups and downs throughout the year, but the guys who have been in the league a while, theirs are a lot shorter because they know how to handle it and they get out of it a little quicker. I do think being young did (contribute) to a lot of that roller-coaster ride.
Dionne: I think sometimes that's what happens with young players, and especially forwards like me. You gotta get goals, gotta get assists, and if you don't, you feel the pressure. I didn't want to go back to Fredericton. People talk, and the media puts pressure on you. And believe it or not, although you all like each other, sometimes when you're with the same players, you get grumpy. You get frustrated. Then you might start blaming others, saying, "I don't get the puck enough. I'm not getting enough playing time. I'm not getting enough power-play minutes." The forwards blame the defense, and the defensemen blame the forwards. And it snowballs.
LeBeau: Jacques was always in search of the right move to put us in the right spirits. Sometimes he was hard on us, and sometimes he would flatter us. The strategy depended on the situation. He could feel the mood of a dressing room and adjust accordingly. So sometimes we would be playing well and he would be tough on us, while sometimes we would be in a slump and it was time to release the pressure - and he would do that. Jacques always had a way to hold on to the dressing room.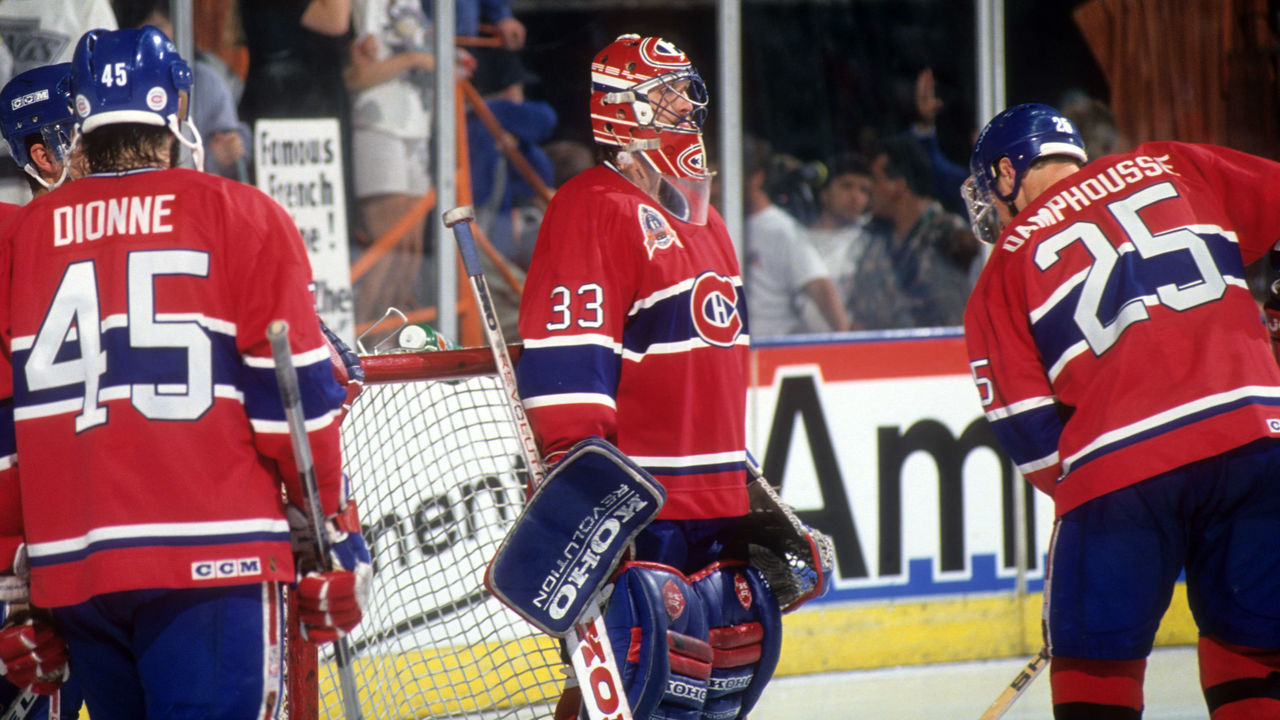 While the Canadiens found themselves in a battle for top spot in the Adams Division with the Boston Bruins and Quebec Nordiques, the Journal de Montreal ran a poll in mid-January asking whether the team should trade Roy, who was having a good-but-not-great season to that point. The result: 57 percent of respondents said yes.
It spoke to the immense pressure both media and fans were placing on the Canadiens to go all the way - and the players noticed.
Dionne: There was so much stuff being said. You had a dozen reporters for one newspaper. I would drive to the rink with Carbo and we would hear things, and I would always look at him and ask, "Is this true? Is this true?" We had to listen to the radio so Guy was prepared to say something and wouldn't be caught off guard after the game or before the game when he met with the media. I personally said a few things I shouldn't have said, but you can't take it back. Though I wish I could, because I'd probably still be playing. (Iaughs)
LeClair: I thought Montreal fans were supposed to be knowledgeable fans, so I don't really understand that. For me, everybody had so much respect for Pat, and we believed in him more than everybody else. There's nobody I trusted back there more than him.
LeBeau: The mentality in Montreal has always been to win the Stanley Cup. If you don't win, you failed. Even though we were among the top teams in the league, the fans are demanding. So it wasn't a surprise to see that kind of pressure if we weren't on the top of the pyramid. And of course Patrick was our superstar; he had to make a difference every night. So when things weren't going well, people were complaining or criticizing us more than perhaps other fans would. But that's part of playing in Montreal.
Dionne: It was all about team camaraderie - and it wasn't easy back then. We had 10 French guys and nine English guys, and the media kept throwing things at us. We had to stick together.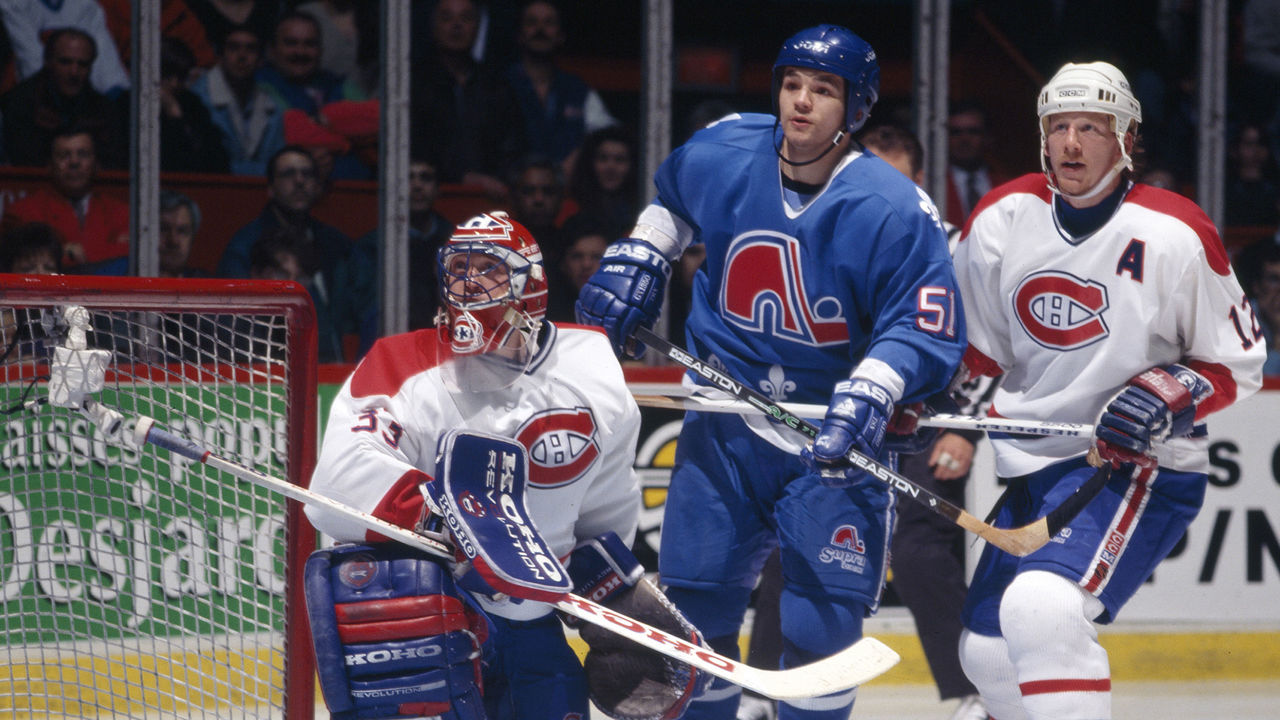 In a precursor to their playoff run, the Canadiens closed the regular season with overtime outcomes in three of their final four games. They won just one of them, finishing with a 48-30-6 mark, good for 102 points and a third-place finish in the competitive Adams. Their first-round foe: The rival Nordiques.
Damphousse: Boston had 109 points, Quebec had 104, and we had 102. We had a very tough matchup in the first round, and it was split on who the experts thought was going to win. Quebec had a lot of punch on the attack with Sakic and Sundin, and a lot of young guys ... a lot of talent.
Jacques Demers (as told to Hugo Fontaine of canadiens.com in 2013): Just as the playoffs were about to start, I heard the song "Nothing's Gonna Stop us Now" by Starship. I went to my captains, Carbo, Muller, Damphousse, Roy, and Keane, and I asked them what they thought about playing that song before each of our games. Like the song says, "We can build this dream together ... nothing's gonna stop us now." The guys liked the idea.
Things got off to a rough start for the Canadiens, who dropped a pair of one-goal decisions in Quebec - including the lone overtime loss they would suffer all postseason. Demers had a major challenge on his hands in trying to keep his young roster from feeling discouraged.
LeClair: It wasn't panic at all. Everybody understood that we had to play better, and Jacques was relaying that message, too. He said, "There's a lot more that we can do, this isn't our best, and we need to bring our best."
Damphousse: I think we felt a bit down, but at the same time, we still believed in our chances. I remember Jacques having conversations with me at the morning skate, because I didn't really have an impact the first couple of games. He said, "You know we need you, I don't have to tell you. But you need to step it up the way you did during the season."
LeBeau: In those two games in Quebec, we were right there in the game. We knew we couldn't drop the third game, but if we win those two home games, we're back in the series. And I believe winning the third game was the key moment that brought us back, because we played two good games in Quebec, we won the third game, and we said, "We're back in the series; we can beat these guys."
At that point, the hockey gods took over. Damphousse scored the overtime winner in Game 3, kicking off an incredible stretch that saw the Canadiens win four straight games - two in extra time - to eliminate the Nordiques, then reel off a four-game sweep of the Buffalo Sabres in which three of the games were decided in OT. Indeed, something special was happening with the Habs.
Damphousse: Game 3 was the first of our 10 (overtime wins) in a row, and it really started something incredible. I don't think it'll be matched.
LeClair: I think when we got into Games 3 and 4 against Buffalo, we could see the bounces are going our way, and you could see there was something special going on with Patrick that was easy to ride with the way that Patrick was going in net.
LeBeau: For me, personally, (it felt special) after we beat Buffalo. The first two rounds are pretty tough mentally and physically; you're so far away from your goal and your dream. After you win the second round, now the trophy is within reach. And this is where you start to say, "Hey, there are only four teams left. Anything is possible."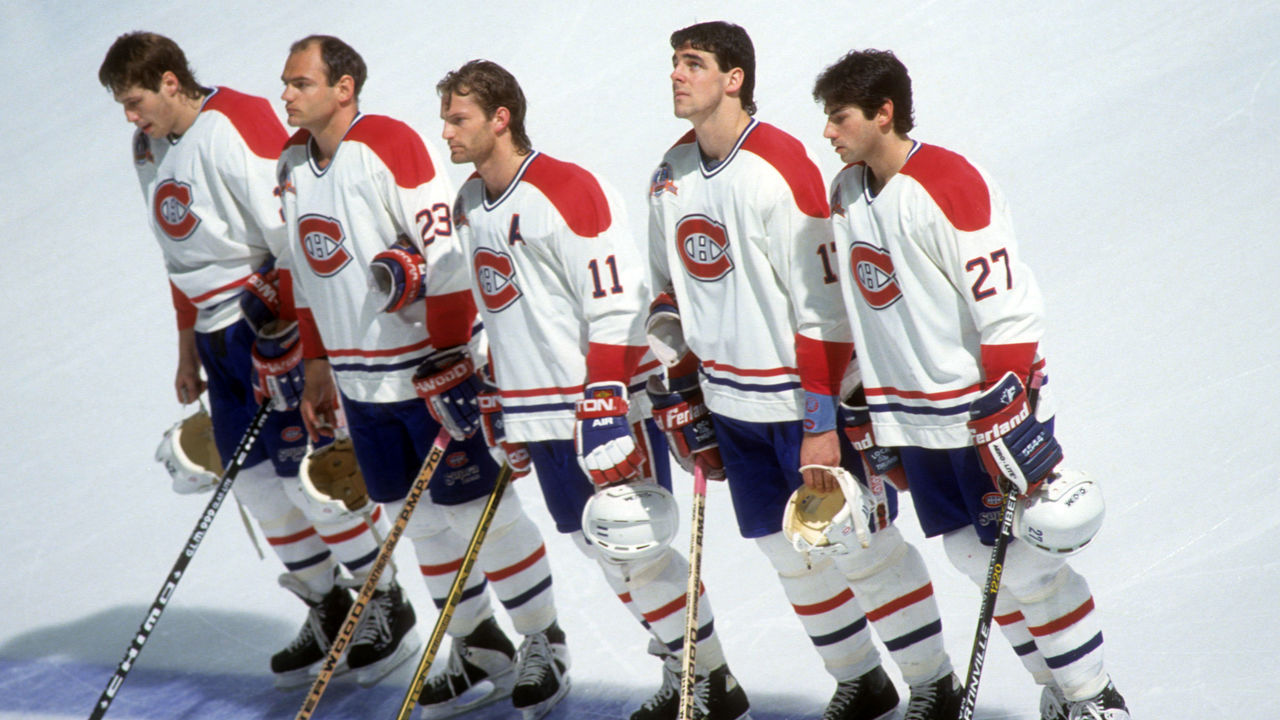 The catalysts: a combination of balanced scoring - four different players contributed overtime goals in the first two rounds - and clutch goaltending from the oft-maligned Roy, who was steady, if not spectacular, in the first two rounds of the playoffs. And a little luck didn't hurt.
Damphousse: We felt very comfortable playing in tight games. You almost go into a routine in overtime. You get your equipment dried up; you don't know how long it's going to be. Trainers are running left and right. But everybody stayed very calm. Patrick made key saves in all the overtime games, and that made a big impact. Every game was a different guy, different story.
LeClair: It's a little calmer. You're not as nervous when you go to overtime when you've had so many in the playoffs and been on the right side of them. But it all comes back to Patrick. He says, "I'm not going to let them score," and everybody respects and believes him. We know they're not going to score. So it wasn't a matter of if, but when.
Dionne: We weren't getting nervous during overtime; we had the best goalie in the world. Patrick was so confident in himself, and we were confident in him. All he was asking is for us to score more than two goals. He would promise us and say, "I'm not gonna let more than two goals in, boys. If any." Every player had a job to do, every line had a job to do, and that's what we did. The further we went, the more confident we were in overtime. We were in the locker room and would say, "Who gets this winner, guys? Whose line is going to get it?" It was so much fun.
LeBeau: We had a quality team, but it takes some breaks. Boston had had our number in the playoffs, but lost to Buffalo. Break No. 1. And then the Pittsburgh Penguins are upset by the New York Islanders. Break No. 2. That made a big difference; if Pittsburgh wins, we get on a plane and we start the semifinal in Pittsburgh; if the Islanders win, we start the series in Montreal. We were in our hotel on the seventh floor, and the Islanders won in overtime, and we all got out of our room and high-fived. Between Boston and Buffalo, and between Pittsburgh and the Islanders, I think 99 percent of the players would have chosen Buffalo and the Islanders.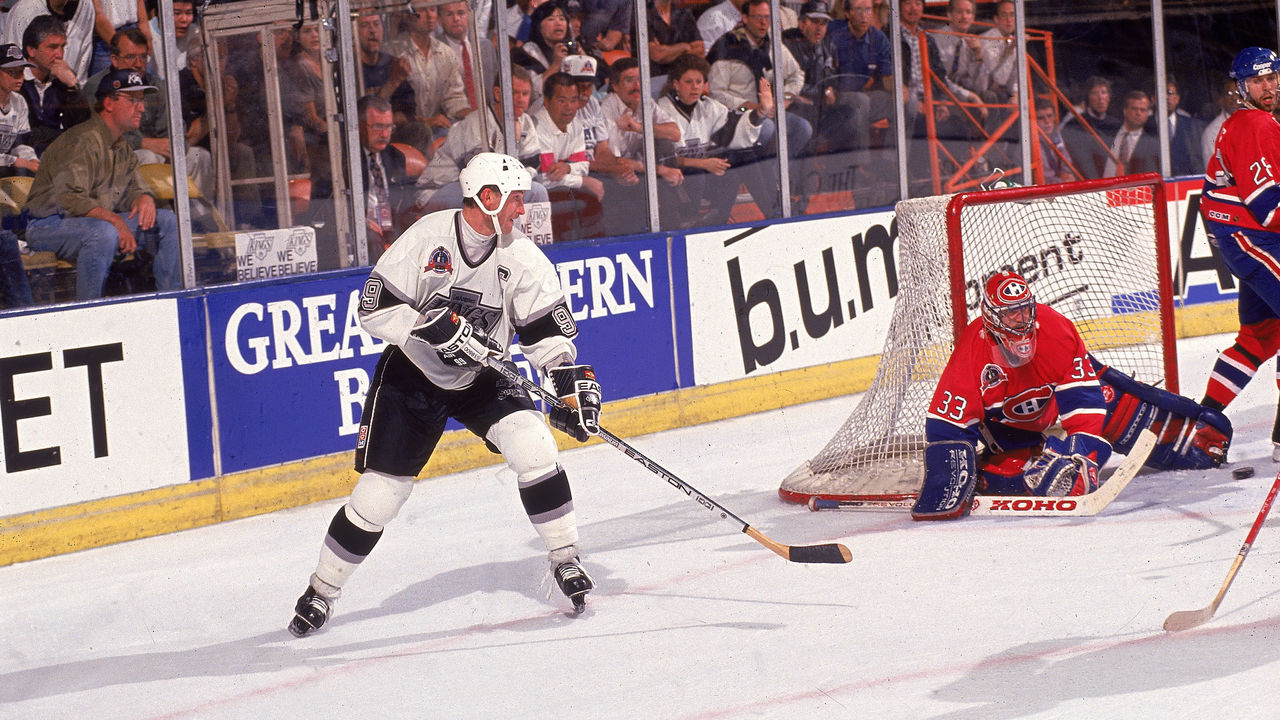 After riding two more overtime wins to a five-game elimination of the Islanders, the Canadiens found themselves in the Stanley Cup Final against Wayne Gretzky and the Los Angeles Kings, who were coming off a grueling seven-game series against the Toronto Maple Leafs.
It didn't appear to affect the Kings, who prevailed 4-1 in Game 1 and held a 2-1 lead late in the third period of Game 2. And it was then that Demers pulled off one of the gutsiest moves in Stanley Cup history, asking for a measurement of Kings defenseman Marty McSorley's stick blade. The decision completely changed the complexion of the series.
LeBeau: Back then, it was more common to see teams trying to measure hockey sticks. Just behind the (Montreal Forum) dressing room was a hallway, and this is where we were cutting our sticks. And in between periods, the visiting teams would put the stick racks right there. During the regular season, we had access to those sticks. But during the playoffs, teams weren't putting the stick racks there. So we had to take a guess.
LeClair: It was a nervous time. We just didn't play that well in the first game, but we played pretty well in the second game. It wasn't do-or-die, but it was a desperate time; we didn't want to go down 2-0 heading back to their place.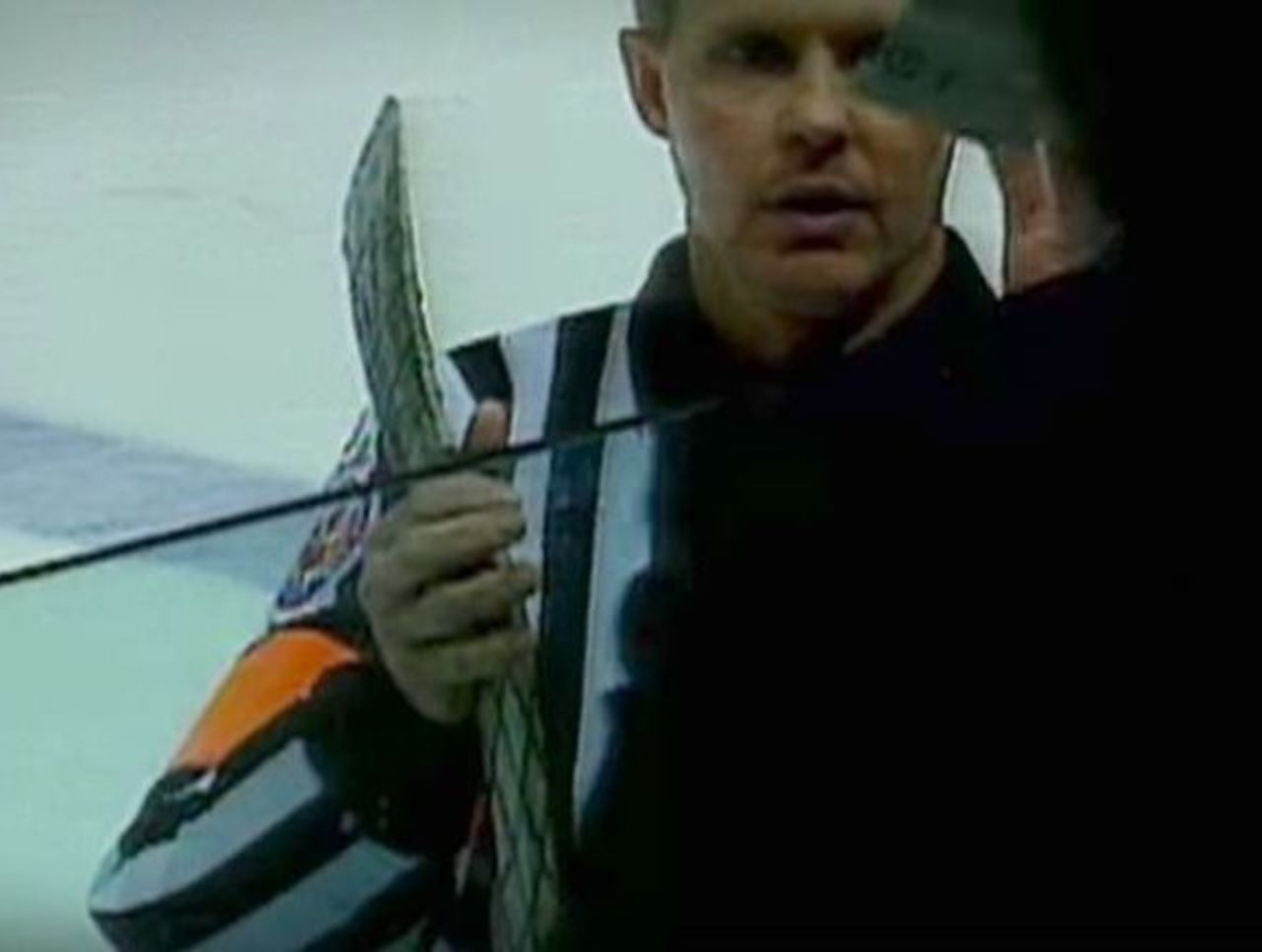 Dionne: I'm sitting next to Guy on the bench, and Jacques is speaking in French to Carbo. It's unfortunate, because Marty and I are good friends, but even his backup stick was illegal. So Jacques decided to do it. And Carbo said, "Yes! Do it. Might as well do it now." And once I saw Kerry Fraser using that stick blade measurer at the penalty box ... everyone was so nervous, but I was confident. "That thing's illegal! There's way too much curve."
LeBeau: We were targeting (Luc) Robitaille and McSorley. We knew those two guys had illegal sticks. We had players on our side using illegal sticks; Vincent Damphousse played with a huge curve. But they always carried an extra stick, a good stick, just to make sure near the end of the game that, if it was going to get measured, it was going to be legal.
Damphousse: It was a turning point for us. We knew there was some guys that had illegal sticks, but to be able to call that was a gutsy move. If you make a mistake, you look a little dumb.
LeClair: There's no in-between on that one. You're a genius or an idiot.
The rest is Canadiens history. Eric Desjardins ended a lengthy Montreal power-play drought with the tying goal at 18:47, and completed an unlikely hat trick 51 seconds into overtime - Montreal's eighth straight OT triumph.
LeClair: We needed that extra advantage, and Eric got us a big goal.
Damphousse: Desjardins scored three goals that game, but the second goal was basically because of Jacques' guts.
Dionne: Eric Desjardins with a hat trick, plus an overtime goal ... who expects a defenseman to score three goals? It confused everybody.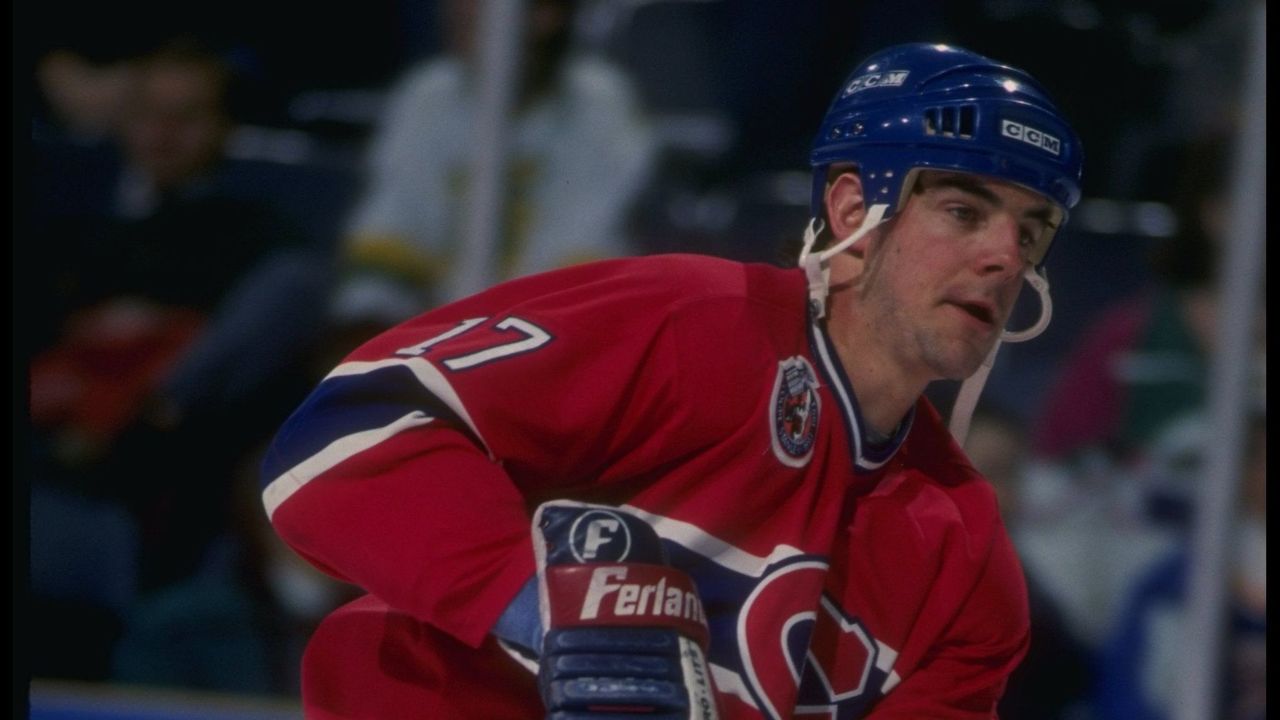 LeClair, who had been under the radar for most of his first two NHL seasons, burst out in a big way in the 1993 playoffs. His virtuoso performance came in Tinseltown, when he potted overtime winners in Games 3 and 4 - contests in which Montreal squandered multi-goal leads - to give the Canadiens a 3-1 stranglehold in the series.
LeClair: You're a team, and you want everybody to succeed, from the first guy and the last guy. And when you have everybody in there contributing and pitching in, it just makes everybody feel part of it. For the most part, we played four lines, so everybody was a part of it. Everybody felt happy for everybody, and it made it that much more enjoyable.
Dionne: I remember flying back from L.A. after the two big overtime goals from LeClair, and I turn around in my seat and I'm looking at Carbonneau and the guys at the back of the plane, and I ask, "We're not coming back, are we? You think this is it?" I was personally getting tired, and the emotions were running high. I said, "Are we flying back? We're not flying back, are we?" And Carbonneau said, "Just sit down and eat your ice cream and relax." (laughs) Everyone was so calm, but I wasn't. I was excited, and I really didn't want to lose in Montreal. I wanted to win the Cup in Montreal.
LeBeau: I was injured. I had a right ankle injury, and then in the semifinal against the Islanders, when I scored that goal in the second overtime, during that game I was hit in the knee and I didn't play Games 3 or 4. I ended up finishing the playoffs on one leg, almost, so my offense wasn't as sharp as the regular season because I wasn't able to skate as well.
Despite this, LeBeau - who came into the game with just two goals in 12 postseason games - wound up scoring the biggest goal of the postseason in Game 5 at the Forum. His tally 11:31 into the third period gave the Canadiens a 3-1 lead, and the Kings wouldn't threaten again.
LeBeau: That goal was a big one. It was a rush, and if I remember, it was Mike Keane that dropped the puck to me about the top of the circle, and I was able to almost get by myself in front of Hrudey. I lost the puck a little bit but Hrudey lifted his leg a little bit, and I shot it between his legs.
LeClair: It was nice. It made the last part of the game a little more enjoyable; you're not holding your stick so tight. But it's a weird feeling knowing you're going to win but still seeing time left; that clock looked like it wasn't ticking.
LeBeau: As the playoffs went on, we became invincible. We felt that in the dressing room; I did, anyway. So at 3-1, the way we were playing, the way we were controlling the game, we knew it was going to be very difficult for them to beat us. And we were in complete control after that.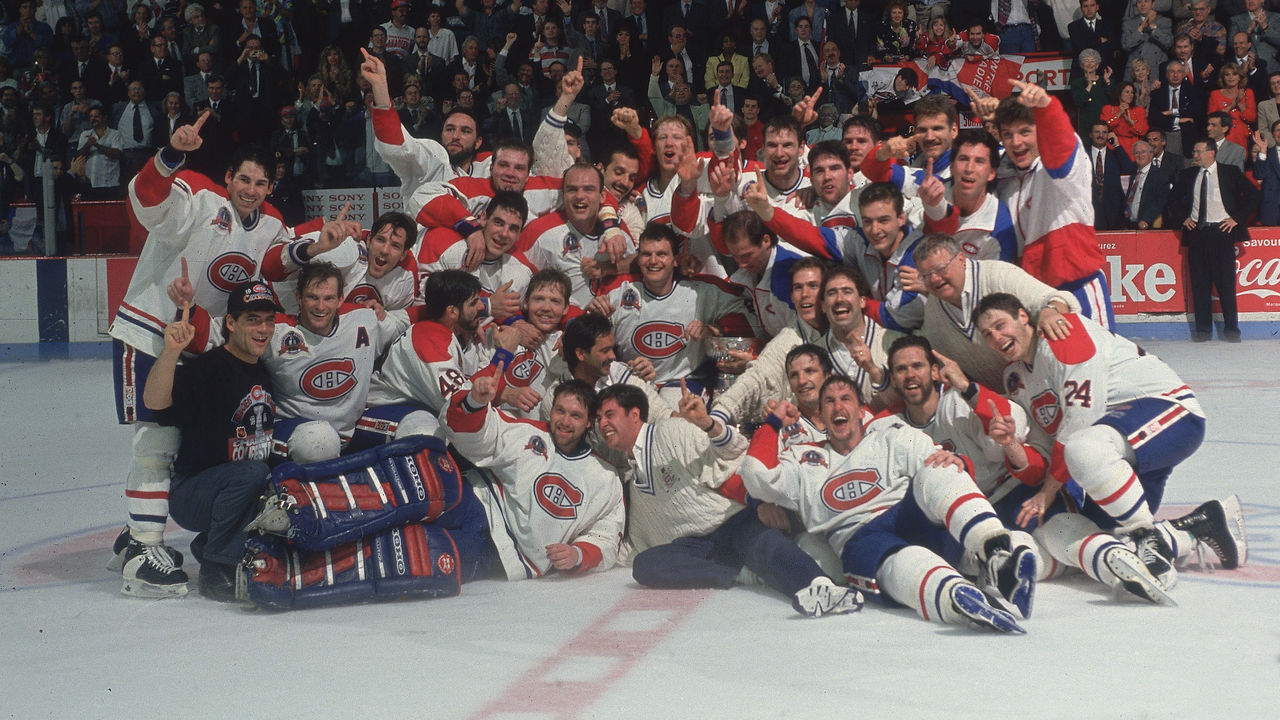 Montreal cruised to a 4-1 victory, securing its 24th Stanley Cup in front of a delirious Forum crowd. Roy was named the Conn Smythe Trophy winner for the Canadiens, who, nearly a quarter-century later, remain the last Canadian-based team to win the NHL championship.
Guy Carbonneau (as told to Stu Cowan of the Montreal Gazette in 2013): It's everybody's dream if you ask everybody that played hockey, especially in Canada. Here we play hockey in the streets and you dream of scoring the wining goal in the Stanley Cup Final and hoisting the Cup. To be able to do it for me was unbelievable in '86 and even better in '93 because we were able to do it here in Montreal and I was the captain. It was fun. For me, having the chance to win the Cup the second time and the third time (with Dallas in 1999) kind of made me reflect on it. I was able to sit back a little and enjoy it a lot more than I did the first one.
Dionne: It was very special, especially for my family. My older brother Marcel had a wonderful career, he's a Hall of Famer and a Top 100 player all time. We looked up to Marcel, we watched him all year, and saw how frustrating it was for him to play in L.A., and how disappointing it was for him to never have a chance to reach the Stanley Cup Final. My late father was so happy, he said to Marcel, "We finally did it! We finally won the Cup!" (laughs) Marcel was in the stands, and I said to him, "Just come on down to the room. We got it." I could tell in the pictures that he was so proud of what I had accomplished with Montreal.
LeClair: It's a great memory of mine. Any time you win the Stanley Cup, it's a special memory. I still get a chance to see some of the guys. It was so much fun to go through it with them.
Kirk Muller (as told to Hugo Fontaine of canadiens.com in 2013): I remember going to sit with Mike Keane in the Forum stands a few hours after the end of the game. We each sat there with a beer in one hand and a cigar in the other, and we looked out at the empty rink, saying to ourselves: "Oh my God, we just won the Stanley Cup!"
LeBeau: Twenty-five years ... I cannot believe it went so fast, but at the same time, it feels like yesterday that I was in the dressing room after that fifth game against L.A. with my teammates, and living my dream. It went so fast, it's unbelievable.
Damphousse: A lot of people underestimated our team. But when you look at everybody's career, how they turned out, we had a really solid team. LeClair turned out to be a 50-goal scorer in the league; he had just started his career, he was 22 at the time. Eric Desjardins made the Canadian national team. Patrice Brisebois played 18 years. Mathieu Schneider became one of the best defensemen in the league. We really had a lot of talent - and nobody knew how good we were except for the guys inside. And Jacques really believed in us. He said we were going to shock the hockey world. And we did.
Other entries in the series:
(Photos courtesy: Getty Images)