1992-93 Revisited: Chris Kontos recalls his historic night in Lightning opener
When Chris Kontos took the ice at Tampa's Expo Hall on Oct. 6, 1992, nobody could have anticipated that the 29-year-old would erupt for four goals in the first game in Lightning franchise history. I recently spoke with Kontos, now 53 and the president of a digital service company in Midland, Ont., about his history-making night:
Let's start with how you wound up in Tampa Bay in the first place.
The year before, I was with the Canadian Olympic team, and on the way to Albertville, I was battling a small groin injury and the NHL had lent a couple of players to join the team. I guess I was low man on the totem pole - I was cut at the airport flying into Albertville.
Dave King was the (Canadian Olympic team) coach, but (Lightning head coach) Terry Crisp was the assistant - and there's your connection.
What were your initial thoughts on being part of an expansion team?
It was great. I was a seasoned player by then, I had played quite a few years. It was almost having nine lives ... I started with the Rangers, had a stint in Pittsburgh for a couple of seasons, then went to L.A., then the Olympic team. Either my eighth or ninth life was to get a shot in Tampa.
I wasn't a slouch of a player. Even though you get labeled as a journeyman, I was a first-round draft pick, I was skilled, I had talent. I felt I could help, it was just a matter of somebody opening a door. Crispy said, "Sign and come down, and see what happens." So I did.
Did you have a sense beforehand that you were in for a big night?
No, not really. I don't have the stats from training camp, but I was pretty consistent all the way through training camp, which is what opened the door for me to get into the starting lineup.
So let's go over the goals. Take me through the first one.
It was a power play. We were moving the puck around, and I think I just got to the side of the net into a seam where I just kind of went undetected. Rob Zamuner slap-passed it to me and I was at the right place in the right time and just passed it into the net.
On the second goal, you did a great job winning a battle on the half-wall and then headed straight for the net.
John Tucker threw it across to me and I just took a big whack at it. I think the defenseman was trying to block it, and everything kind of went into the net.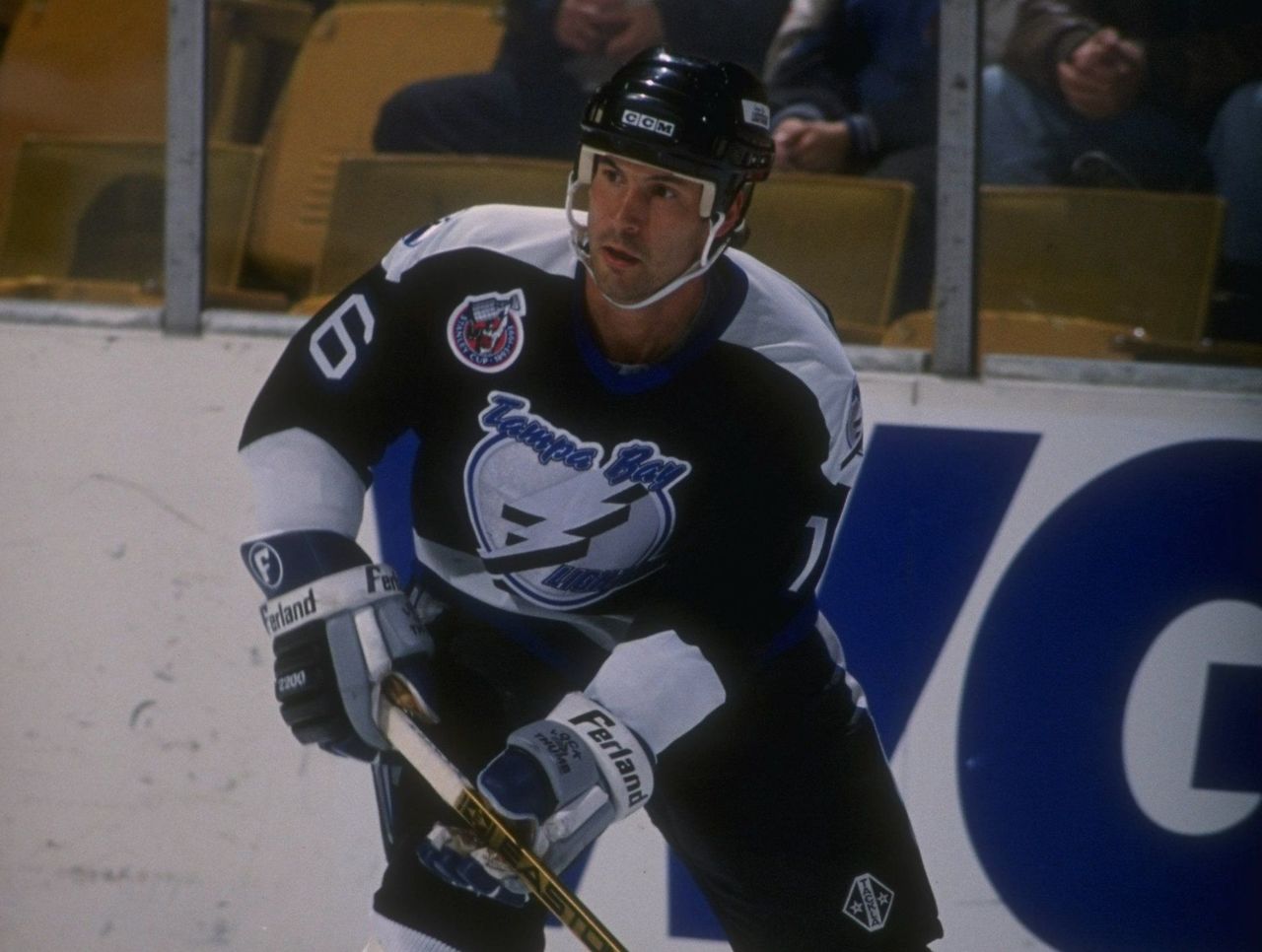 What are you thinking about at this point?
The Fairgrounds was sold out, the electricity was great ... you just kind of go with it. Everybody's happy, everybody's pumped. Ed Belfour was the Vezina winner the year before, and we're taking on the Chicago Blackhawks, and we're on the right side of the score.
On the third goal, you happen to swoop into the slot just as the puck is sitting there on a platter for you.
Those kinds of goals are just opportunistic; right place at the right time. I wasn't Brett Hull, I didn't have a 100-mile-per-hour snap shot that put the puck under the bar in the apex of the corner. Just get it on net, follow it up, and if there's a rebound ...
Even when I clinic kids nowadays, I say, "Just hit the net." I think that one went five-hole on Belfour. He came out and his legs were open and I threw a little sauce on it and it went just over his stick and between his legs. If he does get a piece of it, I'm still going toward the net for a rebound. I'd rather hit the net than miss it and have to backcheck. (laughs)
Describe the scene after you complete the hat trick.
My godfather from Clearwater was at the game with his family; he's a Michiganite but he's been down there for 35 years now. When I got the hat trick, he was so excited that he threw his hat on the ice, and the ushers, I guess they were instructed that, if anybody throws anything on the ice, throw 'em out. (laughs) So the usher was like, "Sir, come on, you're out."
I think even (general manager Phil Esposito) saw it and said, "No, no, no! In hockey that's allowed! When someone scores three, that's the tradition! You throw hats!" The Floridians were just so new to hockey; they had a steep learning curve in the beginning but they loved it, because they were right into it. And to start with a 7-3 win was a great way to kick it off.
So, with three in the bag and your team enjoying a four-on-three advantage late in the second, you strike again. Take me through that goal.
That one was just a reaction. Joe Reekie saw me at the side of the net and I just knew it was coming hard enough. I redirected it between my legs to where I thought it was going to hit the net and I squeezed it past Belfour.
I think I had pretty good hands as a player, I had gone on some runs before. I was actually more of a playmaker than a goal-scorer if you looked at my career production, but that's fine.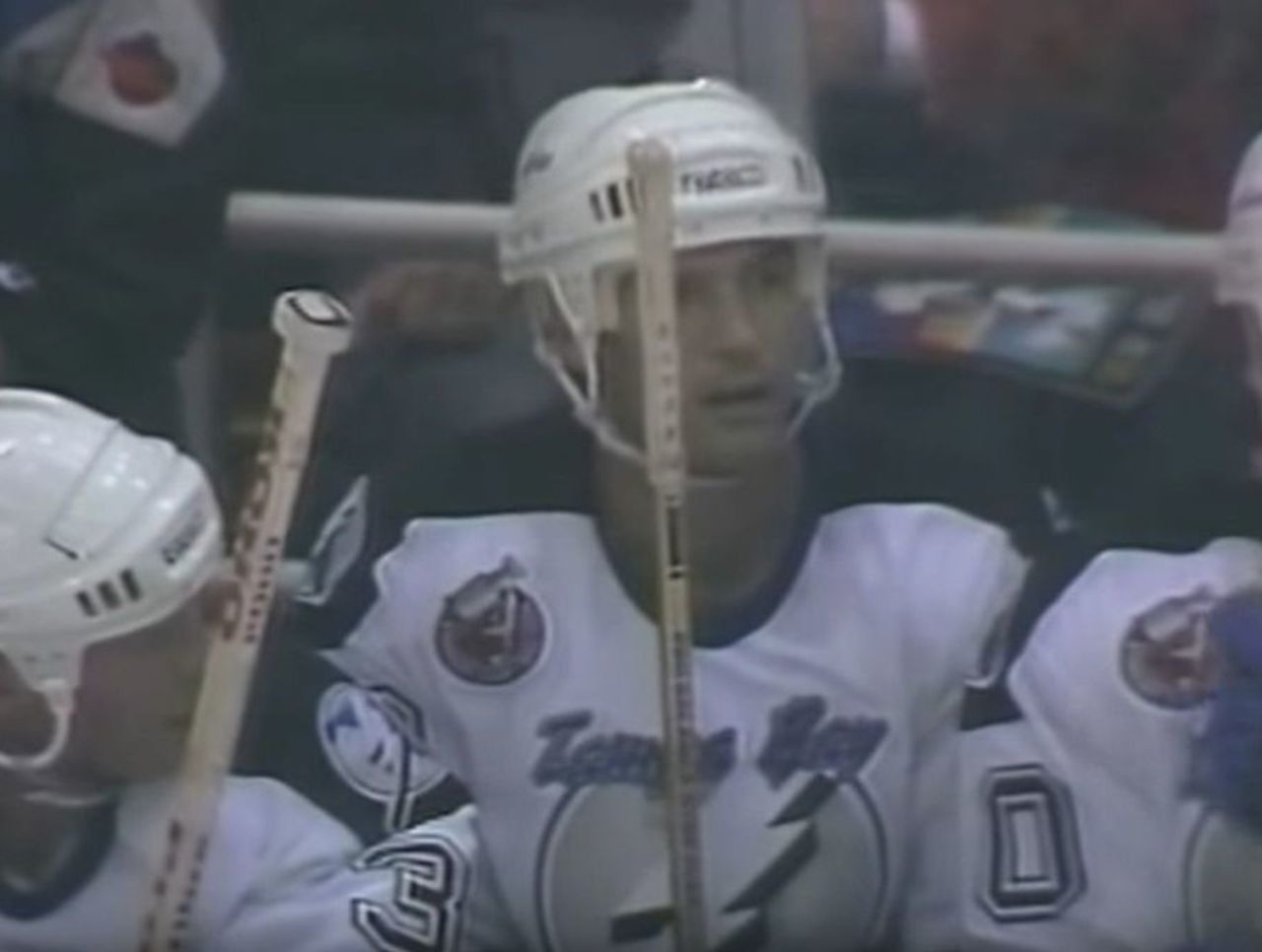 I can't help but notice that, when the camera pans to you on the bench after each goal, you look mostly indifferent. No smile. Not even a hint of a smile! What was that about?
I had been playing pro for 12 years. I wish I played every game like a 1,000-game player in the NHL, but it was a grind for me. I'd get called up, do my best, if the numbers or the politics weren't right, I'd get sent down. If the contract wasn't right, I'd go to Europe and play, and then come back because somebody else was giving me a shot.
It was a euphoric feeling, just the feeling of being back and trying to make a mark for myself so that I can stay in the NHL.
Where do you keep the pucks from that game?
They were in a drawer in my basement, and then we used to have a backyard rink, and I'm pretty sure they're in the lake now. I think the kids, when they ran out of pucks, would just go look for pucks and grab them. I don't know, I might have them. They had tape around them, but the kids didn't care.
That night kick-started an amazing run in which you scored 18 goals in your first 18 games, prompting me to ask for (and receive) your jersey from my parents as a Christmas gift. What was the key to that run?
I was just doing what I always tried to do. If you look back, when I was in Los Angeles, I went on a bit of a run in the playoffs, and felt like if I was given the opportunity, I thought I could produce. But that's not always the case in hockey. There's all kind of factors that determine whether a guy plays, or doesn't play, or what line he plays on, or how much power-play time he gets.
That's just the way it is. It's no different than a Broadway play where there's the star actors and the supporting actors and the guys behind the scenes. There's a hierarchy - and sometimes you can get into a good position and sometimes you can't.
The Lightning had one of the more interesting seasons of any expansion team in history. What stands out most for you from that year?
The team wasn't built on star-studded names. Crisp had the guys working 100 percent every night. There were a lot of one-goal games. We just did our best.
Other entries in the series:
(Photos courtesy: Getty Images)