2019 NFL Draft prospect rankings: Running backs
Here, theScore's Mike Alessandrini and Dan Wilkins break down the top prospects in the upcoming 2019 NFL Draft with position-by-position rankings and an overall top 50 big board.
Top 50
QB | RB | WR | TE | OT | iOL
EDGE | DL | LB | CB | S
Running backs
1. Josh Jacobs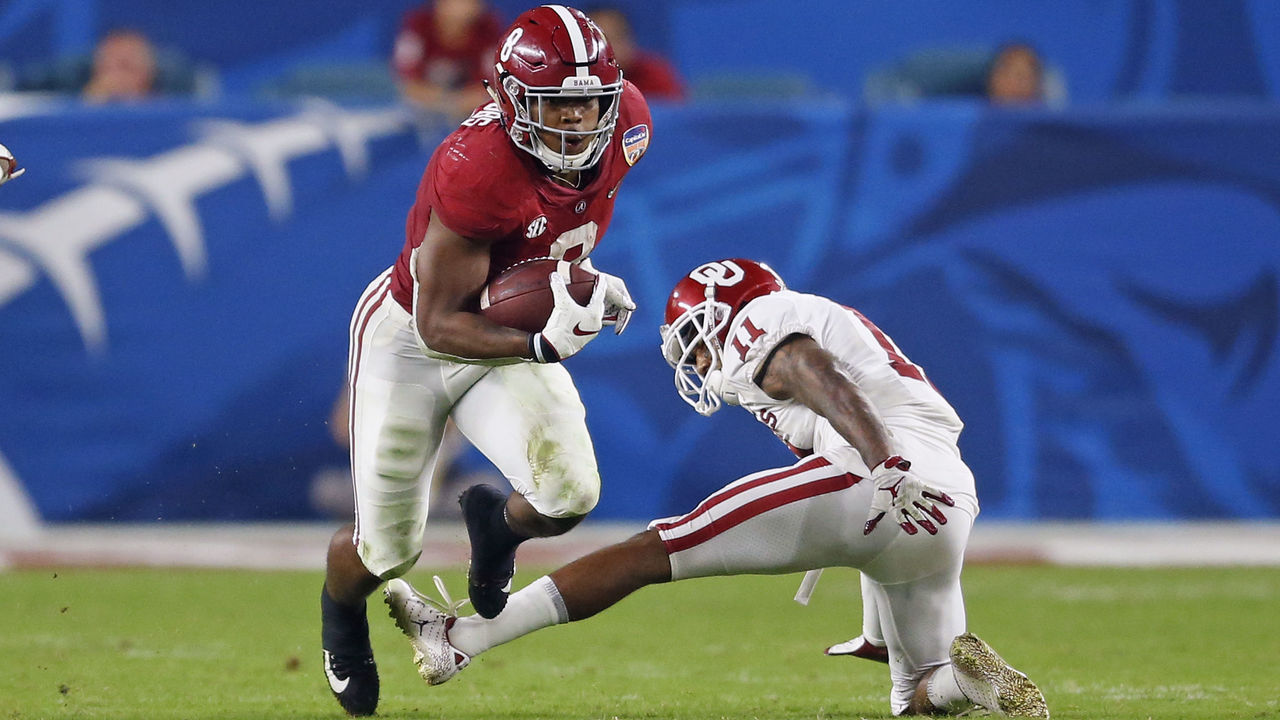 School: Alabama
Height: 5-10
Weight: 220 lbs
Strengths
Sudden, explosive athlete
Elite elusiveness to make defenders miss and create yards for himself
Rarely brought down by first contact
Incredible balance allows him to barely break stride while shaking tackles
Will drop his shoulder and completely run through a defender
Good vision and decisiveness to hit the right running lane
Keeps plays alive and finishes runs with an impressive level of effort
Big-play ability as a pass-catcher
Physicality translates to impact as a pass-blocker
Weaknesses
Doesn't have home-run speed
Lacks production of a typical high-level running back prospect
Bottom line
Here's to wagering a guess that the NFL learned from letting Alvin Kamara slip to the third round of the 2017 draft. Jacobs is an entirely different player, but one of the few negatives working against him - as was the case for Kamara coming out of Tennessee - is that he wasn't the feature back at Alabama. Everything in his game so clearly projects to the next level, so the limited mileage should actually be considered a positive for his long-term outlook in the NFL. Jacobs is a first-round talent who can make an impact in all phases on offense and it'll be no surprise if he immediately emerges as one of the league's top backs.
2. David Montgomery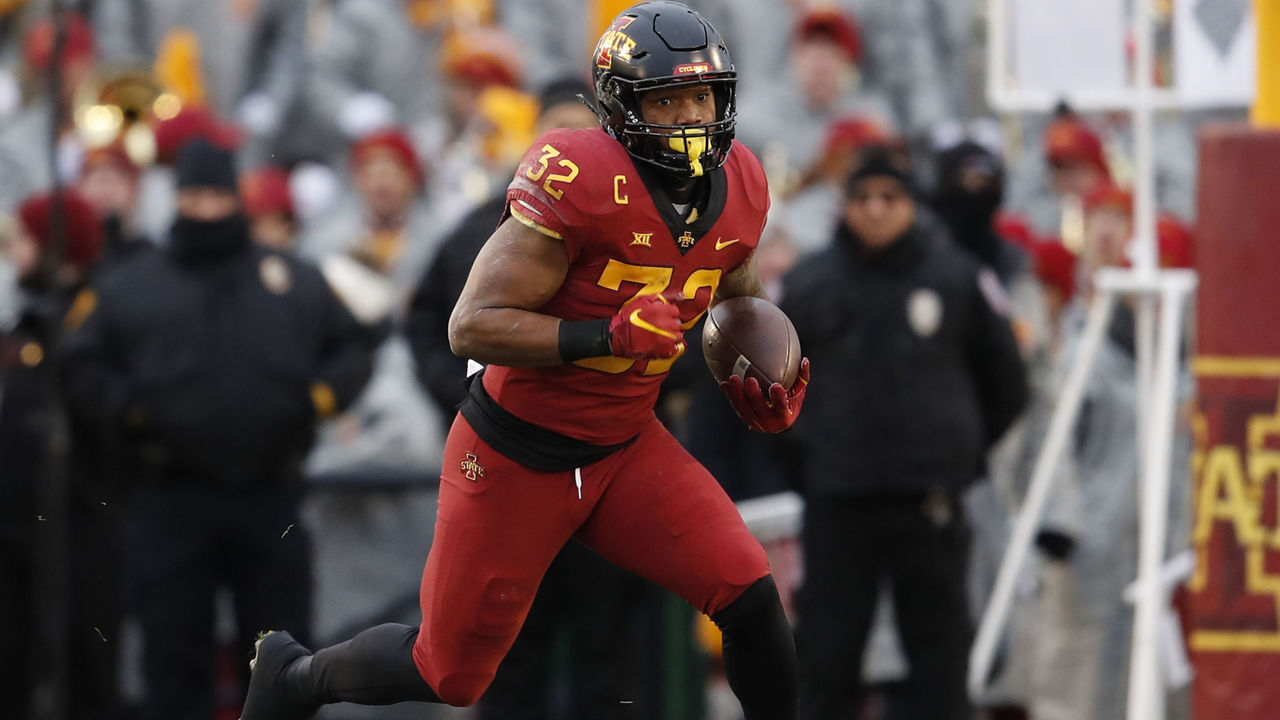 School: Iowa State
Height: 5-10
Weight: 222 lbs
Strengths
Perhaps the class' most elusive running back - forces countless missed tackles using both power and quickness
Built well and has a strong lower body
Very shifty with his cuts
Excellent balance through contact, which allows him to break tackles with ease
Patient and sets up his blocks
Experienced weapon in the passing game and has soft hands
Great footwork in the backfield - very good in traffic
Able to jump outside to edge if the initial hole isn't there
Weaknesses
Lacked explosive plays in a weaker defensive conference
Tested poorly athletically
Average burst
Vision needs work - can struggle to find the correct running lane
Bottom line
Montgomery is an excellent fit in today's NFL. His incredible body control and shiftiness in the open field make him a nightmare to defend. The former Iowa State rusher doubles as a legitimate receiving threat, making him an instant impact player at the next level. Montgomery has all the makings of a good prospect and is truly a three-down back, but may lack some juice to be a truly elite rusher.
3. Darrell Henderson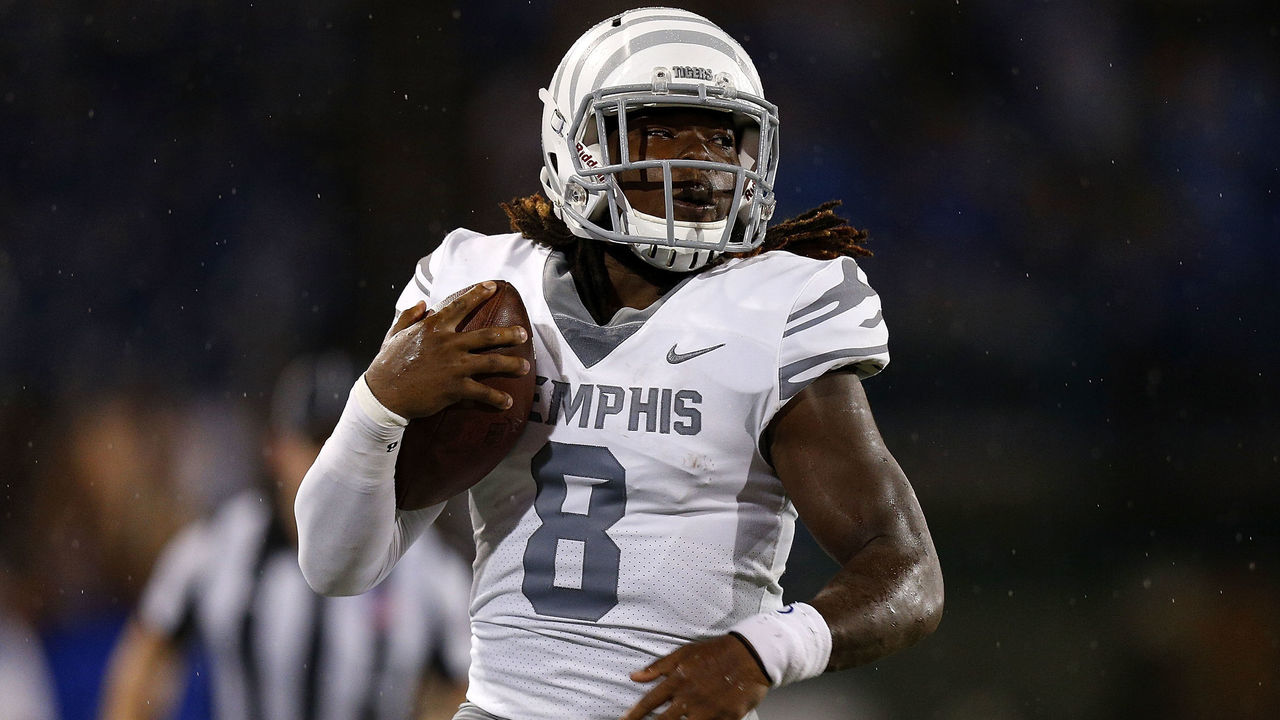 School: Memphis
Height: 5-8
Weight: 208 lbs
Strengths
Very productive collegiate career
Home-run threat on every carry with breakaway speed
Good vision and understands cutback lanes
Elusive - shakes tackles easily with power or open-field jukes
Feet are lightning quick and always moving
Explosive from any spot on the field
Soft hands and productive when given receiving opportunities
Weaknesses
Rarely played against stacked boxes
Not experienced in pass protection
High center of gravity for a small back
Bottom line
Henderson is an explosive running back prospect who profiles well in any offensive scheme. He's not the biggest ball carrier, but the 2018 All-American is a scoring threat with every touch. Henderson displays all the tools to be a successful rusher in the NFL and could develop into one of the premier all-around players at the position with additional experience as a receiving threat.
4. Devin Singletary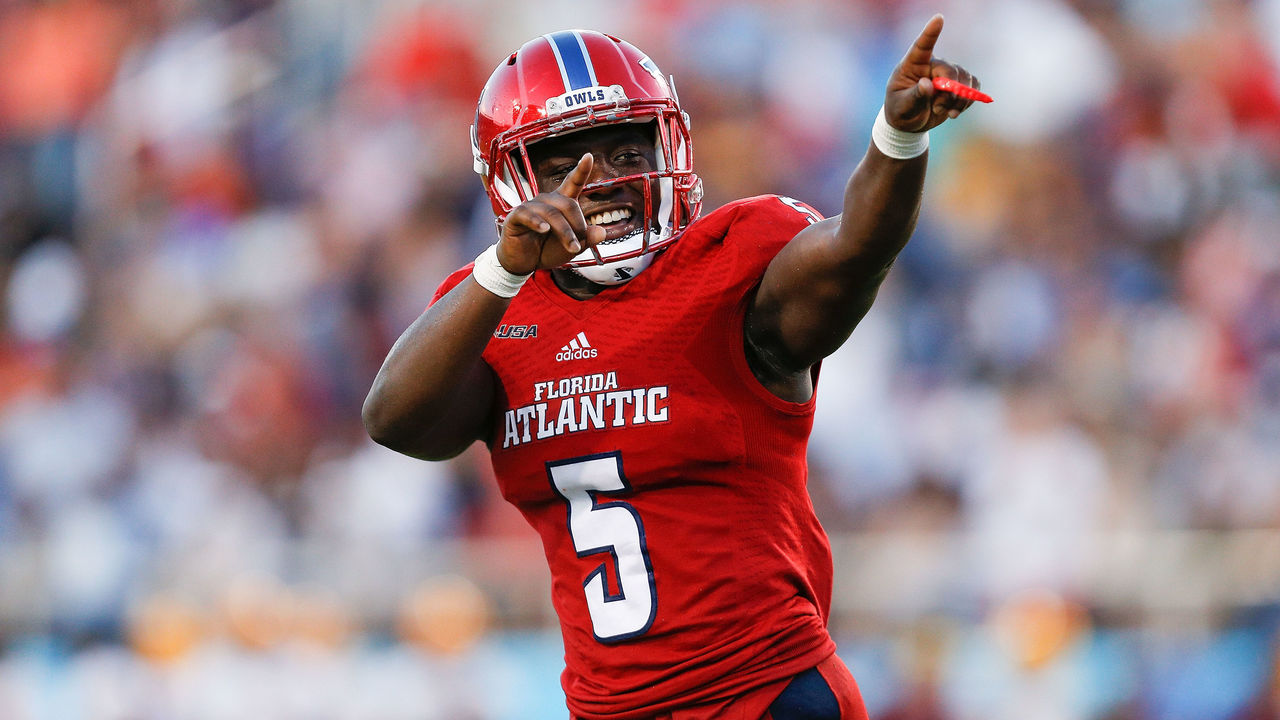 School: Florida Atlantic
Height: 5-8
Weight: 203 lbs
Strengths
Elite elusiveness with ability to constantly make defenders miss
Can turn sure losses into gains by creating yards for himself
Impressive balance through contact
Good vision to set up blocks and find cutback lanes
Aggressive runner who has some physicality to his game
Receiving skills give him upside in the passing game despite a lack of production
Willing pass-protector who delivered some big hits on blitz pickups
Weaknesses
Undersized at the NFL level
Lacks breakaway speed
Underwhelming athletic testing raises questions about style translating
Bottom line
Singletary is an exhilarating playmaker. He's smaller than the prototypical running back, but he certainly doesn't play like it. And while he doesn't have the long-distance speed some may have expected, that's not necessarily what leads to his big plays anyway. The Florida Atlantic star is constantly making defenders miss, both in the open field and in confined spaces, possessing the kind of elusiveness that allows him to create extra yards for himself. Singletary has a three-down skill set that should earn him a feature role early in his NFL career.
5. Miles Sanders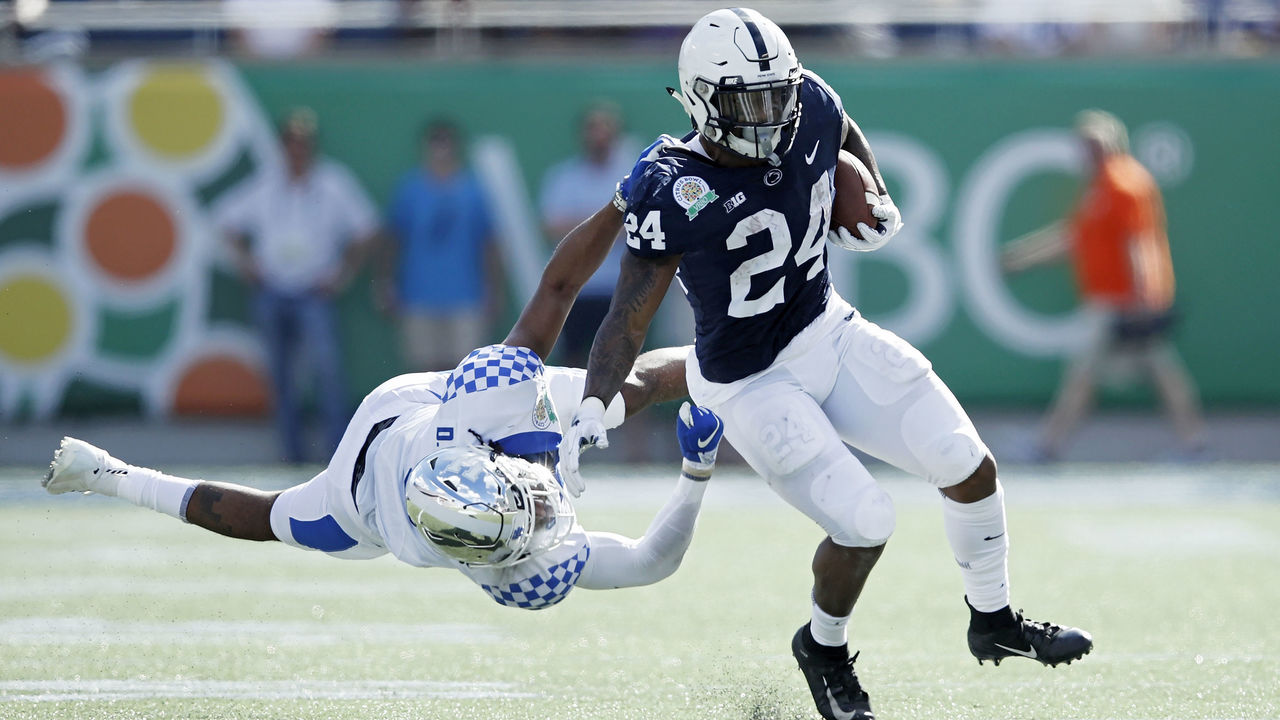 School: Penn State
Height: 5-11
Weight: 211 lbs
Strengths
Dynamic athlete who explodes in and out of cuts to avoid defenders
Elusiveness helps him create yards on his own
Excellent balance
Patient runner with vision to find the ideal lane
Physical mindset to finish runs
Timed speed answers some questions about ability to hit the big play
Willing and capable pass-protector
Weaknesses
Ball security an issue
Often tries to do too much rather than taking what's there
Flashes pass-catching ability but no production
Bottom line
It's tough to get past the visions of Saquon Barkley while watching Sanders at Penn State. He's not the same level of elite player, as evidenced by his placement on this list, but he does do a lot of the same things. Sanders is an explosive athlete who runs with patience, balance, elusiveness, and physicality. If he can address his fumbling issues, there's little reason to believe he won't be one of the most productive running backs in this class.
6. Rodney Anderson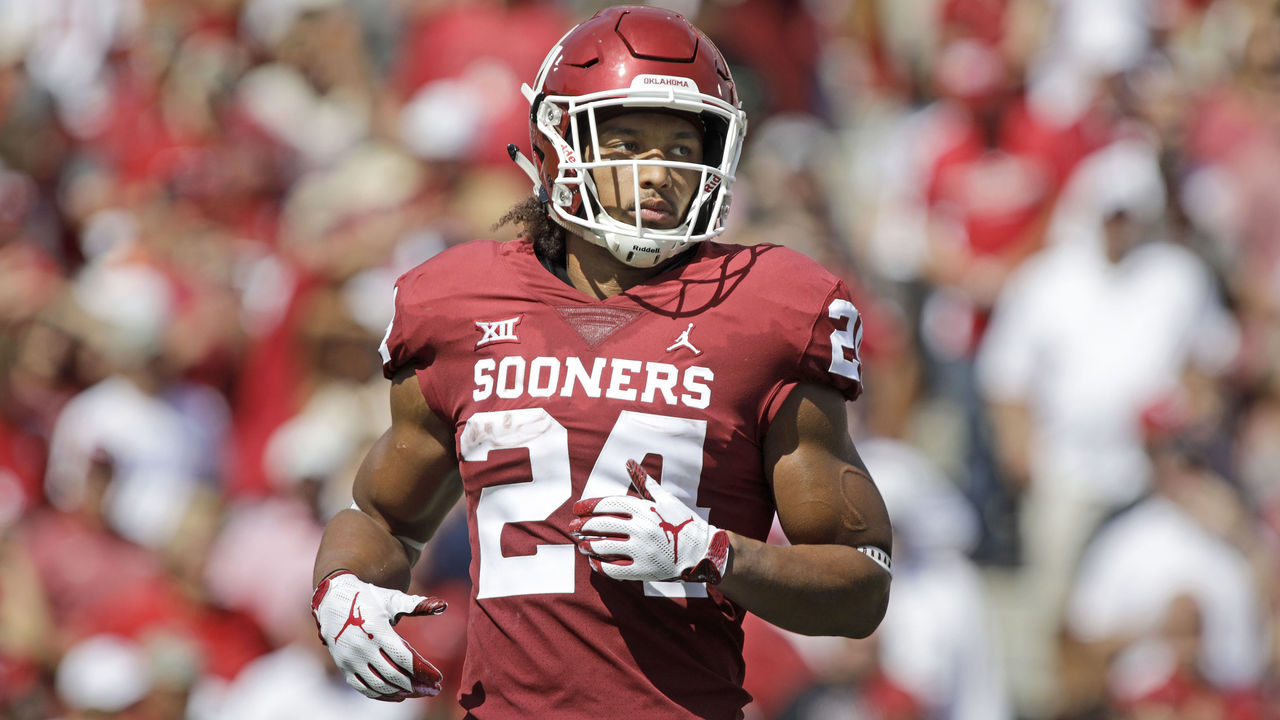 School: Oklahoma
Height: 6-0
Weight: 224 lbs
Strengths
Explosive athlete capable of making big plays both as a runner and receiver
Good patience and vision to allow plays to develop before hitting the correct lane
Smooth runner who can make one cut and get upfield
Good anticipation and ability to create yards for himself
Finishes runs with physicality and shakes weak tackles with good balance through contact
Rare receiving ability in terms of route running, hands, adjustments to the ball
Extensive route tree
Can be lined up anywhere on the field and contribute in the passing game
Weaknesses
Recovering from a torn ACL suffered early in his final season in college
Extensive injury history
Needs work in pass protection
Bottom line
Anderson's valuation for NFL teams will depend largely on the results of his pre-draft medicals. He comes with risk, as he's recovering from a torn ACL that ended his 2018 season and has an extensive injury history beyond that. If he's healthy, Anderson's ability to contribute at a high level both as a runner and as a receiver out of the backfield gives him upside similar to that of the top two-to-three runners in this class. He could end up as one of the steals of this draft.
7. Devine Ozigbo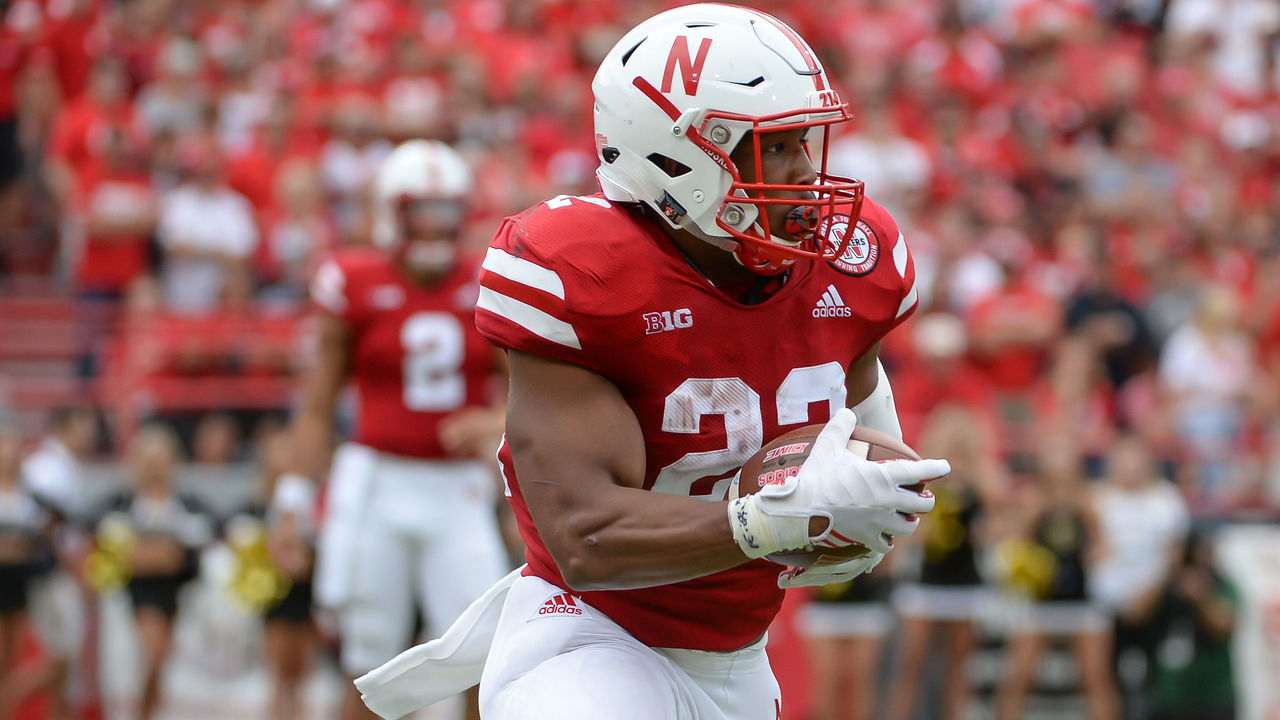 School: Nebraska
Height: 5-11
Weight: 233 lbs
Strengths
Great size for a three-down role
Feet are always moving
Good start/stop ability and very elusive
Smart runner with good vision and power
Converts short-yardage plays effectively
Excellent balance through contact and a strong lower body
Made a number of impact plays in 2018
Weaknesses
One-year wonder after three subpar seasons
Lacks breakaway speed
Poor pass-blocker
Not experienced/useful in passing game
Bottom line
Ozigbo is a load to tackle in the open field due to his quick feet and body control. He's as athletic as he is intelligent and could offer tremendous value in the middle rounds. Ozigbo may, however, struggle to see the field early in his NFL career due to his lack of blocking and receiving chops. Still, the tools are there for him to thrive in an early-down role.
8. Darwin Thompson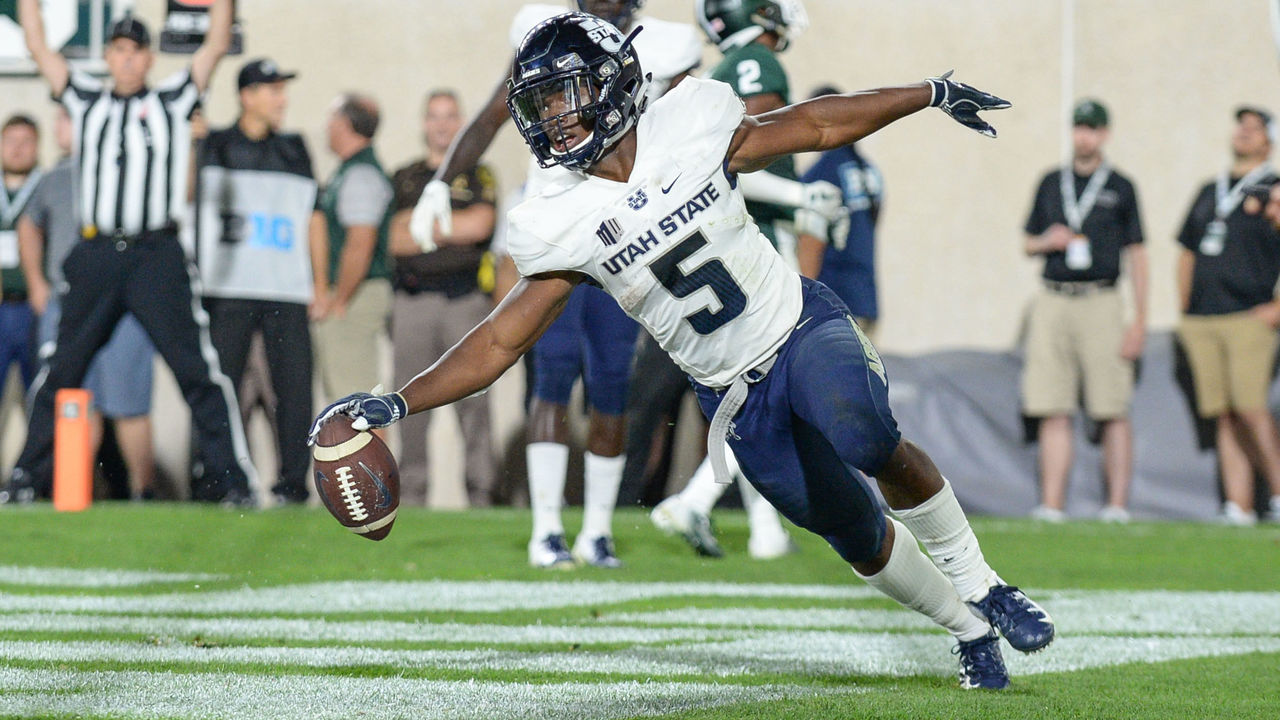 School: Utah State
Height: 5-8
Weight: 198 lbs
Strengths
Big-play machine who can score from anywhere on the field
Consistently leaves defenders grasping at tackles with rare elusiveness
Speed to beat defenders to the edge and pull away in the open field
Explosiveness displayed in the way he hits the hole and gets upfield
Shows impressive balance through contact to bounce off tacklers and fight for extra yards
Flashes some physicality when finishing runs
Comfortable and productive receiver out of the backfield
Willing pass-protector
Weaknesses
Would be significantly undersized as workhorse running back in NFL
Won't have required strength to hold up against bigger players in pass protection
Played only one year of Division I
Bottom line
As the NFL continues to trend more toward an open offensive game, we're finally seeing more willingness to evolve and move away from positional prototypes. That's where a player like Thompson fits in. He's undersized both in terms of height and weight, but he's an absolute nightmare in the open field. If a team can create a Tarik Cohen-like role for him within its offense, there's no reason why Thompson can't become that kind of playmaker at the next level.
9. Trayveon Williams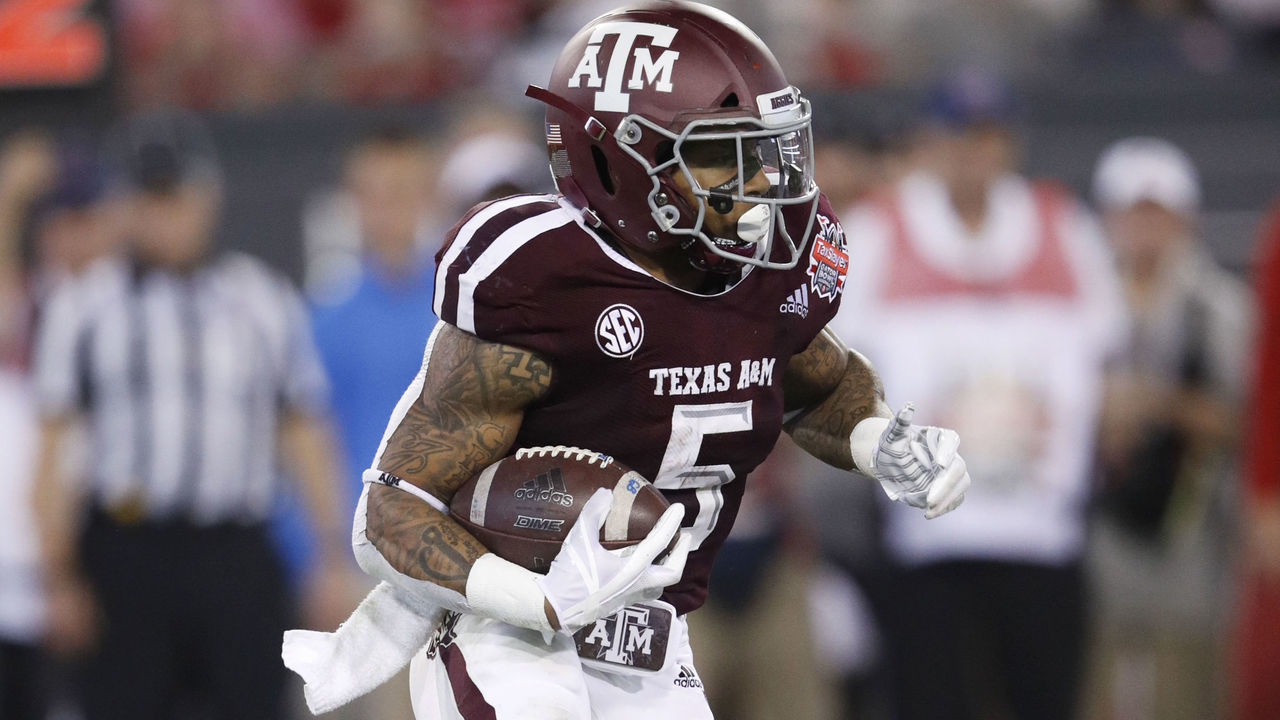 School: Texas A&M
Height: 5-8
Weight: 206 lbs
Strengths
Very productive against tough competition
Calm runner who thrives with running room
Explosive second gear in the open field - resulted in a number of long runs
Good balance to avoid being tackled at first contact
Displayed good hands as a check-down option
Uses sharp cuts in space
One of the better pass-blocking running backs in this class
Weaknesses
Doesn't possess ideal size
Not overly athletic or powerful as a runner
A bit stiff when changing direction
Not very effective on short-yardage/goal-line plays
Doesn't always make the best decision on which hole to hit
Bottom line
Williams is an intriguing back that thrived in college despite matching up with some tough SEC opponents. He's a breakaway rusher that may not be big or athletic enough to be a bell cow, but he has the opportunity to thrive in a secondary role due to his receiving potential and pass-blocking prowess. Williams will be targeted as a thrasher for a team looking to complement a starter.
10. Damien Harris
School: Alabama
Height: 5-10
Weight: 216 lbs
Strengths
Great size/build for NFL
Compact, strong runner who is tough to tackle
Excellent burst through the hole
Productive short-yardage rusher
Runs with great technique and pad level
Has flashed pro-level receiving skills
Excellent ball security
Weaknesses
Subpar change-of-direction skills - not very effective when the designed hole isn't open
Average athlete who isn't very explosive in the open field
Limited lateral quickness around the line of scrimmage
Doesn't force many tackles compared to his counterparts
Doesn't possess breakaway speed
Bottom line
Harris is a stout rusher with a number of ideal traits for the position, but his NFL upside may be capped. The former Crimson Tide rusher profiles best as a complementary power back in a zone-rushing scheme. Harris is a good athlete for his size that doesn't thrive in space, but between-the-tackles running backs are still a hot commodity around NFL circles.
11. Alex Barnes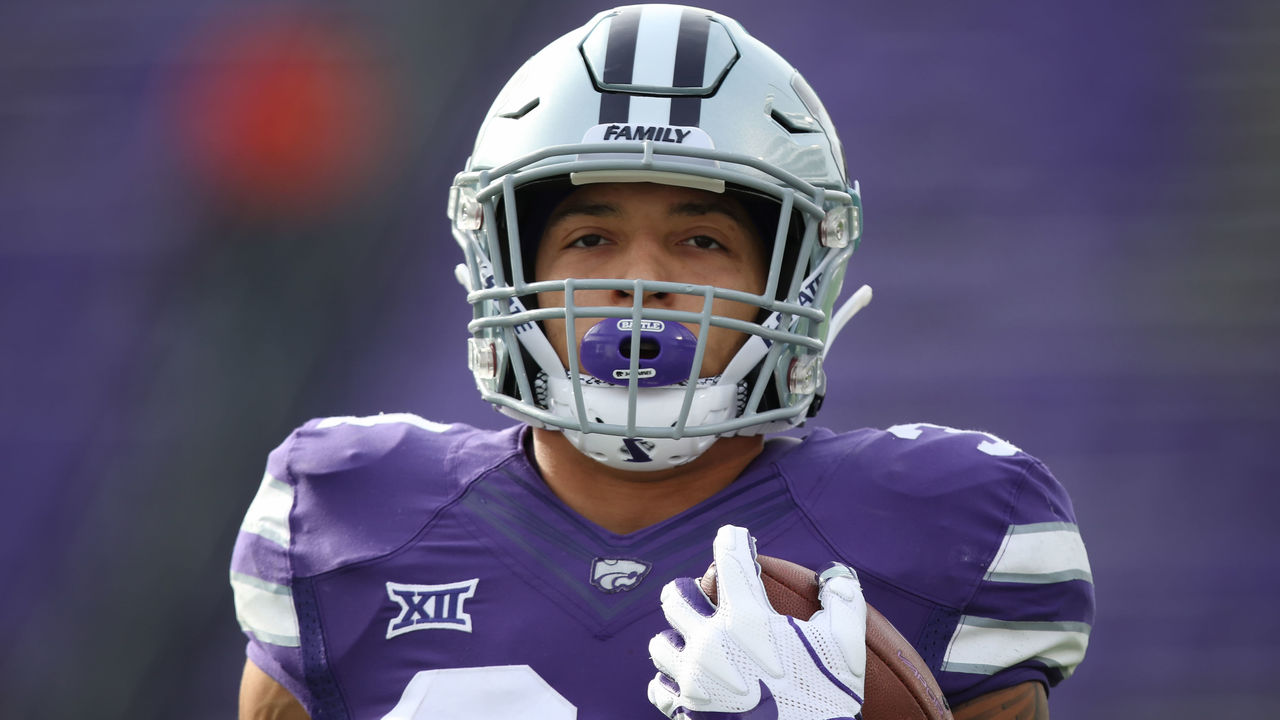 School: Kansas State
Height: 6-0
Weight: 226 lbs
Strengths
Physical runner who finishes runs and is always falling forward
Powers through weak contact and maintains balance to pick up extra yards
Great patience to set up blocks and vision to find running lanes
Lateral quickness to make defenders miss on cuts
Explodes out of those cuts and gets back up to speed
Route running, hands, and ability to track the ball indicate receiving upside
Willing and capable pass-blocker
Weaknesses
Doesn't have home-run speed
Runs slightly upright for a back who relies on physicality
Not much production as a receiver
Bottom line
Barnes was one of the biggest risers among running backs after the combine, as he put together one of the most impressive athletic profiles in the class. The combination of explosiveness and short-area quickness for a physical runner of his size is outstanding. He'll never have the long-distance speed to be a true home-run hitter, but similar to James Conner, Barnes can do just about everything else.
12. Justice Hill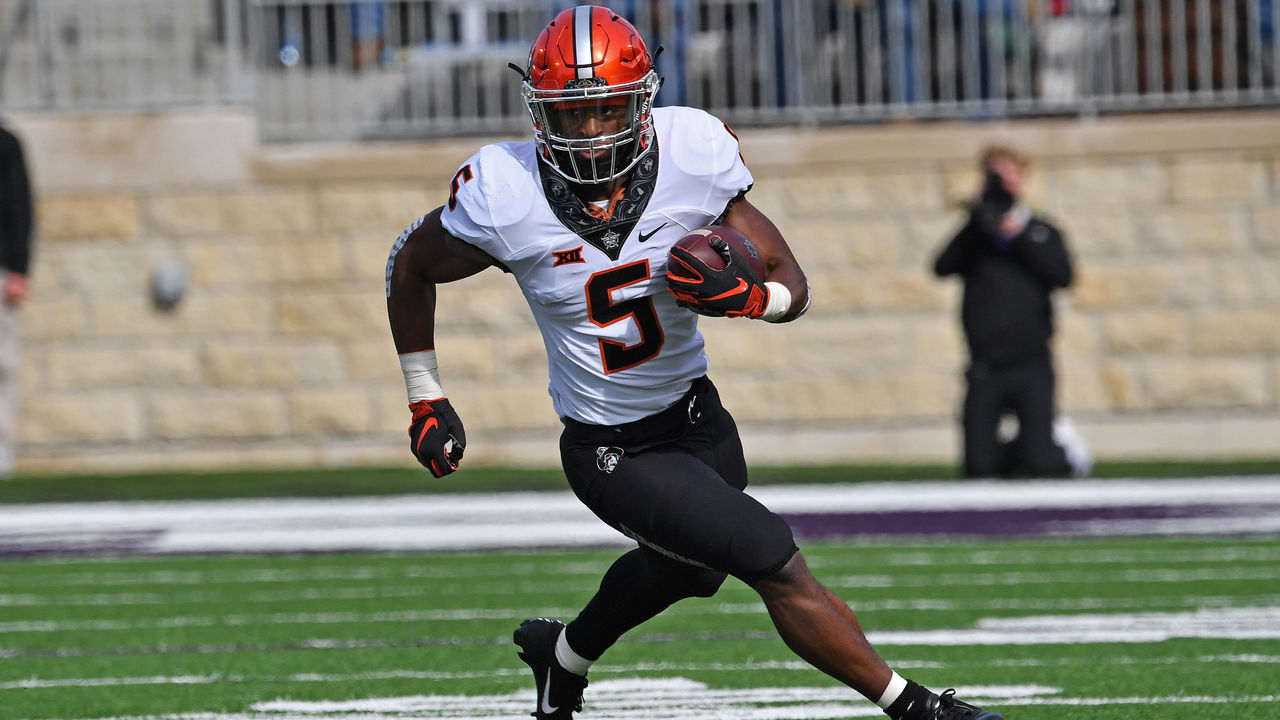 School: Oklahoma State
Height: 5-10
Weight: 198 lbs
Strengths
Productive every year in college
Explosive athlete with burner speed
Shifty in the open field with a lovely juke move
Good vision - usually chooses the correct hole to hit
Feet are always moving
Shown ability to handle a number of carries despite size limitations
Weaknesses
A bit undersized for a full-time role
Not experienced as a receiver and not effective as a pass-blocker
Can avoid tackles but lacks balance to break them head on
Was rarely exposed to stacked boxes in the Big 12
Sometimes tries to do too much in the backfield
Not efficient in short-yardage runs
Bottom line
Hill likely won't see the field much early in his career due to his lacking third-down skill set, but he's an intriguing prospect who possesses a number of ideal traits. The former Oklahoma State standout is a home-run threat on every carry and one of the top athletes at his position - he just needs to add more tools to his repertoire. If Hill can develop into a quality receiver out of the backfield, the sky's the limit. At the very least, he can be a solid complementary back.
13. Elijah Holyfield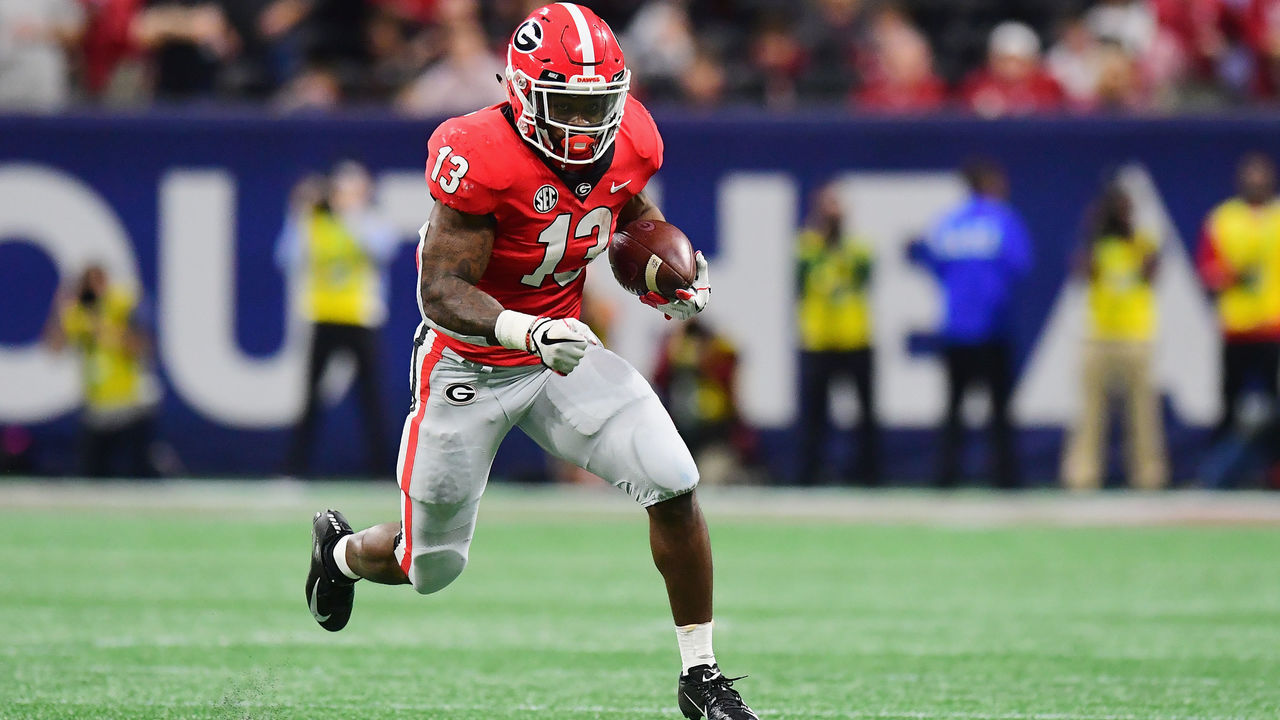 School: Georgia
Height: 5-10
Weight: 217 lbs
Strengths
Lightning quick feet with the ability to make defenders miss near the line of scrimmage
Good between-the-tackles runner
Angry rusher who plays with power
Good frame and strong lower body
Effective pass-blocker when given the opportunity
Difficult to tackle one-on-one
Weaknesses
Disastrous combine highlighted by 4.78-second 40-yard dash
Lacks burst as well as breakaway speed
Looks for contact in the open field rather than trying to make defenders miss
Can lack decisiveness in the hole
Limited receiving experience and abilities, has only 7 career receptions
Not a fluid athlete
Bottom line
Holyfield generated serious hype prior to the combine, but all hopes of an early-round selection came crashing down in Indianapolis. The reality is the former Bulldog lacks burst and breakaway speed - even on tape - and has very limited experience as a receiver. That'll put him behind the eight ball early in his NFL career, but Holyfield possesses enough traits to be drafted on Day 3 as a future early-down runner.
14. James Williams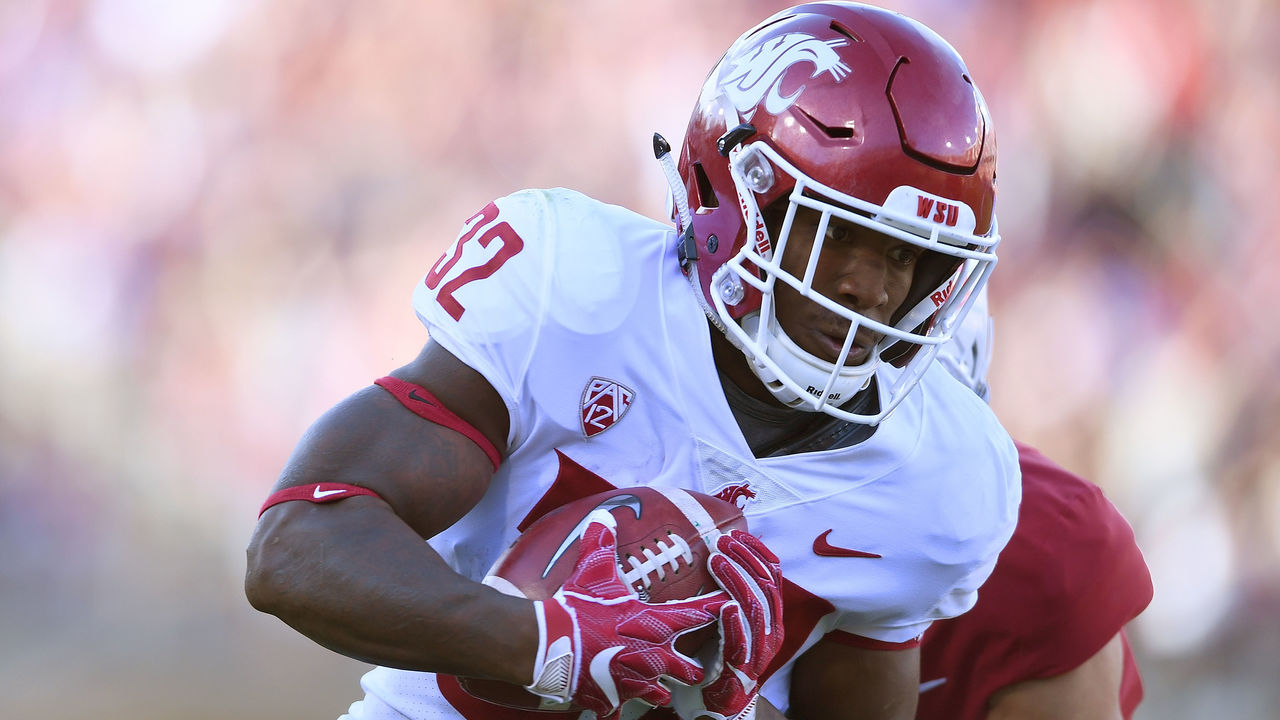 School: Washington State
Height: 5-10
Weight: 197 lbs
Strengths
Incredible college receiving production - 154 catches over last 2 seasons
Shuffler who can make defenders miss with shiftiness
Incredible balance through contact for size/frame
Thrives in space
Tough runner with competitive nature
Displayed a good one-cut burst
Weaknesses
Despite receiving experience, routes were limited in college
Not overly productive as a ball carrier
Average athleticism and explosion
Slender frame and lacks power
Not effective as a pass blocker
Bottom line
Williams has rare receiving chops for a running back prospect, something that will garner interest from a number of NFL teams. He's neither explosive nor athletic but can fill a third-down role on any squad with a bit of improvement in the pass-blocking department. Williams could be a Day 3 draft steal.
15. Alexander Mattison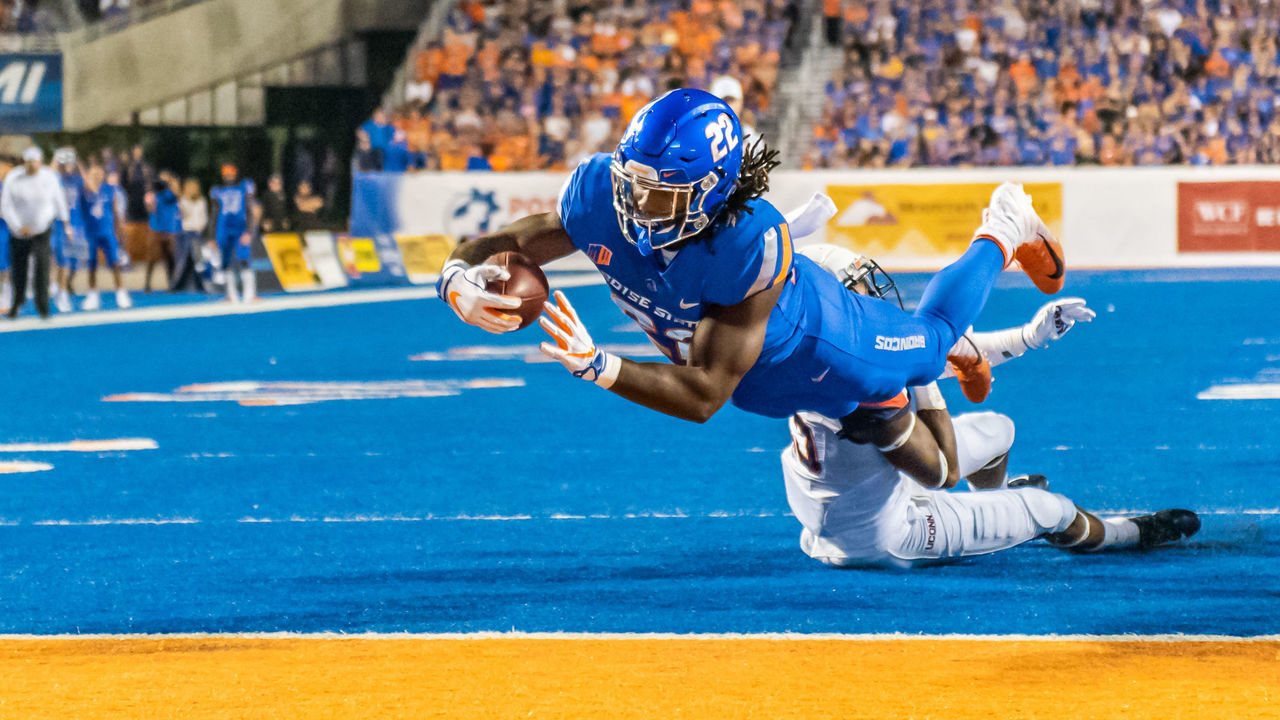 School: Boise State
Height: 5-11
Weight: 221 lbs
Strengths
Physical back who invites contact and punishes defenders
Surprisingly agile and elusive for a rusher of his size
Impressive balance and ability to string together moves
Explosive athlete with great acceleration through the hole
Weaknesses
Lack of long-distance speed limits big-play ability
Doesn't offer much as a receiver out of the backfield
Physicality doesn't translate to consistent effectiveness in pass protection
Limitations on third down will have him in an early-down role
Bottom line
Mattison is one of the more interesting sleeper prospects in this draft class. As much as the league, and these rankings, will prioritize backs who can contribute and thrive on third down, there's also still space for early-down runners. The latest in a long line of backs out of Boise State provides plenty of value there. Mattison is a big, physical body who packs a punch and has more explosiveness and wiggle than you'd expect. He's the perfect complement to a passing-down specialist.
Other notable prospects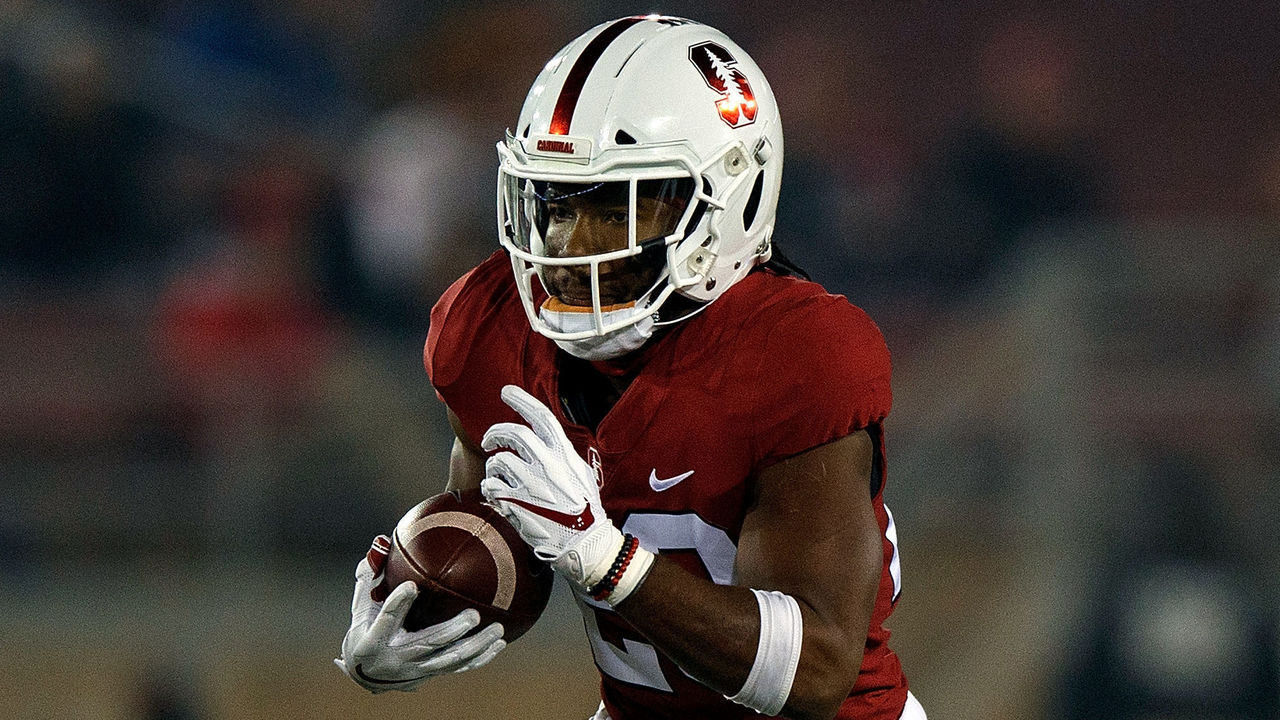 Bryce Love (Stanford)
Myles Gaskin (Washington)
Mike Weber (Ohio State)
Benny Snell (Kentucky)
Ryquell Armstead (Temple)
Comments
✕
2019 NFL Draft prospect rankings: Running backs
  Got something to say? Leave a comment below!