2019 NFL Draft prospect rankings: Interior defensive linemen
Jamie Schwaberow / Getty Images Sport / Getty
Here, theScore's Mike Alessandrini and Dan Wilkins break down the top prospects in the upcoming 2019 NFL Draft with position-by-position rankings and an overall top 50 big board.
Top 50
QB | RB | WR | TE | OT | iOL
EDGE | DL | LB | CB | S
Interior defensive linemen
1. Quinnen Williams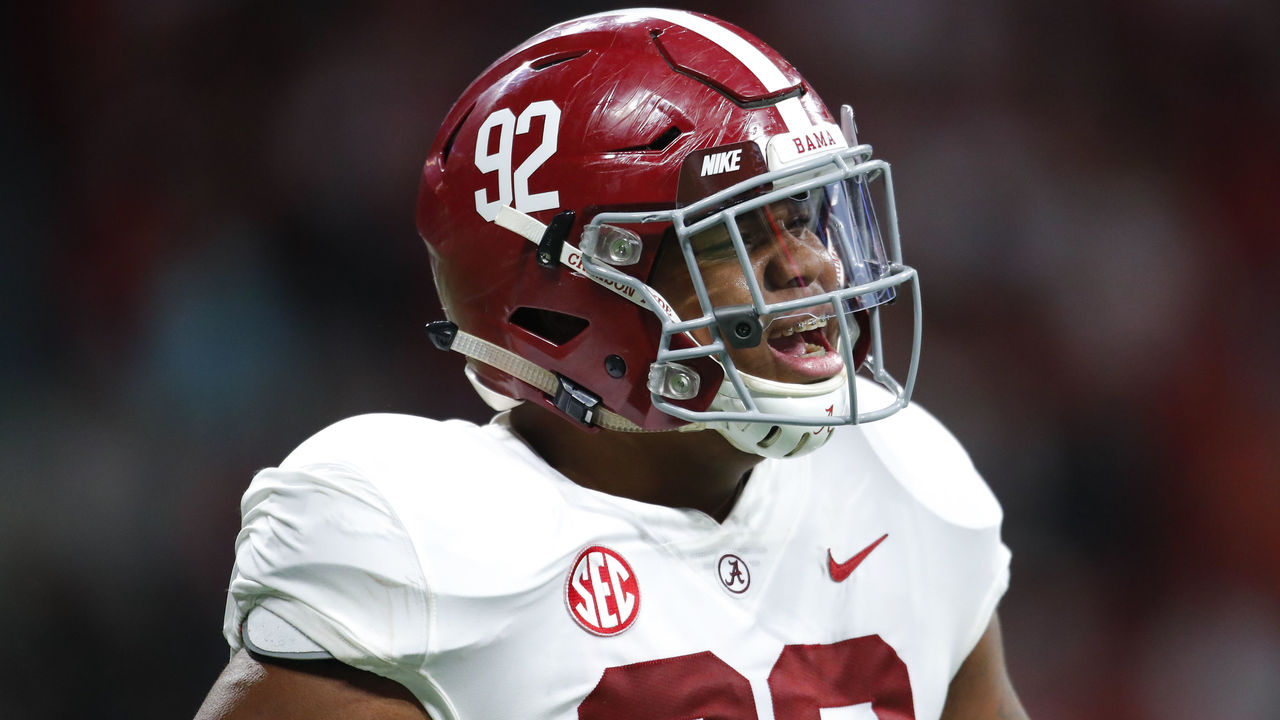 School: Alabama
Height: 6-3
Weight: 303 lbs
Strengths
Already an elite run defender - dominates linemen with stack, press, and shed and is a fantastic gap penetrator
Excellent hand usage allowing him to control opposing offensive linemen
Explodes off the snap with quick first step
Very good lateral quickness and fluid in space
Sure tackler with excellent pursuit speed
Scheme versatile due to frame and skillset
Times snaps and identifies play call quickly despite lack of experience
Fantastic production in 2018 - arguably college football's top defensive player
Can win with speed or pure strength
Extremely disruptive hands - utilizes intense swipe, swim, and club moves
Weaknesses
Can play with high pad level at times

Only one season of starting snaps

Doesn't have many pass-rush counters when first move is stymied
Bottom line
Williams is one of the premier prospects in the 2019 draft class. Though he has little starting experience, the Outland Trophy winner flashed utter dominance throughout every game he's played. Williams has very few flaws in his game and should provide instant impact against the run and as a pass-rusher. His best fit likely comes as a 3-technique, one-gap shooting defensive tackle in the pros, and he'll likely be a top-five pick. Simply put, Williams is a stud.
2. Ed Oliver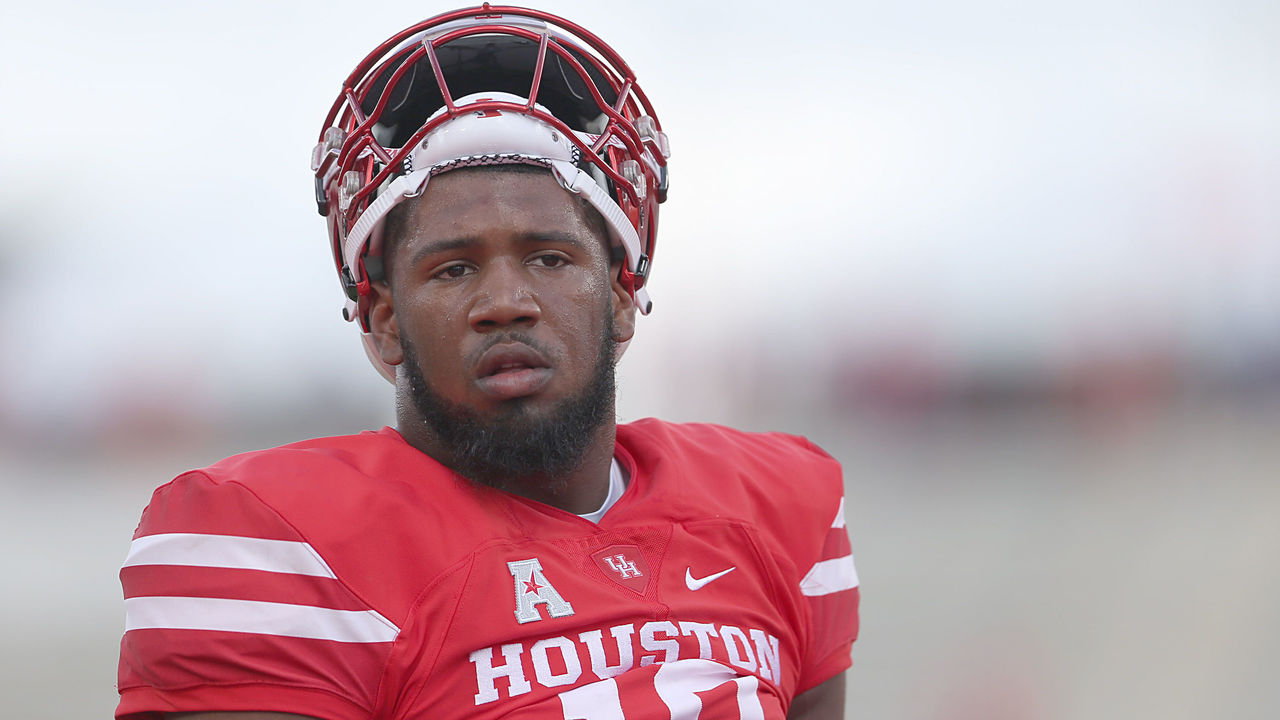 School: Houston
Height: 6-2
Weight: 287 lbs
Strengths
Elite athlete and rare movement skills for a man his size
Aaron Donald-esque explosion off the line of scrimmage
Eye-popping ability to penetrate assigned gap
Unstoppable when converting speed to power
Has full-body strength and stays low to win leverage game
Very productive throughout college career
Speed rusher that utilizes a number of other pass-rush moves as well
Excellent pursuit speed with very good body control
Weaknesses
Doesn't have ideal measurables for an NFL defensive tackle
Some issues shedding blocks in run defense
Produced mostly against lower-level competition
Disruptive but lacked sack numbers
Likely can be neutralized by double-teams in the pros
Bottom line
Oliver is truly a rare physical specimen for an interior lineman prospect. He combines an explosive first step with immense power and body control to defeat opposing blockers on a consistent basis. The three-time All-American certainly has questions regarding his play weight, length, and level of competition, but these limitations shouldn't hinder him from developing into an All-Pro. Oliver is a plug-and-play defender as a one-gap tackle in a 4-3. His athletic traits and dominant flashes are too good to pass up.
3. Christian Wilkins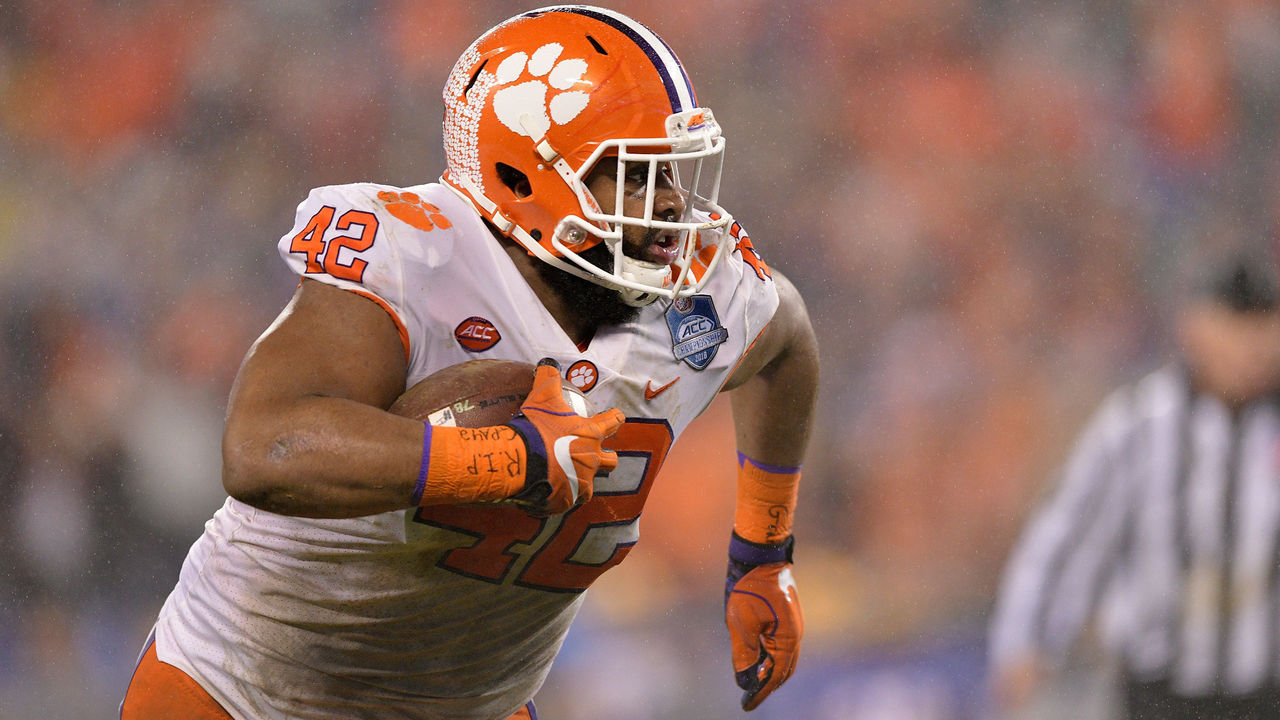 School: Clemson
Height: 6-3
Weight: 315 lbs
Strengths
Excellent four-year career with the Tigers
Uses hands well to stack and shed offensive lineman in run defense
Quick burst and excellent body control to shoot through gaps
Versatile - has been used on the edge and is effective on stunts/twists
Developed as an interior pass-rusher with a number of go-to moves
Enough power to push the pocket at the point of attack
Nose for the football and batted down a number of passes
Light and nimble feet with good lateral quickness
Flexible and always wins leverage battle
Strong tackler that rarely whiffs
Weaknesses
Offensive linemen with superior length have given him trouble

Average athlete for his position

Lacks quality anchor for a two-gap scheme

Ineffective versus double-teams
Bottom line
Wilkins is a pro-ready prospect with a number of desirable and translatable traits. The two-time college football champion has excelled in every phase of the game to date and is a tough locker room leader. Wilkins' upside may be limited due in large part to his below-average athleticism and lack of ideal length, but he rarely loses one-on-one battles in the trenches. A sure tackler with excellent one-gap skills, Wilkins is one of the safest prospects in this year's class.
4. Jeffery Simmons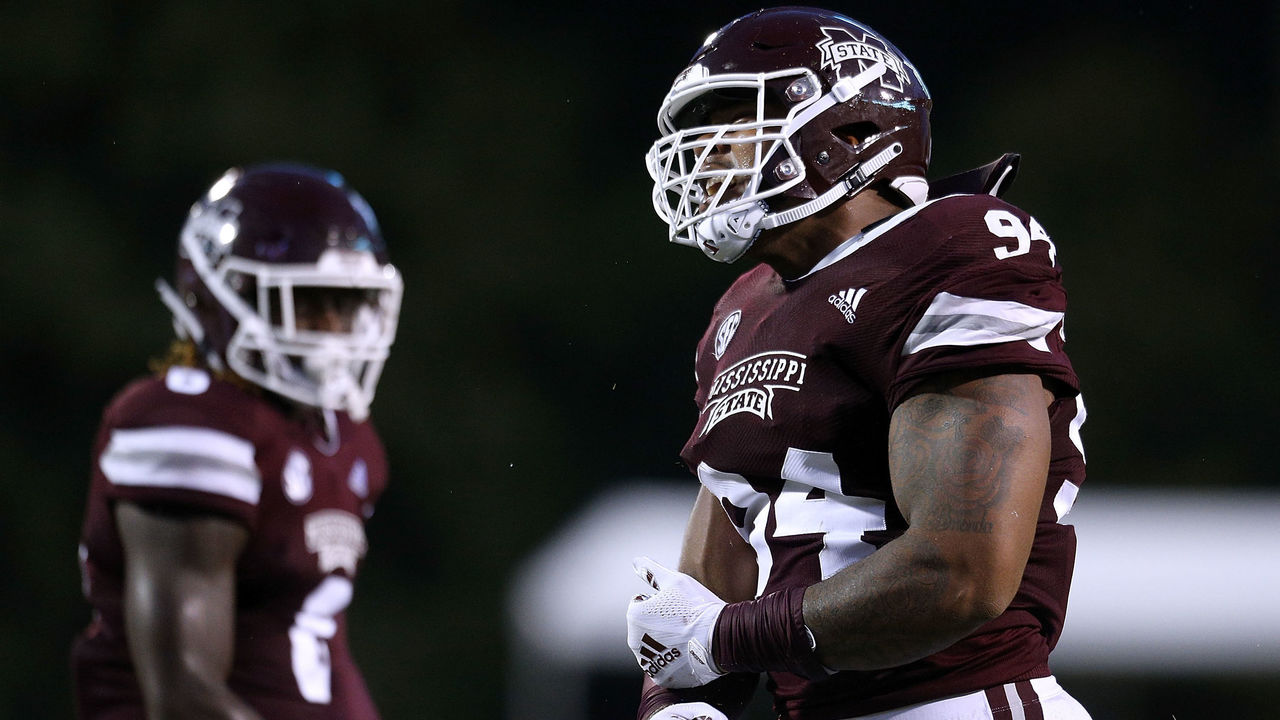 School: Mississippi State
Height: 6-4
Weight: 305 lbs
Strengths
Possesses ideal size and length for any scheme
Able to time snap on a consistent basis
Excellent run defender - uses length to penetrate through contact
Consistently wins one-on-ones and has piled up tackles-for-loss
Very powerful hands in pass rush
Uses efficient rush moves including swim and chop club
Powerful anchor and able to split double-teams
Excellent body control through contact
Weaknesses
Tore ACL in February while training

Involved in altercation with a young woman before arriving at Mississippi State

Tackling technique needs work - had a few too many misses last season

Can stray away from designated gap

At times will over-run play with momentum and has difficulty recovering
Bottom line
Simmons has his fair share of red flags as a prospect, but he's flashed dominance on tape in a competitive SEC. The defensive lineman has ideal measurables and thrives against the run and pass. With a bit of patience, Simmons can develop into a top-tier defensive tackle due to his diverse pass-rush repertoire, gap penetration skills, and excellent use of hands. He'll likely be selected in the first round despite his recent injury.
5. Jerry Tillery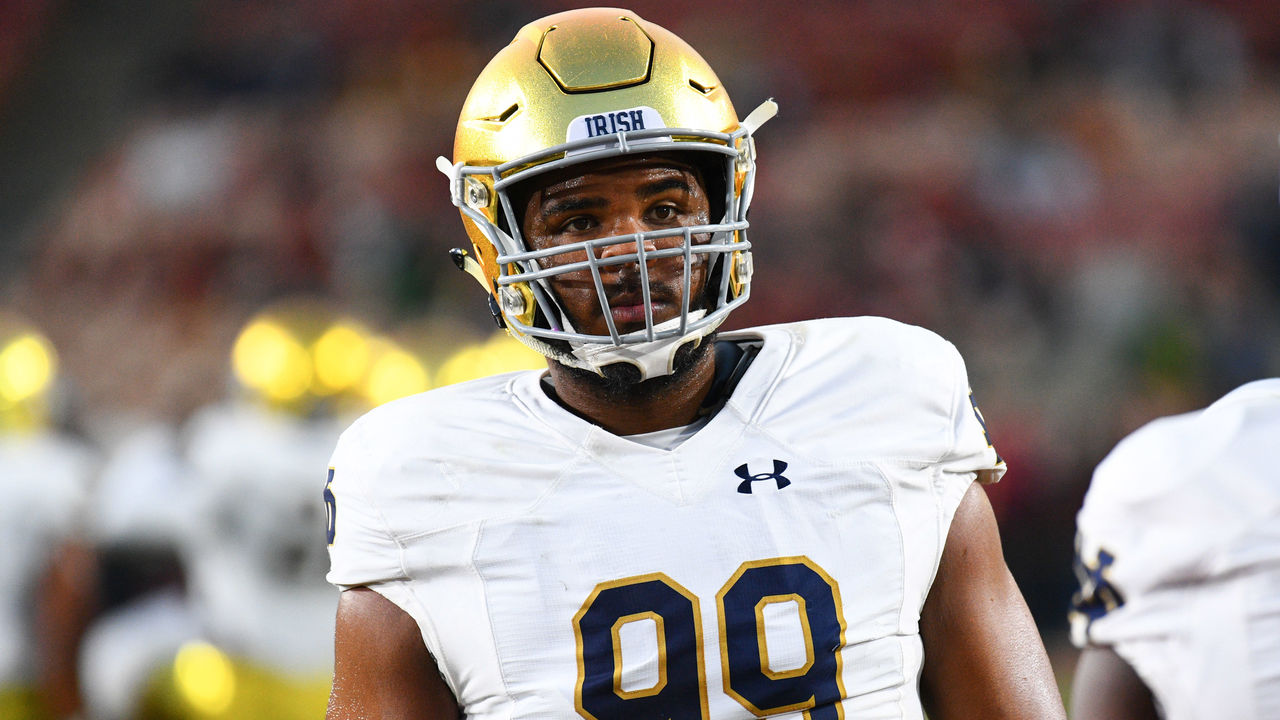 School: Notre Dame
Height: 6-7
Weight: 295 lbs
Strengths
Excellent size and frame
Ideal fit in 3-4 or 4-3 defense
Uses a number of pass-rush moves and effective counter
Power rusher who improved overall technique in 2018
Devastating stack and rip using long arms
High effort player that flashed dominance in spurts
Game vs. Stanford illustrated elite upside as a prospect
Weaknesses
Average athlete by NFL standards

Plays a bit high at times and doesn't have natural flexibility

Inconsistent career in terms of production

Has difficulty changing directions which affects tackling efficiency

Heavy footed and doesn't always sync full body during rushes
Bottom line
Tillery is a classic example of a low-ceiling, high-floor prospect. He's flashed dominance as an interior rusher, but has yet to put his jaw-dropping traits together on a consistent basis. Tillery can beat blockers in a variety of ways, but isn't fluid in space or an explosive athlete. With his overall pass-rush prowess, expect the interior defender to be a hot commodity early on Day 2 or even late in the first round.
6. Dexter Lawrence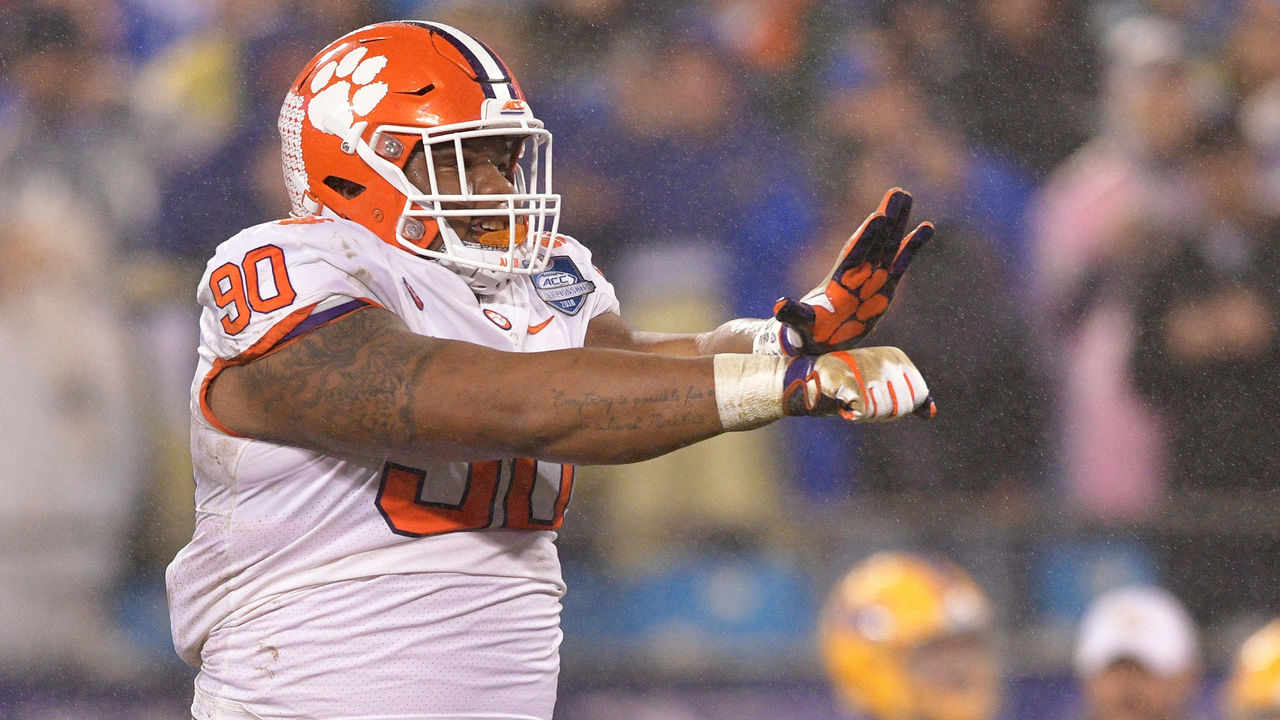 School: Clemson
Height: 6-5
Weight: 342 lbs
Strengths
Mammoth of a man that can eat up blockers with frame
Quick and nimble for 342-lb lineman
Can thrive in any defensive scheme
Very efficient tackler with long arms
Excellent upper-body power and anchor in run defense
Dominant bullrusher
Can shed effectively and consistently with length
Times snaps well
Weaknesses
Doesn't have a diverse set of pass-rush moves

Sack production is less than ideal

Reliant on size

Not very explosive off the line

Lacks bend and flexibility
Bottom line
Lawrence is a fun prospect to study, as few football players with his size move as well as he does. While the massive defensive tackle will impact the run game immediately, he lacks the pass-rush traits required to be an elite prospect. Lawrence is a space eater with incredible power, anchor, and length for various schemes, but his fit as a three-down defender is in question.
7. Charles Omenihu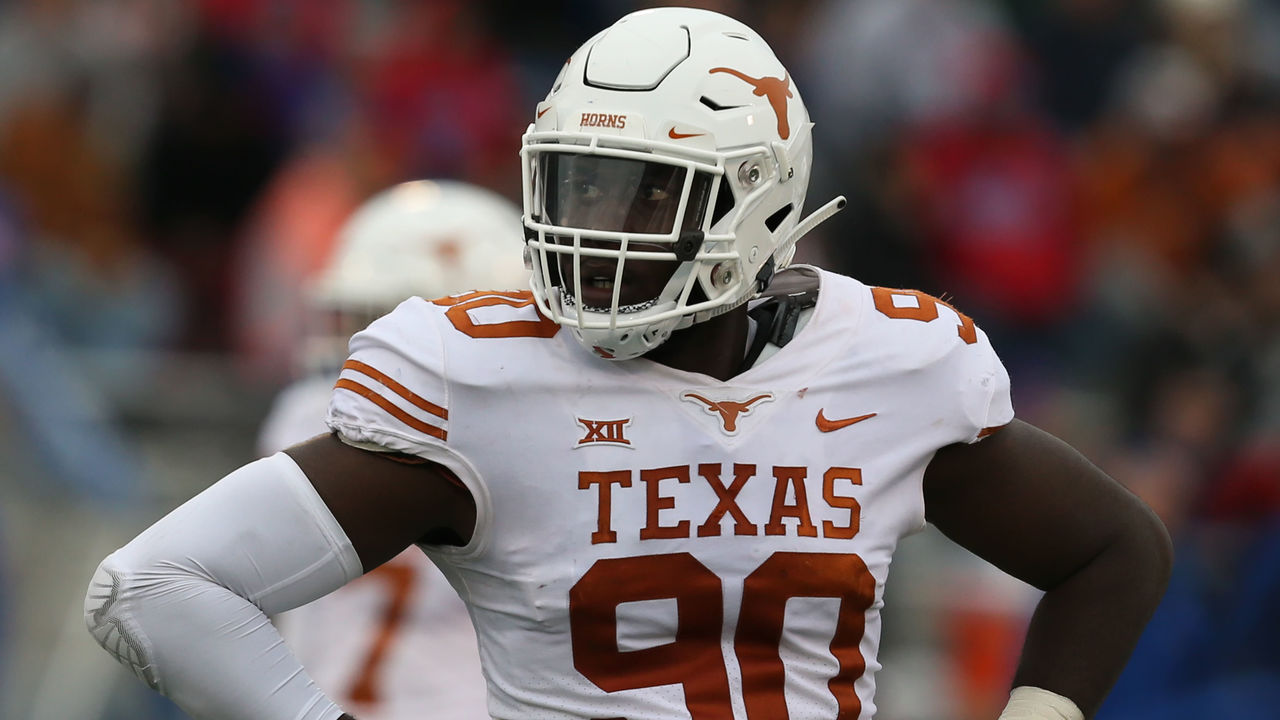 School: Texas
Height: 6-5
Weight: 275 lbs
Strengths
Excellent length
Stacks and sheds well in run defense
Played a number of snaps on the edge
Very explosive off the line of scrimmage
Fires with strong hands immediately to win leverage game
Effective 3-technique pass-rusher
Excellent rip move
Converts speed to power and can drive linemen backward with ease
Weaknesses
Not the most fluid athlete

Unable to run tight angles to quarterback

Lacks anchor and pure strength to be every-down defensive tackle

Generally ineffective versus top Big 12 offensive linemen
Bottom line
Omenihu is a bit of a tweener but also has the versatility to play multiple positions in the NFL. He profiles as a defensive end on early downs and an inside rusher on passing downs. Omenihu lacks the bend and functional athleticism to be a full-time edge defender, but possesses violent hands and an explosive first step, which could give interior blockers fits.
8. Dre'Mont Jones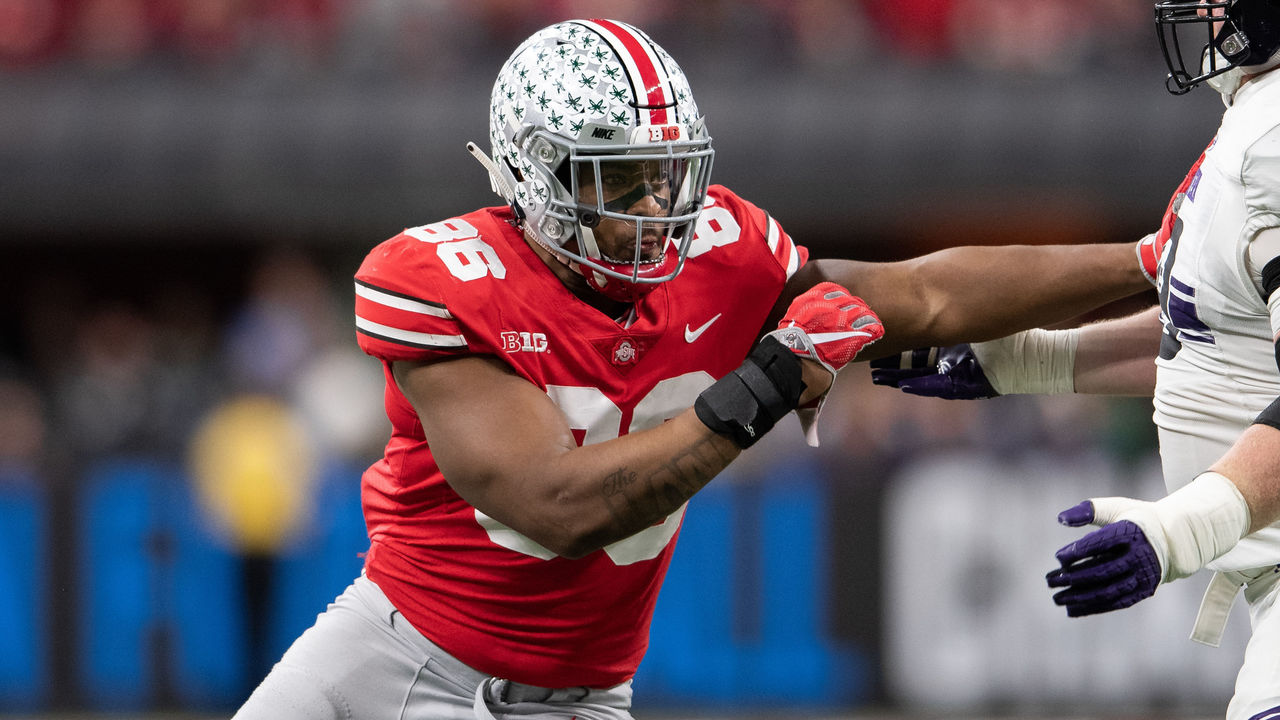 School: Ohio State
Height: 6-3
Weight: 281 lbs
Strengths
Excellent first-step quickness is often difficult to defend
Has violent hands and uses nasty cross chop
Very good gap penetration skills against the pass and run
Great body control and keeps balance/bend through contact
Number of effective snaps setting the edge as a defensive end
Uses variety of pass-rush moves
Weaknesses
Undersized

Lacks pure power and has difficulty shedding against the run

Subpar athlete and change-of-direction skills

Likely only a 3-technique defensive tackle in a 4-3

Can play high and narrow at times

Lacks plan of attack when knocked off first move
Bottom line
Jones has considerable upside as a interior pass-rusher, but must improve his play strength and ability to shed blocks to find a role early in his NFL career. He likely fits only as a 3-technique, one-gap defensive tackle, but he's very good at what he does. Jones makes a number of plays in the backfield and has the traits to thrive in a pass-happy NFL.
9. Renell Wren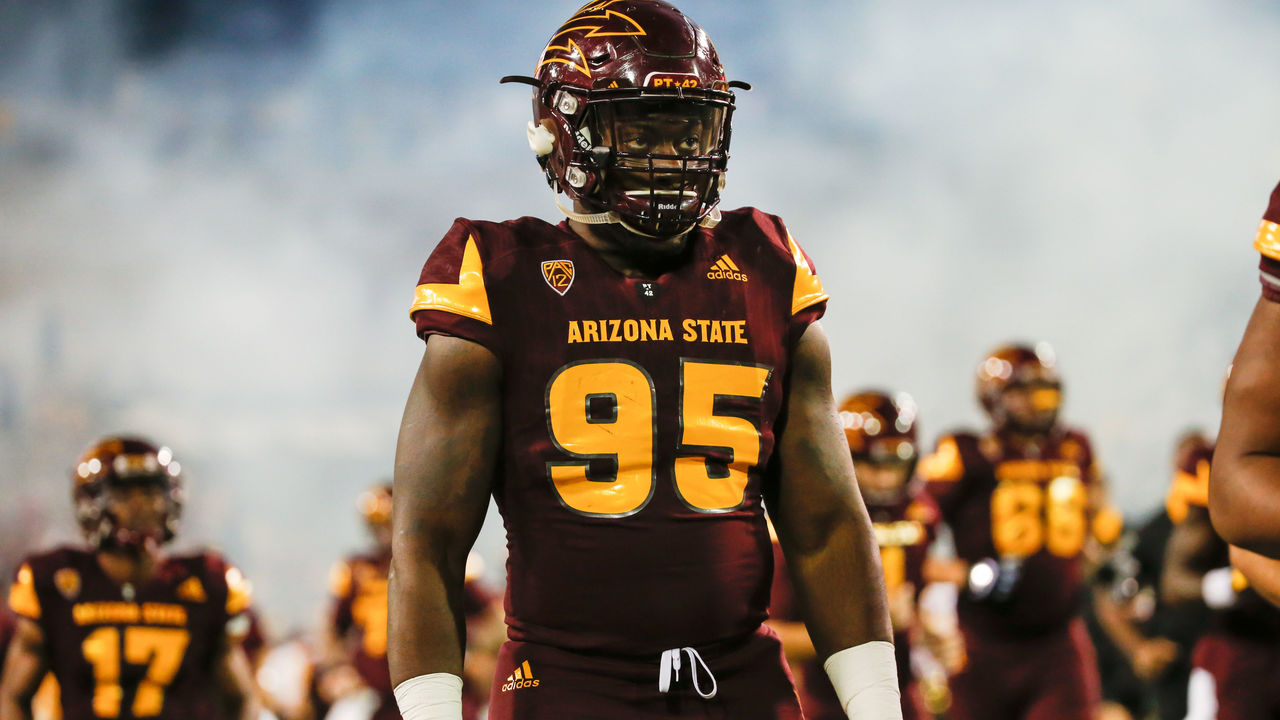 School: Arizona State
Height: 6-5
Weight: 318 lbs
Strengths
Great size and top-tier athlete for position
Incredibly explosive off the snap and is able to drive blockers backward with power after quick first step
High motor and plays physical at all times
Stacks and sheds well versus the run
Excellent leg drive and bullrush
Has physical traits to improve all-around game
Weaknesses
Raw prospect that lacks pass-rush production

Ideal frame but missed a number of tackles

Often solely relies on pure strength

Not very fluid in space

Must learn to read and react more effectively

Some stretches are dominant, others are invisible
Bottom line
Wren is arguably the most intriguing defensive tackle prospect in this year's class. The Arizona State product flashes dominant pass-rush traits and is already an effective run defender. In order to reach his potential, Wren must develop a more diverse approach with his hands, but has the athletic ability to develop into a game-changing defender. His ceiling is very high, but his floor is equally low.
10. Gerald Willis III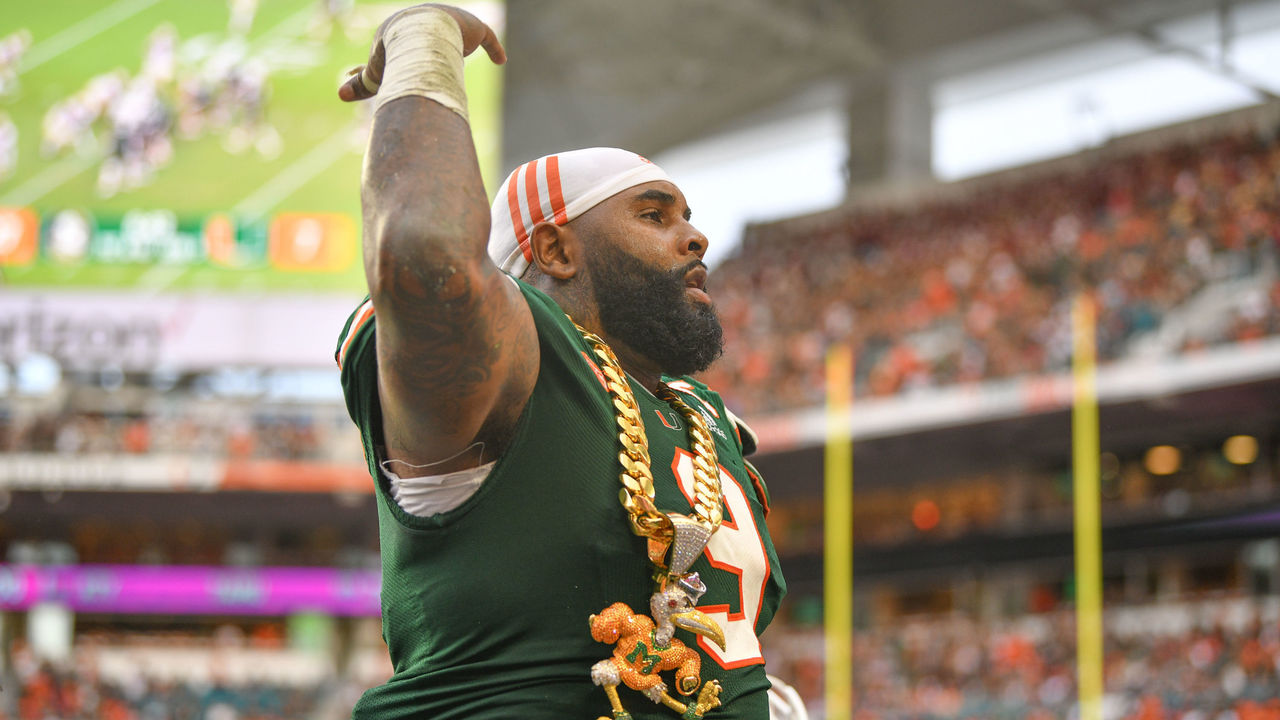 School: Miami
Height: 6-2
Weight: 302 lbs
Strengths
Excellent burst and is fluid in space
Efficient tackler against the run
Uses variety of pass-rush moves
Able to slip blocks effectively and make a number of plays in the backfield
Flashed violent hands and fantastic swim move
Very active hands throughout snap
Weaknesses
Must play with better pad level - can be tossed around when he loses the leverage battle
Doesn't possess ideal size or length
Off-field red flags - transferred from Florida in 2015 after issues with coaches and teammates, sat out 2017 season at Miami for personal reasons
Can lose gap assignment
Bottom line
After an up-and-down collegiate career, Willis has his sights set on a successful NFL one. The defensive tackle has been dominated by powerful blockers in the past, but is a very fluid athlete with excellent explosion off the line of scrimmage. Willis has every chance to make an immediate impact as an interior pass-rusher in the pros, but may never develop into a three-down defender.
Other notable prospects
Khalen Saunders (Western Illinois)
Trysten Hill (UCF)
Greg Gaines (Washington)
Isaiah Buggs (Alabama)
Daniel Wise (Kansas)
Comments
✕
2019 NFL Draft prospect rankings: Interior defensive linemen
  Got something to say? Leave a comment below!