2019 NFL Draft prospect rankings: Edge rushers
Here, theScore's Mike Alessandrini and Dan Wilkins break down the top prospects in the upcoming 2019 NFL Draft with position-by-position rankings and an overall top 50 big board.
Top 50
QB | RB | WR | TE | OT | iOL
EDGE | DL | LB | CB | S
Edge defenders
1. Nick Bosa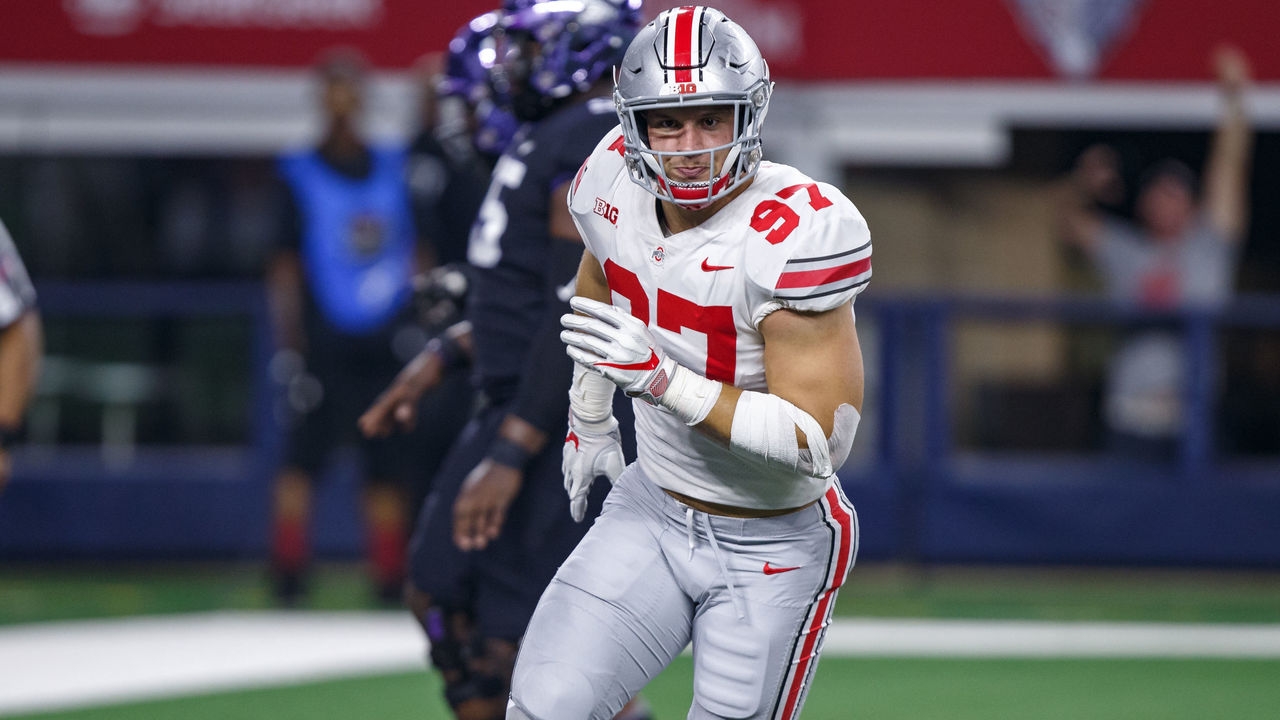 School: Ohio State
Height: 6-4
Weight: 266 lbs
Strengths
Ideal combination of size, strength, and athleticism for an every-down role on the edge
Explosive first step to get upfield and to close on the quarterback
Advanced hand usage makes for seamless efforts to disengage from blocks
Speed and bend to consistently win around the edge
Counters threat on the outside with effective inside move
Converts speed to power well with bull rush
Balance shows on ability to work through contact and stay off the ground
Strong hand work allows for readjustment and another move when initially stopped
Stout run defender setting the edge, knifing into the backfield, or closing the back side
Weaknesses
Missed most of junior season with a core muscle injury
Athletic scores didn't match explosiveness and change-of-direction skills shown on tape
Lacks sack and tackle production of typical elite prospects at the position
Bottom line
A consensus top prospect in this class, Bosa is the type of blue-chip player who can transform a defensive front. He enters the NFL as a polished three-down force on the edge - much like his brother, Chargers defensive end Joey Bosa. He has no shortage of ways to beat his opponent as both a pass-rusher and a run defender. Aside from the relative lack of collegiate production, it's difficult to take issue with much of anything in his game. His pro potential was evident from the time he arrived at Ohio State and he should quickly establish himself as a Pro Bowl regular.
2. Brian Burns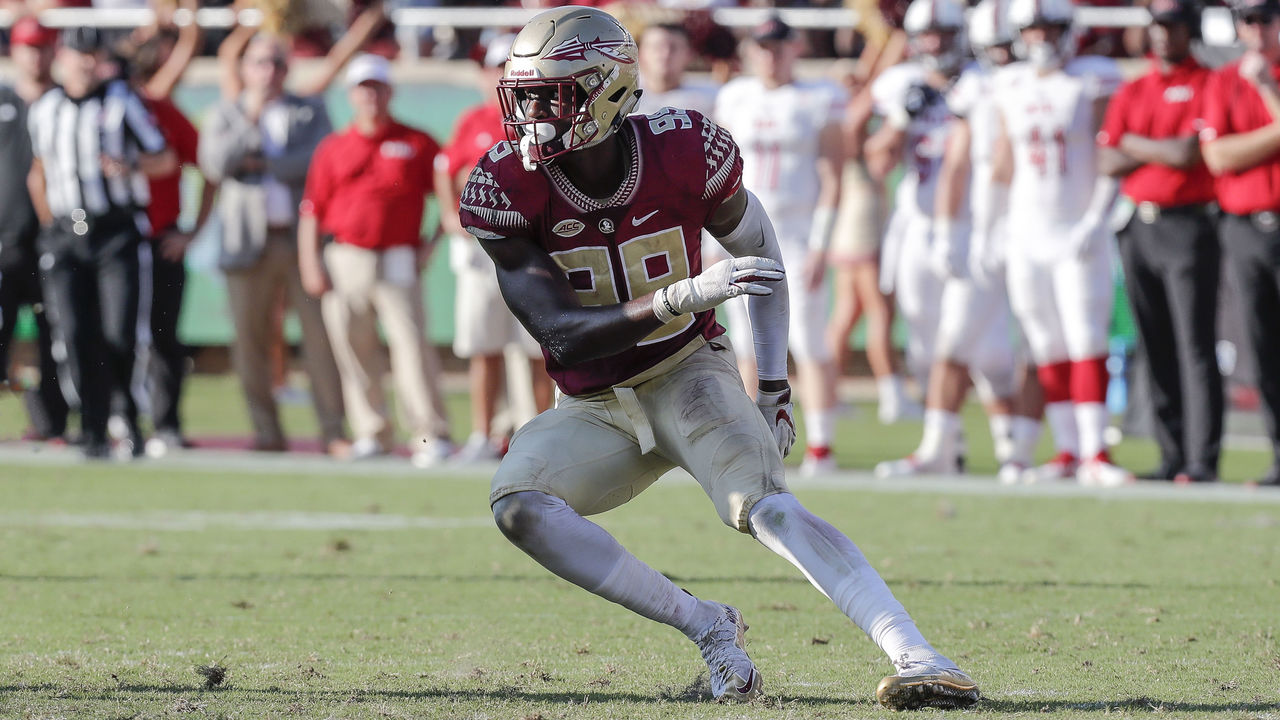 School: Florida State
Height: 6-5
Weight: 249 lbs
Strengths
Tall with long arms used to set edge
Excellent pursuit speed
Quick-twitch athlete, explodes off the snap
Powerful, sudden hands
Uses a plethora of effective pass-rush moves and counters
Incredibly flexible, runs the arc and changes direction with ease
Productive collegiate career, dominated elite offensive tackles
Very good athlete for position
Lethal bend/rip and inside spin
Excellent body control through contact on rushes
Weaknesses
Thin frame, should add weight for NFL
Can be overpowered in run defense
Doesn't convert speed to power
Bottom line
Burns is arguably the best pure pass-rusher in this year's class, which will place him high on a number of teams' draft boards. The lanky defender profiles as a solid fit in both 4-3 and 3-4 defenses, but will likely be asked to add some weight and strength to secure an every-down role early in his career. There are concerns, but Burns is a developed edge rusher who possesses elite athleticism, excellent bend through contact, and solid collegiate production.
3. Josh Allen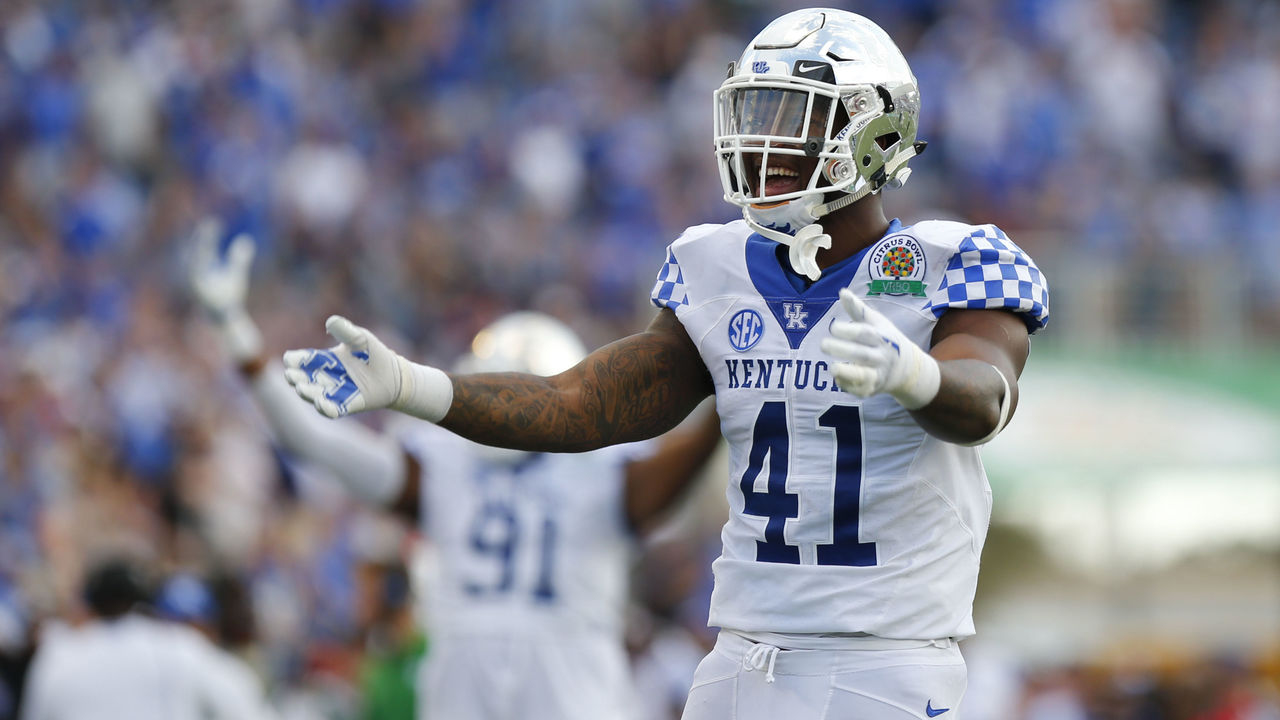 School: Kentucky
Height: 6-5
Weight: 259 lbs
Strengths
Incredible versatile, can play multiple positions in various schemes
Experience dropping into zone coverage
Extremely productive pass-rusher this past season
Maintains top speed through rush
Excellent gap penetrator
Unstoppable bend/rip and chop moves
Explosive off the line
Rarely misses tackles, is always around the ball
Great change-of-direction skills for size
Very flexible with loose hips to get around the edge
Weaknesses
Lacks pass-rush counters if first moves fail
Average power at point of attack, some trouble sealing the edge
Lacks bull-rush and speed-to-power moves
Not a game-changing defender until final collegiate campaign
Bottom line
Allen exploded onto the scene in 2018, developing his game and soaring up draft boards in the process. The name of his game is versatility - he's a productive run defender and pass-rusher and can even play an Anthony Barr role as an outside linebacker in a 4-3 defense. Allen is a fluid athlete and a legitimate sack threat on every passing down. Despite just one year of elite production, he's one of the safer picks in this year's class.
4. Clelin Ferrell
School: Clemson
Height: 6-4
Weight: 264 lbs
Strengths
Productive edge rusher with ideal length and bulk for the position
Incredible hand usage on inside swipes/swims leads to quick wins off the line
Combines explosive get-off and rip move to win on the outside
Spin move provides another inside counter off outside rush
Powerful bull-rush move to push opponent back in the pocket
Makes great use of length with effective long-arm move
Stout run defender who uses strength and length to set a great edge
Weaknesses
Lacks elite athletic traits desired in top edge prospects
Lacks bend and flexibility for outside speed rush
Won't fit a defense if forced to stand up and work in space
Bottom line
Athleticism is the main factor working against Ferrell, as he lacks the speed and quick-twitch traits of elite prospects at the position. Beyond that, though, there's so much to like. The Clemson product is an elite edge-setter in the run game and already boasts an extensive arsenal of pass-rush moves. A prototypical base end, his well-rounded game and advanced approach to getting after the quarterback will give him the opportunity to make questions about his athleticism seem silly.
5. Jachai Polite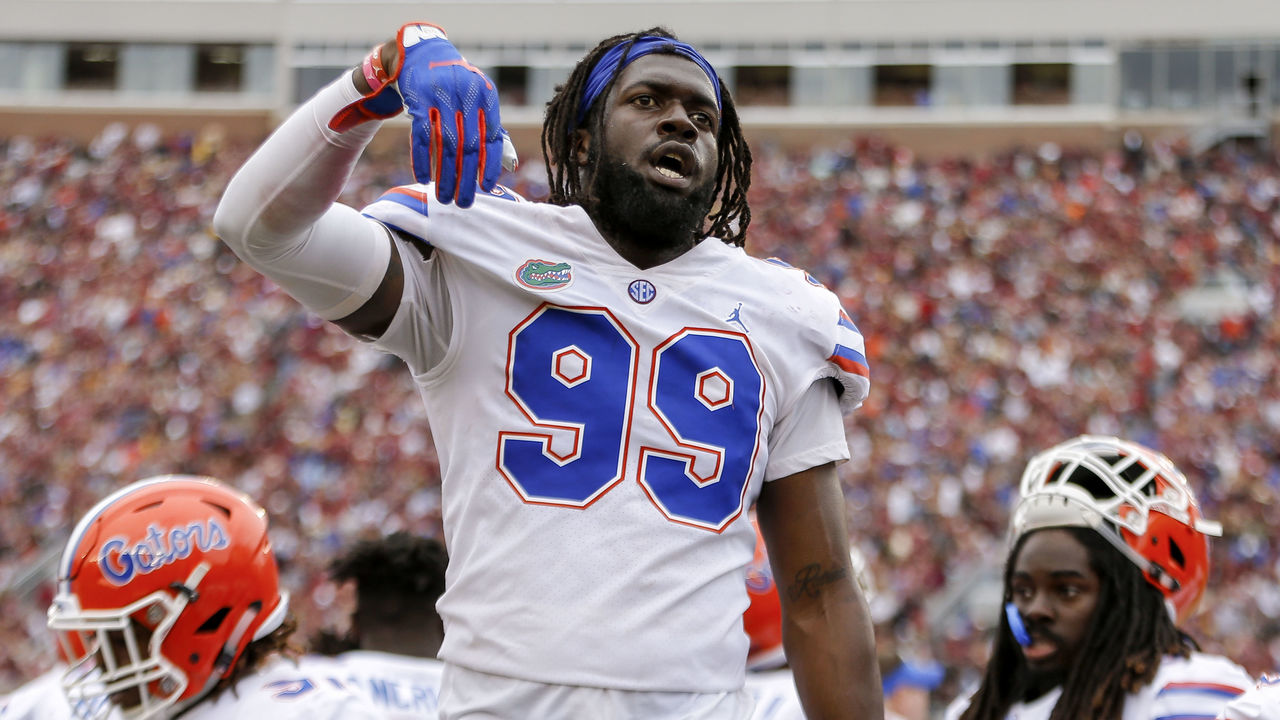 School: Florida
Height: 6-3
Weight: 258 lbs
Strengths
Excellent get-off for immediate advantageous position
Uses speed, bend, and flexibility to run the arc and flatten to the quarterback
Hand usage and dip move make it difficult for tacklers to get hands on him
Counters outside move with impressive inside spin
Maintains balance through contact to continue on rush path
Quickness to work through traffic, make plays in the running game
High-effort player, makes tackles all over the field
Weaknesses
Athletic testing scores don't match tape
Doesn't convert speed into power rushes
Needs to improve strength to contribute as NFL-level run defender
Rumblings of poor combine interviews impacting draft stock
Bottom line
Polite is one of the more difficult evaluations in the class; unfortunately, he hasn't done much to back up his play at Florida. After some extremely underwhelming combine numbers and reports of poor interviews with teams, his stock appears to be falling. But all we can do is go by what we see, and there's too much good tape to ignore. Polite's ability to win around the edge and counter back inside with a lethal spin move will give offensive tackles nightmares. He could well end up the steal of the draft if he slides deep into Day 2 or beyond.
6. Chase Winovich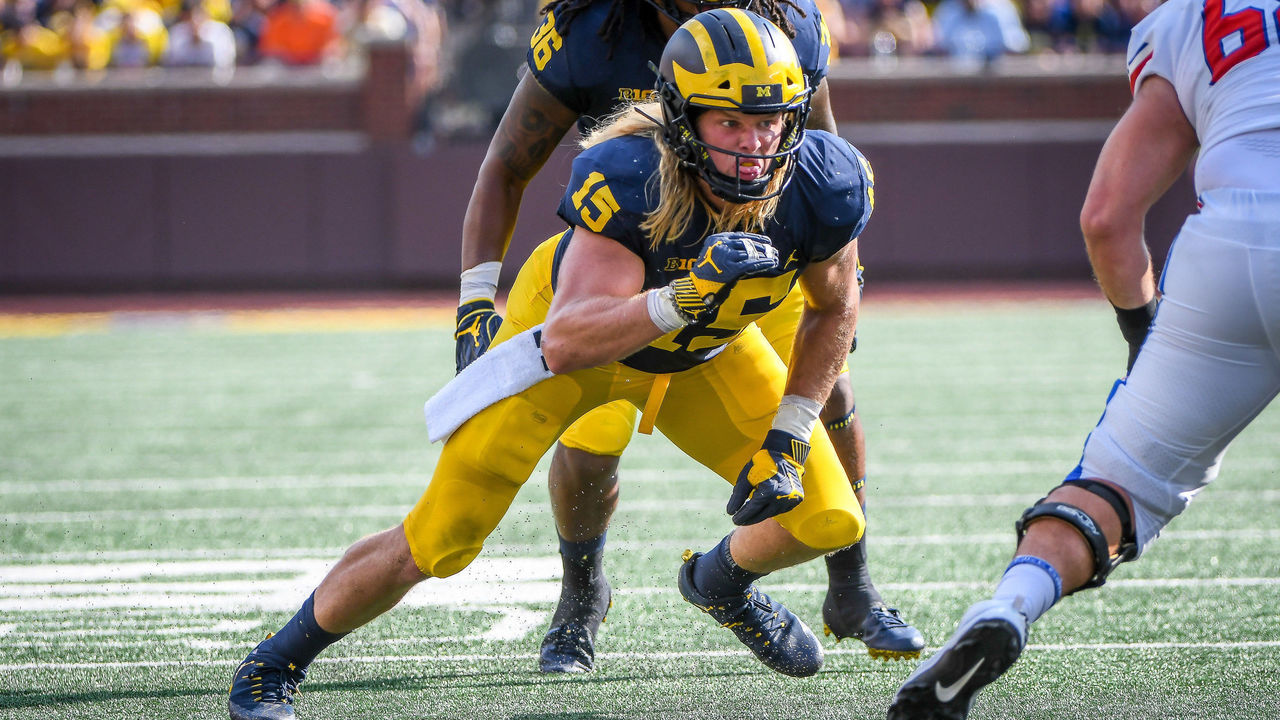 School: Michigan
Height: 6-3
Weight: 256 lbs
Strengths
Great hand usage to keep opponents from landing punch
Wins on the outside with speed off the ball, rip move, and decent bend
Lateral quickness and swipe move make for efficient inside counter
Nasty push-pull move to disengage and create path to the QB
Finds ways to disengage when initial move is stopped
Good edge-setter who can locate the ball, stack, and shed to make a play
Impressive pursuit speed to close on QBs and chase down run plays as backside end
Relentless defender with non-stop motor
Weaknesses
Lacks ideal size and length for an every-down edge role
Not an overly explosive athlete
Could struggle in space if playing as a 3-4 outside linebacker
Will be 24-year-old rookie
Bottom line
Winovich is widely considered to be the second-best Michigan edge prospect behind Rashan Gary. Given his size and athletic scores, he'll almost certainly be drafted as such. But he enters the NFL as the far more polished of the two pass-rush prospects. Phenomenal hand usage gives Winovich an impressive repertoire of rush moves and he's a far better run defender than expected for his size. His polish and relentless motor should mitigate any concern about his production translating to the professional level.
7. Rashan Gary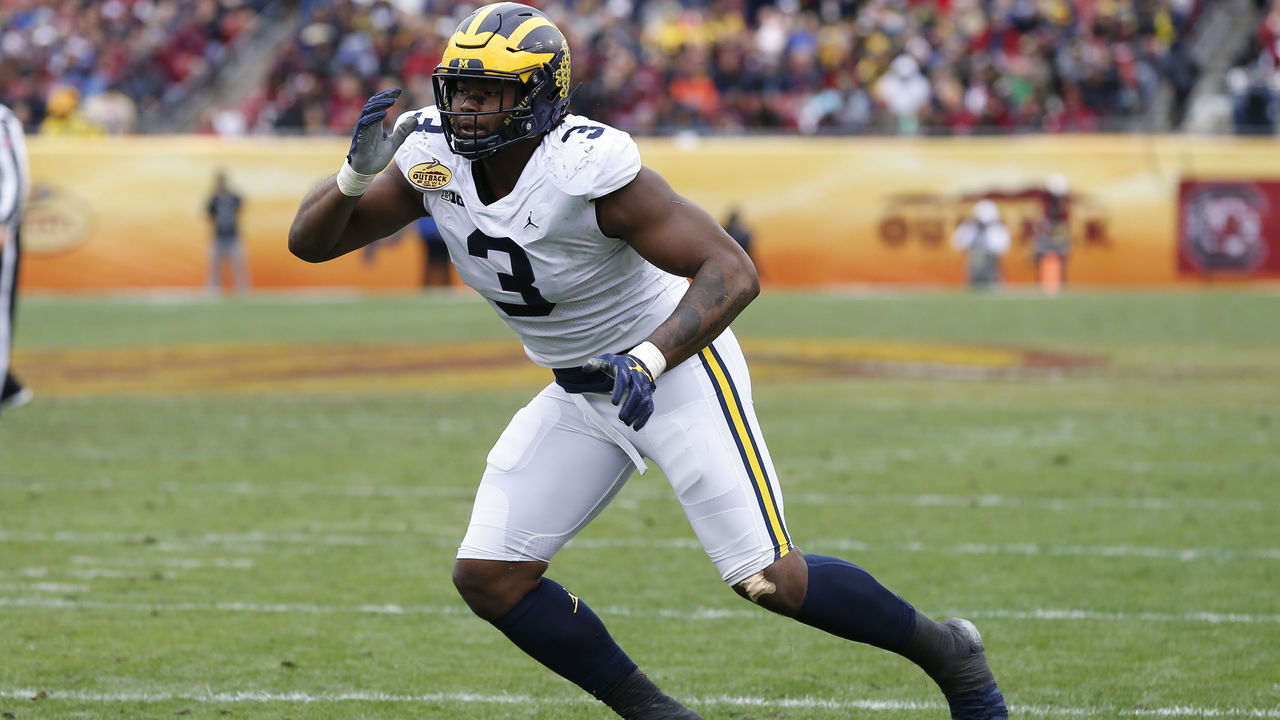 School: Michigan
Height: 6-4
Weight: 277 lbs
Strengths
Elite athleticism and movement skills for position and size
Versatility to line up on the edge or as interior rusher
Strong run defender with a number of tackles for loss
Long arms to extend and drive offensive linemen forward
Natural strength, converts speed to power well
Strong and effective hand usage
Very quick first step off the line
Weaknesses
Not yet developed as a pass-rusher
Inconsistent tape, doesn't always put elite traits together
Doesn't do enough when unblocked
Not a read-and-react defender
Bottom line
Gary is perhaps the biggest boom-or-bust prospect in this year's draft class. His freak athleticism and flashes of dominance illustrate his immense ceiling, but his inconsistent play and lack of pass-rush production are certainly alarming. Regardless, Gary will be an interesting player to monitor and we guarantee a number of defensive coaches see a mold of clay with limitless potential in this defensive lineman.
8. Montez Sweat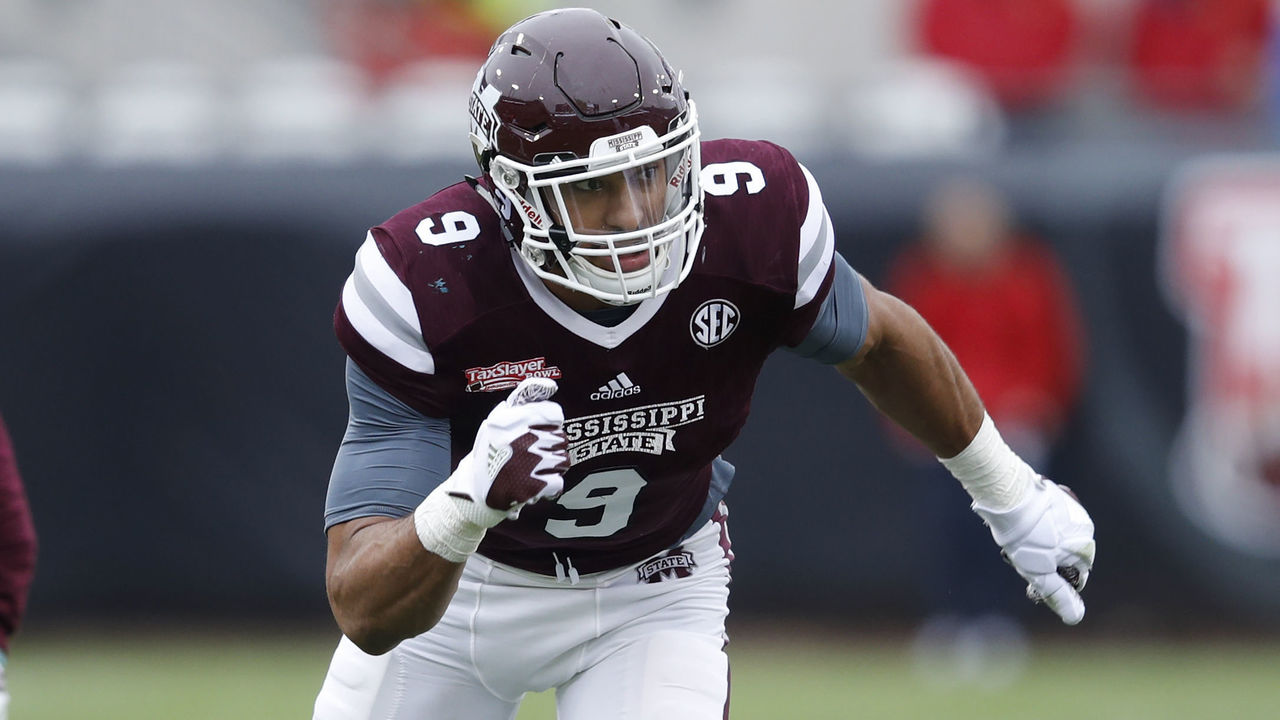 School: Mississippi State
Height: 6-6
Weight: 260 lbs
Strengths
Explosive athlete, great straight-line speed
Great size, long arms
Excellent run defender, made a number of tackles for loss
Very productive over last two seasons
Efficient tackler with wide wingspan
Consistently sets the edge
Explodes off the snap
Weaknesses
Tight hips restrict lateral movement and fluidity in space
Lacks some play strength, doesn't win with bull rush
Hand usage and pass-rush plan need improvement, relies mostly on speed
Not a flexible or bend/rip pass-rusher
Tall defender who often doesn't play with ideal leverage
Bottom line
Sweat possesses a number of rare traits for an edge defender, but his overall game requires a bit of fine-tuning before he can make a legitimate NFL impact. The speed and production are there, but the 2018 All-American likely only profiles as a weak-side defensive end in a 4-3 defense due to his tightness in space. Still, Sweat's upside is among the highest at his position.
9. Zach Allen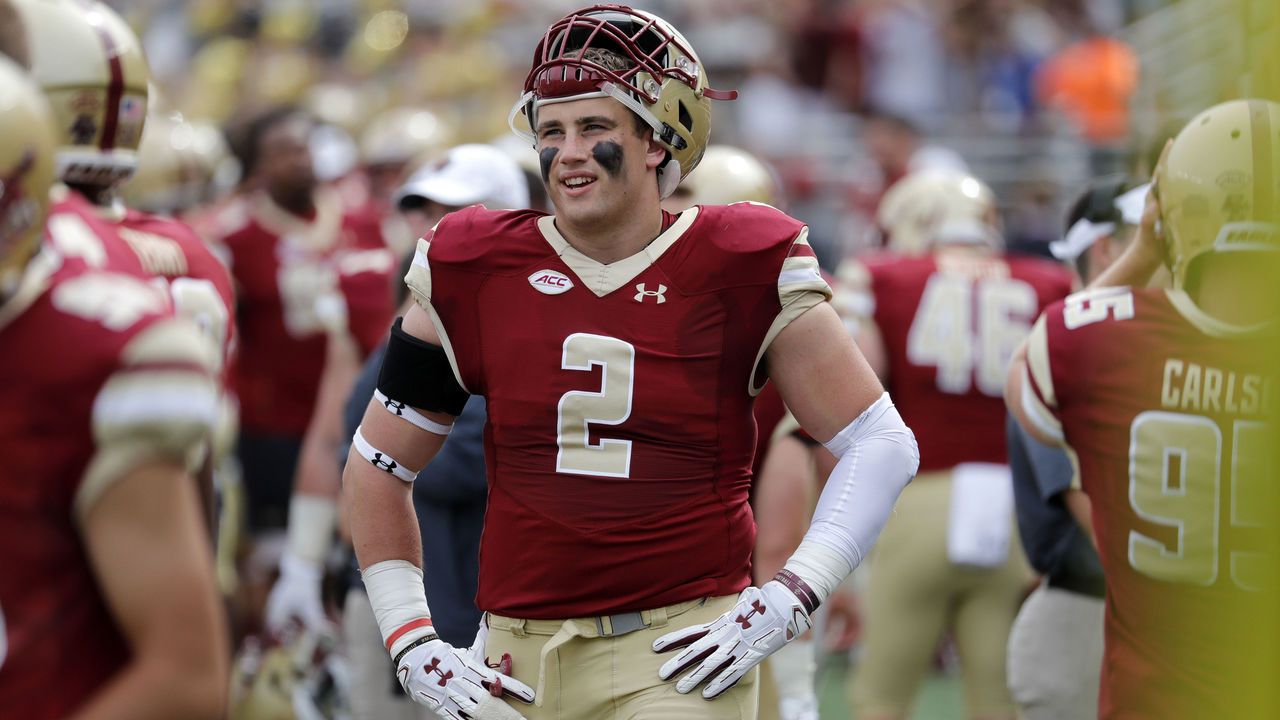 School: Boston College
Height: 6-4
Weight: 281 lbs
Strengths
Positionally versatile with size and strength for several defensive-front spots
Extensive arsenal of pass-rush moves deployed with strong hands and technique
Quick off the ball, wins inside with swipe or swim
Uses strong rip move and works through contact to beat opponents on the outside
Drives opponents into the backfield with powerful bull rush
Knack for batting passes down at the line
Uses strength and length to set the edge
Ball-locating and shedding abilities lead to high-level production in the running game
Good short-area quickness for size
Weaknesses
Subpar athleticism for an edge defender
Bend and flexibility aren't part of pass-rushing game
Lacks desired pursuit speed to finish plays
Bottom line
Allen is one of the most interesting prospects in this group. The lack of athleticism and bend may see him fly under the radar behind twitchier prospects, but ignoring him would be a mistake. A fantastic run defender with plenty of rush moves at his disposal, Allen plays with far more lateral quickness than would be expected for his size. He fits as a big 4-3 end who rotates inside on passing downs or as a five-technique player in odd fronts.
10. Christian Miller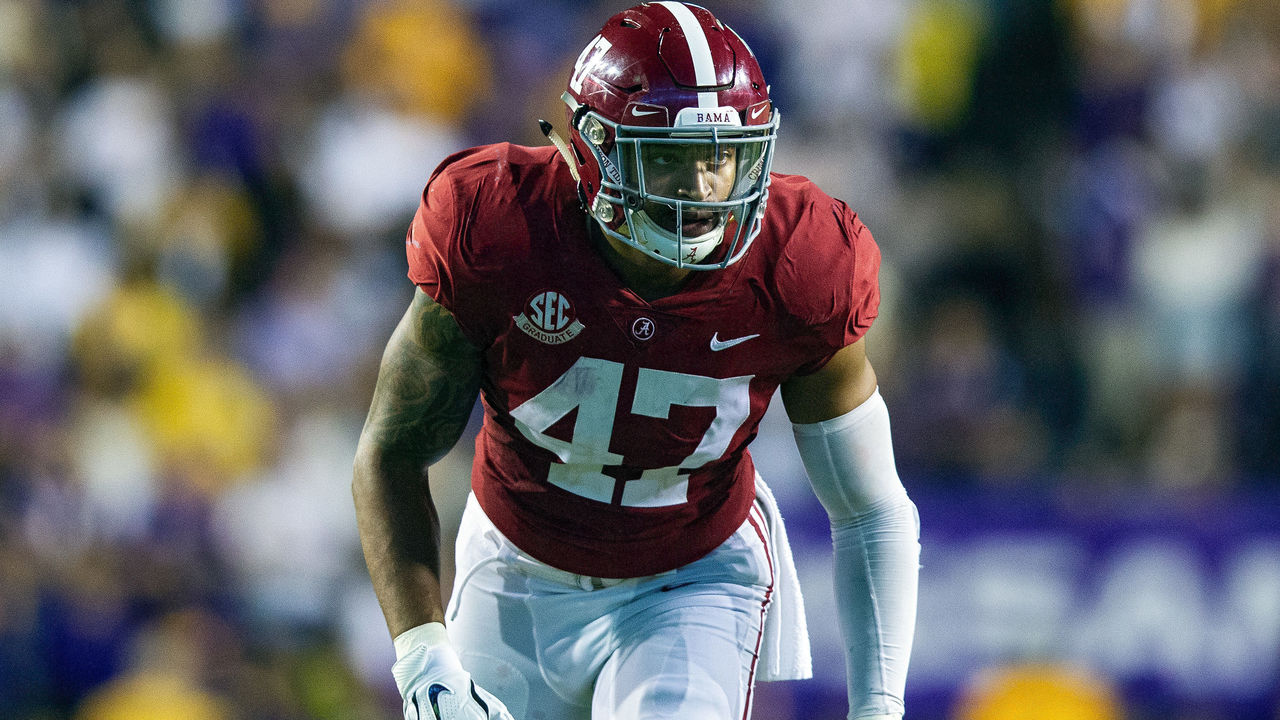 School: Alabama
Height: 6-3
Weight: 245 lbs
Strengths
Extremely violent hands, nasty chop and swat
Consistently forced pressure on quarterbacks in 2018
Adequate bend and flexibility to run the arc
Sudden punch wins battles in run defense
Long arms used to stack defenders
Good pursuit speed, fluid in space
Uses multiple pass-rush moves effectively
Very good special teams player
Weaknesses
Undersized, should fill out frame for NFL
Lacks strong anchor at point of attack
One-year starter
Doesn't convert speed to power
Average get-off once ball is snapped
Bottom line
Miller is a solid prospect who ideally fits as a 3-4 outside linebacker. The former Crimson Tide standout isn't a top-tier athlete by NFL standards, but he combinates devastating hands and a complete pass-rush arsenal and could garner looks on Day 2 of the draft. Miller must add strength to his game, however, to secure an every-down role in the pros.
11. Anthony Nelson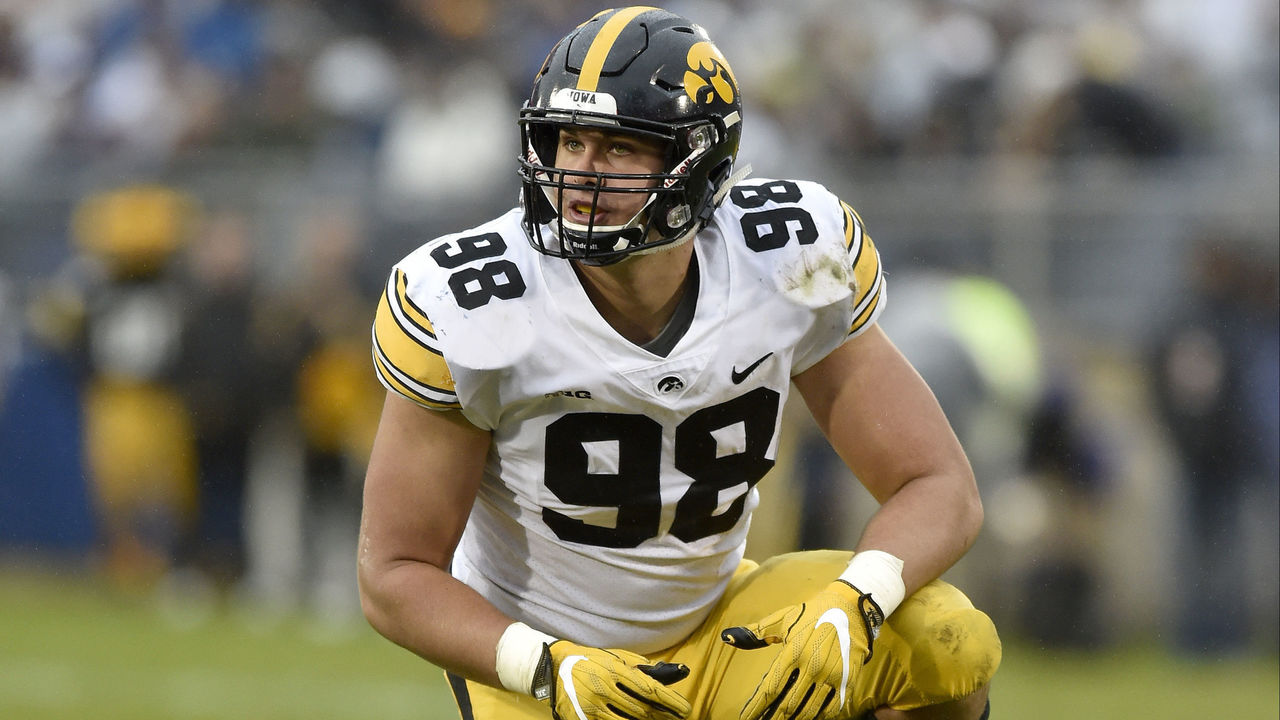 School: Iowa
Height: 6-7
Weight: 271 lbs
Strengths
Frame, strength, and length to line up at several different spots
Explosiveness off the snap, active hands to keep himself clean outside
Pushes the pocket with powerful bull rush and counters with push-pull technique
Flashes a nasty long arm as part of power arsenal
Change of direction shows with ability to flatten to QB at top of outside rush
Uses length to control positioning and stacks, sheds to make plays in running game
Weaknesses
Lacks flexibility desired in top-flight edge rushers
Needs to develop inside counter move
Bottom line
Nelson is an outstanding reminder that bend isn't the only way to win the edge. With speed off the ball, strength and hand usage through his rush, and an ability to change direction at the top, the Iowa standout can be a problem for offensive tackles on the outside. Adding an inside counter to his arsenal could lead to some major pass-rush production in the NFL, complementing an already well-established skill set in the run game.
12. Jaylon Ferguson
School: Louisiana Tech
Height: 6-5
Weight: 271 lbs
Strengths
Very productive college career, led NCAA in sacks last season
Good size and frame
Stout at point of attack with strength to create leverage vs. linemen
Devastating rip move
Among the best in this class at converting speed to power
Strong and quick hands rushing the passer
Weaknesses
Tested poorly athletically, especially in agility drills
Lacks experience against top-tier competition in college
Can be swallowed by offensive tackles if first move fails
Very stiff when changing direction
Lacks bends, often rushes upright
Bottom line
Ferguson put up eye-popping numbers at Louisiana Tech, but he's an unrefined pass-rusher who may lack the athleticism and movement skills to develop into a Pro Bowl defender. There are certainly things to love about his game, though; the defensive end excelled on all three downs in college and could be a solid mid-round selection.
13. Oshane Ximines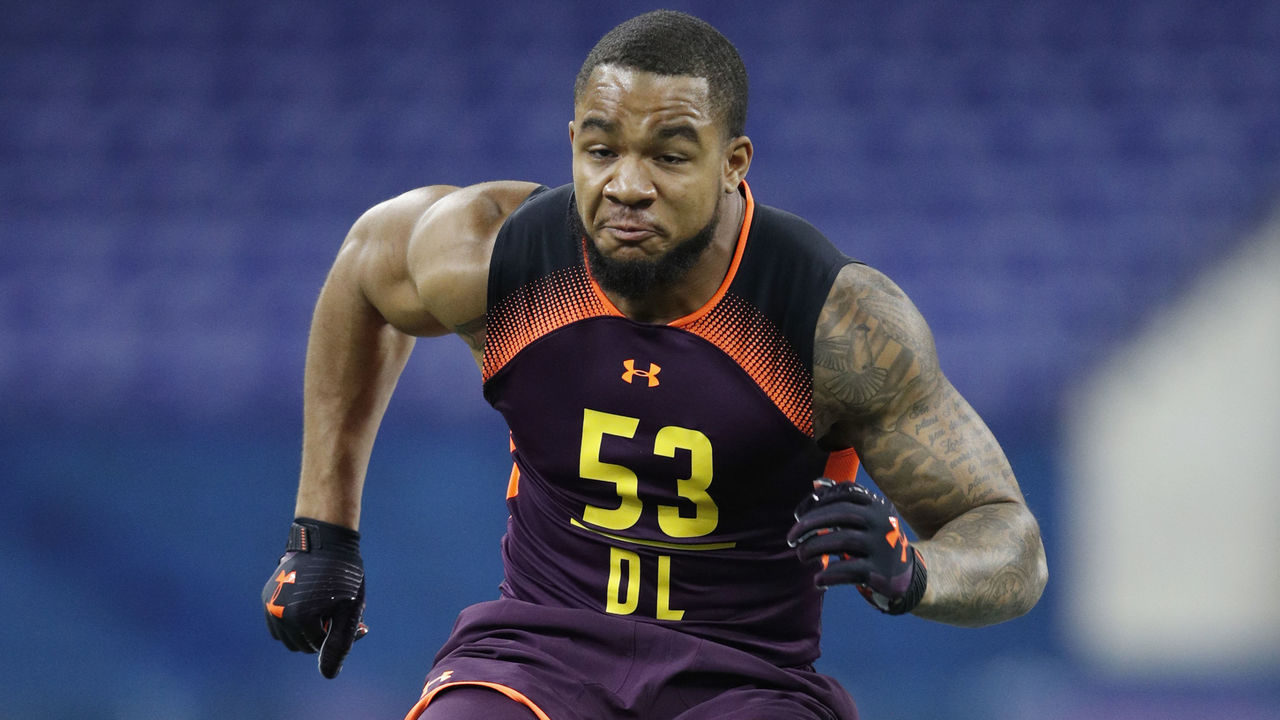 School: Old Dominion
Height: 6-4
Weight: 253 lbs
Strengths
Good technique and power with hands
Uses swipe move to win as pass-rusher both outside and inside
Counters speed to the outside with change of direction and inside move at top of rush
Converts speed to power for effective bull rush
Quickness and hand usage allow for splash plays against the run
Weaknesses
Average athleticism
Production came against lower-level competition
Size and base strength will make anchoring against the run difficult
Coverage and ability in space for a 3-4 edge role involves major projection
Bottom line
Ximines is an extremely interesting developmental edge prospect. The jump from FCS to the NFL will be steep, and a tendency to get washed out against the run will limit his initial early-down value. But his hand usage and ability to convert speed to power give him plenty of upside as a situational pass-rusher.
14. L.J. Collier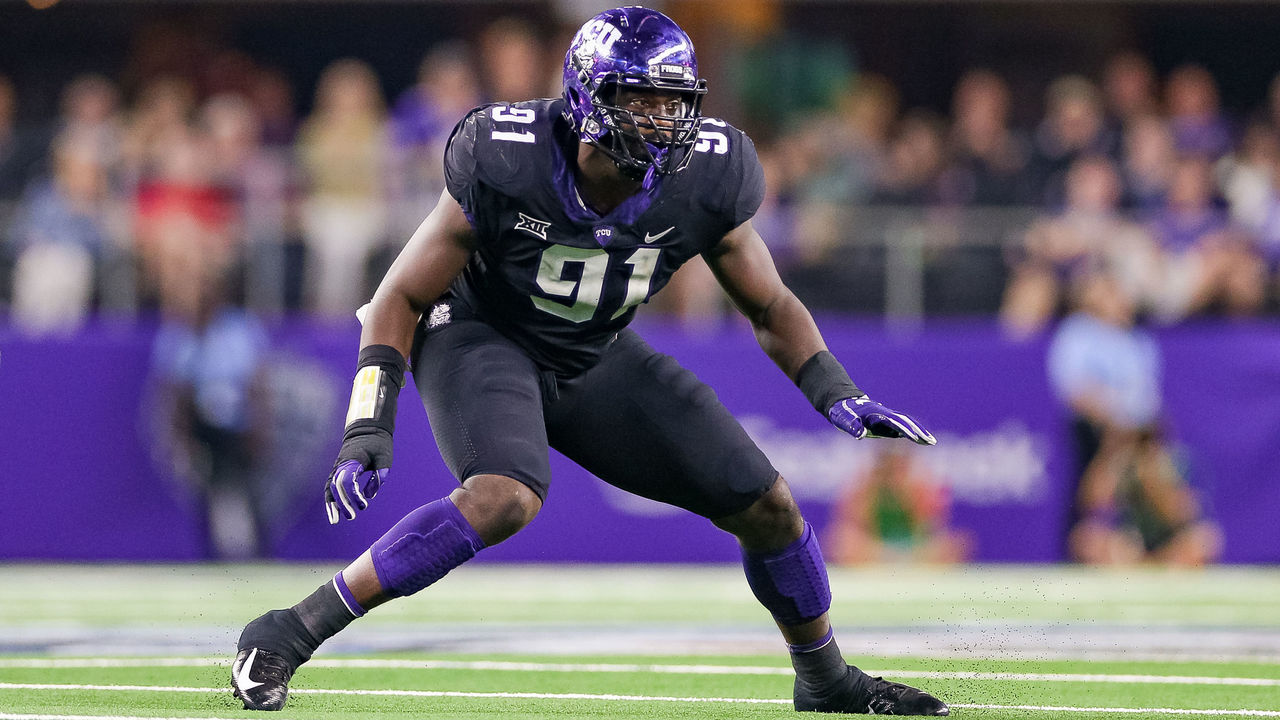 School: TCU
Height: 6-2
Weight: 283 lbs
Strengths
Fantastic strength at point of attack
Converts speed to power for nasty bull rush
Stout run defender who sets the edge and locates the ball to make a play
Strong hands, flashes potential for high-level usage in pass rush
Length allows him to get into opponents' chests and control position
Frame and skill set will provide position versatility across defensive front
Weaknesses
Lacks explosiveness and short-area quickness
Must make more consistent use of hands and length
Limited pass-rush arsenal, relies too heavily on bull rush
Lacks speed and flexibility to bend the edge
Bottom line
Collier will be drafted much higher than most expect, and it's not hard to see why. Though he doesn't bring the kind of edge speed most look for in today's NFL, his physicality and hand usage give him plenty of potential as a power rusher. Teams will be eager to get their hands on those traits with plans of unlocking that upside, and his ability as a run defender will give him a role as he develops.
15. Justin Hollins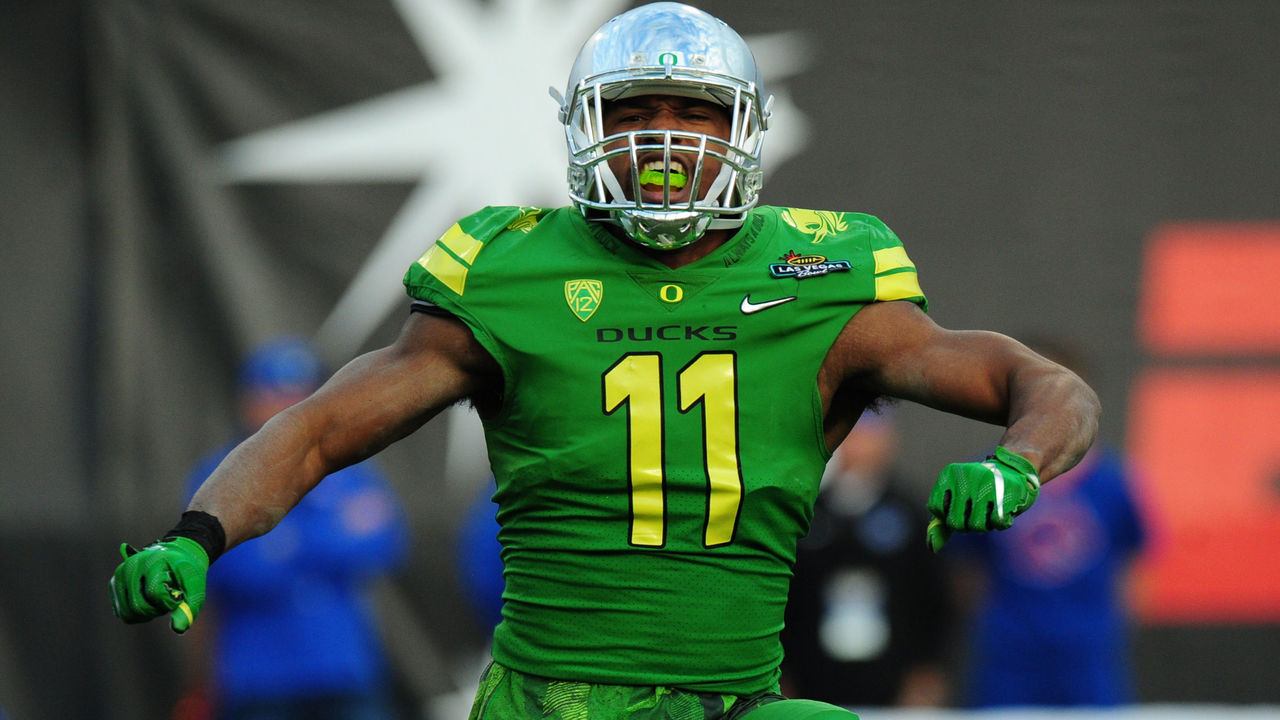 School: Oregon
Height: 6-5
Weight: 248 lbs
Strengths
Tall with long arms
Very athletic defender
Blazing speed
Quick first step off the line
Experienced using pass-rush counters
Flexible edge defender who can rip and run the arc smoothly
Adept moving in space and in short areas
Excellent change-of-direction skills
Weaknesses
Must add strength and weight to frame
Plays wild at times, resulting in missed tackles on poor angles
Lacks hand power to stack and shed blocks
Not yet an effective run defender
Not overly physical
Bottom line
Hollins is the classic athletic edge defender that gets selected on Day 3 but he possesses considerable upside as an NFL prospect. He's not ready to contribute against the run, but he profiles as a weak-side nickel rusher who can put his hands down and attack the quarterback with speed. He's certainly a sleeper prospect in a solid class.
Other notable prospects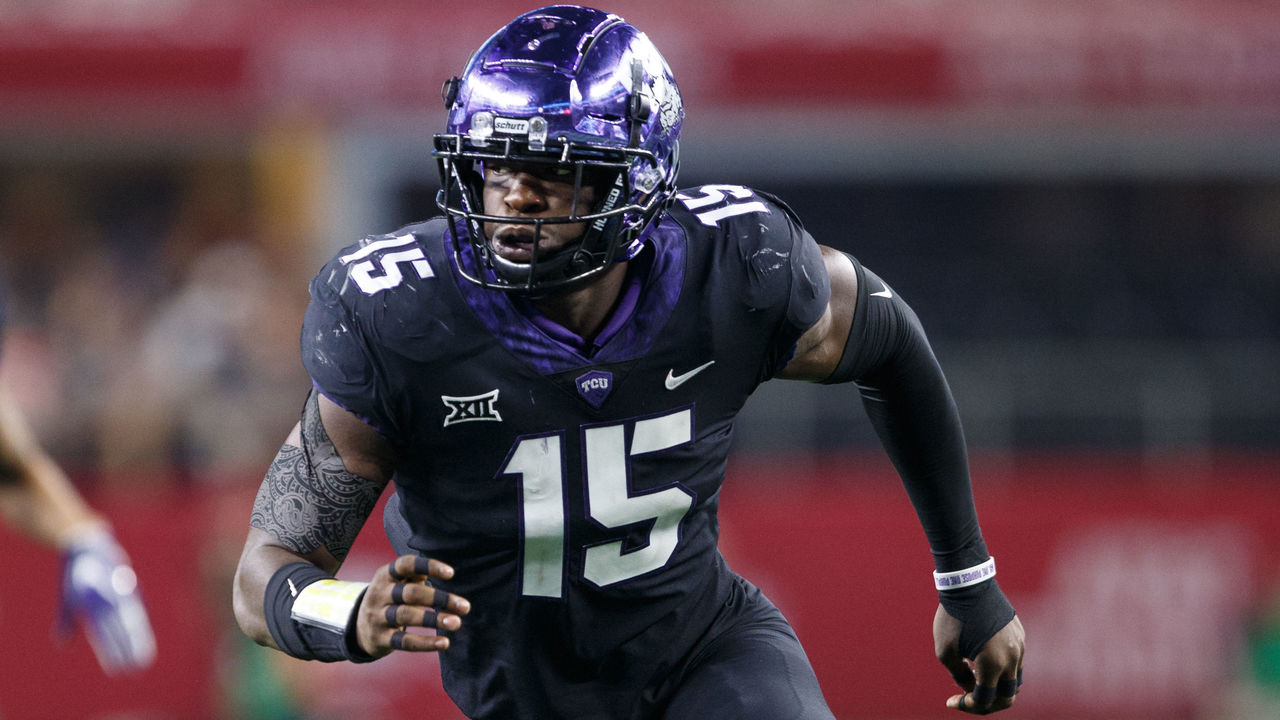 Ben Banogu (TCU)
D'Andre Walker (Georgia)
Maxx Crosby (Eastern Michigan)
Joe Jackson (Miami)
Malik Reed (Nevada)
Comments
✕
2019 NFL Draft prospect rankings: Edge rushers
  Got something to say? Leave a comment below!