2019 NFL Draft prospect rankings: Offensive tackles
Here, theScore's Mike Alessandrini and Dan Wilkins break down the top prospects in the upcoming 2019 NFL Draft with position-by-position rankings and an overall top 50 big board.
Top 50
QB | RB | WR | TE | OT | iOL
EDGE | DL | LB | CB | S
Offensive tackles
1. Jonah Williams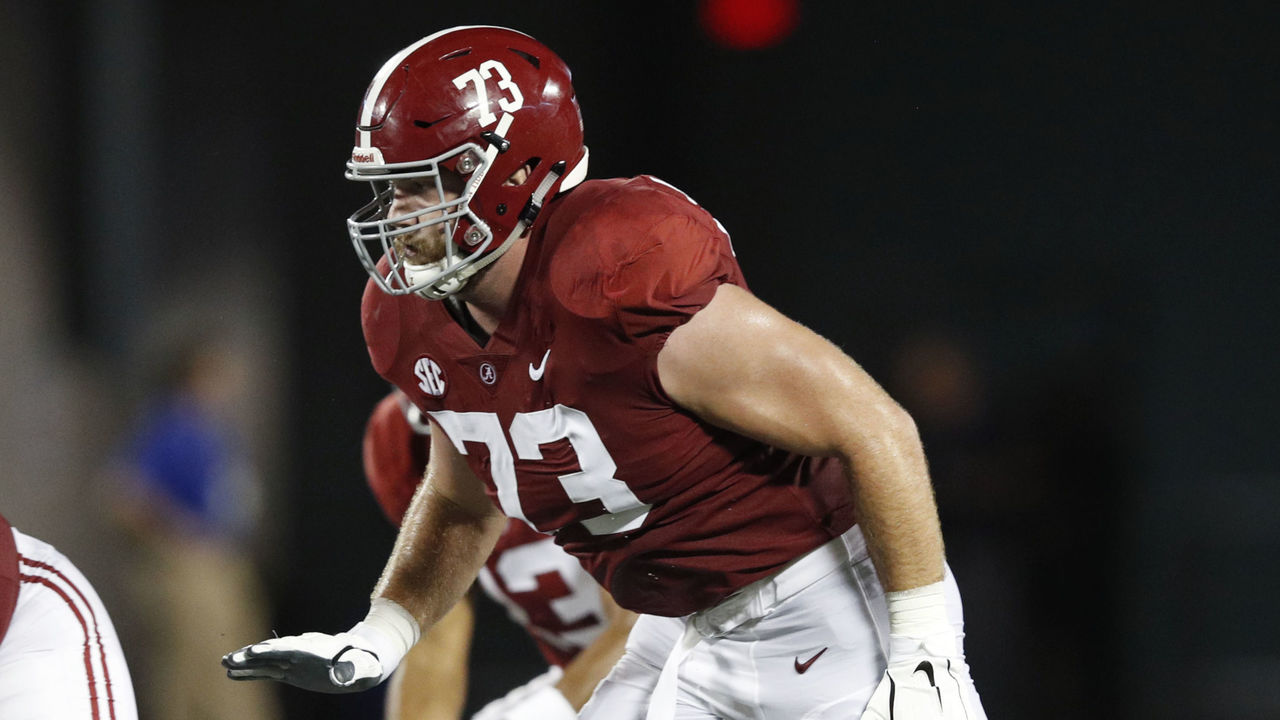 School: Alabama
Height: 6-5
Weight: 302 lbs
Strengths
Master technician who demonstrates great footwork and hand usage
Good lateral movement to mirror pass-rushers
Ability to anchor and stymie opponent's bull rush
Footwork and technique make reach blocks look easy
Physical, aggressive attitude to finish blocks
Works well to second level and in space
Weaknesses
Lacks desired length of NFL offensive tackles
Not a great athlete
A transition to guard would involve learning a new position
Bottom line
Many will see Williams as a guard in the NFL, as his arm length will fall below some thresholds for offensive tackles. While he could probably be a Pro Bowler on the inside, he just does too many things at a high level as a tackle to not try him there first. Williams is a technically advanced lineman with excellent mobility and strength, which should give him every opportunity to silence the doubters and put together a stellar career on the outside.
2. Andre Dillard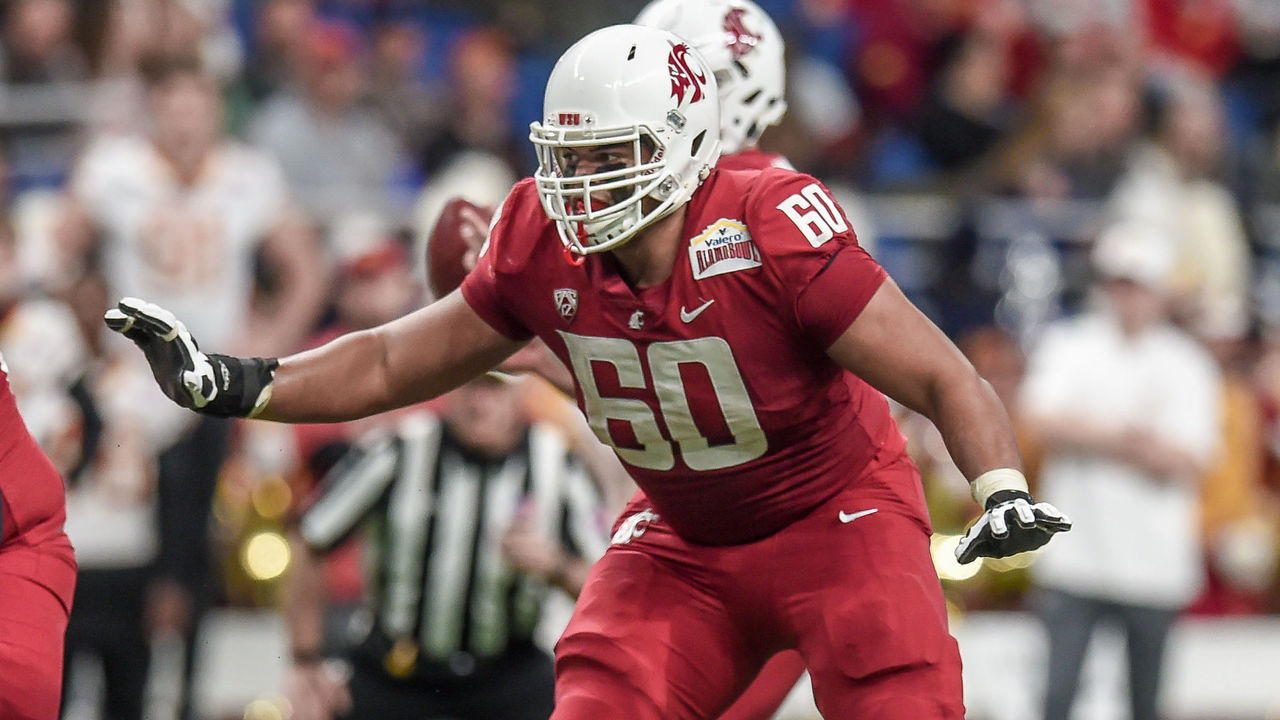 School: Washington State
Height: 6-5
Weight: 315 lbs
Strengths
Top-tier athlete for position
Great lateral movement to mirror defenders
Awareness to pass off blocks and pick up twists or blitzes
Effective chop move on arms of rushers who get inside with length
PFF's top pass-blocking grade
High-end athleticism shows up with effectiveness in space
Climbs to second level well in running game
Weaknesses
Below-average length
Will need to add strength and fill out frame at next level
Could struggle against power rushers early on
Current lack of power doesn't lead to much movement as a run-blocker
Struggles to sustain blocks in running game
Not overly aggressive
Bottom line
Dillard may well be the best pass-protector in this class despite concerns about his length. The Washington State product is a phenomenal athlete whose movement gives him upside in space and working upfield in the running game. Adding strength is a must if he hopes to reach his ceiling, but that's an area that can be developed in an NFL training program. Dillard's ceiling is extremely high.
3. Jawaan Taylor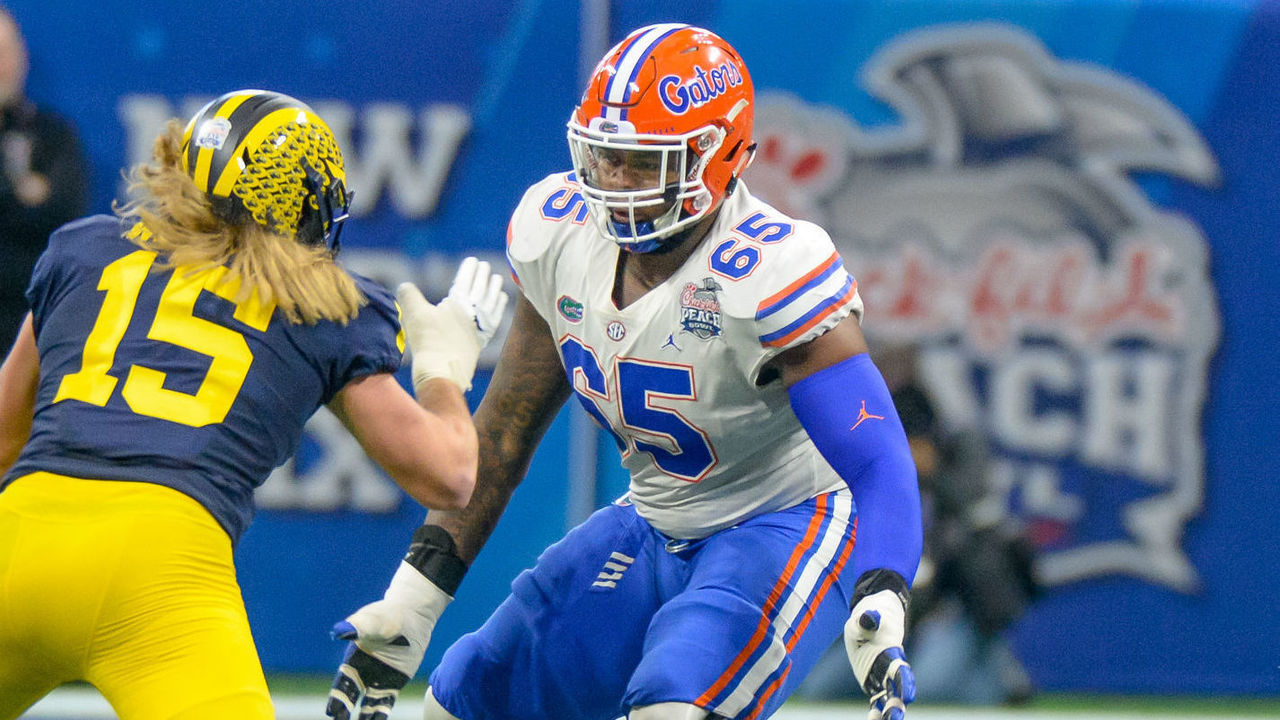 School: Florida
Height: 6-5
Weight: 312 lbs
Strengths
Ideal frame and length for offensive tackle
Physical mauler in running game
Blows opponent off ball and drives them out of their gap
Can climb to second level and make block on target in space
Pass rush is shut down when he gets his hands on opponent
Anchors well against power-rush moves
Shows athleticism in space
Weaknesses
Has difficulty dealing with edge speed off line
Must improve hand placement to keep within defender's frame
Could make better use of length for leverage in running game
12 penalties in 2018
Bottom line
Taylor is the most dominant run-blocker in this class, moving bodies off the line with power and even showcasing his athleticism by working upfield or getting out in space. His strength also shows up in pass protection, where opposing rushers can be shut down pretty quickly if he gets his hands on them. He'll struggle with speed to the outside, but he's athletic enough to improve in that area. Taylor is a long-term starter at right tackle, a position that's becoming just as important as the left.
4. Cody Ford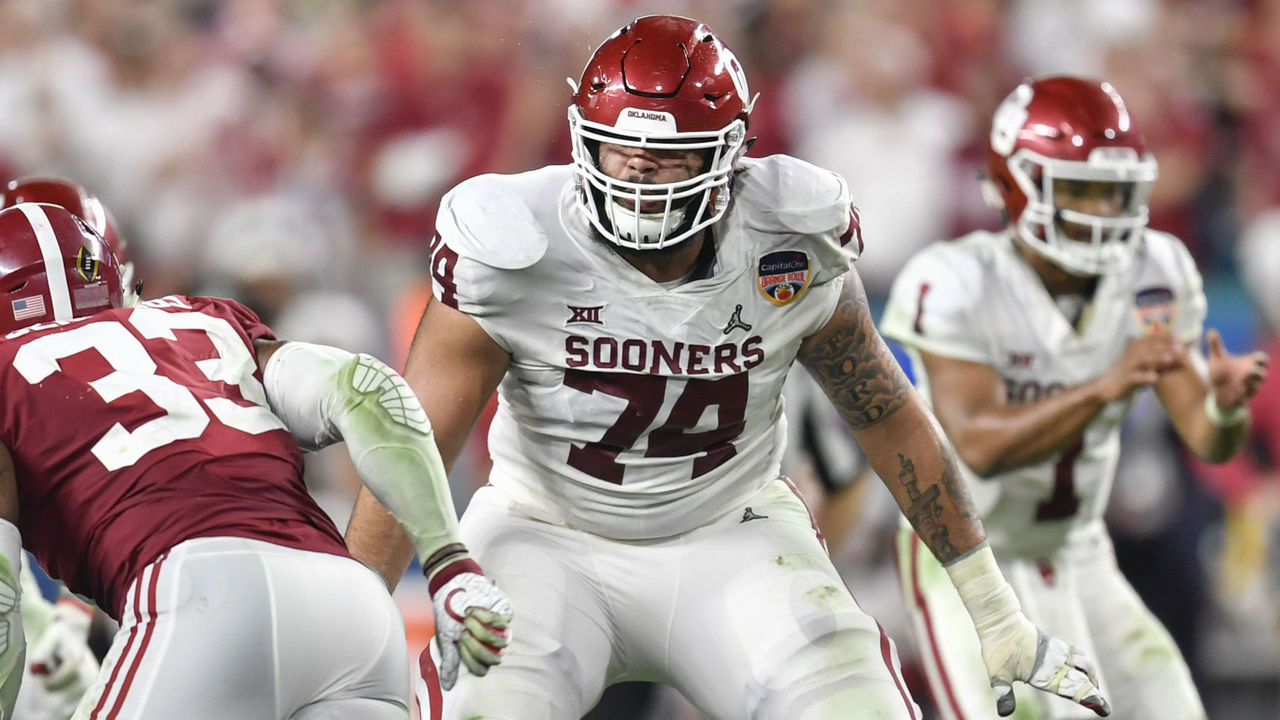 School: Oklahoma
Height: 6-4
Weight: 329 lbs
Strengths
Great size with strength and athleticism to match
Lower-body strength to anchor in pass protection and drive legs while run-blocking
Mirrors opponent with good lateral movement to account for counters
Good awareness to pass off twisting rushers and pick up others
Plays physical with a nasty demeanor to finish blocks
Weaknesses
Needs to improve hand placement and timing of punch in pass protection
Doesn't really work to the second level effectively in the run game
10 penalties in 2018
Bottom line
Ford is a massive lineman whose physicality and aggressive style can set the tone for a five-man unit up front. His technique will need to improve, and ideally, his athleticism would better translate to effectiveness working upfield in the running game, but those are areas that can be developed. Everything else in his game is very impressive. Whether it's as a guard or as a tackle, Ford should be an impact starter from Day 1.
5. Dalton Risner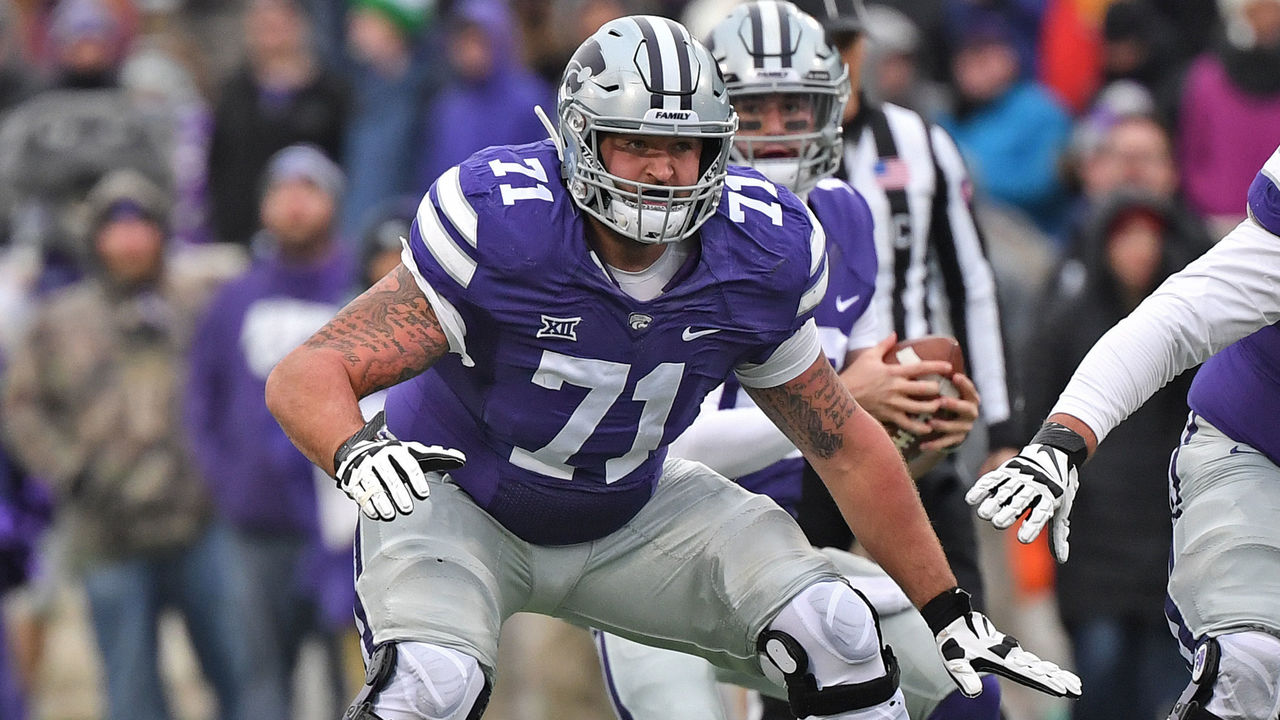 School: Kansas State
Height: 6-5
Weight: 312 lbs
Strengths
Four-year starter with experience at center, tackle, and guard
Sound technique for any spot on offensive line
Good hand usage and placement in pass protection
Anchors well against power
Climbs to second level and makes difficult cutoff blocks in running game
Good hips to roll through blocks and steer defenders out of gaps
Nasty demeanor to finish blocks
Weaknesses
Athletic limitations may hint at struggles in space in NFL
False step and general lack of fluidity out of his stance in pass protection
Lacks expected lateral movement from top pass-protectors
Difficulty matching edge speed raises questions about fit at tackle
Will be 24 in Week 1
Bottom line
Risner seems destined for a move to guard, with athletic limitations and difficulty against edge speed working against his fit on the outside. His skill set, highlighted by strength, physicality, and sound technique, would likely play far better on the inside, but the versatility certainly works in his favor either way.
6. Yodny Cajuste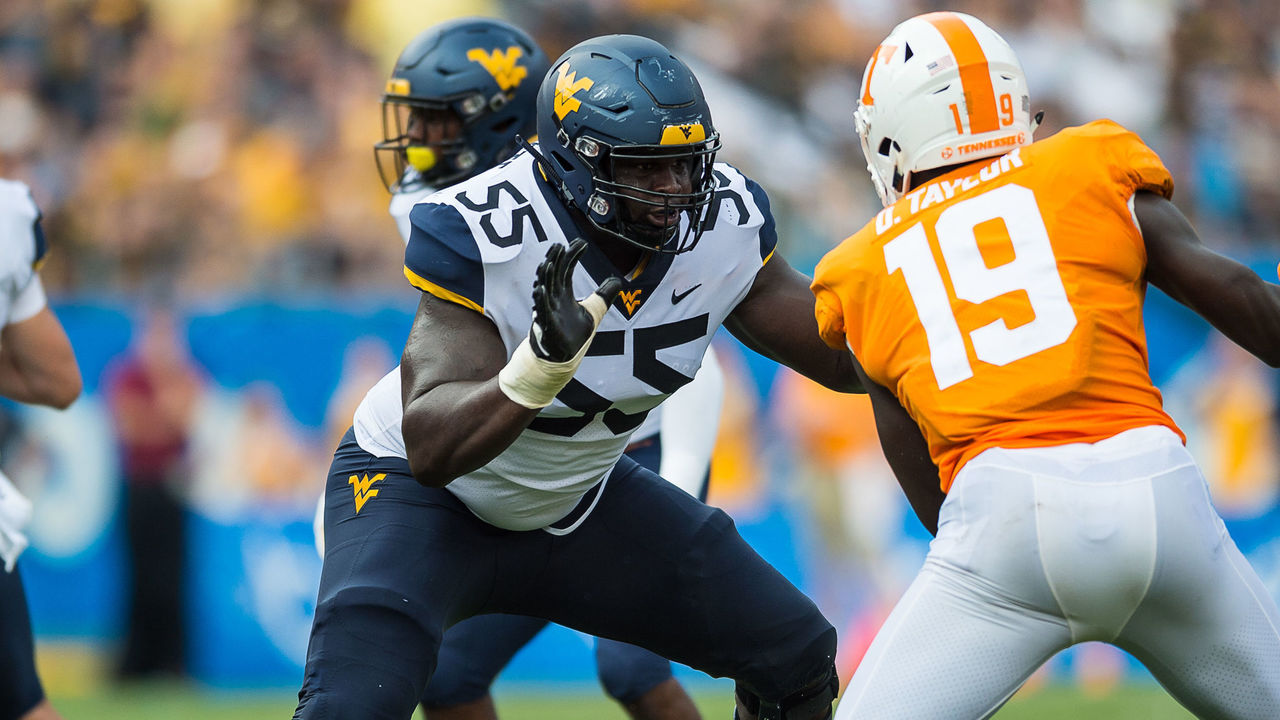 School: West Virginia
Height: 6-5
Weight: 312 lbs
Strengths
Great foot speed in pass sets
Mirrors pass-rushers with lateral movement
Anchors against power rush attempts with strength and a solid base
Explosiveness off the ball and power in running game
Upper-body strength to help steer opponents out of gap
Works to second level as a run-blocker
Athleticism to get out and make blocks in space
Weaknesses
Relatively thin frame
Tendency to drop head and get caught leaning forward
Needs to develop hand usage to combat rush moves
Hand placement must improve
Takes a lot of penalties
Bottom line
Cajuste is an interesting prospect who shows flashes of everything you want to see from an NFL left tackle. He gets into fluid pass sets with a strong base, shows lateral agility to stick with pass-rushers, and demonstrates strength both in protection and as a run-blocker. There are some frustrating inconsistencies, though, so the hope is that NFL coaching can help to clean up some of the technical flaws. Any success in that regard could make him one of the better all-around tackles in this draft.
7. Greg Little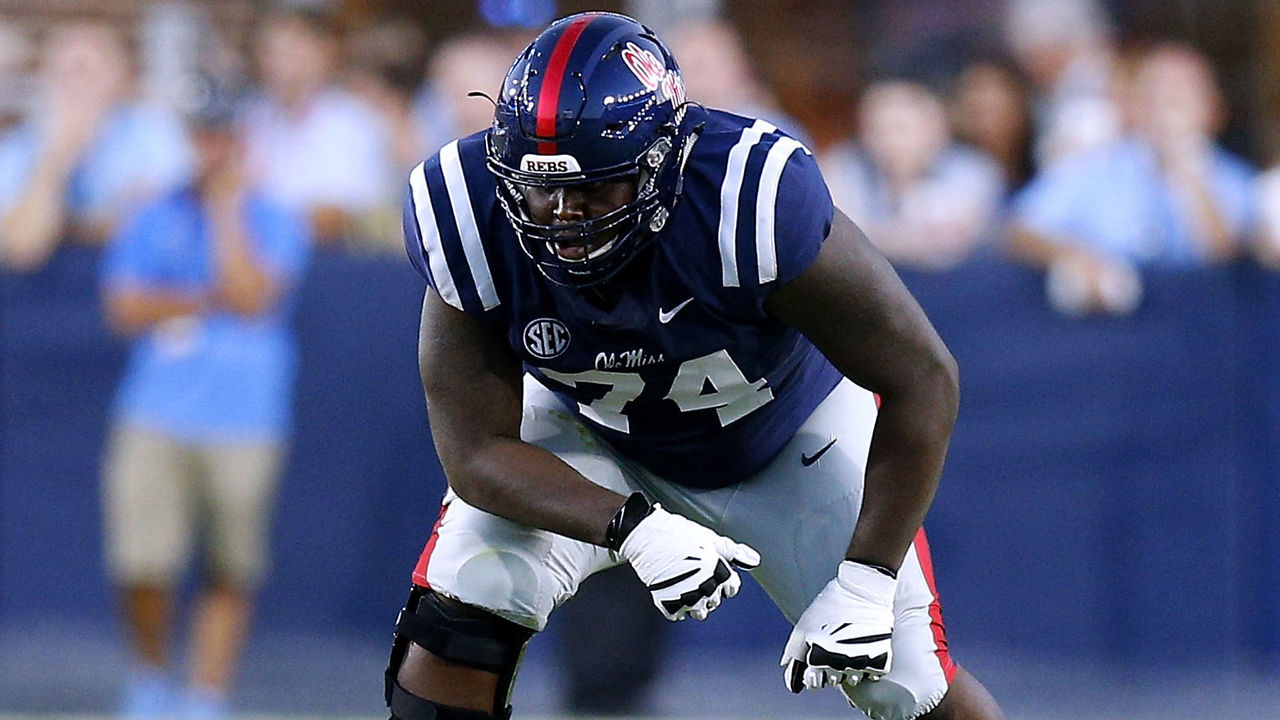 School: Ole Miss
Height: 6-5
Weight: 310 lbs
Strengths
Ideal combination of size and movement ability for left tackle
Great length to keep opponent from getting inside frame
Mirrors edge rushers with good lateral movement
Active and effective hands to shut down pass-rush moves
Weaknesses
Hand usage and length doesn't translate to much movement in the running game
Struggles to find target when climbing to second level
Will need to improve strength for matchups with NFL power rushers
Bottom line
Little enters the NFL with an impressive profile of pass-protection traits, and his abilities in that all-important area of the game should make him a Day 1 starter at left tackle. He still needs to get stronger, and there's some development required for the finer points of run-blocking, but his impact should be immediate and there's upside for even more.
8. Tytus Howard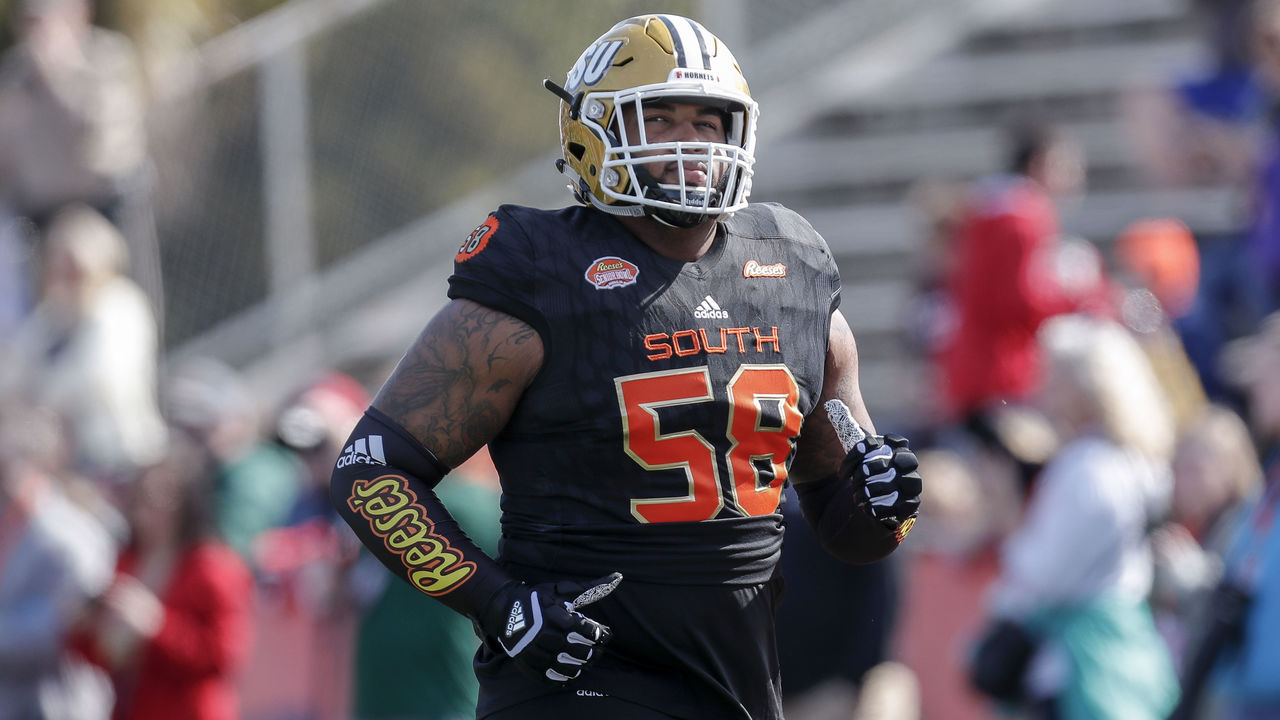 School: Alabama State
Height: 6-5
Weight: 322 lbs
Strengths
Good frame with room to add more weight
Athleticism translates to fluidity both in pass sets and in space
Mirrors defenders with good lateral quickness
Smooth and effective second-level run-blocker
Has played at both tackle spots
Weaknesses
Needs to improve play strength in the pros
Doesn't yet make good use of length
Struggles to generate push in running game
College experience came against lower-level competition
Bottom line
An athletic tackle whose best attribute is his movement ability, both in terms of mirroring pass-rushers and getting out in space in the run game, Howard has a ton of upside. He's a bit of a project, though, as he'll need to get stronger and the jump in competition from FCS to the NFL will be steep. He could be a long-term starter at either tackle spot if he fills out his projectable frame and continues to develop his technique.
Other notable prospects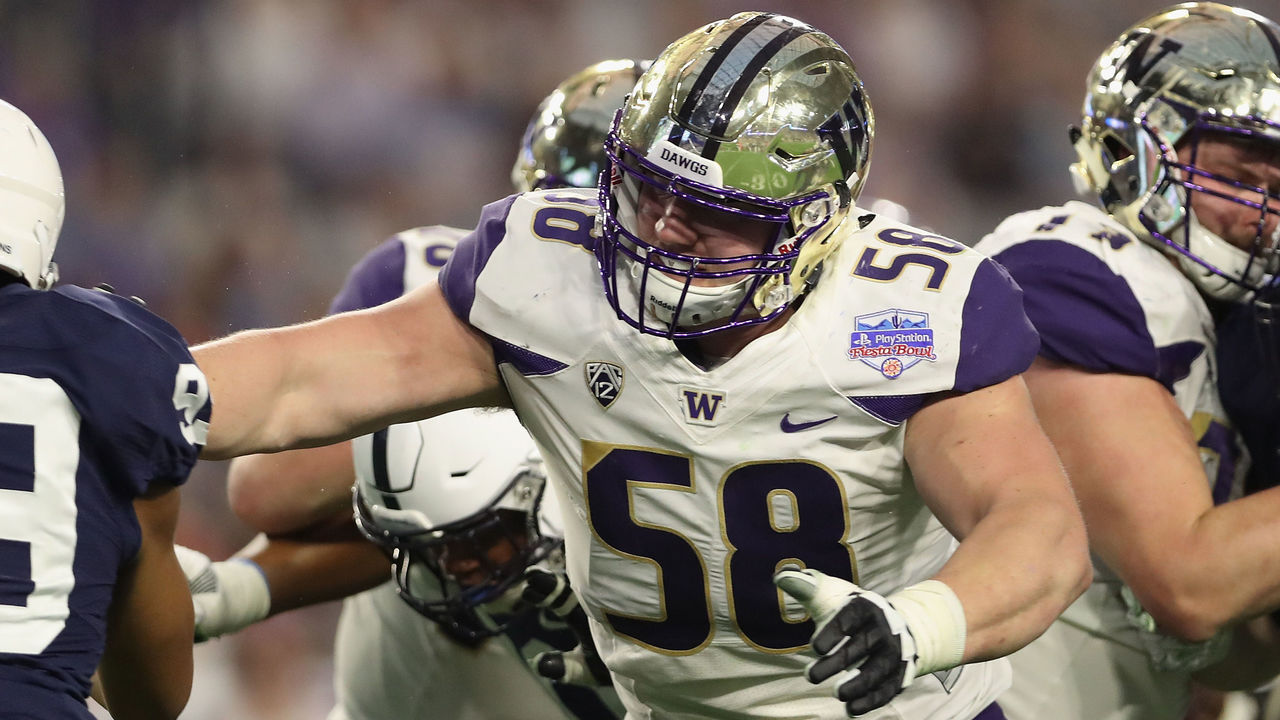 Kaleb McGary (Washington)
David Edwards (Wisconsin)
Max Scharping (Northern Illinois)
Chuma Edoga (USC)
Comments
✕
2019 NFL Draft prospect rankings: Offensive tackles
  Got something to say? Leave a comment below!