2019 NFL Draft prospect rankings: Wide receivers
Here, theScore's Mike Alessandrini and Dan Wilkins break down the top prospects in the upcoming 2019 NFL Draft with position-by-position rankings and an overall top 50 big board.
Top 50
QB | RB | WR | TE | OT | iOL
EDGE | DL | LB | CB | S
Wide receivers
1. Marquise Brown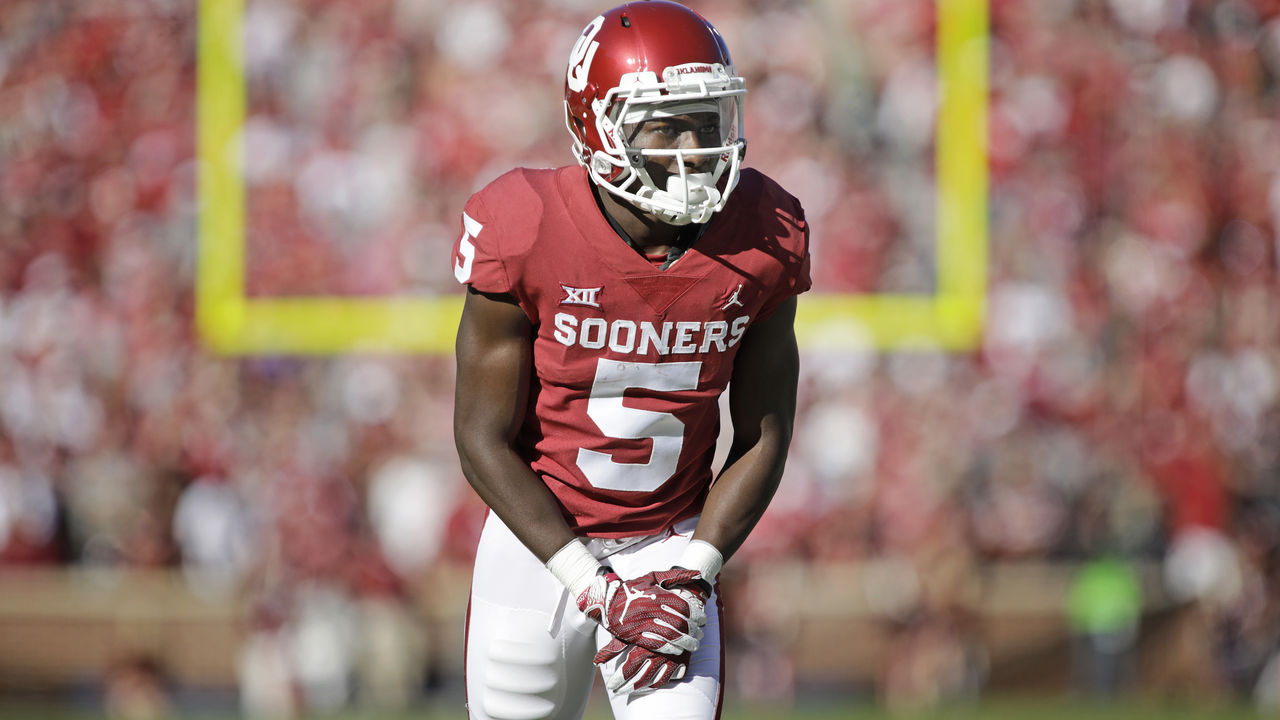 School: Oklahoma
Height: 5-9
Weight: 166 lbs
Strengths
Incredibly explosive
Absolute burner with speed that's nearly impossible to cover one-on-one
Polished route-running ability
Creates separation with impressive fakes at top of his routes
Tracks deep ball well and has savvy to lean into defender before separating for catch
Plays bigger than he is with ability in contested-catch situations
Breakaway speed and short-area quickness make him a nightmare after the catch
Active blocker in running game
Weaknesses
Lacks ideal height for a No. 1 receiver
Too many focus drops
Recovering from foot injury that forced him to miss pre-draft workouts
Bottom line
Brown's ability as a deep-ball receiver, winning with speed and ball-tracking ability despite his size limitations, has been compared to DeSean Jackson. But he's also capable of making plays at the short and intermediate levels of the field and taking those the distance; perhaps the better comparison is Tyreek Hill. "Hollywood," a cousin of Antonio Brown, gets the No. 1 spot on our receiver rankings because his skill set makes his size largely irrelevant. Players like this just don't come around very often.
2. D.K. Metcalf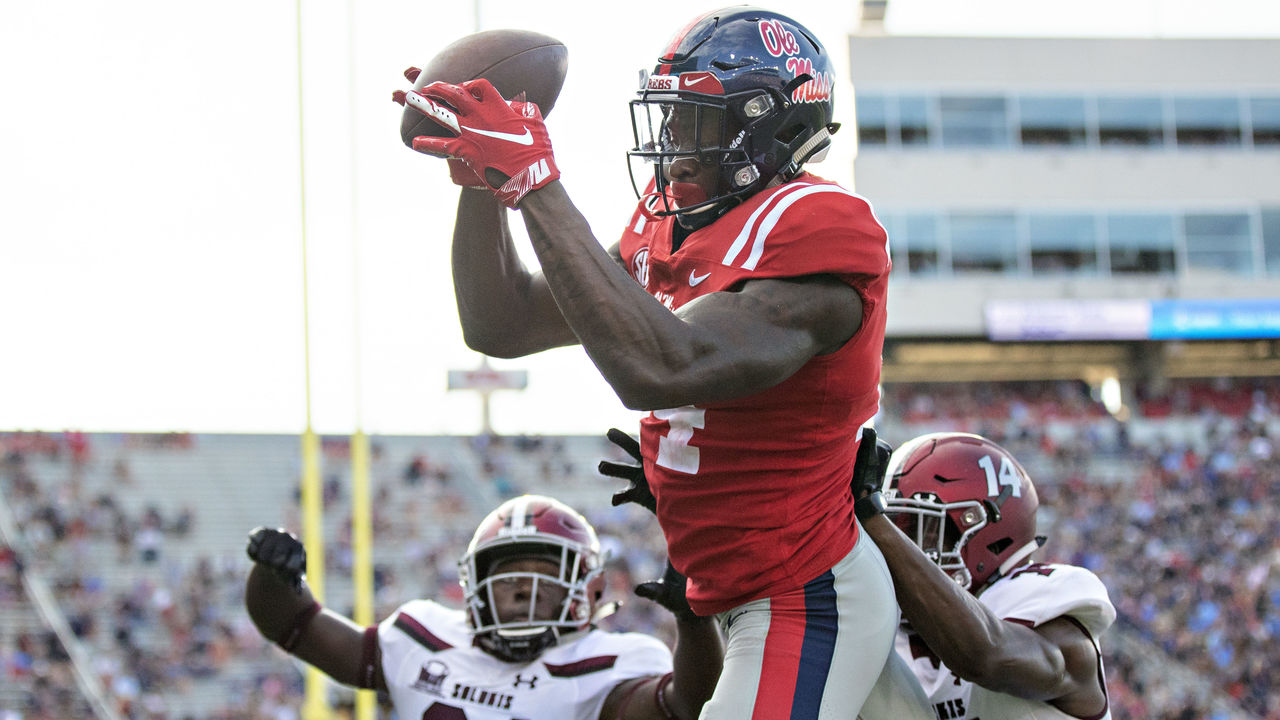 School: Ole Miss
Height: 6-4
Weight: 229 lbs
Strengths
Unique size and rare athleticism for his position
Elite speed for size that at times leave defenders helpless
Home-run threat on every play
Excellent burst off line of scrimmage
Able to high-point ball and make contested catches
Imposing presence on cornerbacks due to frame and skill set
Dangerous on vertical routes
A menace to tackle in open field
Weaknesses
Two season-ending injuries in college (foot in 2016, neck in 2018)
Needs to refine route running - ran mostly vertical tree in college
Average footwork gets him stuck versus cornerbacks at times
Should've been more productive given his high-level physical traits
A few focus drops show up on tape
Bottom line
Metcalf is one of the most physically imposing wide-receiver prospects we've ever seen, combining ridiculous speed and a monstrous frame. He's learning the nuances of the position after running a limited route tree at Ole Miss, but he'll still be an immediate matchup nightmare in the NFL. Metcalf's change-of-direction deficiencies are overblown, as he displays enough athletic ability there on tape. If cornerbacks don't get their hands on the wideout, he's a threat to score on every play. Metcalf is raw but has one of the highest ceilings in this entire draft.
3. Hakeem Butler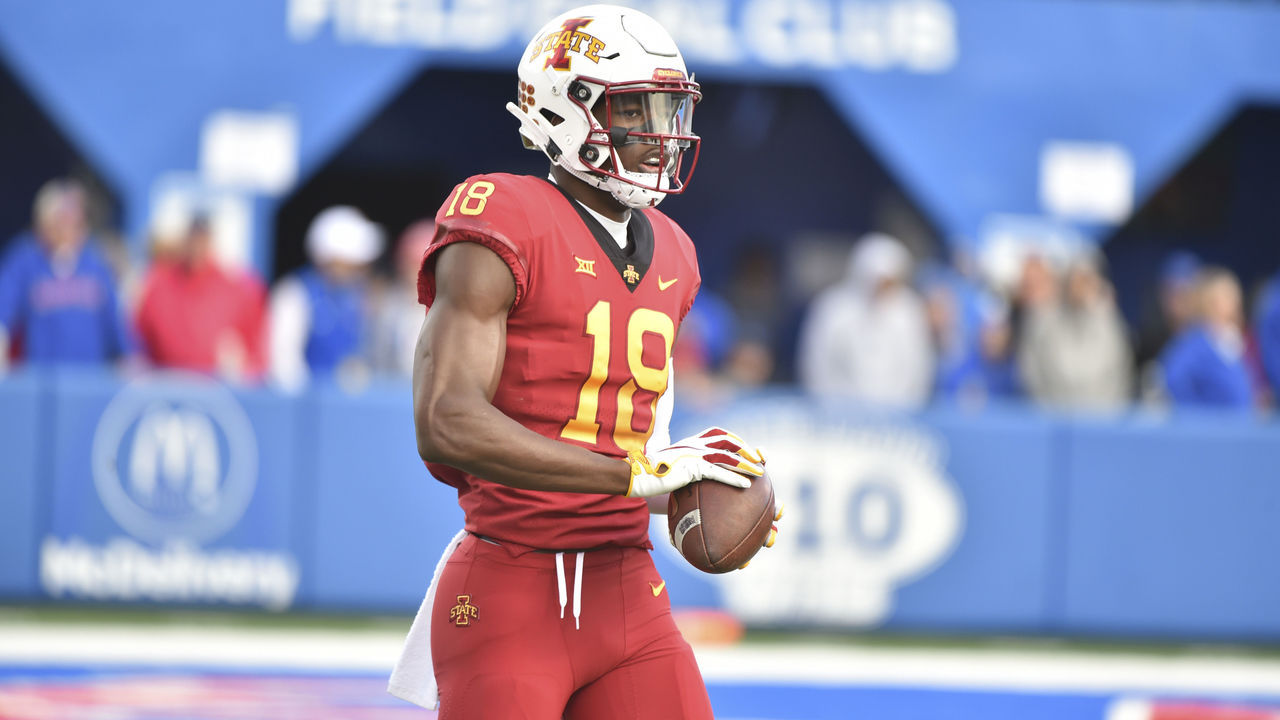 School: Iowa State
Height: 6-5
Weight: 227 lbs
Strengths
Big-play machine who can line up anywhere
Size, physicality, and high-point ability make winning over a defender look easy
Tracks ball well and has the body control to make impressive adjustments
Advanced route-runner with a feel for nuance and positioning to create separation
Massive catch radius
Has long speed to stretch defenses vertically
Physicality shows up with bully-running mentality after catch
Active and physical blocker in running game
Weaknesses
Focus drops present an issue that needs to be corrected at next level
Not especially quick in and out of his breaks
Bottom line
Butler does it all. Drops are the only major knock on his game, but they're more a result of focus than an indicator of ability. And drops really aren't all that concerning considering the kinds of plays he makes on a regular basis. Butler is a size-speed freak who dominates at all levels of the field, and his physicality shows up in all phases of the offensive game. He's everything teams should be looking for in a No. 1 receiver.
4. A.J. Brown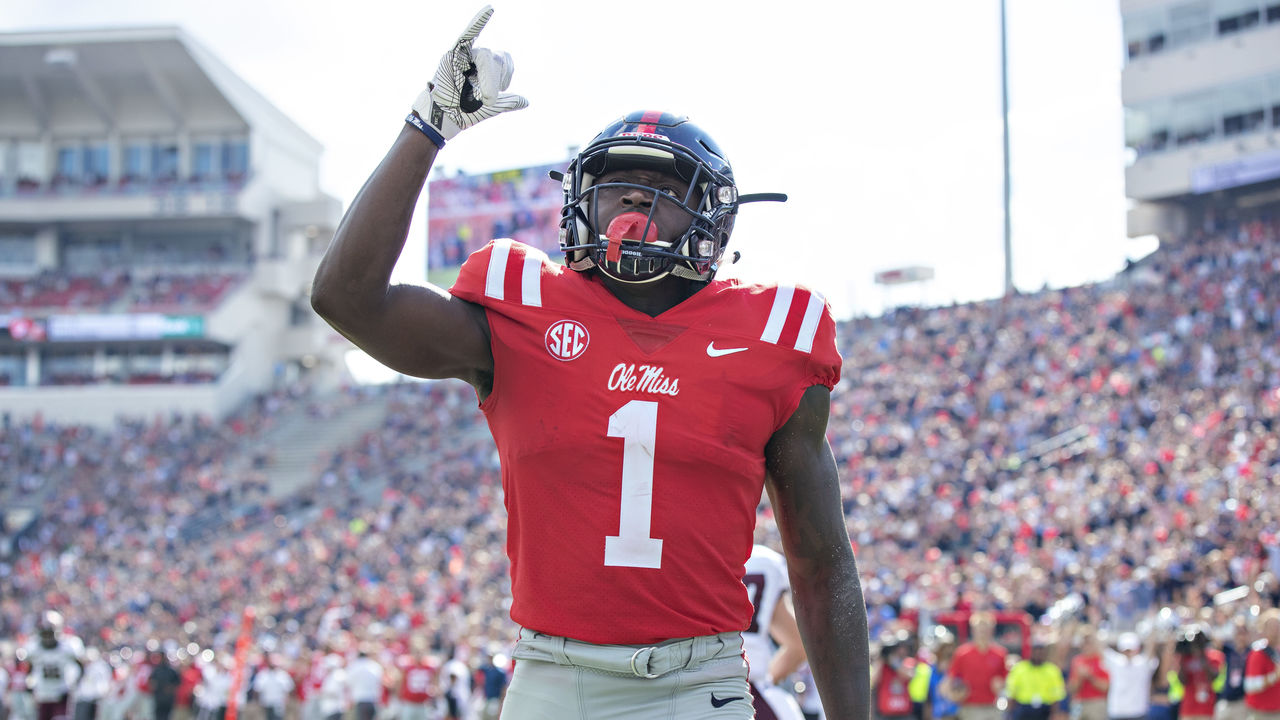 School: Ole Miss
Height: 6-1
Weight: 226 lbs
Strengths
Very productive collegiate career
Soft hands - makes a number of tough catches look easy
Good size and physicality allow him to line up anywhere
Matchup nightmare as a slot receiver
Very elusive after catch
Solid, crafty route-runner who possesses great agility
Can easily separate versus off coverage
Weaknesses
Has been bested by top-tier press coverage
Doesn't possess great long speed or initial burst
Least productive games came against top competition
Bottom line
Brown is a solid early-round prospect who could find instant success in the NFL. He likely fits best in a big slot receiver role as a middle-of-the-field target. Brown may have some athletic limitations in the pros, but he's a refined route-runner that beats defenses in a variety of ways. He's a high-level chain mover that's dangerous with the ball in his hands and can be an occasional red-zone threat. With few weaknesses in his game, Brown's floor as a prospect is among the highest in this receiver class.
5. N'Keal Harry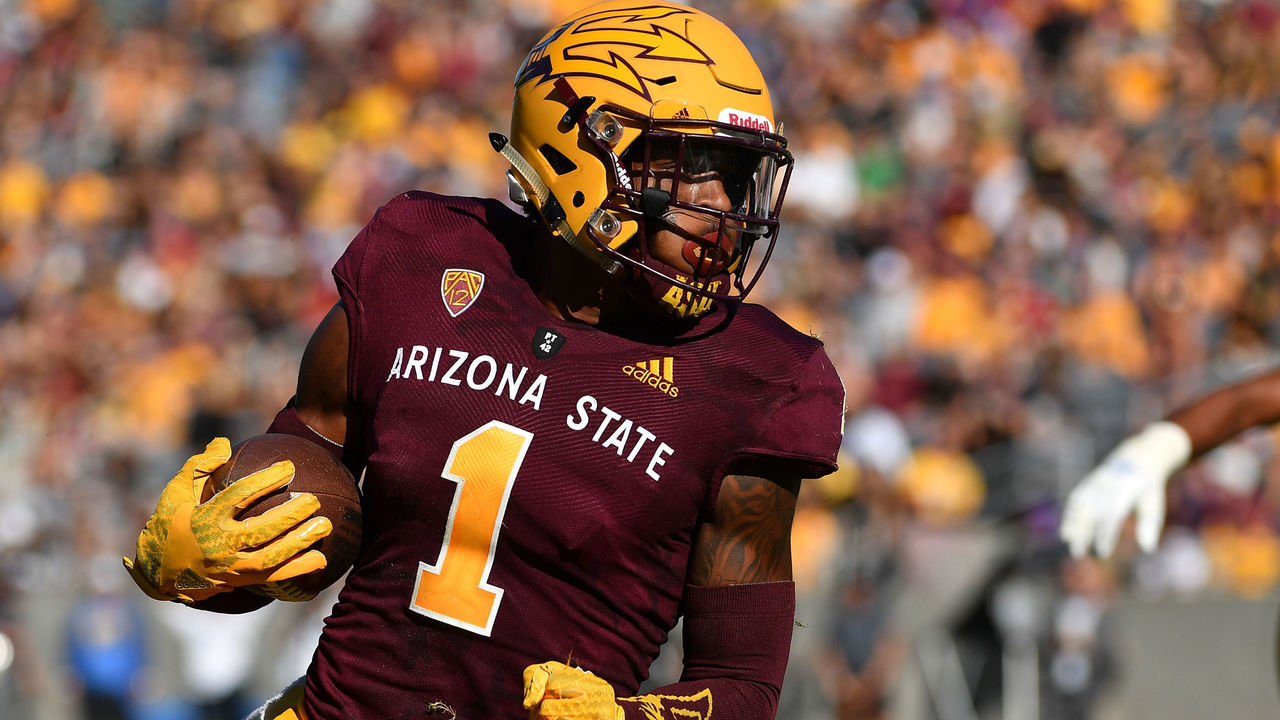 School: Arizona State
Height: 6-2
Weight: 228 lbs
Strengths
Big-bodied receiver who's very difficult to tackle in open field
Has excellent body control both after the catch and on contested targets
Easily overpowered smaller cornerbacks during routes
Very good short-area quickness for his size
Made a number of "wow" plays on tape
Excellent running slants
Technical route-runner that uses arm-over technique to separate
Legitimate red-zone threat
Weaknesses
Loses a bit of burst/speed in and out of breaks
Made a number of incredible catches, but also had a few disappointing drops
Doesn't beat press coverage as often as he should
Has reversed field and ran in opposite direction a number of times after the catch - may not work as effectively in the NFL
Bottom line
Harry is a physically imposing receiver who moves very well for his size. He's a scheme-versatile prospect who projects as a classic X receiver or in a big slot role. Concerns over his speed and athleticism were silenced after an excellent combine. Harry's route running - particularly his feet - needs a bit of fine tuning, but the first-team All-Pac-12 wideout has a number of high-level traits to develop into a potent offensive weapon.
6. J.J. Arcega-Whiteside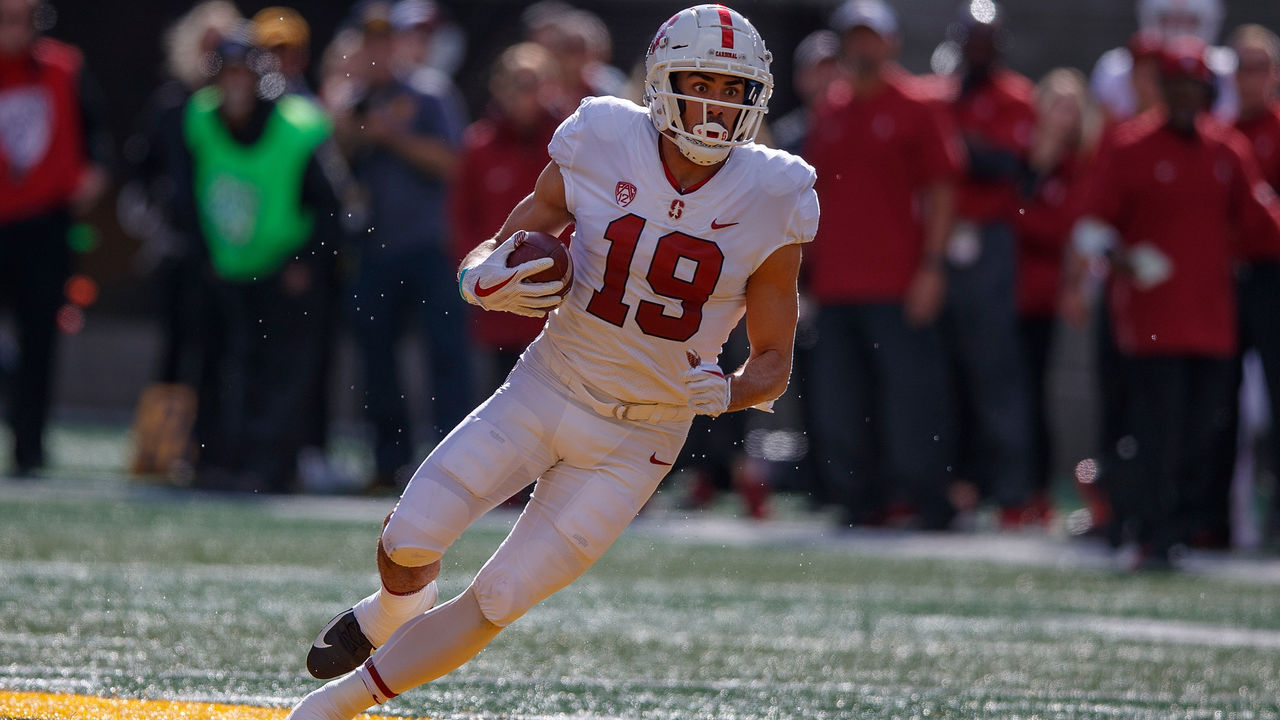 School: Stanford
Height: 6-2
Weight: 225 lbs
Strengths
Contested-catch machine, boxing out and high-pointing ball to make play after play
Fights through contact to maintain positioning and get hands on ball
Strong hands and massive catch radius
Great release at line with footwork to beat press
Can sink hips at top of his route and quickly get into a break
Savvy route-runner who sets up defenders and creates separation with nuanced fakes
Physicality and positioning draws plenty of flags from defenders trying to recover
Effective blocker in running game
Weaknesses
Lacks quickness coming out of his breaks
Doesn't offer much in terms of playmaking ability after catch
Didn't run an extensive route tree in college
Bottom line
Arcega-Whiteside is a fascinating prospect. The dominance in contested-catch situations is, of course, his calling card. When the ball goes up, it's his - he makes it look that easy. But he's also a better athlete than some would have expected, running a 4.49 40-time at his pro day, and he's demonstrated some nuance both with his release and in his routes that help to create separation. Arcega-Whiteside seems destined to be picked at some point on Day 2 and could end up proving to be a steal.
7. Terry McLaurin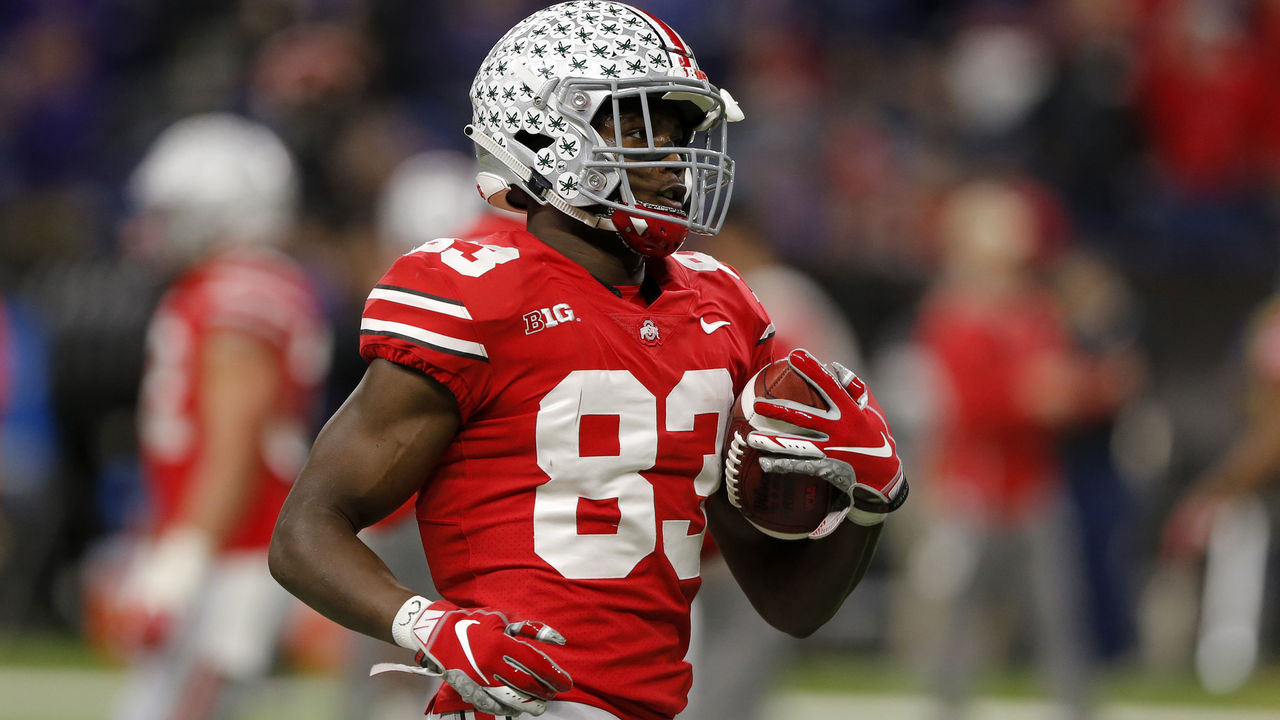 School: Ohio State
Height: 6-0
Weight: 208 lbs
Strengths
Excellent route runner with a combination of toughness and lightning-quick feet
In control of body and feet along sideline
Fantastic release off line of scrimmage
Tracks ball well and adjusts to throws
Excellent pre-draft process - shined at combine and Pro Day
Blazing speed (ran 40-yard dash in 4.35 seconds)
Ability to dominate press coverage
Plenty of special teams experience
Uses body well to shield defensive backs
Weaknesses
Wasn't top target in a balanced Buckeyes offense - career-high 701 yards in 2018
Burst/acceleration doesn't stand out
Below-average catch radius
Doesn't make defenders miss after catch
Bottom line
McLaurin is a fascinating prospect who has seen his draft stock soar in recent months. He wasn't overly productive at Ohio State but flashed excellent route-running abilities and is a legitimate deep threat. McLaurin isn't the biggest receiver, but high quick feet, deep speed, and ability to track the ball translates extremely well in the pros. He could find instant success as a Z receiver (lining up off the line of scrimmage) on a team that utilizes his skill set.
8. Deebo Samuel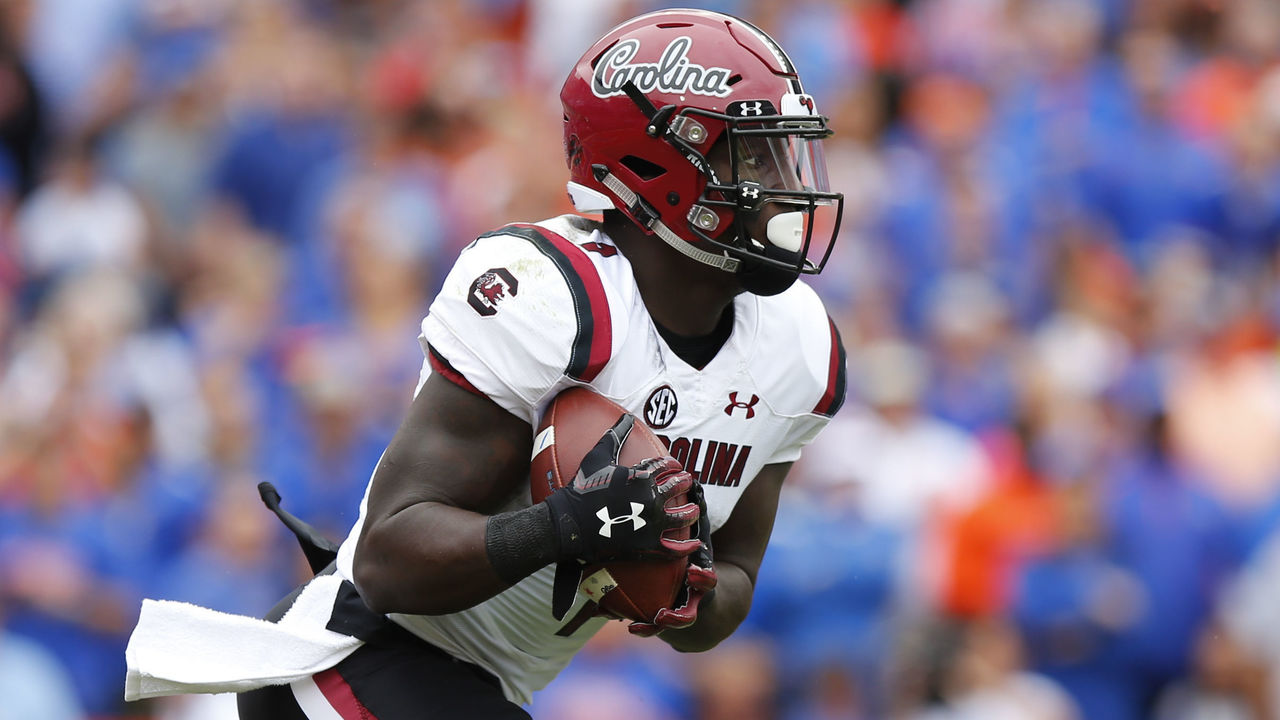 School: South Carolina
Height: 5-11
Weight: 214 lbs
Strengths
Versatile offensive weapon who can beat defenses in many ways
Elusive playmaker with the ball in his hands
Defenses must scheme against him in red zone
Quick and smooth route runner
Explosive and gets to top gear quickly
Short-area quickness helps him avoid jams at line of scrimmage
Not biggest receiver but his physicality is off charts
Excellent release versus press coverage
Weaknesses
Battled injuries in college
Not an experienced or productive deep threat
Likely not built for No. 1 receiver role
Doesn't win many contested catches
Bottom line
Samuel is a pro-ready NFL weapon that fits perfectly in the modern game. He's a space player with incredible versatility and proficient separation skills. When Samuel was healthy in college, few defensive backs could stop him. The All-American thrives in many important phases of the game. He may not possess elite size, deep speed, or jump-ball prowess, but he can be an excellent No. 2 receiver if offenses correctly scheme the ball into his hands.
9. Andy Isabella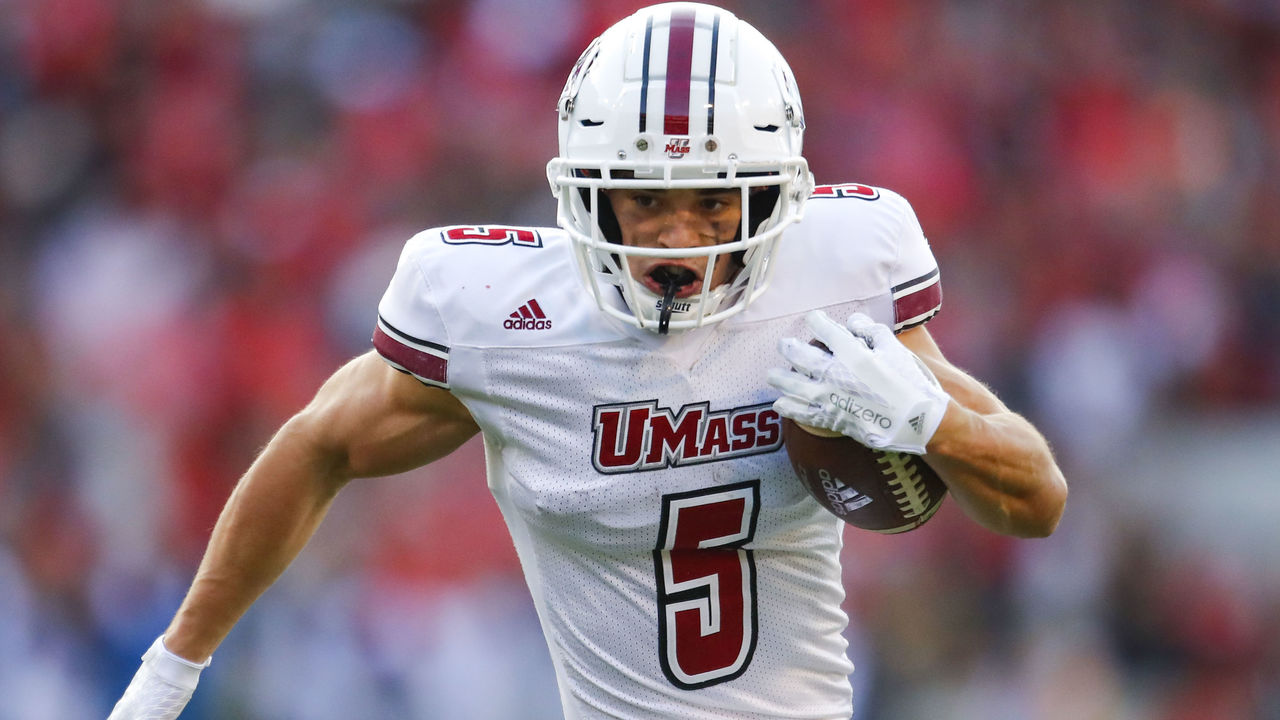 School: Massachusetts
Height: 5-9
Weight: 188 lbs
Strengths
Incredibly productive slot receiver who dominates middle of field
Quickness and advanced route running make him a nightmare to cover out of slot
Explosiveness shows up with quickness in and out of his breaks
Outstanding fakes at top of his route to create separation
Traits also translate to effectiveness in vertical game, where he tracks ball well
Extremely elusive after catch
Works back to quarterback when he breaks pocket to buy time
Willing blocker in running game
Weaknesses
Size will limit him to a slot role in the NFL
Small catch radius
Won't offer much of anything in contested catch situations
Played mostly against low-level competition
Bottom line
Isabella has the potential to be a top playmaker in today's NFL. Size will never allow him to become that prototypical No. 1 target on the outside, but with three-receiver sets effectively having become the base personnel grouping, what team couldn't use a player capable of dominating the middle of the field? Isabella has a combination of athleticism, route running, and ability after the catch, and he also has the long speed to stretch the defense vertically.
10. Riley Ridley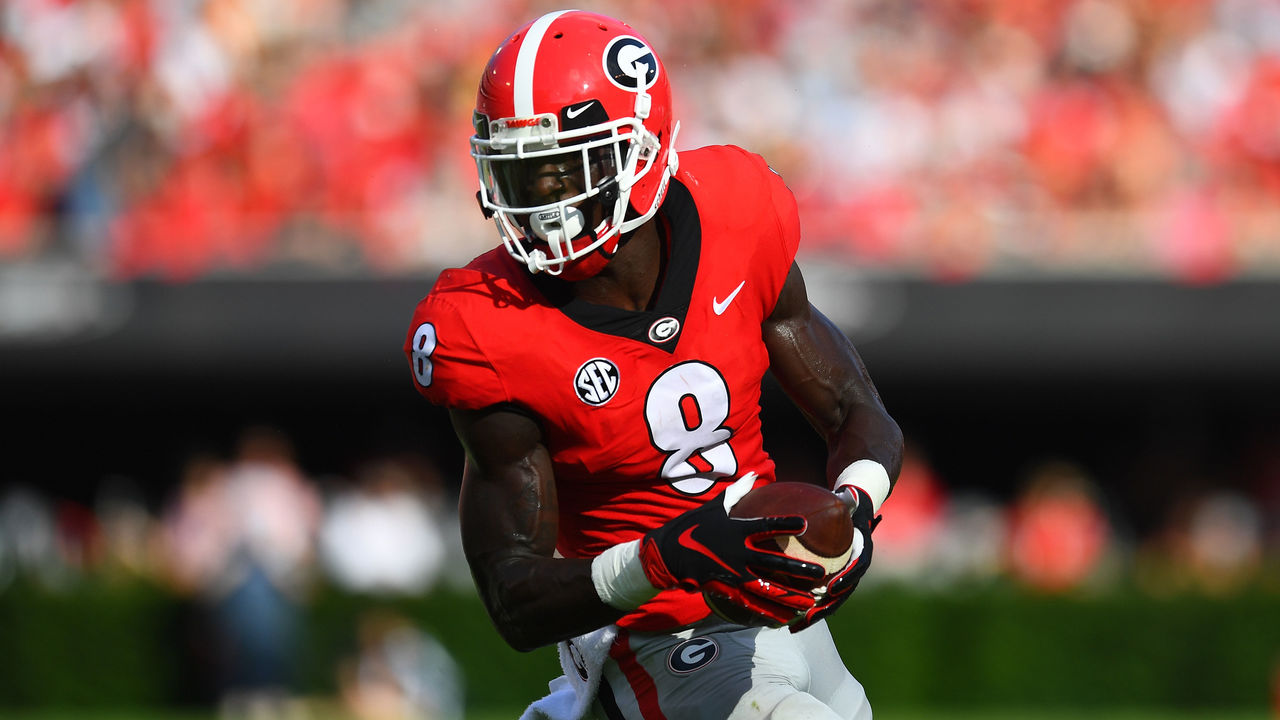 School: Georgia
Height: 6-1
Weight: 199 lbs
Strengths
Advanced route-runner with subtle nuances that help him separate
Very good ball skills - makes many contested catches look easy
Excellent balance/body control on sideline targets
Good hands
Tough, competitive player who runs aggressively after the catch
Very good feel for soft spots in zone coverage
Dangerous when given free release off line of scrimmage
Weaknesses
Lacks long speed and isn't a deep threat
Feet are often slow which limits burst/acceleration
Struggles with release at times versus press coverage
Poor collegiate production - 559 yards in 2018 was career high
Bottom line
Ridley is one of the top route-runners in his class, which could lead to early NFL contributions. His body control and soft hands will likely make the former Bulldog a hot commodity on the draft's second day. Ridley doesn't come without limitations. He profiles as a solid possession receiver due to his lack of athleticism, breakaway speed, and elusiveness after the catch. He has every chance to be a mighty good secondary option, though.
11. Miles Boykin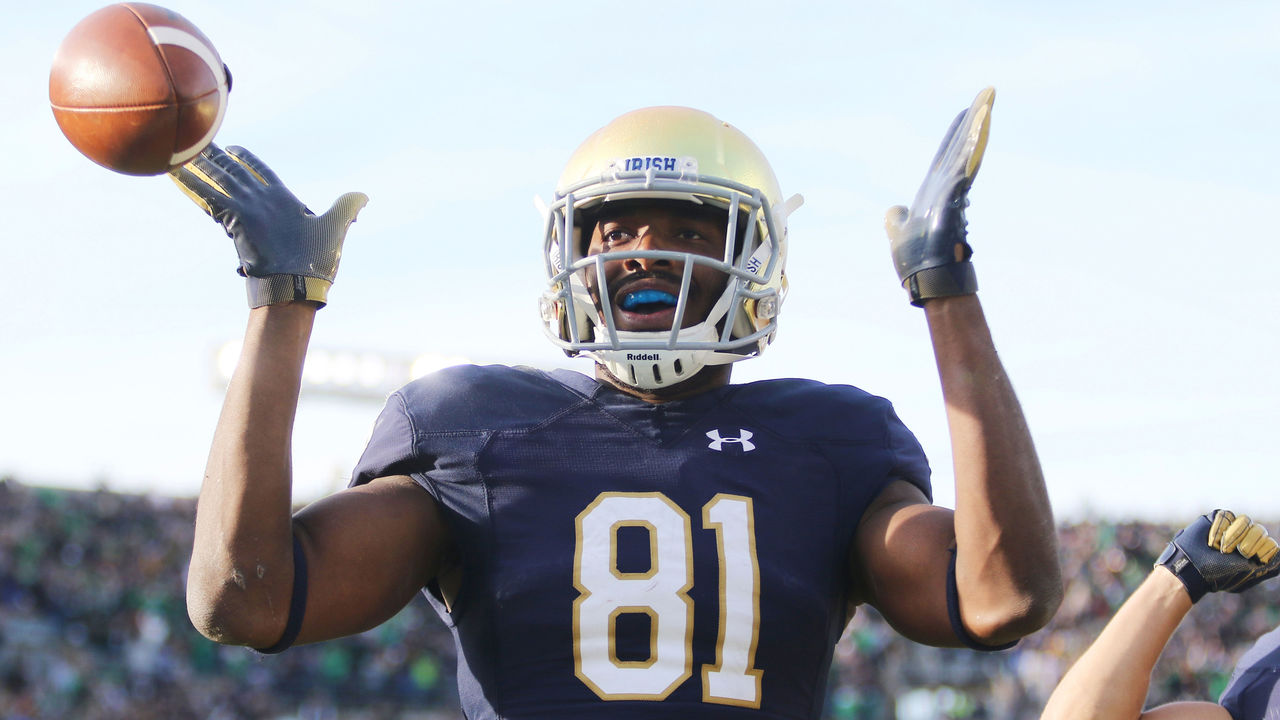 School: Notre Dame
Height: 6-4
Weight: 222 lbs
Strengths
Combines big frame with an elite and rare athletic profile
Freakish levels of explosiveness and short-area quickness for a player of his size
Polished and fluid route-runner who can line up at any receiver spot
Explosiveness to eat up cushion against off coverage and release moves to beat press
Creates separation with route nuance and quickness in and out of his breaks
Strong hands and a massive catch radius
Wins contested catch situations with size, body control, and ability to high-point
Complements threat in vertical game with ability to make plays on back-shoulder throws
Fantastic run-blocker either when taking his man or cracking down inside
Weaknesses
Lacks high-end production to match his traits
Athleticism never translated to any sort of consistent impact after catch
Play speed doesn't always seem to match impressive timed speed
Bottom line
Production is a significant part of the equation when evaluating prospects, so it's understandable that Boykin is flying under the radar. But everything about his skill set screams high-ceiling receiver. He could end up leading the list of players who outperform their draft position. The Notre Dame product flashed plenty of big-play potential in his limited opportunities, and the athletic profile he put together at the combine - an elite combination of speed, explosiveness, and short-area quickness - is downright scary for his size.
12. Parris Campbell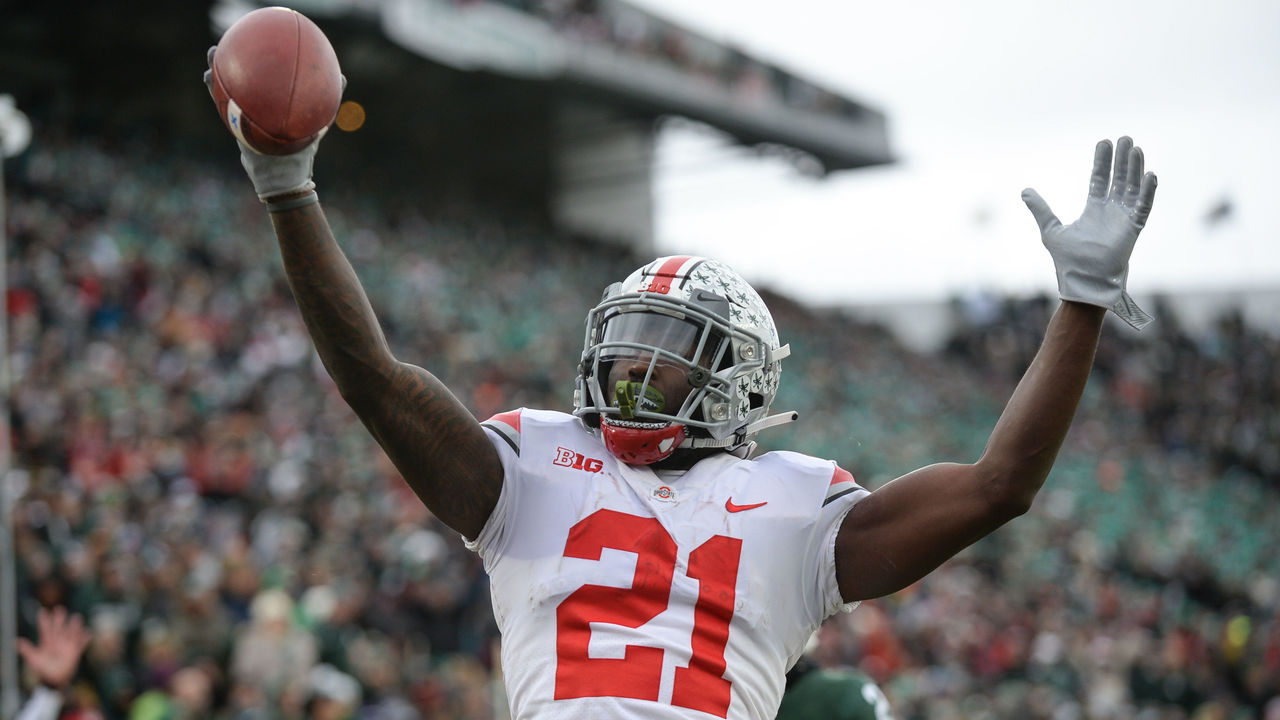 School: Ohio State
Height: 6-0
Weight: 205 lbs
Strengths
Offensive weapon who excels in space
High football IQ - understands matchups and consistently locates soft spots in zone coverage
Can separate with ease due to blazing speed
Versatile and productive as a slot receiver
Elusive and changes direction very well
Burner who stretches defenses
Unstoppable on drag routes
Able to make tacklers miss in open field
Weaknesses
Route-running precision has grown each year, but still needs fine-tuning
Loses separation ability when knocked off route
Limited route tree in college
Had a few too many drops over last two seasons
Doesn't make many catches in traffic
Inexperienced versus press coverage
Bottom line
Campbell is a Swiss Army knife offensive weapon with fluid athleticism and playmaking ability. The former Buckeye standout has the versatility to line up as a speedy Z receiver or intriguing slot weapon in the pros. He's not a player best suited for contact, and it'll be up to the league's brightest offensive minds to scheme the ball into his hands to receive his full value. They won't be sorry.
13. Kelvin Harmon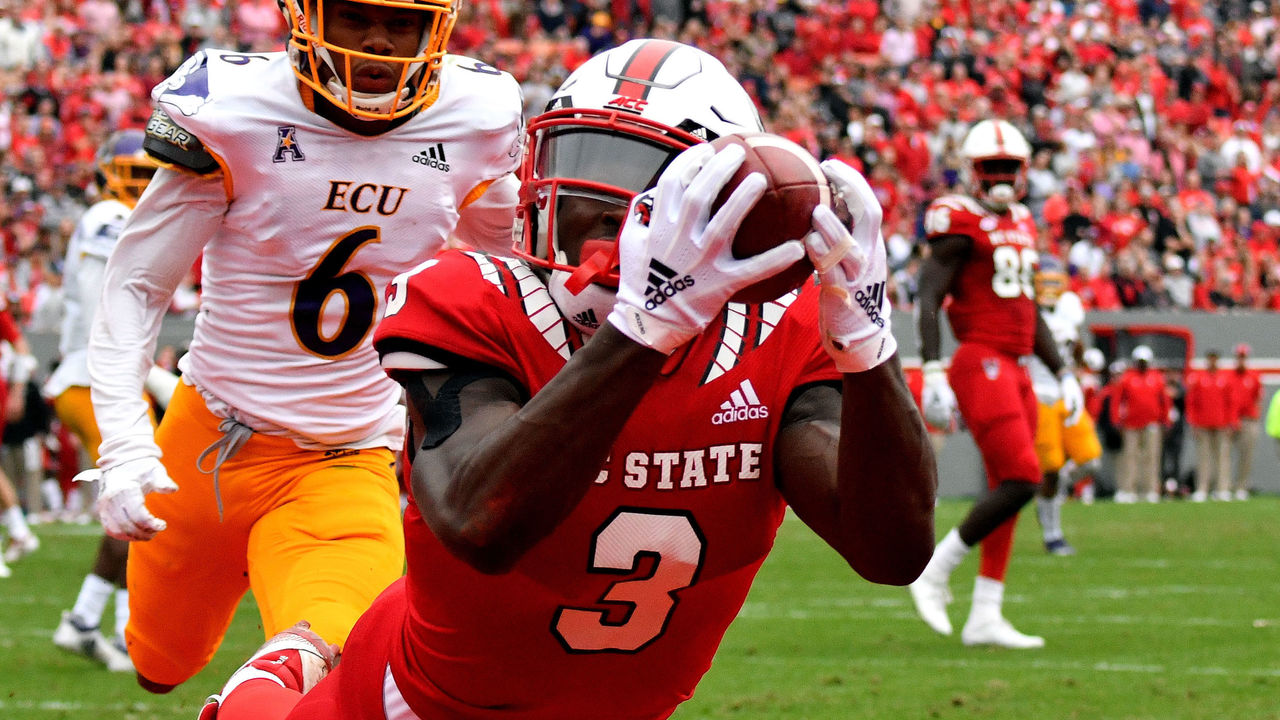 School: NC State
Height: 6-3
Weight: 221 lbs
Strengths
Wins with size, physicality, and strong hands at the catch point
Tracks the deep ball well and makes subtle moves to separate before catch
Good body control and adjustments to make plays on back-shoulder throws
Fights through contact to continue route and get to ball
Weaknesses
Underwhelming athletic profile may cap big-play ability at next level
Lacks long speed to challenge defenses vertically
Doesn't have quickness out of breaks to create separation
Lined up exclusively on right side of field
Bottom line
Harmon was getting plenty of buzz until some disappointing athletic scores quickly saw the hype fade. The lack of top-end speed limits his big-play upside, and he's not particularly quick in and out of his breaks, but he still offers value with his ability to physically dominate small defensive backs.
14. Emanuel Hall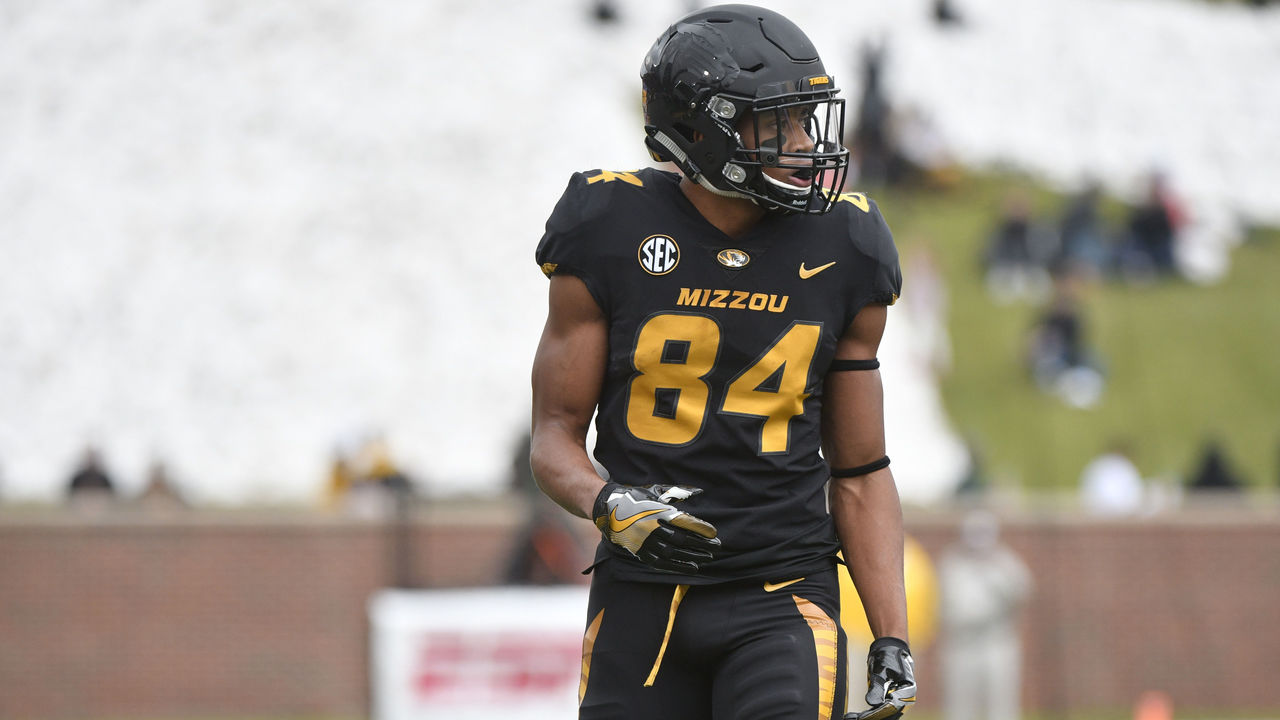 School: Missouri
Height: 6-2
Weight: 201 lbs
Strengths
Explosive athlete with impressive burst and long speed
Incredibly productive in the vertical passing game, averaging 22.5 yards per carry in 2018
Demonstrates body control to make adjustments in air
Rare athleticism allows him to pick up yards after catch
Weaknesses
Was mostly limited to a vertical route tree
Overall production less than ideal for a top receiver prospect
Needs to improve drop rate
Bottom line
At this stage in his development, Hall is something of a one-trick pony with his ability to take the top off the defense. He certainly has that trick mastered, though. Hall will enter the league as a deep-threat specialist with the athleticism and after-the-catch upside to develop into a more well-rounded threat on the outside.
15. DaMarkus Lodge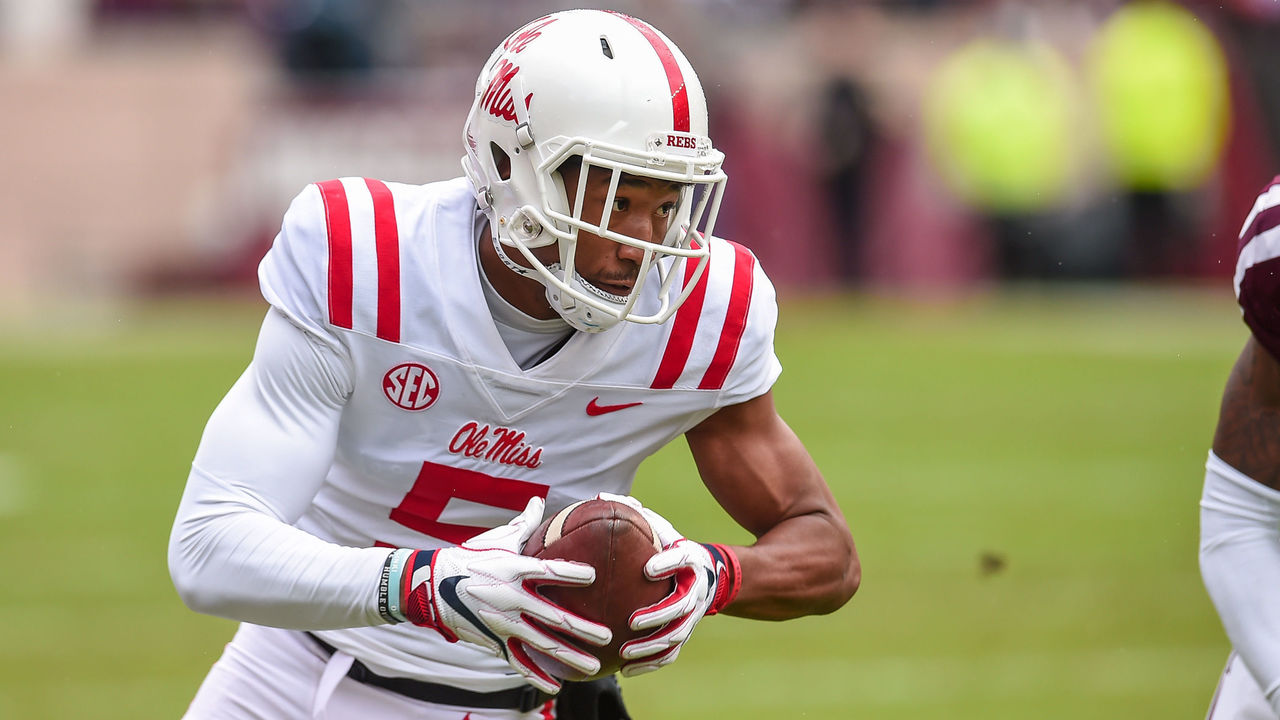 School: Ole Miss
Height: 6-2
Weight: 202 lbs
Strengths
Good size and frame
Impressive first-step off line of scrimmage - can separate quickly
Excellent body control along sideline
Made a number of contested catches over last two seasons
Can contribute as a blocker in run game
Consistently beats zone coverage
Experienced in vertical route tree
Weaknesses
May not possess enough long speed to be consistent deep threat
Locked up by stout man-coverage cornerbacks
Drops are his biggest issue - 16 over last two seasons
Limited route tree at Ole Miss
Not an explosive athlete and not particularly agile
Bottom line
Lodge is a pro-ready receiver who possesses good size and a natural release off the snap. He has some athletic limitations, but consistently made splash plays with the Rebels. Though he struggles with drops and must improve his ability to separate, Lodge profiles as a high-floor X receiver who is best utilized along the boundary.
Other notable prospects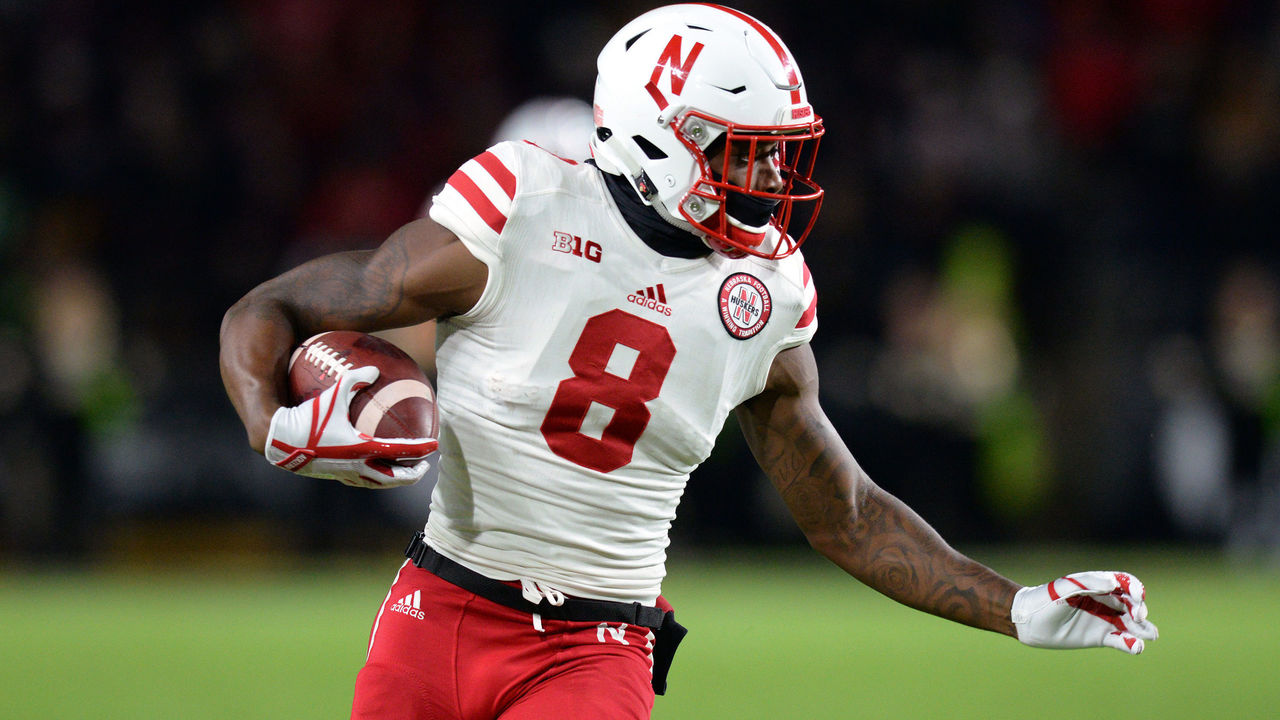 Jalen Hurd (Baylor)
Mecole Hardman (Georgia)
Antoine Wesley (Texas Tech)
Stanley Morgan Jr. (Nebraska)
Hunter Renfrow (Clemson)
Comments
✕
2019 NFL Draft prospect rankings: Wide receivers
  Got something to say? Leave a comment below!