NHL Draft Prospect Profile: Quinn Hughes
In the weeks leading up to the 2018 NHL Draft, theScore NHL prospect writer Hannah Stuart breaks down 10 of the most notable draft-eligible prospects. The fourth edition focuses on Quinn Hughes.
Born in Florida, raised in Toronto, and a key part of the future of USA Hockey, Quinn Hughes sounds like an inspirational sports movie. And his NHL career is just months, at the least, away from its start. With a father who is the former director of player development for the Toronto Maple Leafs and a mother who played at the University of New Hampshire, hockey is in the eldest Hughes son's blood - and when he's on the ice, it shows.
Last season in his Draft-2 year, Hughes was a point-per-game player in 26 USHL games. Those numbers are almost unheard of for a defenseman his age. To give you an idea of just how good they are, no other defenseman in USHL history has put up a better points-per-game ratio in his Draft–1 year (i.e. the season leading up to his draft). That includes fellow Americans Seth Jones and Charlie McAvoy, who are widely considered some of the top defensemen among USA Hockey's younger set.
Year In Review
Hughes accelerated his education and finished high school early to attend the University of Michigan and play for the Wolverines this year. Despite being the youngest player in college hockey (he turned 18 in mid-October 2017), he finished the season with 28 points, the third-highest on his team. He was named to the All-Big Ten freshman team and the All-Big Ten second team, and currently sits in first place for assists by a freshman D-man in program history with 24.
He represented Team USA at the 2018 World Junior Championships in Buffalo, where he had three assists and earned a bronze medal. Hughes is currently in Denmark as a member of Team USA for the upcoming IIHF World Championships. It remains to be seen how much ice time he'll get - he was listed as the team's seventh defenseman in the first tuneup game against Denmark. It's a great opportunity for him either way, and it shows that USA Hockey clearly has him in mind when looking at its future.
Areas of Strength
Hughes is probably the best skater in this year's draft class. He separates himself from his opponents easily with his stride and top-end speed. He's agile, able to beat defenders easily 1-on-1 and to get back quickly if it becomes necessary. He's got a quick release and a solid arsenal of shots, but he's an even stronger playmaker. He constantly jumps up into the rush, his elite hockey sense and vision guiding him when it comes to choosing his opportunities.
He frequently anticipates the play better than those on the ice with him, opponents and teammates alike. Hughes is a creative player, so he's going to take more risks than your average stay-at-home blue-liner. High-risk, high-reward. It's the direction the defensive game is going in the NHL, albeit slowly.
Areas of improvement
There is some belief that Hughes needs to add size, as he's a smaller player (he's listed at 5-foot-10 and 174 pounds). Size issues can be overcome with his speed and his elusive nature, however. His play in the defensive zone could use some work, including improving his positioning and working on getting pucks from attackers. But given how high-level his hockey IQ is, it's a good bet that those things will come with further experience.
Scouting Reports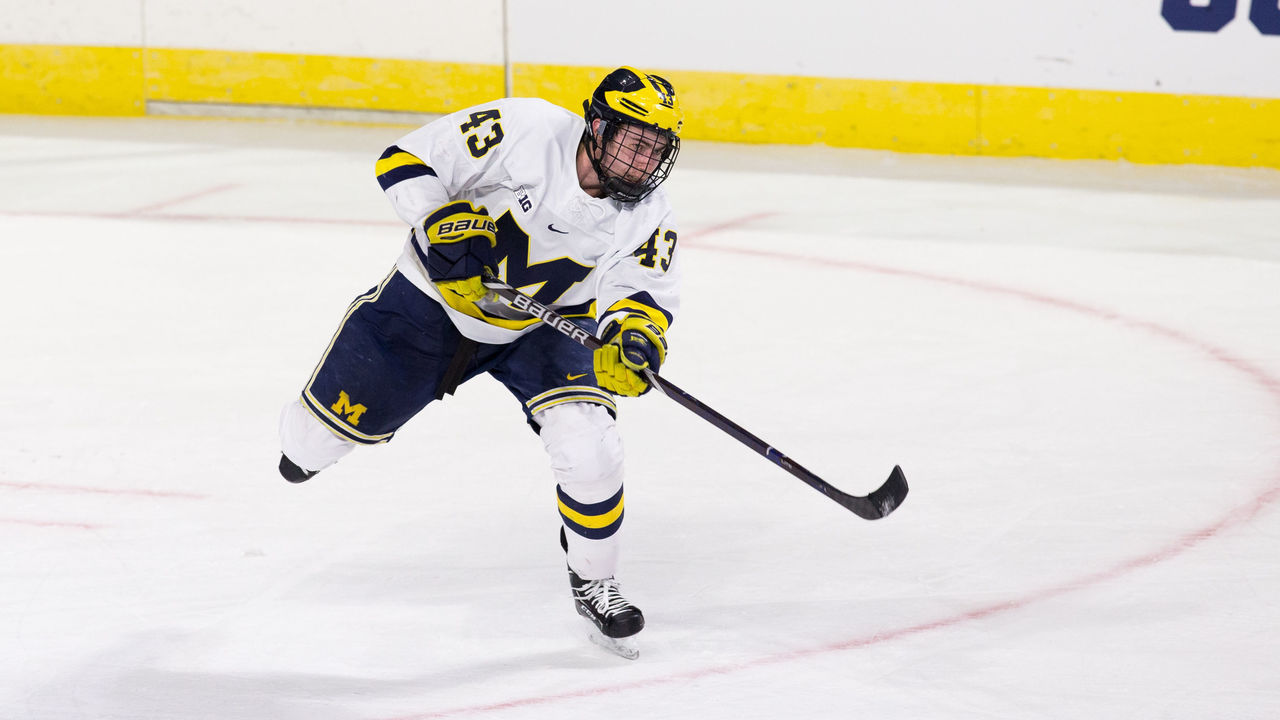 "After an initial feeling-out phase as the NCAA's youngest player, Hughes has been entering dominant mode ... For comparison sake, the 5-foot-10 rearguard outproduced fellow 2018 draft pick and forward, Brady Tkachuk and has more points than 2017 fourth overall pick Cale Makar as a first year NCAA player. Hughes blends exquisite edgework with blistering acceleration and a mind for creating offense. He's a one man breakout machine and could challenge Filip Zadina for third overall when names are being called in Dallas this June." - Cam Robinson, DobberProspects.com
"Hughes is a strong playmaker with excellent vision, capable of threading the needle with either hard or saucered cross-ice passes. Additionally, he has a heavy shot with a quick release, and goaltenders have to work hard to control rebounds off his shots. Hughes makes plays on his backhand look effortless, and he's adept at receiving and settling down pucks while traveling at a high rate of speed. His defensive play is relatively sound in terms of positioning and 1-on-1 tactics. Hughes has improved the timing of his step-ups and hip checks, and he stands his ground on zone entries despite obvious limitations in size and stick length. Losing slot territory to bigger players should be expected, but Hughes is a clever thief with a quick stick who transitions from defense to offense in the blink of an eye. He has top-pairing potential and can quarterback any power play regardless of the talent or skill level of the surrounding personnel." - Steve Kournianos, TheDraftAnalyst.com
Did You Know?
Hughes was inspired to attend the University of Michigan after watching fellow U.S. National Team Development Program alumni Dylan Larkin and Zach Werenski play for the Wolverines.
When he was asked about it once, Hughes said he'd never considered getting a Canadian passport to play for Canada - it was always Team USA.
His nontraditional market roots aren't limited to his Florida birthplace. Mom Ellen, who also played defense, was born and raised in Dallas, Texas.
Other entries in this series:
(Photos courtesy: Getty Images)