NHL Draft Prospect Profile: Brady Tkachuk
In the weeks leading up to the 2018 NHL Draft, theScore NHL prospect writer Hannah Stuart breaks down 10 of the most notable draft-eligible prospects. The sixth edition focuses on Brady Tkachuk.
Does any hockey family share a clearer on-ice resemblance than the Tkachuks?
They're all cast from the same mold: offensive upside combined with the habit of being a real pain in the neck for opponents. Matthew Tkachuk's lineage has already become obvious in his emergence with the Calgary Flames - he may take a lot of penalties, but he draws more (and puts up points besides), and it infuriates opposing teams.
With that in mind, each Tkachuk is his own player. Brady isn't Keith, nor is he Matthew. Here's who he is: a potential power forward with a nose for the net. Though he isn't the best forward available in this draft, he should still make the NHL team that selects him very happy.
Year in review
Tkachuk spent the 2017-18 season playing for Boston University, where he was used mostly as a left wing (though he can play center). He curbed his tendency to take penalties, averaging just under two penalty minutes per game. He also put up 31 points, including eight goals, in 40 games. The Terriers won the Hockey East championship, and Tkachuk was named to the Hockey East All-Rookie team.
Tkachuk also played for Team USA at the 2018 World Junior Championship. He and Quinn Hughes were the only first-time draft-eligible prospects on the roster. Tkachuk totaled nine points, including three goals, in seven tournament games, and took home a bronze medal.
It was recently reported that Tkachuk will return to BU in the fall. While things can certainly change (especially if, for example, he were to make his NHL team), it seems unlikely, as BU apparently stopped pursuing a graduate transfer student-athlete because Tkachuk would be back.
Areas of strength
When Tkachuk goes to the crease, everyone watching knows he'll shoot as soon as he gets the opportunity - that's why he crashed the net in the first place. His offensive strengths lie more in his creative playmaking ability, however. His hockey sense and passing ability are high-end. He can make the kind of perfect pass in a tight space that other players might not be able to execute, and his stickhandling is good.
Tkachuk is also effective away from the puck. In an echo of his brother Matthew, he is capable of driving his opponents up the wall. Brady goes about it a bit differently, however, constantly battling for the puck, staying in the faces of opposing goaltenders, and using his stick to cut down passing and shooting lanes. He's also not shy about finishing his checks - or running his mouth.
Areas of improvement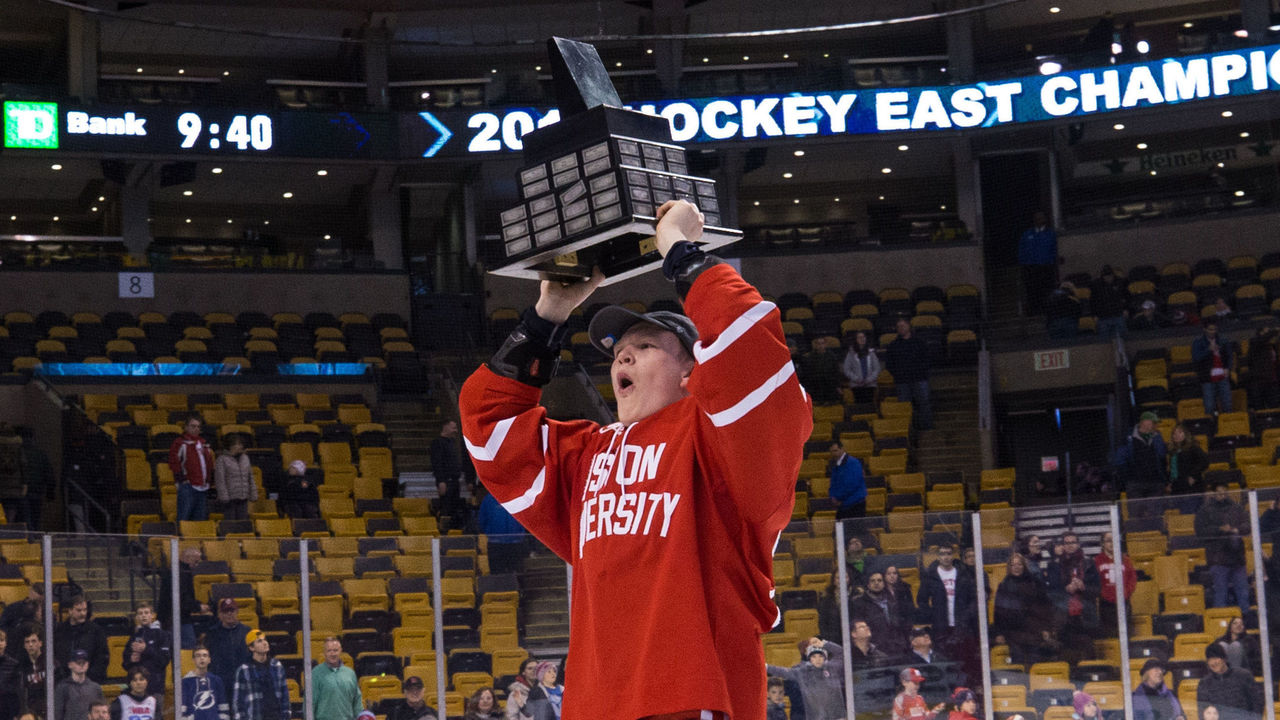 Skating is frequently listed as an area where Tkachuk needs to improve, and with good reason. He has a powerful stride, good lower-body strength and balance, and his top speed is good. The problem lies in his first step. Acceleration and explosiveness off that first step are crucial when trying to reach top speed and win races. He could improve his agility as well.
It's also important to note that Tkachuk isn't the elite goal-scorer that many people who rank him above prospects like Filip Zadina want him to be. That's more an indictment of the person evaluating him than his skill level, however. He shouldn't be drafted based on what a team wants to believe he is, or simply hopes he'll grow into. As one of the oldest players in this draft class, the trajectory of his development is more clear than it might be for others.
Scouting reports
"Skilled, two-way power winger with a soft touch who mixes physical play with elite vision and hockey sense. Brady with his helmet off may look like a teenager, but every aspect of his play on the ice makes you wonder how a kid so young can perform with such savvy and maturity.
Brady, whose father Keith was one of the NHL's top snipers of the 1990s, is a relentless puck hound with decent speed and a long, smooth stride. His agility and exceptional stickhandling buy him more than enough time and space to create for his linemates. And although his zone entries are controlled and calculated, he has mastered the art of the soft dump-in and chase - Tkachuk has a long reach and finishes his checks with authority, and defenders appear wary to turn their backs for puck retrieval. Additionally, he is deadly from in close, using an array of moves and dekes to bury the puck. Want to talk hybrid? How about a physical, 200-foot winger with size who doubles as a top-line playmaker and is an outstanding penalty killer." - Steve Kournianos, TheDraftAnalyst.com
"Brady Tkachuk plays the game as his name would suggest: physically, aggressively, and with a significant amount of skill. Tkachuk has a pro-ready game in most respects as he is physically mature and strong enough to play against men. His skating is an asset as he has good acceleration and top speed, and is very strong on his skates in terms of balance and can make power drives to the goal when he drops his shoulder ... He is dangerous in front of the goal as he uses his size and strength to plant himself as a screen in front of the goalie and has excellent hand-eye coordination for tips and rebounds. Tkachuk has a quick release on his shot, (and) has a variety of dangerous shooting options from a quick wrist shot to a powerful one-timer." - Peter Harling, DobberProspects.com
Did You Know?
Tkachuk is blogging about his draft experience for NHL.com.

In his last season with the USA Hockey National Team Development Program, Tkachuk had 129 penalty minutes in 61 games.

According to Tkachuk himself, one of his best qualities is his versatility and ability to play in any situation.
Other entries in this series:
(Photos courtesy: Getty Images)