NHL Draft Prospect Profile: Joe Veleno
In the weeks leading up to the 2018 NHL Draft, theScore NHL prospect writer Hannah Stuart breaks down 10 of the most notable draft-eligible players. The tenth and final edition focuses on Joe Veleno.
Drafted first overall by the Saint John Sea Dogs in 2015, Joe Veleno was the first QMJHL player to follow in the footsteps of the likes of John Tavares and Connor McDavid and be granted exceptional status, playing major-junior hockey at age 15. At No. 8, he's also the highest-ranked center among North American skaters by NHL Central Scouting.
While he's a consensus first-round pick who should become an NHL regular, exactly where Veleno belongs within that first round has been a subject of much debate this season. In fact, he's been under a microscope for his entire QMJHL career thanks to his exceptional status, which has likely contributed to both his ranking and the debate surrounding it.
Year in review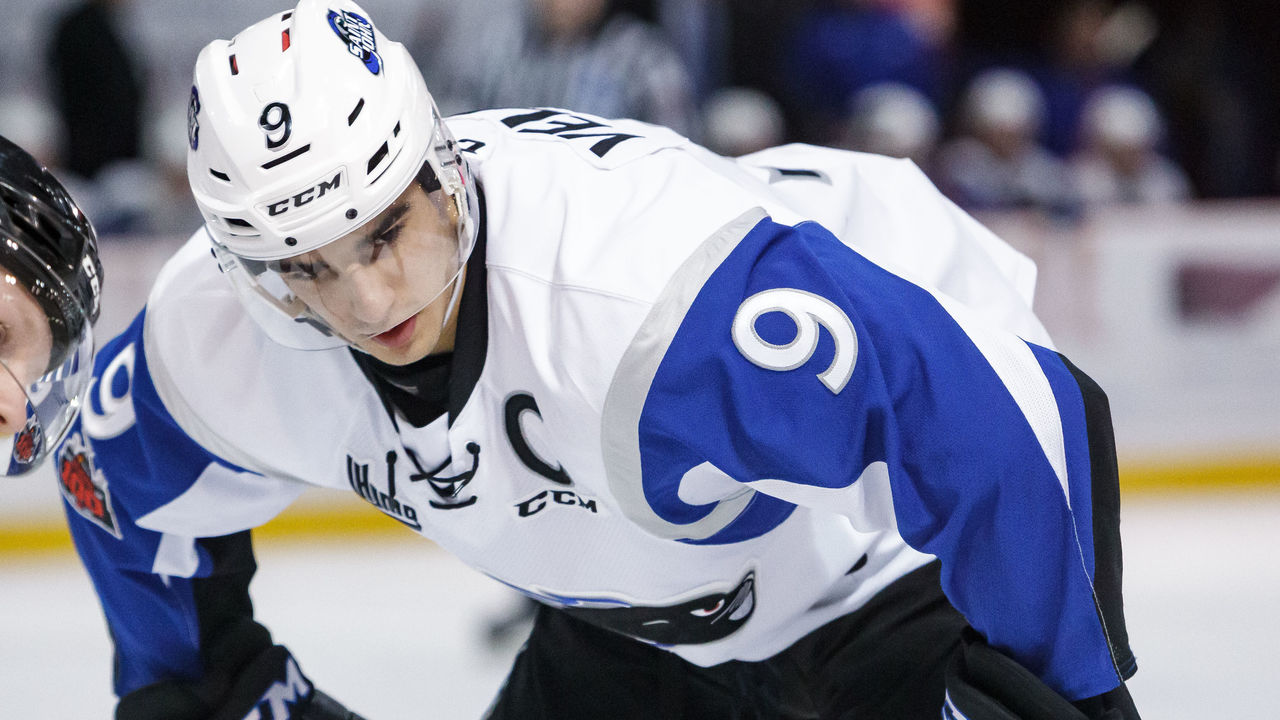 Fresh off a 40-point season, a President's Cup win, and a Memorial Cup appearance with the Sea Dogs in 2016-17, Veleno started off this season by being named captain of the team. It was an honor he retained until he was traded to the Drummondville Voltigeurs in December, when the Sea Dogs sat second from the bottom in the QMJHL. He improved his offensive production significantly in 2017-18, finishing the campaign with 79 points, including 22 goals, in 64 games.
At the international level, Veleno captained the gold medal-winning Team Canada at last year's Ivan Hlinka tournament, where he had two goals and five assists in five games. He also represented Canada at this year's Under-18 World Championship, which he finished with three points in four games. And while he wasn't invited to Canada's World Junior Championship selection camp last December, don't be surprised if you see his name on the list this year.
Areas of strength
One bit of praise often repeated about Veleno is that he already approaches the game in a professional way. That's pretty subjective, but it's easy to see why. Veleno plays a dependable 200-foot game, and is able to take on high-pressure roles. His hockey sense and vision are incredible, and those attributes - along with his high-level passing skills - make him an excellent playmaker.
His offensive production improved noticeably after his trade, increasing from (a still very good) 31 points in 31 games with the Sea Dogs to 48 points in 33 games with the Voltigeurs. Veleno is a great skater with excellent speed and acceleration. His agility and edgework are high-end, and he uses his skating ability to open up opportunities for himself and his teammates. He's not afraid to get into board battles, and works hard and smart in his own end.
Areas of improvement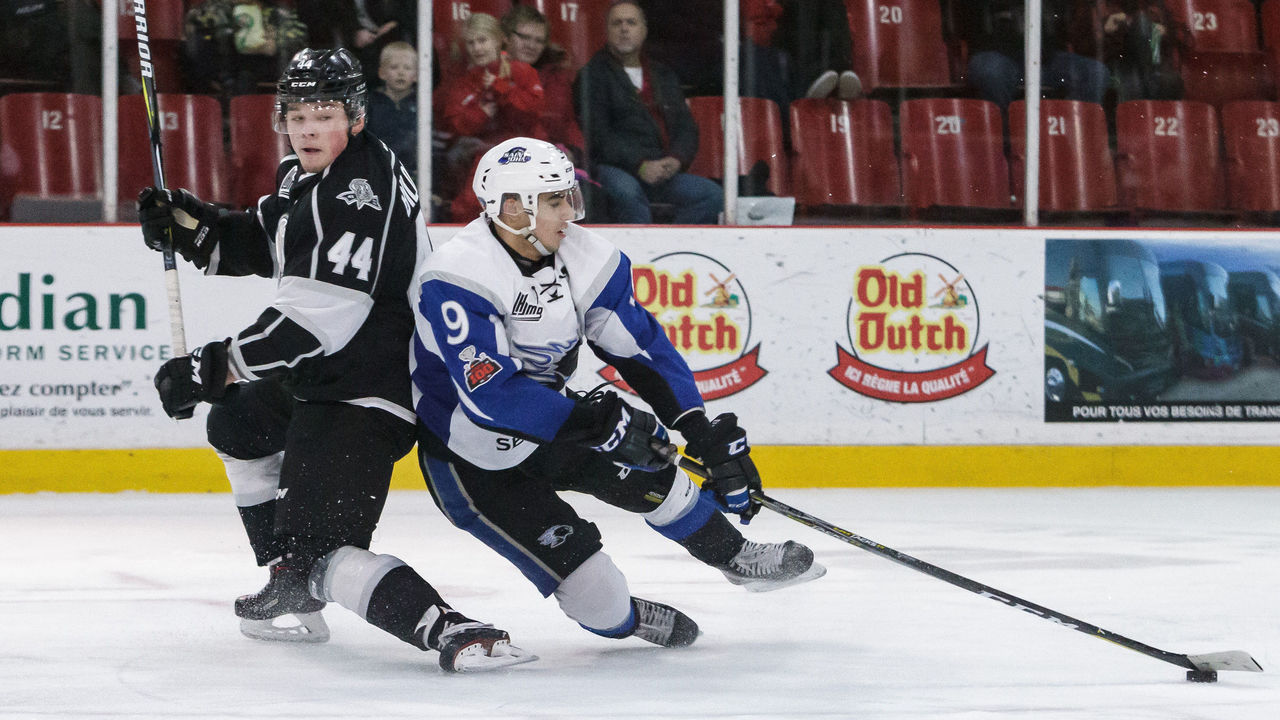 Veleno's offensive production was once a concern, but some of that was due to critique based on his exceptional status (which is fair). He took a step forward this season, but could stand to add strength and put more power behind his shot to become a more consistent goal-scorer. As a playmaker, his first instinct is usually to pass, but his hockey sense allows him to pinpoint when he needs to shoot. Putting a little more oomph behind the shot and getting quicker on the release should improve his goal-scoring numbers.
He occasionally tries to do too much himself, which could be partly attributed to pressure from his exceptional status. Improving his consistency in the little decision-making moments - whether choosing a better position, making a pass a bit sooner rather than handling the puck too long, or doing these things while using his skating ability to its full potential - should allow him to really put it all together and improve his overall game.
Scouting report
"A jack-of-all-trades player with a nice tool belt. Great edgework, acceleration, vision, and puck-protection skills. Blazing fast in a straight line. The 18-year-old is already a consummate worker in the defensive end and is a very safe selection as he has a pro-level approach. One of the best power-play distributors in the CHL." - Cam Robinson, DobberProspects.com
"There is so much to like about Joe Veleno. He's a hard-nosed workhorse that makes the players around him better. The fleet-footed center is unselfish and will primarily look to make a play at top speed; however, when the chance arises to put it in the pot himself, he will capitalize. He sees the ice well and is rarely caught out of position. His defensive game is refined and he actively pursues puck control. Transitioning to offence is natural, smooth, and quick. All in all, a well-rounded two-way forward that skates well and can be the catalyst a team needs to turn a game in its favor. If he can find the consistency in refusing to let himself get taken out of plays, especially if he doesn't start them, he will thrive and exceed expectations" - Curtis Joe, EliteProspects.com
Did You Know?
Voltigeurs head coach Dominique Ducharme also coached Veleno during the Canada-Russia series last fall, and it was there he decided he wanted to add Veleno to his roster in Drummondville.
Veleno scored 1.23 points per game this season, with 0.84 primary points per game.
Some scouts feel Veleno could be an NHL regular sooner than many of his peers, due to his two-way play and his professional attitude.
Other entries in this series:
(Photos courtesy: Getty Images)