NHL Draft Prospect Profile: Evan Bouchard
In the weeks leading up to the 2018 NHL Draft, theScore NHL prospect writer Hannah Stuart breaks down 10 of the most notable draft-eligible prospects. The eighth edition focuses on Evan Bouchard.
Victor Mete spent this season with the Montreal Canadiens. Olli Juolevi returned to his native Finland to play for TPS of the Liiga. 2018 draft-eligible Evan Bouchard grabbed with both hands the opportunity their absences provided, and he'll likely be a top-10 pick this June as a result. Between his size, skill, and consistency in improvement across the last couple of seasons, Bouchard has serious potential as an NHL prospect.
Year in review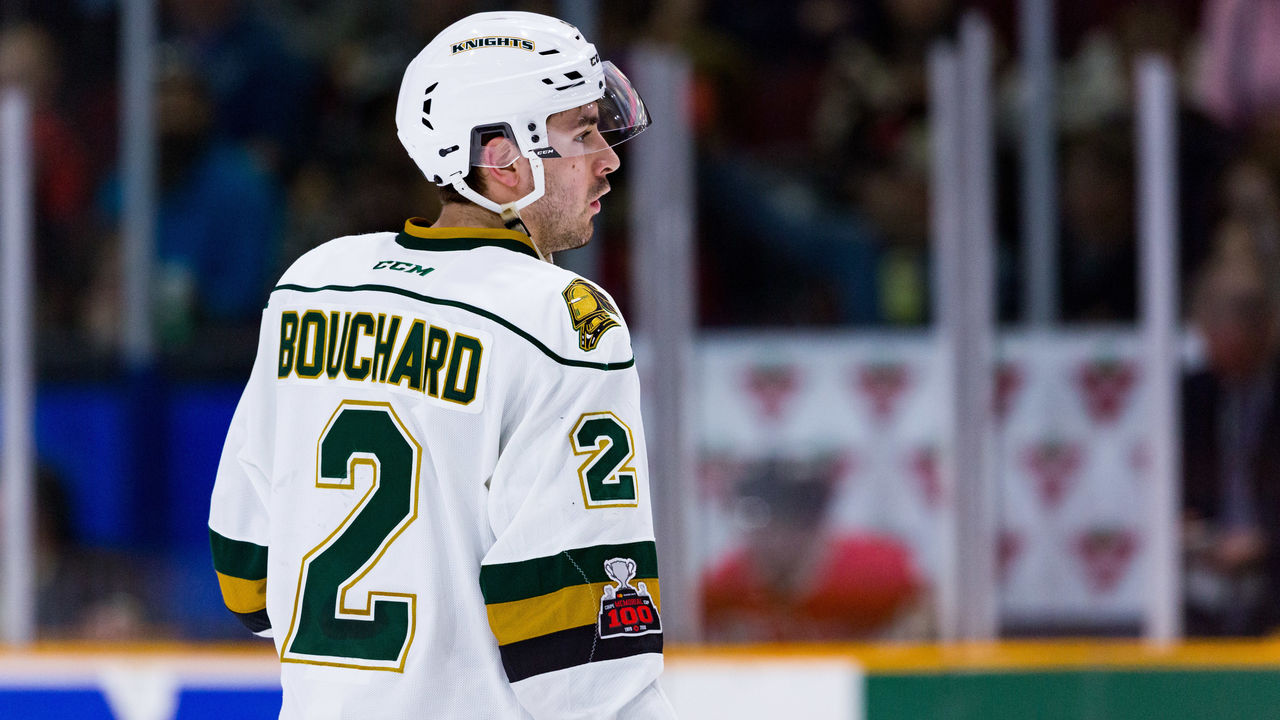 Bouchard's 87 points (including 25 goals) were the highest on the London Knights this season by a decent margin - an impressive feat as a draft-eligible defenseman, even on a Knights lineup depleted from their huge trade-deadline selloff (an unusual move for the club in recent years). Bouchard was also named Knights' captain after St. Louis Blues prospect Robert Thomas was traded to the Hamilton Bulldogs.
While the Knights were swept by the Owen Sound Attack in the first round of the OHL playoffs, Bouchard finished the series with five points, including one goal. Most nights, he played more than half the game against his opponents' top lines, and the team's top power-play unit ran almost entirely through him. In short, the Knights relied heavily on Bouchard, and he more than justified their faith. He was nominated for OHL Defenseman of the year, and NHL Central Scouting ranked him fourth ahead of fellow top defensive prospects Quinn Hughes and Noah Dobson.
Areas of strength
An incredibly smart player, Bouchard reads the ice at a high level, anticipating plays developing around him when he doesn't have the puck and making difficult plays look simple when he does. His passing skills, in particular, are excellent and have improved considerably over the past season. He has an impressive (and accurate) array of shots, with slap shots and wrist shots already approaching NHL calibre, and a quick release.
In his own zone, Bouchard is composed and reliable, using his long reach and active stick to break up opponents' chances, and he chews up minutes on the penalty kill as well as he does on the power play. He's also not afraid to use his size (he's already 6'2" and nearly 200 pounds), throwing his weight around when a physical game is necessary and using his impressive wingspan to close gaps through which opposing forwards might try to slip.
Areas of improvement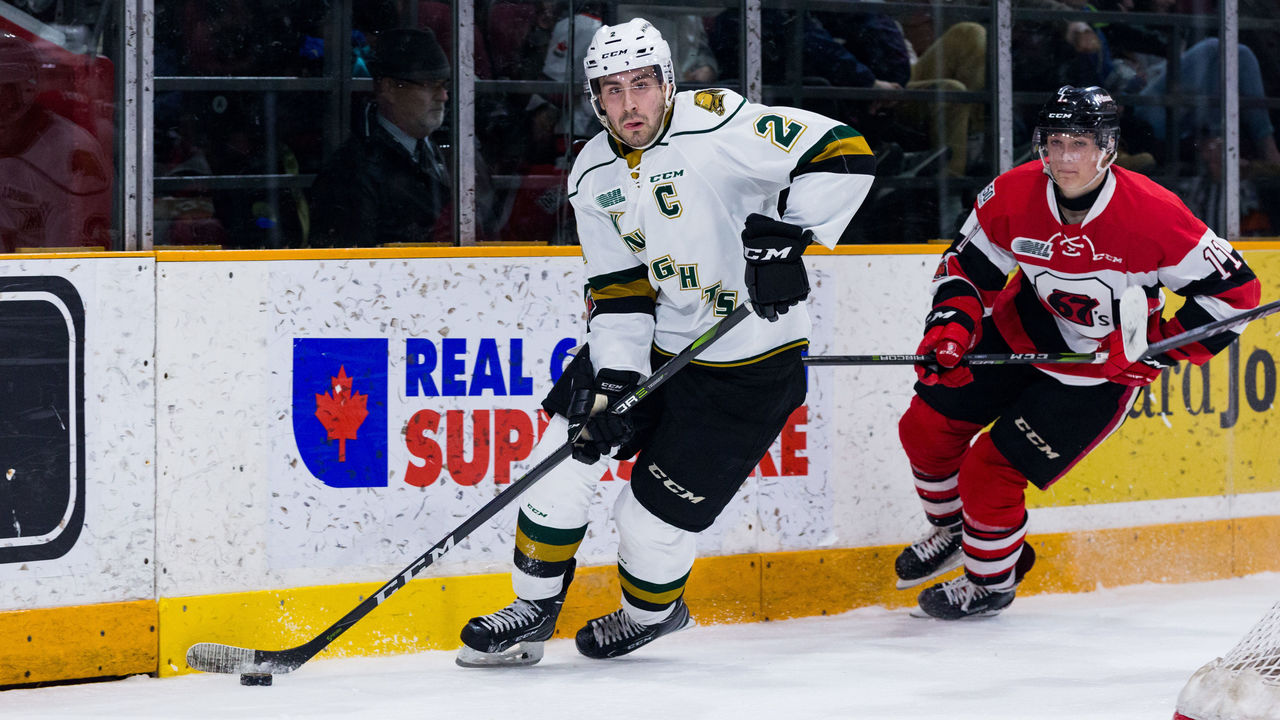 Some feel Bouchard needs to improve his first step and acceleration, while others think he's a naturally powerful skater whose style is deceptive. In any case, while he's mobile for his size and generally effective, his agility and footwork could stand to improve, or else he may find himself beaten one-on-one, particularly by smaller, more nimble forwards.
His decision-making and defensive instincts, previously seen as areas that needed work, have shown significant progress over the last year. However, he has a tendency to get out of position and needs to address that if he wants to be trusted on an NHL blueline.
Scouting reports
"Big-bodied offensive defenseman with excellent passing skills who can orchestrate a power play as good as any blueliner from any of the last several NHL drafts. ... You're going to be hard-pressed to find a smoother North American puck distributor, especially one that makes difficult plays look routine. ... Offensively, Bouchard delivers a consistent effort with his puck management and playmaking, though the prevailing knock on him appears to be average straight-line speed. The good news is that Bouchard is nimble for his size, plus he has excellent timing and awareness to eventually outmaneuver pressure and join the attack deep into enemy territory. His feet are quick enough to maintain a tight gap while back skating, and his massive wingspan and long, active stick help limit the number of times an onrushing forward breezes past him. Bouchard has top-pairing potential with the skills and smarts to be a big point producer at the NHL level." - Steve Kournianos, TheDraftAnalyst.com
"A highly intelligent all-around defenceman that plays with poise and can shift the pace of play in a multitude of ways. Showcases smooth four-way skating ability and loves to get involved in all situations - especially when that situation happens to be an up-ice rush. Has a polished offensive skill set which includes well-timed passes and a sneaky, erratic shot. Goes with the high-percentage play and makes smart decisions. Could work on strength behind his shot. Defensively active, cutting off lanes, and always staying in excellent positioning. Reads cues well in all three zones and seems to stay a step ahead. All-in-all, a well-rounded defender with great hockey sense and work ethic." - Curtis Joe, EliteProspects.com
Did You Know?
Bouchard was second in the OHL in shots on goal this year, totaling 297 during the regular season.
Craig Button of TSN once said Bouchard's poise would make you "think his heart rate is 40 beats per minute," referring to his ice-cold composure.
He won an OHL championship with the Knights in 2015-16, though he was a rookie and did not see significant ice time.
Other entries in this series:
(Photos courtesy: Getty Images)