NHL Draft Prospect Profile: Oliver Wahlstrom
In the weeks leading up to the 2018 NHL Draft, theScore NHL prospect writer Hannah Stuart breaks down 10 of the most notable draft-eligible prospects. The eighth edition focuses on Oliver Wahlstrom.
Add another player to the list of those who hold dual citizenship and yet choose to represent the United States internationally.
Oliver Wahlstrom, whose father played at the University of Maine before playing in the Swedish Elite League, has represented the U.S. on multiple occasions, including at the last two U18 Men's World Championships where he earned a gold and a silver medal, respectively.
Wahlstrom is perhaps most widely-known, however, for a viral video of him scoring a shootout goal prior to a Boston Bruins game when he was nine years old. It's a gross understatement to say his puck skills have only improved since that day.
Year in review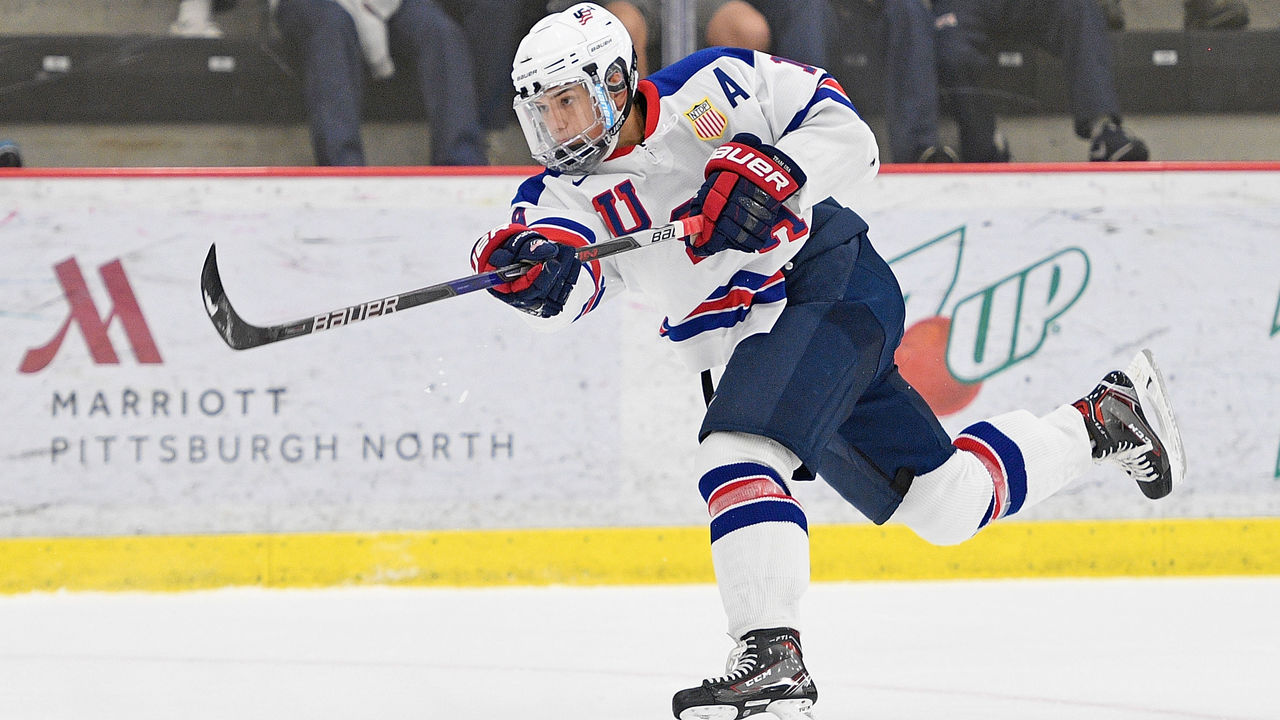 If you want a quick snapshot of how Wahlstrom's season went, he had 48 goals in 62 games and hit seven more at the U18 Men's World Championships. Let's not talk about the heartbreaker he missed with less than a second left on the clock in the gold-medal game against Finland. Instead, let's recall how he was not only named one of the top three players on Team USA by the coaching staff, but was also selected to the tournament All-Star Team. Team USA's silver continued a medal streak at the U18s that dates back to 2004.
Wahlstrom's USHL play, in particular, was impressive this year. His goals-per-game mark is the league's highest in six seasons, with 22 of his 48 goals coming in only 26 games. While he's listed as able to play center, he's mostly been used on the right wing - of late, typically on the flank of U17 player Jack Hughes, with Joel Farabee on Hughes' left to complete a formidable trio.
Wahlstrom will choose between Boston College and Michigan as his hockey home in 2018-19, with a decision expected in late May or early June.
Areas of strength
Wahlstrom is the dangerous goal-scoring forward armchair GMs want Brady Tkachuk to be. His puck skills are sublime, and he can use them at full speed, through traffic, and pretty much anywhere he pleases. He's an incredible playmaker, making skilled passes to teammates through tight openings and extending plays as required to find (or create) the right opportunity. He's also a sniper, with a wide and high-end array of shots that continues to improve as he develops. And he doesn't just score from far out - he's just as willing to go to the net for a rebound or a tip-in.
He's also a fantastic skater. He accelerates to his top speed at the drop of a hat thanks to his great first step. It also allows him to abruptly change speeds, evading opponents with his agility and edgework. Combine his puck skills and skating skills and, in addition to being an elite-level prospect, Wahlstrom is just plain fun to watch.
Areas of improvement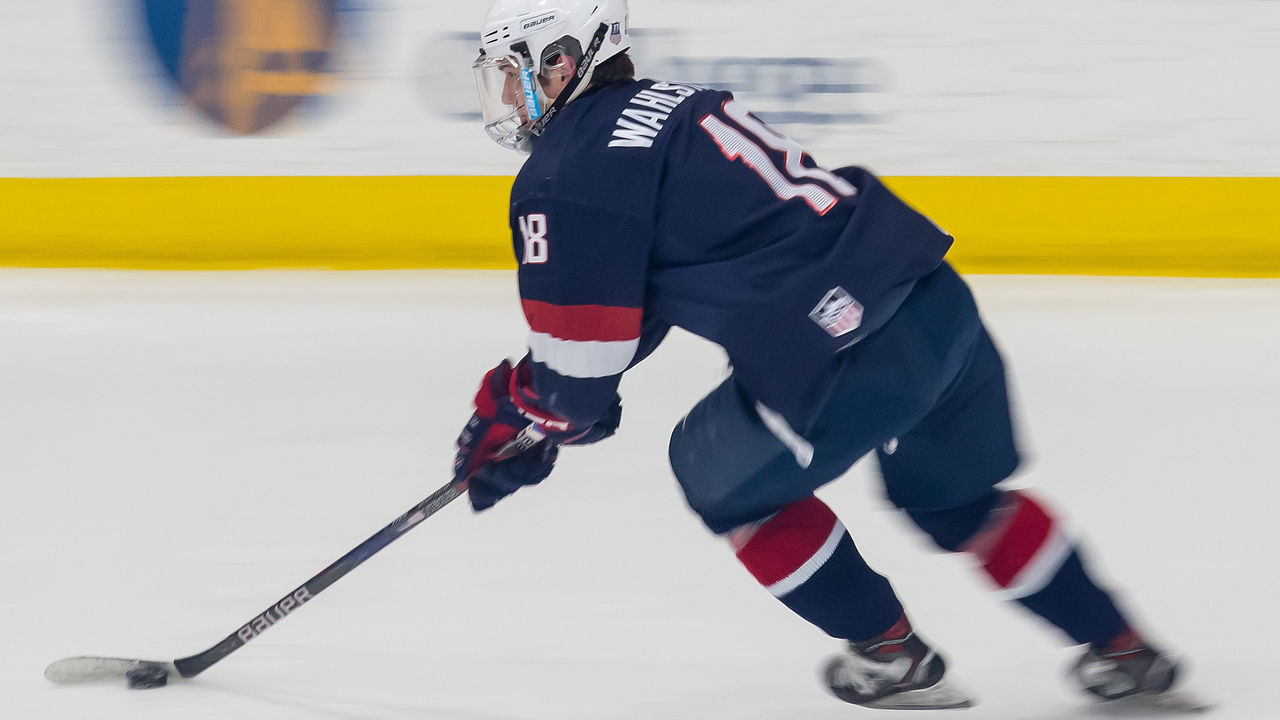 Perhaps the biggest area of Wahlstrom's game that needs improvement is his defensive play. While that's somewhat understandable given he's used to having the puck all the time, that won't be the case at higher levels.
He needs to be more present and engaged in the defensive zone; eliminating his tendency to puck watch should be high on his priority list. He's a great skater and can be a physical force - he just has to actively get involved. Flying by the seat of his pants when the other team has the puck won't work out well for him in college hockey.
The good news? The NCAA is a good place to develop those skills, and his ceiling is high enough that there's no reason to allow the deficiencies in his defensive game to convince you not to draft him if you've got a pick that falls somewhere between, say, eight and 15.
Scouting reports
"Wahlstrom already has an NHL-caliber shot with a quick release and the ability to create space for himself and linemates. He's most known for his goal-scoring ability and elite shot, and can hit a one-timer as good or better than many professional players." - Mike Morreale, NHL.com
"Owns some of the best pure puck skills in the draft. The goal-scoring forward doesn't shy away from attacking dangerous scoring areas and boasts strong speed and quick feet. An incredible season with the USNTDP this year, leading the charge from tip to tail. Loves to engage physically almost as much as he loves finding the back of the net. Feasts on the man advantage." - Cam Robinson, DobberProspects.com
Did You Know?
Like many other highly-skilled hockey players, including Sidney Crosby and Nathan MacKinnon, Wahlstrom attended Shattuck-St. Mary's. He stayed for two years before joining the USNTDP.
In 26 USHL games this season, Wahlstrom scored 0.85 goals and 1.73 points per game.
He also averaged almost five shots per game in USHL play.
Other entries in this series:
(Photos Courtesy: Getty Images)
Comments
✕
NHL Draft Prospect Profile: Oliver Wahlstrom
  Got something to say? Leave a comment below!