theScore's Mike Alessandrini and Dan Wilkins break down the top interior defensive line prospects in the upcoming 2020 NFL Draft as part of a position-by-position series.
Top 50
QB | RB | WR | TE | OL
DL | EDGE | LB | CB | S
1. Derrick Brown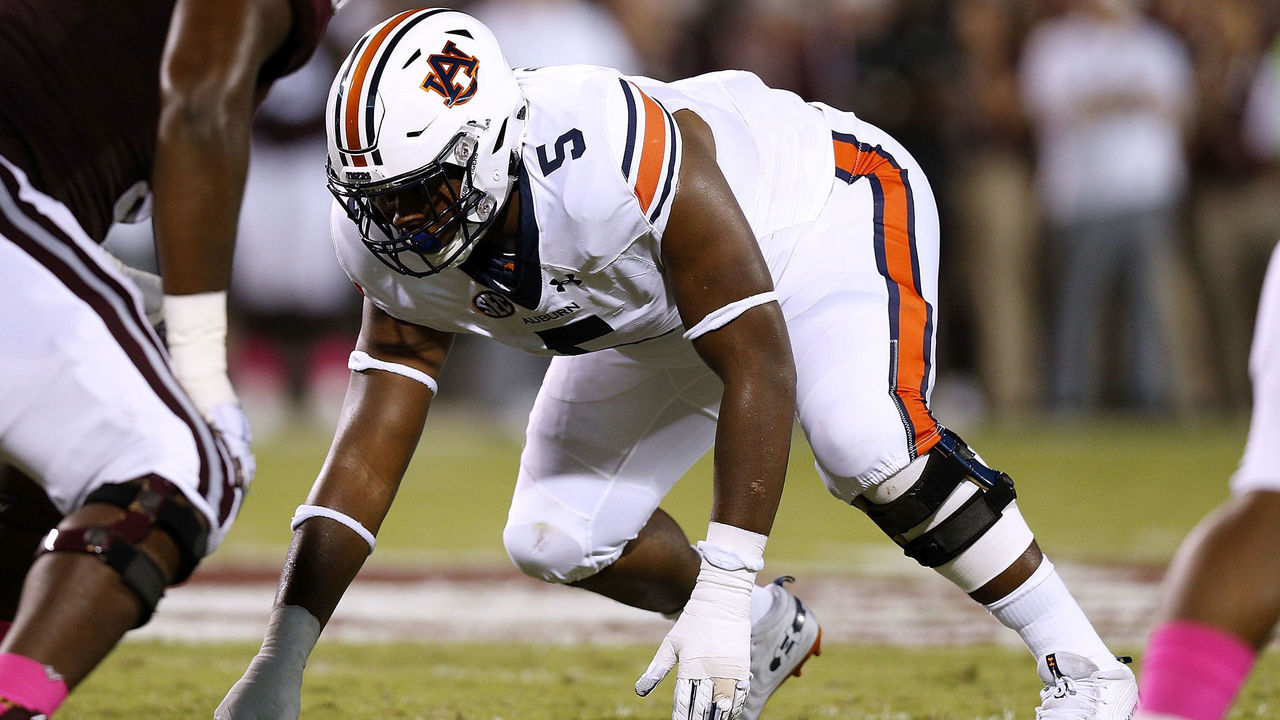 School: Auburn
Height: 6-5
Weight: 326 lbs
Positives
Excellent blend of size, length, and college production
Explosive off the snap to immediately attack his gap
Long-arms blockers and easily drives them into the backfield
Good bull-rusher and consistently wins the leverage battle
Natural one-gap shooter and pocket pusher
Elite hand placement - always in control of opposing linemen
Very good finisher and reliable tackler who rarely misses
Strong and disciplined run defender
Uses outstanding rip move to shed opponents, including the SEC's top blockers
Utilizes a number of pass-rush moves and has even shown an ability to bend around offensive tackles
Negatives
Poor athletic testing with a concerning 8.22-second three-cone time
Plays with an inconsistent pad level
Tight hips lead to below-average lateral agility and change-of-direction ability
Bottom line
After an incredible career against the best college football has to offer, Brown heads to the NFL as one of this year's safest prospects. The accolades rained down this past season - including SEC Defensive Player of the Year honors, a unanimous All-American nod, and a Lott IMPACT Trophy win - and it's easy to see why. Brown is a bully on every down, torturing interior linemen with powerful hands, explosive penetration skills, and a diverse pass-rush repertoire. The defensive tackle will likely have issues changing direction and isn't a high-end athlete, but he's already an excellent run defender with tools to thrive as a pass-rusher as well. Brown's floor is among the highest in the entire class.
Grade: Top 20
2. Javon Kinlaw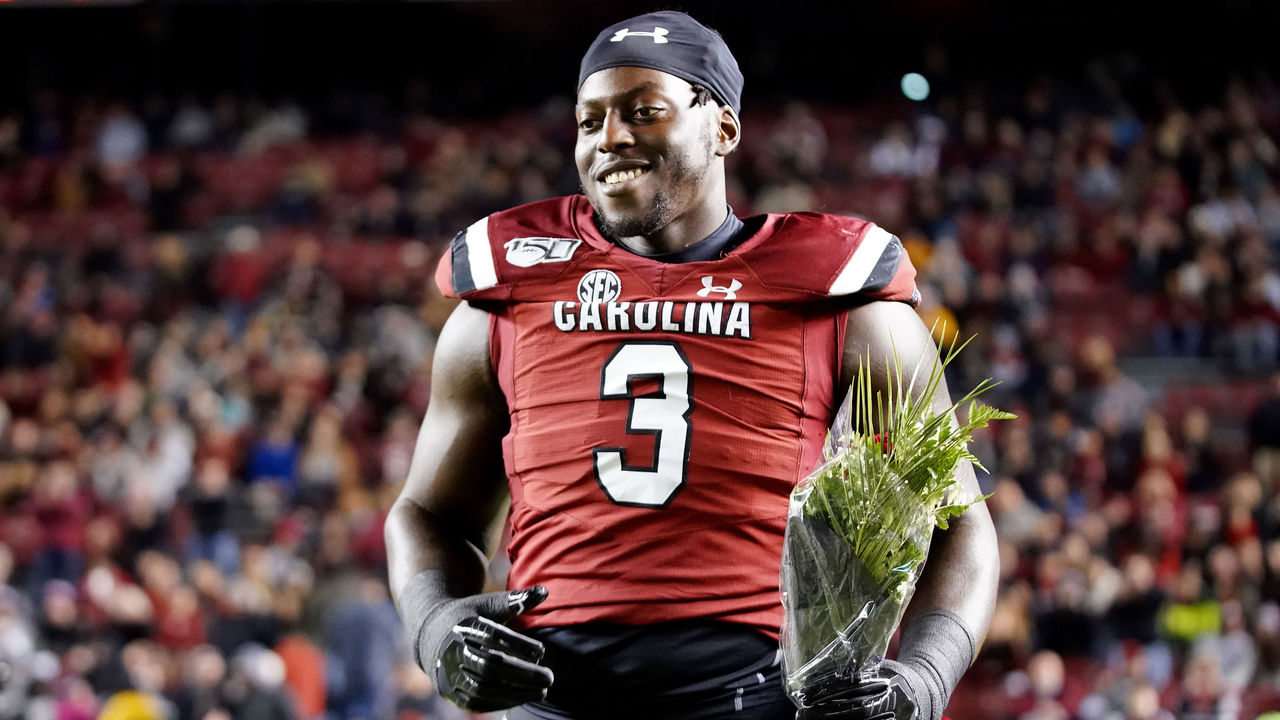 School: South Carolina
Height: 6-5
Weight: 324 lbs
Positives
Outstanding size and length for the position with an NFL-ready frame and rare physical tools
Possesses the strength to stack and rip linemen as well as drive them backward
Excellent get-off and burst for his size
Natural ability to change direction with good lateral quickness
Generates extraordinary power through his body as a bull-rusher
Violent hands to swat and rip through blockers
Excellent tackler with a wide radius and rarely misses
Improved his play every season and often played out of position
Power rush moves are likely the best in the class
Negatives
Can sometimes play out of control with hands changing positions, resulting in a loss of balance
Plays with an inconsistent pad level
Could expand his pass-rush repertoire
Bottom line
If you're looking for this year's physical freak along the defensive line, Kinlaw is your man. The former South Carolina standout possesses a unique blend of length, athleticism, burst, and raw strength that teams covet at the next level. These tools give him the highest upside in the class. Kinlaw's hand placement and overall technique certainly need polishing, but he still dominated college opponents on nearly every down. What he could do with a year of NFL coaching is a scary thought. Kinlaw fits into any scheme, and some team is likely to fall in love with his potential and make him an early first-round selection.
Grade: Top 20
3. Justin Madubuike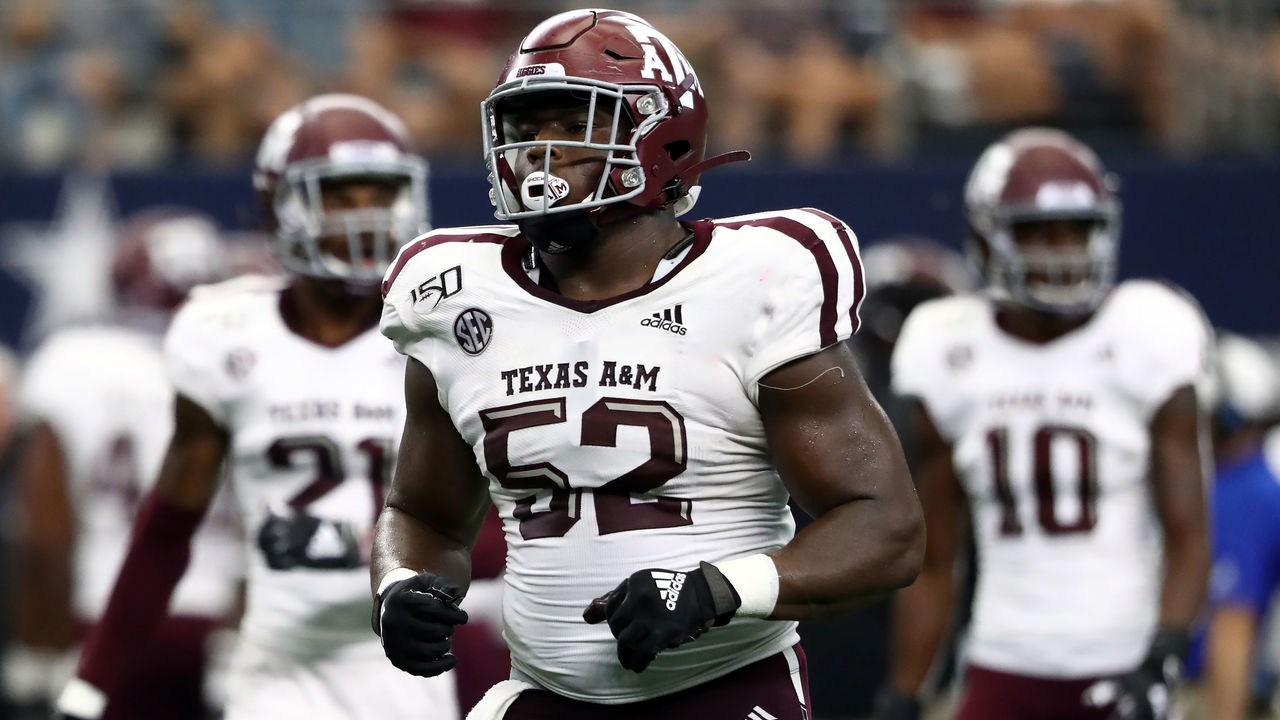 School: Texas A&M
Height: 6-3
Weight: 293 lbs
Positives
Intriguing blend of length, explosive athleticism, and lateral quickness
Productive defender in the SEC
Consistently wins one-on-one battles - excellent pass-rush win rate
Powerful upper body to stack and drive linemen into the backfield
Excellent contact balance and change-of-direction ability to move around blocks
Good bend and power as a bull-rusher
Utilizes good pass-rush counters
Excellent closing speed and ability to finish tackles
Number of tackles for loss against the run
Nimble feet and is able to naturally sink hips
Negatives
Inconsistent hand placement and timing against the run
Sometimes late coming off the line when the ball is snapped
Committed too many penalties over the last two seasons
Bottom line
Madubuike enjoyed a productive career against premier college competition and offers an intriguing blend of athleticism, burst, and power. The second-team All-SEC selection profiles as a three-technique, one-gap defensive tackle who lives in the backfield. There are kinks to work out regarding his snap timing and hands in the run game, but he can immediately impact the pass rush, which is what NFL teams prioritize at the position. For teams that miss out on Brown or Kinlaw early in the first round, Madubuike is an excellent fallback option.
Grade: Rounds 1-2
4. Jordan Elliott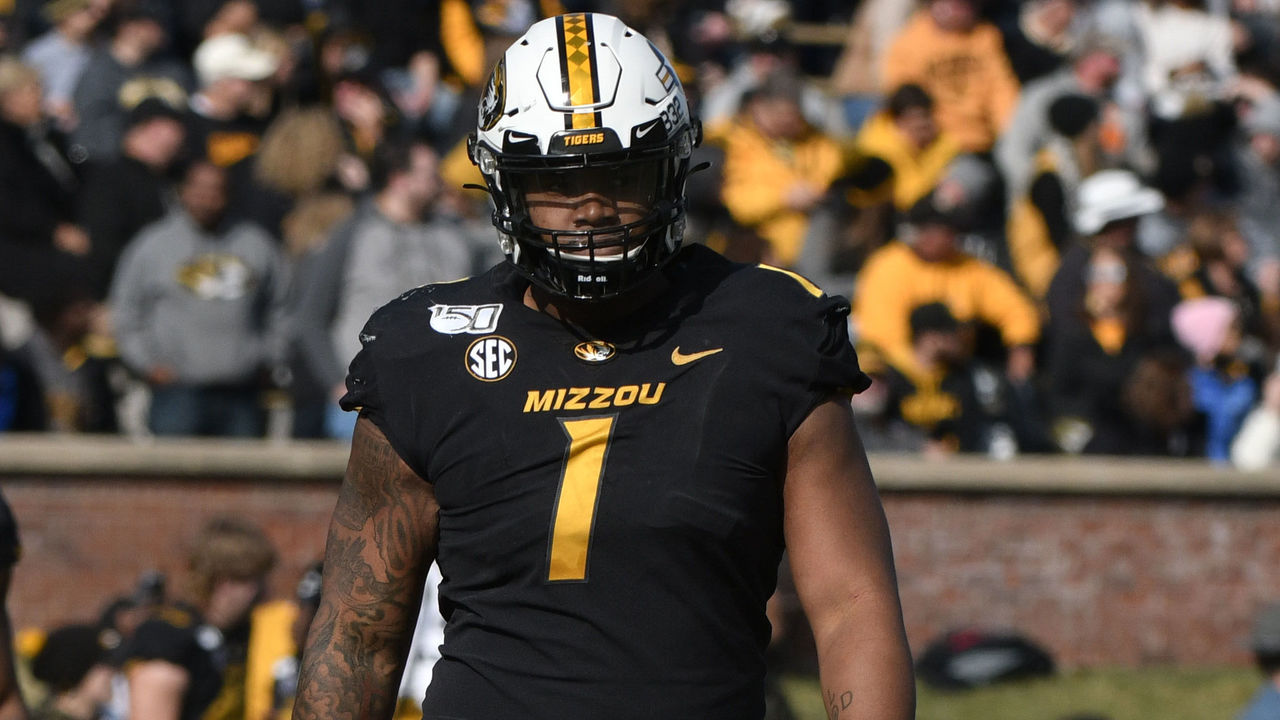 School: Missouri
Height: 6-4
Weight: 302 lbs
Positives
Good size and production
Excellent first-step quickness and burst off the line of scrimmage
Lived in the backfield last season against the run and pass
Fast, violent hands that never stop moving
Good ability to shed blocks in run defense
Very good bull-rusher who can convert speed to power at the point of attack to drive linemen backward
Number of pass-rush moves including a deadly swim
Good balance and flexibility to redirect
Easily disrupts pull or trap blocks with speed and quickness
Negatives
Doesn't possess ideal length - leads to a few missed tackles
Only spent one year as a starter in college
Can be reckless and undisciplined in his gap when firing off the line
Can lose track of the ball carrier in the backfield - sometimes only focused on getting past blocks
Bottom line
Though he isn't getting as much attention as some of his peers, we believe Elliott has the tools to succeed as a high-level pass-rusher and run defender. His height and length fall short of what most clubs desire at the position, but the former Tiger was a consistent producer last season despite his physical limitations. Once he learns how to use his eyes more efficiently, Elliott could develop into a starting-caliber one-gap interior rusher in a 4-3 base defense and impact every phase of the game.
Grade: 2nd round
5. Ross Blacklock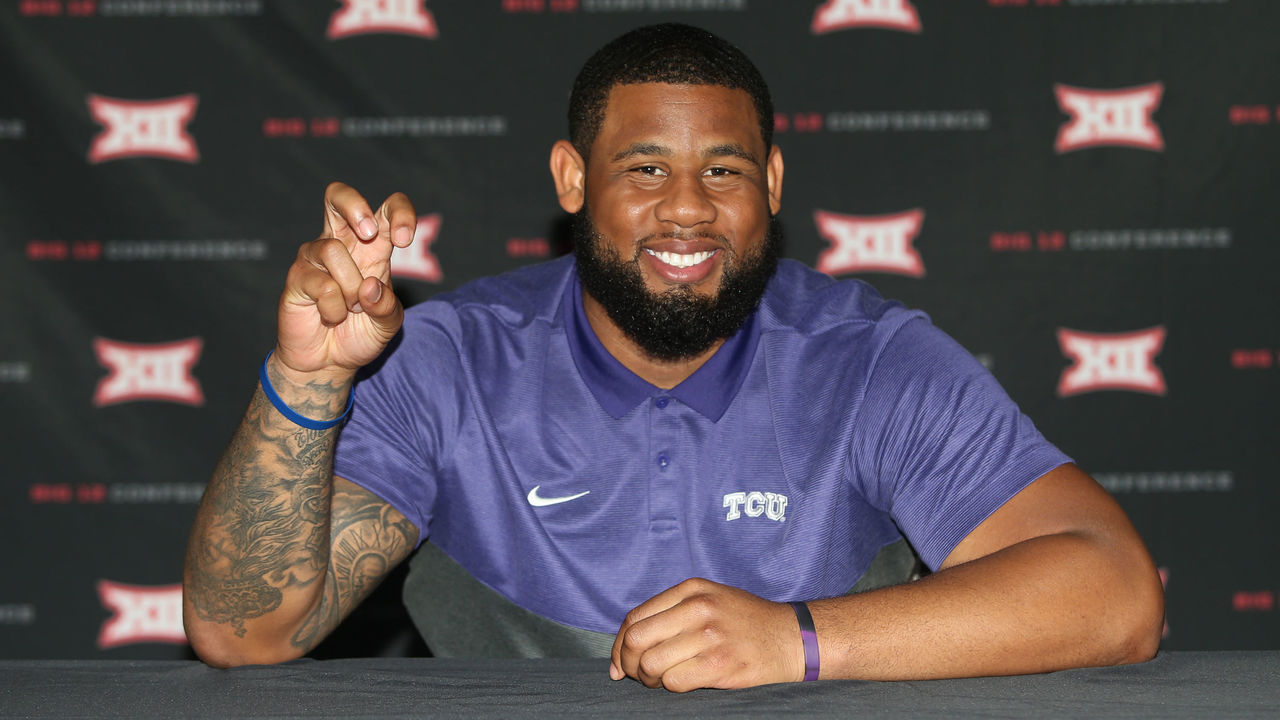 School: TCU
Height: 6-3
Weight: 290 lbs
Positives
Athletic interior rusher with excellent quickness and burst off the line
Quick, powerful hands to swipe past offensive linemen in the run game and win as a pass-rusher
Excellent lateral agility to move around opponents
Very flexible - gets low and makes himself difficult to block
Has shown the ability to split double-teams
Excellent motor with great speed - plays sideline to sideline
Advanced run defender with a number of tackles for loss
Understands gap discipline and is difficult to move off his spot
Great speed-to-power rusher
Negatives
A bit undersized for the position
Doesn't possess many effective pass-rush moves - will need to diversify repertoire in the NFL
Failed to consistently convert pressures into sacks
Has a tendency to overrun screens or rushes
Bottom line
Blacklock isn't likely to top 10 sacks as an NFL rookie, but he has unique raw tools that will excite a number of scouts. The All-Big 12 defender has burst, speed, and agility you can't teach, and he uses his flexibility to win the leverage battle and dominate against the run. Blacklock must refine his pass-rush repertoire and become more disciplined through his gap to make it in the pros, but his ceiling is sky-high. His strengths translate best to a one-gap rusher who can utilize his explosiveness to push the pocket.
Grade: 2nd round
6. Neville Gallimore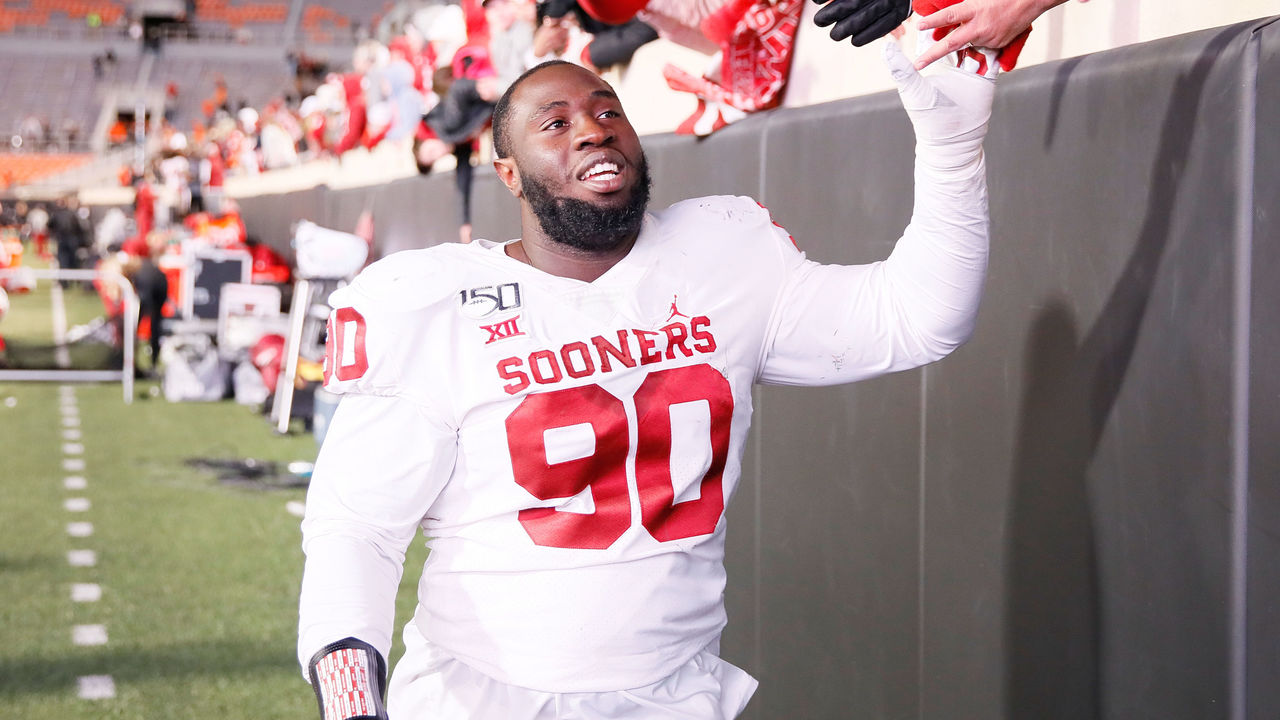 School: Oklahoma
Height: 6-2
Weight: 304 lbs
Positives
Excellent speed and explosive athleticism
Shoots out of his stance and immediately challenges interior blockers
Violent hand swat is lethal when well-timed
Immense lower-body power to move blockers into the backfield
Active hands used to recover if he's beaten at the snap
Significantly improved every year in college
Very nimble feet for his size
Good finisher despite an unremarkable tackle radius
High-motor player who never stands still
Negatives
Height and length are below NFL standards
Below-average college production even with unique raw skills
Has difficulty changing direction and doesn't possess ideal lateral quickness
Has some balance issues - ends many plays on the ground
Needs to improve hand technique to shed blocks against the run
Plays with a high pad level
Bottom line
Between a breakout 2019 campaign and an impressive 4.79 40-yard dash time at the combine, Gallimore has been rising up draft boards over the last few months. The former Sooner offers ideal burst and lives in the backfield when everything is clicking. There are areas of concern, however, including a lack of college production, balance issues, and change-of-direction struggles. Add these shortcomings to below-average measurables and it's hard to envision a team dubbing Gallimore worthy of a first-round pick. That's not to say there isn't plenty to love about his game - his natural burst and powerful hands will get him on the field as a three-technique defensive tackle or at the nose early in his pro career.
Grade: Rounds 2-3
7. Raekwon Davis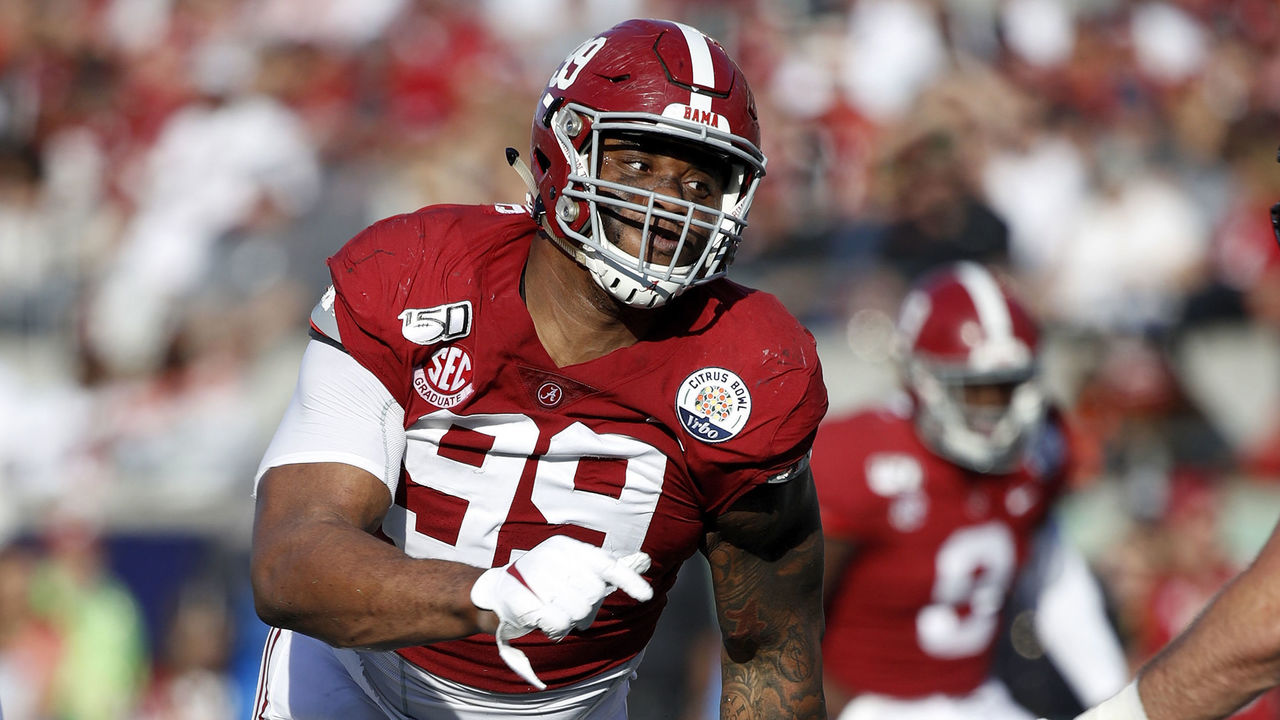 School: Alabama
Height: 6-6
Weight: 311 lbs
Positives
Excellent size and length
Versatile with plenty of starting experience in the SEC
Stout run defender - can stack and shed blockers to make plays in the backfield
Good burst off the line of scrimmage for his size
Impressive tackle radius with very few misses
Can set the edge and hold off double-teams
Good power at the point of attack to seal gaps
Large hands with great natural grip strength
Effective bull-rusher for a tall defender
Negatives
College production never matched potential
Balance issues surface when closing in on quarterbacks
Average athleticism with below-average lateral agility
Not many refined pass-rush moves
Bottom line
After a promising freshman campaign, expectations were sky-high for Davis at Alabama. Unfortunately, he failed to consistently produce as a pass-rusher and thus never lived up to the hype. That likely won't change in the NFL, but scouts will still love the towering defender. Davis offers a unique blend of length, power, and run-defense skills and should earn a role in any defense early in his career. He also has the versatility to play in odd or even fronts and is best suited either as a two-gap lineman tasked to read blocks or in a five-technique, heads-up role against offensive tackles.
Grade: 3rd round
8. DaVon Hamilton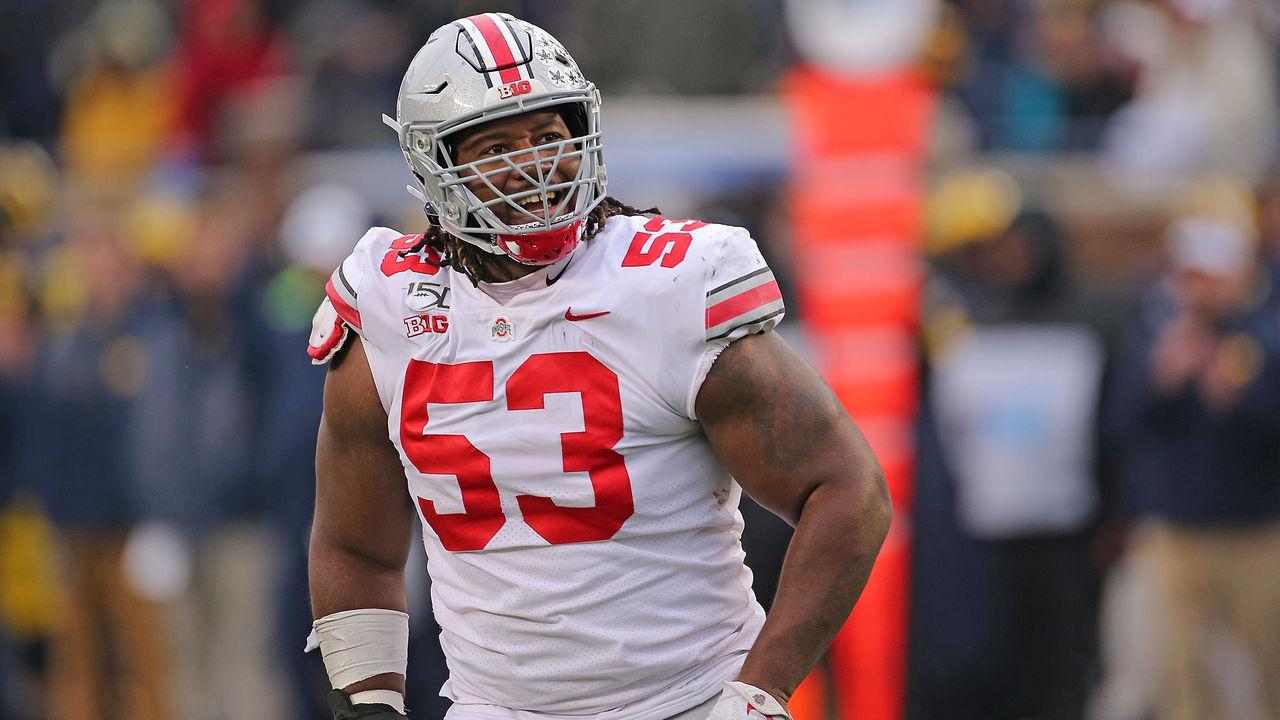 School: Ohio State
Height: 6-4
Weight: 320 lbs
Positives
Good size with excellent upper- and lower-body strength
Potent bullrush that gives blockers trouble
Very good run defender - able to eat up rush lanes and make a number of tackles behind the line of scrimmage
Solid post-snap burst for his size
Shown ability to win against double teams
Good awareness to understand offensive line movements and plays
Excellent tackler with good closing speed
Negatives
Lacking college production
Was a rotational player for most of his career
Doesn't utilize many pass-rush moves
Can be overeager and lose sight of the ball
Bottom line
Hamilton never played more than 60% of Ohio State's defensive snaps in a single year during his college career, but there's untapped potential here. The defensive tackle is extremely powerful at the point of attack and a natural space-eater, making him an ideal fit in a two-gap system. His technique and strength in the run game will give him a role on early downs, but Hamilton's pass-rush skills could improve with the help of an NFL offensive line coach. He'll never be Aaron Donald, but the former Buckeye can develop into a starter in an odd- or even-front defense.
Grade: 3rd round
Other notable prospects
McTelvin Agim (Arkansas)
James Lynch (Baylor)
Larrell Murchison (NC State)
Rashard Lawrence (LSU)
Jason Strowbridge (North Carolina)
Khalil Davis (Nebraska)