theScore's Mike Alessandrini and Dan Wilkins break down the top running back prospects in the upcoming 2020 NFL Draft as part of a position-by-position series.
Top 50
QB | RB | WR | TE | OL
DL | EDGE | LB | CB | S
Running backs
1. Clyde Edwards-Helaire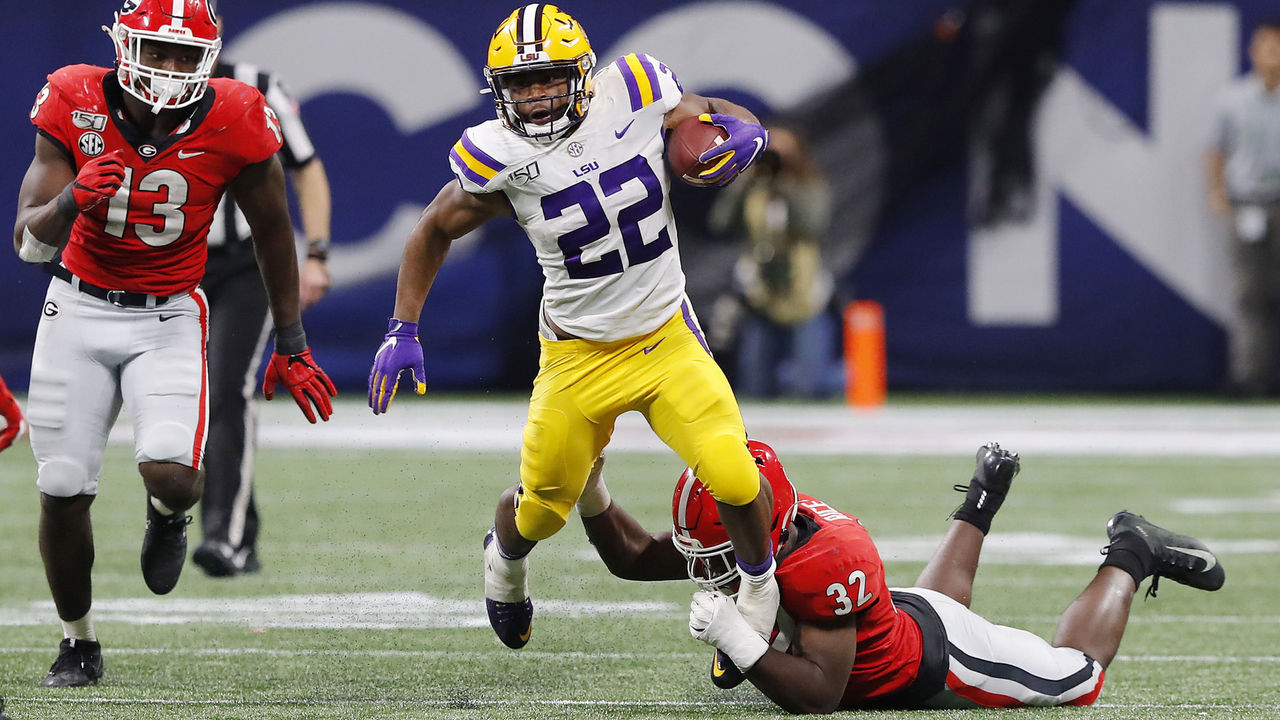 School: LSU
Height: 5-7
Weight: 207 lbs
Positives
Shifty runner with very quick feet and an ability to make defenders look silly with jukes in compressed spaces
Compact with excellent contact balance - has a powerful lower body, core strength, and an ability to contort to avoid oncoming tacklers
Good vision at the line of scrimmage - sets up defenders in the hole
Plays with high effort and a bruiser mentality
Good burst to get to the second level
Very fluid lateral agility and changes direction effortlessly
Lethal spin move to bounce off defenders
Highest broken tackle rate among running backs in his class
One of the most productive receivers out of the backfield in his class - soft hands and advanced routes led to 55 receptions in 2019
Limited wear on his tires - only one full-season workload
Negatives
Doesn't possess ideal breakaway speed
Just one year of elite college production
On the small side for his position
Bottom line
Similar to Joe Burrow, Edwards-Helaire enjoyed a breakout 2019 campaign and played a major role in LSU's championship run. Despite just one year of production, the All-SEC rusher is the gem of this year's running back class because he's already advanced at parts of the game most prospects take years to master. His receiving chops and ability to make defenders miss make him a perfect fit in today's NFL. The former Tiger may not be a home-run hitter, but he's explosive, extremely fluid, and his compact rushing style gives him an advantage in absorbing hits. Edwards-Helaire is very difficult to tackle and generates yards after contact on nearly every play. Don't let his physical limitations fool you.
Grade: Rounds 1-2
2. D'Andre Swift
School: Georgia
Height: 5-8
Weight: 212 lbs
Positives
Three seasons of production in the SEC
Excellent burst through the hole to pick up chunk yardage
Great blend of speed, explosion, and power
Quick feet and shifty - cuts on a dime to avoid tacklers in the open field
Very good outside runner - if defenses don't contain the edge, he can make a big play
Quick to diagnose running lanes at the line of scrimmage
Always keeps his legs moving to gain extra yards - an effective short-yardage rusher
Graceful movement skills in the open field and changes direction effortlessly
Flashed ability to run routes out of the backfield
Negatives
Not a consistent weapon as a receiver and had issues with drops
Can lose yardage trying to make big plays instead of safe decisions
Tested like an average athlete at the NFL combine
Bottom line
After a productive career against college football's stiffest competition, Swift joins the draft pool as one of the safer offensive prospects in his class. He possesses a number of traits NFL teams covet while offering very few weaknesses. The former Bulldog became one of college football's most elusive running backs over the last two years by blending speed, lateral agility, and power. He's scheme versatile thanks to his diverse skill set. Swift has work to do as a receiver, but he has the physical tools to develop into a three-down back. His ability to make defenders miss can't be ignored.
Grade: 2nd round
3. J.K. Dobbins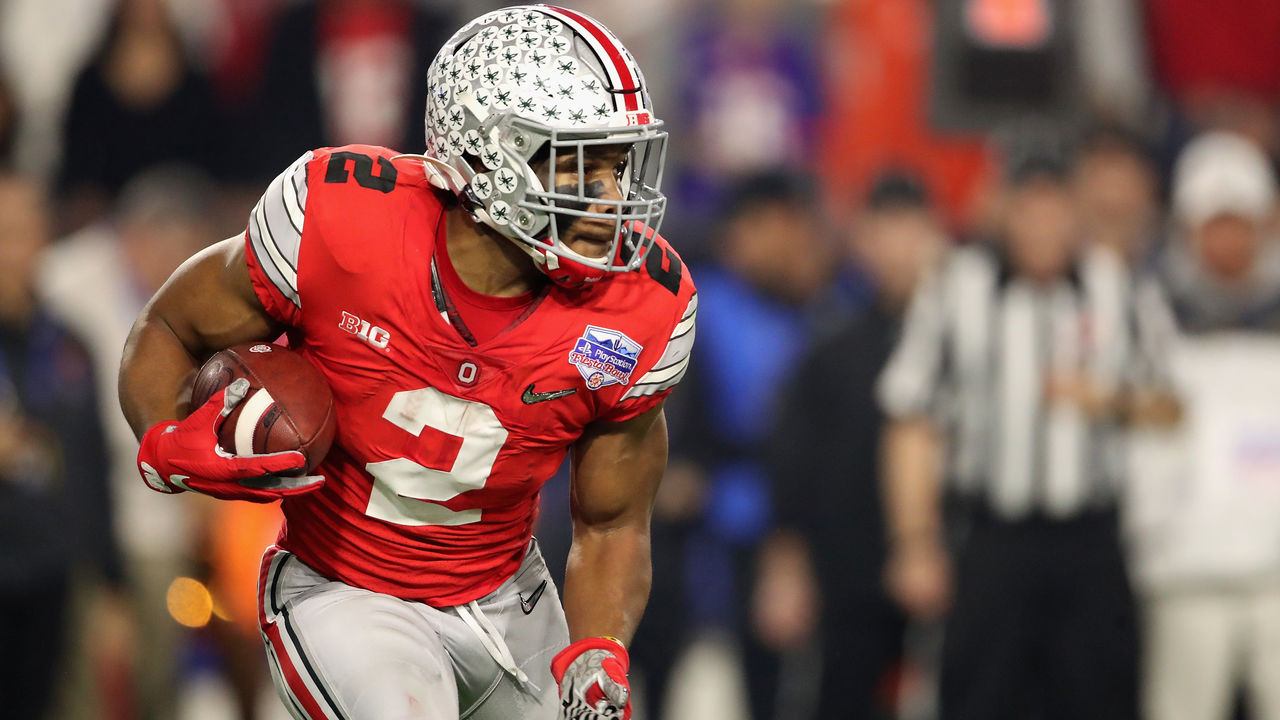 School: Ohio State
Height: 5-9
Weight: 209 lbs
Positives
Very productive college career - averaged 6.2 yards per carry and scored 43 touchdowns across three seasons
Excellent athlete for the position
Compact, strong lower body which results in excellent contact balance
Possesses ideal breakaway speed and burst
Powerful in short-yardage situations and always keeps his feet moving
Good vision - finds the backdoor cut when the initial gap isn't open
Very smooth feet and maintains speed through cuts
Fluid hips and able to contort to avoid tackles
Smooth hands as an outlet receiver
Negatives
Not the best pass-protector - lacks awareness and the strength to knock defenders off their path
Route-running out of the backfield appears stiff and needs polish
Aided by Ohio State's scheme and excellent run blocking
Bottom line
If you're looking for the perfect running back for an outside-zone scheme, Dobbins is your guy. The 2019 first-team All-American is arguably the most explosive runner in his class and will be a nightmare for defenses when his gap opens. His elite contact balance often makes him more difficult to tackle in closed quarters than in the open field. While he'll likely never develop into a top-tier receiver out of the backfield, Dobbins possesses every other tool NFL teams require in a lead tailback.
Grade: 2nd round
4. Jonathan Taylor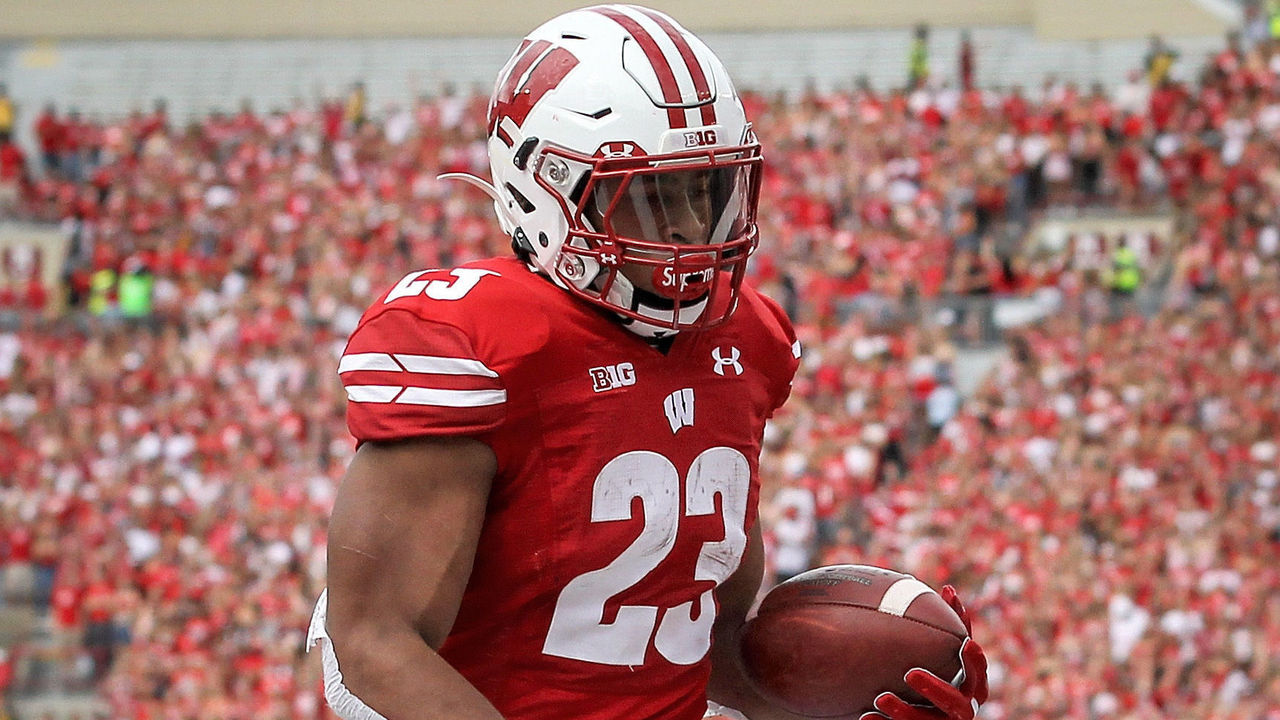 School: Wisconsin
Height: 5-10
Weight: 226 lbs
Positives
One of the most productive running backs in college football history - two straight 2,000-yard campaigns
Good size with an athletic build and possesses excellent speed
Unique blend of power and burst
Patient in the backfield and lets his holes open before making a decision
Has the ability to absorb contact and stay balanced
Runs low, strong, and with very high effort
Arm tackles rarely work to bring him down
Improved his skills as a receiver every year in college
Negatives
Not a polished route-runner and had issues with drops
926 career carries in college - already overworked
Appears somewhat stiff when changing directions and has difficulty regaining speed when he stops
Bottom line
After a historic career at Wisconsin, Taylor stands a good chance at being the first running back selected in April's draft. With blazing speed and a powerful lower body, the two-time All-American is able to pick up chunk yardage and is often difficult to tackle. Though he doesn't change direction as quickly as some of his peers, his athleticism and high football IQ make him an ideal fit in an inside-zone scheme. However, his lack of receiving chops could ultimately hold him back. Taylor may never be a true three-down back in the NFL, but he can do plenty of damage on the ground.
Grade: 2nd round
5. Cam Akers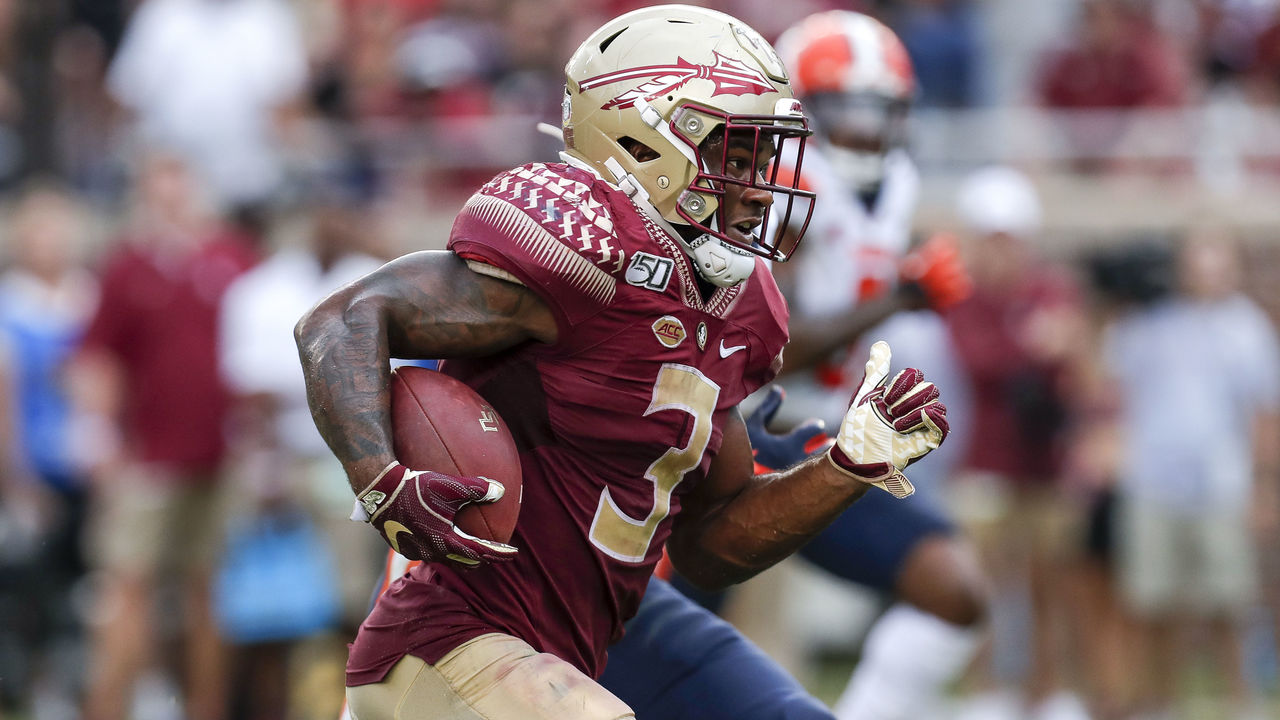 School: Florida State
Height: 5-10
Weight: 217 lbs
Positives
Explosive runner who can one-cut and burst through a designed gap
Uses quick feet and good change-of-direction skills to juke past defenders and avoid tackles in the backfield
Much tougher than his size indicates - he's a well-built athlete who always fights for extra yards and is able to absorb contact
Violent runner with good leg drive on short-yardage plays
Natural receiver who ran a number of different routes
Made the most of a below-average offensive line
Extremely elusive in the open field
Advanced pass-protector for a college player
Negatives
Production was often related to how well his blockers performed in front of him
Had issues with drops
Bounced a number of runs outside, which worked in college but may not in the NFL
Minor ball-security issues - lost fumbles on occasion and a few nearly popped loose
Bottom line
Akers is one of the more intriguing running backs in this year's class. His raw stats don't stack up to some of his peers, but Florida State's blocking unit was incredibly underwhelming during his career. The athletic tailback offers plenty of exciting traits, including a unique change-of-direction ability both behind the line of scrimmage and in the open field. With skills as a receiver and strong reps as a pass-blocker, Akers has three-down potential early in his NFL career.
Grade: Rounds 2-3
6. Zack Moss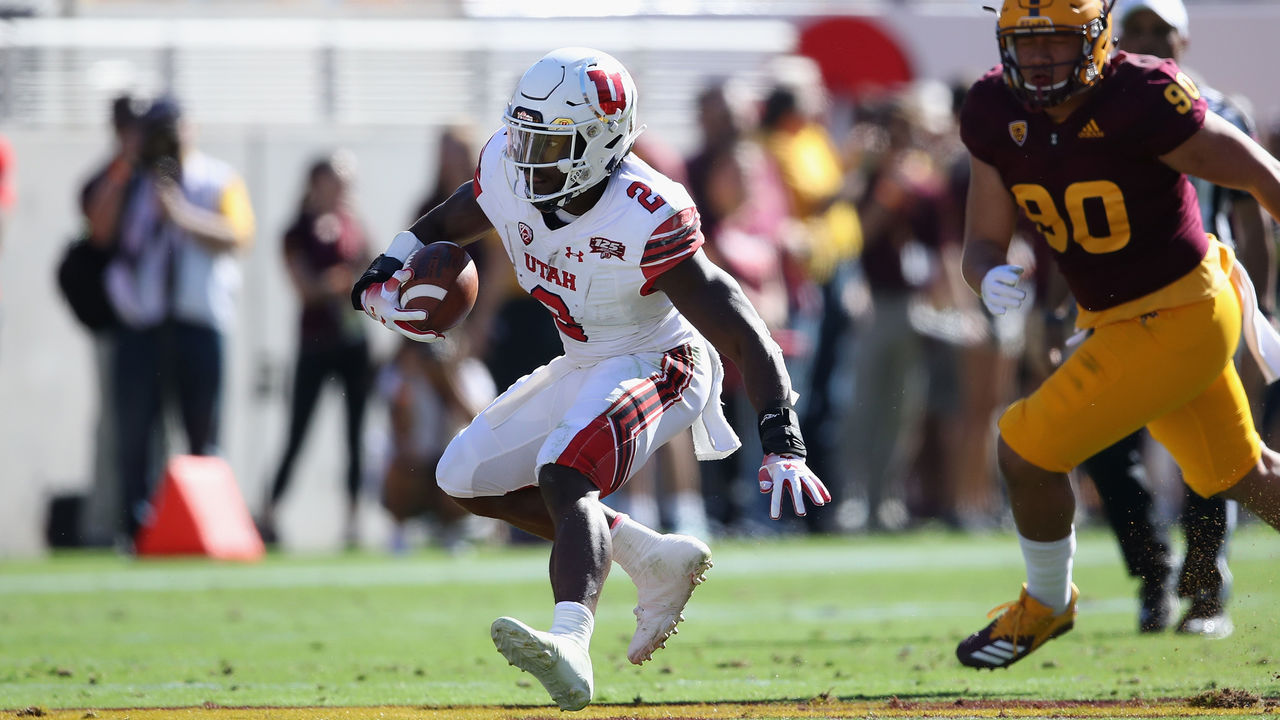 School: Utah
Height: 5-9
Weight: 223 lbs
Positives
Three years of productive starting experience
Ideal size and frame with an athletic build and a low center of gravity
Smooth runner with an excellent ability to cut without losing speed
Great contact balance and ability to shift his body in a number of directions
Generates yards after contact - it's rare to see the first defender bring him down
High-effort player and effective on short-yardage plays
Very good field vision at all levels
Negatives
Not the most explosive running back and his speed is below average
Ran limited routes in Utah's offense
Often tries to do too much to make a play - worked in the Pac-12 but may not in the pros
NFL teams don't often desire runners with this much trek on their tires
Bottom line
It's easy to see how Moss' game translates to the NFL level thanks to his elusiveness and vision. The reigning Pac-12 Offensive Player of the Year checks off nearly every box teams look for in a feature back, but he has three full years as a starter under his belt and is undeveloped in the passing game. Moss projects best within an inside-zone scheme with his ability to see cutback lanes when the initial hole is filled.
Grade: 3rd round
7. Antonio Gibson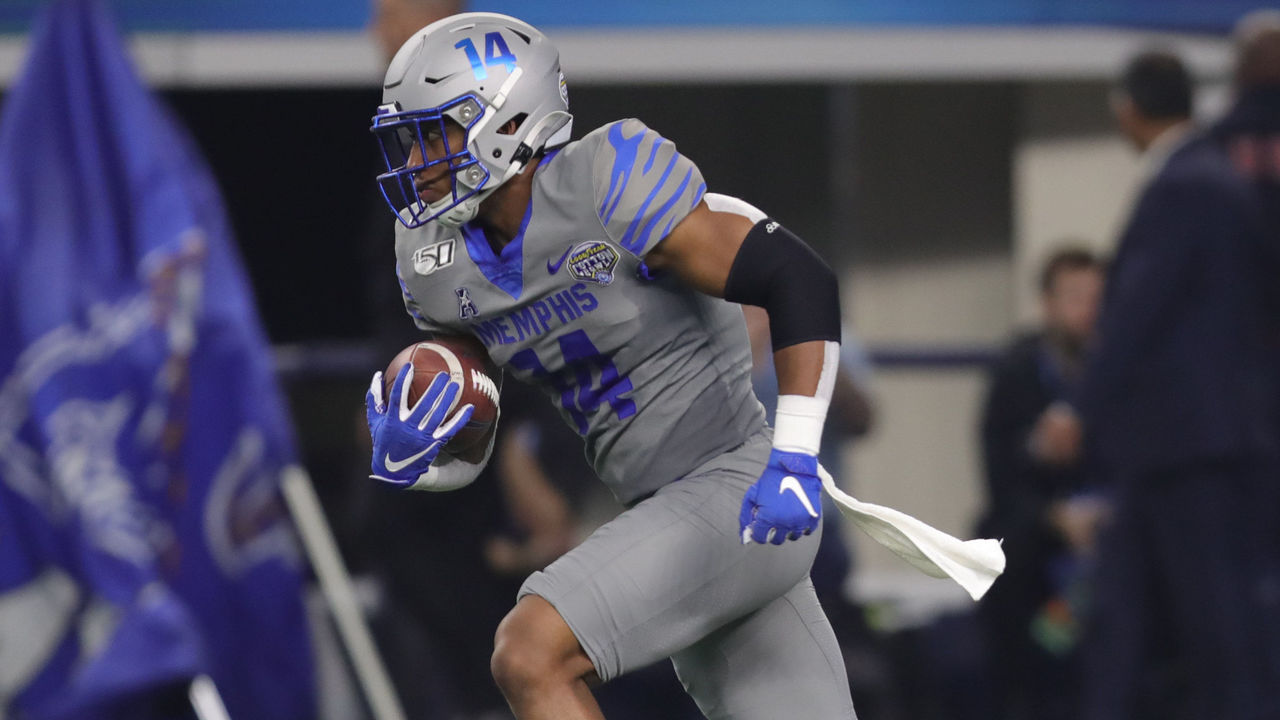 School: Memphis
Height: 6-0
Weight: 228 lbs
Positives
Versatile prospect with snaps at running back and receiver
Possesses ideal speed and athleticism
Excellent change-of-direction ability as a rusher and route-runner
Able to separate with explosion in and out of breaks
Strong lower body leads to short-area quickness
Dangerous with the ball in his hands
Good vision and understanding of angles
Successful kick returner
Negatives
Primarily played receiver in college - lacks true experience at running back
Not polished in route-running technique out of the backfield
Runs with high pad level
Bottom line
One of the most intriguing offensive weapons in his class, Gibson is also among the most unique. He was primarily used as a receiver and gadget runner at Memphis, but his skill set and elusiveness with the ball in his hands translates more to the running back position. However, with his track speed, vision, and burst, Gibson has potential as a versatile player that doesn't necessarily require a primary designation. Add him as an offensive chess piece and mismatch - you won't be sorry.
Grade: 3rd round
8. Anthony McFarland Jr.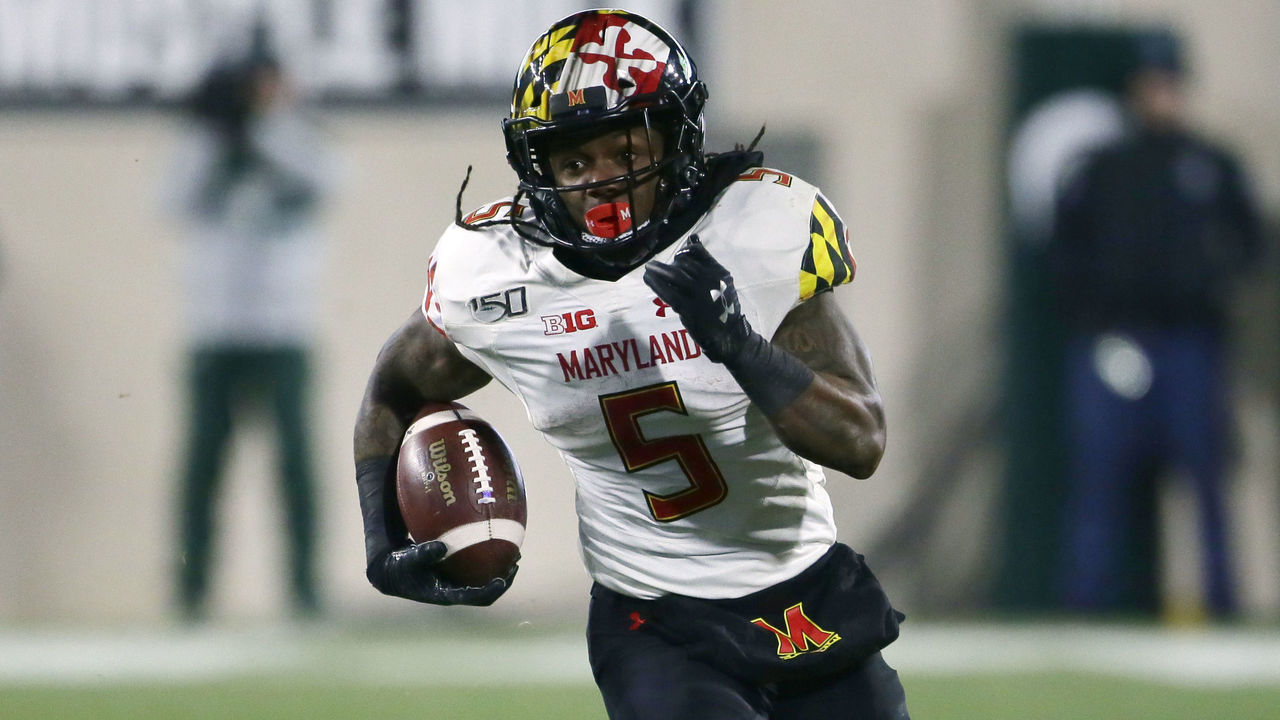 School: Maryland
Height: 5-8
Weight: 208 lbs
Positives
Young running back that didn't accumulate many touches in college
Slashing tailback who cuts on a dime and has good contact balance
Very good speed for his size
Able to absorb contact well and rack up additional yards
Still effective on a poor Maryland team in 2019
Slippery in the open field with a good burst through the hole
Good vision and is able to work his way through traffic
Always plays at full speed - never slows down
Negatives
Neither experienced nor productive as a receiver in college and his pass protection needs work
Not very effective on short-yardage/goal-line scenarios
Doesn't possess ideal size or frame
Below-average athlete for the position
Bottom line
After flashing abilities as a dynamic runner in college, McFarland heads to the NFL in need of some fine-tuning as a receiver. He profiles best as a zone runner, where he can see the hole and burst through it. There are tools here to work with, but McFarland will likely be part of a committee early in his pro career while he works on his receiving chops and pass protection.
Grade: 4th round
9. Eno Benjamin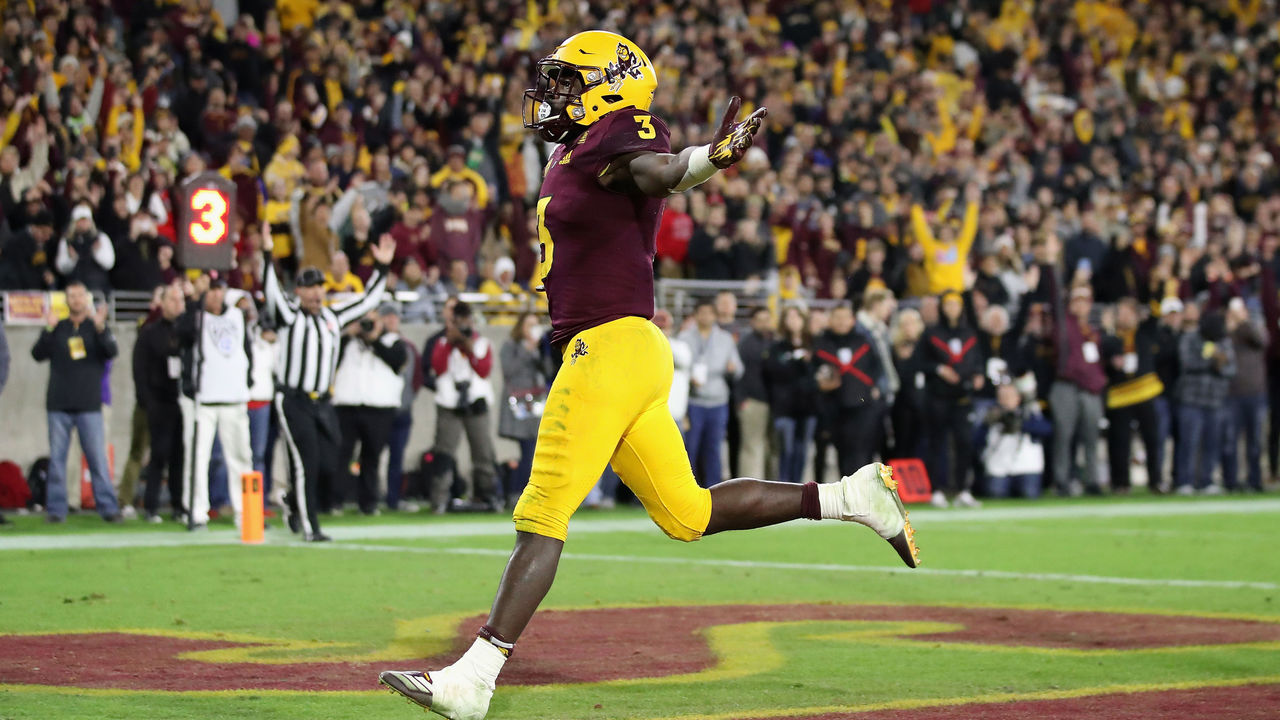 School: Arizona State
Height: 5-9
Weight: 207 lbs
Positives
Tough, violent runner who refuses to be taken down
Good athlete for the position
Very active feet - uses quick cuts and good lateral agility to avoid tacklers
Natural hands and utilized often in Arizona State's passing game (77 catches over his final two years)
Good short-yardage runner between the tackles
Able to adjust body very well and bounce off defenders - high tackle attempts rarely succeed
30 total touchdowns over the last two seasons
Negatives
Average speed and burst keeps him from being a true home-run threat
Vision isn't his best trait - not very patient and often hits his hole quickly, leading to a handful of negative runs
Lacks ideal size and functional strength
Production dropped as a junior after an excellent sophomore campaign
Bottom line
Many expected Benjamin to break out as a junior in 2019, but his inconsistencies mirrored those of the Sun Devils' offense as a whole. The two-time All-Pac-12 selection offers enough tools as a runner and pass-catcher to see time as a third-down back early in his career. While he plays big, Benjamin likely doesn't possess the size or power to be a full-time lead rusher in the pros. His best fit is in a power-run scheme where he can be assigned gaps.
Grade: 4th round
10. Darius Anderson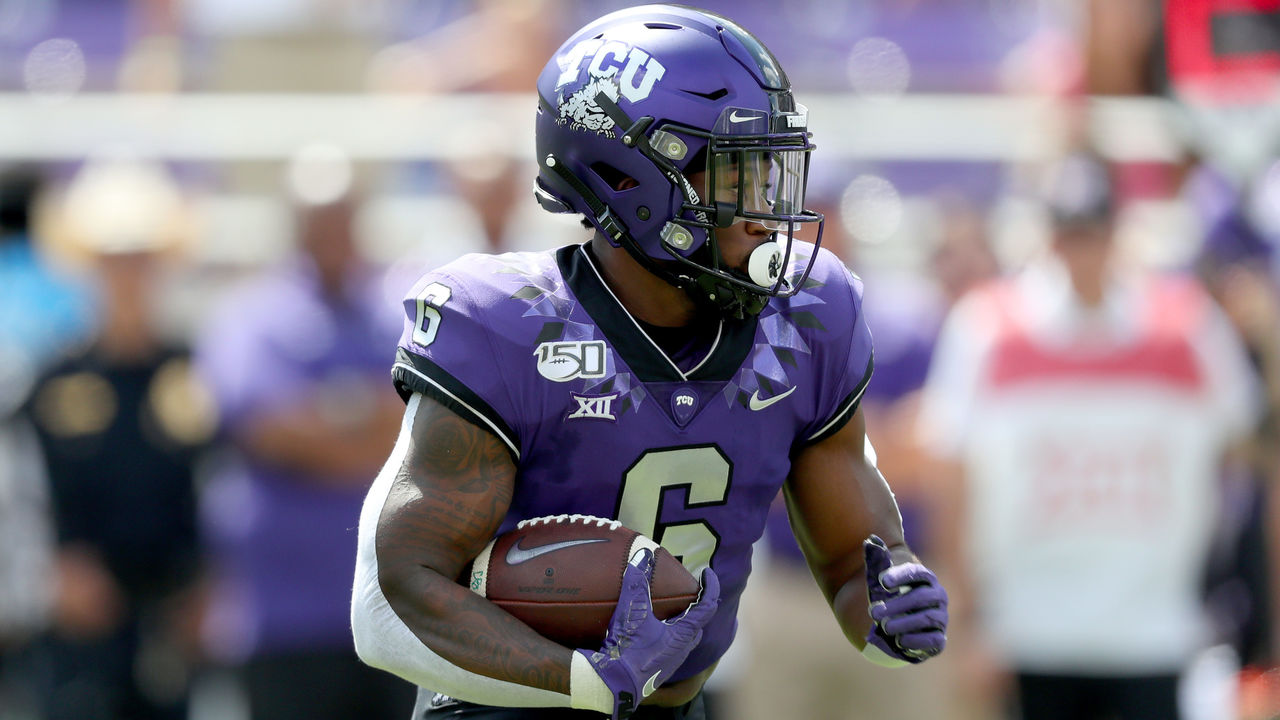 School: TCU
Height: 5-10
Weight: 208 lbs
Positives
Athletic runner who displayed enough burst to succeed in the pros
Involved as a receiver in his final college season and made a handful of big plays after the catch
Drives into contact and keeps his legs moving on short gains
Elusive in the open field - able to break tackles with his lateral quickness and contact balance
Effective when bouncing runs outside for positive gains
Ability to break off long runs
Negatives
Was never a workhorse back in college
Has frantic feet and must pace himself more effectively at the line of scrimmage
Often had more space to work with than NFL defenses will offer
Below-average vision and decisiveness
Bottom line
Anderson is one of the more intriguing options among running backs likely to be selected on Day 3. While he offers home-run burst and skills as a receiver out of the backfield, his lack of vision may not translate in the pros. Still, Anderson has potential as a third-down back and displays passing-game traits many NFL teams covet at the position.
Grade: 4th round
11. Lamical Perine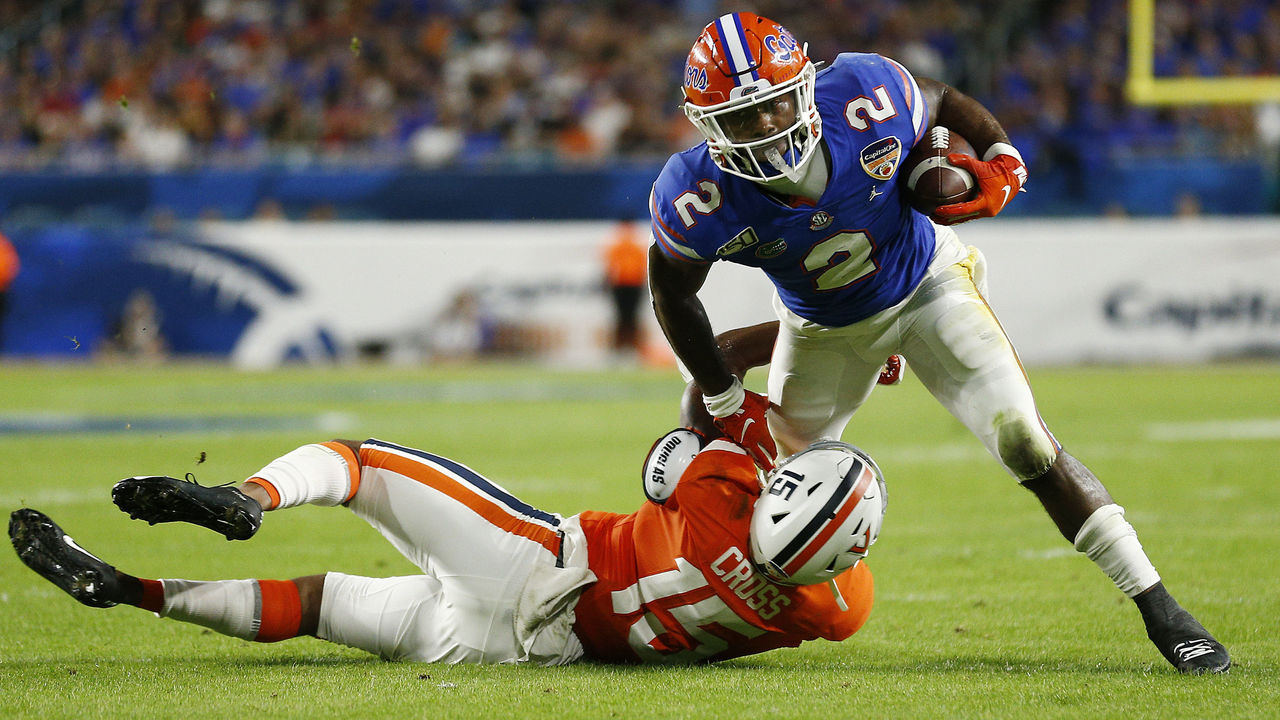 School: Florida
Height: 5-11
Weight: 216 lbs
Positives
Good size and strength
Effectiveness as a receiver improved greatly as a senior
High football IQ to lead defenders into bad tackling angles
Has good decision-making and vision in the backfield to know which holes to hit
Powerful legs make him a good short-yardage back
Good pass-blocker - always knows his assignment
Negatives
Not very elusive in the open field
Below-average speed and athleticism
Usually takes what blockers give him and has difficulty creating more
Average production and never truly dominated in a season
Bottom line
Perine smartly dropped weight ahead of his senior year to aid his explosion and be more involved in the passing game, but teams will worry he lost power in the process. More of a north-south tailback than one possessing lateral quickness, he's best utilized as an inside runner and displayed enough improvement as a receiver to potentially develop into a reliable third-down back.
Grade: Rounds 4-5
12. Ke'Shawn Vaughn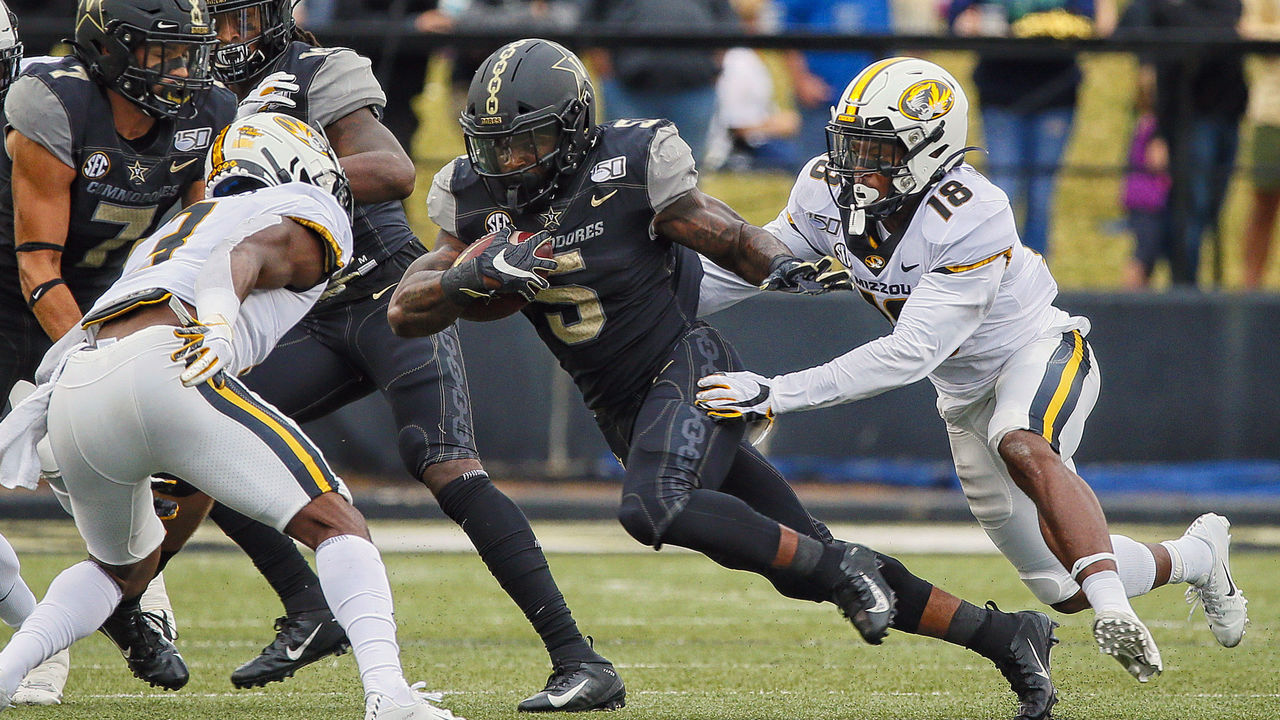 School: Vanderbilt
Height: 5-10
Weight: 214 lbs
Positives
Productive career in the SEC despite playing on an inconsistent offense
Ideal size and frame
Great vision - makes quick decisions and bursts through the gap
Physical runner who is difficult to bring down due to a strong body and good contact balance
Has enough speed to run away from defenders
Improved his output as a receiver in his senior year
Negatives
Overall athleticism doesn't compare favorably to others in his class
Below-average lateral quickness and his cuts won't wow anyone
Has the ability to catch the ball underneath but wasn't used often in the passing game
Pass-protection technique needs polishing
Not very elusive in the open field
Bottom line
Vaughn is a no-nonsense tailback that could eventually develop into an early-down runner in the NFL. Vision and instincts are his best traits, so he fits best into an inside-zone scheme where he can choose his gap early and burst through it. Vaughn currently lacks skills in the passing game, so he's more of a late-round developmental project.
Grade: Rounds 4-5
Other notable prospects
A.J. Dillon (Boston College)
Darrynton Evans (Appalachian State)
Michael Warren II (Cincinnati)
Reggie Corbin (Illinois)
Joshua Kelley (UCLA)