theScore's Mike Alessandrini and Dan Wilkins break down the top offensive line prospects in the upcoming 2020 NFL Draft as part of a position-by-position series.
Top 50
QB | RB | TE | WR | OL
DL | EDGE | LB | CB | S
Offensive tackles
1. Jedrick Wills Jr.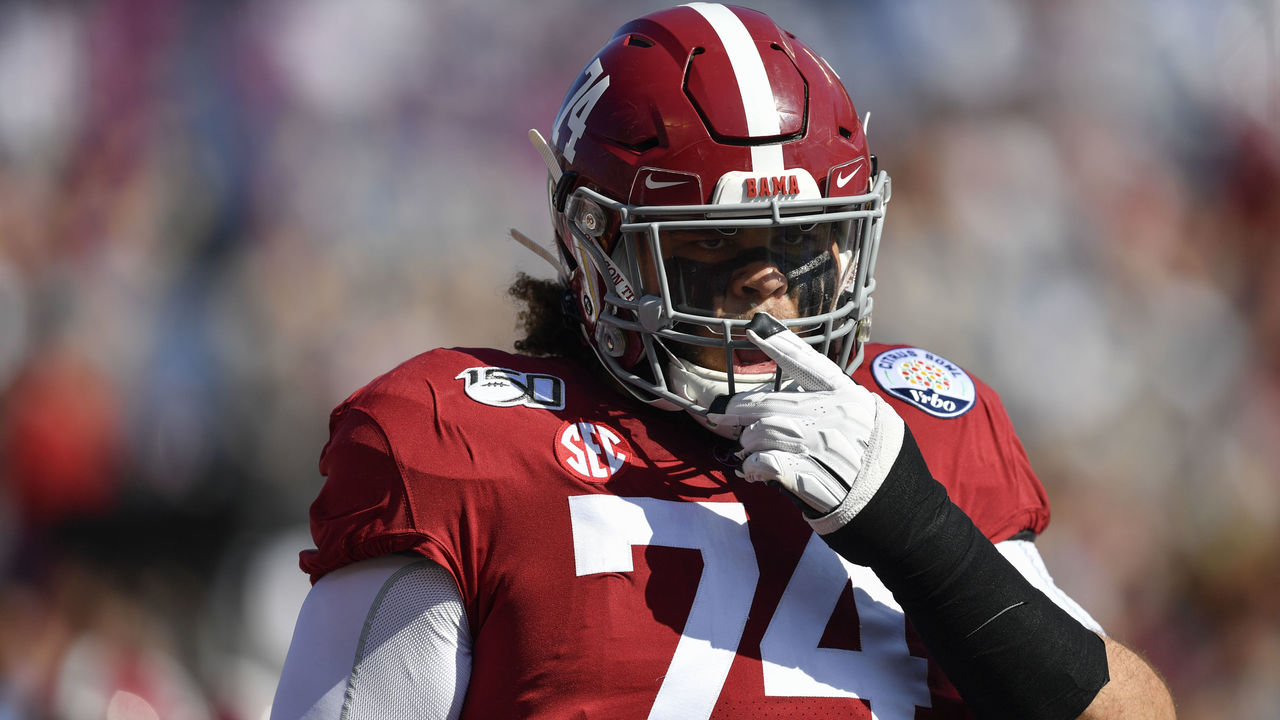 School: Alabama
Height: 6-4
Weight: 312 lbs
Positives
Advanced pass-protector
Quick and efficient movement out of stance and into set points
Varied punch timing with excellent placement in pass protection
Great lateral quickness to mirror rushers and shut down counters
Patience to avoid opening up too early
Base strength and leverage technique to anchor vs. power
Impressive power and drive as a run-blocker
Smooth working to second level off combo blocks
Ultra-competitive finisher, plays through whistle
Negatives
Transition required for LT role
Inconsistent hand usage in run game
Will struggle to lock out as run-blocker due to hand placement
Untimely pre-snap penalty issues
Bottom line
If it wasn't for a generational wide-receiver class, many would be talking about how intriguing this year's group of offensive tackles is. And Wills is the star. An advanced pass-protector by prospect standards, the Alabama standout can step in and be a difference-maker in the NFL immediately. While he's got some technical things to clean up in the run game, he's also shown upside for high-level impact there, too. Wills' combination of athleticism, power, and toughness - along with a productive SEC resume - is more than enough to get him drafted early.
Grade: Top 15
2. Andrew Thomas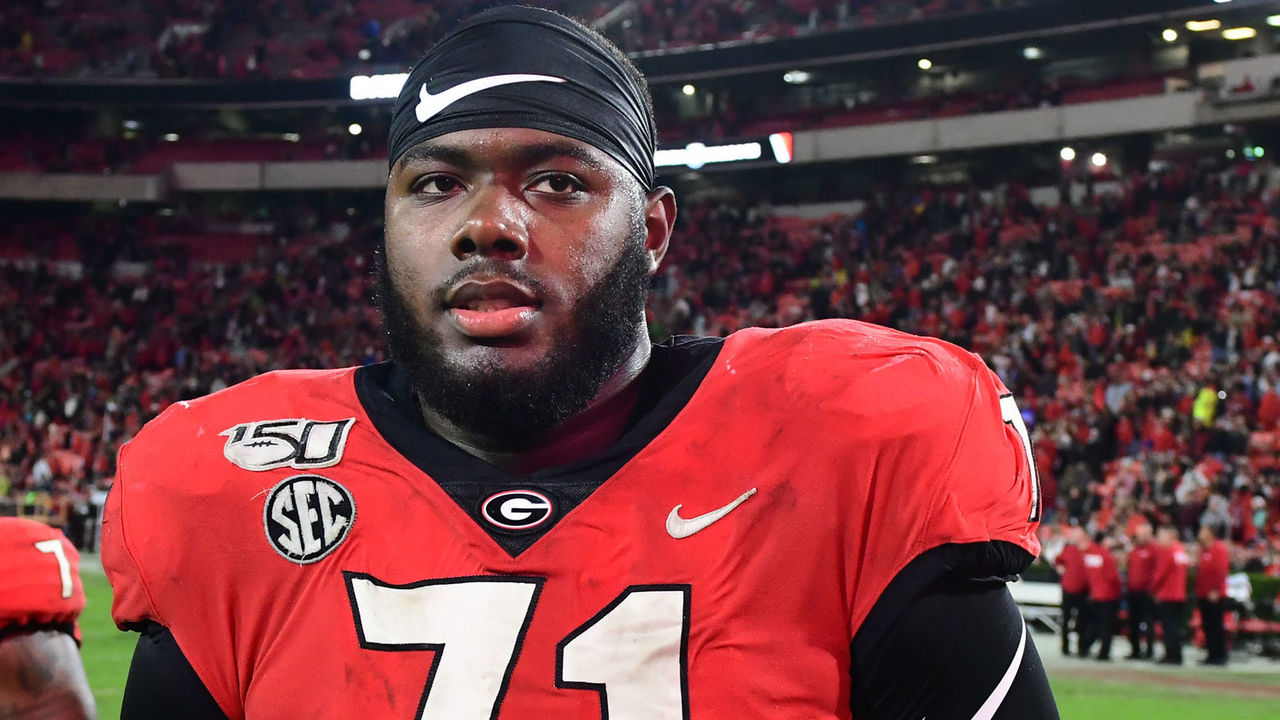 School: Georgia
Height: 6-5
Weight: 315 lbs
Positives
Great size and length for an NFL tackle
Three years of starting experience against top-tier SEC rushers
Road grader in the run game - explodes out of his stance to get to the second level and has a ton of strength to drive defenders forward
Consistently wins on reach and down blocks
Good athlete who can block in space
Excellent power at the point of attack and core strength to absorb contact
One of college football's best pressure rates as a pass-blocker
Has strong punch to knock rushers off their path
Resets feet during play to combat counters
Quick to process stunts and twists from defensive linemen
Natural flexibility and covers a lot of space in pass sets
Negatives
Footwork in pass protection can be sloppy and requires polish
Knocked off balance when feet don't match his upper body
Can dive too low as a run blocker and lose leverage
Has trouble flipping hips to mirror speed off the edge
Bottom line
Thomas offers production and elite upside that can't be matched. Already a top-tier run blocker, the unanimous All-American is a good offensive line coach away from quickly developing into an elite pass-protector as well. Even though his feet were all over the place at Georgia, the powerful blocker still somehow halted college football's top pass-rushers. Imagine what he can do when he puts all his tools together. With a unique blend of size, length, strength, and football IQ, Thomas can thrive in any scheme as a Day 1 starter.
Grade: Top 15
3. Tristan Wirfs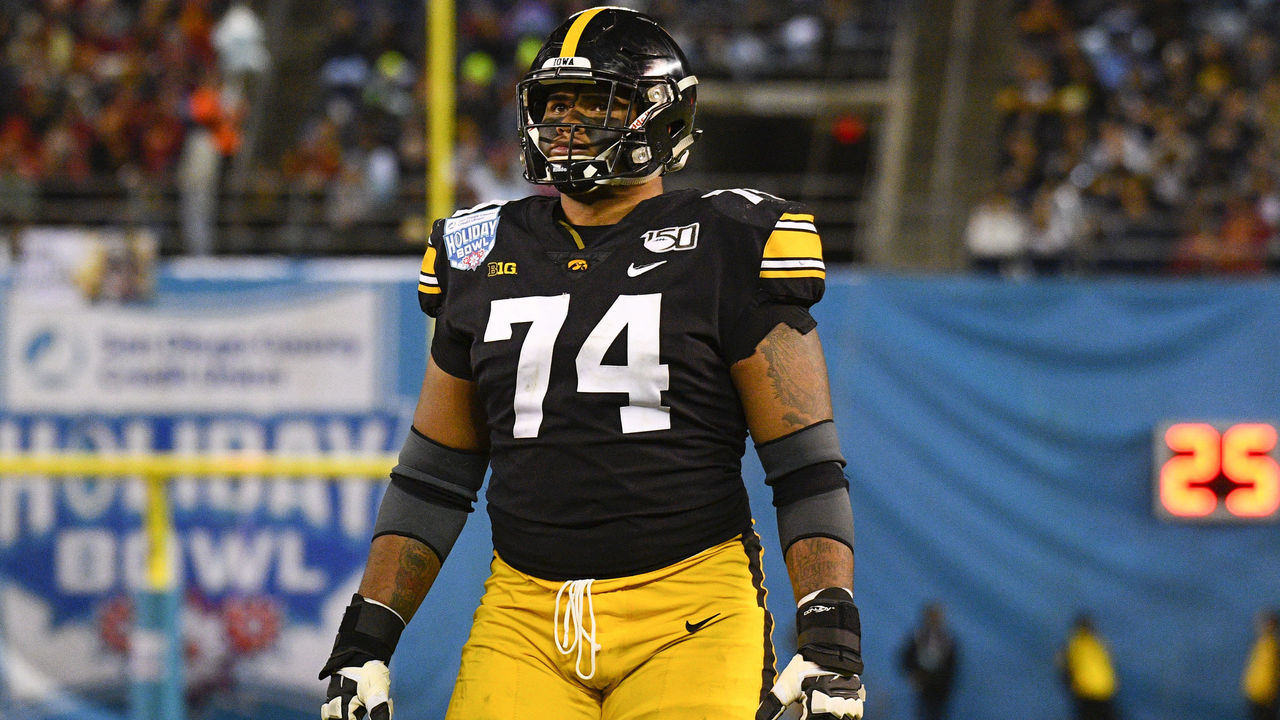 School: Iowa
Height: 6-5
Weight: 320 lbs
Positives
Impressive athleticism and movement skills
Good initial quickness out of his stance in pass and run
Processes stunts and blitzes quickly to pick up/pass assignment
Strong punch when intersecting at set point
Good strength in anchor with athleticism to reset and recover
Lateral agility to mirror pass-rushers
Movement and footwork to thrive executing zone concepts
Climbs well to the second level off combo blocks
Excellent awareness when deployed as blocker in space
Negatives
Susceptible to inside counters due to oversets when pushed vertically
Inconsistent push as drive blocker vs. head-up defender
Needs better hand placement to sustain blocks
Must improve angles to targets at second level
Bottom line
Intelligent, athletic, and strong, Wirfs has all the qualities of a top-tier starter at the next level. With the processing ability he shows to diagnose what's unfolding in front of him, the athleticism to establish position for all kinds of blocks, and the strength and technique to finish, he should have no issues making an instant and long-lasting impact on an NFL offensive line. A tendency to overset and expose an inside path to the quarterback has some suggesting he could move to guard, where he'd be a fantastic pro, but the traits he possesses also suggest he's more than capable of addressing concerns and remaining on the outside with the help of NFL coaching.
Grade: 1st round
4. Mekhi Becton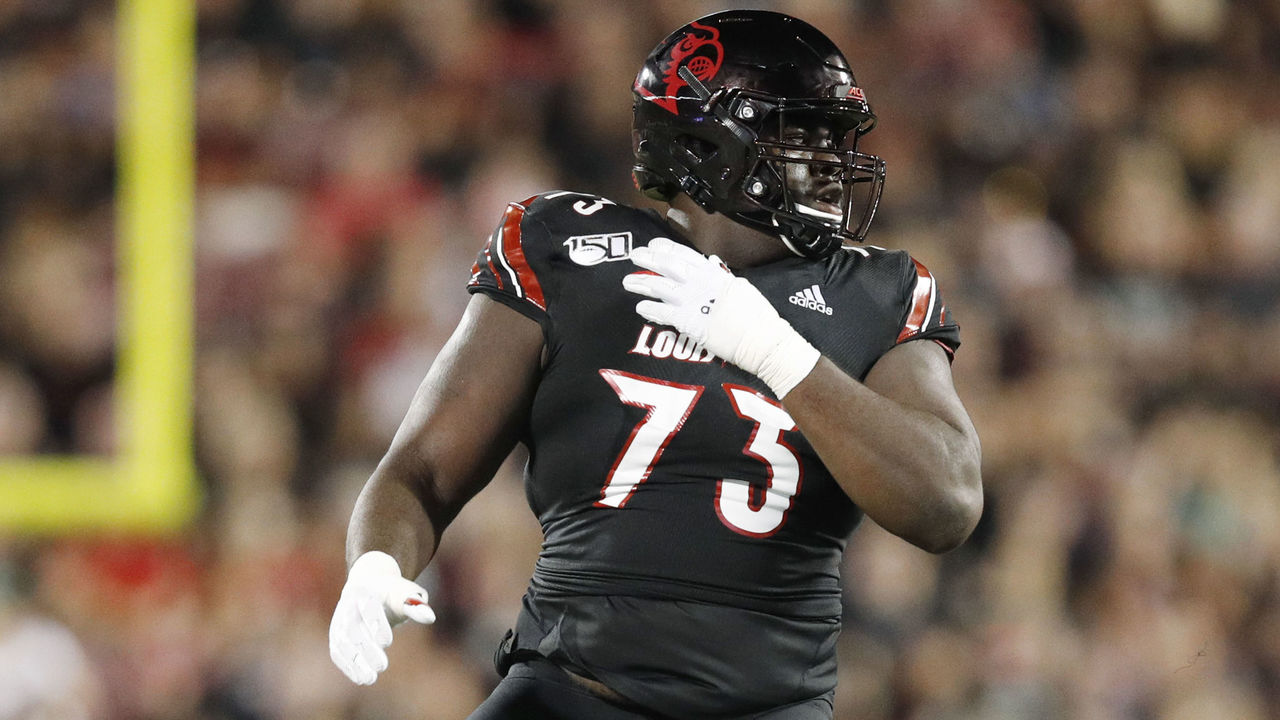 School: Louisville
Height: 6-7
Weight: 364 lbs
Positives
Massive frame with good length and build
Outstanding athlete for his size
Heavy, powerful hands in pass and run game
Good angles, depth on pass set to intersect
Excellent strength in base to anchor vs. power
Generates good push on drives and doubles
Foot speed and movement ability for zone blocks
Good movement to second level and in screen game
Negatives
Poor hand placement leads to inefficient punch
Looks to win reps with initial contact instead of locking out
Needs patience in pass set to avoid opening up to the outside
Must improve target angles at second level
Slow processing on stunts and games up front
Has to better look for blocks and play through whistle
Pad level is consistently too high
Bottom line
Becton is a freak of nature. Players his size with his strength and power simply aren't supposed to move the way he does, and those rare gifts give him as much upside as any offensive line prospect in this draft. He'll need some technical development, particularly when it comes to sustaining blocks rather than trying to knock his opponent off his feet on first contact - that won't work too often in the NFL. But Becton's got all the tools to make it happen, and could be the rare talent who can beat you to a spot and be a difference-maker out in space.
Grade: 1st round
5. Lucas Niang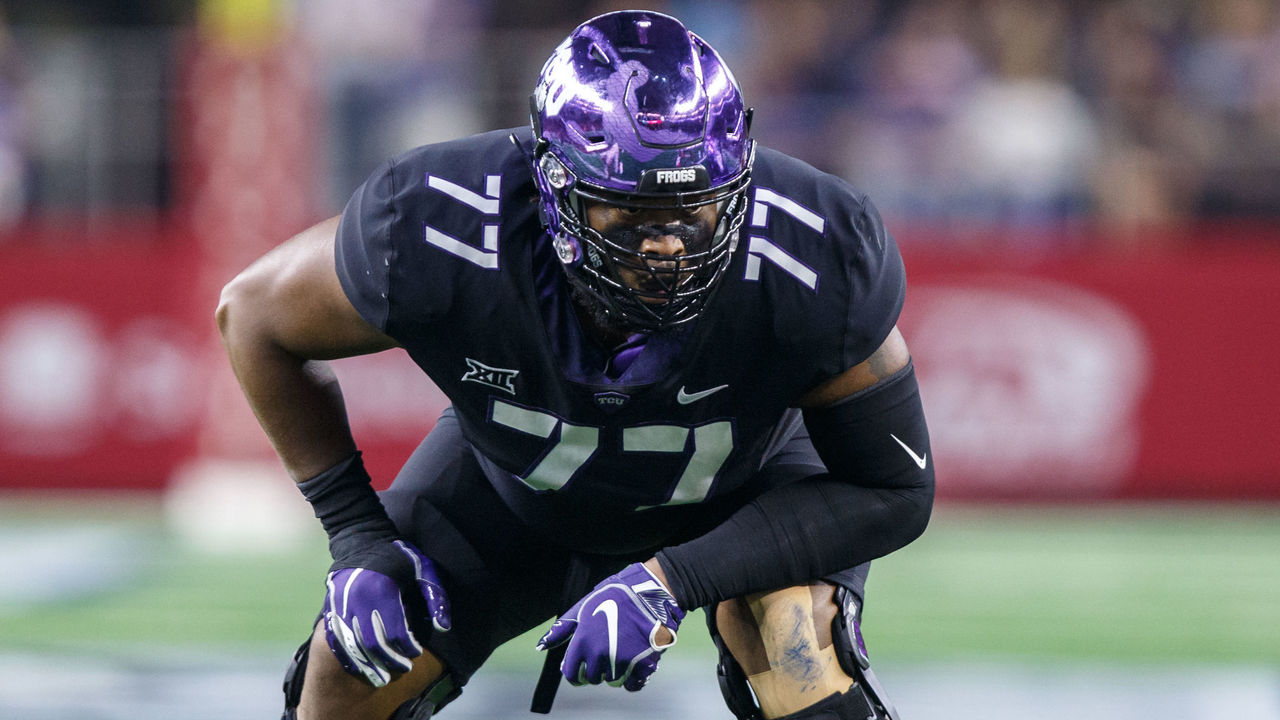 School: TCU
Height: 6-6
Weight: 315 lbs
Positives
Great length and athleticism
Good foot speed and movement in all areas
Solid hand placement and strength to lock out
Lateral agility to mirror in pass protection
Processing to pass off stunts and pick up blitzes
Power to create push as drive-blocker in run game
Footwork to reach and steer in zone run game
Good awareness in space
Negatives
Top-heavy build with slender lower half
Needs to improve footwork in pass protection
Wastes movement out of stance with false step
Tendency to overextend and lose leverage
Coming off season-ending hip injury
Bottom line
Niang isn't getting as much attention as he should be as one of the more well-rounded tackle prospects in the class. The need for improved footwork and avoiding false steps out of his stance are the only things that stand out as concerns in his game. And considering how fluid he looks in all other areas - including when he could fire into a vertical kick slide before a hip injury limited him to a less efficient backpedal in 2019 - those areas may actually be less of a project than many expect. Niang's an intelligent lineman whose combination of power and movement ability will make him a fit in any blocking scheme.
Grade: Rounds 1-2
6. Austin Jackson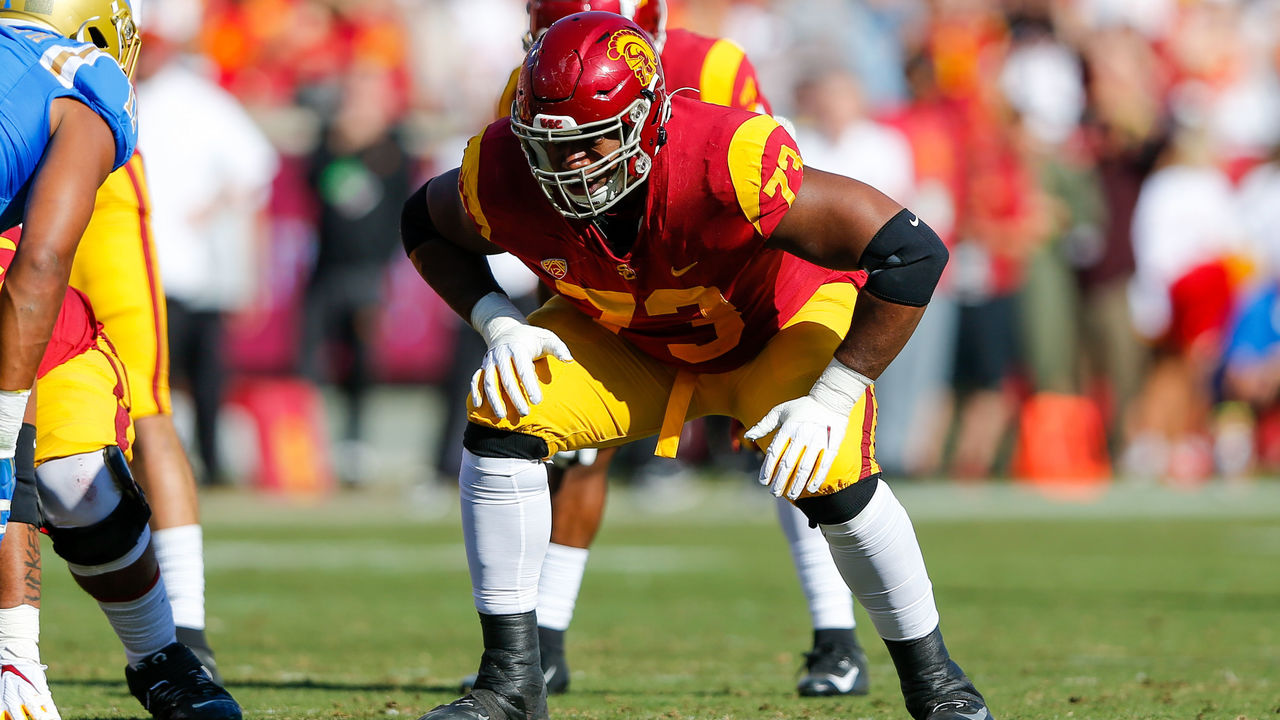 School: USC
Height: 6-5
Weight: 322 lbs
Positives
Projectable size and athleticism
Good foot speed in pass sets and run game
Lateral agility to mirror pass-rushers
Athleticism to recover and fight through rep
Climbs to second level and zeroes in on target
Negatives
Inefficient angles into pass sets
Wide hand placement gives defender leverage
Gets caught overextending and bending at the waist
Struggles to generate push in running game
Needs to develop more functional strength
Bottom line
Jackson has plenty of tools you can't teach, highlighted by his foot speed, lateral agility, and overall athletic explosiveness. He needs some technical work, and adding strength would make him more consistently effective anchoring against power rushes and as a run-blocker. The raw traits are there, and with some development he'll have every opportunity to find work as a scheme-versatile long-term starter at either tackle spot.
Grade: 2nd round
7. Josh Jones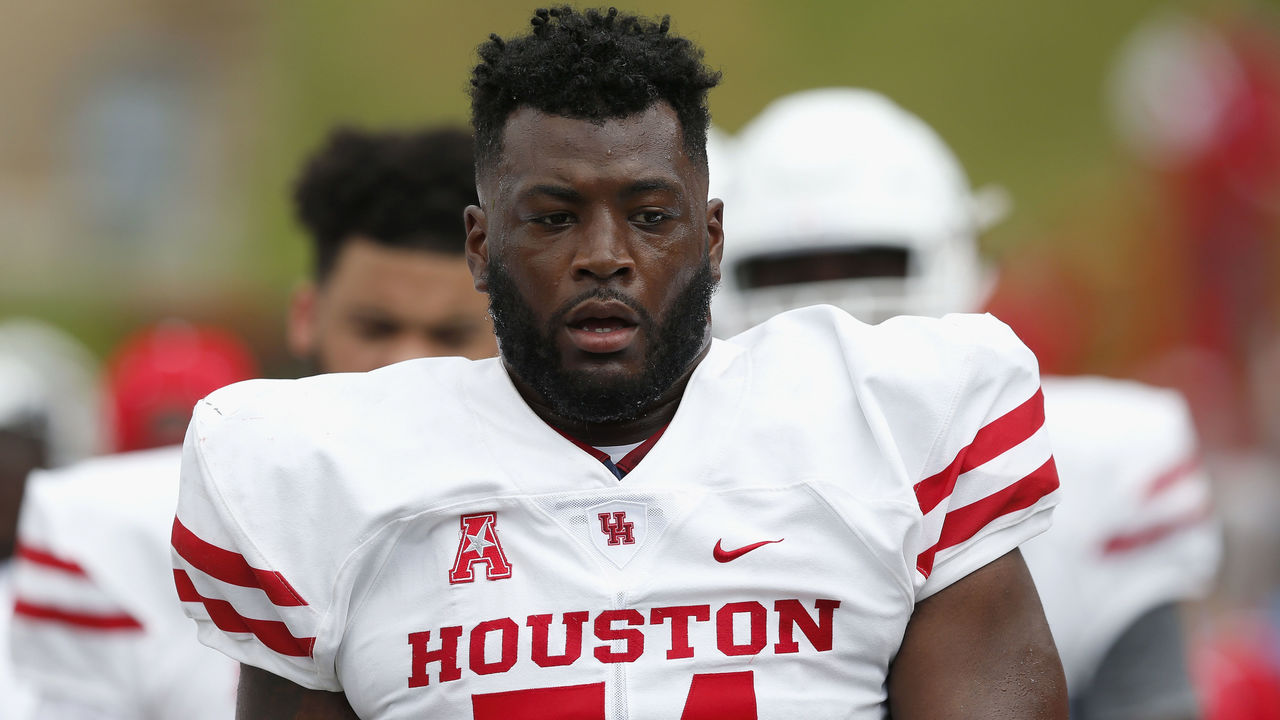 School: Houston
Height: 6-5
Weight: 319 lbs
Positives
Intriguing blend of size and athleticism
Flashes raw functional strength
Fluid movement into pass set
Good lateral agility to mirror rushers
Strength in anchor to recover and reset
Foot speed, lateral movement for zone concepts
Efficient climbing to second level and in space
Negatives
Extremely raw with overall technique
Slow to process stunts and blitzes
False steps and wasted movements into pass sets
Must improve angles in pass protection
Sloppy hand placement allows opponent inside frame
Bottom line
An impressive athlete in a prototypical frame, Jones is everything offensive line coaches are looking for from a physical standpoint. With the right development, he could be an impact player. It could take plenty of work, though, as he'll need to improve his overall technique and his processing ability to better diagnose what the defense is throwing at him. Overall, Jones is a high-upside prospect, his potential payoff likely making him worthy of an early round selection.
Grade: 2nd round
8. Isaiah Wilson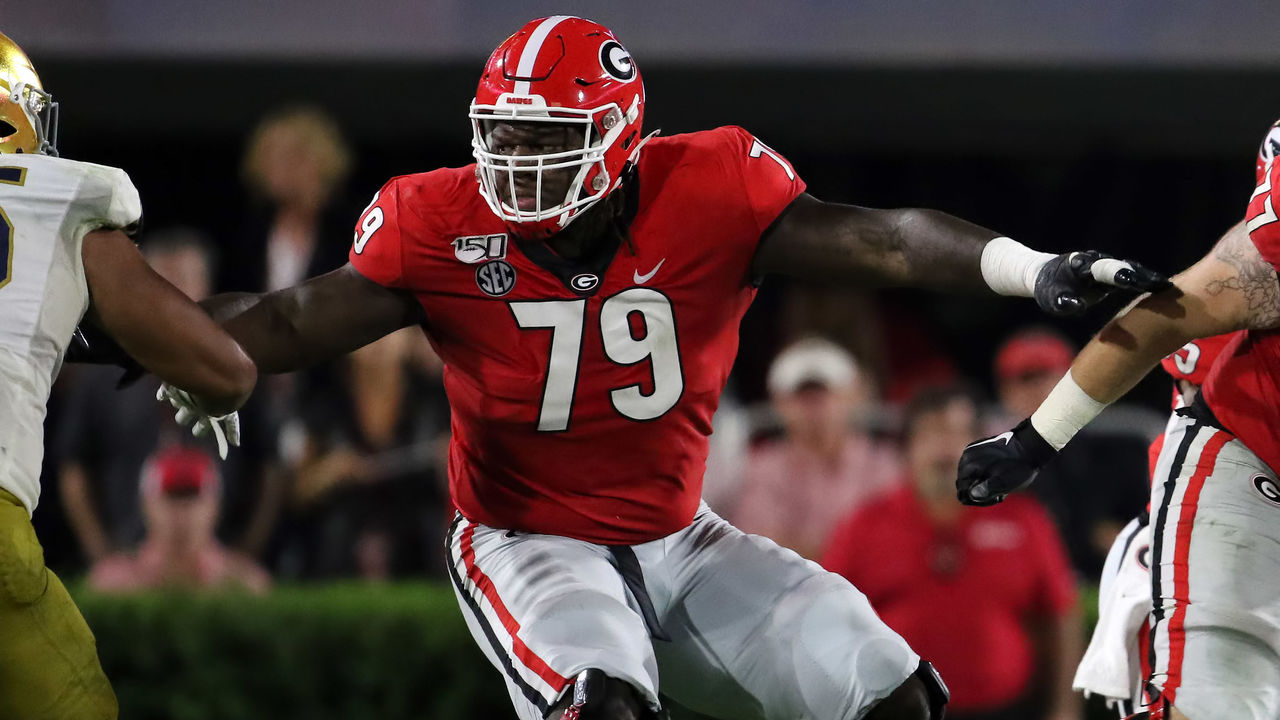 School: Georgia
Height: 6-6
Weight: 350 lbs
Positives
Massive frame with great length
Good initial quickness out of his stance
Decent foot speed for his size
Heavy hands for a potentially dominant punch
Strength in base for a solid anchor
Powerful downhill drive blocker in the run game
Good leg drive through block for extra push
Foot movement to steer defender out of gap
Negatives
Unrefined footwork in pass protection
Struggles to match speed to the edge
Compensates by opening up and exposing inside
Inconsistent hand placement wastes length
Slow to process and adjust assignment as necessary
Poor lateral agility and change of direction
Not overly effective as a blocker in space
Bottom line
Wilson's an imposing right tackle with the potential to dominate at the next level. He's got plenty of work to do, particularly as it pertains to his footwork in pass protection and his overall hand placement when first engaging, but it's reasonable to expect that he can improve with NFL coaching. Successfully doing so in an offensive system that primarily utilizes gap-blocking principles will help him make the most of his intriguing combination of size, length, and power. Wilson has exactly the kind of upside teams should be looking for in a Day 2 pick on the offensive line.
Grade: Rounds 2-3
Other notable prospects
Prince Tega Wanogho (Auburn)
Ezra Cleveland (Boise State)
Matt Peart (Connecticut)
Saahdiq Charles (LSU)
Ben Bartch (St. John's Minn.)
Jack Driscoll (Auburn)
Interior linemen
1. Cesar Ruiz, C
School: Michigan
Height: 6-3
Weight: 307 lbs
Positives
Just 20 years old - has room to grow into frame and develop
Excellent core strength and anchor
Excels as a pass-blocker
Explosive out of his stance and into defensive linemen
Good movement skills and lateral quickness
Strong hands to lock into defenders
Natural bender who wins leverage battles
Recognizes defensive movement and blitzes
Fantastic balance to thrive at second level
Plays with violent hands and nasty demeanor
Negatives
Could add size and strength to his frame
Doesn't possess ideal length
Tends to whiff in the run game by leaning forward
Bottom line
This year's class of interior offensive linemen lacks a Quenton Nelson or Zack Martin-type prospect, but there's plenty to love about Ruiz's game. The Michigan standout fits perfectly into a modern-day offense with his explosive athleticism and ability to block on the move. In a zone-blocking scheme, he'll thrive as a Day 1 starter. Ruiz has some technique to work on in the run game, but his NFL projection is easy thanks to his already developed pass-blocking skills. He's only getting better.
Grade: Rounds 1-2
2. Jonah Jackson, G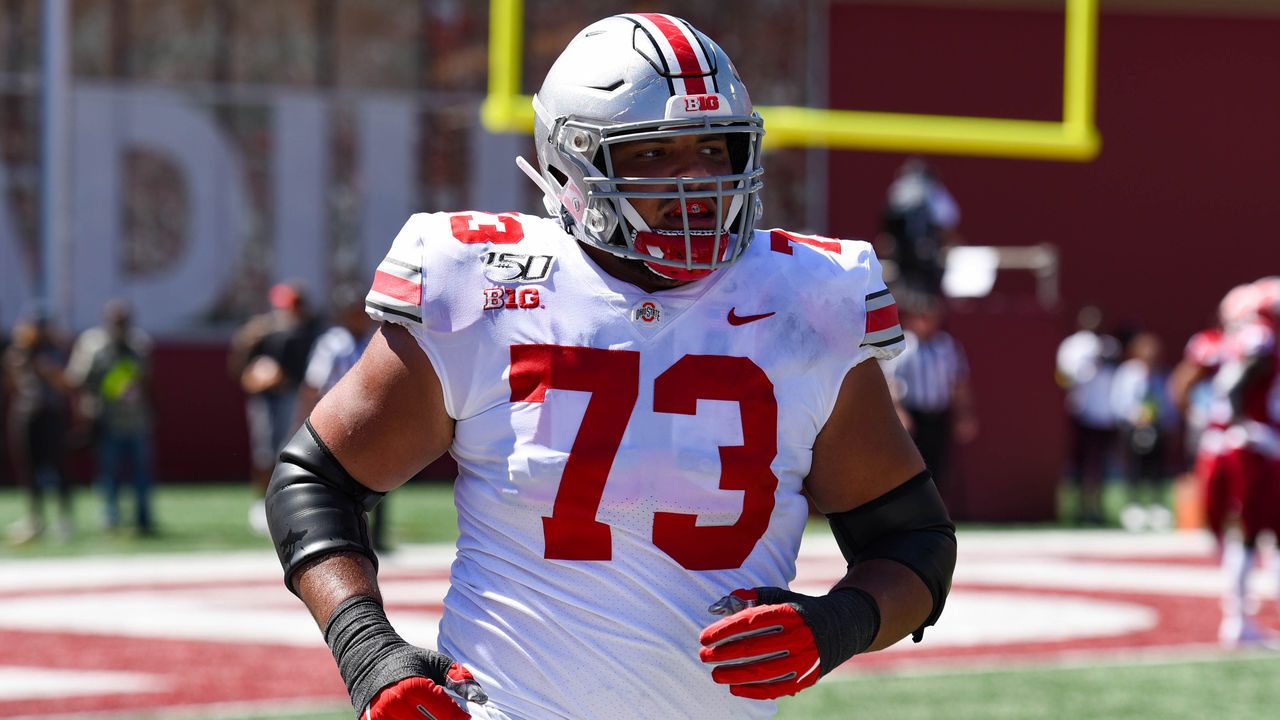 School: Ohio State
Height: 6-3
Weight: 306 lbs
Positives
Good size with ability to play guard or center
Very smart blocker - always knows where blitzes and stunts are coming and reacts accordingly
Excellent production in pass protection
Advanced recovery skills - technique allows him to reset his hands and feet well when initially beaten off the line
Good lateral quickness and ability to pull
Flexible and fluid hips to stymie gap-shooters
Wide base helps him absorb contact and stay balanced
Negatives
Doesn't possess ideal frame or length for position
Below-average raw strength and ability to drive defenders in the run game
Loses leverage in the run game due to high pad level
Bottom line
A transfer from Rutgers in 2019, Jackson used his final college campaign to polish his overall technique. His skills in that department make his game extremely translatable to the pros. The third-team All-American likely won't ever truly dominate in the run game, but has the balance, awareness, and short-area agility to excel as a pass-blocker. In a league with numerous elite defensive tackles, it's a coveted skill set. While he can play in any offense, placing Jackson in a zone scheme would allow him to play in space.
Grade: 2nd round
3. Nick Harris, C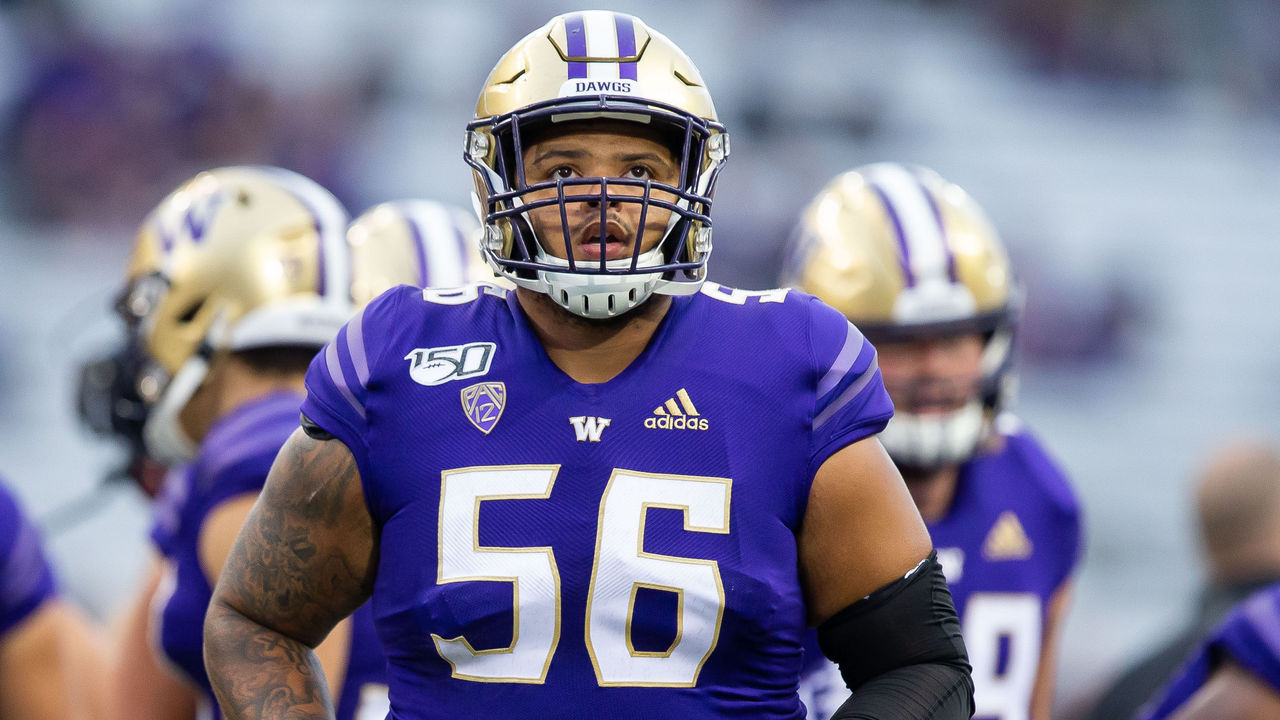 School: Washington
Height: 6-1
Weight: 302 lbs
Positives
Four years of starting experience
Thrives in space - arguably the top blocker on the move in this class
Gets low and consistently wins leverage battle
Quick, strong hands give him early advantage post-snap
Hands are always moving in the run game to reset and recover
Excellent balance and core strength
Extremely fluid in close quarters and at the second level
Very good awareness to adjust to defensive front
Good play strength
Negatives
Very undersized with short arms
Wide base in pass protection makes it difficult for him to adjust
Won't offer scheme or position versatility
Grabby when beaten off the line by defender
Bottom line
Harris isn't the most versatile lineman prospect in this year's class, but his trump card will get the former Washington blocker in the starting lineup early in his career. Teams looking for a center who excels on pulls and in space will target the first-team All-Pac-12 selection. Harris mixes lateral agility, explosive athleticism, and high football IQ to thrive in zone-blocking schemes. If you can get over his size and length deficiencies, the former Washington blocker is a talented prospect.
Grade: Rounds 2-3
4. Netane Muti, G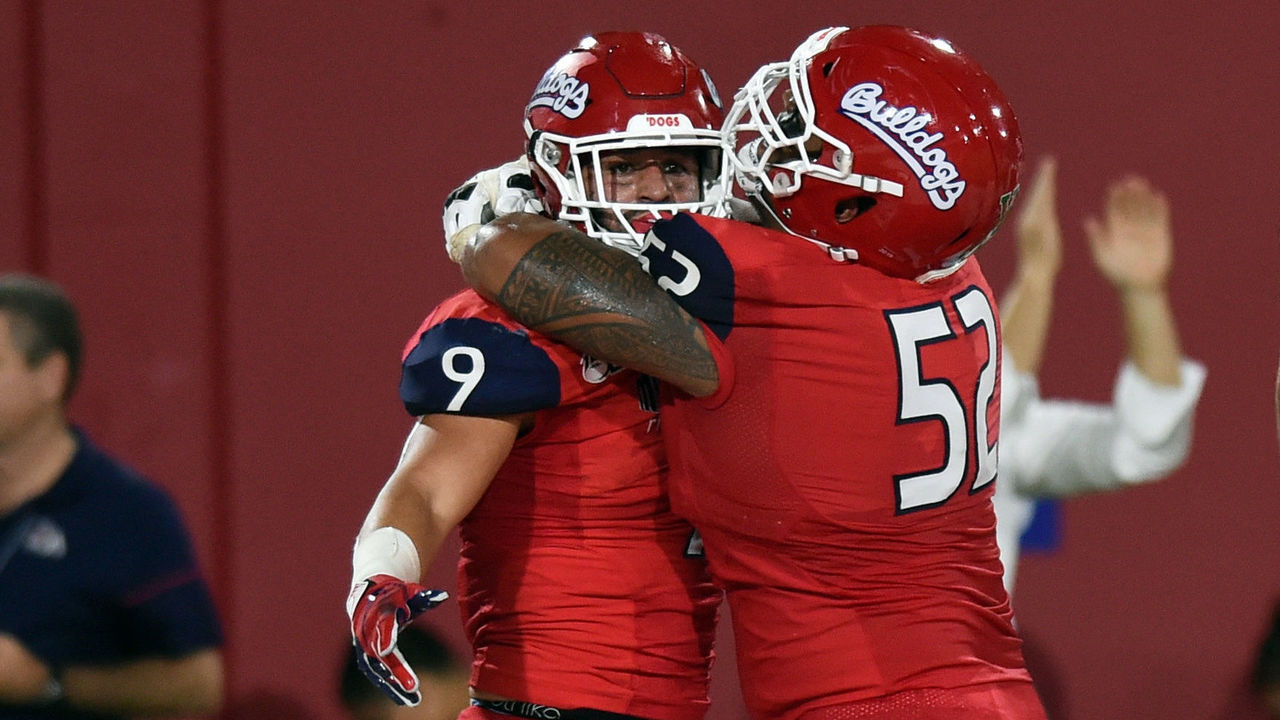 School: Fresno State
Height: 6-3
Weight: 315 lbs
Positives
Elite raw strength and power at the point of attack
Plays with aggression and nasty demeanor
Hands are consistently strong and well placed
Functional athleticism to cover ground after the snap and climb to the second level
Short-area quickness leads to immediate advantage on pass sets
Nearly impossible to shed his block when on the move
Core strength to stop all bull rushes
Negatives
Last two seasons were cut short by lower-body injuries
Not very explosive off the snap
Below-average length for position
Not nearly as effective in space as in a phone booth
Bottom line
Muti is one of the more intriguing prospects in this year's group of offensive linemen. The powerful blocker has true highlight-reel tape that displays strong hands and solid agility for his size. However, Muti's biggest red flag is his durability. He's only played one full season of college football and was never able to illustrate his growth at Fresno State. If healthy, Muti has the ability to thrive as a run-blocker and pass-protector in the pros. That's a big if, but we'd be willing to take a chance on his upside.
Grade: Rounds 2-3
5. Lloyd Cushenberry III, C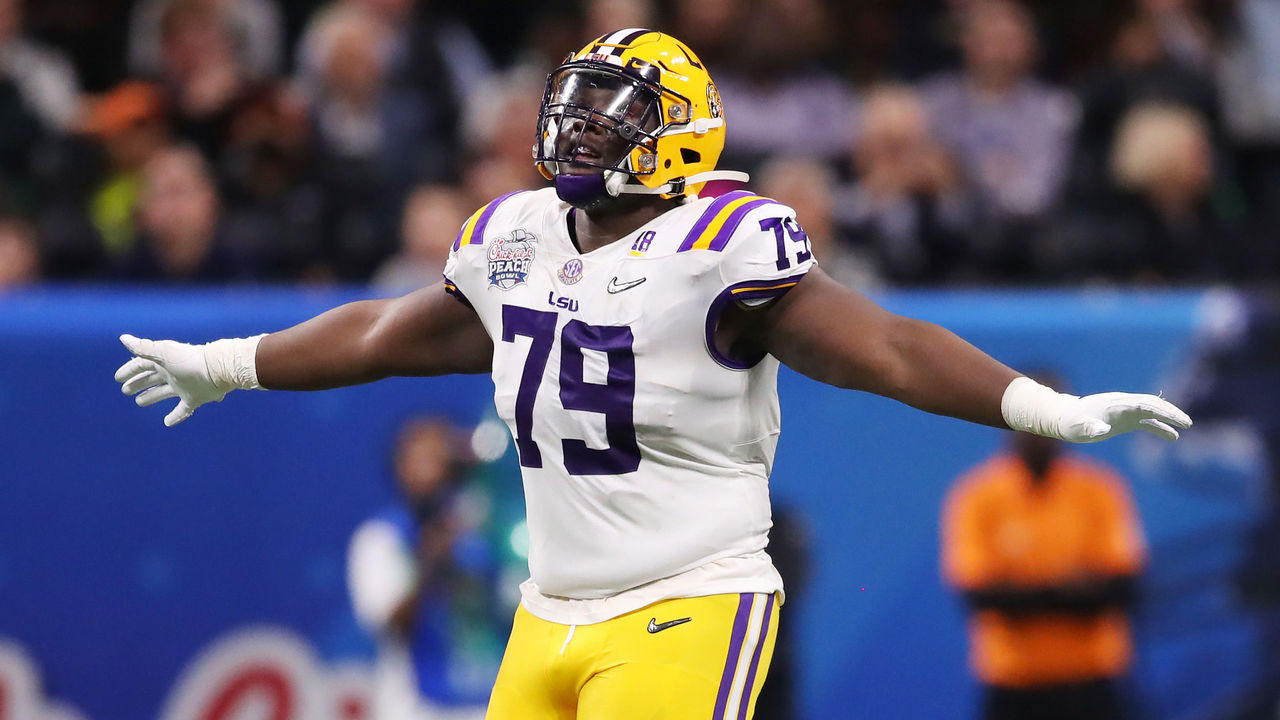 School: LSU
Height: 6-3
Weight: 312 lbs
Positives
Thick frame with upper- and lower-body strength
Elite anchor - will not lose to bull rush
Long arms allow him to easily lock in defenders
Understands run lanes and how to be first to his gap
Very good hand placement and powerful punch
Surprisingly fluid hips fire off stance to open lanes for rushers
Negatives
Heavy feet make him awkward and inconsistent in space
Subpar recovery skills in pass protection
Had trouble versus explosive interior defenders who were able to get to his outside edge
Can overset and lunge in the run game
Pass-blocking footwork needs polish
Bottom line
Cushenberry meets the eye test for nearly every NFL team, possessing ideal length, anchor, and strength for the position. The LSU standout will outmuscle even the largest nose tackles and pairs his powerful frame with high football IQ. That's not to say there aren't lapses in his game. Cushenberry's footwork in pass protection must improve in order for him to develop into a starting center. Explosive rushers were able to get around him too often in college. If a good offensive line coach gets his hands on Cushenberry, he can turn his raw tools into consistent production.
Grade: 3rd round
6. Tyler Biadasz, C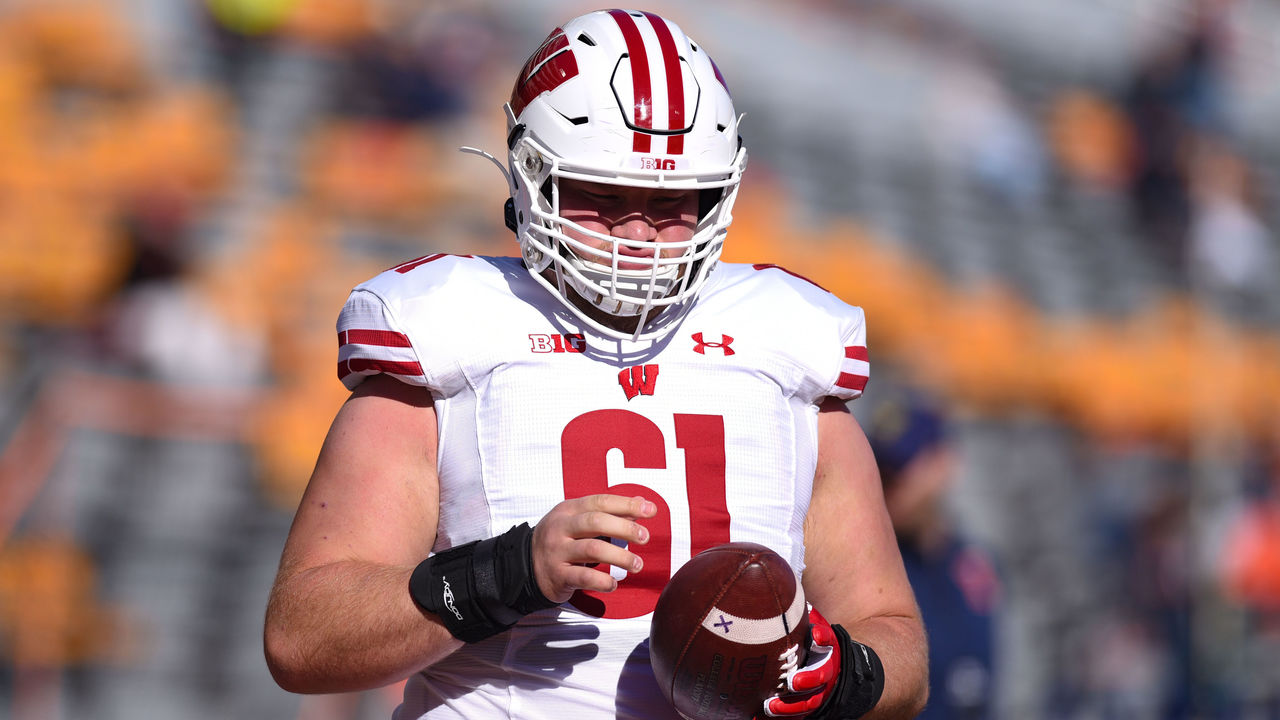 School: Wisconsin
Height: 6-4
Weight: 314 lbs
Positives
One of college football's top run-blockers over the last two seasons
Excellent movement skills to meet linebackers at second level
Extremely high awareness of post-snap movement along defensive line
Light feet and quick hands after snapping the ball
Led college football's top rushing attack
Excels on double teams
Negatives
Major pass-blocking regression in 2019 after excellent 2018 season
Average size, frame, and athleticism
Concerning balance - was thrown off his spot against strong defenders
Habit of overextending in pass protection and leaning in the run game
Bottom line
Biadasz flirted with declaring for the NFL draft following the 2018 campaign and likely made the incorrect decision by returning to school. Despite being named an All-American last season, the Badgers blocker declined as a pass-protector in 2019. Before we bury him, it must be noted that Biadasz is already a top-tier run blocker who mixes effortless movement skills with explosion off the snap and well-timed aggression. The accomplished center's stock won't be as high as it was at this time last year, but his weaknesses aren't as noticeable as they would be elsewhere on the offensive line.
Grade: 3rd round
Other notable prospects
Matt Hennessy (Temple)
Damien Lewis (LSU)
Robert Hunt (Louisiana-Lafayette)
Shane Lemieux (Oregon)
John Simpson (Clemson)
Ben Bredeson (Michigan)