theScore's Mike Alessandrini and Dan Wilkins break down the top wide receiver prospects in the upcoming 2020 NFL Draft as part of a position-by-position series.
Top 50
QB | RB | WR | TE | OL
DL | EDGE | LB | CB | S
1. Jerry Jeudy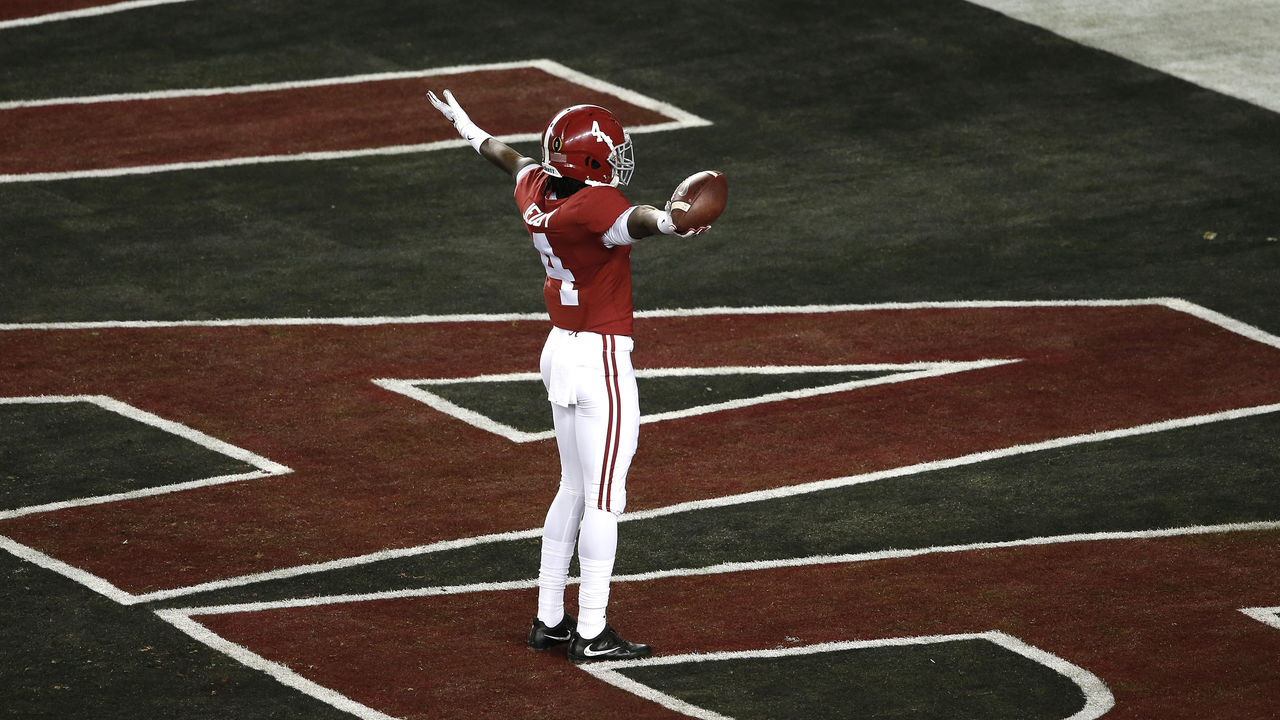 School: Alabama
Height: 6-1
Weight: 193 lbs
Positives
Excellent route-runner at all levels of the field
Gains an advantage at the line and beats the press with smooth, varied releases
Outstanding foot speed and change-of-direction ability in breaks
Sells routes with his head and hip fakes at the top of the stem
Tracks the ball well on vertical throws
Attacks the ball with strong hands to make difficult catches
Explosive, slippery runner who can make big plays after the catch
Negatives
Not especially effective in contested-catch situations
Lapses in concentration lead to the occasional drop on routine plays
Willing blocker but not overly impactful
Bottom line
Easily this class' most proficient route-runner and one of the more polished technicians to transition to the NFL in the last few years, Jeudy is both a high-floor and high-ceiling prospect who should emerge as a No. 1 receiver early in his career. He doesn't play above the rim, so his impact may not be as flashy as other top targets, but he has the potential to be every bit as dominant. Jeudy's ability to create effortless separation everywhere on the field makes him a matchup nightmare for any defensive back. Add in the athleticism and creativity he shows in making big plays after the catch and the Alabama star edges out a ridiculously talented field to get the nod as our top-ranked receiver.
Grade: Top 15
2. CeeDee Lamb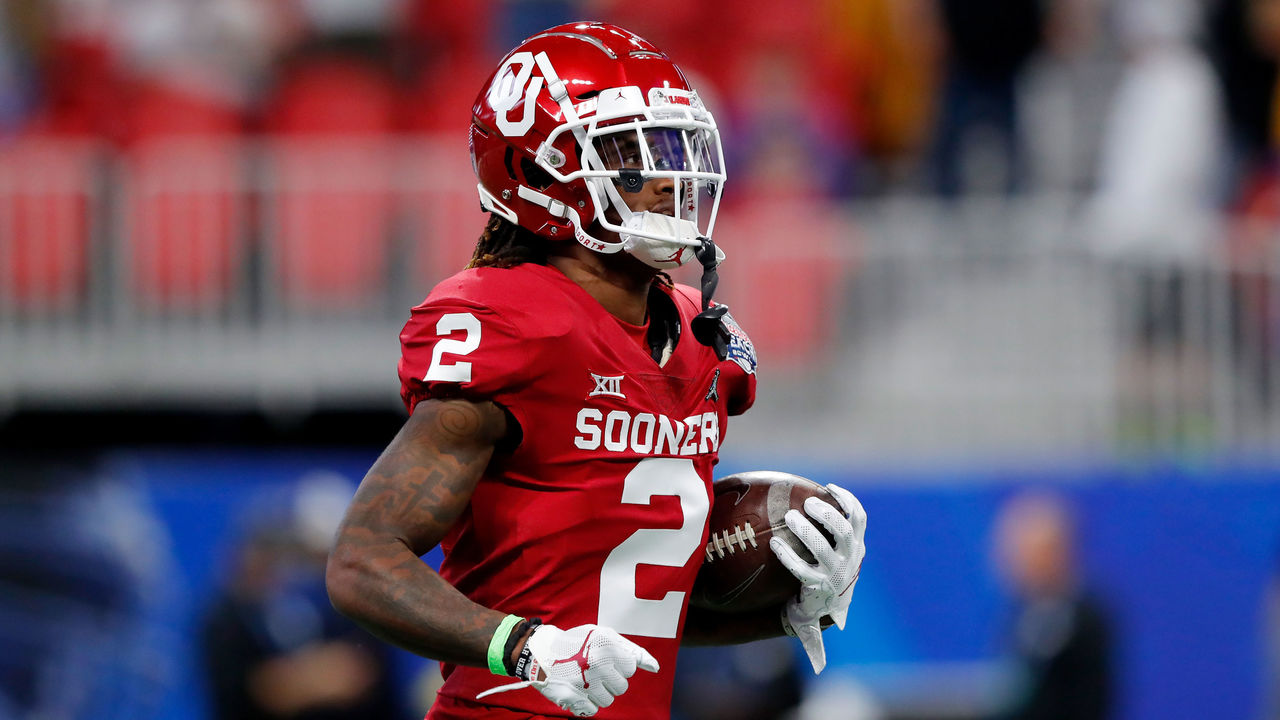 School: Oklahoma
Height: 6-2
Weight: 198 lbs
Positives
Ideal size, frame, and production for a No. 1 wideout
Alpha dog who is a home run threat on every play
Very explosive off the line of scrimmage and out of breaks
Quick cuts, strength, and balance make him extremely difficult to tackle
Soft, reliable hands with very few drops on tape
Ability to track the ball efficiently and possesses excellent body control to make difficult catches
Smooth feet and able to drop his hips and change direction well
Understands nuances of route-running - manipulates defenders with his body and separates using his physicality
Excellent release against the press and off coverage - sets up defenders
Awareness to recognize the soft spots in zones and work his way back to the quarterback on scrambles
Negatives
Had a number of free releases off the line in Oklahoma's offense
Can lose a bit of speed toward the end of his deep routes
Disappointing athletic testing scores at the combine
Bottom line
In a historic receiving class, Lamb may be the most exciting prospect. While he doesn't possess 4.3 speed or towering size, there are nearly endless traits to love about his game. The consensus All-American is a terror after the catch, offers elite ball skills, and is an advanced route-runner at every level of the field. Lamb makes plays other pass-catchers can't, and he makes most of them look easy. His skill set fits perfectly into any NFL offense and he has All-Pro potential. We don't care that he was the primary beneficiary of the matchup-friendly scheme that Lincoln Riley ran at Oklahoma - Lamb is a superstar who has all the tools to succeed regardless of his surroundings.
Grade: Top 15
3. Henry Ruggs III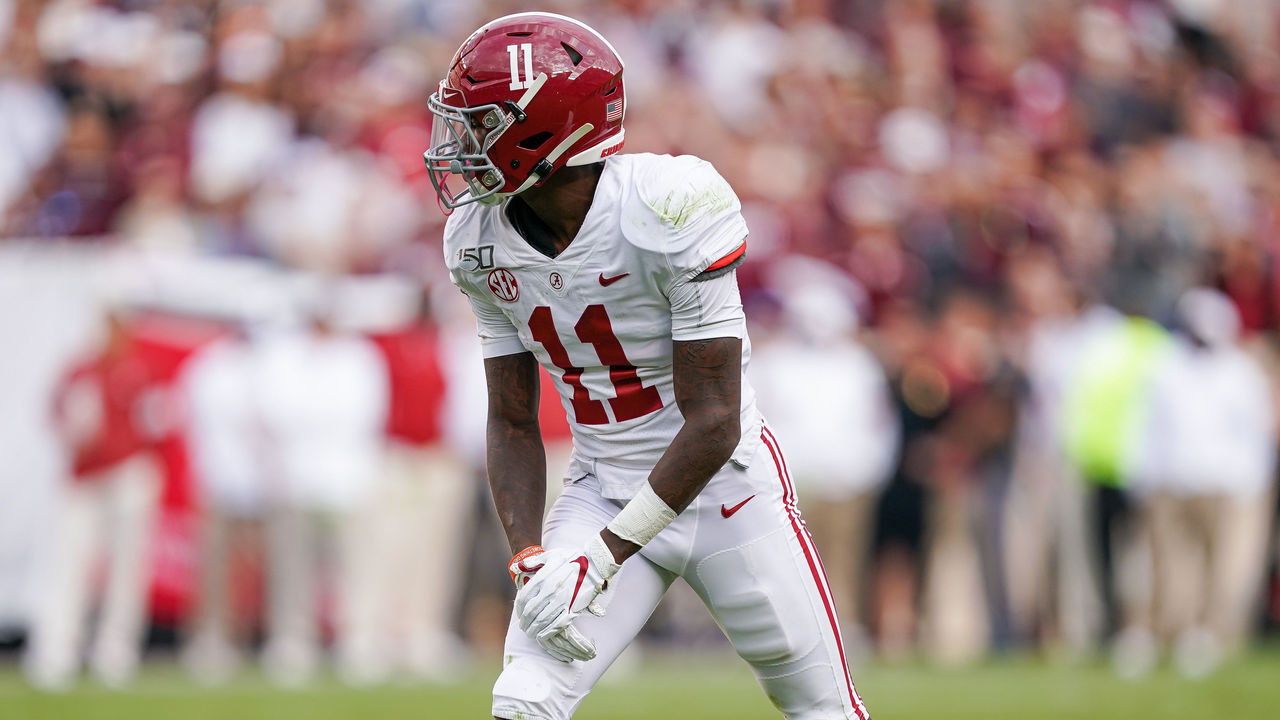 School: Alabama
Height: 5-11
Weight: 188 lbs
Positives
One of the fastest receivers coming out of the draft in recent years
Elite overall athleticism
Explosive off the line of scrimmage and is able to immediately find space
Very strong hands - rarely drops the ball
Excellent release versus man coverage, especially while breaking inside
Quickness and speed to separate against any coverage
Consistently fools defensive backs with double moves
Excellent ball tracker
Often fools defenders on routes by changing speeds
Possesses the balance to break off tackles and the home run ability after the catch
Good foot speed to beat press coverage
Solid production despite being the third or fourth option in Alabama's offense
Negatives
Below-average size with a slim frame
Not very physical in his route or after the catch - tough cornerbacks knocked him around a bit
Won't use his hands or body to separate against man coverage
Not an extremely detailed route-runner
Bottom line
Most of us know just how fast Ruggs is, but he's much more than just a speedy deep threat. The former Crimson Tide star can make plays all over the field and defeat any coverage. He's not the biggest or strongest receiver, but he's surprisingly adept on contested catches and in releasing against press coverage. Overall, Ruggs is a dynamic weapon that every NFL offense desires - he's a home run hitter after the catch and is explosive enough to challenge defenses vertically. He's a player who makes everyone around him better, and opponents must account for him on every single snap.
Grade: 1st round
4. Denzel Mims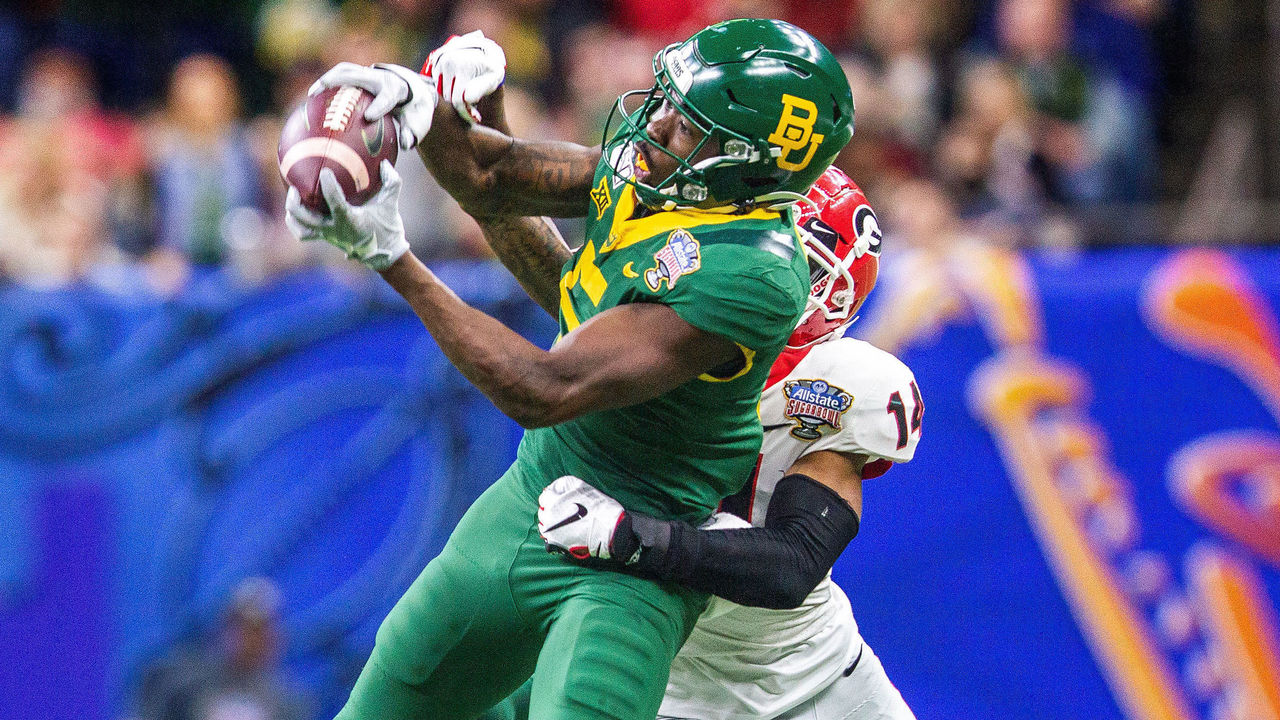 School: Baylor
Height: 6-3
Weight: 207 lbs
Positives
Elite athletic profile combines size, speed, and quickness
Varied and efficient releases to create separation at the line
Wins with physicality and change-of-direction skills in his route
Dominates contested-catch situations over defenders
Massive catch radius and great body control to adjust to the ball
Athleticism shows up after the catch
Outstanding run-blocker
Negatives
Didn't run an extensive route tree
Missing the nuance to sell routes with fakes at the top of the stem
Battles some inconsistency with his hands
Bottom line
Mims was flying somewhat under the radar until he made waves with a sensational combine performance, but he probably should have been getting this kind of attention all along. The Baylor standout demonstrates rare athleticism for his size, getting the best of opposing defensive backs both with his physicality and movement skills. We don't often see big-bodied pass-catchers who can win at the line of scrimmage with their release, at the top of their routes with lateral quicks, and over defenders in contested situations. If Mims can develop more nuance in his route-running given his lateral quicks and his polish coming off the line, he boasts as much upside as any receiver in this class.
Grade: 1st round
5. Tee Higgins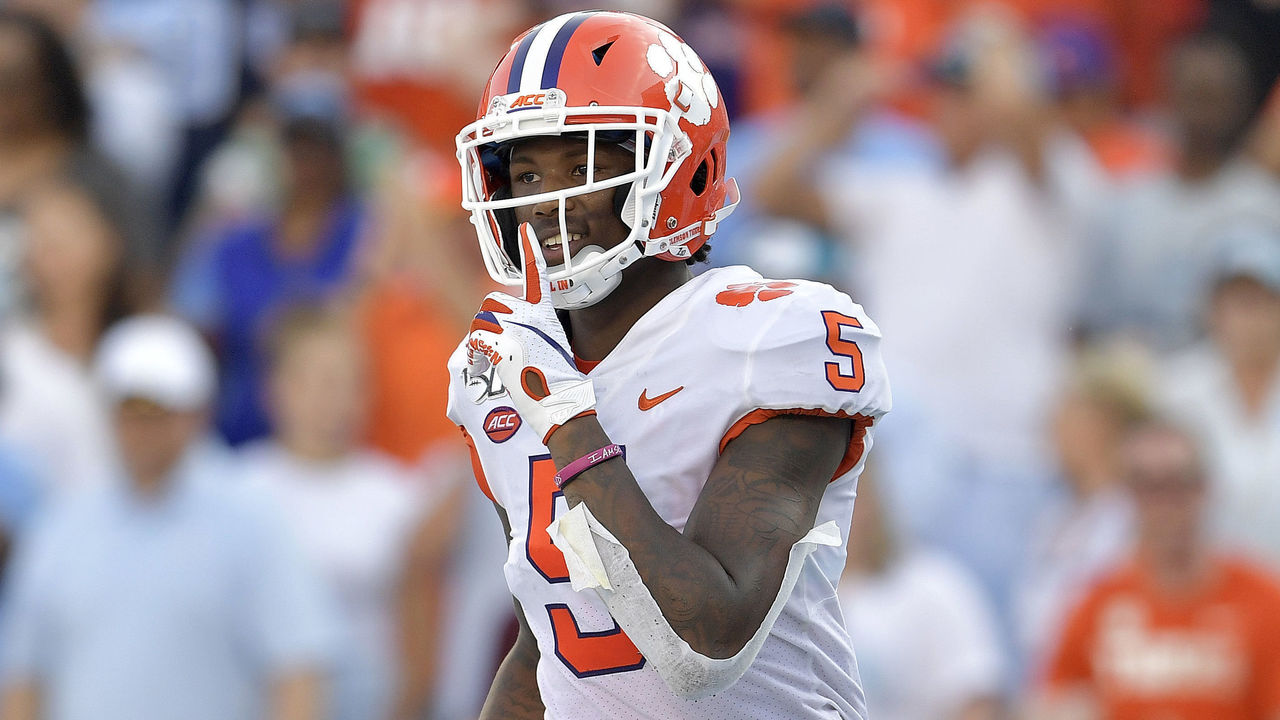 School: Clemson
Height: 6-4
Weight: 216 lbs
Positives
Excellent size and frame, can continue to grow
Covers space immediately with his long strides
Outstanding catch radius
Thrives in back-shoulder and timing routes along the sideline
Uses his impressive frame to box out cornerbacks, adjust to throws, and attack the ball
Ability to beat press coverage off the line of scrimmage
Surprisingly elusive after the catch - can break away and create yards after contact
Stacks defenders well on vertical routes
Excellent ball tracker
Negatives
Poor athletic testing
Not a crisp route-runner and has below-average change-of-direction skills
Won't threaten defenses with his speed
ACC didn't offer consistent top competition
Bottom line
After a productive career at Clemson full of highlight-reel plays, Higgins heads to the pros with truly elite traits but also a few question marks. Standing 6-foot-4, the All-Conference first-team selection doesn't possess game-breaking speed or elite separation ability, but that's not his game. When the ball is in the air, bet on Higgins to make a play. He's a prototypical X receiver with an advanced ability to beat press coverage, box out defenders, and excel on timing routes. Add the fact that he profiles as a legitimate red-zone threat, and it's easy to see where Higgins fits in an NFL offense. His strengths far outshine his weaknesses.
Grade: Rounds 1-2
6. Laviska Shenault Jr.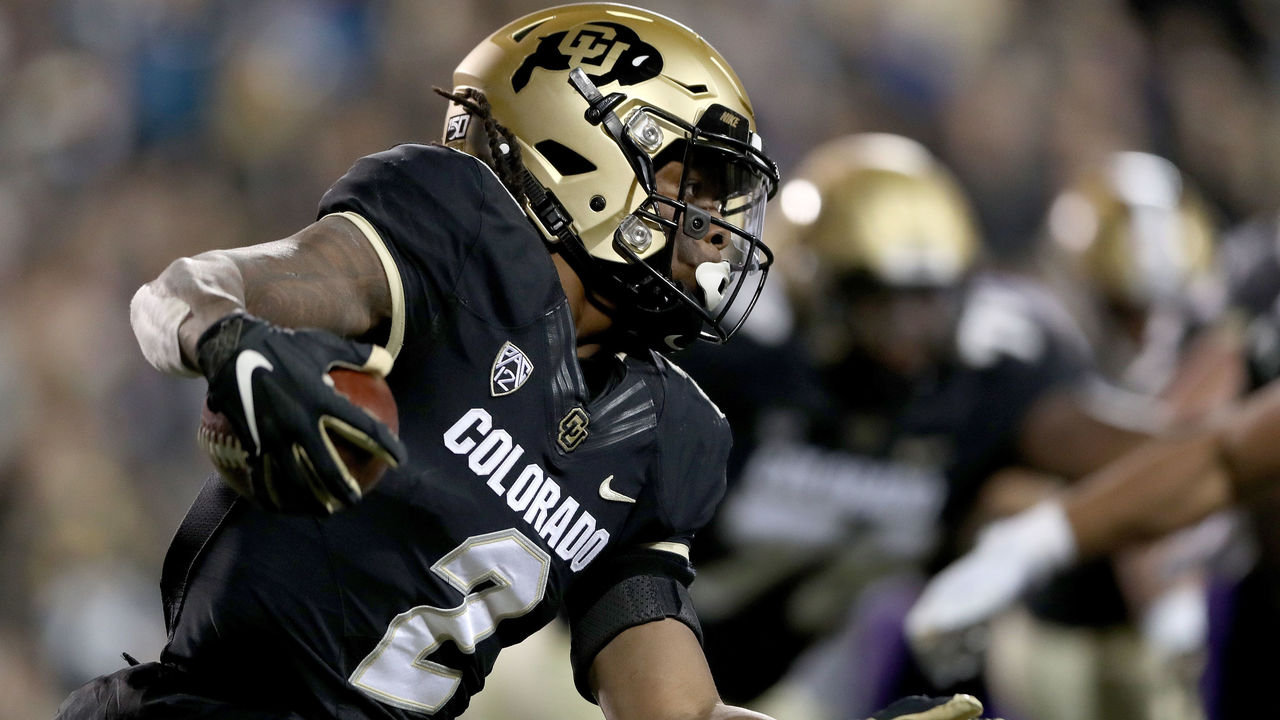 School: Colorado
Height: 6-1
Weight: 227 lbs
Positives
Intriguing blend of size and athleticism
Home run hitter from anywhere on the field
Speed to stretch the field and make a big play after the catch
Tracks the ball well in the vertical game
Boasts the physicality and hands to thrive in contested situations
Powerful runner who constantly breaks tackles
Versatile enough to get to the ball in various ways.
Negatives
Tested slower than expected at the combine
Needs to refine his route-running
Lacks the wiggle to get out of breaks and separate with lateral quickness
Production took a major hit after a phenomenal 2018 season
Injury issues raise durability concerns
Bottom line
Shenault is dripping with upside. One of the draft's highest-ceiling players overall, the Colorado wideout makes the jump to the NFL with all the traits of a true game-breaker. His routes need development and durability is a question mark, but the athleticism is borderline elite - a core muscle injury that required surgery after the combine is likely to blame for his slower-than-expected time. He's electric with the ball in his hands, and he's shown plenty of chops as a vertical threat. Shenault could be a star in a system that allows him to get the ball in creative ways.
Grade: Rounds 1-2
7. Justin Jefferson
School: LSU
Height: 6-1
Weight: 202 lbs
Positives
Elite production as a top-two option in LSU's offense last season
Good size and plenty of speed to challenge in all areas of the field
Deadly from the slot on quick passes and run-pass options
Excellent on contested catches - has the physicality to fight for the ball and the awareness to locate or high-point it
Works very well in the middle of the field and can find the soft spots in zones
Quick, strong, reliable hands with great reflexes to snag the ball late
Sets up defensive backs and changes up speeds on releases
Crisp route-runner with loose hips to change direction
Negatives
LSU's scheme led to a number of easy catches
Contact knocks him off of his route easily
Has some trouble separating from tight man coverage late in his route
Rarely faced press coverage in college
Average explosion on his release
Bottom line
Jefferson was one of the many beneficiaries of the Tigers and Joe Burrow's breakout season, but he still offers a number of high-quality traits that will translate to the NFL. He's an excellent route-runner and is among the best pass-catchers at hauling in 50-50 balls despite his average size. At the very least, the national champion profiles as a reliable slot weapon that fits into any scheme. But considering he's still just 20, Jefferson has room to grow into so much more.
Grade: Rounds 1-2
8. Jalen Reagor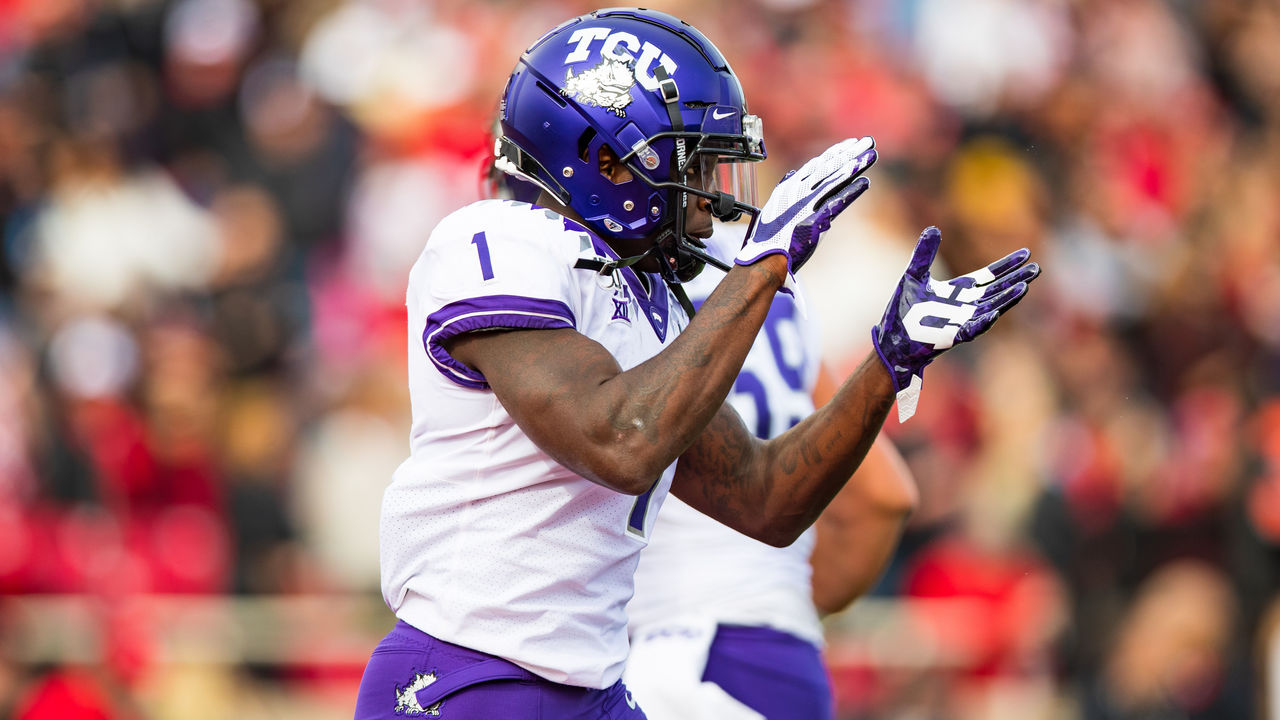 School: TCU
Height: 5-11
Weight: 206 lbs
Positives
Impressive overall athleticism
Deep speed to challenge defenses over the top
Wins with quickness out of breaks underneath
Possesses change-of-direction abilities and route nuance to create separation
High-points the ball extremely well for his size
Shifty and explosive playmaker after the catch
Brings added value as a return man on special teams
Negatives
Lacks the ideal height and frame to play outside
Ran a limited route tree in college
Drops are an issue
Struggles to work through contact at the line and in his routes
Major drop-off in production in 2019
Bottom line
Reagor is a dynamic talent who could fit in any NFL offense. He'll make plenty of plays in the vertical game thanks to his downfield speed and ability to high-point the ball. But he also has the traits to create separation and produce in the short and intermediate areas of the field - something he wasn't asked to do much at TCU. It's probably safe to chalk up his disappointing 2019 campaign to being stuck in a poor offense. Reagor should be far more productive at the next level, and his well-rounded skill set could even allow for the kind of smooth transition that leads to instant impact.
Grade: 2nd round
9. Michael Pittman Jr.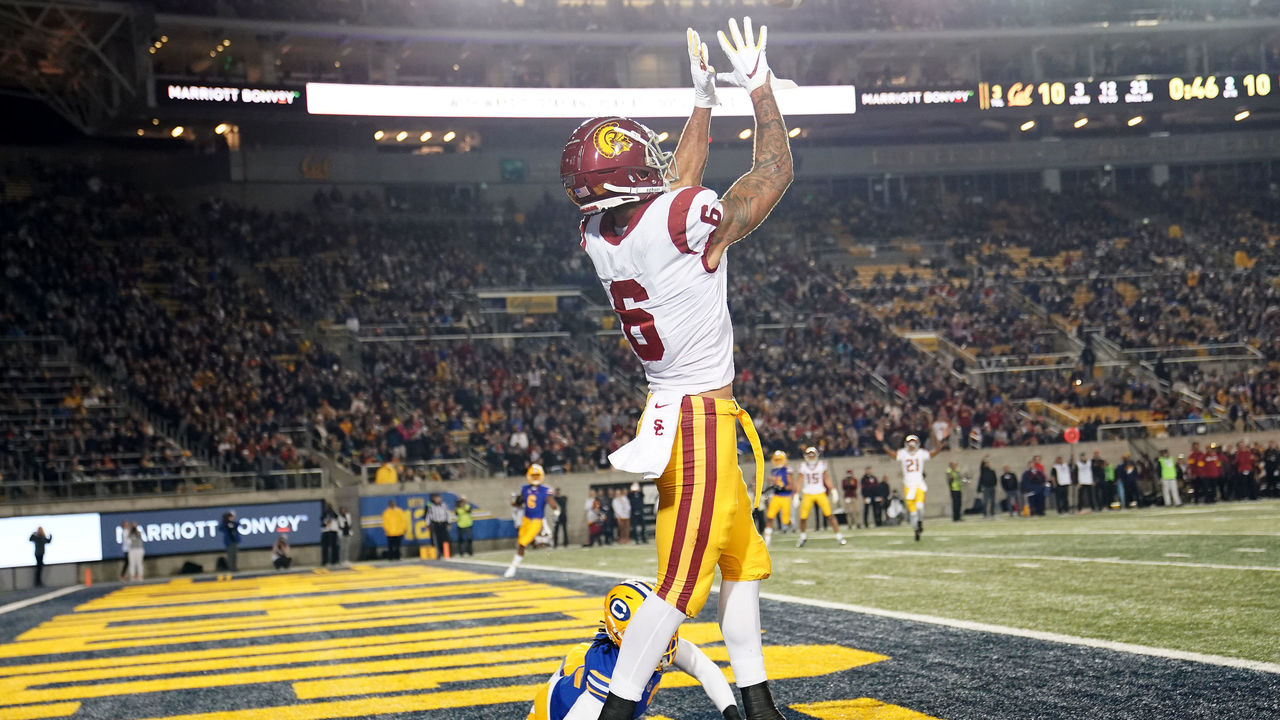 School: USC
Height: 6-4
Weight: 223 lbs
Positives
Massive frame
Good top-end speed for a receiver of his size
Precise route-runner with surprising quickness and change of direction
Uses size to shield off defenders on short routes
Tracks the ball well downfield
At his best above the rim in contested situations
Attacks the ball with strong hands at the catch point
Good run-blocker
Negatives
Build up required to get to top speed
Doesn't create much separation
Will need to refine his release at the line
Doesn't add much playmaking ability after the catch
Played almost exclusively on the left side of the field
Bottom line
Pittman is a tall, well-built receiver with the ability to dominate defensive backs at the catch point and looks like a typical jump-ball specialist who can excel in the red zone. But that's not all there is to his game. With more speed and quickness than you might expect, as well as the route-running ability not often seen from receiver prospects of his size, he's got the upside of an all-around pass-catcher. Pittman is a scary matchup for defensive backs.
Grade: 2nd round
10. Van Jefferson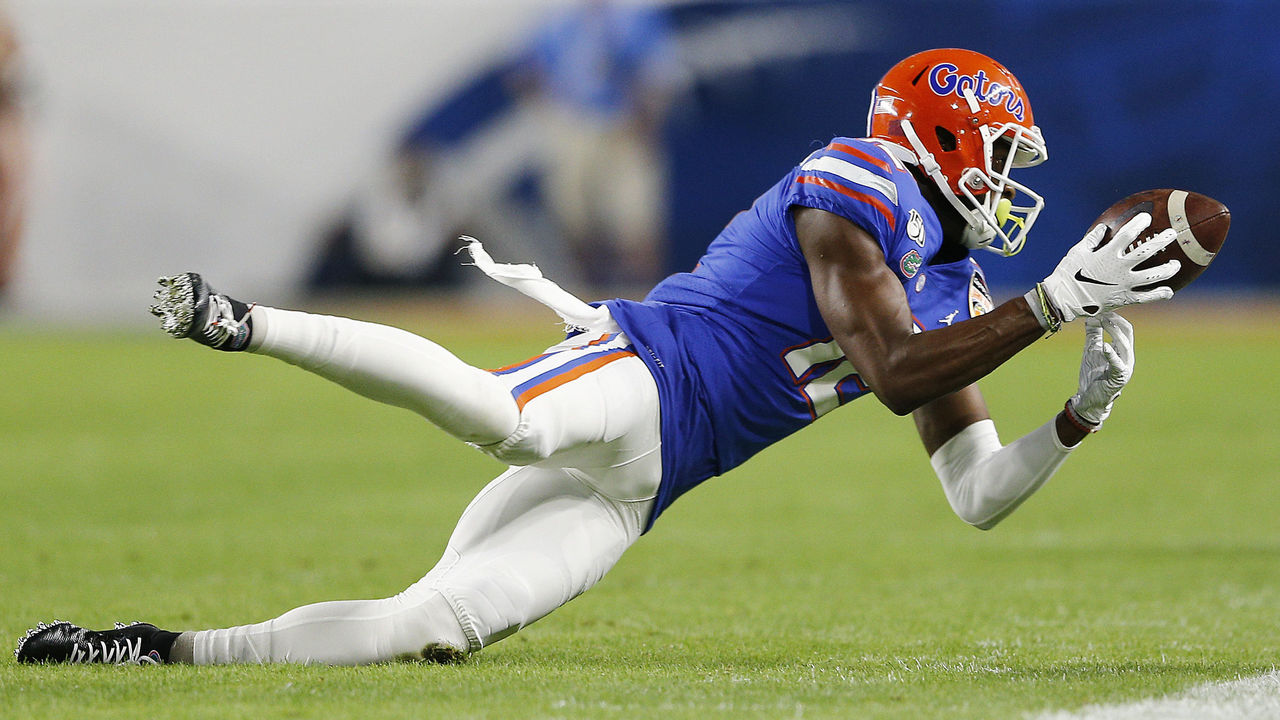 School: Florida
Height: 6-1
Weight: 200 lbs
Positives
Fantastic route-runner at all levels of the field
Exceptional foot speed and quick in his routes
Sells fakes and separates from defenders like a pro
Separates vertically by pressing and selling the route
Strong hands in traffic
Attacks the ball in the air and wins contested catches
Good size and length
Negatives
Can't rely on his speed alone to separate vertically
Not especially dynamic after the catch
Underwhelming production
Will be 24 as a rookie
Bottom line
Jefferson is perhaps the most interesting sleeper pick in this receiver class. He won't get much hype because, in a loaded group of playmakers, he lacks both the production and any sort of elite athletic trait. But all that means is a team is going to end up with a steal. Second only to Jerry Jeudy among the draft's top route-runners, Jefferson already separates like an NFL receiver. Some of the best cornerbacks in the country were hard-pressed to deal with his combination of foot speed, nuance, and general route savvy, and his length, strong hands, and competitiveness in contested situations allow him to finish plays even when he doesn't manage to give his quarterback a gaping throwing window. The polish in all the finer points of his game does more than enough to make up for what he may lack in straight-line speed. Jefferson is one to watch.
Grade: 2nd round
11. KJ Hamler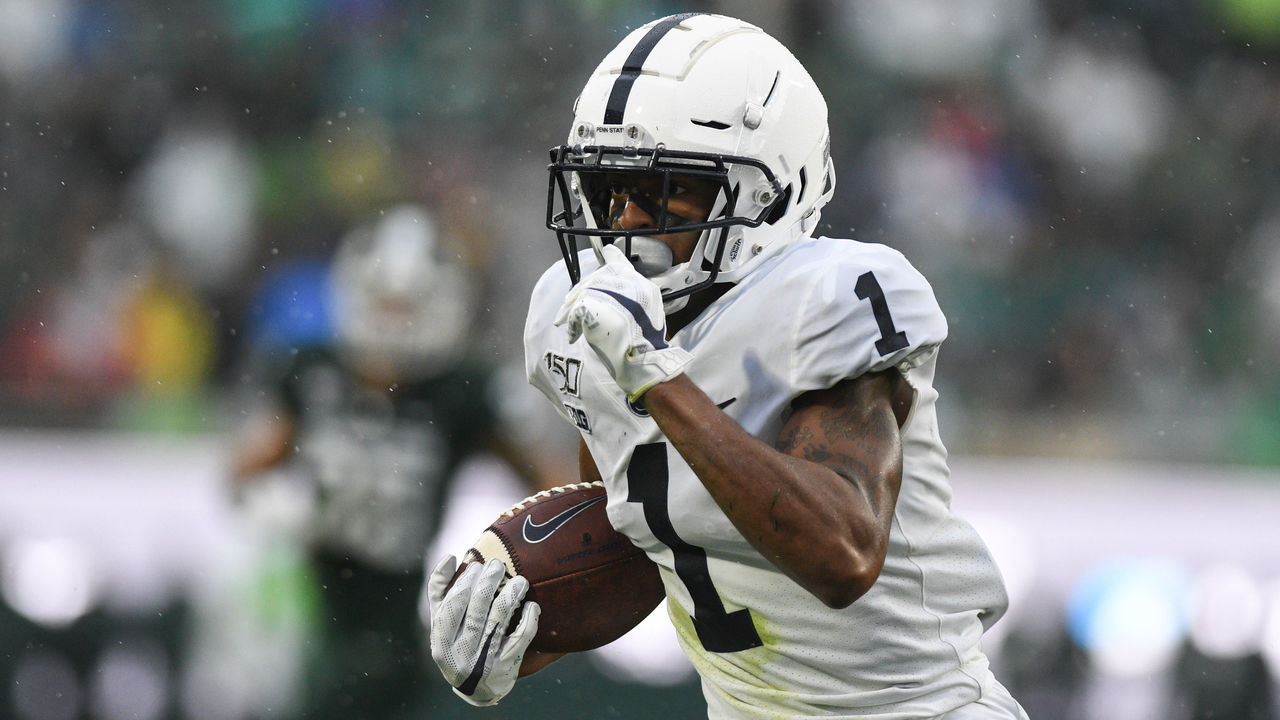 School: Penn State
Height: 5-9
Weight: 178 lbs
Positives
Game-breaking speed among the best in his class
Elite burst/explosion off the line of scrimmage - cornerbacks are in trouble when playing off coverage
Crisp, shifty route-runner who's able to sink his hips and change his direction effortlessly without losing speed
Can make defenders miss after the catch
Able to separate in a variety of ways, whether it's through speed, technique, or finding open zones
Legitimate NFL deep threat
Stacks cornerbacks well at the top of the route
Negatives
Size and strength are well below average
Had one of the worst drop rates in the class in 2019
Won't win with physicality or on contested catches
Ball-tracking skills need some work
Can be re-routed by contact
Bottom line
When watching Penn State games last season, it wasn't difficult to figure out where Hamler was on the field. It's not just because of his small stature, he'll catch anyone's eye with his incredible explosion and quickness in his routes. The speedy wideout doesn't come without red flags - most notably his worrisome drop rate - but he profiles as an exciting offensive weapon who most NFL teams will covet. Whether it's in the slot, on screens, or as a deep playmaker, Hamler is a great Day 2 target for a team that misses out on Henry Ruggs or Jalen Reagor. The former Nittany Lion may never be a high-volume option in the passing game, but he offers big-play potential on every down.
Grade: 2nd round
12. Brandon Aiyuk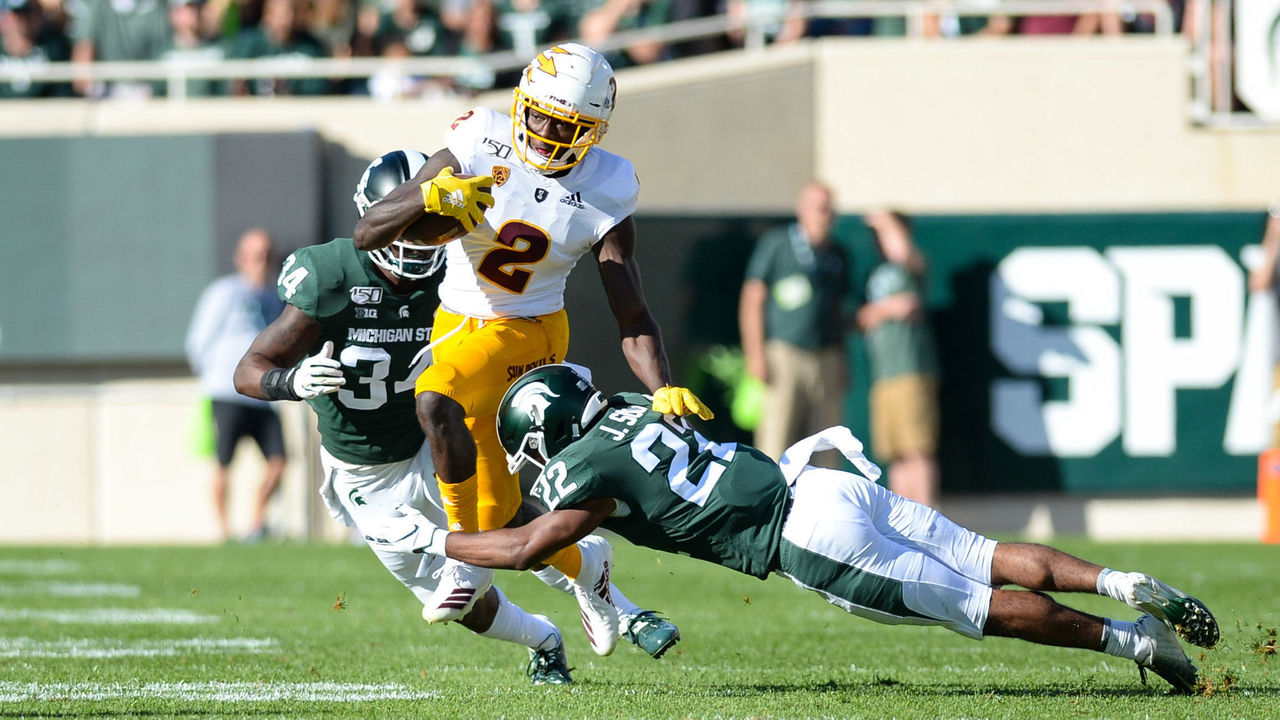 School: Arizona State
Height: 6-0
Weight: 205 lbs
Positives
Explosive athleticism
Good size, frame, and catch radius
Legitimate weapon after the catch - has the burst, balance, strength, and field vision to succeed in the open field
Crisp route-runner with deliberate cuts and very flexible lower body
Feasts on off-coverage with a great burst off the line of scrimmage and quick feet
Good body control and ball-tracking on deep targets
Successful kick/punt returner
Negativs
Only one year of solid college production
Struggles on release against press coverage
Disappointing results on contested catches and 50/50 targets
Separates early in route better than he does late
Bottom line
In an ordinary receiver class, Aiyuk would be much higher on our rankings with the upside of being selected inside the top 25. In this historic group, his raw tools and question marks could slide him into Day 2. While there are parts of his game that certainly need to be polished, the Arizona State product offers an athletic profile that can't be taught. He has a knack for creating big plays and can make an instant impact in the NFL with the ball in his hands. Aiyuk's speed, vision, and burst make him a high-upside prospect who could outperform a few wideouts chosen before him and make teams regret not taking a chance.
Grade: 2nd round
13. Tyler Johnson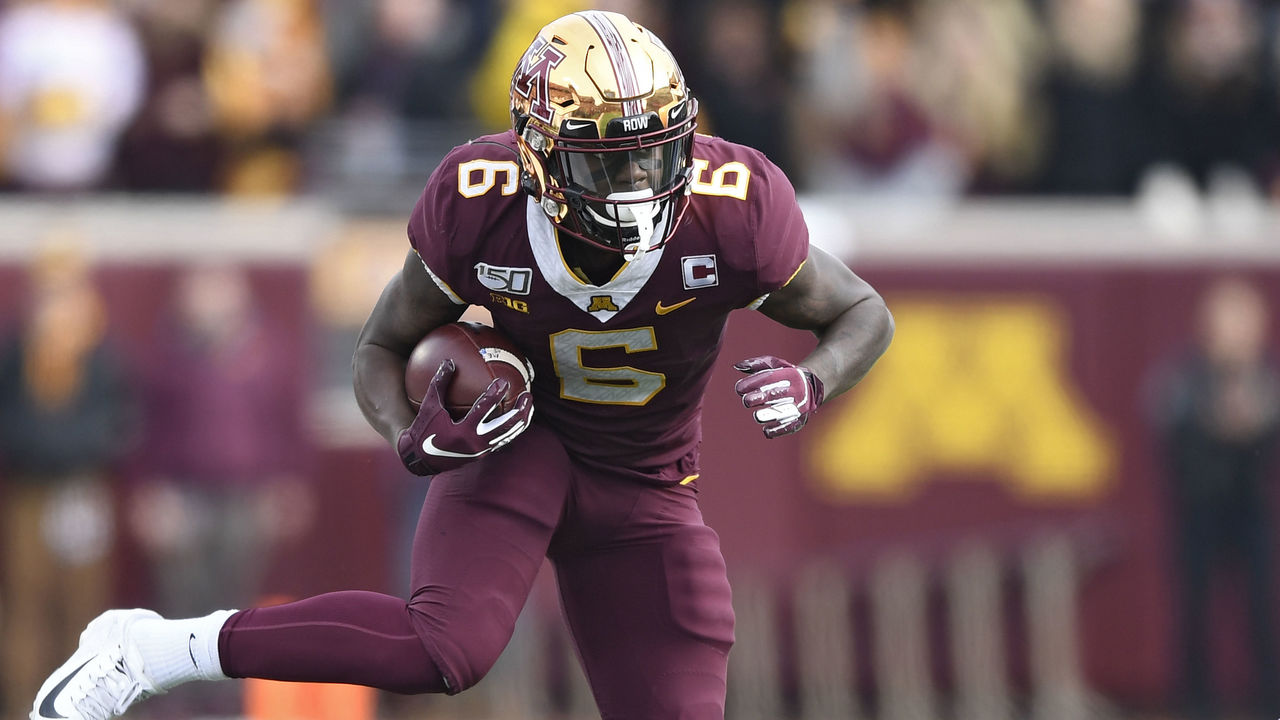 School: Minnesota
Height: 6-1
Weight: 206 lbs
Positives
Twenty-five touchdowns over his final two college seasons
Deadly on slant routes - very crisp and can get into space quickly
Already a polished route-runner and understands subtleties of setting up cornerbacks
Able to beat the press off the line of scrimmage
Very good lateral quickness on route breaks and release
Strength and physicality leads to production after the catch and on contested targets
High football IQ to find open zones and separate with body manipulation
Ability to win outside or in the slot
Negatives
Doesn't possess ideal speed or athletic profile
A few concentration drops show up on tape
Can waste movement on release versus off-man coverage
Won't separate with burst
Bottom line
Johnson is another prospect perhaps overlooked in a loaded class. After a phenomenal career with the Golden Gophers, he opted not to participate in testing or drills at the combine, so clubs have minimal information regarding his athleticism. Because that part of his game won't necessarily show up on tape, the All-Big Ten first-team selection could see his stock fall. However, there's still plenty to love about Johnson's game. What he lacks in burst he makes up for in craftiness, physicality, and field vision. Johnson's NFL niche will likely come as a potential high-volume slot target who can work the middle of the field, where athleticism is less important.
Grade: 3rd round
14. Chase Claypool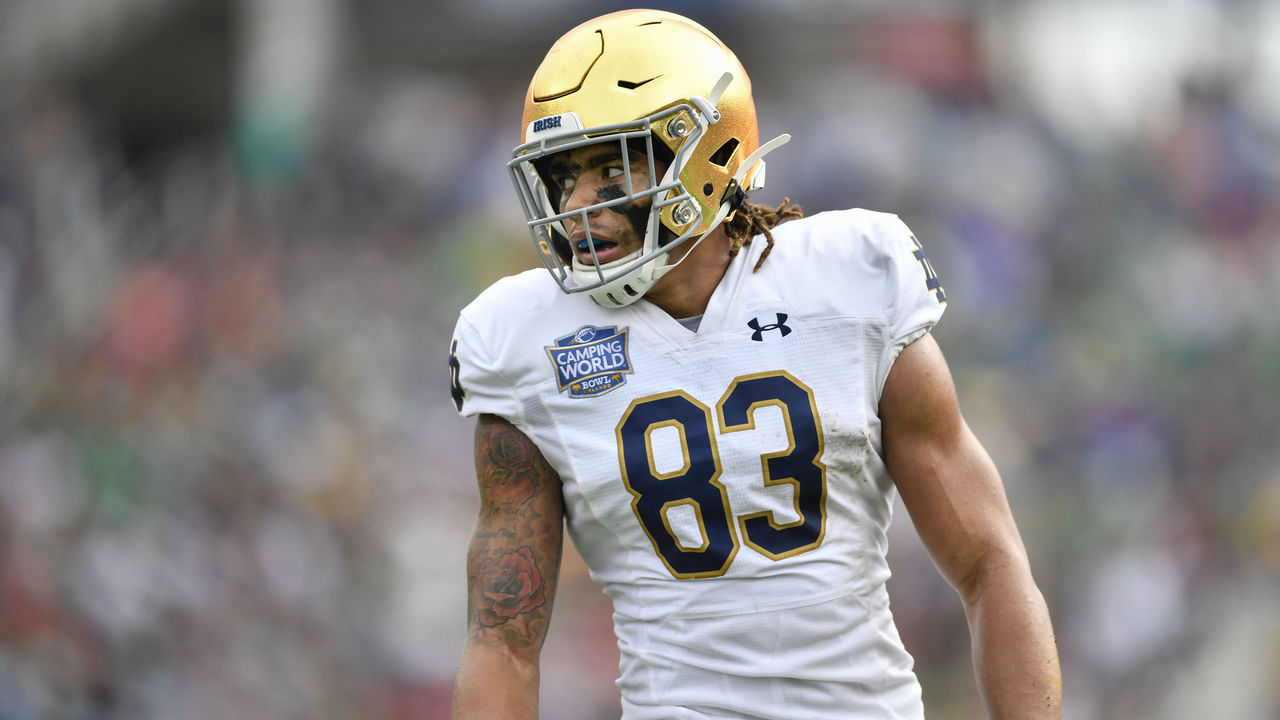 School: Notre Dame
Height: 6-4
Weight: 238 lbs
Positives
Outstanding blend of size, strength, and speed
Good use of hands to beat the press at the line
Plays through contact and establishes position with his strength
Wins over his defender with hops and strong hands at the catch point
Good balance and body control to adjust to the ball in mid-air
Physical runner after the catch
Effective run-blocker on the outside
Productive special teams gunner
Negatives
Takes time to get up to full speed
Not gifted with lateral movement skills
Doesn't run precise routes
Route tree could be limited to vertical breakers
Will struggle to separate at the short and intermediate levels
One year of high-level production
Bottom line
Claypool was one of the biggest stories of this year's combine. His 4.42 40-yard dash time, when adjusted for weight, is on par with the top burners in this class. Pair that kind of rare athleticism with his strength and well-established ability to dominate opposing cornerbacks in contested catch situations, and you've got as much upside as you could possibly ask for from a likely mid-round pick. Claypool will come with limitations - most notably, a lack of lateral agility will limit his route tree - but he has the potential to be a game-changer if a team can consistently put him in a position to do what he does best - make big plays down the sideline.
Grade: 3rd round
15. Donovan Peoples-Jones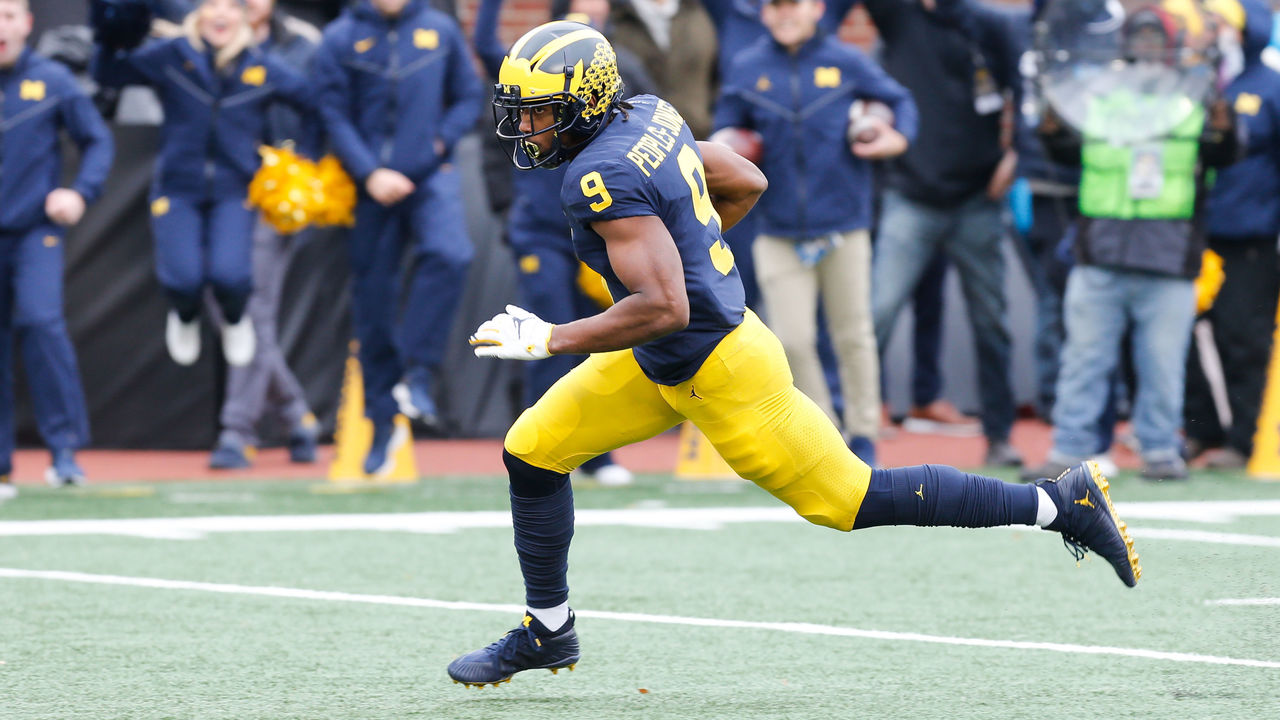 School: Michigan
Height: 6-2
Weight: 212 lbs
Positives
Impressive size with excellent athleticism
Strong receiver with the ability to high-point the ball well and fight off defenders for contested catches
Physical specimen who won't get knocked off route
Quick feet to set up defenders on his release
Very good balance and body adjustments on off-target passes
Good long speed for his size
Negatives
Production never matched his potential in college
Lacks twitch and change-of-direction to be polished route-runner
Dropped a few passes in big games
Doesn't consistently separate versus man coverage
Average burst off the line of scrimmage and can struggle to release versus press
Bottom line
A highly touted recruit for the Wolverines in 2017, Peoples-Jones failed to live up to the hype in Ann Arbor. While his speed and explosive athleticism will intrigue NFL teams, DJP is a fairly raw wideout at this stage. He must work on his route-running and release to see time early in his career. However, there are enough raw tools here to make Peoples-Jones a high-upside prospect who can thrive in the red zone and along the sideline. If he puts it all together, he can develop into a starting-caliber player.
Grade: Rounds 3-4
16. Antonio Gandy-Golden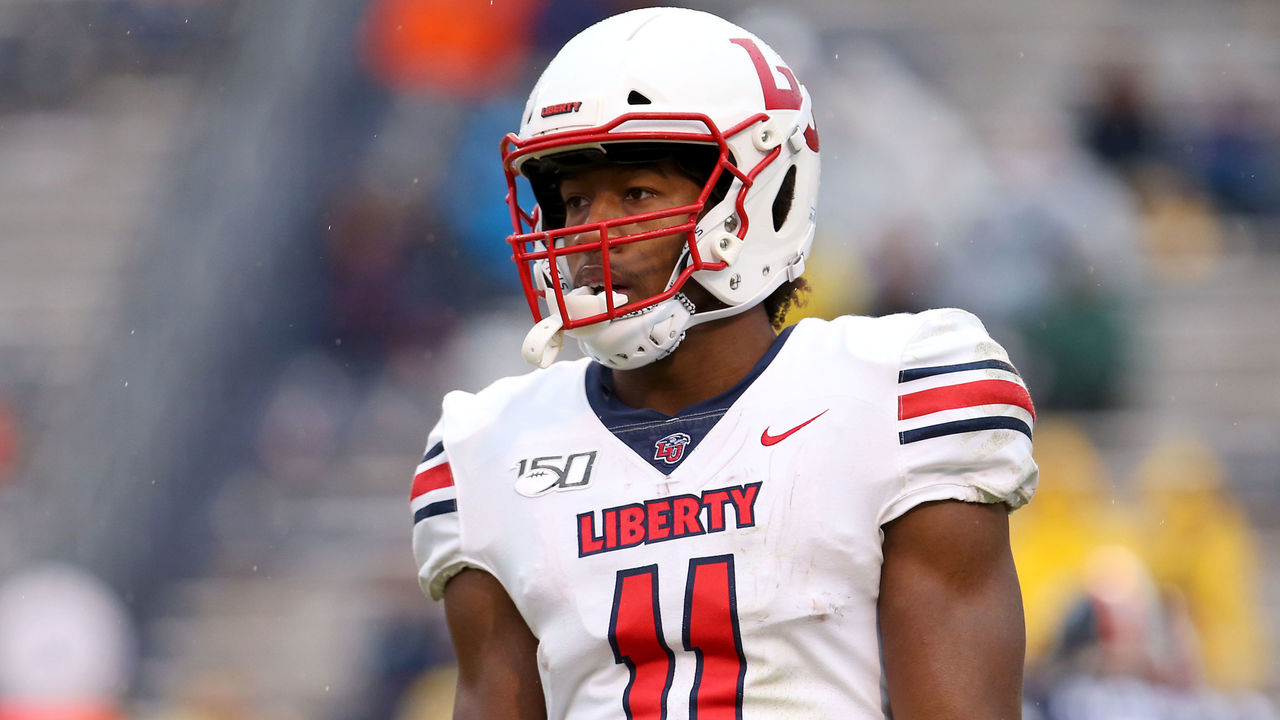 School: Liberty
Height: 6-4
Weight: 223 lbs
Positives
Big, solid frame
Good footwork and hand usage for efficient release
Sells fakes at the top of the route to separate vertically
Strength and positioning to post up defender
Dominates contested-catch situations
Great body control and attacks the ball at the high point
Massive catch radius and strong hands
Physical and tough runner after the catch
Negatives
Lacks top-end speed
Doesn't have COD skill for horizontal breaks
Lower level of competition
Bottom line
Gandy-Golden is more than a big-bodied target who wins above the rim. He demonstrates impressive footwork and route nuance for a wideout of his size, and he's also something of a technician at the line of scrimmage and at the top of his routes. Going from a lower level of college competition all the way to the NFL will provide a challenge, and the Liberty product doesn't have straight-line speed to lean on, but there are plenty of tools that could allow Gandy-Golden to develop into a productive starter with big-play ability at the next level.
Grade: Rounds 3-4
Other notable prospects
Devin Duvernay (Texas)
Gabriel Davis (UCF)
Quartney Davis (Texas A&M)
K.J. Hill (Ohio State)
Isaiah Hodgins (Oregon State)
John Hightower (Boise State)
Bryan Edwards (South Carolina)