2022 NFL Draft prospect rankings: Offensive line
Photo illustration by Nick Roy/theScore
theScore's Dan Wilkins, Justin Boone, and Daniel Valente break down the 2022 NFL Draft with rankings and analysis for the prospects available at every position.
Top 50
QB | RB | WR | TE | OL
DL | EDGE | LB | CB | S
Offensive line
1. Evan Neal
| School | Height | Weight | 40 time |
| --- | --- | --- | --- |
| Alabama | 6'7 | 337 | DNP |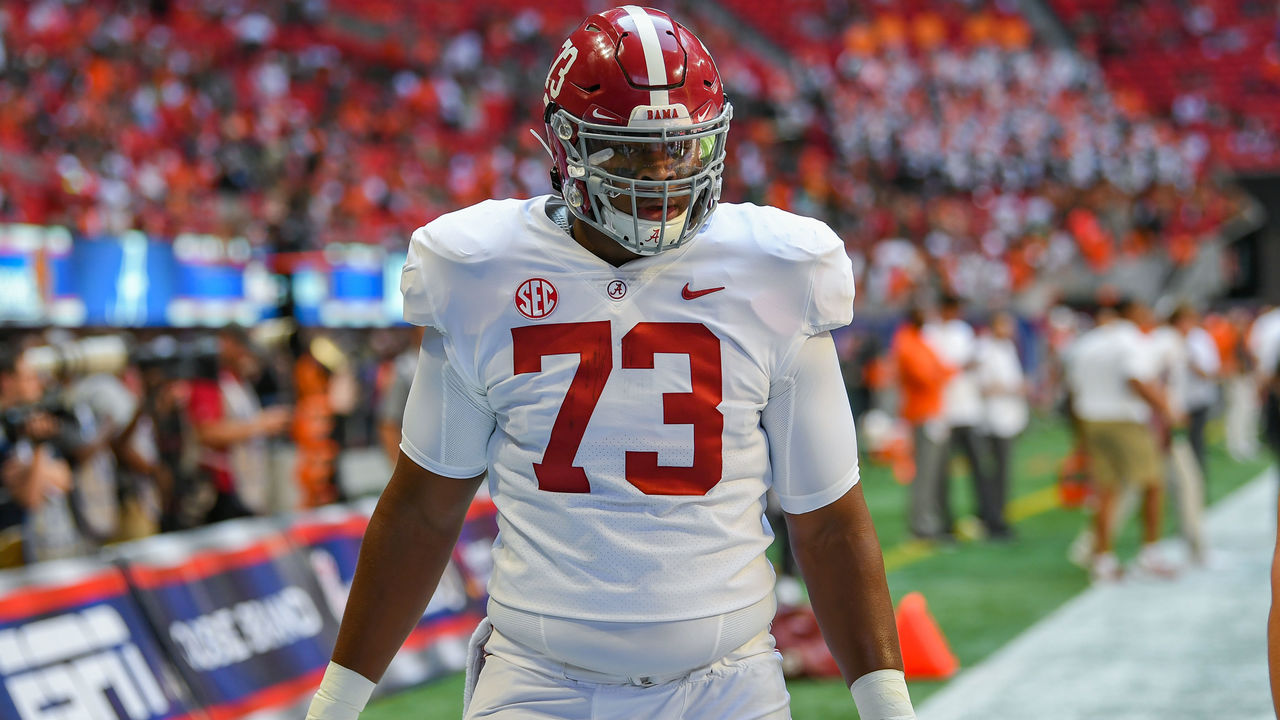 Neal is an imposing specimen, and he has all the power to match his hulking frame. He's also one of the rare college offensive line prospects who can jump to the NFL with an extremely polished game, particularly as a pass-protector. There shouldn't be much doubt about Neal's ability to smoothly transition to the next level as he's competed against the nation's best defensive talent in the SEC at both left and right tackle. With improved balance and finishing of blocks in the run game, his already-high ceiling could enter perennial Pro Bowl territory.
2. Ikem Ekwonu
| School | Height | Weight | 40 time |
| --- | --- | --- | --- |
| NC State | 6'4 | 310 | 4.93 |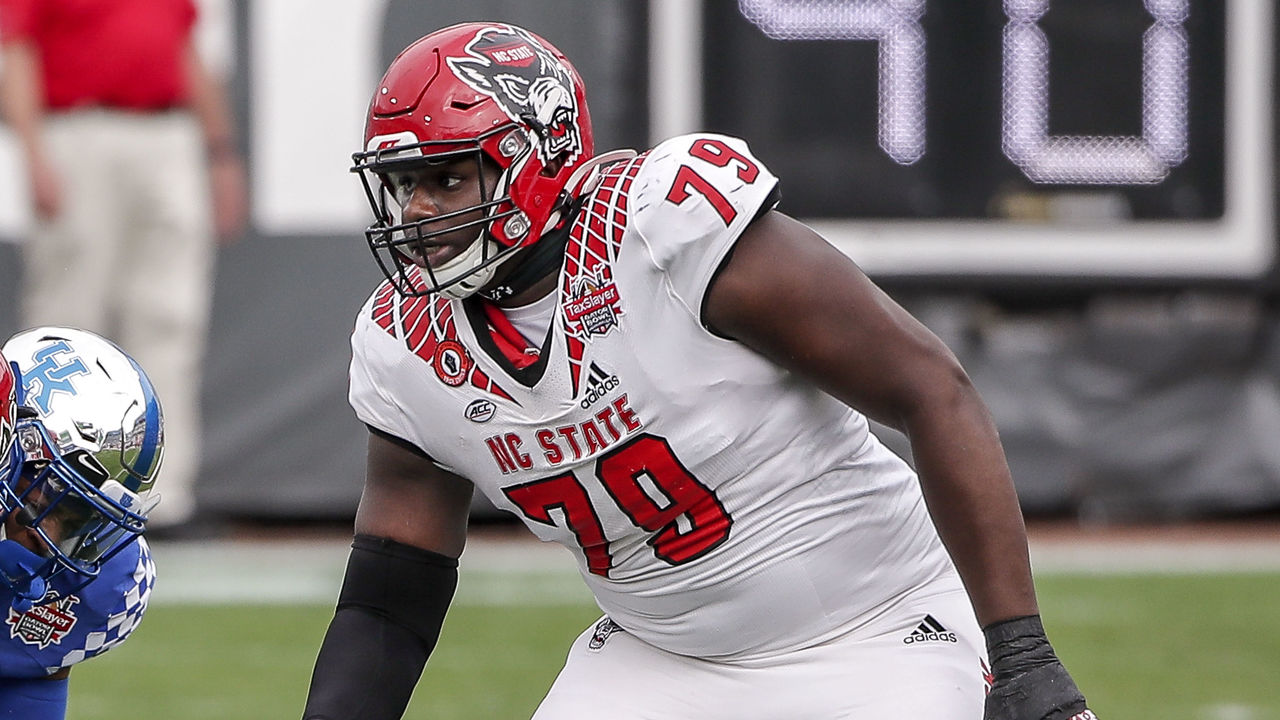 Whether he's blowing an opponent off the ball, using his athleticism to make difficult assignments look easy, working to the second level to take out a linebacker, or finishing his blocks with a rare nastiness, Ekwonu is phenomenal to watch in the run game. There's work to do in pass protection, particularly when it comes to the timing of his punch and not oversetting or overextending to leave an inside lane open, but an NFL team can clean those things up. And with his athletic skill set, there's no reason to think he won't do it. Ekwonu has the makings of a long-term starter at either tackle spot in any scheme. Should he run into any major challenges in his development as a pass-protector in space, a transition to guard - where he could have All-Pro potential - provides an excellent fallback option.
3. Zion Johnson
| School | Height | Weight | 40 time |
| --- | --- | --- | --- |
| Boston College | 6'3 | 312 | 5.18 |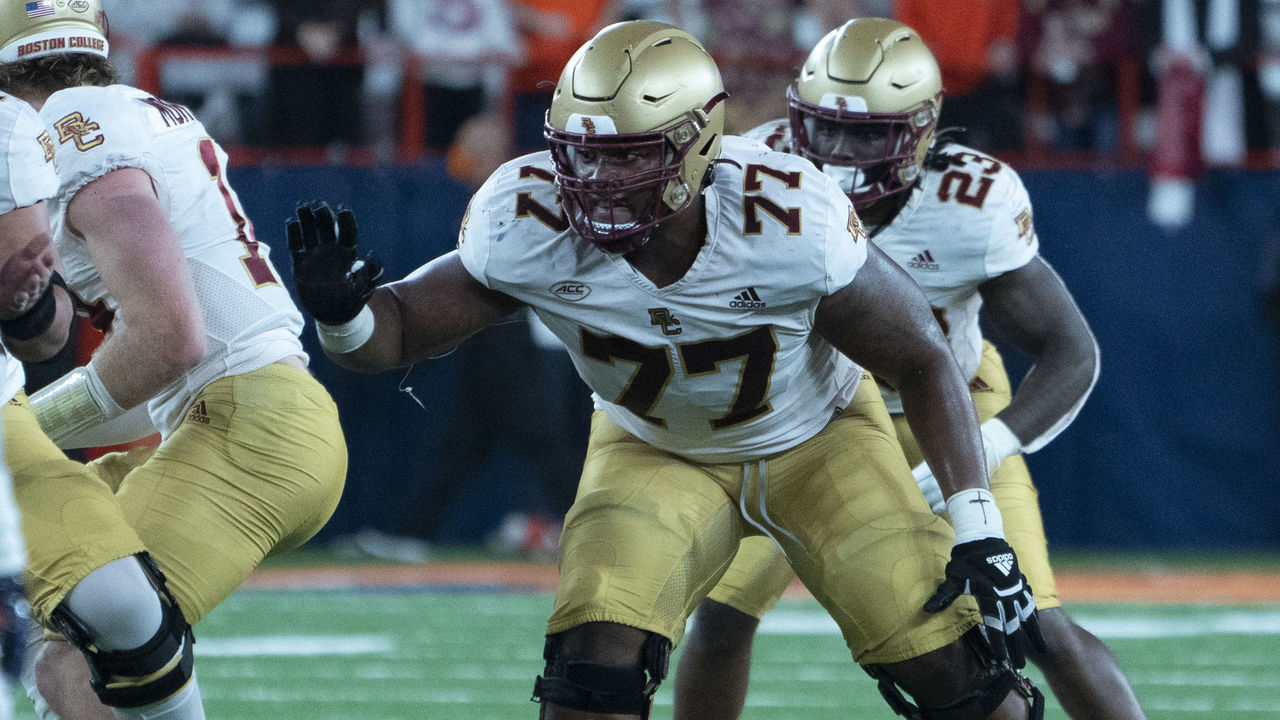 Johnson is everything an NFL team wants in a first-round guard prospect in terms of frame, traits, and production. He demonstrates impressive strength as a run-blocker and in pass protection, as well as the intelligence to execute and adjust to challenging assignments. The only real question mark in Johnson's game at Boston College involved lateral movement, but then he tested at the combine like an elite athlete at the position, highlighted by 90th-plus percentile scores in change-of-direction drills. If Johnson can parlay that athleticism into more efficient short-area movements to give himself the tools to match finesse interior players, you could soon be looking at one of the next elite guards in the NFL.
4. Charles Cross
| School | Height | Weight | 40 time |
| --- | --- | --- | --- |
| Mississippi St. | 6'5 | 307 | 4.95 |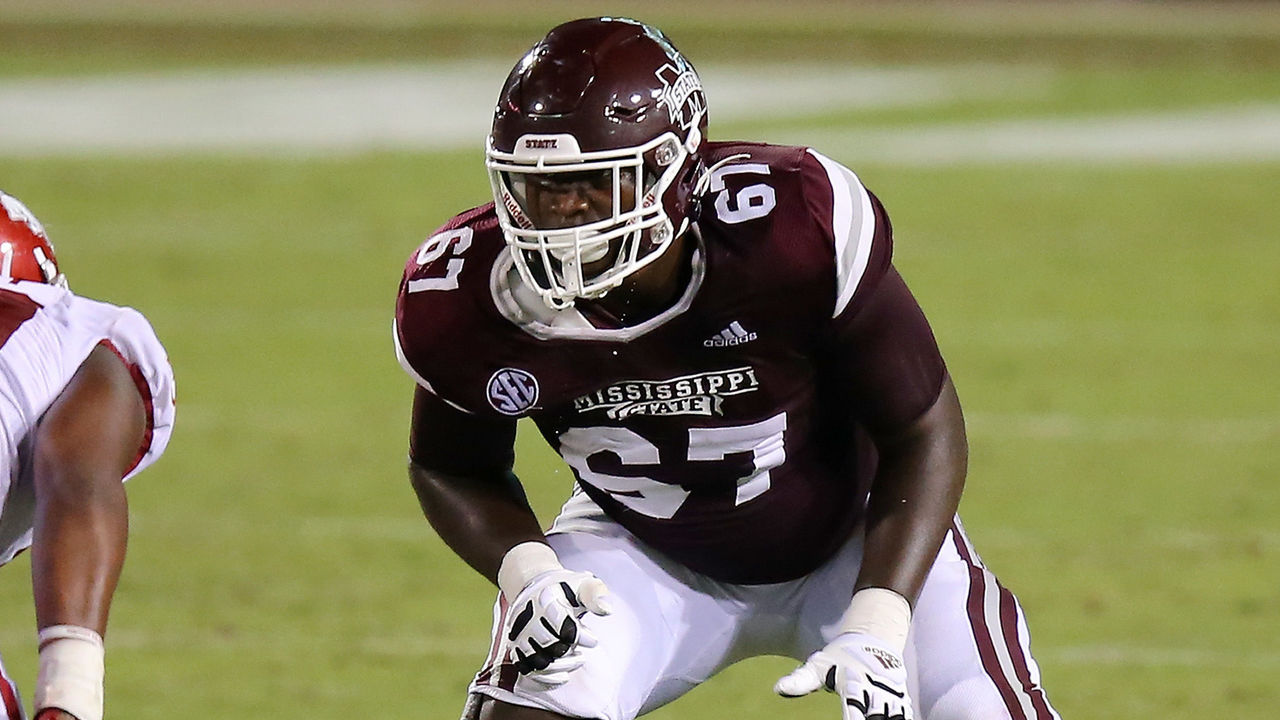 Tasked with shutting down SEC pass-rushers in an offense that throws the ball as much as any program, Cross was more than up to the job. To perform at the level he did in a situation like that tells you everything you need to know about his potential at the next level. The Mississippi State product rarely finds himself out of position in his pass sets, helping him shut down both speed to the edge and counters back inside. When opponents turn to power, Cross anchors to shut that down, too. The run game is a bit of a question mark, but a lack of reps truly may be all that stands in the way of him making a major impact there. Either way, offensive linemen are paid to protect the quarterback, and Cross does that as well as anyone in this class.
5. Tyler Linderbaum
| School | Height | Weight | 40 time |
| --- | --- | --- | --- |
| Iowa | 6'2 | 296 | DNP |
One of the safer picks in this draft, Linderbaum likely has a long career of quality play ahead of him. The Iowa product is an athletic, technically sound center who excels on the move, whether that's sliding laterally to wall off a defender, executing perfect combo blocks and climbing to the second level, or getting out in space in the screen game. Linderbaum's almost always in perfect position, and his outstanding hand usage helps compensate for a relative lack of length. The most powerful opponents could present a challenge on certain assignments due to his size, but his movement skills and intelligence will win out more often than not in the right system.
6. Trevor Penning
| School | Height | Weight | 40 time |
| --- | --- | --- | --- |
| Northern Iowa | 6'7 | 325 | 4.89 |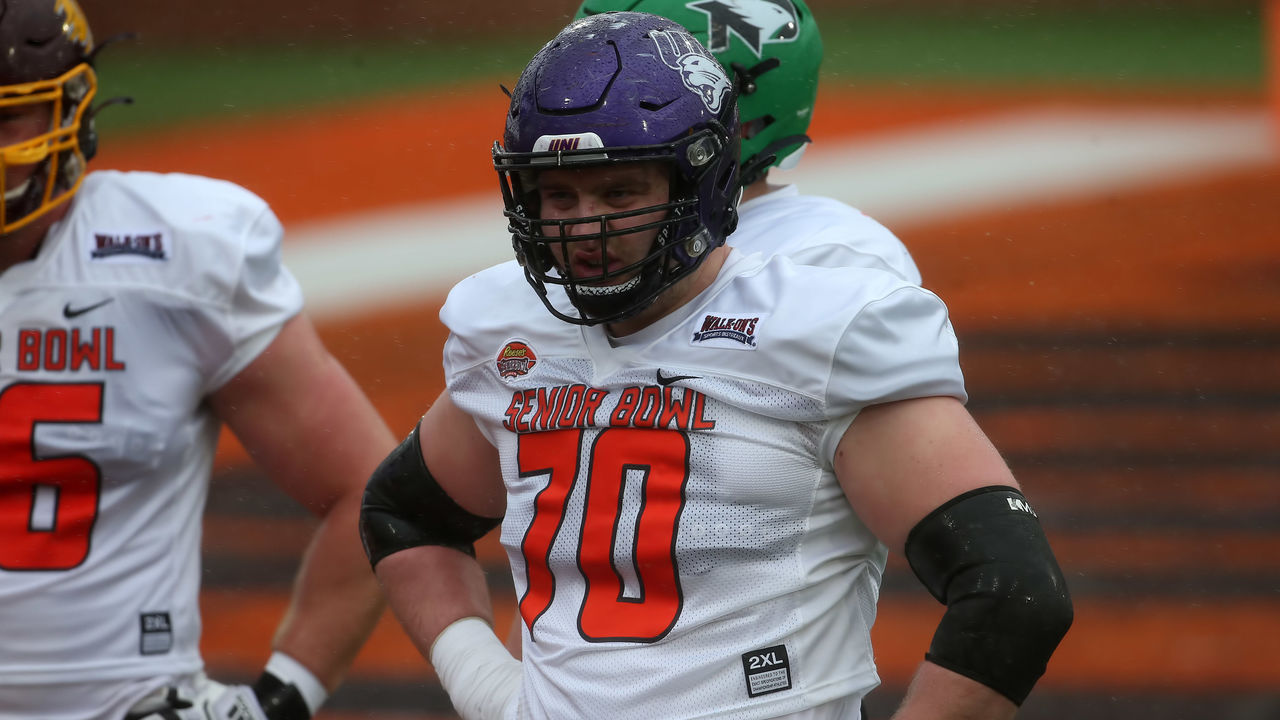 The frequency with which Penning can be seen throwing or driving his opponent into the ground as a play concludes is flat-out ridiculous. It's not often that kind of nasty play style is paired with such an impressive athletic profile - an underrated factor for offensive linemen - but that's what makes the Northern Iowa product such a fascinating player. There's some projection involved here, as he'll need time to refine his game. For now, that puts Penning behind the consensus top-three tackles in this class. But he could be right there with that supremely talented group a few years from now.
7. Kenyon Green
| School | Height | Weight | 40 time |
| --- | --- | --- | --- |
| Texas A&M | 6'4 | 323 | 5.24 |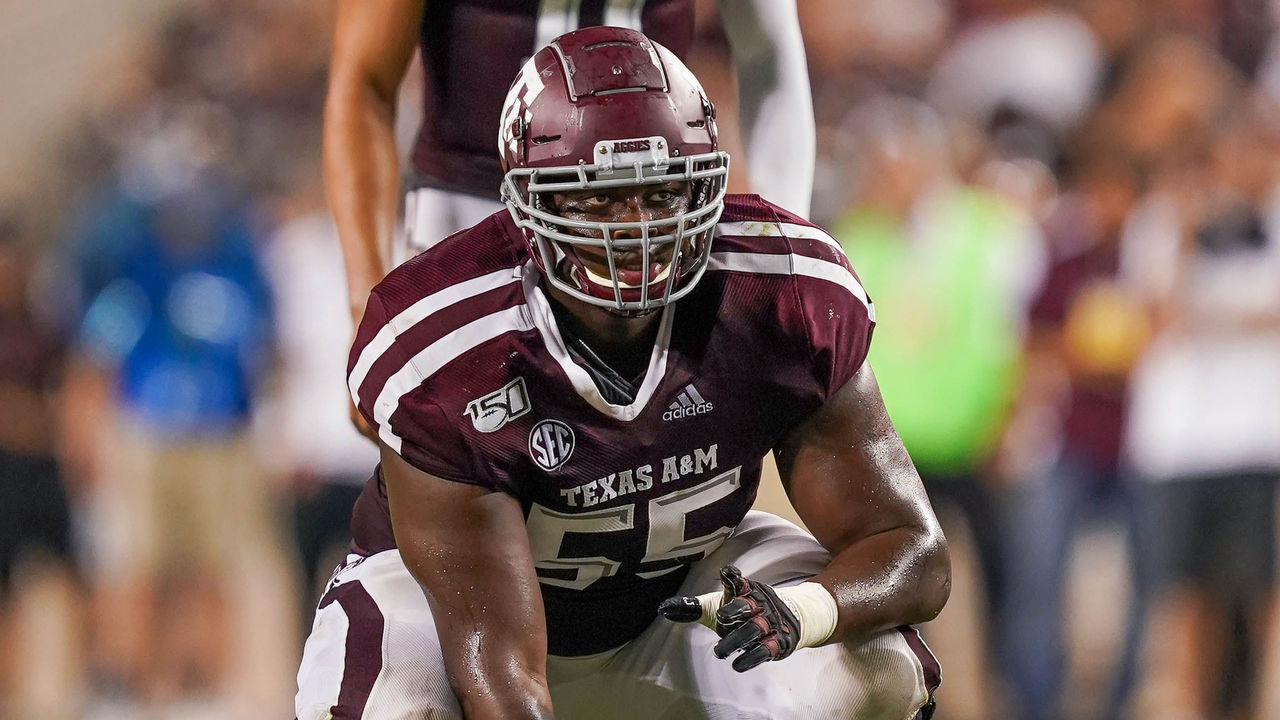 Green's experience across the offensive line gives him some added value, and he may get a chance to play tackle at the next level. But his best work is done at guard, where he's not so much asked to play in space and can focus primarily on overpowering his opponent in a phone booth. Green's impressive power will help him make an immediate impact as a run-blocker and interior pass-protector. With some NFL coaching to tighten up technique and the benefit of presumably focusing on one position moving forward, his best play may still be ahead of him.
8. Bernhard Raimann
| School | Height | Weight | 40 time |
| --- | --- | --- | --- |
| Central Michigan | 6'6 | 303 | 5.05 |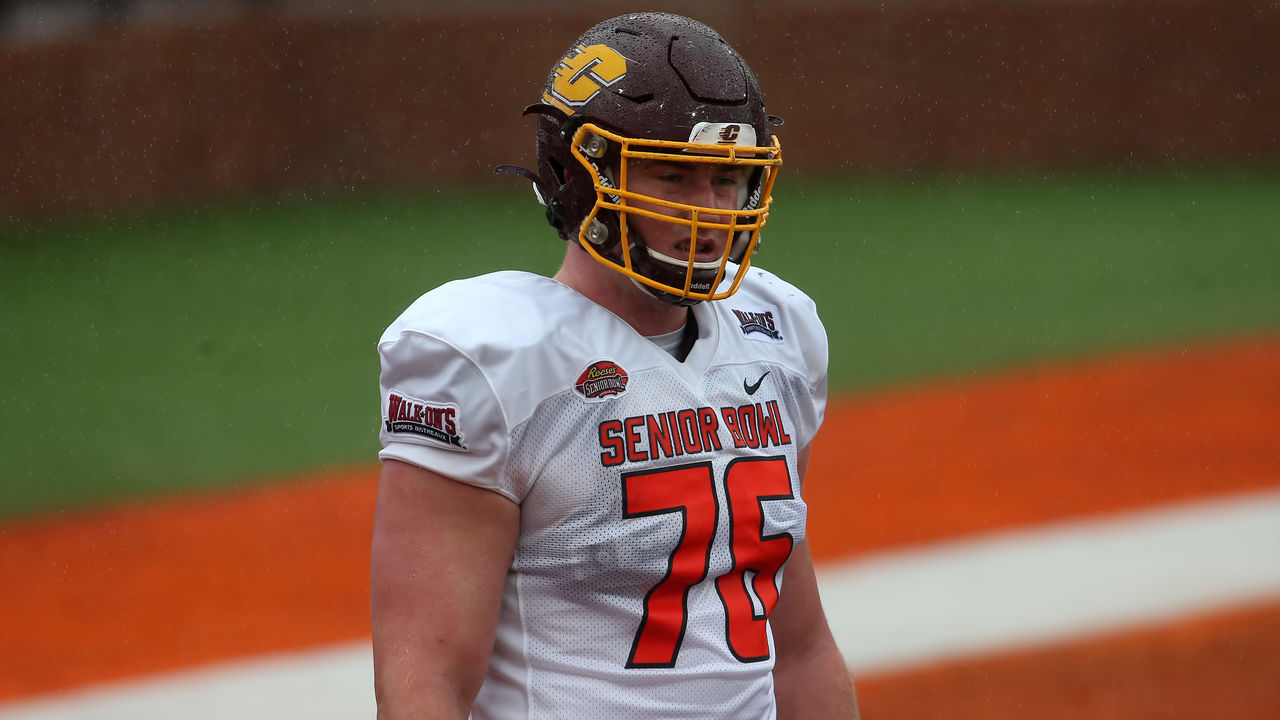 Raimann's status as a Day 1-2 prospect is impressive considering he's only played left tackle for two years after making the switch from tight end. NFL coaches have to be salivating at what he could become with more time to develop. Raimann is already an outstanding fit for a zone-heavy scheme that will use his movement skills in the run game, getting him up to the second level and out in space. As a pass-protector, he can match speed to the edge and mirror his opponent laterally. Raimann could easily outperform his draft position if he continues to master his technique to compensate for his below-average length and keeps adding strength to round out his game.
9. Tyler Smith
| School | Height | Weight | 40 time |
| --- | --- | --- | --- |
| Tulsa | 6'5 | 324 | 5.02 |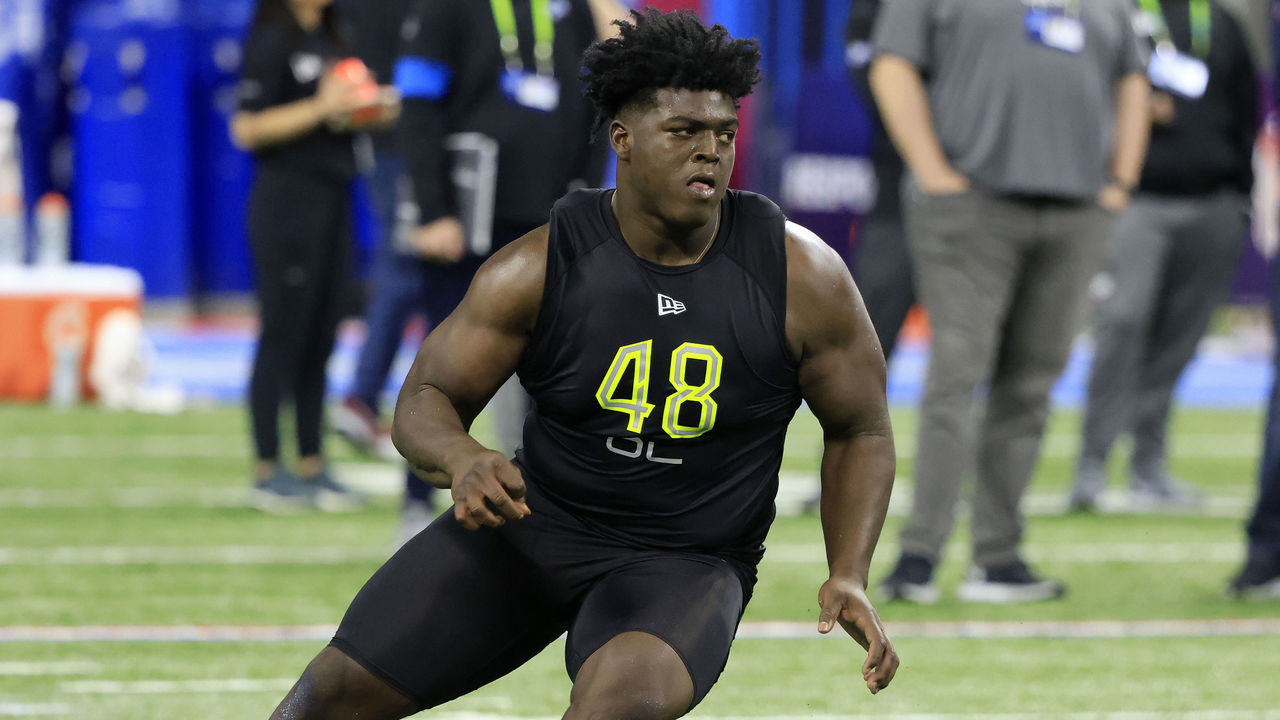 Smith is your classic mauler on the offensive line. His pro evaluation involves a bit of projection, as the technical aspects of his game must be refined. He could also be in for an immediate transition to guard, but the foundation is certainly there. The Tulsa product has some traits that just can't be taught: mainly, the physical ability to overwhelm his opponents regularly. Assuming NFL coaching can lead to some improved hand placement and footwork, Smith will have every opportunity to parlay those raw skills into a long, Pro Bowl-caliber career.
10. Daniel Faalele
| School | Height | Weight | 40 time |
| --- | --- | --- | --- |
| Minnesota | 6'8 | 384 | DNP |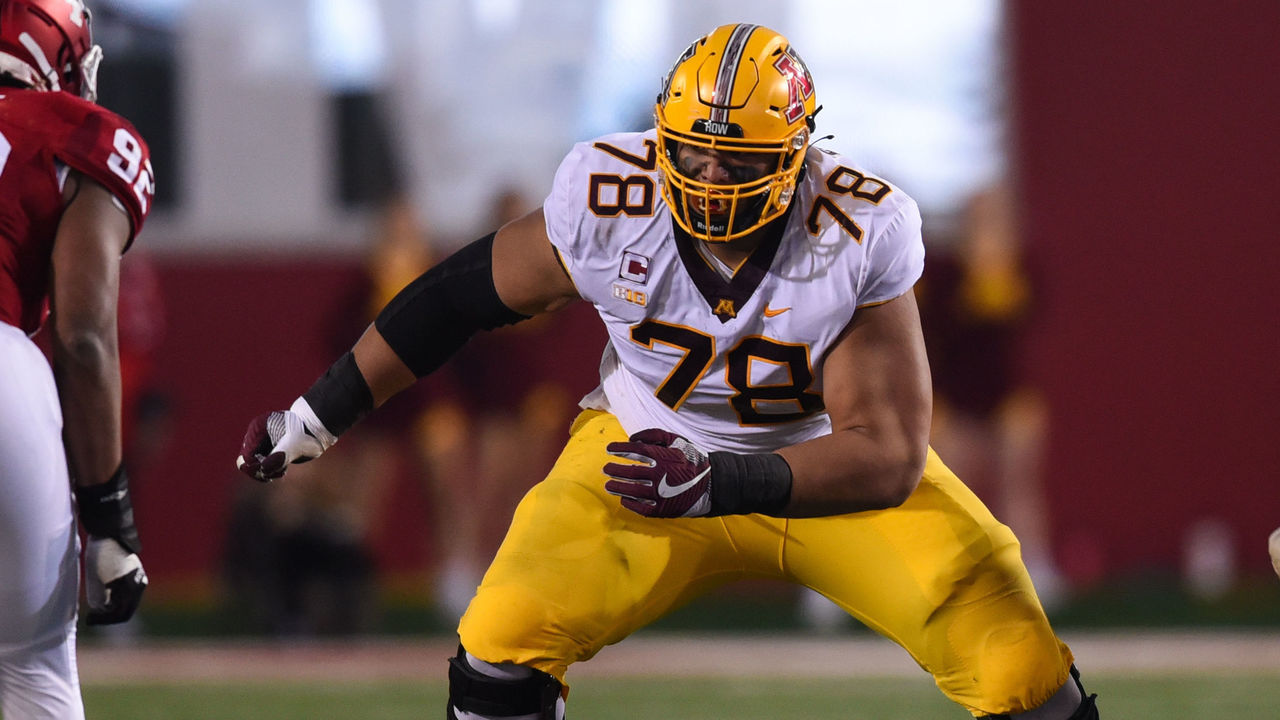 An imposing presence at 6-foot-8, 384 pounds, Faalele will be one of the NFL's biggest players when he sets foot on the field as a rookie. His size and length, along with the accompanying strength, give him the foundation of an outstanding skill set. And considering he's still relatively new to football, he may only just be tapping into his potential. Faalele should be an impact run-blocker from the jump. Speed to the edge might be an issue in pass protection early on, but there won't be many defenders who can beat him with power. In a class filled with top offensive line talent, the upside he brings to that second tier is incredibly intriguing.
Other notable prospects
Dylan Parham (Memphis)
Abraham Lucas (Washington State)
Nicholas Petit-Frere (Ohio State)
Cole Strange (Chattanooga)
Logan Bruss (Wisconsin)
Comments
✕
2022 NFL Draft prospect rankings: Offensive line
  Got something to say? Leave a comment below!