2022 NFL Draft prospect rankings: Running Backs
Photo illustration by Nick Rou/theScore
theScore's Dan Wilkins, Justin Boone, and Daniel Valente break down the 2022 NFL Draft with rankings and analysis for the prospects available at every position.
Top 50
QB | RB | WR | TE | OL
DL | EDGE | LB | CB | S
Running Backs
1. Breece Hall
| School | Height | Weight | 40 time |
| --- | --- | --- | --- |
| Iowa State | 5'11 | 217 | 4.39 |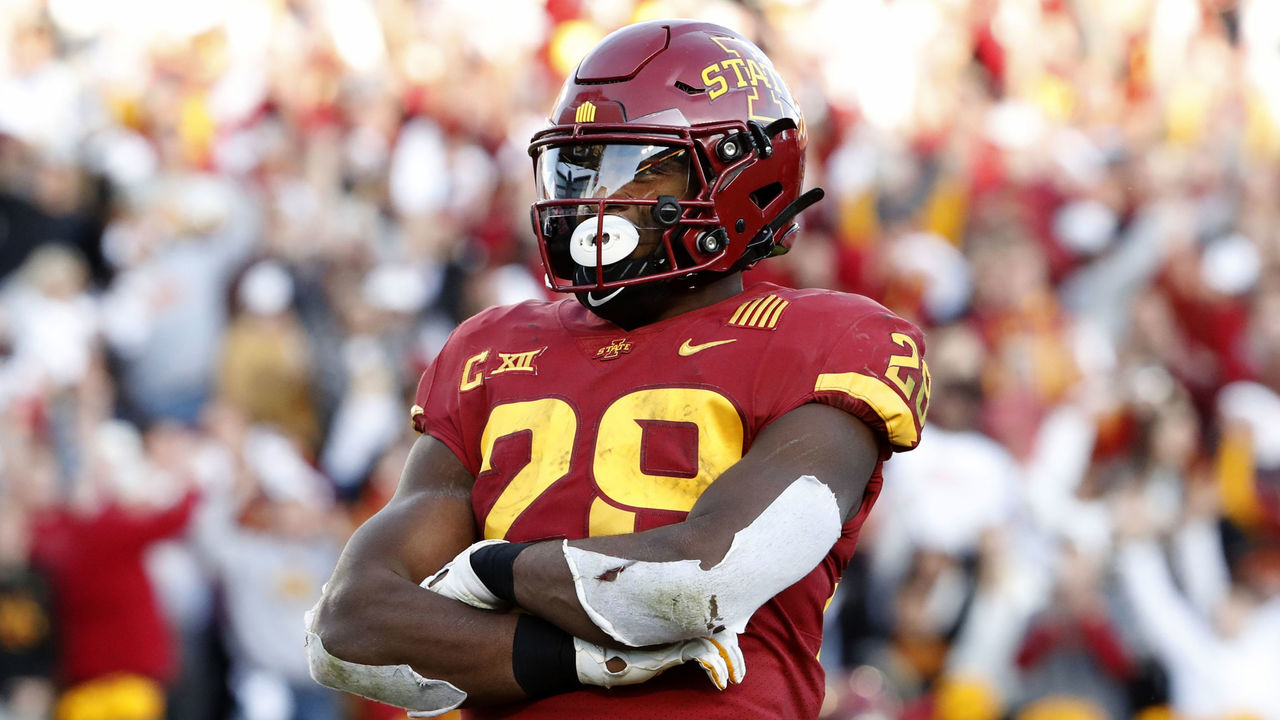 This year's running back class is top-heavy, with a few high-ceiling prospects and a long list of ball carriers who project as average contributors at the next level. Hall is by far the most intriguing player in the group after averaging 1,763 yards from scrimmage and 23 touchdowns over the last two seasons behind a subpar offensive line. He followed that up with a dominant performance at the NFL combine, resulting in the seventh-best relative athletic score (RAS) a runner has posted since 1987. He offers a near-complete profile with the explosiveness, physicality, and sufficient pass-catching chops to be a star in the pros.
Fantasy outlook: The 20-year-old will be selected in the top 50 and should step into a high-volume role right away. With that kind of draft capital propelling a player of his caliber, he'll be an immediate fantasy starter and a potential RB1 option.
2. Kenneth Walker III
| School | Height | Weight | 40 time |
| --- | --- | --- | --- |
| Michigan State | 5'9 | 211 | 4.38 |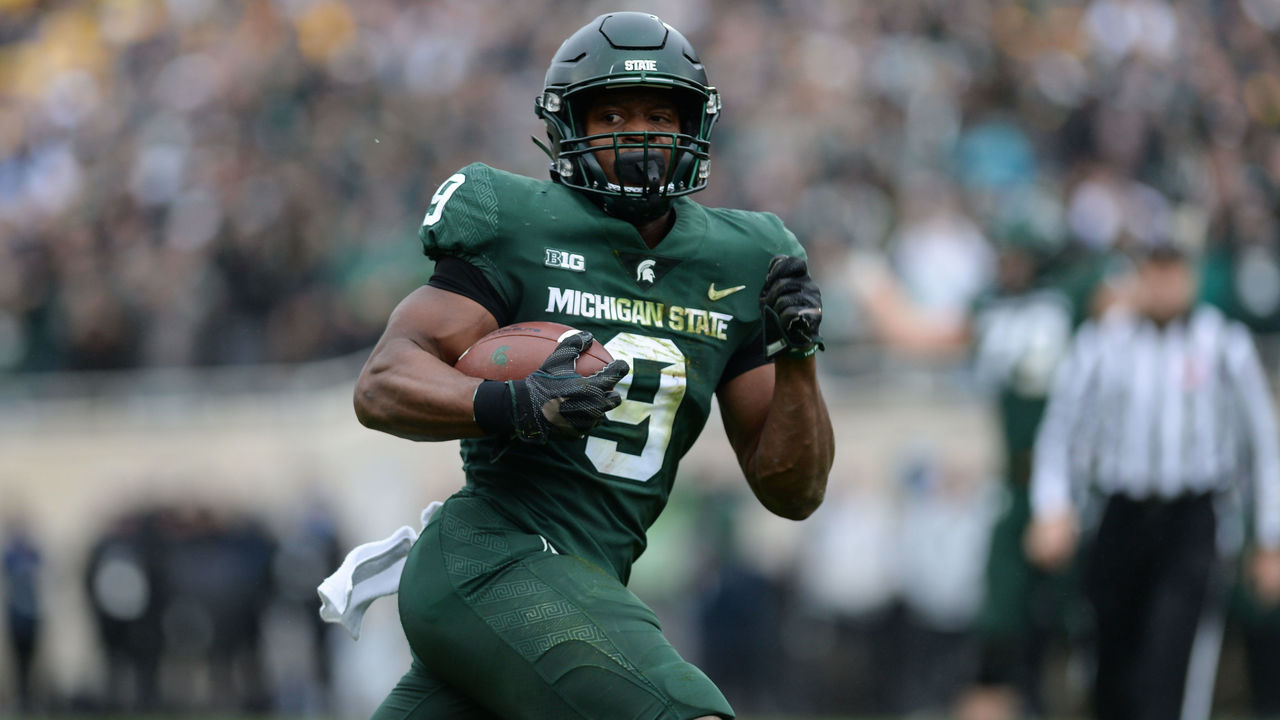 Walker is an impressive ball carrier with the tools to be an early-down stud in any system. Arm tackles aren't going to get the job done against his compact frame and he has the burst and power to consistently get to the second level, where he's a nightmare to deal with in space. The main knock against him is a lack of passing-down work, which doesn't mean he's incapable of excelling in that area - it just means we haven't seen him do it. If Walker can convince NFL coaches he's up for the challenge as a receiving threat and pass protector, his ceiling will be much closer to that of the top back in this class, Hall.
Fantasy outlook: Until Walker earns targets, his fantasy projection comes with an asterisk. Even someone like Nick Chubb, who is arguably the best pure runner in the NFL, has seen his value depressed by a limited role in the receiving game. Others like J.K. Dobbins and Damien Harris have also been held back in fantasy due to their infrequent opportunities through the air. The bottom line: Walker needs to develop as a pass-catcher/blocker to unlock his fantasy potential. His landing spot will give us some indication of the odds that development will happen, but if it doesn't occur, his fantasy ceiling will be restricted to an RB2.
3. Isaiah Spiller
| School | Height | Weight | 40 time |
| --- | --- | --- | --- |
| Texas A&M | 6'0 | 217 | 4.63 |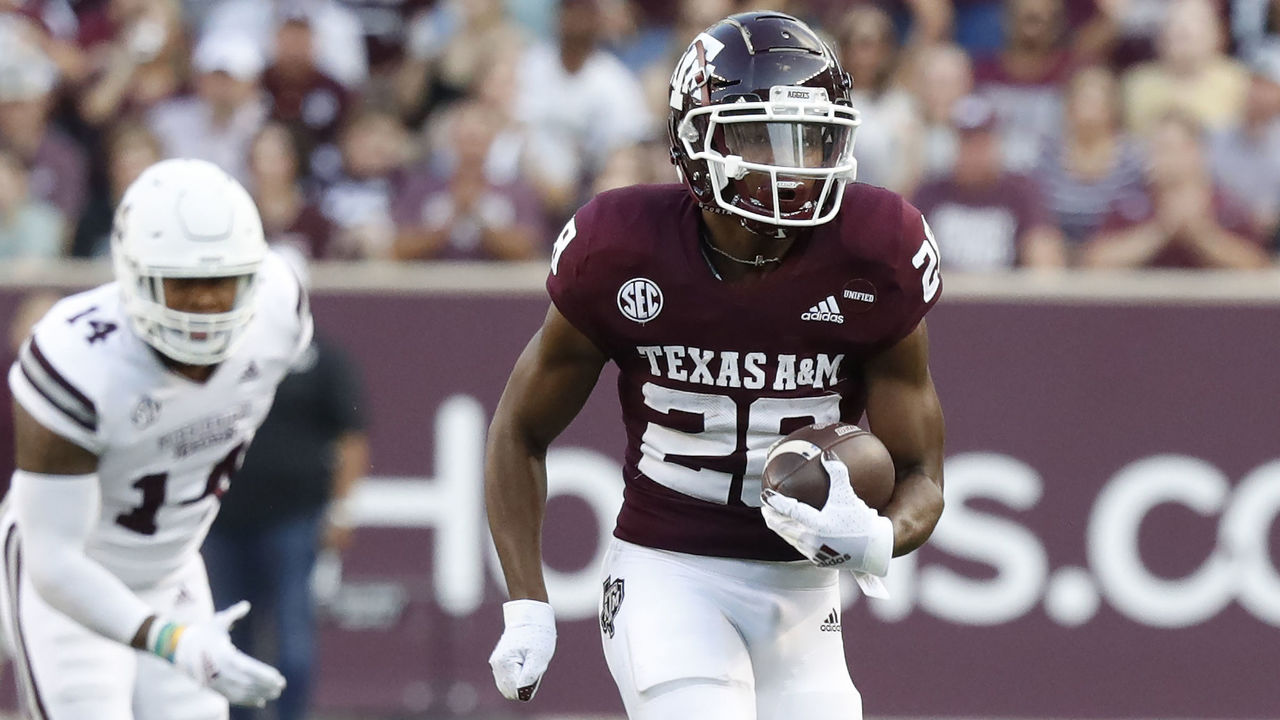 Once considered a contender to be the top back in this class, Spiller's stock dropped massively after he struggled with athletic testing at the NFL combine (and, to a lesser extent, at his pro day). However, we haven't soured on him as an NFL prospect, because on the field, he doesn't look like he's running in sand. The 20-year-old might lack true home-run speed, but he presents a nice blend of vision and lateral quickness that enables him to make cuts without gearing down significantly. He's an instinctive runner with solid pass-catching skills who's capable of being a legitimate three-down back for his next club.
Fantasy outlook: Draft capital is everything for Spiller's fantasy outlook. As long as he gets selected on Day 2 - as many have suggested will still be the case - fantasy managers should feel confident he'll get a chance to produce in a lead-back role. The negativity about his combine performance has created value. Just understand that his upside will likely be capped as more of a high-end fantasy RB2.
4. Zamir White
| School | Height | Weight | 40 time |
| --- | --- | --- | --- |
| Georgia | 6'0 | 214 | 4.40 |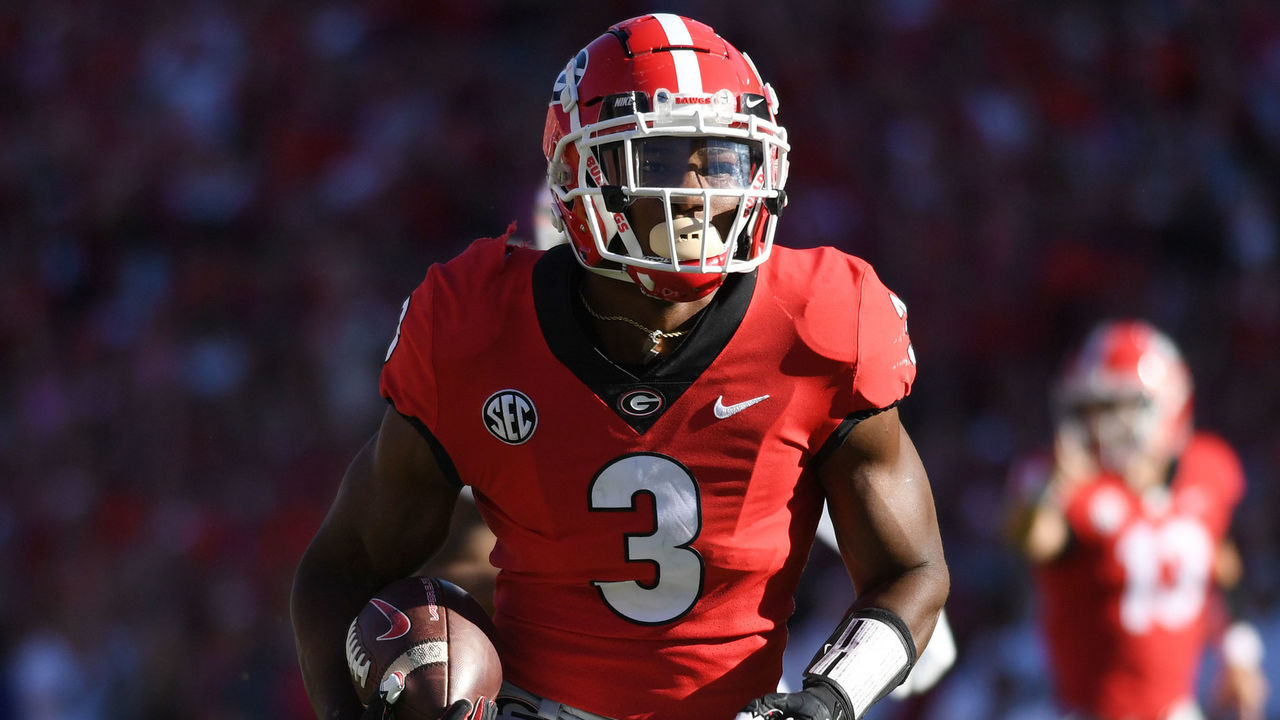 White is a tough back who isn't afraid to lower his shoulder and use his legs to battle for more yards. Though he doesn't have the wiggle to make many people miss, he hits the hole hard and can use his cutback ability to punish defenses. Georgia used him sparingly on passing downs, which will probably continue in the pros. It's worth noting that the 22-year-old has a pair of torn ACLs on his resume, but the most recent one occurred in 2018. He's since shown plenty of explosiveness and athleticism, including a speed score in the 96th percentile. The bigger concern might be the long-term outlook for his knees, and we likely won't know about that unless he falls in the draft or his medicals are released.
Fantasy outlook: While White is a very enticing real-life back, his limited talents as a pass-catcher diminish his fantasy worth. Last season, the top-12 fantasy backs all had at least 37 receptions. By comparison, White had just 17 catches combined during his three campaigns with the Bulldogs. He'll need a sizeable touchdown total to overcome likely being limited to an early-downs role, and that's hard to project until we know his landing spot.
5. Brian Robinson Jr.
| School | Height | Weight | 40 time |
| --- | --- | --- | --- |
| Alabama | 6'2 | 225 | 4.53 |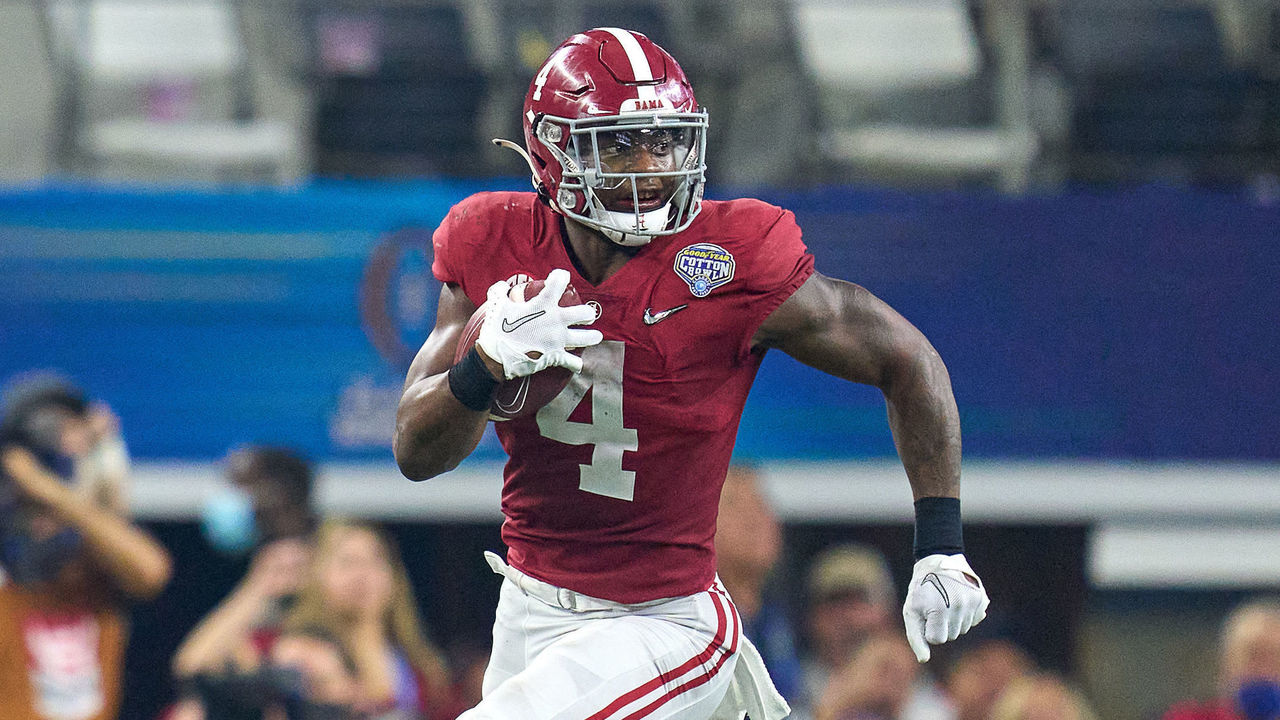 Robinson is a pro-ready downhill runner who's on the older side for a running back prospect at 23. It's fair to question whether he can develop much at the next level, but he has the traits of a solid contributor to an NFL backfield. His quick feet are surprising at his size and he offers baseline production as a pass-catcher. His skills as a blocker should also help him earn playing time as a rookie. At worst, he'll settle in as a short-yardage specialist capable of handling early-down duties when thrust into the starting lineup.
Fantasy outlook: We've encouraged treating Alabama backs on a case-by-case basis over the years, since more than a few big-time college producers from the Crimson Tide backfield have struggled in the pros when the deck wasn't stacked in their favor. For every Derrick Henry, Josh Jacobs, or Najee Harris, there's a Trent Richardson, Eddie Lacy, or Bo Scarbrough. Robinson lands somewhere in the middle: He's unlikely to turn into a star, but he should have a long career as a committee option or overqualified backup.
6. James Cook
| School | Height | Weight | 40 time |
| --- | --- | --- | --- |
| Georgia | 5'11 | 199 | 4.42 |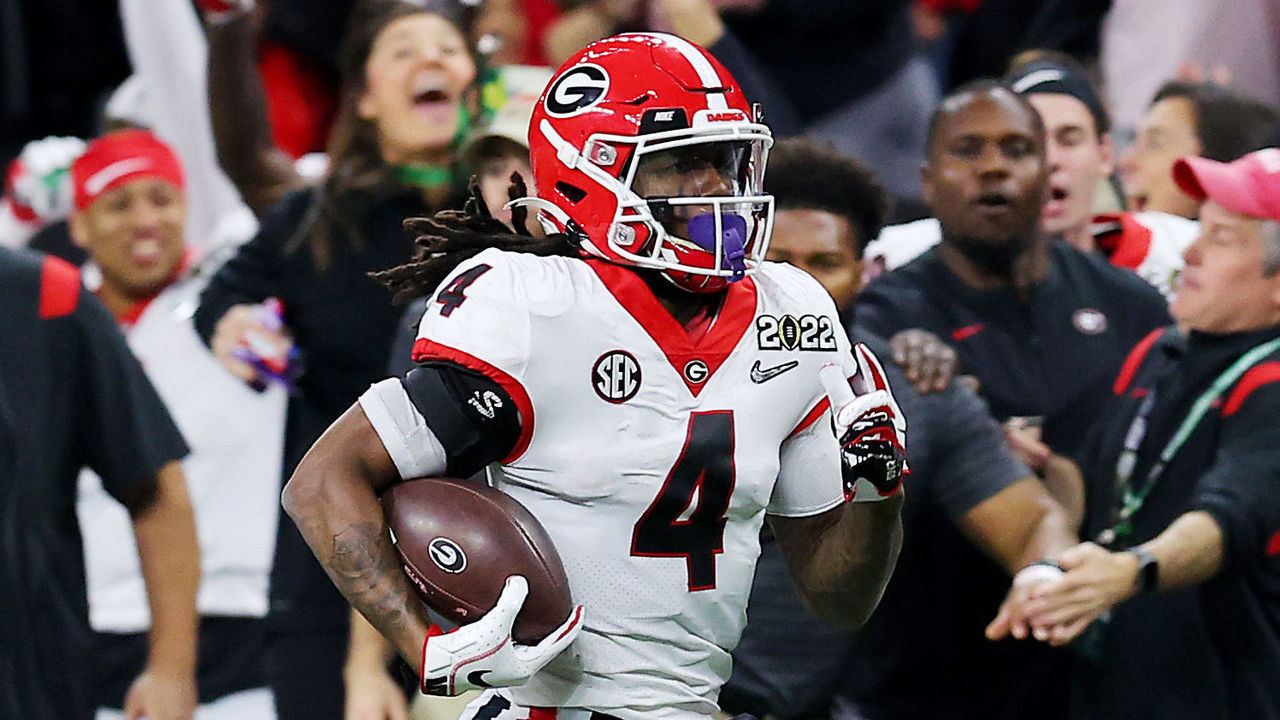 Cook is an exceptional pass-catching back who can be flexed into the slot or out wide, presenting a serious mismatch for linebackers. Though his straight-line speed is scary, he tends to go down easily when a defender gets a piece of him. As Georgia figured out, he's a weapon best deployed in a committee rather than a full-time lead back like his brother Vikings star Dalvin Cook. James actually scored better in athletic testing than Dalvin, but his skill set and smaller frame make him unlikely to emerge as a high-volume player.
Fantasy outlook: Similar to his NFL comp, there's a reason why Cook split touches in college - his size. The 22-year-old Cook weighed in under 200 lbs, which will make it a challenge for him to hold up against NFL defenders. Hopefully, he finds a home on a team with a creative coordinator willing to capitalize on his versatility. If he does, he might warrant consideration as RB3/flex option in PPR formats.
7. Rachaad White
| School | Height | Weight | 40 time |
| --- | --- | --- | --- |
| Arizona State | 6'0 | 214 | 4.48 |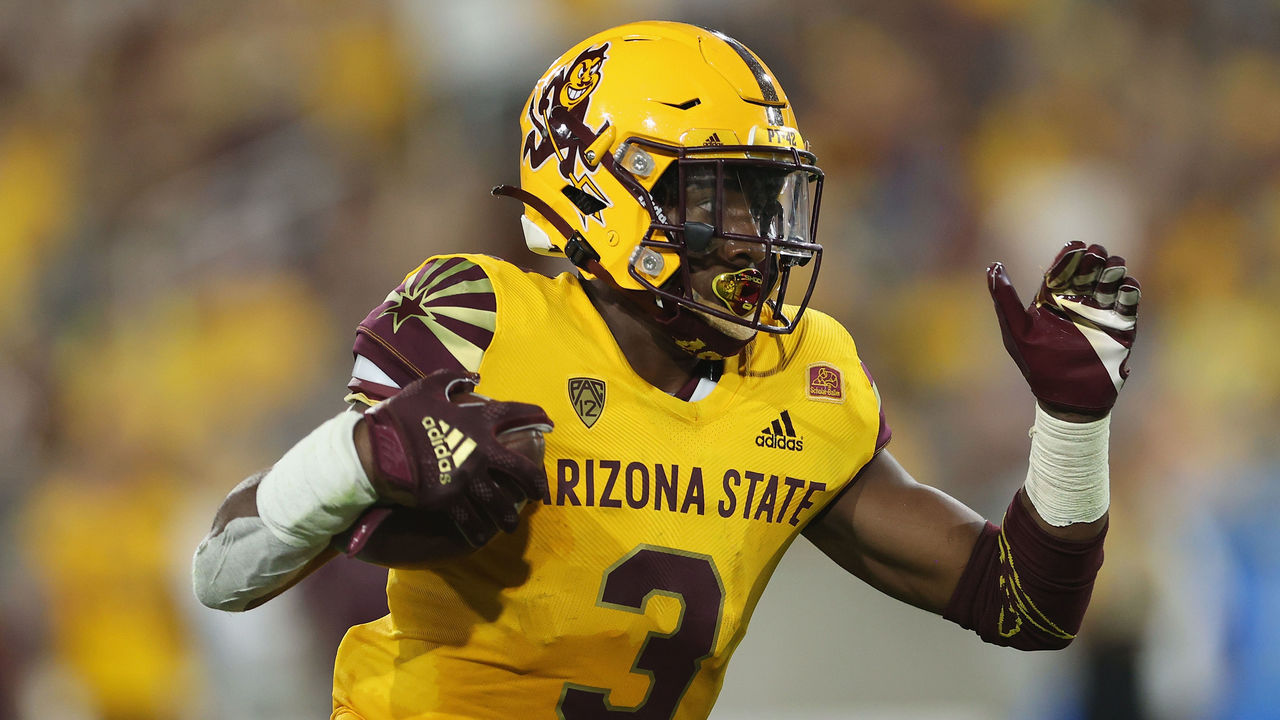 White is the classic type of back who's good at many things without being exceptional in any one area as a ball carrier. He's a fun player to watch thanks to the wide variety of moves he uses to try to evade defenders. But that's necessary because he lacks the physicality and strength to break many tackles. His patient, upright running style also makes him vulnerable to big hits. Pass-catching is his most desirable trait - he's got a soft set of hands that hauled in 43 receptions his senior year. However, he doesn't exhibit consistency as a pass protector, which could damage the trust of his new coaches. The overall package appears to fit an eventual backup.
Fantasy outlook: We were higher on White early in the draft process, but the more you pore over his average profile, the more doubts creep in. Perhaps that's why rumors suggest NFL front offices might not be as high on White as the fantasy community. His chances of rising to starter status are slim, especially if he falls to Day 3. An intriguing landing spot or higher than expected draft capital are the only things that could push White back up our board.
8. Pierre Strong Jr.
| School | Height | Weight | 40 time |
| --- | --- | --- | --- |
| South Dakota State | 5'11 | 207 | 4.37 |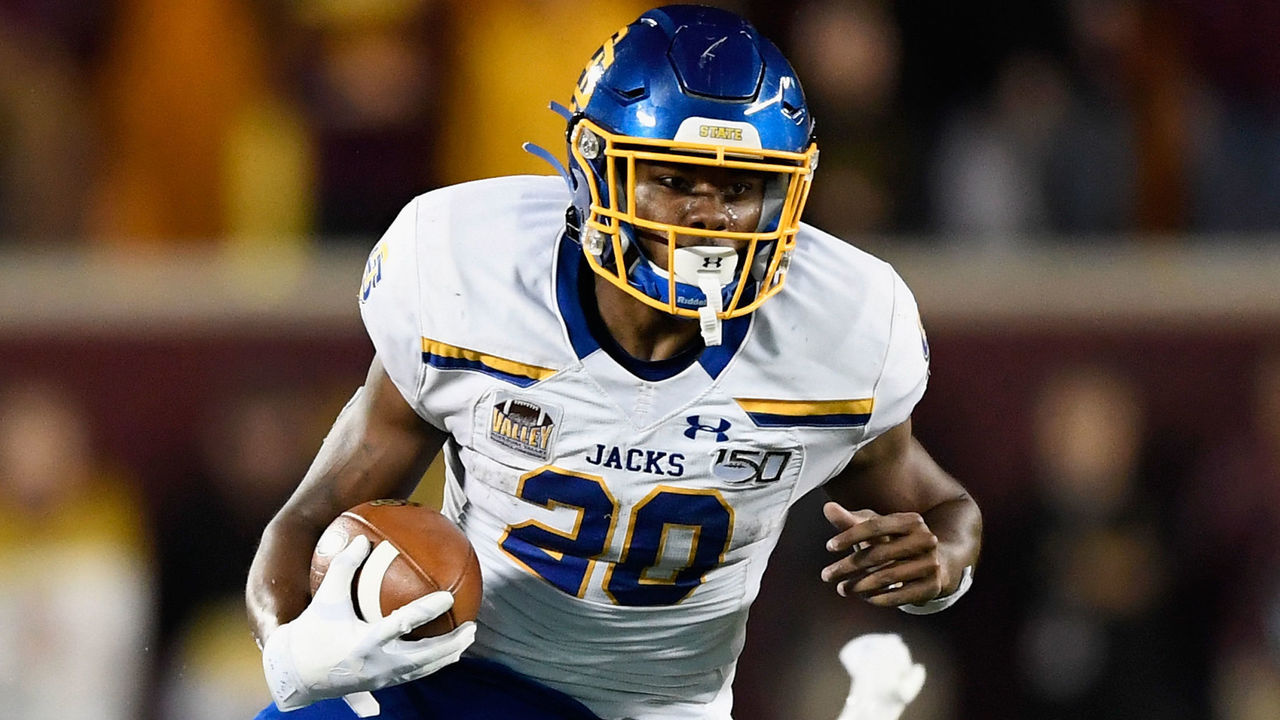 Strong might be the biggest sleeper RB in this draft class if he ends up on an offense that runs an outside-zone system and gets an opportunity to earn touches. Though slightly undersized, he's lightning quick and can score from anywhere on the field if he's given enough of a lane to hit his stride. On that note, he needs competent blocking to help him reach his potential, since he's not the most elusive and he doesn't break many tackles. He also showed enough as a pass-catcher (56 catches over the last three seasons) to suggest that will translate to the pros.
Fantasy outlook: Strong is worth keeping an eye on in case he lands in a favorable situation. While he's not as talented as Elijah Mitchell, he could have a similar track to success as a late-round pick whose value is boosted by his new club. It's still a long shot, but he deserves to be on the list of upside running backs we'll reassess after the draft.
9. Dameon Pierce
| School | Height | Weight | 40 time |
| --- | --- | --- | --- |
| Florida | 5'10 | 218 | 4.59 |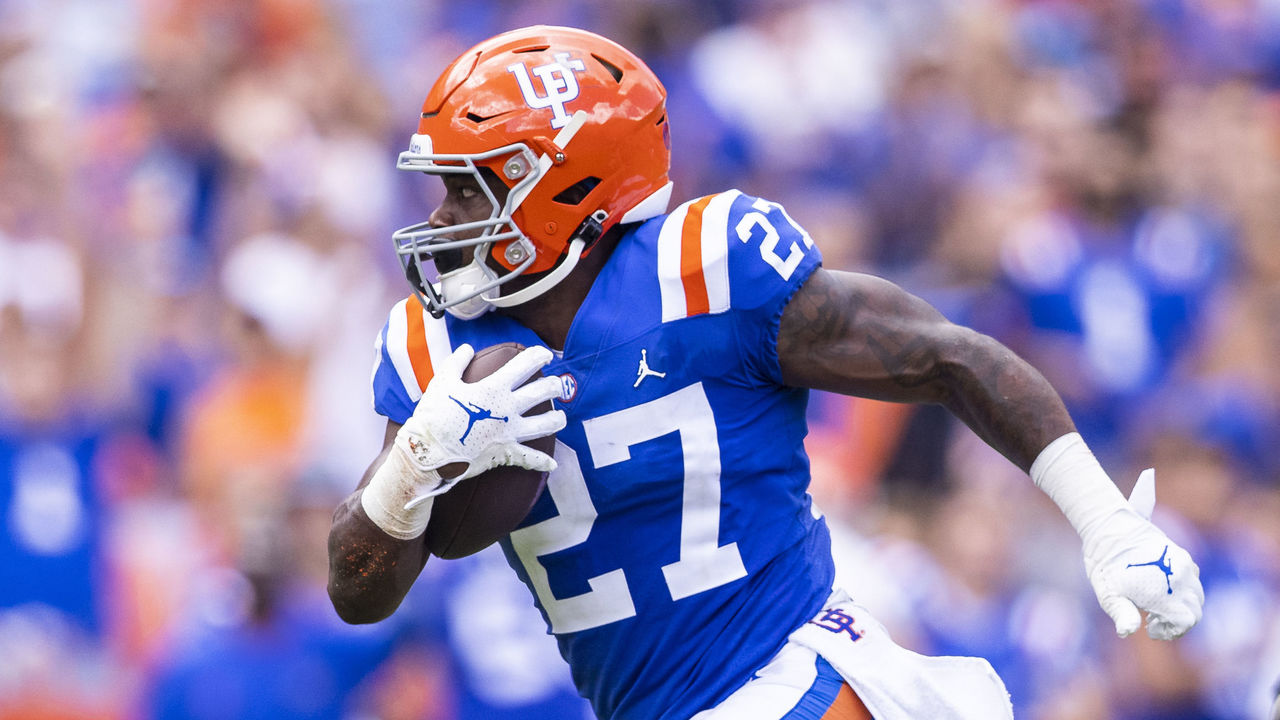 Pierce is an enigmatic prospect with what appears to be a deep well of untapped upside. For whatever reason, the Florida coaching staff kept his role extremely limited. The 22-year-old was held under 10 touches in eight of his 13 appearances in 2021 and never had more than 106 carries in a single season. Even so, he seems to have the tools to be capable of much more. He sports a compact and powerful frame that performs well when it encounters contact. While not a big-play threat, he displayed a nose for the end zone, scoring 16 times on 119 touches as a senior. It's a bit of a projection, but Pierce is capable of delivering a lot more than what we've seen so far. Whether he gets a shot to flourish in the pros depends on the depth chart he joins.
Fantasy outlook: A natural runner and steady pass-catcher like Pierce could see his stock soar if he finds a team with an opening in its backfield. Fantasy managers need to familiarize themselves with him while acknowledging the bust risk attached to a profile that's lacking in college production.
10. Tyler Badie
| School | Height | Weight | 40 time |
| --- | --- | --- | --- |
| Missouri | 5'8 | 197 | 4.45 |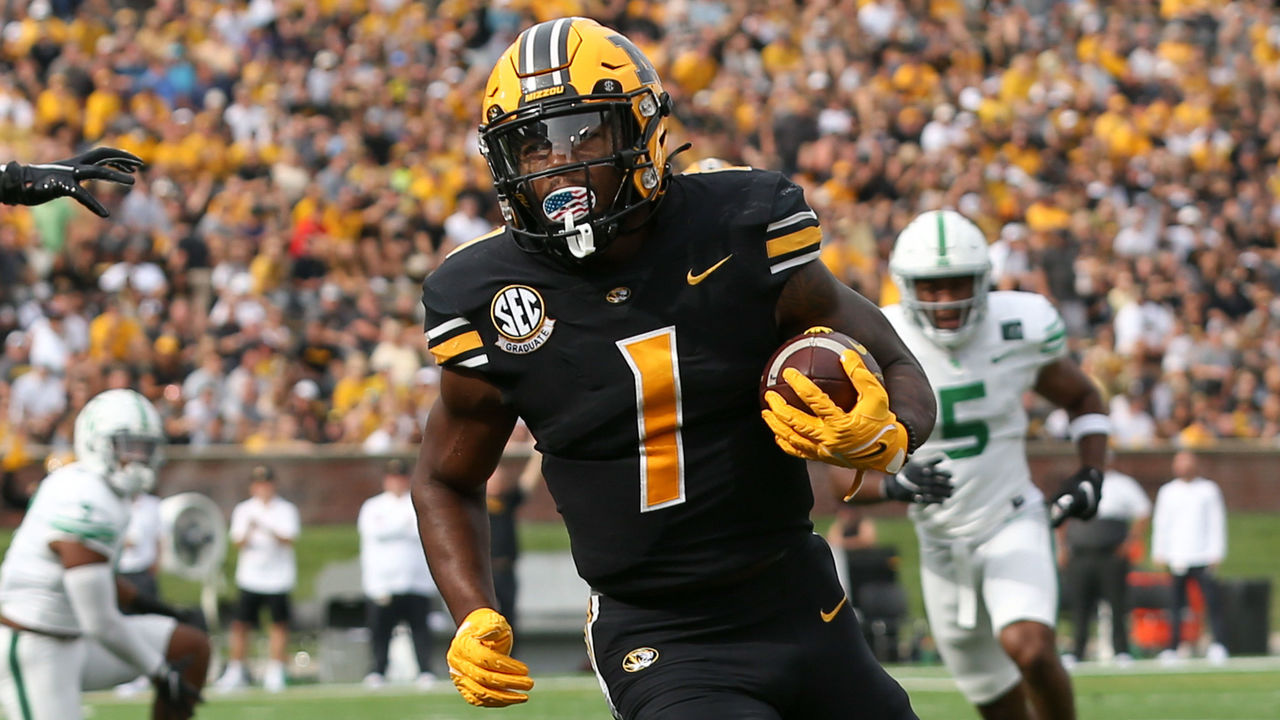 In his lone season as the starter at Missouri, Badie racked up 1,604 rushing yards, 54 catches, 330 receiving yards, and 18 total touchdowns. The 22-year-old did benefit from playing in a zone scheme and would ideally find a similar fit in the pros. But it's hard not to get drawn in by his big-play ability on the ground or through the air. He's a feisty and relentless runner who unfortunately comes with a smaller build that might prevent him from being a foundation back in the NFL. That said, he was able to handle a big workload (322 touches) in 2021 - he just doesn't project as being able to carry that load long term.
Fantasy outlook: Badie is a name that fantasy managers will be seeing for a while. Due to his size, he may never produce a league-winning fantasy campaign, but much like his NFL comp, he'll be able to shine for stretches as an emergency starter. Dynasty managers would be wise to stash him on their bench, and you can be certain he'll make an appearance as a hot waiver pickup in re-draft leagues at some point.
11. Kyren Williams
| School | Height | Weight | 40 time |
| --- | --- | --- | --- |
| Notre Dame | 5'9 | 194 | 4.65 |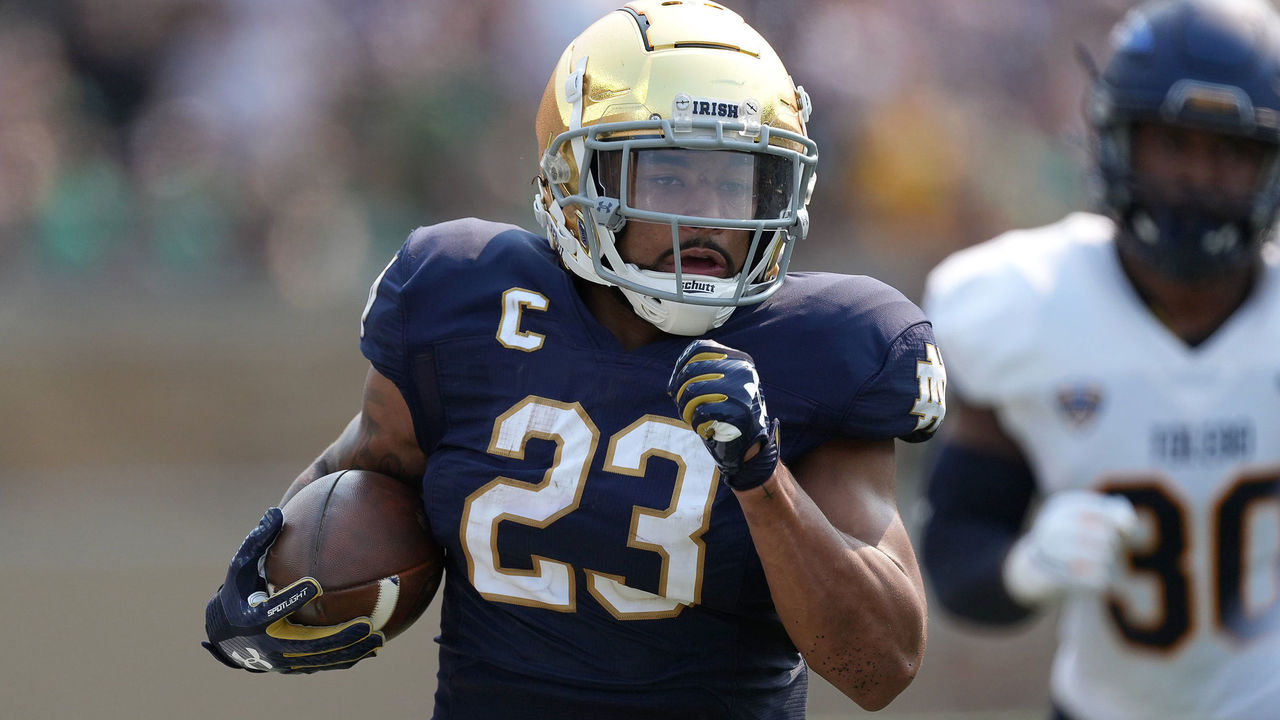 When evaluating smaller pass-catching specialists like Williams, you want to ensure they meet a certain athletic threshold to help give them an edge against bigger, faster NFL defenders. Unfortunately, Williams couldn't have tanked the NFL combine testing any worse than he did. In addition to his 4.65-second time in the 40-yard dash, he finished with disappointing marks in every other event, resulting in the lowest speed score in this class. His talent as a receiving threat and quarterback protector, along with his on-field savvy, will still get him drafted, but he faces an uphill battle to carve out a weekly role in the NFL.
Fantasy outlook: Williams may still emerge as a contributor on a real-life offense if he's paired with a play-caller who can get the most out of his unique skill set. Unfortunately, profiles like his have a low ceiling as fantasy assets. You should be aiming for backs with higher upside.
12. Tyrion Davis-Price
| School | Height | Weight | 40 time |
| --- | --- | --- | --- |
| LSU | 6'0 | 211 | 4.48 |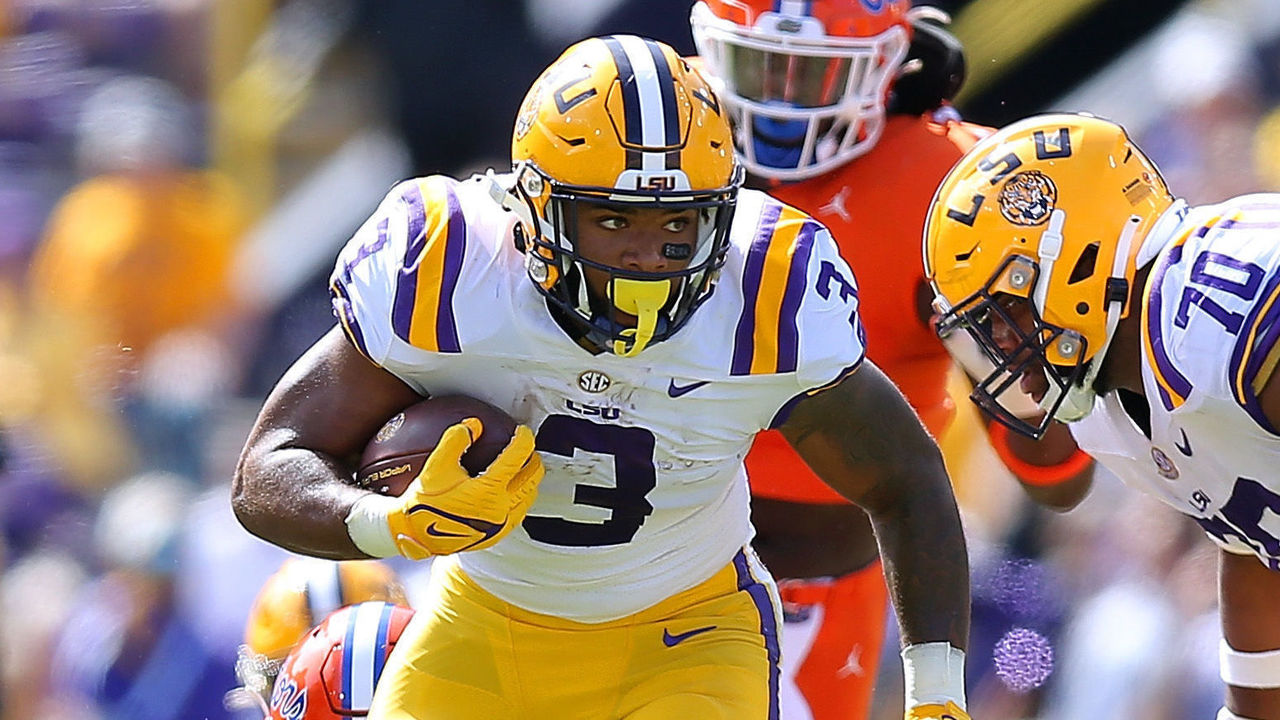 Davis-Price has an excellent size-speed combo and isn't afraid to invite contact, often winning at the collision point en route to a few more yards. While he won't be confused with an elite NFL talent, TDP is a physical grinder who will wear down defenses as the game goes along. He's also one of the best pass-blockers in this class, which will help him stick on a roster. The 21-year-old compares well to Jamaal Williams - an average veteran back who's excelled in pass protection and contributed as a valuable depth piece on two different squads now.
Fantasy outlook: Davis-Price was one of our biggest risers throughout this process, and NFL talent evaluators are reportedly also warming up to him. Whenever we're talking about backs being drafted outside the first couple rounds, their landing spot is key to their potential fantasy success. But Davis-Price brings enough to the table to be on your radar.
13. Tyler Allgeier
| School | Height | Weight | 40 time |
| --- | --- | --- | --- |
| BYU | 5'11 | 224 | 4.60 |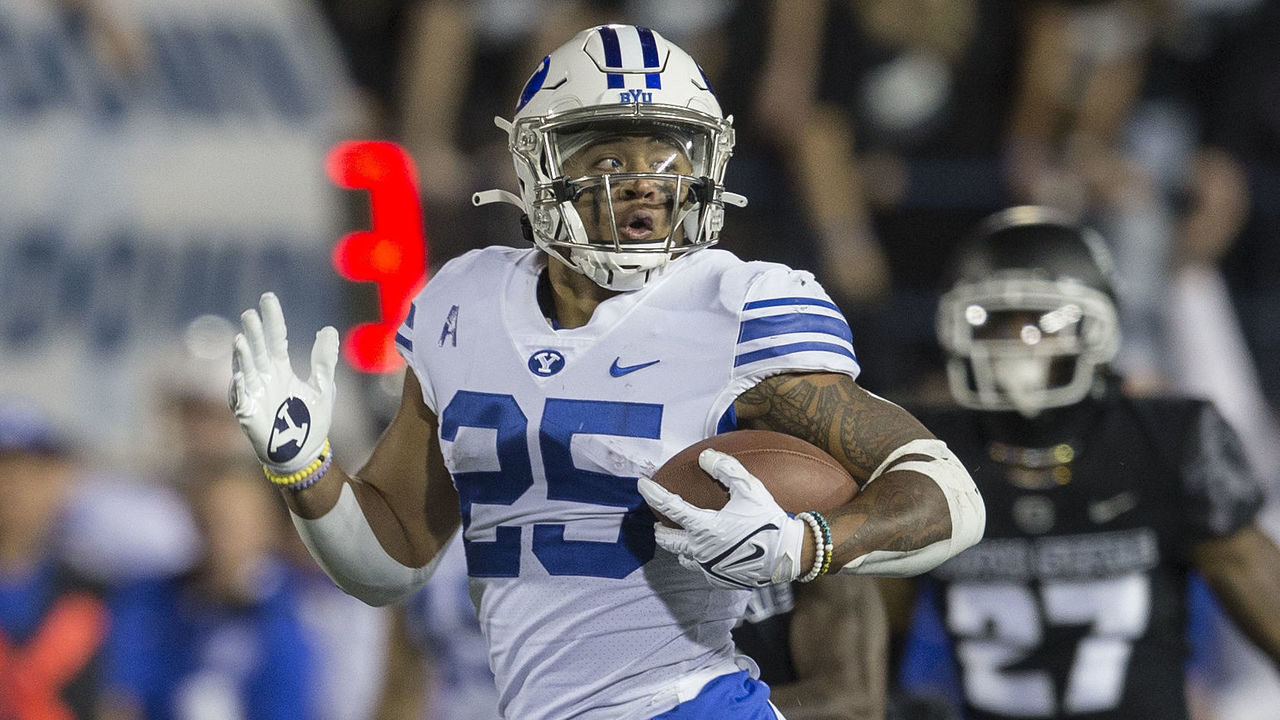 A decent prospect who amassed a ton of collegiate production, Allgeier projects as an all-around average back at the next level. Whether it's his top speed, his burst, or his power, the 22-year-old doesn't possess an elite trait that will guide him toward success in the pros, meaning he needs pure volume. His third-down skills leave a lot to be desired, and it's safe to wonder if an NFL coaching staff will ever trust him in those situations. He'll max out as a backup against the tougher level of competition.
Fantasy outlook: As you can tell by the NFL comps on this list, the 2022 class is not the strongest group of RB prospects, and we're venturing into the range that's unlikely to produce many difference-makers. Still, it's important to know the profiles for these backs in the event they do get increased opportunity due to an injury on their team. Sadly, Allgeier's pedestrian profile suggests he'll be a roster clogger on your fantasy squads.
14. Jerome Ford
| School | Height | Weight | 40 time |
| --- | --- | --- | --- |
| Cincinnati | 5'10 | 210 | 4.46 |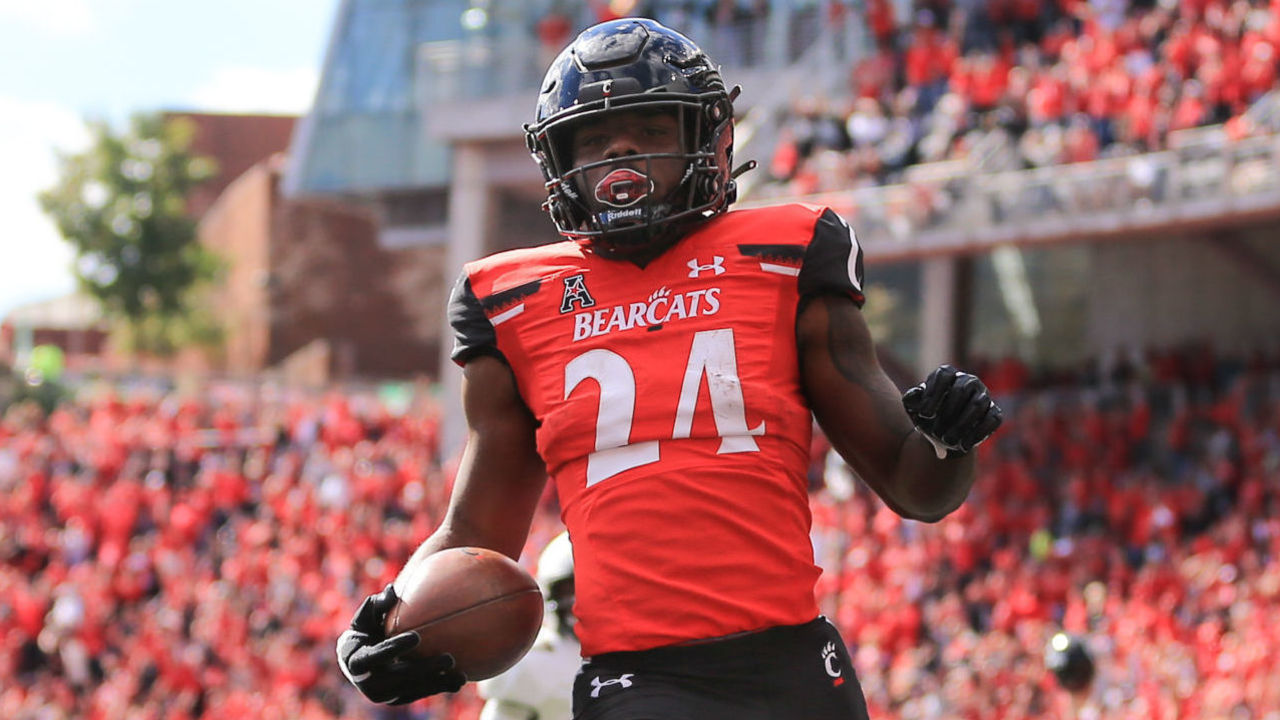 Ford transferred out of Alabama and it ultimately paid off in his monster 2021 campaign with the Bearcats. He still has a long way to go before he can establish himself as a quality NFL back, but it's within his range of outcomes. Ford can provide the size and athleticism that front offices are looking for. The question is: How much blank canvas gets filled in at the next level? The 22-year-old needs a coaching staff willing to help refine his game and teach him the nuances of being a consistent ball carrier, but running back is often the one position where teams expect immediate results.
Fantasy outlook: Most backs who reach the NFL are talented enough to deliver when provided an opportunity, so it's possible Ford winds up in a scenario where he gets a chance at a full workload. However, without more development, the Cincinnati product projects to be an average talent and therefore a poor bet to become a notable fantasy asset.
15. Kennedy Brooks
| School | Height | Weight | 40 time |
| --- | --- | --- | --- |
| Oklahoma | 5'11 | 209 | 4.61 |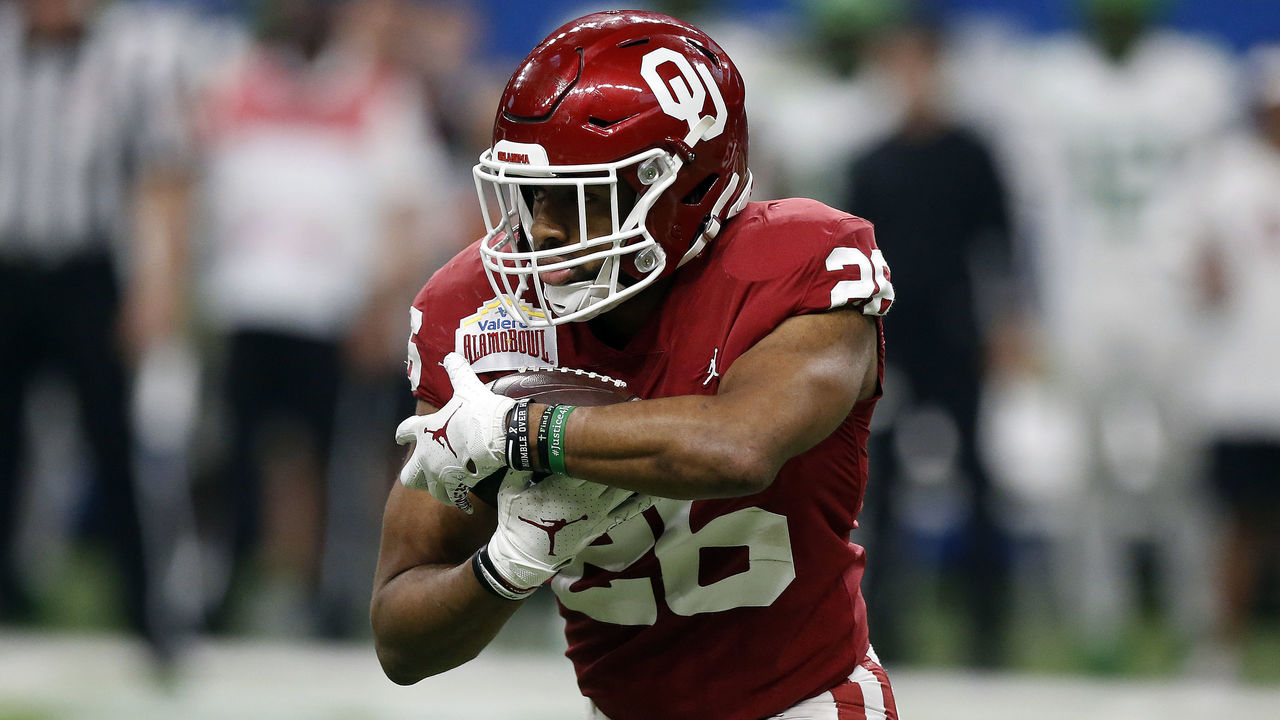 Brooks is a natural ball carrier who overcomes his lack of speed by finding other ways to gain an edge. He has good vision and understands the need to let blocks develop in front of him. He's also able to stay on his feet while breaking tackles thanks to his lower-body strength. Though he's a hard worker, Brooks doesn't play with an aggressive style - perhaps because he lacks high-end athleticism. If that leaves you wanting more, just know that he's likely close to maximizing his abilities, so he might not have another gear.
Fantasy outlook: Overall, Brooks will be a solid real-life addition to an offense and might pop up on the fantasy radar from time to time. We'll keep our expectations in check at this point in the rankings, where it's possible players might end up being undrafted free agents.
Other notable prospects
Kevin Harris (South Carolina)
Keaontay Ingram (USC)
Ty Chandler (North Carolina)
ZaQuandre White (South Carolina)
Zonovan Knight (NC State)
Jashaun Corbin (Florida State)
Isaih Pacheco (Rutgers)
Abram Smith (Baylor)
D'Vonte Price (Florida International)
Tyler Goodson (Iowa)
Hassan Haskins (Michigan)
Snoop Conner (Mississippi)
Jerrion Ealy (Mississippi)
Leddie Brown (West Virginia)
Trestan Ebner (Baylor)
Comments
✕
2022 NFL Draft prospect rankings: Running Backs
  Got something to say? Leave a comment below!