2022 NFL Draft prospect rankings: Defensive line
Photo illustration by Nick Roy/theScore
theScore's Dan Wilkins, Justin Boone, and Daniel Valente break down the 2022 NFL Draft with rankings and analysis for the prospects available at every position.
Top 50
QB | RB | WR | TE | OL
DL | EDGE | LB | CB | S
Defensive line
1. Jordan Davis
| School | Height | Weight | 40 time |
| --- | --- | --- | --- |
| Georgia | 6'6 | 341 | 4.78 |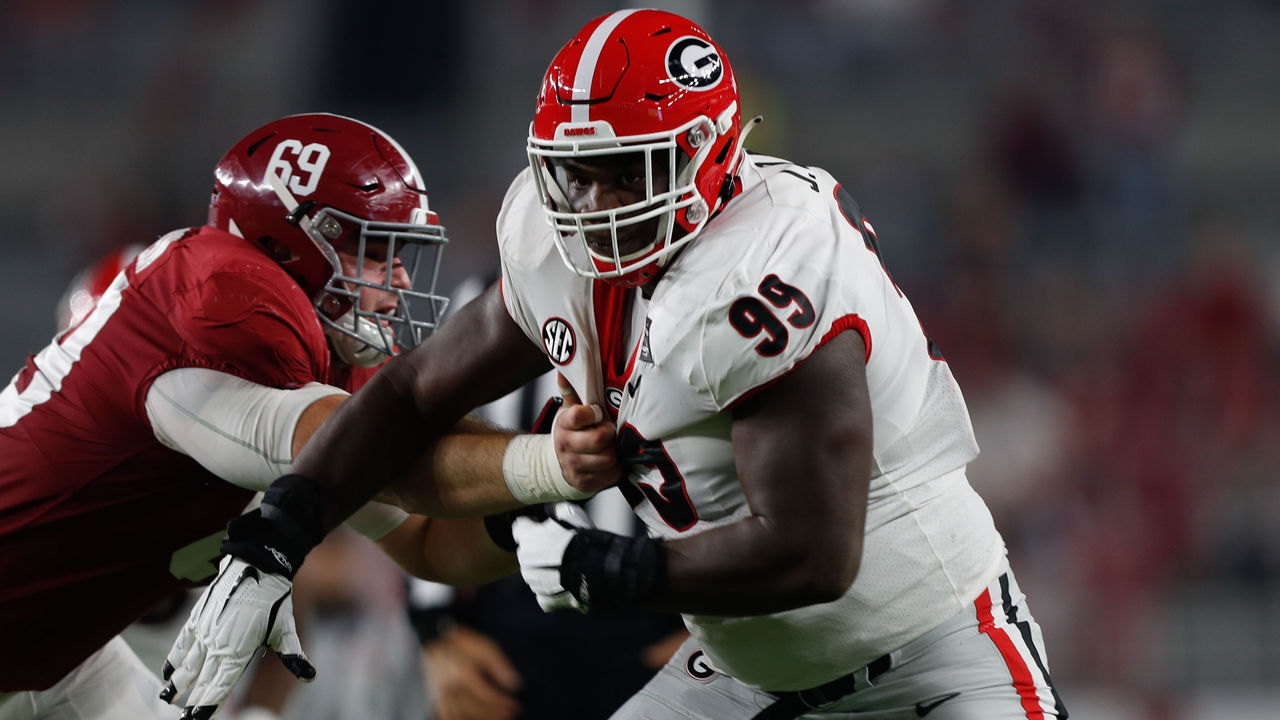 Davis is an absolute menace in the ground game. With a massive frame and freakish movement skills for his size - and his ability to find the ball, toss aside his block, and make a play - he can single-handedly destroy opponents' rushing attacks. Even if he offers nothing as a pass-rusher, a player this much of a nuisance on early downs is still worth an early pick. Davis' presence makes it easier to force third-and-longs, where the pass-rush can go to work. And if a ridiculous athletic profile hints at even a little bit of untapped potential for getting after the quarterback himself, watch out.
2. Devonte Wyatt
| School | Height | Weight | 40 time |
| --- | --- | --- | --- |
| Georgia | 6'3 | 304 | 4.77 |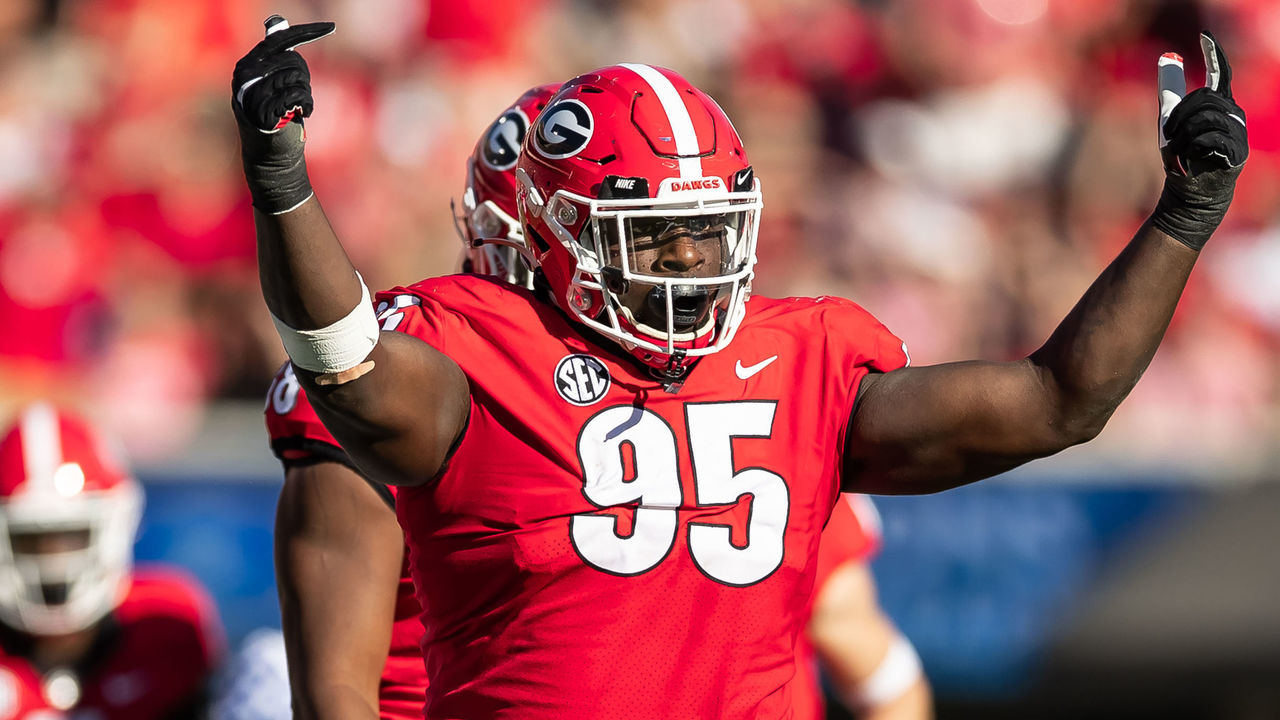 Production is always part of the equation, but in this case, you can safely go ahead and ignore it. Yes, ideally you'd like a first-round interior pass-rusher to have tallied more than five sacks across four seasons in college, especially as part of such a stacked defense. But you really don't have to strain to see how talented Wyatt is. Not only is he an impressive athlete for his size, but he enters the NFL with a pro-ready set of rush moves. Fewer designs to the edge will allow for more opportunities to go to work on guards, meaning the sack totals are going to come in bunches. Wyatt has a real chance to be one of the best players in this loaded defensive class.
3. Perrion Winfrey
| School | Height | Weight | 40 time |
| --- | --- | --- | --- |
| Oklahoma | 6'4 | 290 | 4.89 |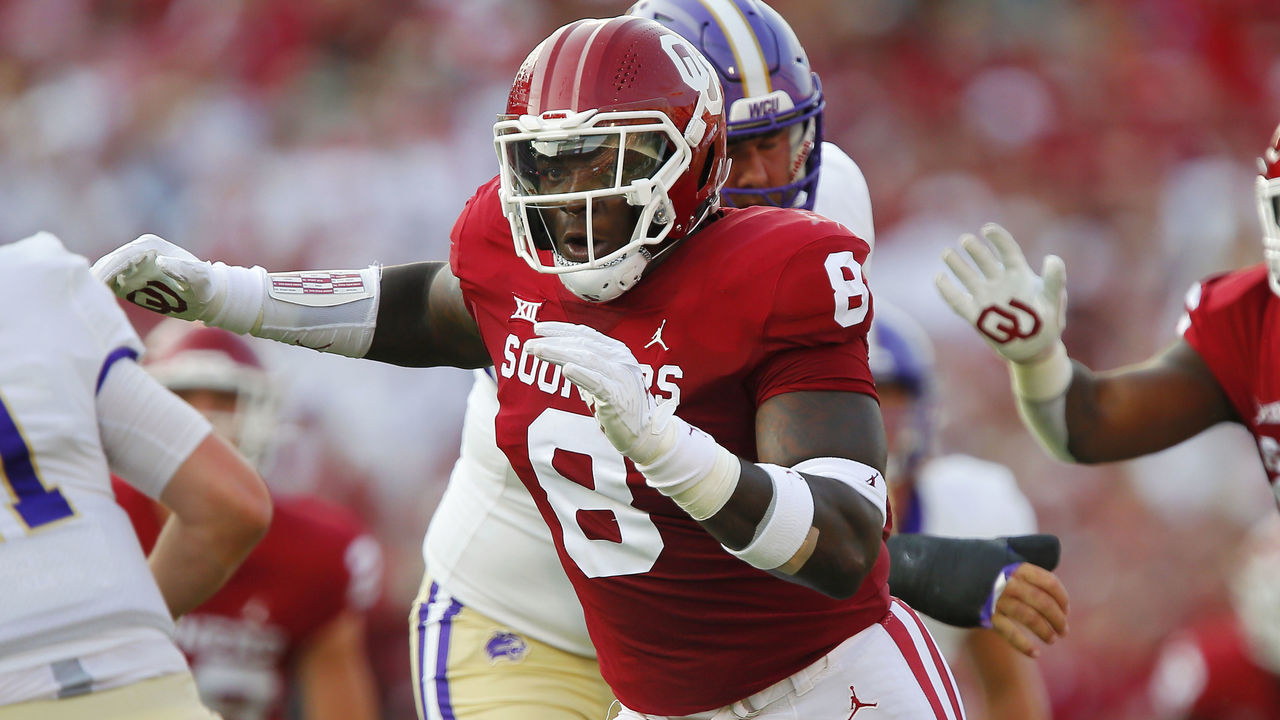 Playing in an Oklahoma defense that often miscast him as a nose tackle - not to mention the constant twists and stunts required from its defensive linemen - likely didn't do Winfrey's draft stock any favors. But his flashes hinted at far more upside than the stat sheet would indicate, and when he got to show scouts what he could do in one-on-one reps at the Senior Bowl, he put on a show. Even if he's limited to a pass-rush specialist role early on, Winfrey has all the traits to provide immense value as a nightmare matchup for guards on the inside. He can beat you with quickness, power, and a refined set of rush moves. Given the time to develop counter moves and adjust to a more traditional role, there's Pro Bowl upside in Winfrey's game.
4. Travis Jones
| School | Height | Weight | 40 time |
| --- | --- | --- | --- |
| Connecticut | 6'4 | 325 | 4.92 |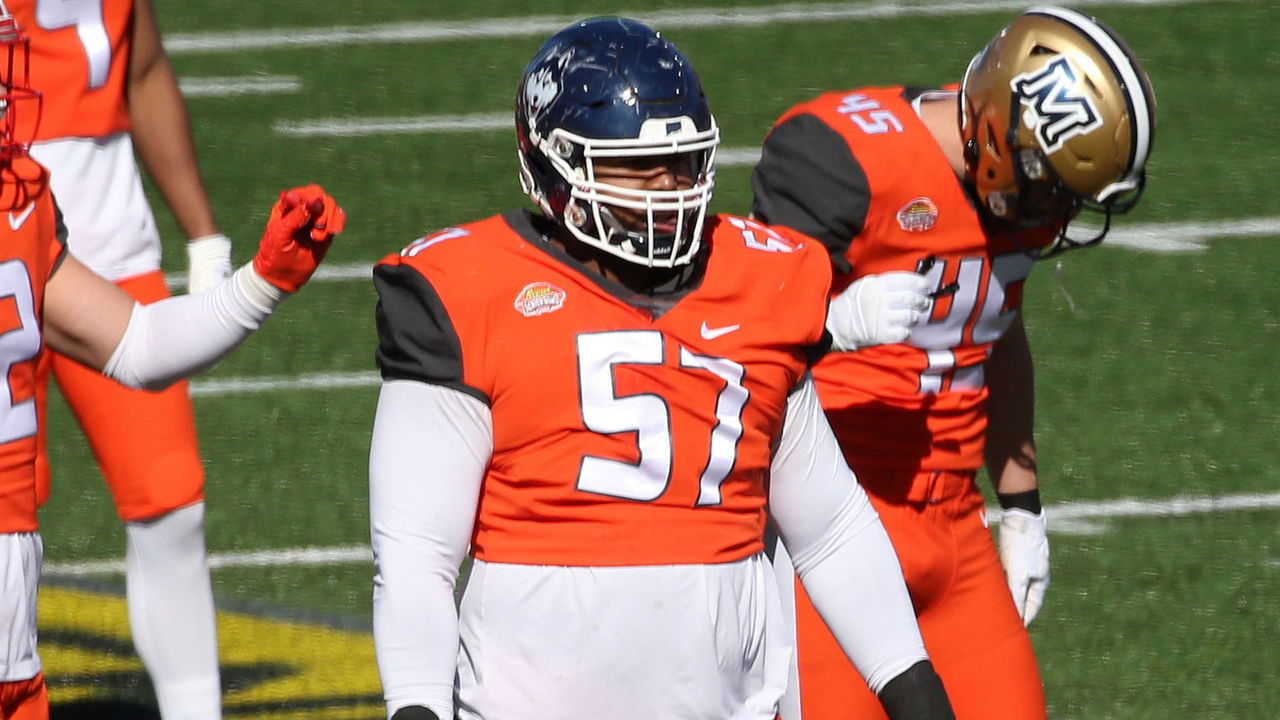 With the size and play strength to anchor in his spot, even against double teams, Jones is a nightmare to move off the line. That should translate despite a major jump in competition from the AAC. The question is whether his ability to get after the quarterback can, too. While he'll be advertised primarily as a dominant run defender, he was also a sneaky effective pass-rush threat on the inside at UConn. Jones has better lateral quicks than you'd expect, a more polished pass-rush repertoire than your typical nose tackle, and an impressive ability to counter when opponents stymie his initial rush. If he can offer a similarly well-rounded game at the next level, we'll all be wondering why someone didn't draft him earlier.
5. Logan Hall
| School | Height | Weight | 40 time |
| --- | --- | --- | --- |
| Houston | 6'6 | 283 | 4.88 |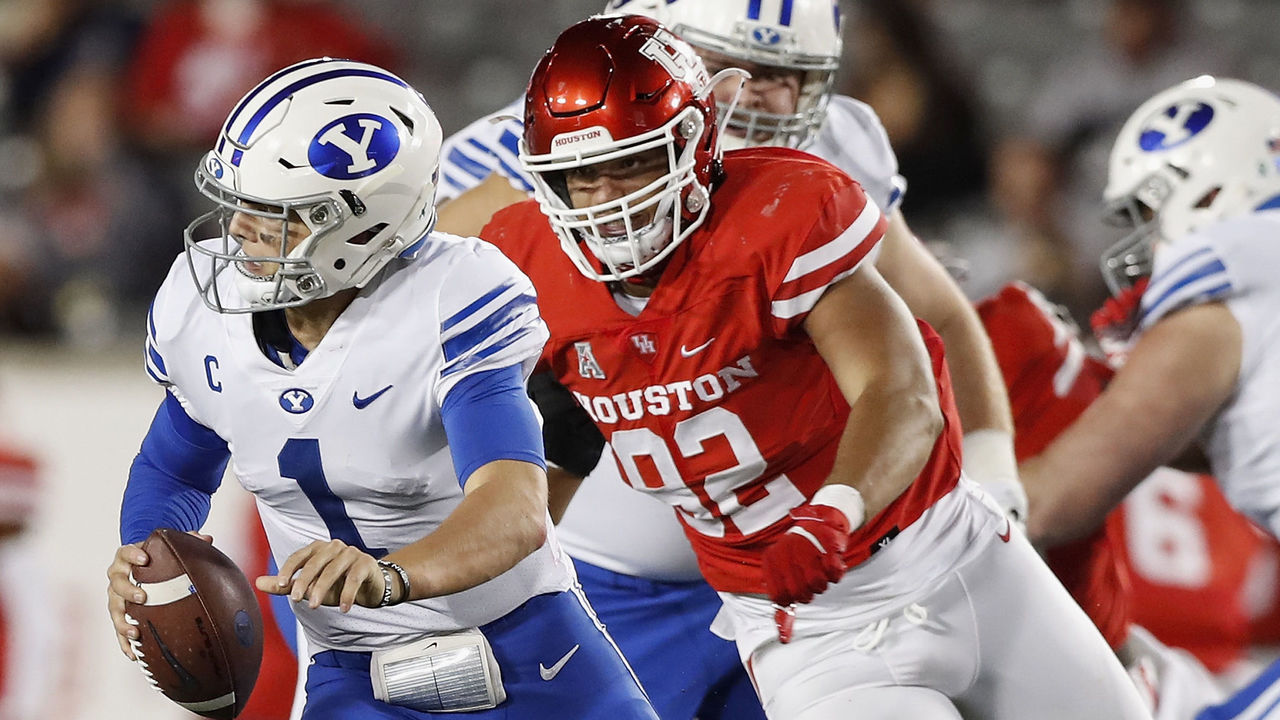 Hall is a bit of a tweener in that he doesn't quite have the size for an every-down role inside, and his athleticism wouldn't really play as a full-time edge rusher. He's got the movement skills and pass-rush repertoire to be a problem for guards on the interior, though. So whether he finds an early-down role on the outside before rotating in for passing downs or simply starts out as an interior rush specialist, the Houston product will bring plenty of juice to an NFL defensive front from Day 1. If Hall can improve his base strength and become a factor on the play side in the running game, there's potential for every-down impact down the line.
6. DeMarvin Leal
| School | Height | Weight | 40 time |
| --- | --- | --- | --- |
| Texas A&M | 6'4 | 283 | 5.00 |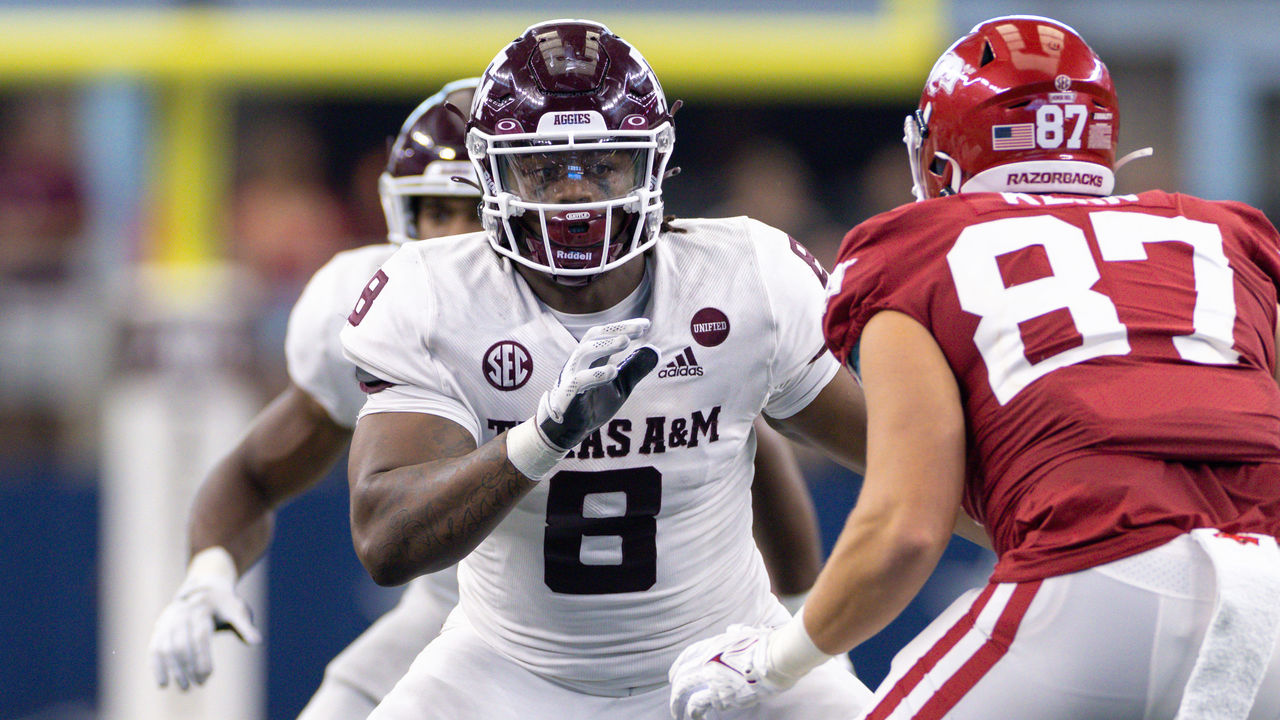 In college, Leal was an impact player all across Texas A&M's defensive front. The challenge for him at the next level will be finding the best spot for his skill set. While he lacks size for an every-down role on the inside, he doesn't have the athleticism for a team to deploy him full-time on the edge, either. Leal's ideal position is a hybrid of the two. An early-down role on the edge is likely his best opportunity to hold up in the running game, and the 3 technique is where he'll make his mark and get after the quarterback. Leal's athleticism will play up on the inside, allowing him to utilize an advanced rush repertoire in potentially establishing himself as a disruptive force on passing downs.
7. Matthew Butler
| School | Height | Weight | 40 time |
| --- | --- | --- | --- |
| Tennessee | 6'4 | 297 | 5.00 |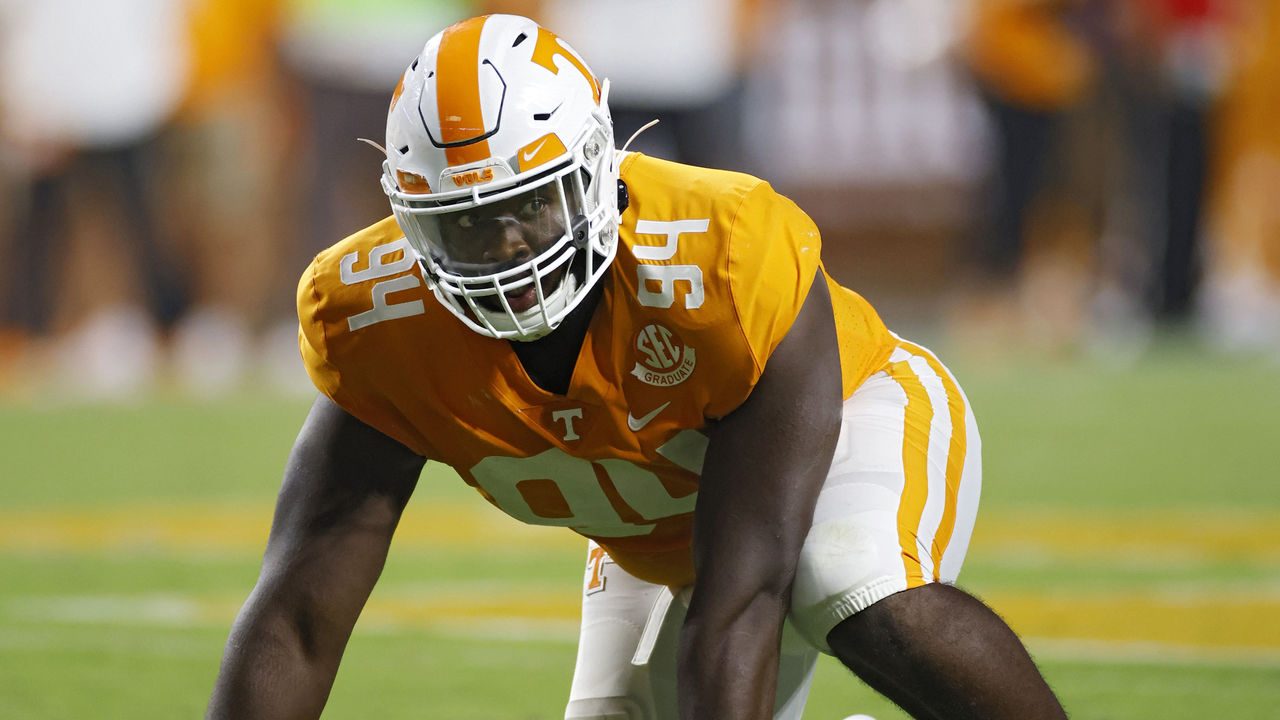 One of the more underrated defensive line prospects in this year's draft, Butler has a chance to be an impact player at the next level. He's something of a late bloomer, as he didn't truly break out until his fifth year at Tennessee, but there's still a lot to like. Butler's agility makes it difficult for opposing linemen to beat him to a spot laterally in the run game, and it challenges their mirroring ability in pass protection. While he may lack the ideal size and length for a full-time interior player, he does well to compensate with his ability to play with leverage, fight through traffic, and make a play on the ball. If NFL coaching can help him parlay his powerful and active hands into a refined repertoire of rush moves and counters, Butler could prove to be one of the steals of this draft.
8. Phidarian Mathis
| School | Height | Weight | 40 time |
| --- | --- | --- | --- |
| Alabama | 6'4 | 310 | DNP |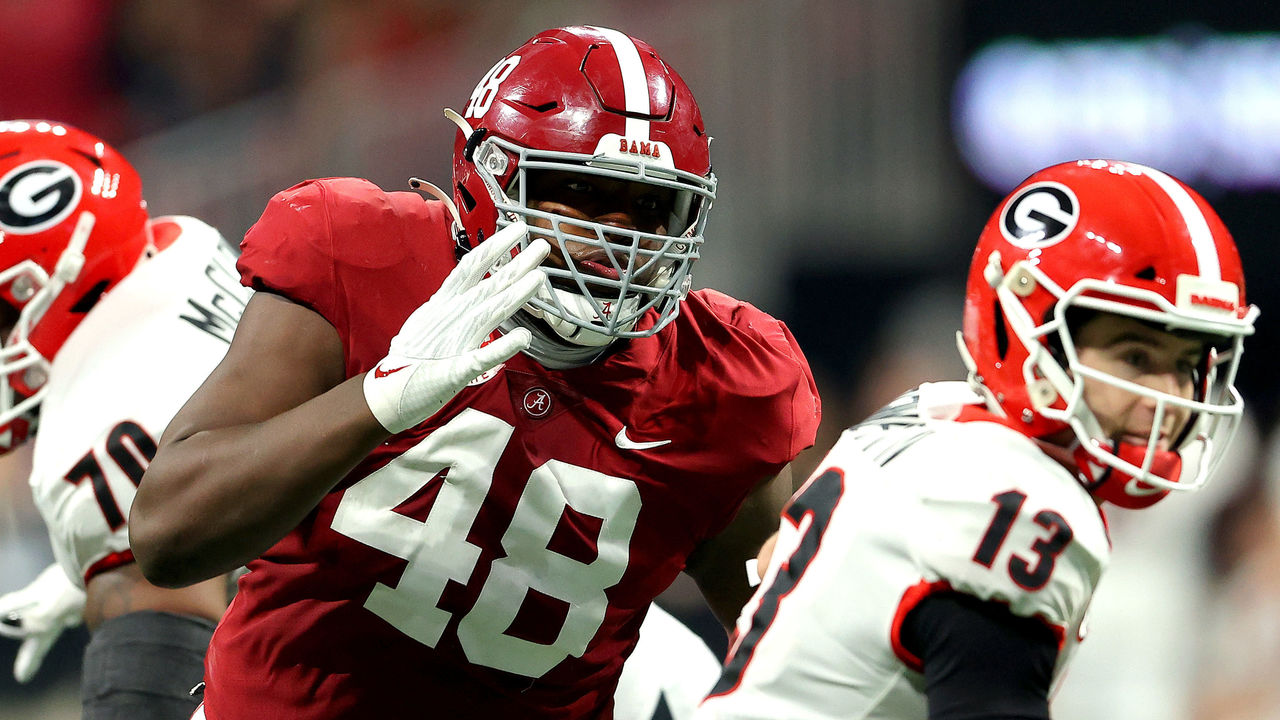 The run game may be less of a factor in today's NFL, but not being able to defend it can still derail a team's campaign. Mathis is the kind of player who will help you avoid any such issues. Not only is he a stout presence who is difficult to move off the ball, but he's an experienced two-gap lineman with the processing ability to find the ball, stack, and shed to make the play himself. Mathis can push the pocket at times and plays with an impressive effort level, so he may tally some sacks, too. But he'll mainly contribute to the rushing game, where he should have an immediate and long-lasting impact.
Other notable prospects
Zachary Carter (Florida)
Neil Farrell Jr. (LSU)
John Ridgeway (Arkansas)
Thomas Booker (Stanford)
Comments
✕
2022 NFL Draft prospect rankings: Defensive line
  Got something to say? Leave a comment below!