2022 NFL Draft prospect rankings: Quarterbacks
Photo illustration by Nick Roy/theScore
theScore's Dan Wilkins, Justin Boone, and Daniel Valente break down the 2022 NFL Draft with rankings and analysis for the prospects available at every position.
Top 50
QB | RB | WR | TE | OL
DL | EDGE | LB | CB | S
Quarterbacks
1. Malik Willis
| School | Height | Weight | 40 time |
| --- | --- | --- | --- |
| Liberty | 6'0 | 219 | DNP |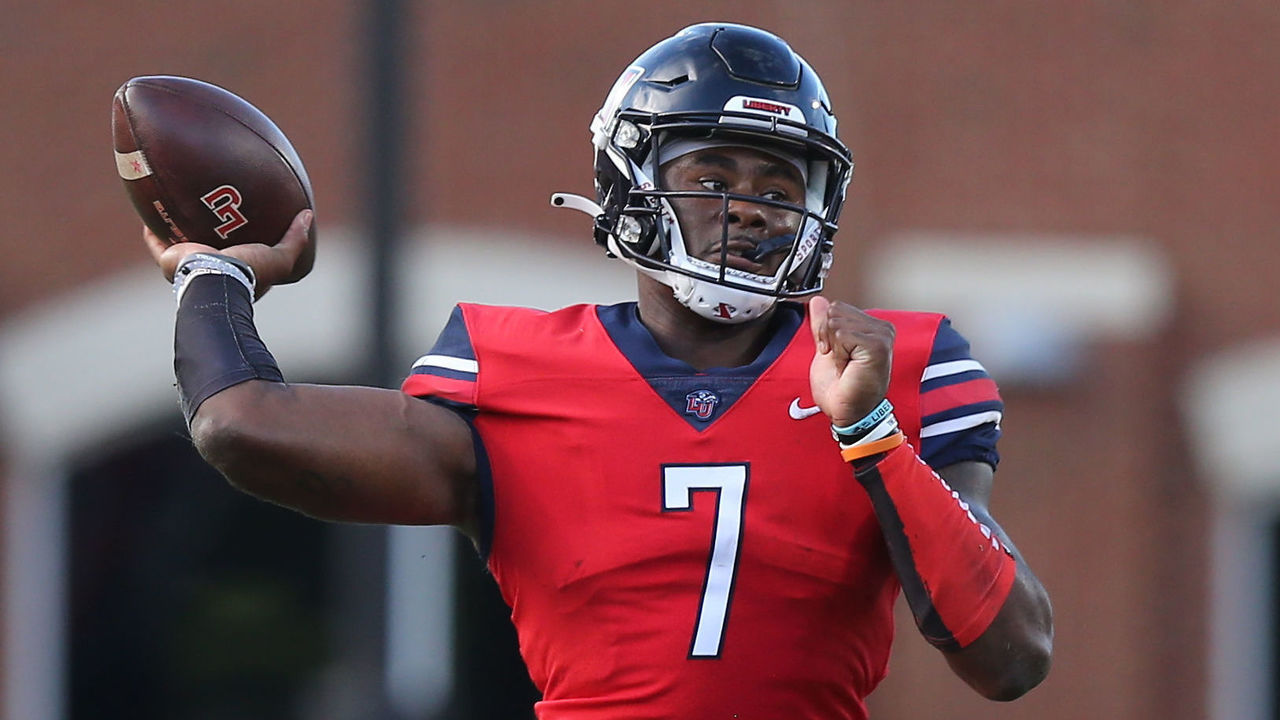 The 2022 quarterback class lacks the elite talents we've recently seen enter the league, so keep your expectations in check. Willis is the most exciting prospect in this year's crop. He has the tools to be a star at the next level, but he'll need to land with a patient team willing to build an offense around his skills. The 22-year-old is a very raw passer who can win with his legs early in his career until he gets over the challenging learning curve that comes with a jump from a smaller school like Liberty. A good coaching staff will be key to helping him improve his ability to read defenses and work through his progressions, as well as his pocket awareness. With that in mind, Willis would benefit from a situation where he's not asked to start right away.
Fantasy outlook: Willis has the highest ceiling of any quarterback in this class, but it might take time before you see a return on your investment. Since his range of outcomes will depend greatly on the offense and coaching staff he's attached to, dynasty managers should be more cautious than usual with this year's top rookie quarterback. Once he gets on the field, Willis' rushing production will make him an immediate fantasy option with a chance to post QB1 numbers each week.
2. Kenny Pickett
| School | Height | Weight | 40 time |
| --- | --- | --- | --- |
| Pittsburgh | 6'3 | 217 | 4.73 |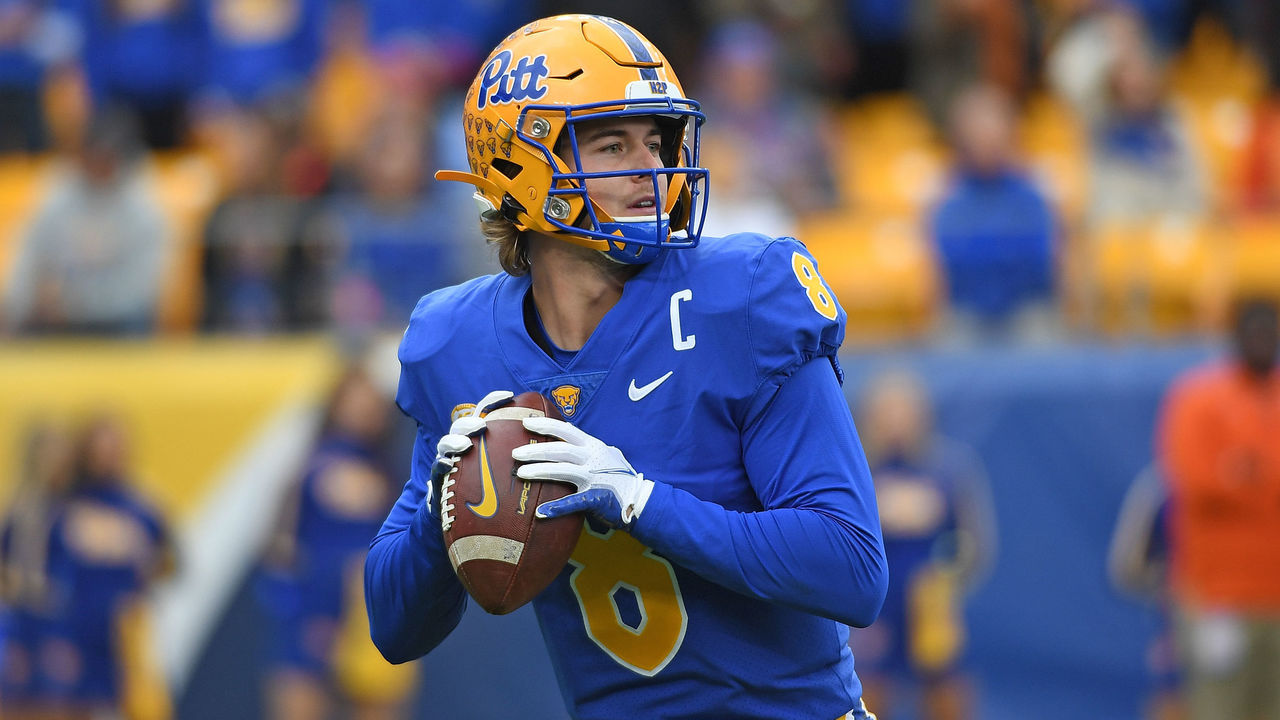 Despite being a four-year starter, Pickett didn't truly break out until his last season at Pitt when he finished sixth in the nation in passing yards (4,319) and fourth in passing touchdowns (42). That's led some to compare him to Joe Burrow or Kyler Murray, who also made massive statistical leaps during their final college campaigns. But Pickett doesn't project to be a superstar in the NFL. Though his leadership and command of the offense were impressive in 2021, the 23-year-old doesn't have the most powerful arm. Plus, he'll likely need a good system around him to excel as a pro. And while we don't want to overstate the risk with his hand size (8 5/8 inches), ball security has been a problem for him and will be something to monitor moving forward.
Fantasy outlook: Pickett is the most pro-ready quarterback entering the league this year and could emerge as a capable long-term NFL starter. Unfortunately, his fantasy outlook isn't nearly as intriguing since he'll need a very strong supporting cast to help raise his game. While Pickett offers decent mobility and can make some plays with his legs, he won't rack up the rushing numbers needed to boost his fantasy stock. He also doesn't have the arm strength to routinely make freelance throws on the move. No matter where he ends up, Pickett is a long shot to ever crack the fantasy QB1 rankings, capping him as a starter in two-QB or superflex leagues only.
3. Desmond Ridder
| School | Height | Weight | 40 time |
| --- | --- | --- | --- |
| Cincinnati | 6'3 | 211 | 4.52 |
Ridder is far from having a complete profile, but the tools are there for him to turn into a solid starter if given the proper tutelage. The 22-year-old helped lift the Bearcats to new heights during his four seasons, culminating in an appearance in the College Football Playoff. Though his arm isn't a cannon, Ridder's shown the ability to make any throw required - even if his accuracy is still a work in progress at times. He also possesses the mobility teams covet, which he displayed on numerous occasions at Cincinnati by escaping the pocket and using his long strides to pick up big yardage. His 4.52-second 40-yard dash at the combine was the fastest among quarterbacks. While it might take a couple of years to materialize, it wouldn't be a surprise if Ridder had the best career of any passer in this class.
Fantasy outlook: As we mentioned earlier, this isn't the right year to be searching for a star quarterback. After Willis and Pickett go off the board, there's another tier drop. Just as NFL general managers would be wise to target Ridder as a long-term upside play, fantasy managers should do the same. Ridder's path to success lines up with his NFL comp, Ryan Tannehill, who didn't find his game in the pros until he was surrounded by a higher-caliber supporting cast. If Ridder can find a similar situation to what Tannehill landed in with the Titans, it could unlock him as a potential top-15 fantasy option thanks to his dual-threat skills.
4. Sam Howell
| School | Height | Weight | 40 time |
| --- | --- | --- | --- |
| North Carolina | 6'1 | 218 | DNP |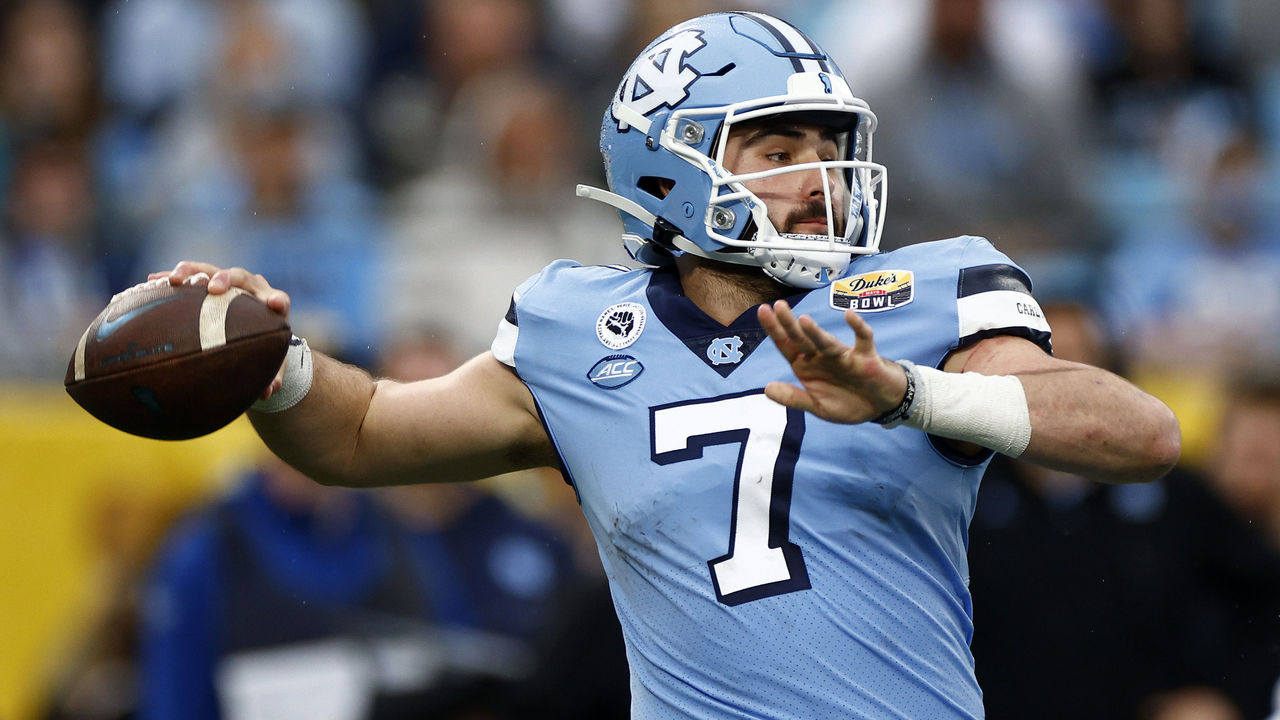 Howell's numbers took a hit in 2021. However, he was without several key players who'd left for the NFL, including receivers Dyami Brown and Dazz Newsome, as well as running backs Javonte Williams and Michael Carter. What Howell lost in passing stats, he made up for with a huge spike in rushing production, tallying 828 yards and 11 touchdowns on the ground. That's more of a sign he'll find ways to move the ball, rather than an indicator he'll be a prolific runner at the next level. Regardless, Howell has more than enough arm to deliver as a low-level NFL starter with the right pieces around him. He's a fearless downfield thrower whose bold playing style is sure to turn him into a fan favorite.
Fantasy outlook: Howell seems to be getting overlooked by many fantasy managers, who might be turned off by his dip in production last year or his physical similarities to a struggling former first overall pick in Baker Mayfield. While Howell is a discount version of Mayfield, the 21-year-old North Carolina product is a better all-around prospect than he's getting credit for. However, like almost all the passers in this class, he might not have the staying power to hold onto a starting job for long unless he gets selected into an advantageous environment.
5. Matt Corral
| School | Height | Weight | 40 time |
| --- | --- | --- | --- |
| Ole Miss | 6'2 | 212 | DNP |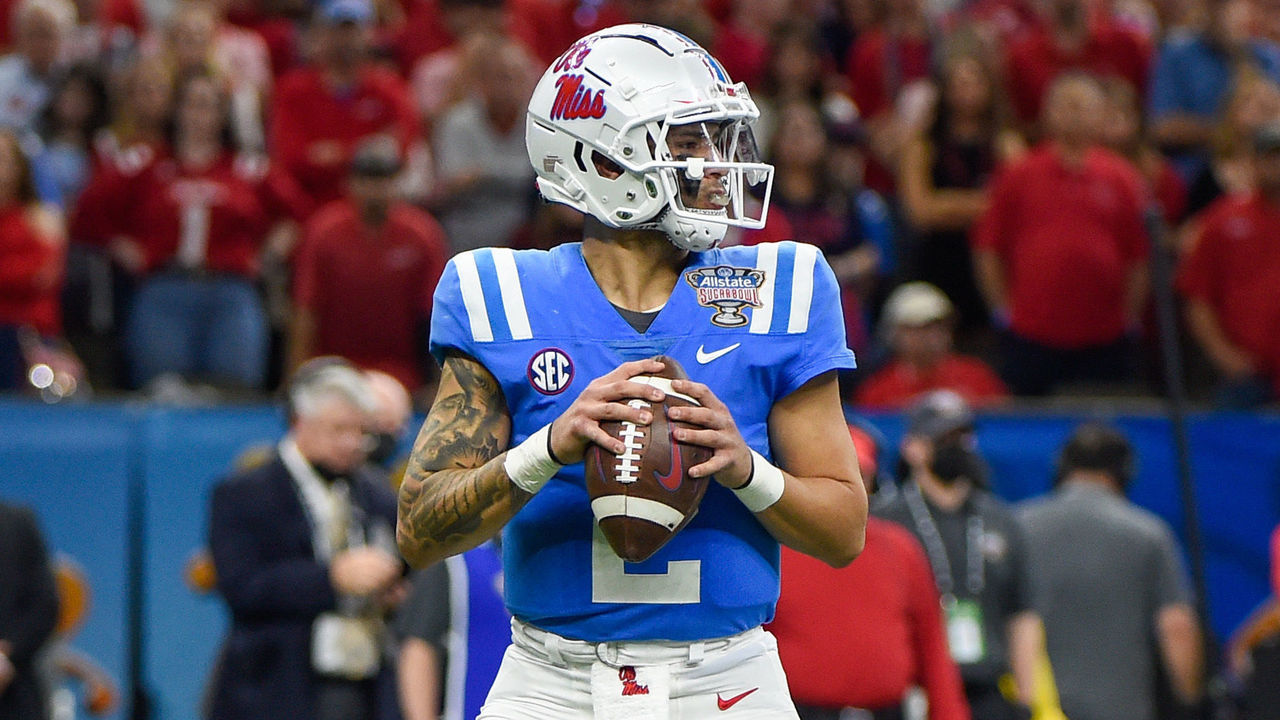 Corral is a tough player to evaluate since a lot of his college production can be attributed to Ole Miss' high-percentage spread passing scheme. Even a big chunk of his rushing stats came on designed plays. That brings into question whether he can evolve into a full-time starter at the next level, or if he'll be limited to holding a clipboard most weeks. His tools are enticing enough; he has outstanding accuracy on short-to-intermediate routes as well as the athleticism to escape defenders and pick up yards on the ground. However, his willingness to battle as an undersized runner has led to injuries, which could be an even bigger issue against NFL defenders. It's possible Corral could develop his game to outgrow the need for a rigid system around him, but he'll need an ideal setting for that to happen.
Fantasy outlook: Corral was a fun player to watch in college, and his confidence on the field is alluring, but he might not come with the draft capital that'd guarantee him a starting opportunity. While we'll keep a close eye on his landing spot, he'll need a lot of development to avoid settling in as a career backup, making him a risky fantasy pick in any format.
6. Carson Strong
| School | Height | Weight | 40 time |
| --- | --- | --- | --- |
| Nevada | 6'3 | 226 | DNP |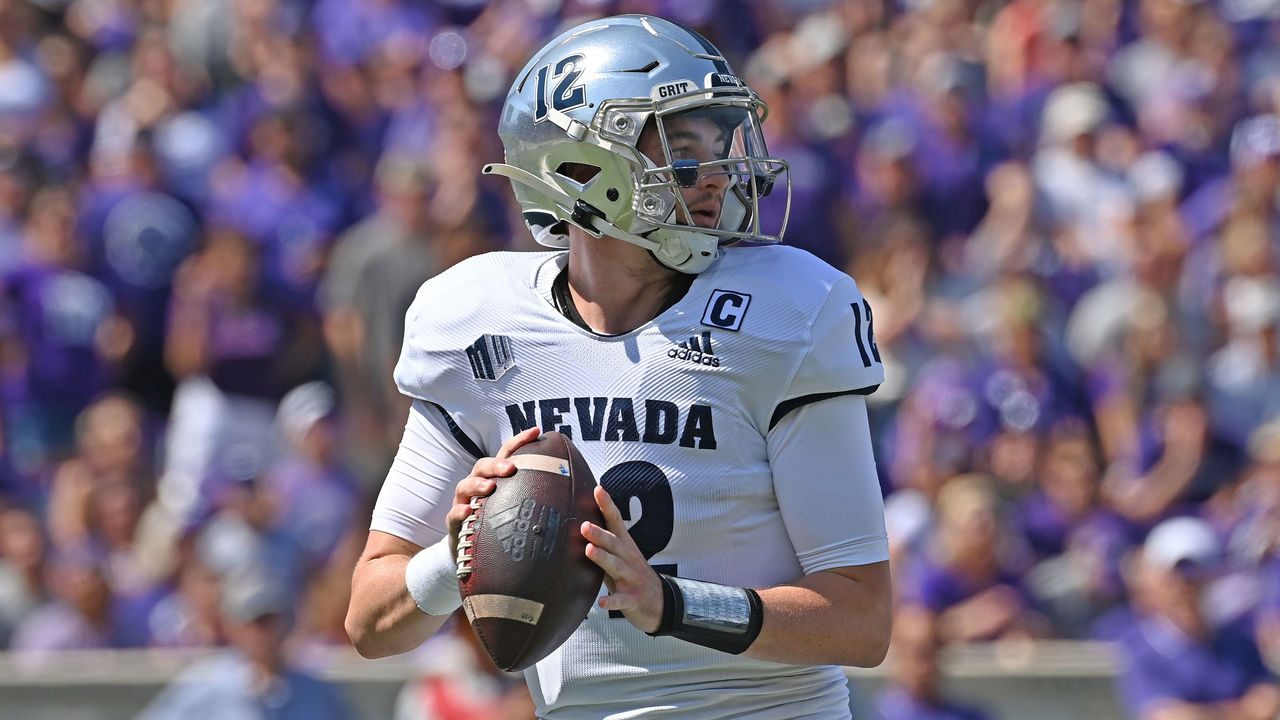 Strong has the prototypical size and natural arm talent that scouts would've been desperate for in past decades. Unfortunately, he comes up short in many areas that are now key to a successful jump into the pros. The 22-year-old exhibits almost no mobility, in part due to the knee surgeries he's undergone. That issue is directly tied to his struggles under pressure, resulting in far too many sacks. He's forced to constantly rely on his arm, and sometimes his overconfidence as a passer comes back to bite him. Simply put, we haven't seen many quarterbacks prosper as NFL starters in recent years with this kind of profile.
Fantasy outlook: Outside of the top players in every draft class, very few quarterback prospects make a mark in the NFL. For every diamond that gets unearthed outside the first round like Russell Wilson or Tom Brady, there are countless other passers who remain backups their entire career. Keep that in mind as we consider the fantasy viability of the remaining quarterback prospects. Strong will be lucky to be selected on the second day of the draft. There aren't many scenarios in which he, or any of the other names below, return fantasy value over an extended period.
7. Bailey Zappe
| School | Height | Weight | 40 time |
| --- | --- | --- | --- |
| Western Kentucky | 6'0 | 215 | 4.88 |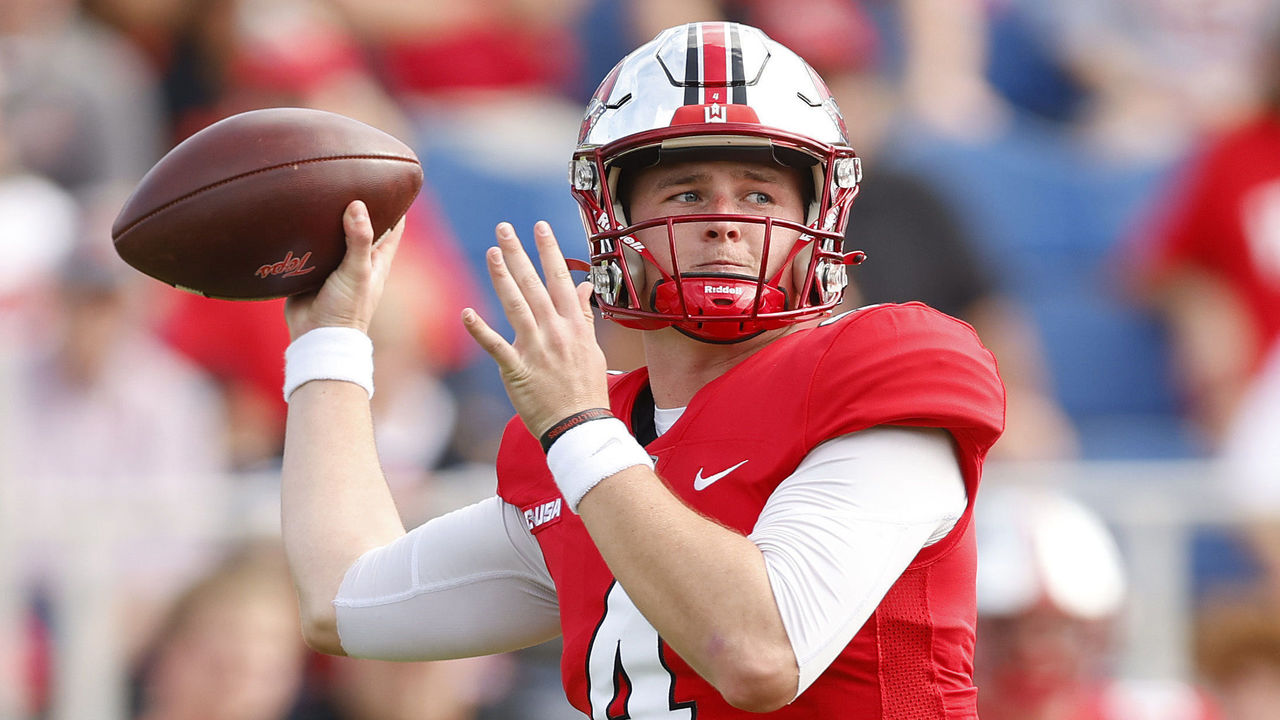 Zappe spent four years as the starter at Houston Baptist in the FCS before following his offensive coordinator to Western Kentucky. There, the young quarterback posted an astronomical stat line, throwing for 5,967 yards and 62 touchdowns. Though the numbers are impressive, it's important to note that Zappe lacks the physical tools to be considered a legitimate starting option in the pros. Though his field savvy and above-average accuracy were essential to his record-setting campaign, it was really his timing and understanding of the system that propelled him. If asked to run an NFL offense for more than a few games, Zappe's lack of elite traits would be exposed. His solid pro day performance likely guaranteed he'll hear his name called during the later rounds of this year's draft and eventually slide into a backup role.
Fantasy outlook: The deeper we go on this list, the longer the odds become for a potential star emerging. Very few mid- to late-round quarterback prospects turn into fantasy-relevant names, especially in a down year in terms of overall QB talent.
Other notable prospects
Skylar Thompson (Kansas State)
Jack Coan (Notre Dame)
D'Eriq King (Miami)
E.J. Perry (Brown)
Dustin Crum (Kent State)
Kaleb Eleby (Western Michigan)
Brock Purdy (Iowa State)
Chris Oladokun (South Dakota State)
Cole Kelley (Southeastern Louisiana)
Comments
✕
2022 NFL Draft prospect rankings: Quarterbacks
  Got something to say? Leave a comment below!