2022 NFL Draft prospect rankings: Wide Receivers
Photo illustration by Nick Roy/theScore
theScore's Dan Wilkins, Justin Boone, and Daniel Valente break down the 2022 NFL Draft with rankings and analysis for the prospects available at every position.
Top 50
QB | RB | WR | TE | OL
EDGE | DL | LB | CB | S
Wide Receivers
1. Garrett Wilson
| School | Height | Weight | 40 time |
| --- | --- | --- | --- |
| Ohio State | 6'0 | 183 | 4.38 |
Wilson is a versatile, game-breaking wideout with all the traits to be an instant star at the next level. The 21-year-old isn't the most precise route-runner yet, but he creates separation with his short-area quickness and burst. A giant catch radius allows him to haul in anything thrown in his vicinity and he's a serious problem for defenders once the ball is in his hands. Wilson projects to be a high-volume top target capable of producing at all levels of the field. And there's room for him to grow if he tightens up his playing style - eliminating some of the unnecessary steps, jumps, and flailing - in an effort to be more efficient in his routes.
Fantasy outlook: While other positions in this year's draft class are top-heavy or weaker overall than in recent seasons, the wide receiver prospects are a talented and deep group. That starts with Wilson, an instinctive player just beginning to scratch the surface of his abilities. His numbers at Ohio State were capped by the Buckeyes' excess of high-end receivers, so don't be surprised if the best is yet to come after he's selected in the top half of the first round. In the right setting, a WR1 fantasy season could be in Wilson's future.
2. Jameson Williams
| School | Height | Weight | 40 time |
| --- | --- | --- | --- |
| Alabama | 6'1 | 179 | DNP |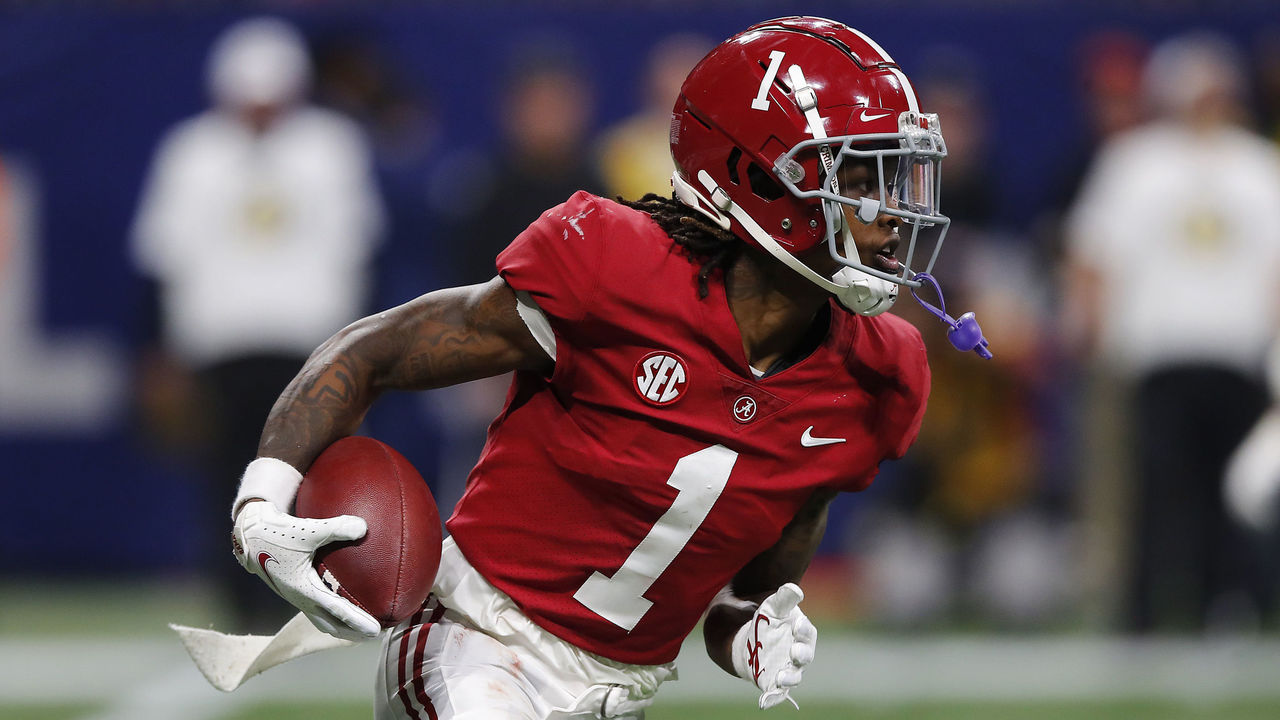 Williams is currently rehabbing from a late-season ACL tear that puts his rookie year availability in doubt. Even with the injury uncertainty, he's a top-three WR prospect in this class with a chance to eventually be the best of the bunch. Prior to undergoing knee surgery, he poured in a 78-catch, 1,561-yard, 15-touchdown campaign for the Crimson Tide - showcasing a devastating combination of speed and electric agility to shake defenders and leave them in his wake. The 21-year-old is more than just a field-stretcher, though. His ball tracking, body, control, and yards-after-catch skills make him a difference-maker with an opportunity to be exceptional at the next level.
Fantasy outlook: It's no surprise that rumors have touted Williams as a potential top-10 pick even after the torn ACL. NFL front offices and fantasy managers would be wise to look past the recovery timetable and realize Williams has a chance to be an elite weapon in the pros once he's healthy. While you might have to wait to see any sort of return on investment, Williams' ceiling could easily put him inside the top-24 fantasy receivers within a couple of years.
3. Treylon Burks
| School | Height | Weight | 40 time |
| --- | --- | --- | --- |
| Arkansas | 6'2 | 225 | 4.55 |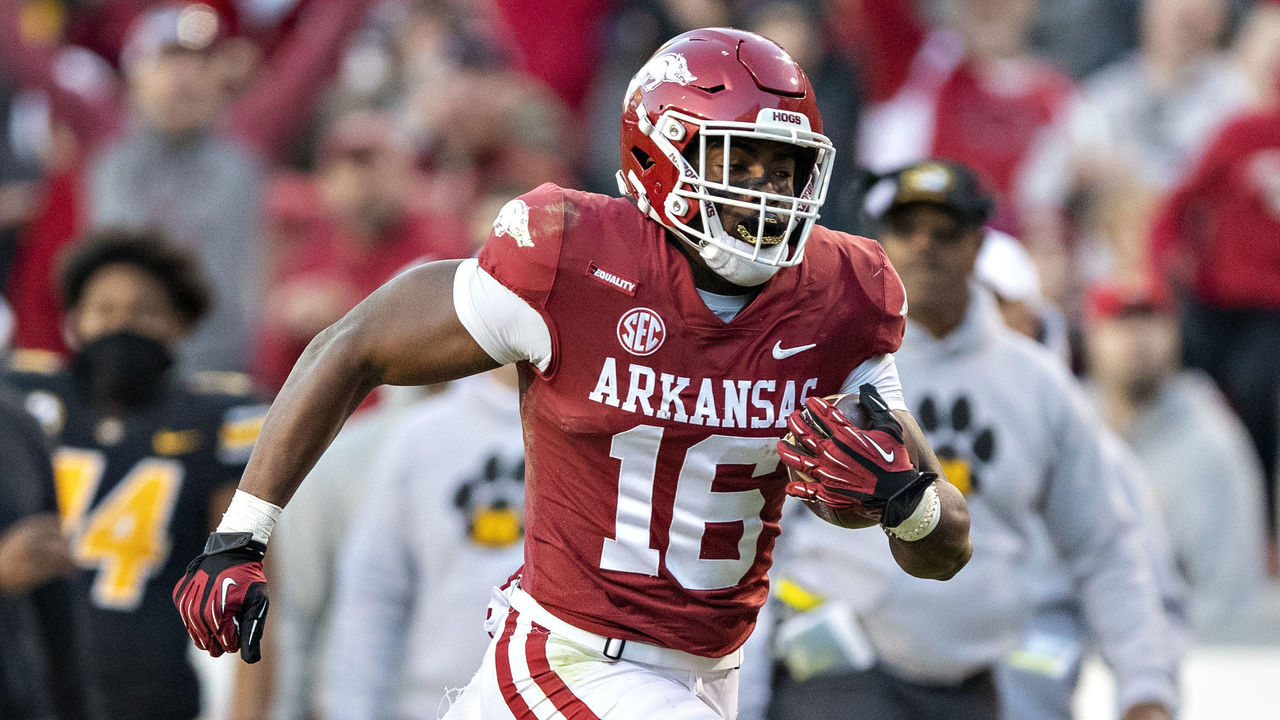 Despite having the size of a prototypical alpha outside receiver, Burks is a unique prospect who needs the right offense to unlock his significant potential. That's because he's not a polished wideout, but a dominant playmaker with the size and athleticism to challenge NFL secondaries from Day 1. His college coaching staff wisely found ways to get him the ball on high-percentage plays near the line of scrimmage and let him do the rest. The majority of his snaps came out of the slot, which his next club should take advantage of as well. Though the 22-year-old has work to do if he's going to become a force in the pros, he's got the attributes to develop into a mismatch nightmare for defensive coordinators.
Fantasy outlook: Burks carries more boom-bust career potential than some fantasy managers may feel comfortable with, since his landing spot will have a bigger impact on his performance than is the case for most other wideouts in the class. With first-round draft capital nearly assured, we have to hope he's selected by a creative team that's willing to manufacture touches for him - especially early on while he deals with the NFL learning curve. As long as that happens, Burks has a shot at becoming an immediate fantasy starter as a WR3/flex - and his long-term projection offers far more upside.
4. Drake London
| School | Height | Weight | 40 time |
| --- | --- | --- | --- |
| USC | 6'4 | 219 | DNP |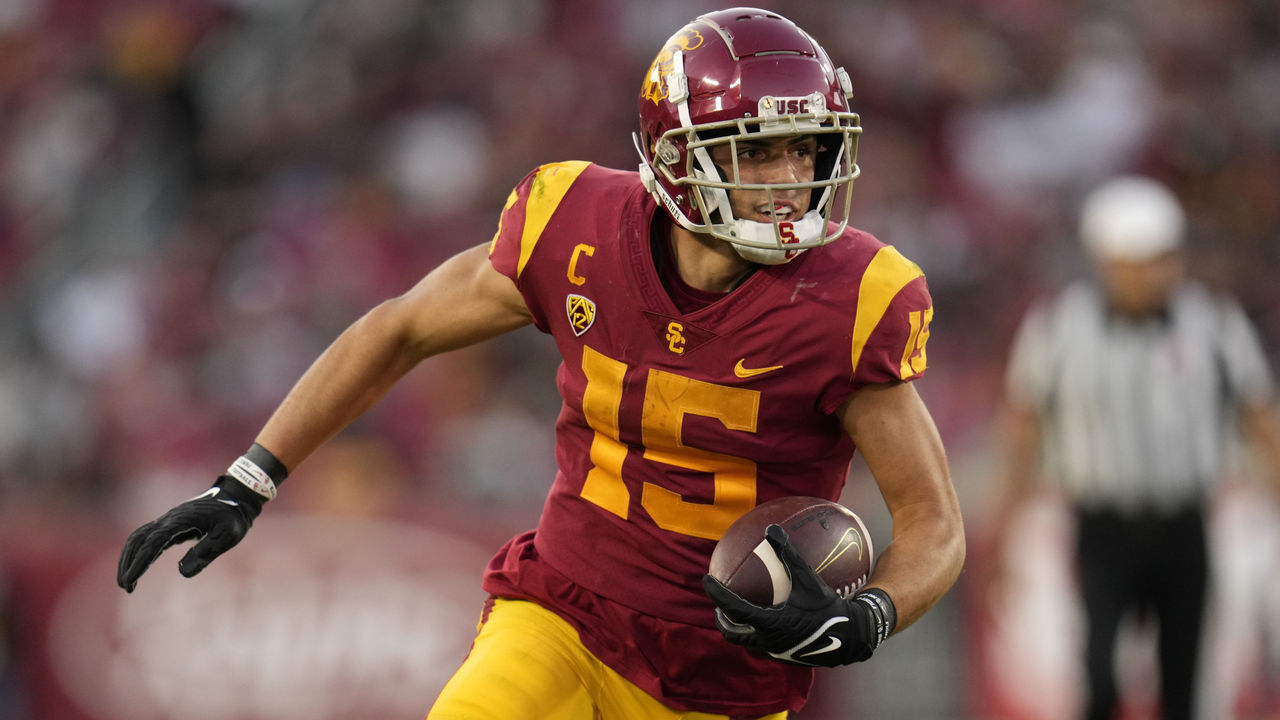 London is a big but lanky outside receiver who showed some versatility in college by winning on downfield routes as well as screens. His basketball background helped him "outrebound" defenders in contested situations and he displayed scrappiness and tackle-breaking ability after the catch. However, it's hard to ignore the physical advantages he enjoyed over most of his competition. That makes you wonder whether he'll be as effective against bigger, faster, and more skilled NFL defensive backs. He doesn't turn 21 until July, though, so there's plenty of time for him to add muscle and develop his game. It's also worth noting that he suffered a season-ending broken ankle in October, but it's not expected to impact his rookie year.
Fantasy outlook: With a long frame and some dominant highlights, London will entice a lot of general managers. As a projected first-round pick, he'll get an extended opportunity to prove himself as a No. 1 receiver on the outside, and if he fails, he could have a future as a big slot. Either way, London will have a successful NFL career. He might, however, profile better as a high-end No. 2 option in a pro offense - an outcome that would cap his fantasy upside.
5. Chris Olave
| School | Height | Weight | 40 time |
| --- | --- | --- | --- |
| Ohio State | 6'0 | 187 | 4.39 |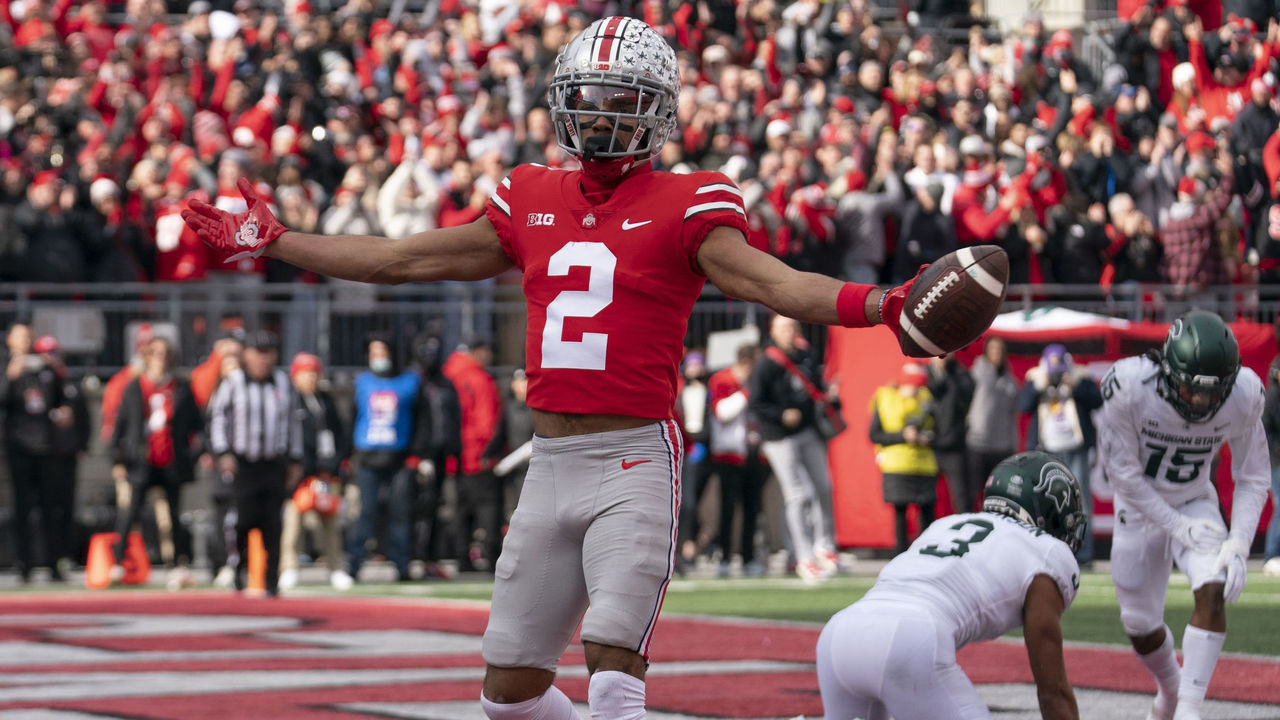 Olave might be the most pro-ready receiver in this year's class - sporting high-level route running, fluid athleticism, and the speed to make plays deep. His consistency could lull you into underestimating his accomplishments ... which would be a mistake. The 21-year-old is a finesse player, not someone who will overpower press corners or take on linebackers in the middle of the field. He adds little after the catch and won't do much damage as a run blocker. Instead, he'll beat you with timing, precision, and acceleration on his way to the end zone (32 touchdowns over the last three seasons at Ohio State).
Fantasy outlook: While he'll likely settle in as a No. 2 receiver in the pros, there's a path for Olave to become a top target - similar to what we saw from Calvin Ridley. And with several premier offenses searching for receiver help in the second half of the first round, it could be a perfect storm for his fantasy potential. The best-case scenario would lead Olave to a team like the Packers with Aaron Rodgers, where he could immediately push for big-time production as a volume-dependent WR2 in fantasy.
6. George Pickens
| School | Height | Weight | 40 time |
| --- | --- | --- | --- |
| Georgia | 6'3 | 195 | 4.47 |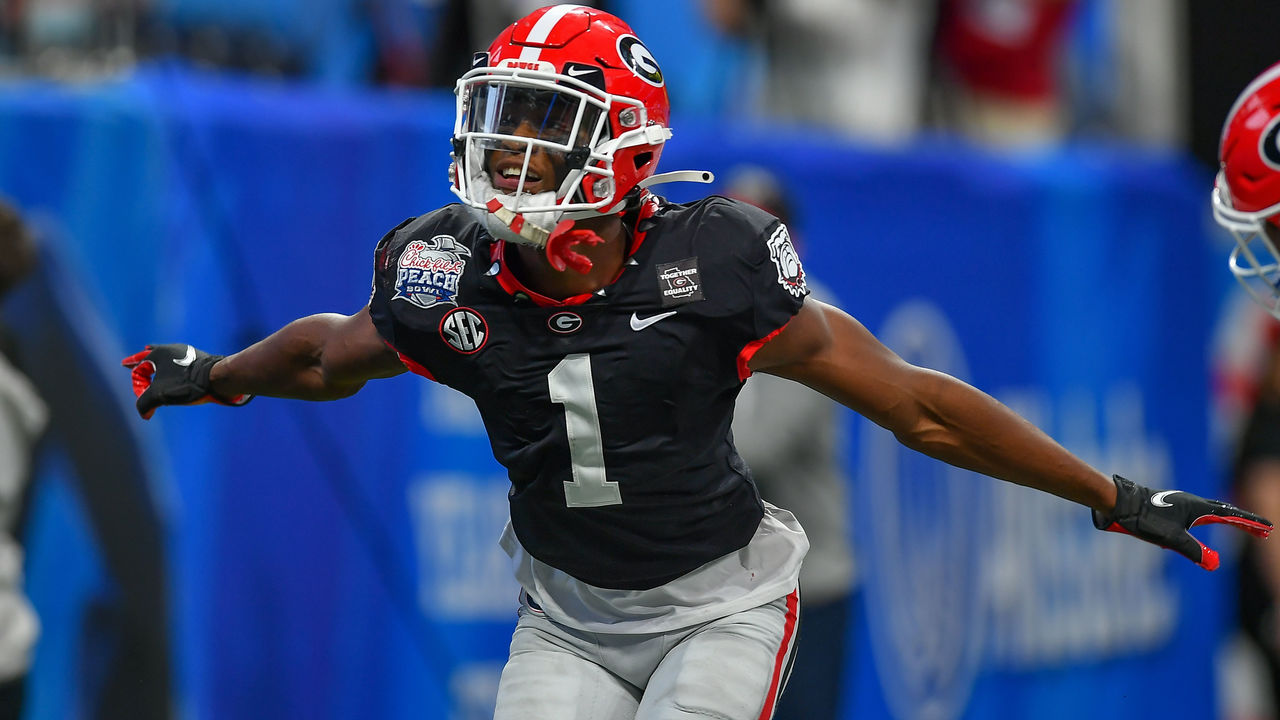 Pickens looked the part of a No. 1 receiver before an ejection/suspension and multiple injuries, including a torn ACL in March of 2021, cost him time over the last two years. Although he wasn't the same when he returned from knee surgery, the 21-year-old showed determination by working his way back and suiting up late in the season. Prior to that, he broke out as a true freshman and natural athlete known for hauling in acrobatic contested catches. He played with a competitive mindset, even while sometimes lacking the strength to back it up. If he's going to excel as a pro, which we expect he will, Pickens needs to add some muscle and prove he's overcome the knee issue.
Fantasy outlook: Questions about Pickens' speed and durability will linger until he's further removed from the ACL tear. Unfortunately, that makes him a very risky NFL prospect. We should get a better idea of his medicals when we find out his draft capital - an indicator of whether teams feel confident he can regain his pre-injury form. If he does, he could be one of the steals of the draft. His first two years at Georgia provided more than enough evidence of a wideout who could be a force at the next level. Pickens represents a gamble worth taking for fantasy managers hunting for upside.
7. Skyy Moore
| School | Height | Weight | 40 time |
| --- | --- | --- | --- |
| Western Michigan | 5'10 | 195 | 4.41 |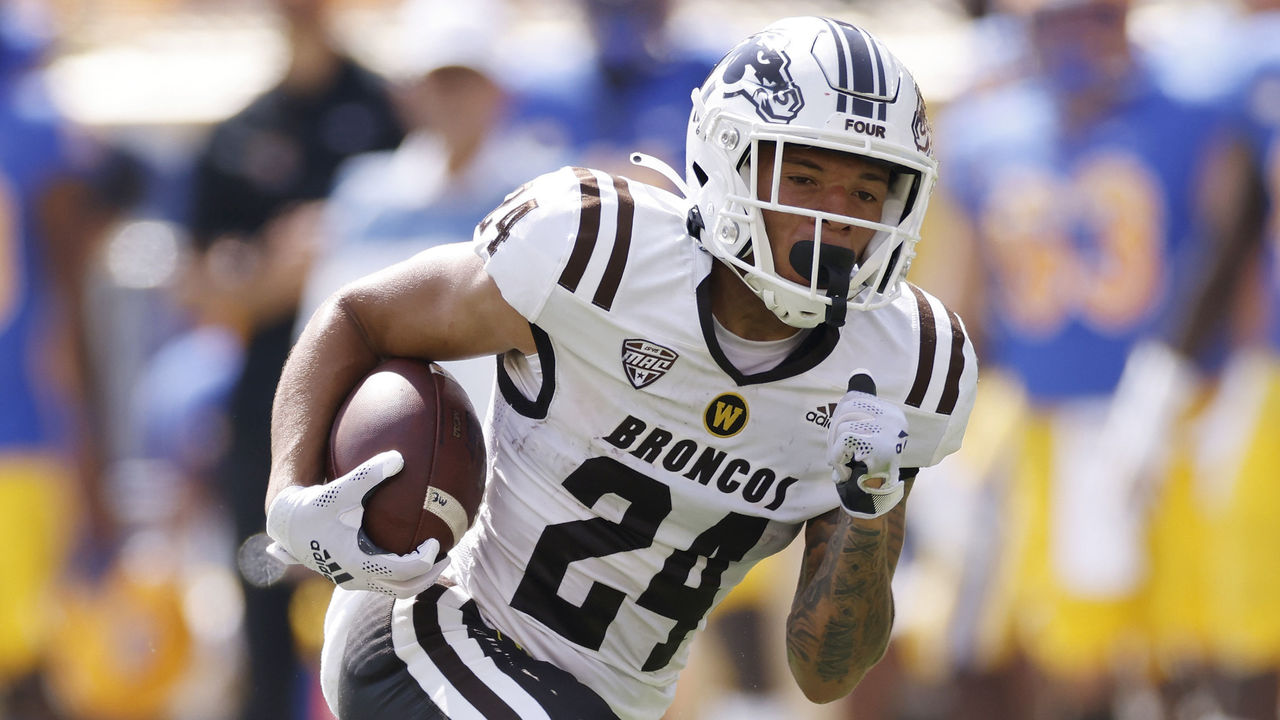 Moore is a compact yet well-built pass-catcher who uses his suddenness and crafty footwork to create separation. What he lacks in height, he makes up for with toughness and a competitive nature that seeps into all aspects of his game. The 21-year-old was a big-play machine that Western Michigan used all around the formation, but he projects as primarily a slot receiver in the pros. With oversized hands and efficient routes, he'll quickly become a safety net for his next quarterback while also offering enough speed to threaten defenses downfield.
Fantasy outlook: Moore has a lot of intriguing tools, and NFL teams are clearly interested in his skill set - he's expected to be drafted in the first two rounds. He's also got room to develop since he's still new to the position after playing quarterback and cornerback in high school. Unfortunately, unlike many of the other receivers pegged to go off the board around him, Moore doesn't have a true path to a No. 1 role. Instead, he'll max out as a high-volume slot receiver, which puts a bit of a damper on his projection. In the right environment, he should emerge as a low-end fantasy starter.
8. Jahan Dotson
| School | Height | Weight | 40 time |
| --- | --- | --- | --- |
| Penn State | 5'11 | 178 | 4.43 |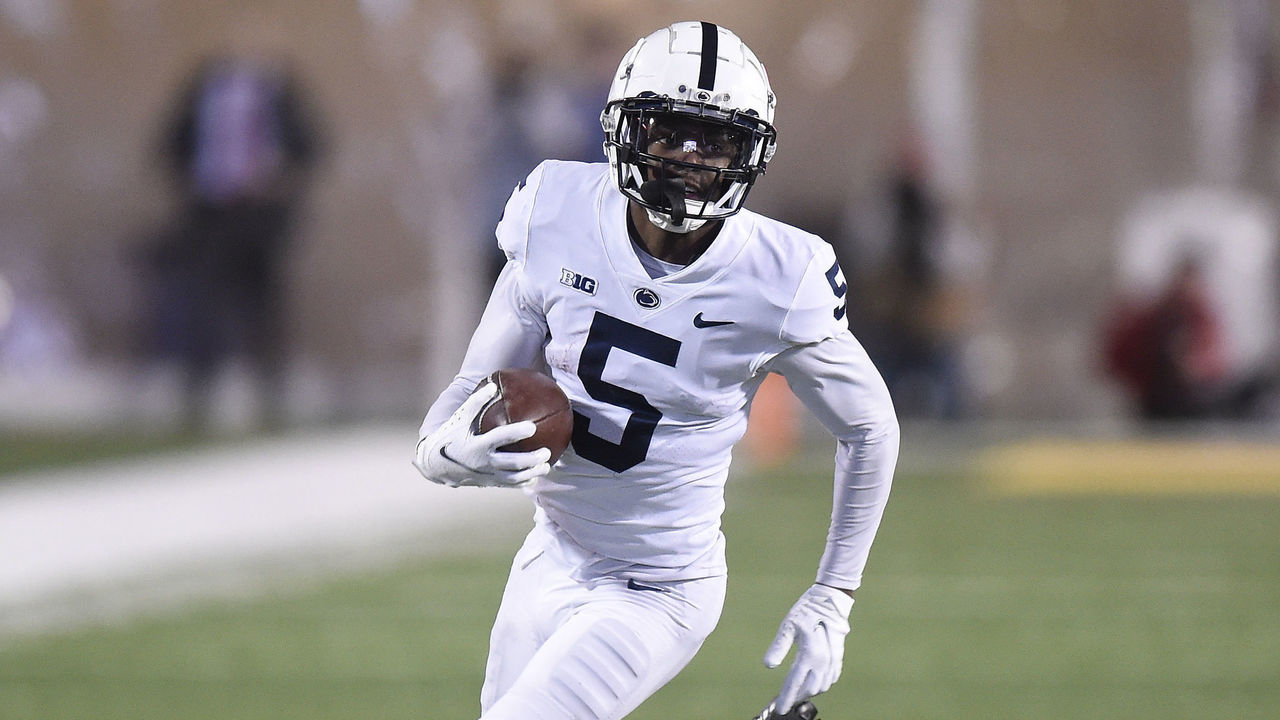 Dotson is an easy prospect to fall for: a smooth and savvy route-runner whose crisp moves will translate well to an NFL field. He has excellent hands and goes after the ball with conviction, showing almost no regard for his body - a trait that might be problematic and hard to replicate when he's up against more physical defenders in the pros. Though he's not equipped to shed tackles, the Penn State star shows the vision and burst to avoid them entirely, which can lead to big plays. His evident natural talents overshadow concerns about his lack of ideal size or play strength.
Fantasy outlook: If this year's receiver class wasn't so deep, Dotson would get more buzz. He has a lot of potential to be a strong asset in an NFL offense. He may not have an elite ceiling, but if he's paired with the right quarterback, he'll be someone to target heavily in re-draft and dynasty formats as a productive fantasy starter.
9. Christian Watson
| School | Height | Weight | 40 time |
| --- | --- | --- | --- |
| North Dakota State | 6'4 | 208 | 4.36 |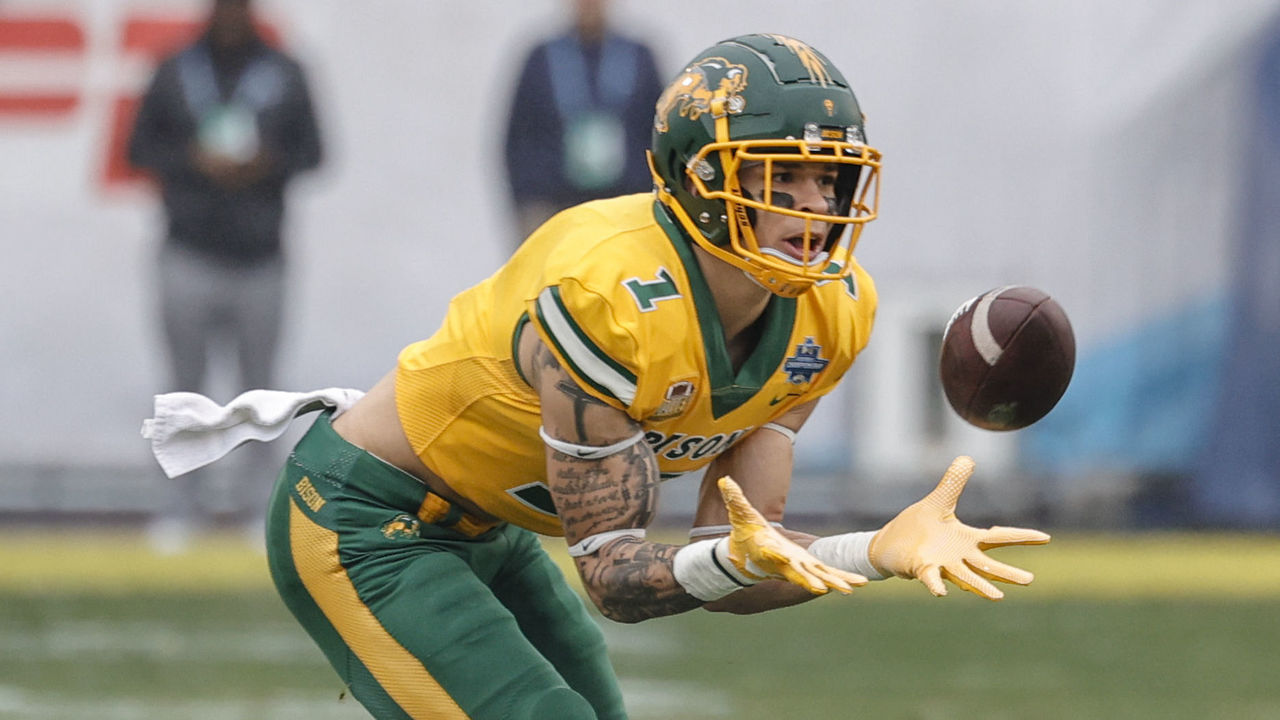 Watson is one of the hardest prospects to evaluate in this year's group because almost all of his positive traits are linked to his otherworldly athleticism, including the 12th-best relative athletic score (RAS) among receivers since 1987. However, his skills as a receiver and a football player are very much works in progress. He runs a limited route tree, he's not physically imposing despite his size, his hands aren't trustworthy, and his mediocre college production came against weak competition. He's also an older prospect who turns 23 in May, which is notable considering he still needs some development. Despite all that, Watson remains a risk worth taking for an NFL front office due to his size-speed combination and potential as a splash-play threat with elite upside.
Fantasy outlook: It's easy to get drawn in by superb athletic specimens like Watson. Be cautious of profiles like his, which tend to be home-run swings with a high likelihood of striking out. Still, if he comes away with top-50 draft capital and a good landing spot, we'll have to take a chance on him for fear of missing out on his massive fantasy ceiling.
10. Jalen Tolbert
| School | Height | Weight | 40 time |
| --- | --- | --- | --- |
| South Alabama | 6'1 | 194 | 4.49 |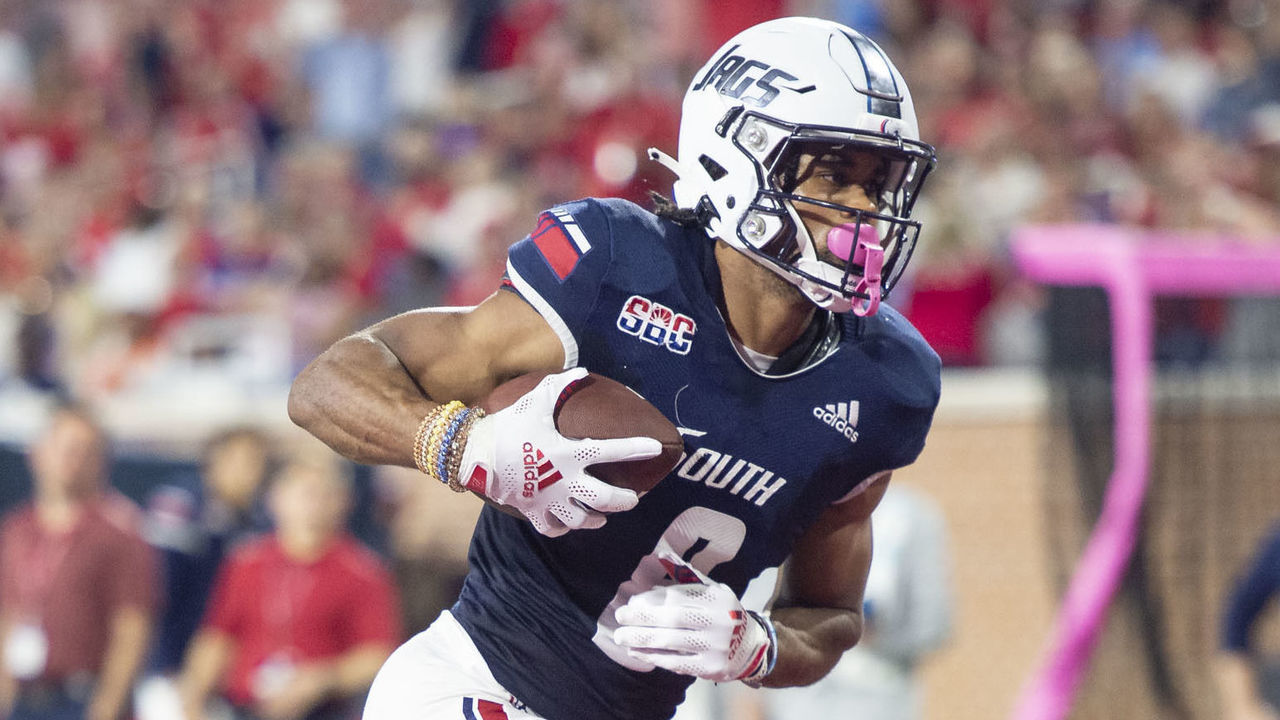 Tolbert developed well at South Alabama, improving his production by around 500 yards in each of the last three seasons - culminating in an 82-catch, 1,474-yard, eight-touchdown campaign in 2021. While the lower level of college competition is an issue, he's become a well-rounded wideout who has some star potential under the surface if he can fill out his frame and play with more urgency. He's another receiving prospect on the older side at 23, but he offers a good mix of speed, length, and ball skills that should allow him to immediately serve as a downfield threat.
Fantasy outlook: Moving down the list, we'll encounter more players likely to be deployed as complementary wideouts in the NFL. It's not out of the question that Tolbert could evolve into an impact player in the pros, but he doesn't appear destined to be a top target. He'll need to prove himself against more skilled defensive backs before fantasy managers get excited about him as anything more than a solid contributor.
11. David Bell
| School | Height | Weight | 40 time |
| --- | --- | --- | --- |
| Purdue | 6'1 | 212 | 4.65 |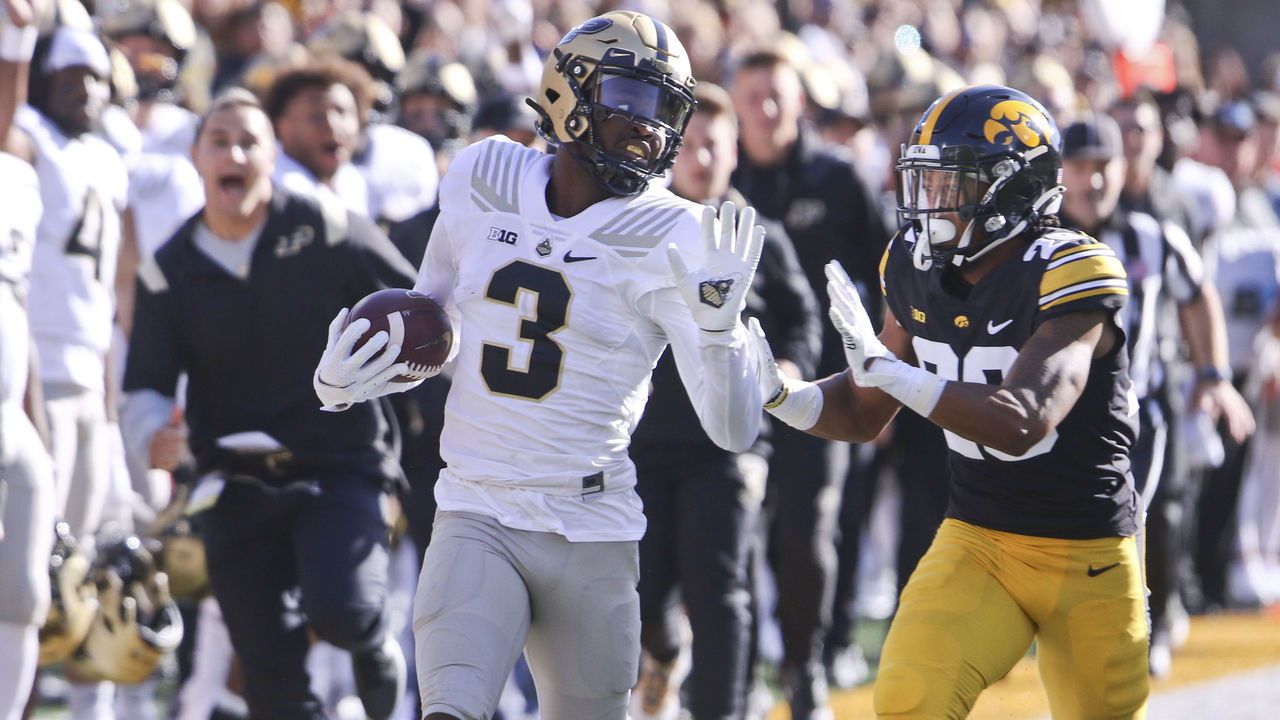 Bell's profile brings us back to the debate between college production and athletic testing. As a three-year starter at Purdue, he was an innate playmaker who could win all over the field with quality routes, powerful hands, and above-average ball skills. In 29 games with the Boilermakers, he averaged over 100 receiving yards per game. Shockingly, he followed that up with some extremely poor athletic testing at the NFL combine. Athletic measurables arguably matter less for certain types of receivers, but regardless, it planted a seed of doubt as to whether Bell can operate as effectively against the top-tier athletes on NFL defenses.
Fantasy outlook: This time last year, we highlighted Amon-Ra St. Brown as someone the draft community was undervaluing, in part due to his average athleticism. As we witnessed last season, pure physical attributes aren't the only way to excel on an NFL field. Receivers like St. Brown, Tyler Boyd, and Jarvis Landry have overcome bad athletic testing with strong route running in the pros. Bell might be the next name on that list, so don't let him fall too far in your fantasy drafts.
12. Justyn Ross
| School | Height | Weight | 40 time |
| --- | --- | --- | --- |
| Clemson | 6'4 | 205 | 4.63 |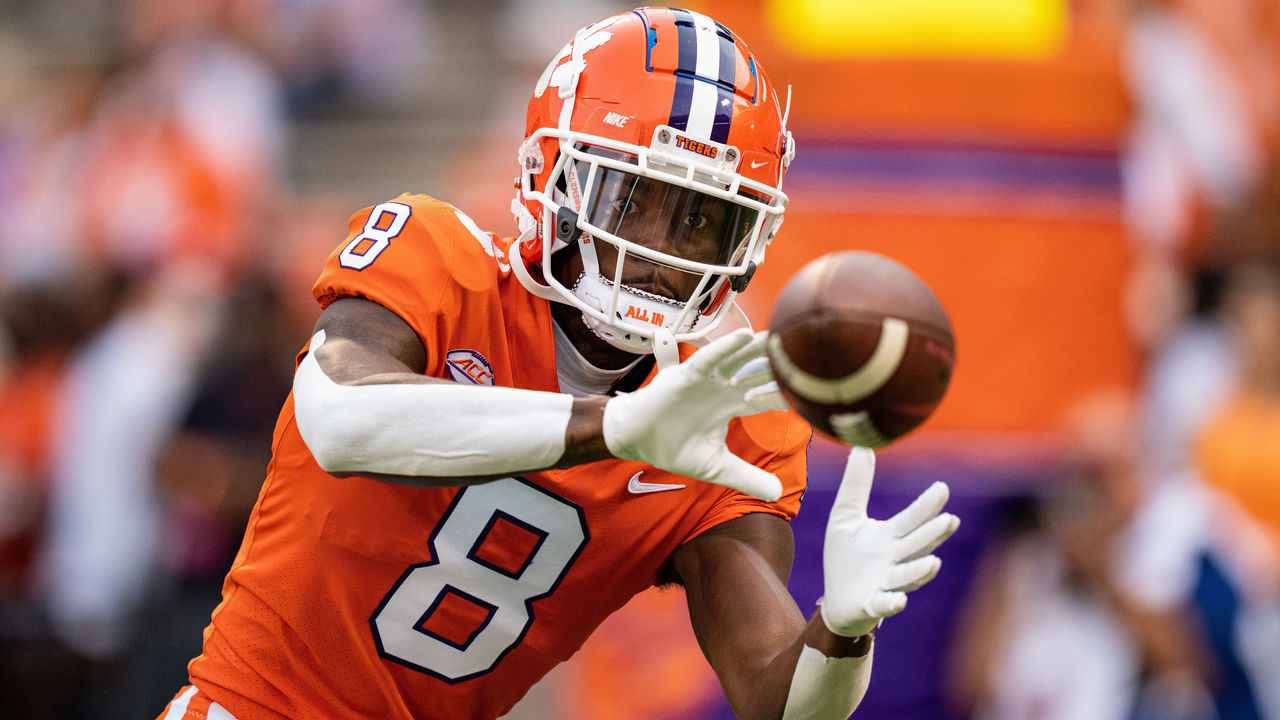 If we could remove injury histories from the equation, Ross would be among the most coveted wideout prospects in this draft. His freshman output of 46 catches, 1,000 yards, and nine touchdowns put him on the radar as a potential future superstar. Unfortunately, spinal surgery cost him the 2020 campaign and put his career in jeopardy. He was cleared to return this season, but quarterback Trevor Lawrence's absence was felt throughout Clemson's offense, resulting in subpar production for Ross before a stress fracture in his foot sidelined him. It's unclear whether Ross can rebound to the version of him that we saw before the injuries. For the moment, he needs to be analyzed as is: a rangy slot option who lacks the speed and burst to be a star at the next level.
Fantasy outlook: Once you get to this area of the draft, fantasy managers should focus on upside. Average receivers don't have much value since you can find plug-and-play options on the waiver wire most weeks. Because of that, Ross warrants a dart throw just in case he finds a way back to his 2018-19 form. He's the right kind of fantasy gamble to make as long as you avoid unrealistic expectations.
13. Khalil Shakir
| School | Height | Weight | 40 time |
| --- | --- | --- | --- |
| Boise State | 6'0 | 196 | 4.43 |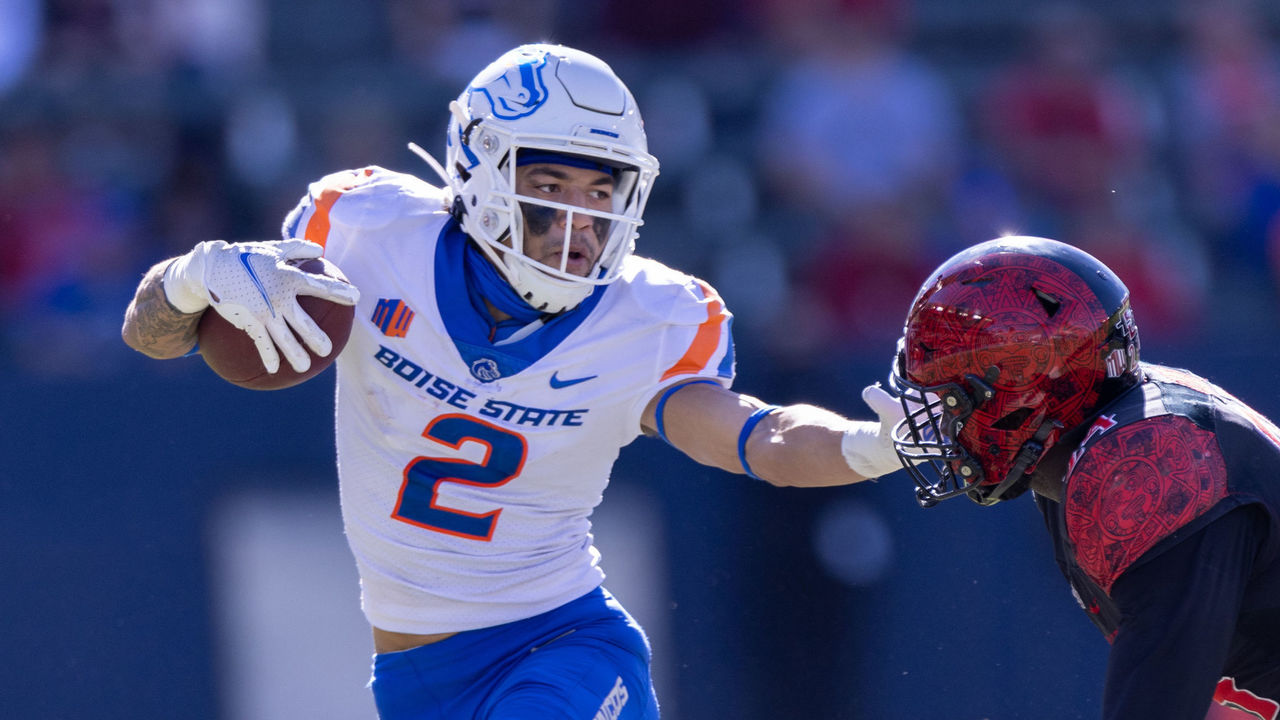 Shakir found ways to fill up the stat sheet as a pass-catcher and a runner in college, and smart front offices will recognize that. He's a multifaceted weapon capable of lining up anywhere on offense and making it count with his workman-like routes, running back-style vision, quick burst, and willingness to battle on every play. It's not all positive - he's limited in terms of deep speed and play strength. But we've seen teams wisely deploy players in Shakir's mold as mismatch pieces to keep defenses off balance. In a quality attack, he'll cause headaches for opposing coordinators.
Fantasy outlook: While Shakir is nowhere close to Deebo Samuel's level, that type of usage is an intriguing idea when considering how Shakir could earn touches as a pro. It's still quite the leap; the 23-year-old needs to demonstrate that his method of attack can be successful in the NFL and not just in the Mountain West Conference. However, there's enough here to warrant an investment in fantasy leagues in hopes that Shakir can become the next productive hybrid talent.
14. John Metchie
| School | Height | Weight | 40 time |
| --- | --- | --- | --- |
| Alabama | 5'11 | 187 | DNP |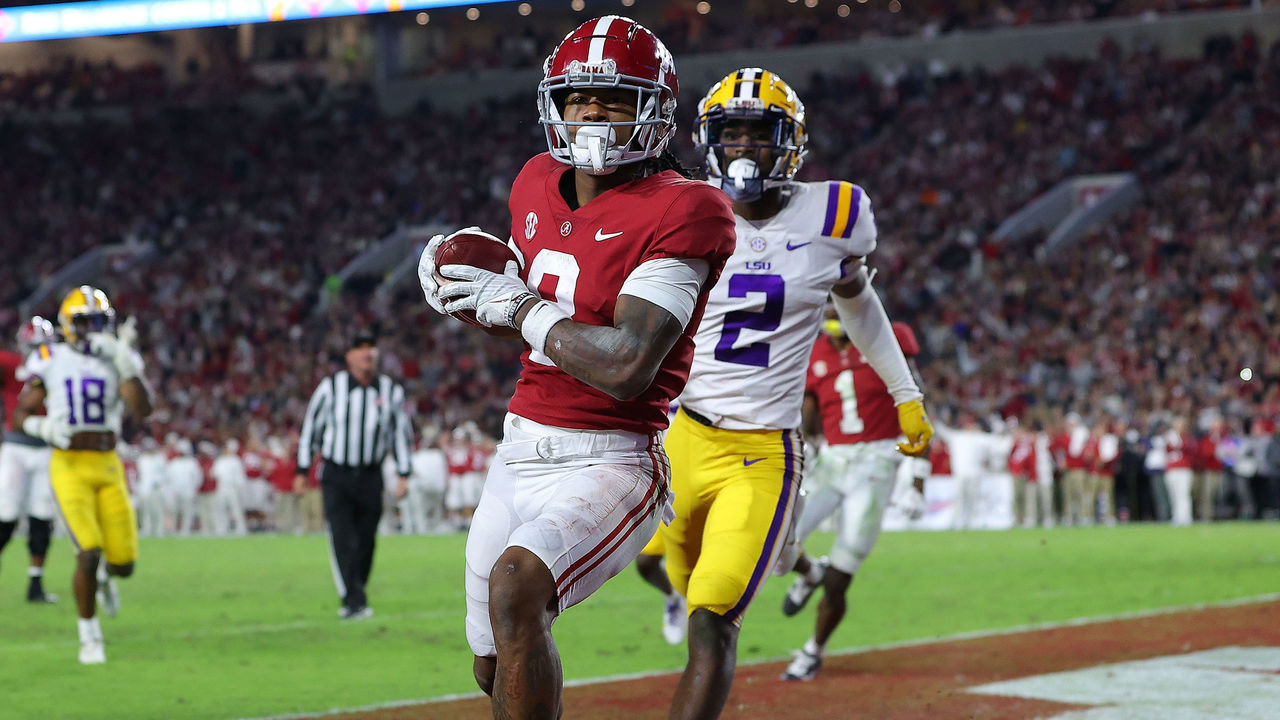 Beyond his strong route running, Metchie didn't have much to boast about in terms of high-end traits that would help him stand out in the NFL. And that was before he tore his ACL in December, which could impact his availability and effectiveness in 2022. If he makes a full recovery, the 21-year-old will bring some versatility to his next club, but there were questions about his explosiveness and physicality long before the injury. He faces an uphill battle to emerge as more than a middling contributor out of the slot.
Fantasy outlook: The lack of athleticism plus a serious injury that will derail his first offseason as a pro make Metchie a tough sell for fantasy managers. A draft-day slide wouldn't be surprising in real life or fantasy. Unless he comes at a discount, you can likely stay away.
15. Alec Pierce
| School | Height | Weight | 40 time |
| --- | --- | --- | --- |
| Cincinnati | 6'3 | 211 | 4.41 |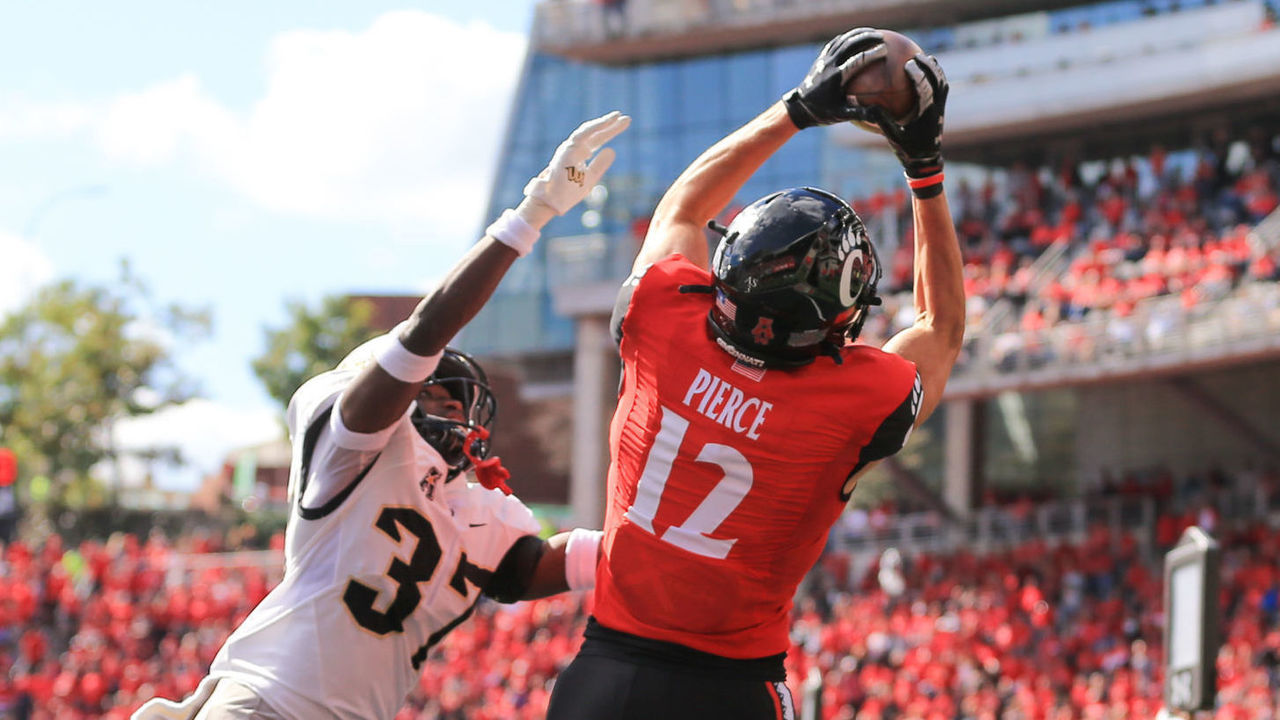 Pierce is a long-term project who can initially contribute as a field-stretcher thanks to his size, acceleration, body control, and contested-catch prowess. But make no mistake: He's a raw talent with limited route-running skills and a surprising lack of college stats. Pierce is a depth piece with an outside shot to become a starter down the road.
Fantasy outlook: When it comes to sleeper picks, you could do worse than Pierce, who's got at least some of the traits you look for in a future starter. Just remember, it's far more likely for mid-to-late-round receivers without proven production profiles to fail than succeed at the next level.
Other notable prospects
Wan'Dale Robinson (Kentucky)
Calvin Austin III (Memphis)
Romeo Doubs (Nevada)
Danny Gray (SMU)
Kyle Philips (UCLA)
Tyquan Thornton (Baylor)
Velus Jones Jr. (Tennessee)
Kevin Austin Jr. (Notre Dame)
Bo Melton (Rutgers)
Erik Ezukanma (Texas Tech)
Dontario Drummond (Mississippi)
Jaquarii Roberson (Wake Forest)
Makai Polk (Mississippi State)
Reggie Roberson Jr. (SMU)
Jaivon Heiligh (Coastal Carolina)
Tre Turner (Virginia Tech)
Samori Toure (Nebraska)
Isaiah Weston (Northern Iowa)
Michael Woods II (Oklahoma)
Charleston Rambo (Miami)
Jalen Nailor (Michigan State)
Comments
✕
2022 NFL Draft prospect rankings: Wide Receivers
  Got something to say? Leave a comment below!