2022 NFL Draft prospect rankings: Tight Ends
Photo illustration by Nick Roy/theScore
theScore's Dan Wilkins, Justin Boone, and Daniel Valente break down the 2022 NFL Draft with rankings and analysis for the prospects available at every position.
Top 50
QB | RB | WR | TE | OL
EDGE | DL | LB | CB | S
Tight Ends
1. Trey McBride
| School | Height | Weight | 40 time |
| --- | --- | --- | --- |
| Colorado State | 6'4 | 246 | 4.56 |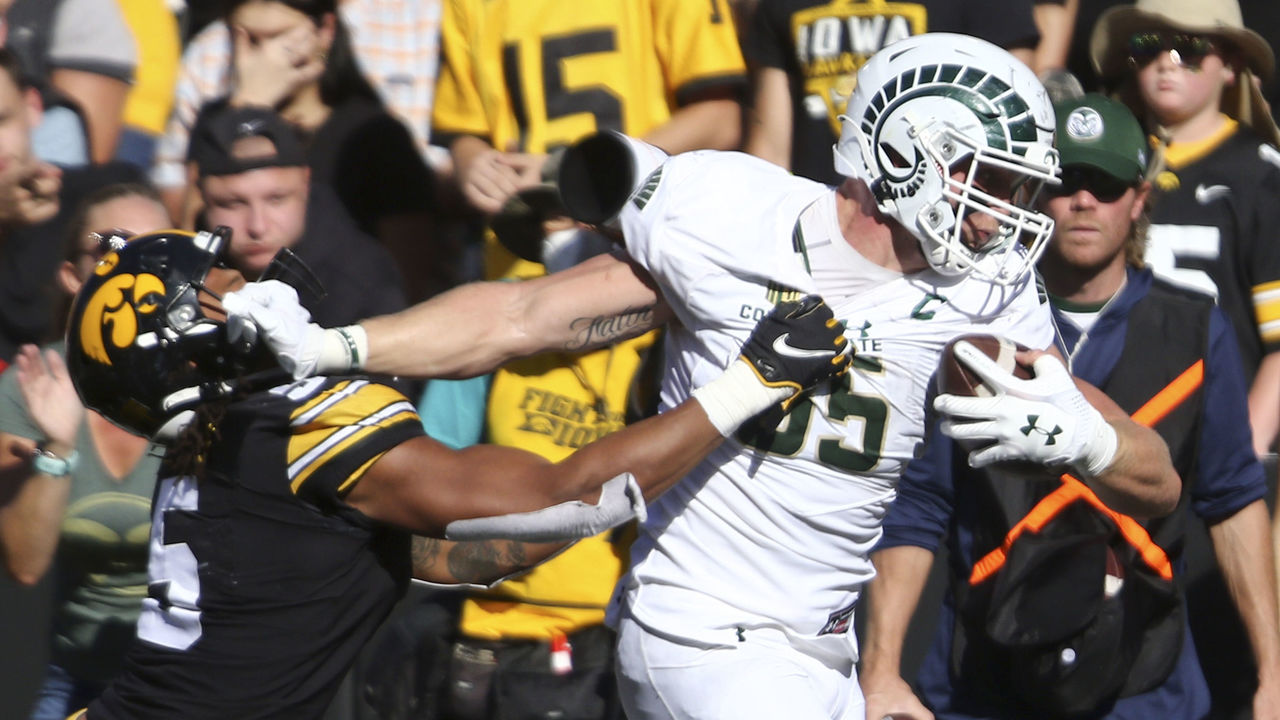 This year's tight end class lacks elite difference-makers. It's more of a mixed bag of developmental prospects who have the potential to grow into capable NFL starters. McBride is in a tier of his own as an above-average pass-catcher who can line up all over the formation, and he has the speed to frustrate linebackers. He's coming off a 90-catch, 1,121-yard campaign where he only found the end zone once, but he showed he can serve as a primary offensive target. Despite the low touchdown total, he still proved himself worthy of the Mackey Award - given to the top tight end in college football. While he has room for improvement as a blocker, it's not an area of concern since he exhibits the drive to get the job done. The 22-year-old will have no problem getting on the field early and should enjoy a long career as a quality starter.
Fantasy outlook: As we remind everyone each year, it's rare for rookie tight ends to enter the league and immediately make a big fantasy impact. Unlike last season, there aren't any extraordinary prospects like Kyle Pitts getting ready to walk across the draft stage. Though McBride has the tools to earn playing time right away, he'd need a perfect situation to be in the conversation as a fantasy option in 2022. Dynasty managers should be far more intrigued by his potential as a Round 2 value in rookie drafts.
2. Greg Dulcich
| School | Height | Weight | 40 time |
| --- | --- | --- | --- |
| UCLA | 6'4 | 243 | 4.69 |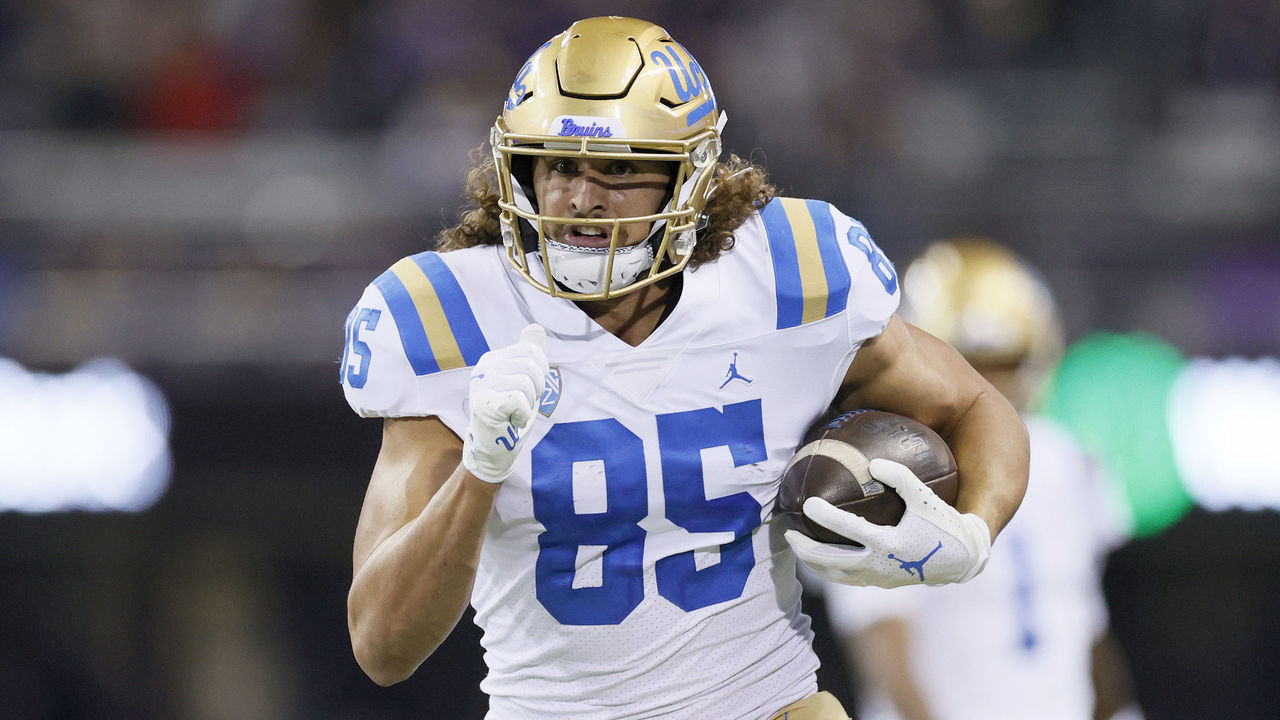 Dulcich is a former wide receiver who converted into a pass-catching tight end - and it shows. The 22-year-old can be deployed in a variety of ways, as he'll use his long-stride speed, smooth routes, and massive catch radius en route to big gains. He battles for extra yards on every play, and while that resilient attitude should help him as a blocker, he lacks the strength and technique to hold off defenders. It's possible Dulcich fills out his frame and develops his blocking skills under an NFL coaching staff, but it's safer to project him as just a versatile receiving threat at the next level.
Fantasy outlook: What Dulcich brings to the table should entice fantasy managers. Being a good blocker can help tight ends stay on the field, but we've seen plenty of pass-catching specialists excel at the position in recent seasons. The ease with which he creates separation, combined with his strong hands and field-stretching speed, will give him a chance to emerge as a fantasy factor in the next couple of years - once he's spent some time in an NFL weight room.
3. Jeremy Ruckert
| School | Height | Weight | 40 time |
| --- | --- | --- | --- |
| Ohio State | 6'5 | 252 | DNP |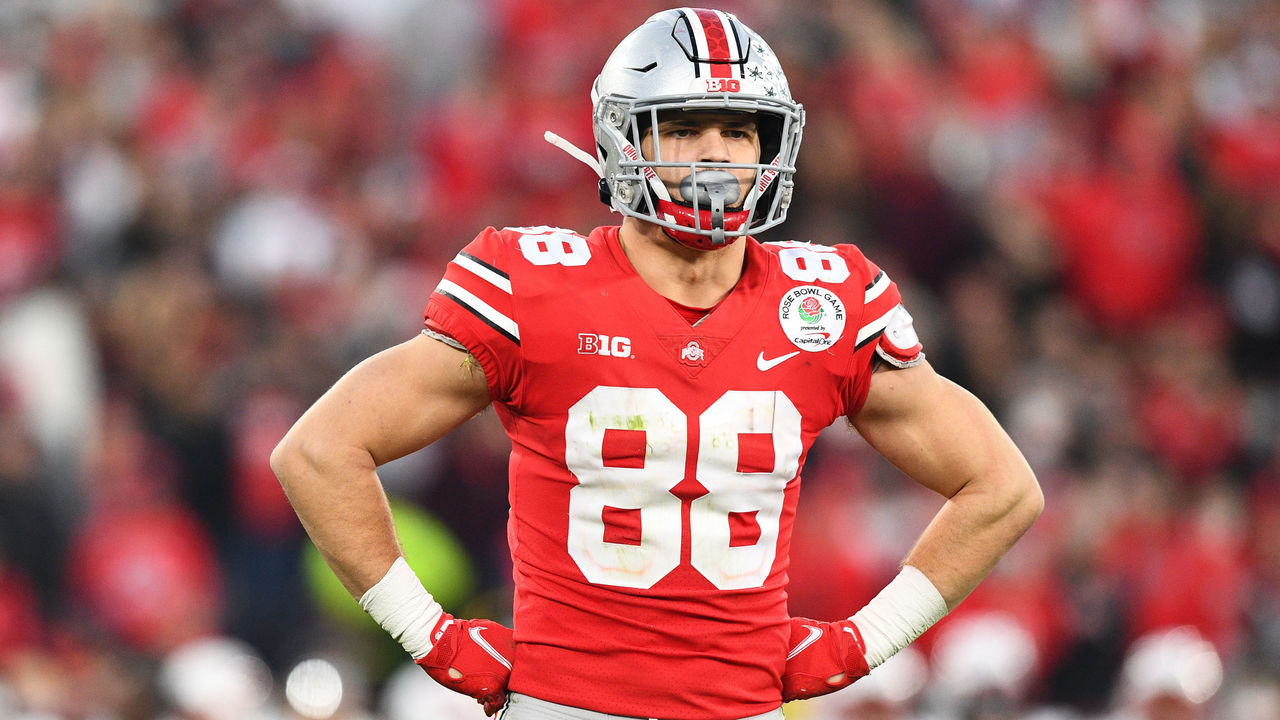 Ruckert is a physically imposing monster as a blocker with a powerful and fierce approach that will translate immediately to an NFL team. It's hard to know for sure what he can offer as a pass-catcher, though, since he didn't get much of an opportunity to showcase that at Ohio State. His career highs of 26 catches and 309 yards leave a lot to be desired, but they can also be blamed on a loaded Buckeyes receiving corps that soaked up most of the targets. Ruckert flashed some ability around the red zone with 12 touchdowns over the last three years, and his size-athleticism combo suggests he's capable of a bigger role through the air. Don't be surprised if he makes a bigger mark as a pro than he did in college.
Fantasy outlook: While Ruckert doesn't have the same high-upside athletic profile Dawson Knox did entering the league, it's possible he has a similar boost in production after being drafted. Knox famously didn't score a touchdown while playing alongside DK Metcalf and A.J. Brown at Ole Miss. After a couple of years in their organization, the Bills unleashed Knox as a full-time starter and playmaker. It's a long shot, but Ruckert has the attributes to expand his game. He'll be a sleeper pick in dynasty rookie drafts.
4. Jelani Woods
| School | Height | Weight | 40 time |
| --- | --- | --- | --- |
| Virginia | 6'7 | 259 | 4.61 |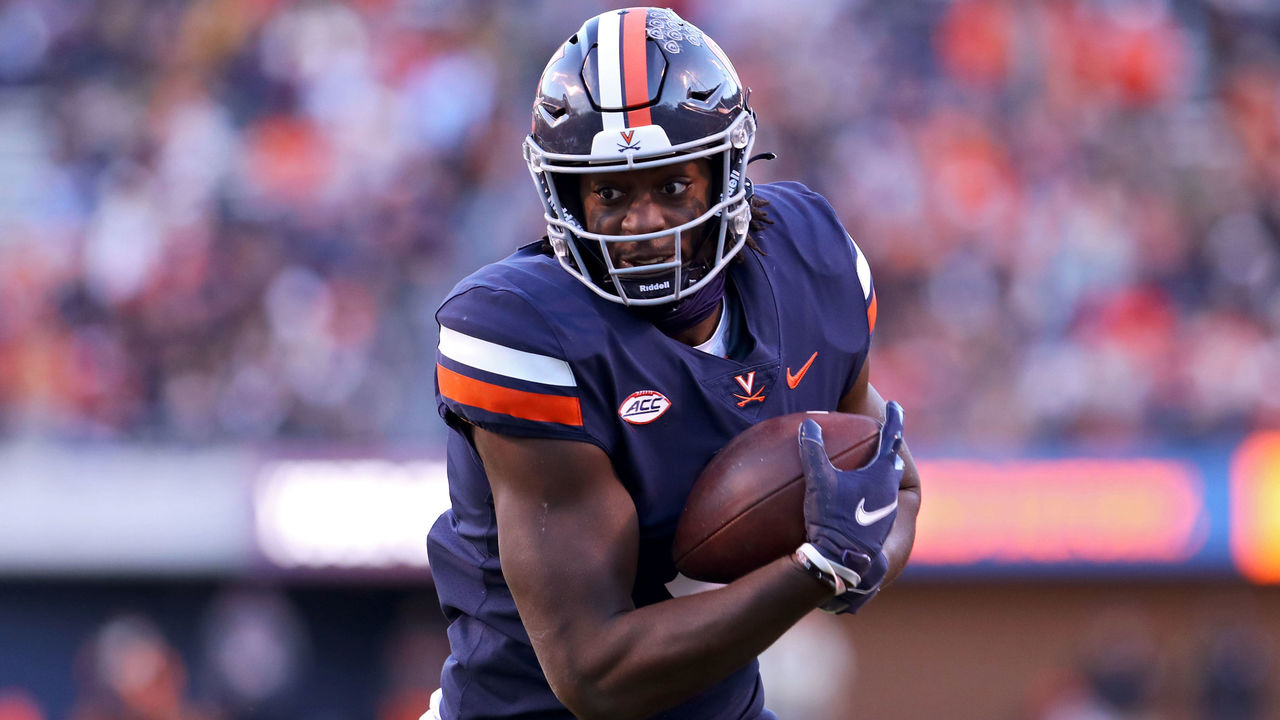 Woods has come a long way over the last several years, moving from quarterback to tight end at Oklahoma State before transferring to Virginia in search of more opportunities as a pass-catcher. The decision paid off, resulting in his best season with 44 receptions, 598 yards, and eight scores. His 6-foot-7 frame is difficult for any defender to deal with, and there's still room for him to fill out. Though he tested well at the combine, you don't always see that explosiveness and speed on the field. Instead, he wins with size, both before and after the catch. Woods is more of a long-term project, but there are enough positive traits - mostly physical ones - to warrant a longer look.
Fantasy outlook: It's easy to fall for Woods' profile, especially when you watch him challenge defenses as a giant running up the seam. However, you should be cautious to not overvalue him. He still needs a lot of refinement before he'll be trusted as an NFL starter. If he does become fantasy relevant, it likely won't be for a few years.
5. Charlie Kolar
| School | Height | Weight | 40 time |
| --- | --- | --- | --- |
| Iowa State | 6'6 | 252 | 4.62 |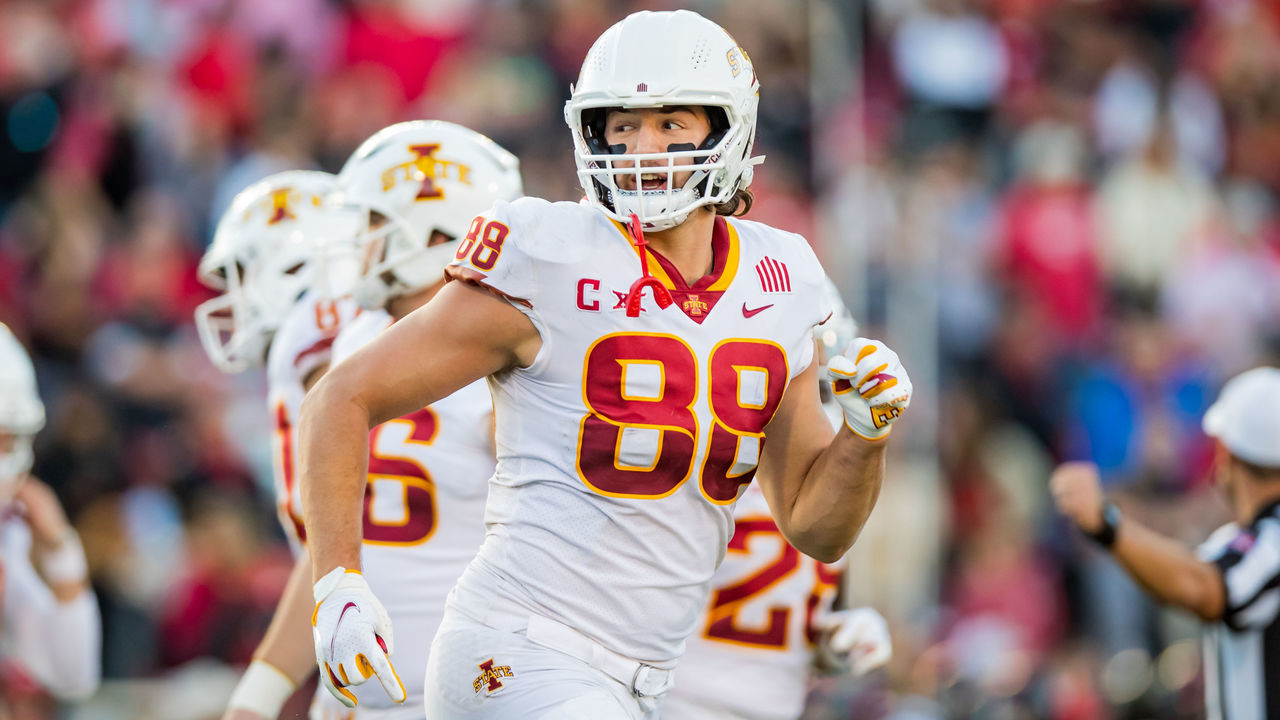 Kolar is an underrated prospect with a good all-around skill set. He had three straight seasons of quality production, averaging 52 catches, 681 yards, and seven touchdowns per year during that stretch. At 23 years old, he'll enter the league with a pro-ready build and a dependable set of hands. However, he's not without his faults. Kolar's not a threat with his legs, and he lacks the toughness you want to see from a tight end. He just hasn't shown much growth while at Iowa State, leading you to wonder if he's already maxed out his potential.
Fantasy outlook: We've already reached the point where we might be talking about backup-caliber talents. Kolar doesn't have a high ceiling, meaning he's likely not someone you want to target in fantasy unless his next team lacks weapons at receiver. At worst, he should settle in as a red-zone threat, even if the majority of his playing time comes in two-tight ends sets.
6. Cade Otton
| School | Height | Weight | 40 time |
| --- | --- | --- | --- |
| Washington | 6'5 | 247 | DNP |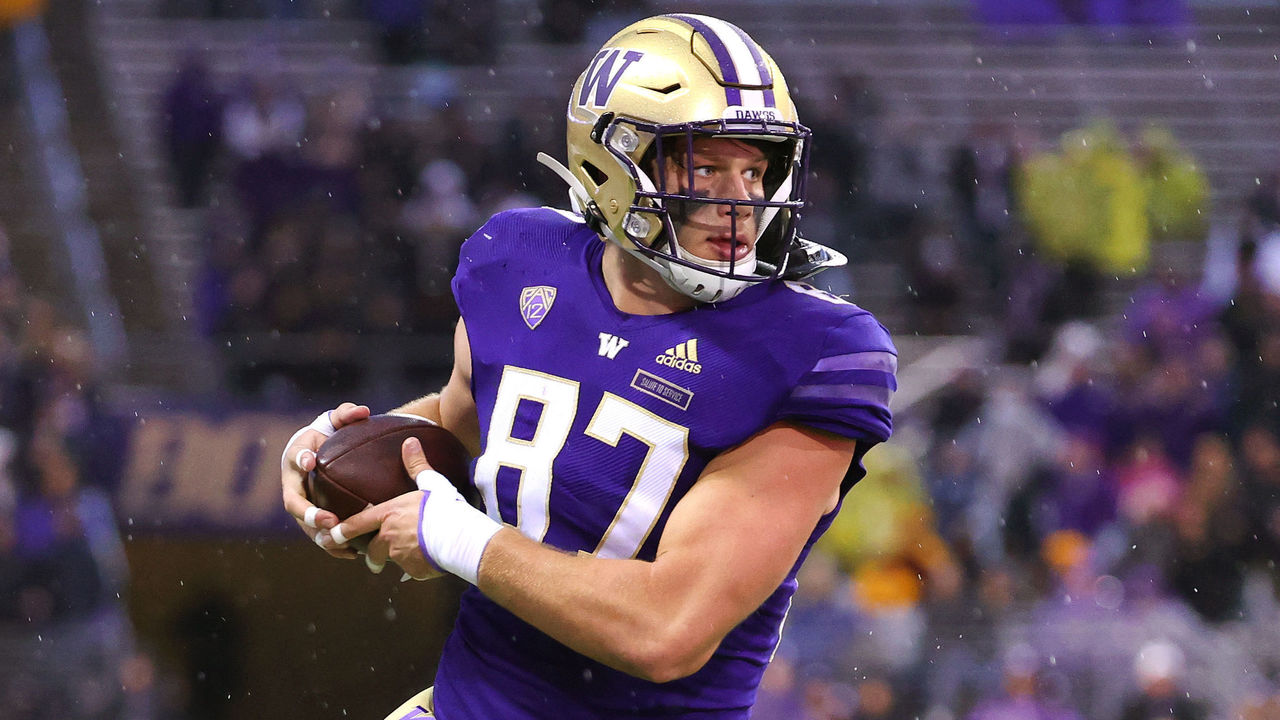 Otton looks the part of an NFL tight end, but whether he has enough talent to propel himself to a starting job at the next level remains to be seen. He's another prospect who might have a more prolific professional career than what we saw from him in college, where his targets were limited. If he does, it won't be because of his athletic prowess, but rather the subtle ways he creates space as a route-runner and his ability to make plays at the catch point. He steps up more often than not when asked to block, but if he's going to earn significant playing time, he'll need to improve his footwork and technique.
Fantasy outlook: Otton will likely attract interest from NFL general managers and fantasy managers hoping to find a path to untapped potential. Unfortunately, his pedestrian athletic profile lowers his ceiling, making him more of an end-of-the-bench dynasty stash.
7. Isaiah Likely
| School | Height | Weight | 40 time |
| --- | --- | --- | --- |
| Coastal Carolina | 6'4 | 245 | 4.82 |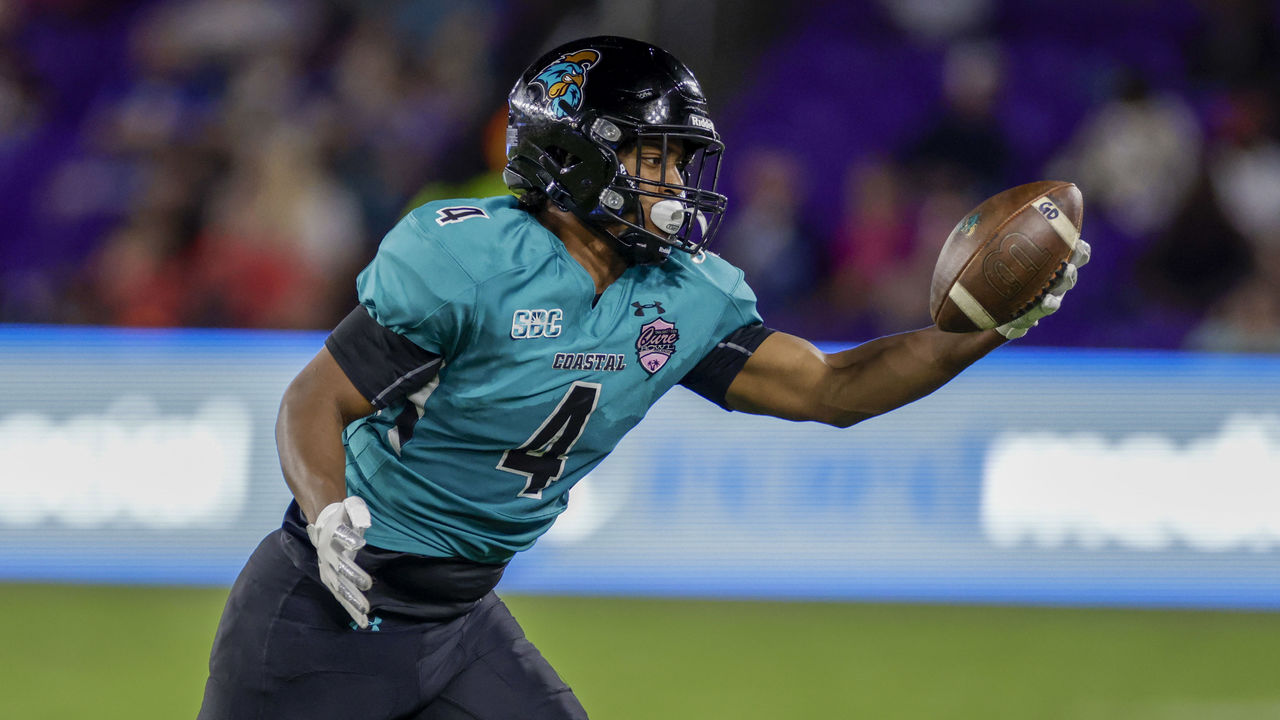 Likely is an exciting prospect who showed game-breaking ability as a downfield threat. He's quick in his routes and has strong hands that help him regularly high-point the ball over defenders. Some may question his top speed after he posted a 4.83-second 40-yard dash time at his pro day, but he doesn't look slow in games - though he did play against a lower level of competition. Likely still needs to work on his body and maybe add some bulk to help withstand the rigors of the NFL, but he's one of the most intriguing pass-catching tight end prospects 2022 has to offer.
Fantasy outlook: Players with incomplete skill sets who stand out against weaker competition can be hard to project into the pros. As easy as it is to see them making the leap, there's also the possibility they fail to develop the finer points of their game and struggle against bigger and more talented defenders. However, if you're going to take a chance on a risky tight end prospect with a high ceiling and a low floor, Likely should be on your watchlist.
Other notable prospects
Daniel Bellinger (San Diego State)
Chigoziem Okonkwo (Maryland)
Jake Ferguson (Wisconsin)
Cole Turner (Nevada)
James Mitchell (Virginia Tech)
Gerrit Prince (UAB)
Jalen Wydermyer (Texas A&M)
Derrick Deese Jr. (San Jose State)
Grant Calcaterra (SMU)
Comments
✕
2022 NFL Draft prospect rankings: Tight Ends
  Got something to say? Leave a comment below!