theScore's Mike Alessandrini is assembling all-decade lineups and ranking all 32 teams based on those rosters. Contributions from 2010 to 2019 were taken into account, with player selections based on peak production, longevity, and overall impact. Those who spent only one season with a club didn't qualify.
Our series continues with a look at the AFC North.
AFC (June 22-25)
East | North | South | West
NFC (June 29-July 2)
East | North | South | West
Final rankings
See how all 32 rosters stack up
Baltimore Ravens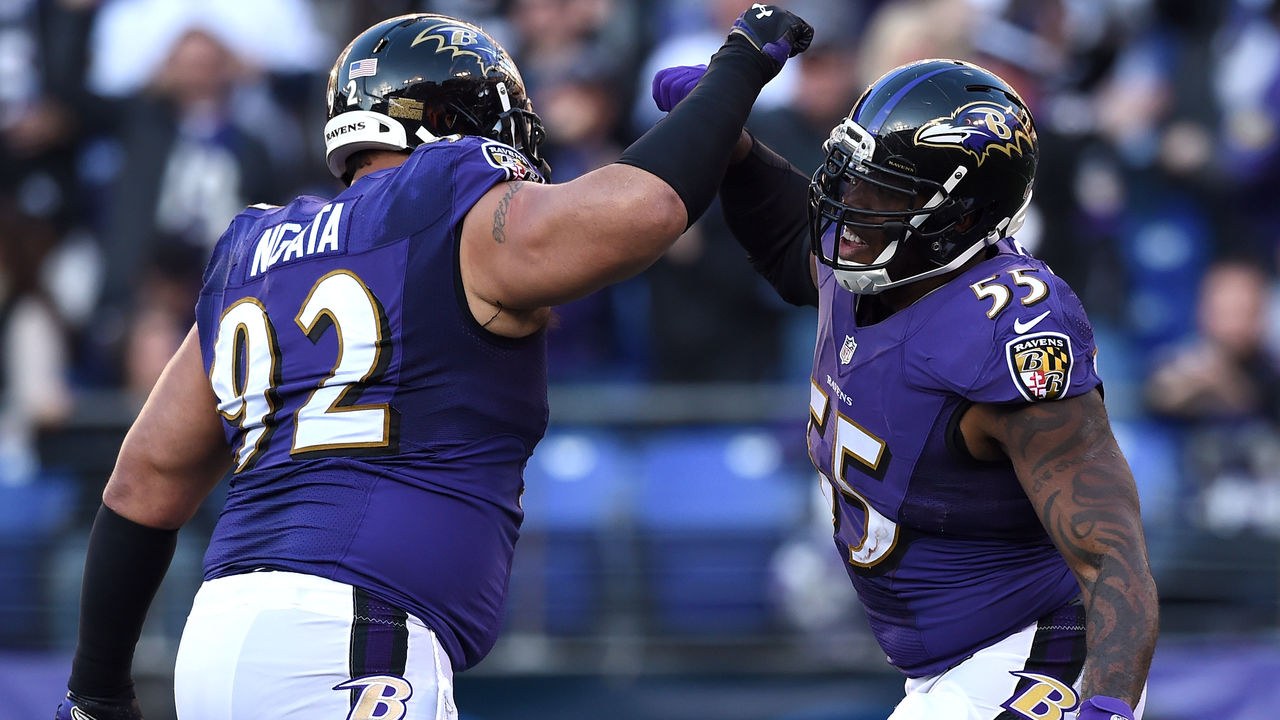 Head coach: John Harbaugh
| POS. | Player | POS. | Player |
| --- | --- | --- | --- |
| QB | Joe Flacco | DE | Haloti Ngata |
| RB | Ray Rice | NT | Brandon Williams |
| WR | Torrey Smith | OLB | Terrell Suggs |
| WR | Steve Smith | ILB | C.J. Mosley |
| Slot | Anquan Boldin | ILB | Ray Lewis |
| TE | Mark Andrews | OLB | Elvis Dumervil |
| LT | Ronnie Stanley | CB | Jimmy Smith |
| LG | Kelechi Osemele | CB | Marlon Humphrey |
| C | Matt Birk | Nickel | Lardarius Webb |
| RG | Marshal Yanda | FS | Ed Reed |
| RT | Michael Oher | SS | Eric Weddle |
| K | Justin Tucker | P | Sam Koch |
With a combined 41 Pro Bowls and 13 All-Pro selections in the starting lineup, Baltimore's roster features stars at multiple positions and a pair of all-time greats on special teams in Tucker and Koch. Between a deep squad and proven head coach, it's no surprise the Ravens captured their second Super Bowl and four division crowns in a competitive AFC North.
Though you can debate who's the more talented quarterback, Flacco gets the nod over Lamar Jackson. The veteran's extended impact on the team and 2012 postseason run can't be ignored. A solid group of skill-position players flank him, including the versatile Rice in the backfield and a tight end trio of Andrews, Dennis Pitta, and Ed Dickson.
Torrey Smith headlines the receiving corps after spending four productive campaigns as a speedy deep threat. Boldin and Steve Smith were past their primes upon joining Baltimore, but both were clutch performers. The latter even notched 1,065 yards and six touchdowns in 2014 at age 35.
The offensive line offers depth and high-end talent with longtime premier guard Yanda, 2019 All-Pro tackle Stanley, and perennial road grader Osemele.
The Ravens' defense is tough as nails. Good luck running the football against Ngata, Williams, Mosley, and Michael Pierce rotating in the front seven. Passing would be difficult, too, with Suggs and Dumervil manning the edge. The dynamic pass-rush duo totaled 110.5 combined sacks in Baltimore since 2010 while eclipsing nine sacks seven times combined. Similar to the offense, Harbaugh's defense fields past-their-prime stars in Lewis, Reed, and Weddle. Don't let that fool you, though, as all three still performed at a high level.
Cincinnati Bengals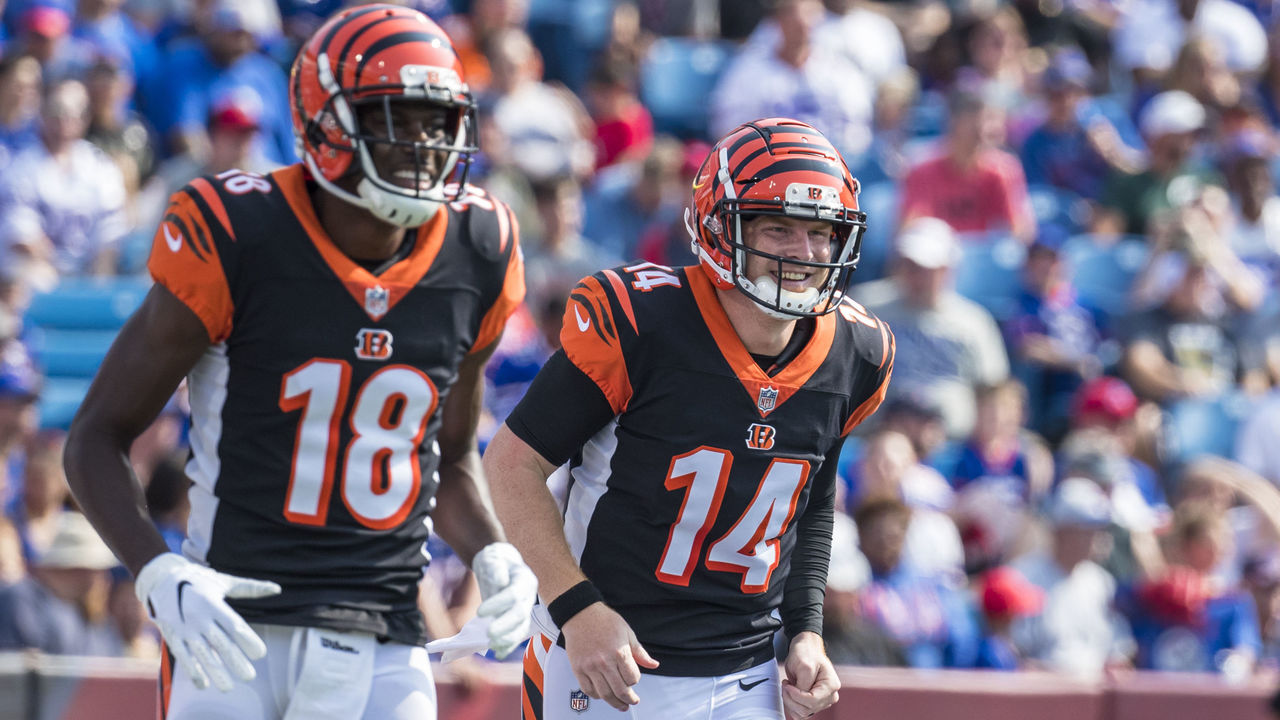 Head coach: Marvin Lewis
| POS. | Player | POS. | Player |
| --- | --- | --- | --- |
| QB | Andy Dalton | DE | Carlos Dunlap |
| RB | Giovani Bernard | DT | Geno Atkins |
| WR | A.J. Green | DT | Domata Peko |
| WR | Marvin Jones | DE | Michael Johnson |
| Slot | Tyler Boyd | LB | Vontaze Burfict |
| TE | Tyler Eifert | LB | Rey Maualuga |
| LT | Andrew Whitworth | CB | Dre Kirkpatrick |
| LG | Clint Boling | CB | Pacman Jones |
| C | Kyle Cook | NCB | Leon Hall |
| RG | Kevin Zeitler | FS | Reggie Nelson |
| RT | Andre Smith | SS | George Iloka |
| K | Mike Nugent | P | Kevin Huber |
In a unique scenario for this exercise, 17 of Cincinnati's 24 starters here spent at least seven years with the club from 2010 to 2019. Familiarity would be a major strength for this Lewis-lead group.
Dalton endured his share of criticism for never being an elite quarterback, though he surpassed 25 touchdowns twice and 3,500 passing yards three times. Bernard and Joe Mixon would split carries, while Green's incredible production puts him on the shortlist of the decade's top receivers.
For a team that always appeared to struggle with blocking, Cincinnati surprisingly rosters a trio of stout offensive lineman in Whitworth, Cook, and Zeitler.
The Bengals' defense also boasts a handful of talented players. Atkins headlines a group with eight Pro Bowls, two All-Pro nods, and elite pass-rush skills. Johnson and Dunlap round out a strong front four, with the latter not nearly receiving enough credit for his consistency. The former second-rounder wrapped up his seventh straight campaign in 2019 with at least 7.5 sacks. Cincinnati's secondary would likely struggle against the top passing attacks, but Hall was a proven slot defender and Nelson made a number of big plays at safety.
Lewis' all-decade squad would primarily rely on the Dalton-Green connection and a potent pass rush to win games. There are worse strategies, but the Bengals simply didn't field enough star players to hang with the NFL's elite.
Cleveland Browns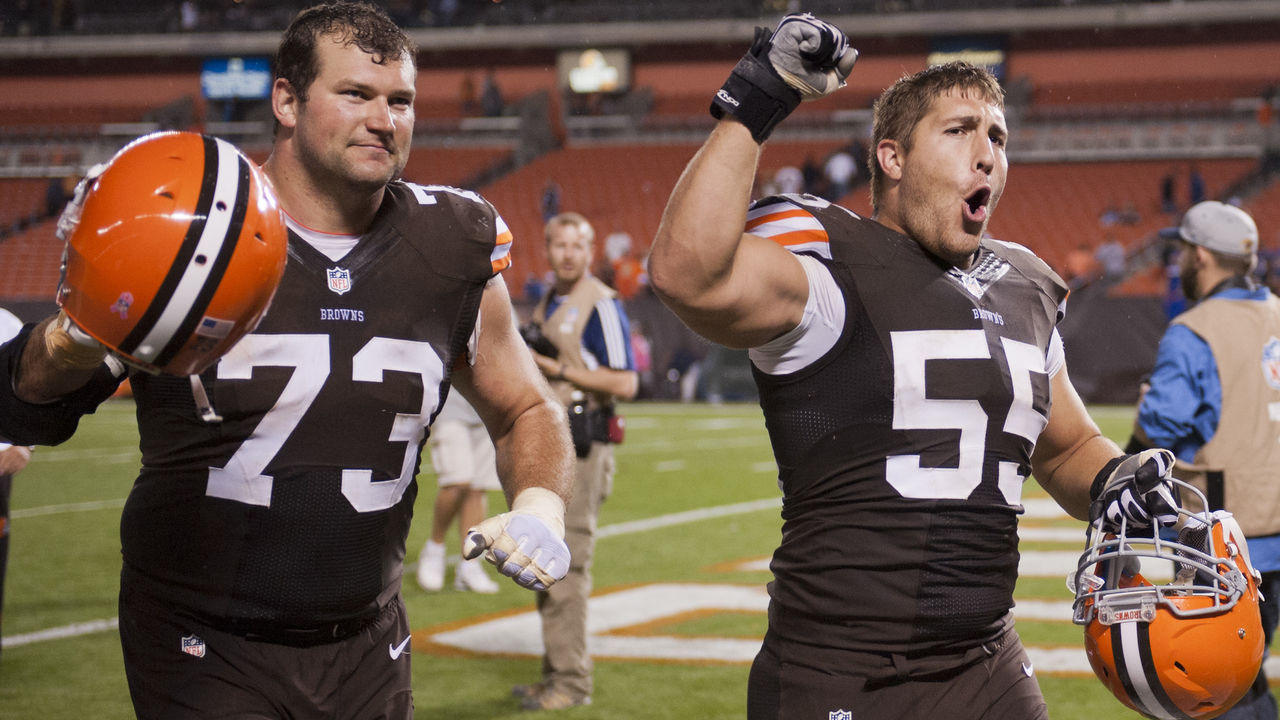 Head coach: Mike Pettine
| POS. | Player | POS. | Player |
| --- | --- | --- | --- |
| QB | Baker Mayfield | DE | Myles Garrett |
| RB | Nick Chubb | DT | Danny Shelton |
| WR | Josh Gordon | DT | Ahtyba Rubin |
| WR | Jarvis Landry | DE | Jabaal Sheard |
| TE | Jordan Cameron | MLB | D'Qwell Jackson |
| TE | Gary Barnidge | WLB | Christian Kirksey |
| LT | Joe Thomas | SLB | Joe Schobert |
| LG | Joel Bitonio | CB | Joe Haden |
| C | Alex Mack | CB | Sheldon Brown |
| RG | John Greco | FS | Tashaun Gipson |
| RT | Mitchell Schwartz | SS | T.J. Ward |
| K | Phil Dawson | P | Britton Colquitt |
Cleveland was the league's least successful franchise of the 2010s, resulting in a handful of difficult roster decisions for all the wrong reasons. Chief among those tough calls was the head coach and quarterback: Pettine wasn't a disaster in 2014, and Mayfield has at least flashed some potential. We certainly couldn't have selected Pat Shurmur or Freddie Kitchens and Colt McCoy or Brandon Weeden for those spots.
Chubb's NFL career is barely off the ground, but his first two seasons were better than any from Isaiah Crowell or Duke Johnson. Gordon is by far the top pass-catching option despite being a controversial figure with the Browns, while a two tight-end set featuring Cameron and Barnidge speaks more to the club's lack of receiver depth.
Few were able to match Cleveland's starting offensive linemen. Both Thomas and Mack featured on the NFL's all-decade team, and the former was arguably the league's premier blocker at any position during the last 10 years. Bitonio and Schwartz are no slouches themselves, thriving as both run-blockers and pass-protectors.
Garrett, Kirksey, and Haden lead the separate levels of the Browns' defense, and they've logged a combined 16 years of experience. Jackson, Schobert, and Ward are solid run defenders in the secondary. However, Cleveland's pass defense is slightly more suspect. Brown and Denzel Ward were underwhelming options opposite Haden, so Gipson would need to relive his 2013 and 2014 seasons when he snatched 11 interceptions at free safety over the two campaigns. There's talent on this defense, but it's lacking true difference-makers.
Pittsburgh Steelers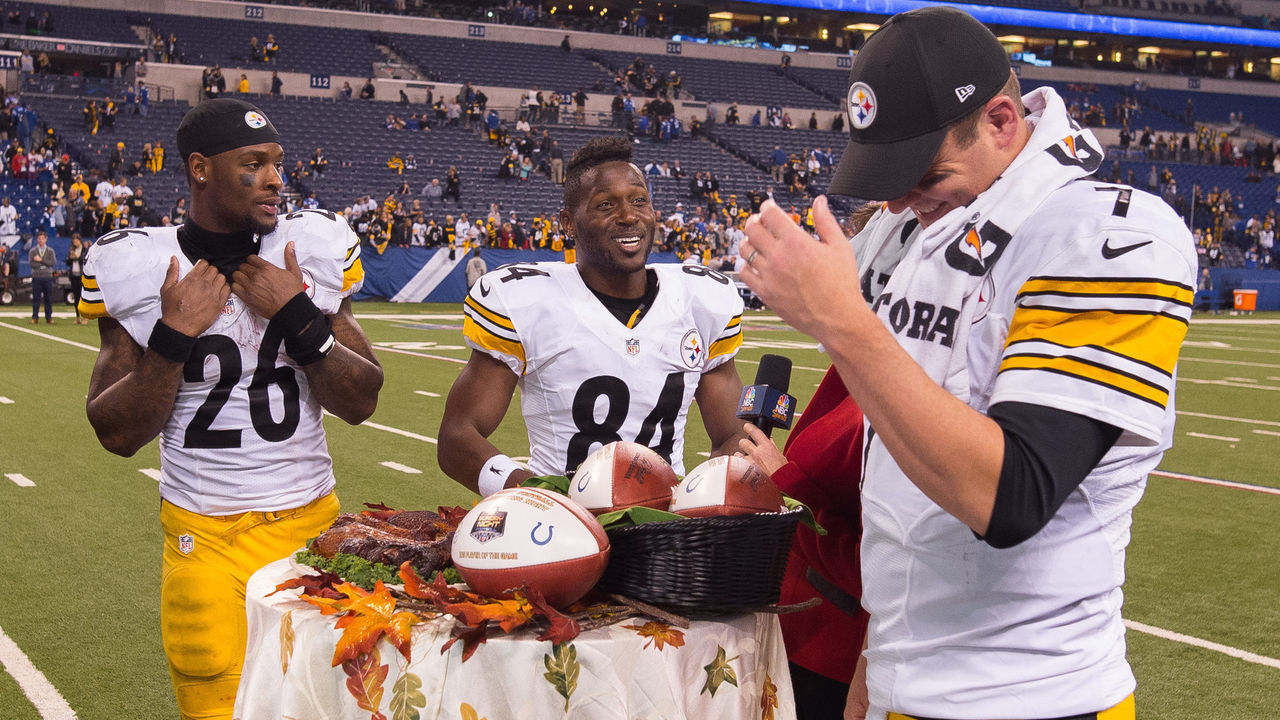 Head coach: Mike Tomlin
| POS. | Player | POS. | Player |
| --- | --- | --- | --- |
| QB | Ben Roethlisberger | DE | Cameron Heyward |
| RB | Le'Veon Bell | NT | Javon Hargrave |
| WR | Antonio Brown | DE | Stephon Tuitt |
| WR | Mike Wallace | OLB | James Harrison |
| Slot | JuJu Smith-Schuster | ILB | Ryan Shazier |
| TE | Heath Miller | ILB | Lawrence Timmons |
| LT | Ali Villanueva | OLB | T.J. Watt |
| LG | Ramon Foster | CB | Joe Haden |
| C | Maurkice Pouncey | CB | Ike Taylor |
| RG | David DeCastro | FS | Ryan Clark |
| RT | Marcus Gilbert | SS | Troy Polamalu |
| K | Shaun Suisham | P | Jordan Berry |
Pittsburgh failed to capture its seventh Super Bowl during the 2010s, but this is one heck of a roster. Similar to their AFC North rivals in Baltimore, the Steelers' depth and skill would match up well against the NFL's elite.
Perhaps the most notable area of this lineup is the dynamic offense at Tomlin's disposal. The "Killer B's" reunite - devoid of drama, let's hope - to form arguably the best offensive trio in this exercise. Add in the lightning-fast Wallace, reliable Miller, and well-rounded Smith-Schuster, and it's unlikely any squad could slow this group down. No receiver was as remarkably consistent as Brown over the last 10 years. His 75 touchdowns led all wideouts, and he ranked second in both catches and receiving yards despite starting fewer games than the others inside the top five.
The Steelers are also blessed with five accomplished offensive linemen. Pouncey and DeCastro earned two All-Pro nods apiece during the last decade, while Villanueva, Gilbert, and Foster started a combined 302 contests. This unit would protect Roethlisberger and open up running lanes for Bell to keep the offense churning up yards.
Pittsburgh struggled to field two quality cornerbacks in recent years, though its all-decade defense is loaded with playmakers at other positions.
The perennially underrated Heyward is still among the game's top defensive linemen. Heyward, Tuitt, Hargrave, Steve McLendon, and Brett Keisel form a dangerous rotation. Meanwhile, Harrison and Watt each played at a top-tier level for multiple campaigns, and they can disrupt opposing quarterbacks on nearly every snap.
Rounding out the defense are Clark and Polamalu. The safety duo was more impactful during the previous decade, but the two still performed extremely well during the tail end of their careers.