theScore's Mike Alessandrini is assembling all-decade lineups and ranking all 32 teams based on those rosters. Contributions from 2010 to 2019 were taken into account, with player selections based on peak production, longevity, and overall impact. Those who spent only one season with a club didn't qualify.
Our series continues with a look at the NFC North.
AFC (June 22-25)
East | North | South | West
NFC (June 29-July 2)
East | North | South | West
Final rankings
See how all 32 rosters stack up
Chicago Bears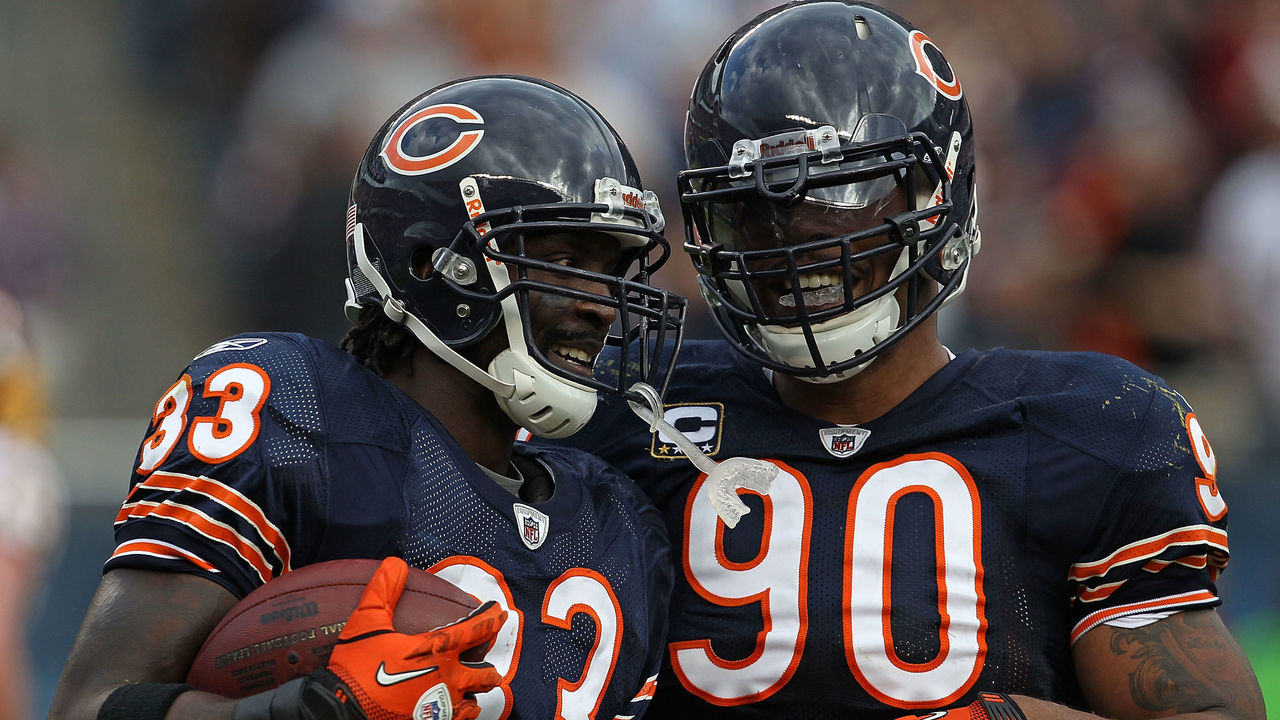 Head coach: Lovie Smith
| POS. | Player | POS. | Player |
| --- | --- | --- | --- |
| QB | Jay Cutler | DE | Khalil Mack |
| RB | Matt Forte | DT | Eddie Goldman |
| WR | Brandon Marshall | DT | Akiem Hicks |
| WR | Alshon Jeffery | DE | Julius Peppers |
| Slot | Earl Bennett | LB | Brian Urlacher |
| TE | Martellus Bennett | LB | Lance Briggs |
| LT | Charles Leno Jr. | CB | Kyle Fuller |
| LG | Cody Whitehair | CB | Charles Tillman |
| C | Roberto Garza | NCB | Tim Jennings |
| RG | Kyle Long | FS | Adrian Amos |
| RT | Bobby Massie | SS | Eddie Jackson |
| K | Robbie Gould | P | Pat O'Donnell |
As you'd come to expect from the Bears, their all-decade roster is built around a stingy defense. The unit features an intriguing mix of past-their-prime legends who still performed at a high level and a newer age of stars.
Urlacher, Briggs, and Peppers are the most notable longtime defenders. The linebacker duo amassed four Pro Bowl nods despite playing just eight combined seasons in the 2010s and being well into their 30s. Peppers, a future Hall of Fame pass-rusher, dominated in Chicago after an incredible Panthers tenure, totaling three Pro Bowls, one All-Pro, and 37.5 sacks in four years. Mack bookends Peppers on the edge after two elite campaigns, while Amos and Jackson form an opportunistic safety duo. Finally, the Bears' trio of cornerbacks were among the best in the series - Tillman and Fuller consistently made big plays on the perimeter and Jennings excelled in the slot.
Cutler was selected to lead the Bears' offense despite a tumultuous seven-year stint in the Windy City. Though the quarterback was never able to consistently win big games, he'd have plenty of weapons at his disposal here. Forte was a true all-around tailback in his prime, surpassing 900 rushing yards five times and averaging 65 receptions from 2010-2014. Meanwhile, Marshall and Jeffery were touchdown machines out wide. The duo found the end zone 54 times in seven cumulative seasons.
Rounding out the offense is a blocking unit led by Long, Leno, and Garza. They were never perennial All-Pros and a handful of other franchises fielded more complete groups, but they created plenty of impact in the pass and run game. There are noteworthy strengths throughout Chicago's lineup, but they likely wouldn't be enough to compensate for potential shortcomings.
Detroit Lions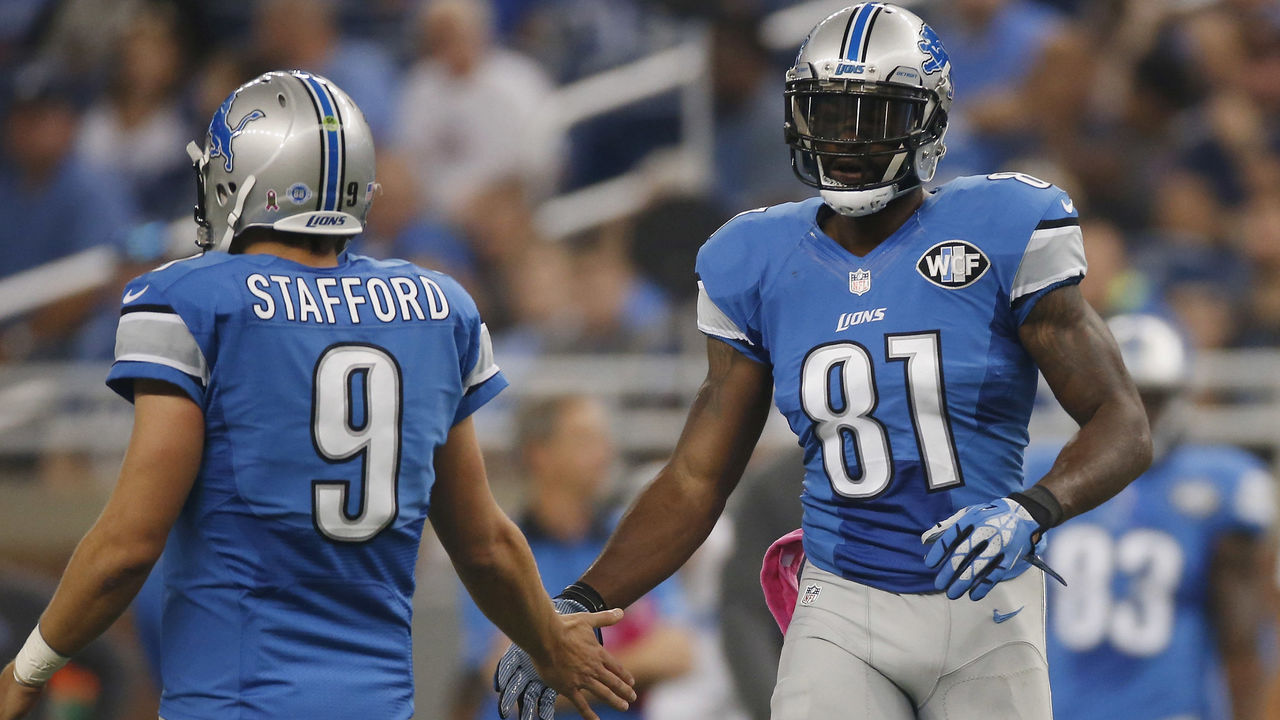 Head coach: Jim Caldwell
| POS. | Player | POS. | Player |
| --- | --- | --- | --- |
| QB | Matthew Stafford | DE | Ezekiel Ansah |
| RB | Joique Bell | DT | Ndamukong Suh |
| WR | Calvin Johnson | DT | Nick Fairley |
| WR | Marvin Jones | DE | Cliff Avril |
| Slot | Golden Tate | MLB | Stephen Tulloch |
| TE | Brandon Pettigrew | WLB | Tahir Whitehead |
| LT | Taylor Decker | SLB | DeAndre Levy |
| LG | Rob Sims | CB | Darius Slay |
| C | Dominic Raiola | CB | Chris Houston |
| RG | Larry Warford | FS | Glover Quin |
| RT | Riley Reiff | SS | Quandre Diggs |
| K | Matt Prater | P | Sam Martin |
When assembling each squad's 2010s roster, Detroit's mirrored that of the New York Jets - its strengths were truly elite but its weaknesses were among the worst in the entire series.
Stafford and Johnson give the Lions the edge in every possible matchup downfield. The dominant wideout's six-year resume last decade is nothing short of incredible: six Pro Bowls, three All-Pro selections, 83 touchdowns, and an average of 1,425 receiving yards per campaign (he led the league twice in that category). No pass-catcher could top Megatron at his peak.
Unfortunately, Caldwell's offense offers little outside a talented receiving corps. Pettigrew - an admirable all-around tight end despite never topping 800 yards - won't give opponents fits, while the options at running back weren't ideal. Bell ultimately starts over Theo Riddick and Reggie Bush after decent campaigns in 2013 and 2014, but it's not difficult to see how Detroit once went nearly five years between 100-yard rushers. The team's starting offensive line failed to earn a single Pro Bowl berth, so Stafford would likely be dropping back to pass quite often.
The Lions' defense is led by a formidable front four that features twitchy pass-rushers in Ansah and Avril and a dominant defensive tackle in Suh. The group would unsurprisingly struggle at linebacker, as Whitehead and Levy didn't display consistent coverage chops. At least Tulloch was excellent against the run. Slay deserves a ton of credit in the secondary, consistently locking down one side of the field as one of the game's premier cover corners. Quin and Diggs were above-average playmakers as well, giving Detroit a solid pass defense in the back end. However, it may not be enough to rank the franchise ahead of its division rivals.
Green Bay Packers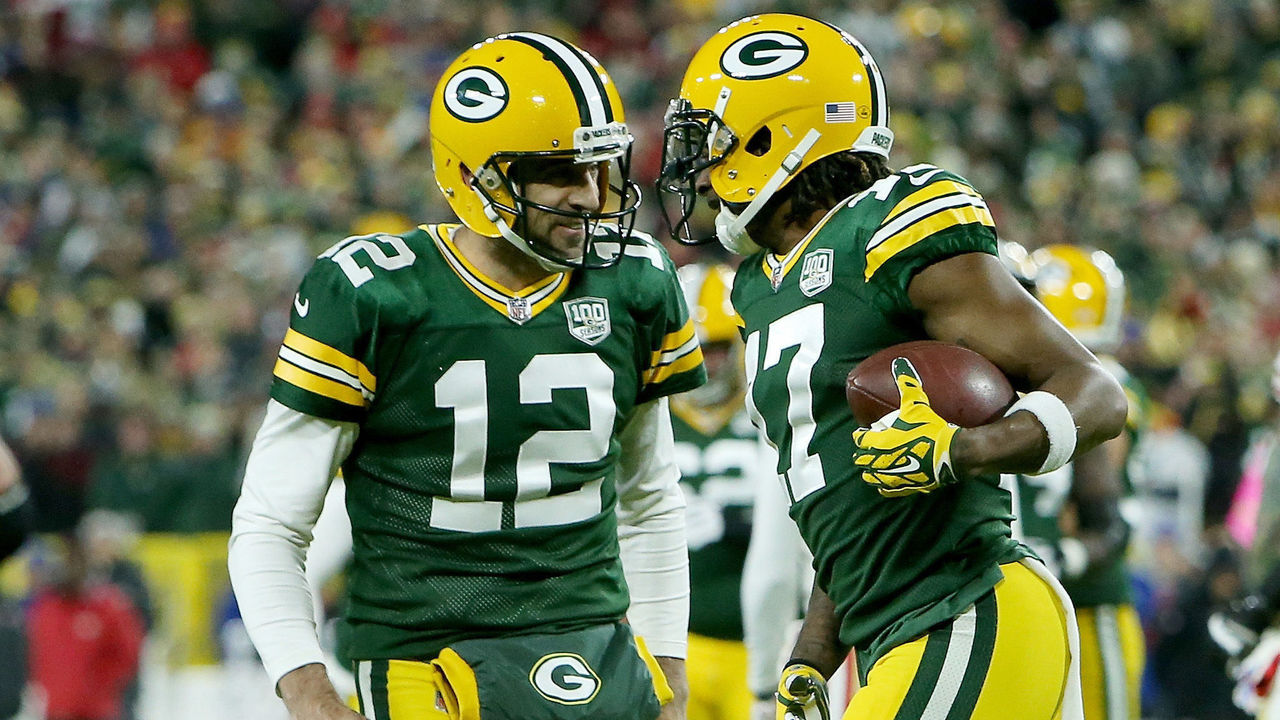 Head coach: Mike McCarthy
| POS. | Player | POS. | Player |
| --- | --- | --- | --- |
| QB | Aaron Rodgers | DT | Mike Daniels |
| RB | Eddie Lacy | NT | Kenny Clark |
| WR | Jordy Nelson | OLB | Clay Matthews |
| WR | Davante Adams | ILB | Blake Martinez |
| Slot | Randall Cobb | ILB | A.J. Hawk |
| TE | Jermichael Finley | OLB | Julius Peppers |
| LT | David Bakhtiari | CB | Charles Woodson |
| LG | Josh Sitton | CB | Tramon Williams |
| C | Corey Linsley | NCB | Sam Shields |
| RG | T.J. Lang | FS | Ha Ha Clinton-Dix |
| RT | Bryan Bulaga | SS | Morgan Burnett |
| K | Mason Crosby | P | Tim Masthay |
With six division titles, 10 postseason victories, and a Super Bowl title, the Packers were the cream of the crop in the NFC North last decade. Given this starting lineup, it's easy to see why.
It all starts with Rodgers. Few players at any position could match his seven Pro Bowls, two All-Pros, two MVPs, and one Super Bowl MVP last decade. There's a reason Rodgers is lauded as the most talented quarterback of his generation. The gang is back together to help an unstoppable Rodgers and his passing attack, as Nelson and Cobb were reliable, game-changing weapons and Adams is currently among the game's elite receivers. We're not sure there's a more accomplished trio out there.
Lacy's first three years in the league gave us enough confidence that Green Bay's offense can be as complete as any. Five stout blockers in front of him would certainly help - Bakhtiari, Sitton, and Lang each earned multiple Pro Bowls, while Linsley and Bulaga were above-average players at their respective positions.
The Packers' defense features a healthy mix of old and new. Matthews was the franchise's most valuable defensive player with five Pro Bowls and 73.5 sacks. Peppers and his 25 sacks in 43 starts flanks the former first-rounder, while Clark and Daniels form a dominant interior duo. In the secondary, Green Bay fields a plethora of quality cornerbacks. Woodson was an All-Pro in 2011 at age 35, Williams was effective at multiple positions, and Shields excelled in the slot. Rounding out the group are longtime safeties Clinton-Dix and Burnett, who combined for 13 strong campaigns with the club. Aside from linebacker, there isn't anything that resembles a weak spot on this roster.
Minnesota Vikings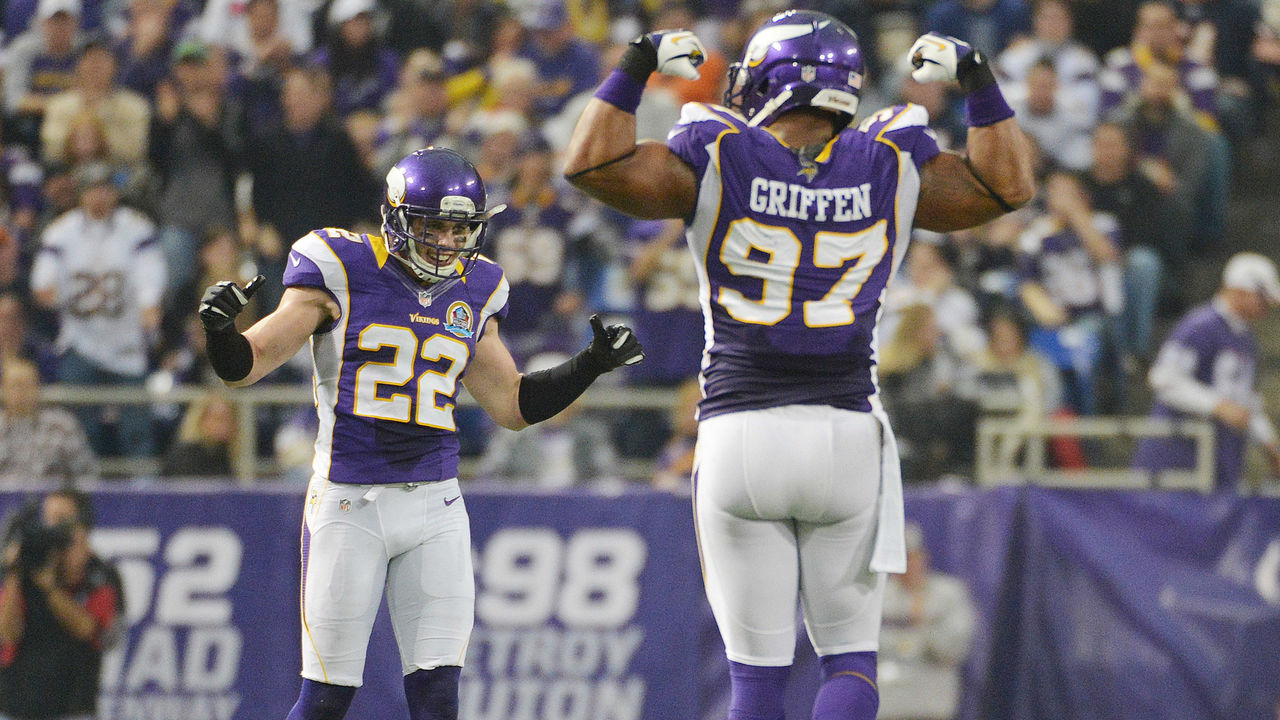 Head coach: Mike Zimmer
| POS. | Player | POS. | Player |
| --- | --- | --- | --- |
| QB | Kirk Cousins | DE | Everson Griffen |
| RB | Adrian Peterson | DT | Linval Joseph |
| WR | Stefon Diggs | DT | Kevin Williams |
| WR | Adam Thielen | DE | Jared Allen |
| Slot | Percy Harvin | OLB | Anthony Barr |
| TE | Kyle Rudolph | ILB | Eric Kendricks |
| LT | Matt Kalil | ILB | Chad Greenway |
| LG | Brandon Fusco | CB | Xavier Rhodes |
| C | John Sullivan | CB | Antoine Winfield |
| RG | Joe Berger | FS | Harrison Smith |
| RT | Phil Loadholt | SS | Andrew Sendejo |
| K | Blair Walsh | P | Chris Kluwe |
Despite only advancing past the divisional round once since 2010, this Vikings roster is good. Zimmer has plenty of attributes coaches look for at his disposal with speed, production, and playmaking ability all over the field.
Minnesota's defensive line is likely its greatest strength. Griffen and Allen were nearly unstoppable last decade, combining for 131 sacks with the club, and Danielle Hunter rounds out an incredible pass-rush trio. Meanwhile, Kendricks, Greenway, and Barr do it all at linebacker, giving the Vikings a unique and productive front seven. Rhodes and Winfield head a talented group of cornerbacks. Even though the former struggled recently, he played at an extremely high level from 2015-2017. We can't forget about Smith, arguably the NFL's most complete safety since he entered the league. A force against the pass and run, he's amassed five straight Pro Bowl berths, as well as 11 interceptions since 2017.
Peterson leads Minnesota's offense as unequivocally the best running back of his generation. His decade in purple and gold included two All-Pros, four 1,200-plus-yard efforts, and five seasons scoring 10-plus touchdowns. "All Day" was also the only non-quarterback to win MVP in that span. While opponents focus on stopping the run, a fun pass-catching trio of Diggs, Thielen, and Harvin would flash their separation skills downfield. Finally, Cousins beat out Teddy Bridgewater and Case Keenum at quarterback even though he signed in 2018.
In a development that won't shock most Vikings fans, the team's offensive line would likely struggle winning a handful of matchups. Kalil and Loadholt had their moments, especially in the run game, but the duo would likely struggle to contain the NFL's premier pass-rushers. With so many accomplished rosters in this series, blocking could be what holds Minnesota out of the top tier.