theScore's Mike Alessandrini is assembling all-decade lineups and ranking all 32 teams based on those rosters. Contributions from 2010 to 2019 were taken into account, with player selections based on peak production, longevity, and overall impact. Those who spent only one season with a club did not qualify.
Our all-decade selections kick off with the AFC East.
AFC (June 22-25)
East | North | South | West
NFC (June 29-July 2)
East | North | South | West
Final rankings
See how all 32 rosters stack up
Buffalo Bills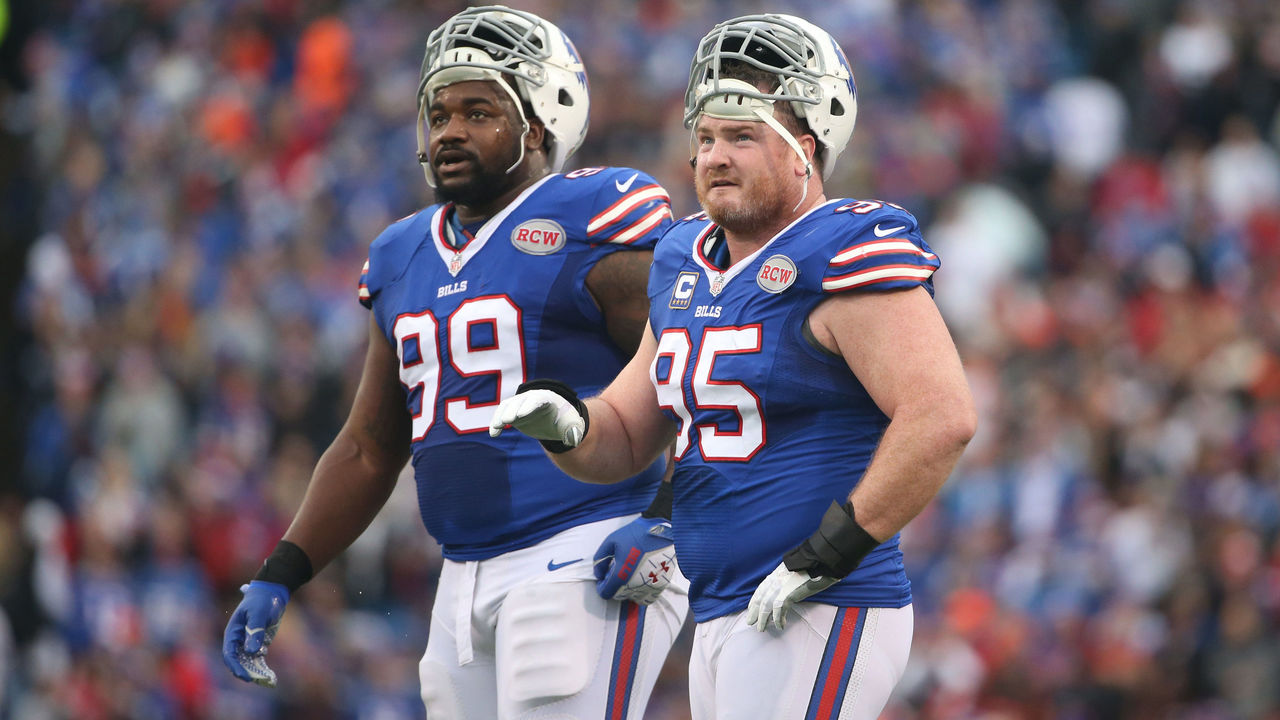 Head coach: Sean McDermott
| POS. | Player | POS. | Player |
| --- | --- | --- | --- |
| QB | Tyrod Taylor | DE | Jerry Hughes |
| RB | Fred Jackson | DT | Kyle Williams |
| WR | Sammy Watkins | DT | Marcell Dareus |
| WR | Robert Woods | DE | Mario Williams |
| Slot | Steve Johnson | OLB | Lorenzo Alexander |
| TE | Charles Clay | MLB | Nick Barnett |
| LT | Cordy Glenn | WLB | Preston Brown |
| LG | Richie Incognito | CB | Tre'Davious White |
| C | Eric Wood | CB | Stephon Gilmore |
| RG | Kraig Urbik | FS | Jairus Byrd |
| RT | Erik Pears | SS | Micah Hyde |
| K | Dan Carpenter | P | Colton Schmidt |
With just three total first-team All-Pro selections, this all-decade Bills roster lacks a bit of star power. However, it does feature a stout defensive unit with productive players at every level.
Dareus and Kyle Williams form a formidable interior duo that can plug run lanes with ease and rush the passer - it's easy to forget the latter earned four Pro Bowl selections between 2010-2014 and managed 10.5 sacks in 2013. Hughes, Alexander, and Mario Williams serve as an excellent pass-rush trio. Williams recorded at least 10.5 sacks in each of his first three seasons with Buffalo. White - a star since entering the league in 2017 - was an obvious choice at CB1, while Gilmore gets the nod over former first-rounder Leodis McKelvin mostly due to his superior ball skills.
Unfortunately for Bills Mafia, this squad would be hindered by subpar quarterback play. Taylor's contributions to the team, while largely unimpressive on the whole, were ultimately more efficient than Ryan Fitzpatrick's, and Taylor finished with a winning record as a starter. The Bills' collection of pass-catchers pale in comparison to most of the upcoming units, but a running-back tandem of Jackson and reserves LeSean McCoy and C.J. Spiller give Taylor versatile weapons out of the backfield.
Buffalo endured six losing seasons last decade and only reached 10 wins once but also broke an 18-year playoff drought in 2017 thanks in large part to a handful of the above players. Its all-decade team can pressure the quarterback with the best of them and would excel in pass defense. There just aren't enough offensive weapons.
Miami Dolphins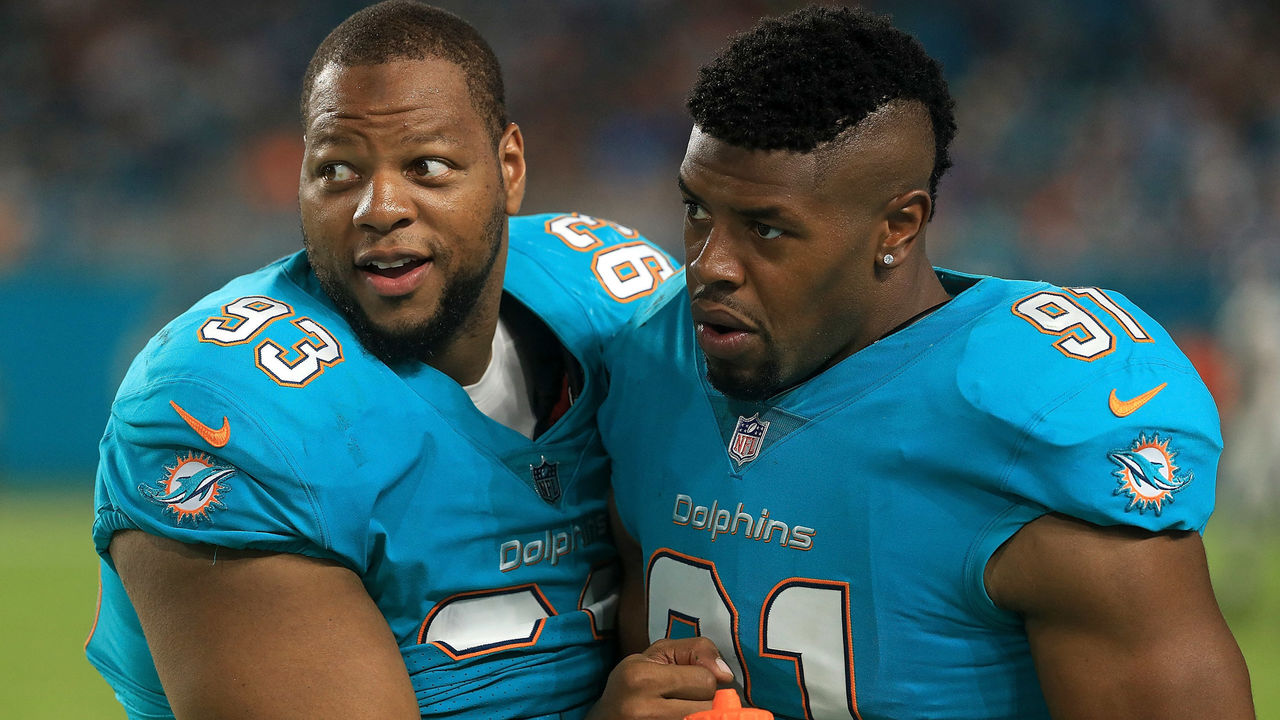 Head coach: Adam Gase
| POS. | Player | POS. | Player |
| --- | --- | --- | --- |
| QB | Ryan Tannehill | DE | Cameron Wake |
| RB | Lamar Miller | DT | Ndamukong Suh |
| WR | Brandon Marshall | DT | Randy Starks |
| WR | Brian Hartline | DE | Olivier Vernon |
| Slot | Jarvis Landry | LB | Karlos Dansby |
| TE | Anthony Fasano | LB | Kiko Alonso |
| LT | Jake Long | CB | Brent Grimes |
| LG | Richie Incognito | CB | Xavien Howard |
| C | Mike Pouncey | Nickel | Bobby McCain |
| RG | Vernon Carey | FS | Chris Clemons |
| RT | Ja'Wuan James | SS | Reshad Jones |
| K | Jason Sanders | P | Brandon Fields |
The Dolphins' all-decade lineup fields a number of recognizable names, though it's not difficult to see why the club has finished with a winning record just once since 2010.
Tannehill was the only legitimate candidate to start under center after spending seven campaigns in Miami. The former first-rounder's overall production was inconsistent, but he's a surprisingly superior option to what a few teams rostered in this exercise. Tannehill would at least have two solid receiving options in Marshall - who notched over 1,000 yards in each of his two years in Miami - and Landry, whose 400 receptions rank sixth in franchise history despite playing in just 64 games.
Gase's strength on offense lies in his blocking unit. Long's final three years in Miami featured two Pro Bowls and an All-Pro selection in 2010, while Incognito, Pouncey, and James were above-average starters for multiple campaigns. However, offensive line depth would be a major issue.
The Dolphins' front four headlines their defense. Only Von Miller, J.J. Watt, and Chandler Jones accumulated more sacks last decade than Wake's 95. The star edge rusher deserves credit as the premier player on this roster. Miami's linebackers likely wouldn't strike fear in opponents, but its deep and talented secondary would help compensate. Grimes' three years with the Fins were arguably the best of his career, as he was named to three Pro Bowls and picked off 13 passes. As is the case with other teams in their division, the Dolphins' offense could struggle to keep pace with its stop unit.
New England Patriots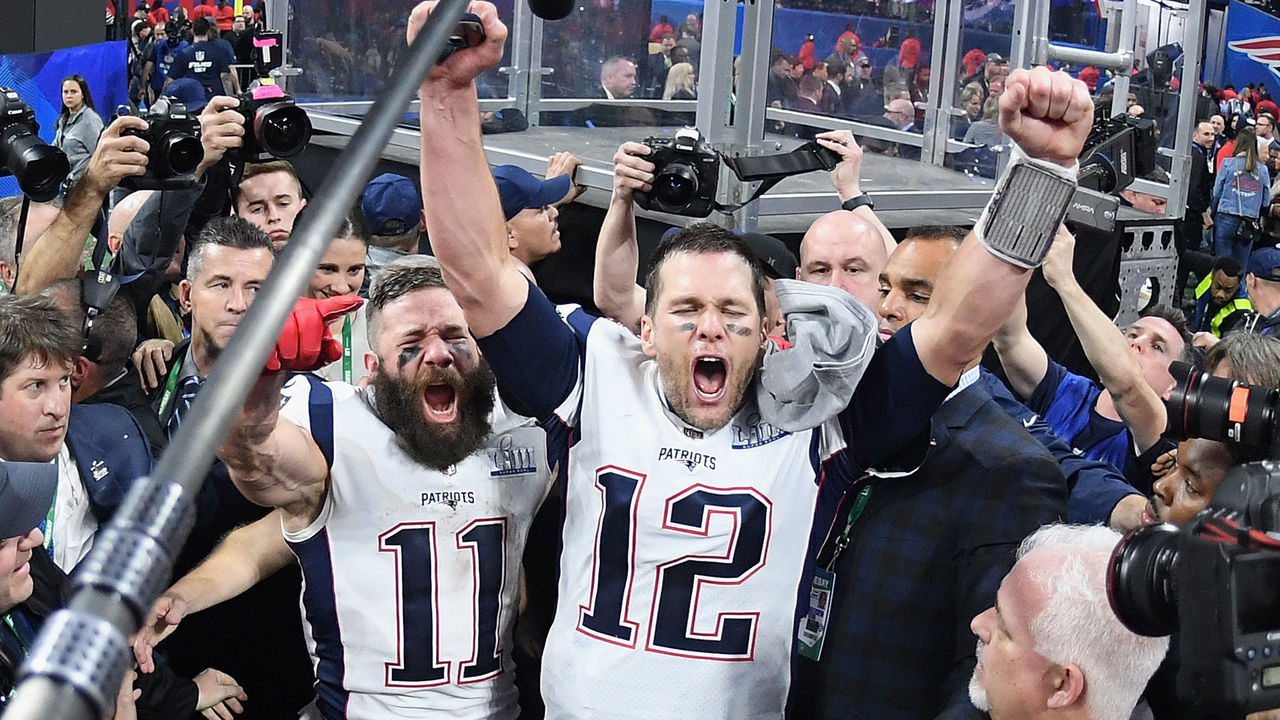 Head coach: Bill Belichick
| POS. | Player | POS. | Player |
| --- | --- | --- | --- |
| QB | Tom Brady | DE | Rob Ninkovich |
| RB | James White | DT | Malcom Brown |
| WR | Wes Welker | DT | Vince Wilfork |
| WR | Julian Edelman | DE | Chandler Jones |
| WR | Danny Amendola | MLB | Jerod Mayo |
| TE | Rob Gronkowski | WLB | Jamie Collins |
| LT | Nate Solder | SLB | Dont'a Hightower |
| LG | Logan Mankins | CB | Malcolm Butler |
| C | David Andrews | CB | Stephon Gilmore |
| RG | Shaq Mason | FS | Devin McCourty |
| RT | Sebastian Vollmer | SS | Patrick Chung |
| K | Stephen Gostkowski | P | Ryan Allen |
One quick look at New England's roster illustrates how the decade's most successful franchise captured three Super Bowls and 10 straight double-digit-win seasons.
Brady and Gronk headline a surgical offensive unit as arguably the premier players of the 2010s at their respective positions. A receiving trio of Welker, Edelman, and Amendola offer similar playing styles, but each has the ability to separate from defensive backs and haul in clutch passes.
The Patriots' offensive line ranks among the best, as the unit features five high-quality starters and nearly unmatched depth. A backfield led by White and LeGarrette Blount likely wouldn't churn out massive gains on the ground, but the former is an excellent receiver and clutch weapon at running back - a position that Brady loves to utilize.
Belichick's defense possesses plenty of talent, too. There may not be a more versatile and productive linebacking trio in this series than Mayo, Collins, and Hightower, while Ninkovich and Jones combined for 81 sacks last decade. McCourty and Chung were staples at safety and a perfect pairing for New England's scheme. Finally, Butler and Gilmore form a solid coverage duo with the latter representing the NFL's top cornerback over the last two years. We also can't forget the former's famous championship-sealing interception in Super Bowl XLIX.
There are simply no weaknesses on New England's all-decade roster. It fields elite contributors at key positions on both sides of the ball and is led by one of the greatest-ever head coaches. Front to back, the Patriots' excellence is on full display, and the club is light-years ahead of everyone else in the division.
New York Jets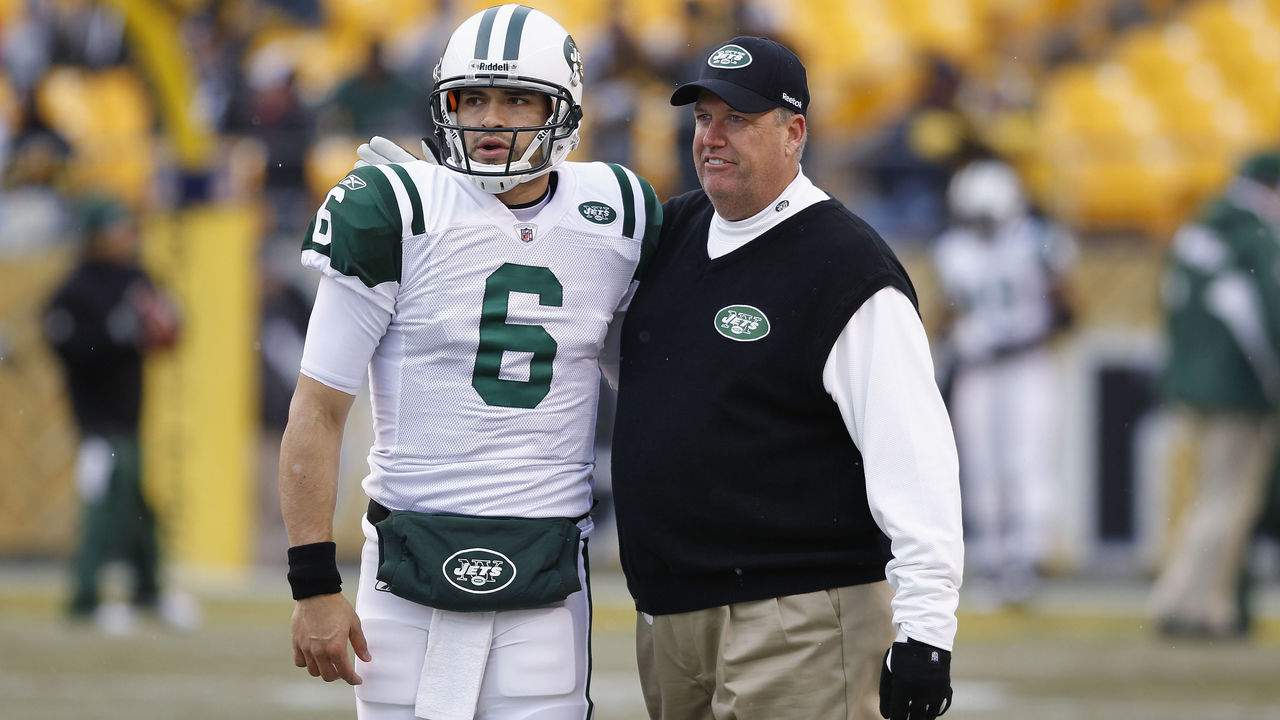 Head coach: Rex Ryan
| POS. | Player | POS. | Player |
| --- | --- | --- | --- |
| QB | Mark Sanchez | DE | Muhammad Wilkerson |
| RB | Shonn Greene | NT | Damon Harrison |
| WR | Brandon Marshall | DE | Sheldon Richardson |
| WR | Robby Anderson | OLB | Calvin Pace |
| Slot | Eric Decker | ILB | David Harris |
| TE | Dustin Keller | ILB | Bart Scott |
| LT | D'Brickashaw Ferguson | OLB | Jordan Jenkins |
| LG | James Carpenter | CB | Darrelle Revis |
| C | Nick Mangold | CB | Antonio Cromartie |
| RG | Brandon Moore | FS | Dawan Landry |
| RT | Austin Howard | SS | Jamal Adams |
| K | Nick Folk | P | Lac Edwards |
Perhaps unsurprisingly, Gang Green's 2010s roster was among the most fascinating to assemble of all NFL teams. With numerous peaks and valleys, the club's strengths feature elite performers and its weaknesses are almost amusing.
Sanchez was a difficult choice at quarterback, as the Jets lacked any sort of stability at the position last decade. He ultimately earned the nod over Fitzpatrick (poor Fitzmagic, losing two battles in one division) with an extra year as a starter and berth in the 2010 AFC Championship Game. Greene enjoyed one productive season in the backfield, but New York's offense would run through Marshall and Decker. Both wideouts eclipsed 1,000 receiving yards and 12 touchdowns in what was an eventful 2015 campaign.
The Jets' offensive line faces questions at right tackle and left guard, but Ferguson, Mangold, and Moore blocked at an extremely high level; it's almost a microcosm of their roster makeup over the last 10 years. Mangold was a true standout at center, being named to five Pro Bowls and one All-Pro squad between 2010-2016.
Fans of defensive football would enjoy seeing this unit on the field. There weren't many defensive lines more impressive than the trio of Wilkerson, Richardson, and "Snacks" Harrison. Revis and Adams lead a strong secondary, with the former being among the very best defenders in recent memory and a future Hall of Famer. New York's mediocre pass-rush - Pace and Jenkins surpassed eight sacks just once - and linebacker play ultimately hurt an otherwise stout unit.