theScore's Mike Alessandrini is assembling all-decade lineups and ranking all 32 teams based on those rosters. Contributions from 2010 to 2019 were taken into account, with player selections based on peak production, longevity, and overall impact. Those who spent only one season with a club didn't qualify.
Our series continues with a look at the NFC West.
AFC (June 22-25)
East | North | South | West
NFC (June 29-July 2)
East | North | South | West
Final rankings
See how all 32 rosters stack up
Arizona Cardinals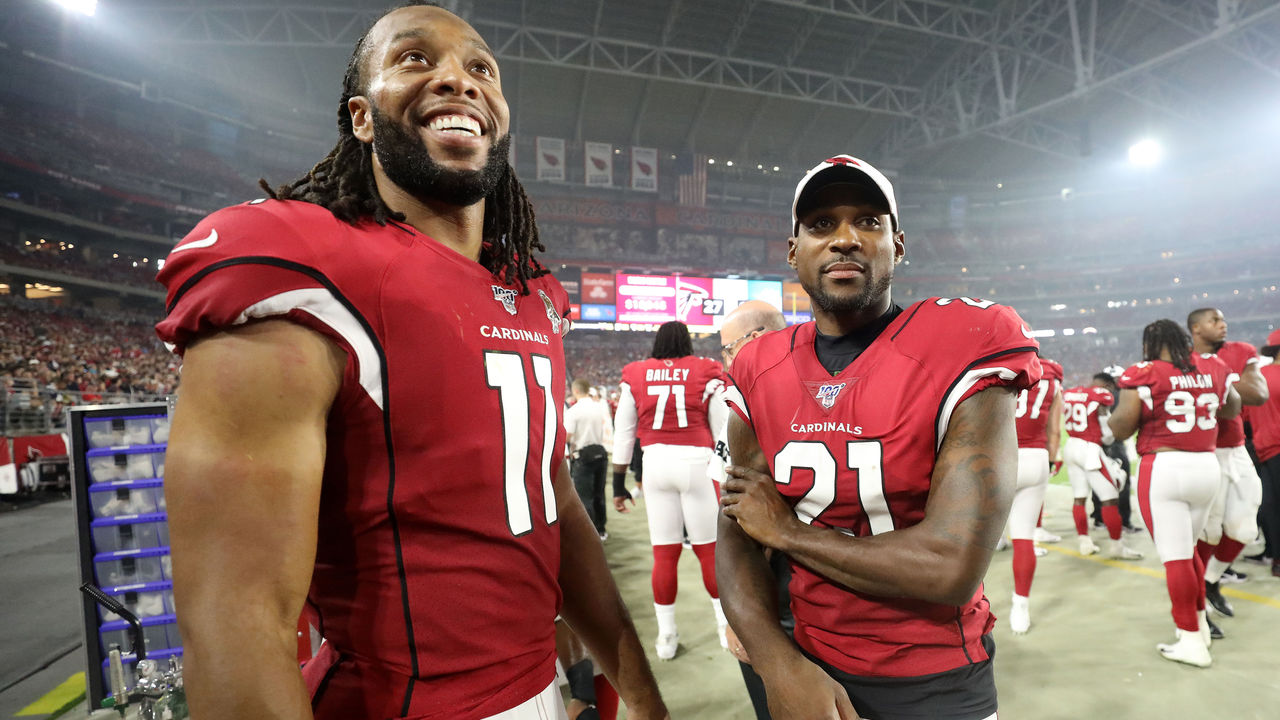 Head coach: Bruce Arians
| POS. | Player | POS. | Player |
| --- | --- | --- | --- |
| QB | Carson Palmer | DE | Chandler Jones |
| RB | David Johnson | DT | Darnell Dockett |
| WR | Larry Fitzgerald | DT | Dan Williams |
| WR | Michael Floyd | DE | Calais Campbell |
| Slot | John Brown | LB | Daryl Washington |
| TE | Jermaine Gresham | LB | Karlos Dansby |
| LT | Jared Veldheer | CB | Patrick Peterson |
| LG | Mike Iupati | CB | Jerraud Powers |
| C | Lyle Sendlein | NCB | Tyrann Mathieu |
| RG | Daryn Colledge | FS | Kerry Rhodes |
| RT | D.J. Humphries | SS | Adrian Wilson |
| K | Jay Feely | P | Andy Lee |
Arizona's all-decade roster offers a unique mix of players who had short- and long-term success with the organization. Palmer was the only legitimate option at quarterback - the Cardinals severely lacked stability under center outside of him and Kyler Murray. Palmer and Arians formed an excellent partnership, as the strong-armed passer compiled a 35-17-1 record, 96 touchdowns, and three 4,000-yard campaigns from 2013-2016.
Chief among Arians' offensive weapons is Fitzgerald, who earned seven Pro Bowls in eight years from 2010-2017 and eclipsed 1,000 yards five times in that span. Gresham was the best of a middling group of tight ends, though Brown and Floyd would provide Palmer with speed and size downfield, respectively, at receiver. Meanwhile, Johnson, along with his three 1,000 scrimmage-yard seasons, leads Arizona's backfield as a versatile running back - he just wouldn't get a ton of help up front. Only Veldheer and Iupati were consistent above-average starters along the offensive line.
The Cardinals' defense may actually feature more impact players, highlighted by Campbell and Peterson. Campbell was a dominant force on the edge and the interior for seven years in the desert, while Peterson has been selected to three All-Pros and has picked off 25 passes since entering the league. We can't forget about Jones, whose 60 sacks lead the entire NFL since he joined Arizona in 2016.
Dansby and Washington form a stout linebacking duo. Washington was a particularly effective weapon from 2011-2013 until off-field issues ultimately ended his career. Mathieu provides the Cardinals with a true chess piece, as he possesses the ability to thrive while in slot coverage, rushing the passer, and stopping the run. Rhodes and Wilson compose an experienced safety duo that features all-around games. There are potential issues at defensive tackle, but it's a solid unit overall.
Los Angeles Rams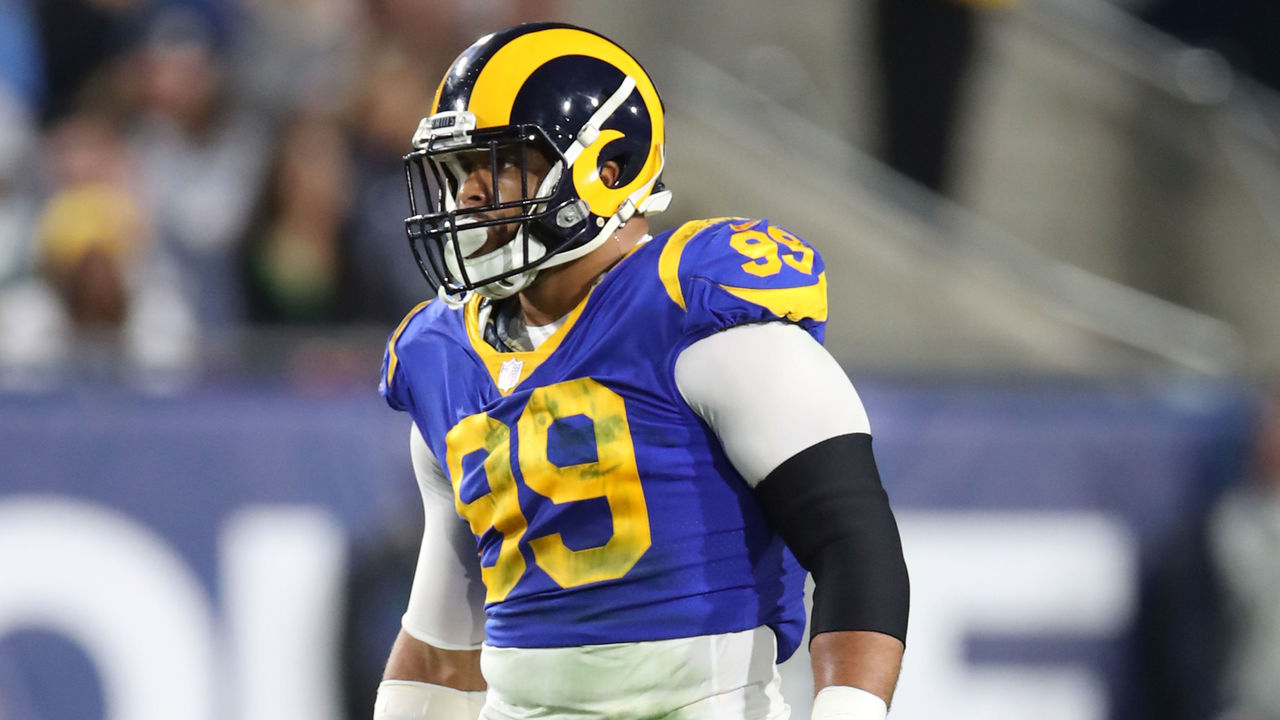 Head coach: Sean McVay
| POS. | Player | POS. | Player |
| --- | --- | --- | --- |
| QB | Jared Goff | DE | Robert Quinn |
| RB | Todd Gurley | DT | Aaron Donald |
| WR | Robert Woods | DT | Michael Brockers |
| WR | Kenny Britt | DE | Chris Long |
| Slot | Cooper Kupp | LB | James Laurinaitis |
| TE | Lance Kendricks | LB | Cory Littleton |
| LT | Andrew Whitworth | CB | Trumaine Johnson |
| LG | Rodger Saffold | CB | Janoris Jenkins |
| C | Scott Wells | NCB | Nickell Robey-Coleman |
| RG | Harvey Dahl | FS | Lamarcus Joyner |
| RT | Rob Havenstein | SS | Rodney McLeod |
| K | Greg Zuerlein | P | Johnny Hekker |
McVay's hiring was pivotal for the Rams, as the head coach vaulted his squad from the NFC West basement - and 10 straight losing seasons - to perennial playoff contenders. Unsurprisingly, Los Angeles' 2010s lineup primarily features players who have starred during his tenure.
The offense would be centered around Goff and Gurley. While Goff is arguably more a product of McVay's system, Gurley produced at an elite level with the club. No other player has scored more than his 70 touchdowns since he entered the league in 2015. Woods, Britt, and Kupp are all reliable pass-catchers, though they don't offer the firepower that other teams possess. At least Whitworth, Saffold, and Havenstein would help power a strong run game and protect Goff.
Donald - along with his incredible 2010s resume - paces the Rams' stop unit as a one-man wrecking crew no offensive line can shut down. In six seasons, the dominant defensive tackle has been named to six Pro Bowls, five All-Pros, and is second in sacks to only Chandler Jones since being drafted in 2014. Donald has an easy case as last decade's premier non-quarterback. He was that good.
Brockers, Quinn, and Long round out an excellent front four, but there's a slight drop-off elsewhere in L.A.'s stop unit. Joyner's coverage skills at safety highlight a solid yet unspectacular secondary, with Robey-Coleman excelling in the slot. At linebacker, Laurinaitis and Littleton thrive at stuffing the run and in coverage, respectively. Goff may not be able to score at will against top opponents in this exercise, but the Rams' defense would certainly keep them in games.
San Francisco 49ers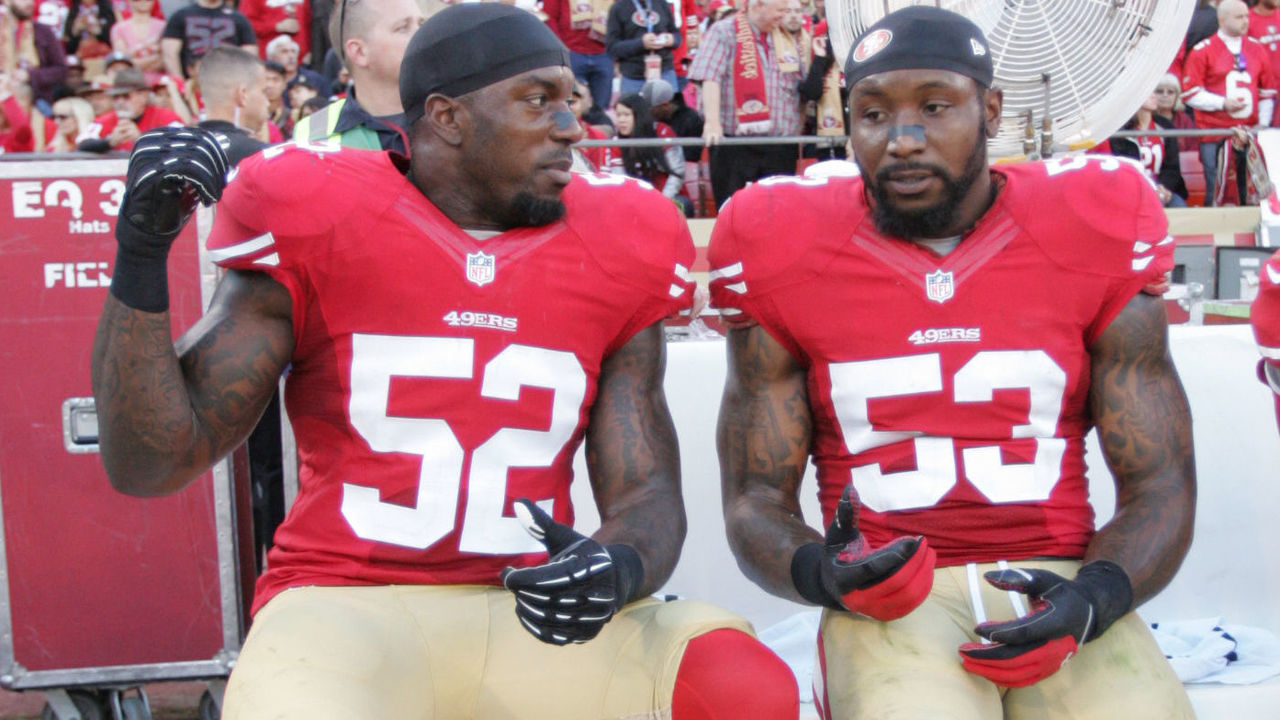 Head coach: Jim Harbaugh
| POS. | Player | POS. | Player |
| --- | --- | --- | --- |
| QB | Colin Kaepernick | DE | Justin Smith |
| RB | Frank Gore | DT | DeForest Buckner |
| WR | Michael Crabtree | DT | Ray McDonald |
| WR | Anquan Boldin | DE | Aldon Smith |
| TE | Vernon Davis | MLB | Patrick Willis |
| TE | George Kittle | WLB | NaVorro Bowman |
| LT | Joe Staley | SLB | Ahmad Brooks |
| LG | Mike Iupati | CB | Tarell Brown |
| C | Jonathan Goodwin | CB | Richard Sherman |
| RG | Alex Boone | FS | Eric Reid |
| RT | Anthony Davis | SS | Donte Whitner |
| K | Robbie Gould | P | Andy Lee |
San Francisco was the rare club that found success with two different head coaches last decade. Harbaugh and Kyle Shanahan both brought their team to the Super Bowl (though both were bested), making for a tough choice to lead the squad. Selecting Kaepernick over Alex Smith and Jimmy Garoppolo at quarterback was another difficult decision. The former second-round pick's dual-threat skills and playoff runs in 2012 and 2013 ultimately gave him the edge.
Gore starred for the 49ers at running back behind a stout offensive line. The unit features plenty of depth, with Staley shining at left tackle and playing elite football from 2011-2017. San Francisco didn't roster a ton of depth at receiver - Boldin and Crabtree surpassed 1,000 yards three times in eight combined years last decade - but Davis and Kittle offer high-level impact as dynamic receiving weapons and advanced blockers.
The Niners field a top-tier defensive line that's adept at stopping the run and rushing the quarterback. Justin Smith was an excellent all-around edge rusher from 2010-2014, while Aldon Smith notched an absurd 44 sacks in 50 games (30 starts) with the organization. Buckner and McDonald are no slouches on the interior, either. Pass defense is more of a question mark, where Sherman makes the lineup despite playing only two seasons in San Francisco, and Brown is the team's top option at cornerback despite four inconsistent campaigns.
To help compensate for other weaknesses, the 49ers' start two legendary defenders in Bowman and Willis. They were arguably the league's top two linebackers during the first half of the last decade, as they combined for seven Pro Bowls and seven first-team All-Pro selections from 2010-2015. Bowman and Willis were true game-changers, but their presence may not be enough to help San Francisco slow down elite passing attacks.
Seattle Seahawks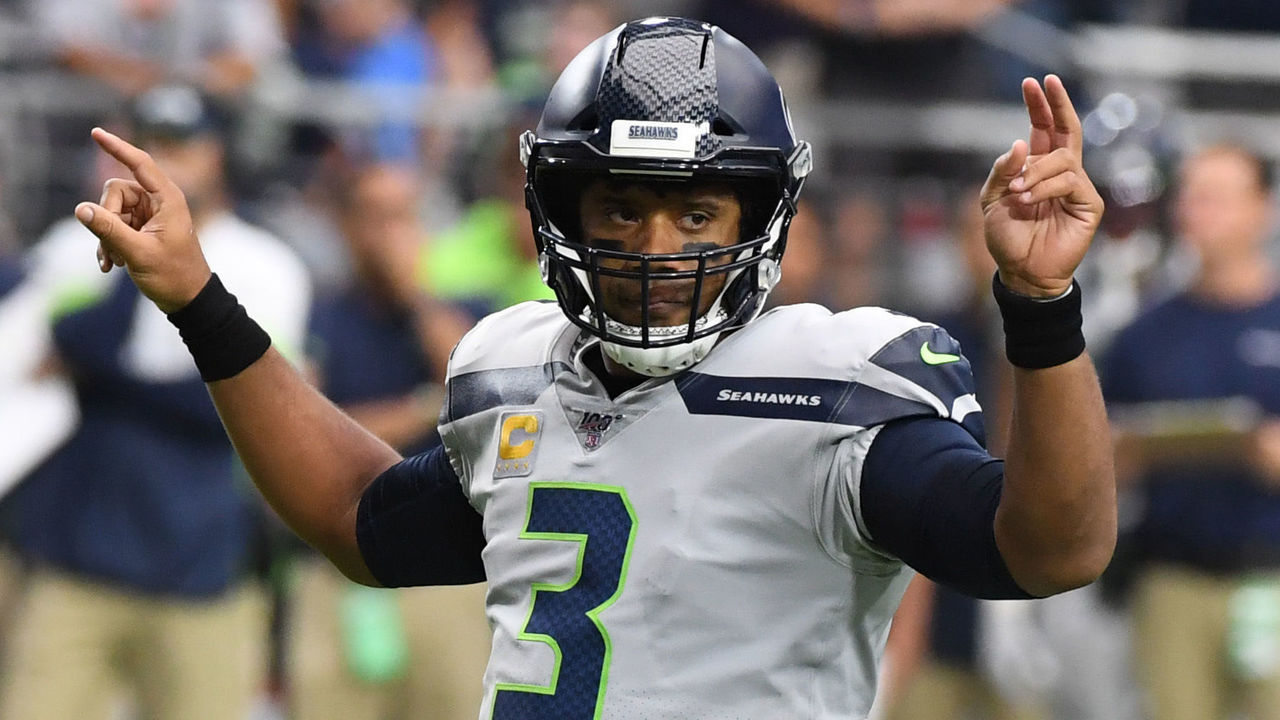 Head coach: Pete Carroll
| POS. | Player | POS. | Player |
| --- | --- | --- | --- |
| QB | Russell Wilson | DE | Cliff Avril |
| RB | Marshawn Lynch | DT | Michael Bennett |
| WR | Doug Baldwin | DT | Brandon Mebane |
| WR | Tyler Lockett | DE | Chris Clemons |
| Slot | Golden Tate | MLB | Bobby Wagner |
| TE | Jimmy Graham | WLB | K.J. Wright |
| LT | Russell Okung | SLB | Bruce Irvin |
| LG | James Carpenter | CB | Richard Sherman |
| C | Max Unger | CB | Byron Maxwell |
| RG | J.R. Sweezy | FS | Earl Thomas |
| RT | Justin Britt | SS | Kam Chancellor |
| K | Stephen Hauschka | P | Jon Ryan |
With four division titles, eight playoff appearances, and two trips to the Super Bowl (including a Super Bowl XLVIII victory), it's no wonder the Seahawks' all-decade roster is full of star power.
The Legion of Boom headlines what is quite possibly the most prolific stop unit in the entire series. Sherman and Thomas were two of the NFL's premier players of the 2010s; few defensive backs made nearly as many clutch plays as them. The dynamic duo, alongside Maxwell and Chancellor, were the catalysts to Seattle's recent success. There's a ton of talent along the front four as well - Avril, Clemons, and Frank Clark form a fearsome pass rush with speed and finesse. Mebane and Bennett round out the group, with the latter starring in Seattle as one of the league's underrated defenders from 2013-2017.
Meanwhile, Wagner, Wright, and Irvin form an elite trio in the second level. Over the last six seasons, you'd be hard-pressed to find a more impactful linebacker than Wagner, who's been an All-Pro five times during that span. The Seahawks' defense as a whole combined for 26 Pro Bowls and 11 first-team selections. Good luck scoring on this group.
Seattle's offense is nearly as lethal, which is a scary thought. Wilson and Lynch are as fun a backfield as you'll see. Wilson quickly starred after entering the league in 2012, while Beast Mode's 2011-2014 campaigns - he scored 56 touchdowns and averaged 1,340 rushing yards - were second to none. Baldwin, Lockett, and Tate can all consistently separate downfield, but a patchwork offensive line may not give Wilson enough time to consistently locate his targets (not an unusual occurrence). The Seahawks were never able to field five quality blockers - Unger is the best of the bunch - and it may be what holds this squad out of the top spot in this exercise.