As unthinkable as it still may seem, Tom Brady is now the Tampa Bay Buccaneers' quarterback. Brady separated himself from the New England Patriots, whom he helped steer through two decades of unmatched success, in part because he thinks he still has lots to prove.
But can he make things work with the Bucs? Tampa Bay hasn't been to the playoffs since 2007. During the same span, Brady has played in 24 playoff games and five Super Bowls, winning three. This is going to be ... different. But how? And can it work?
It ought to go without saying that Brady is the greatest quarterback of all time. It's also easy to acknowledge that he benefited from the system with which Bill Belichick surrounded him. This is not to knock Brady or Belichick, but rather to acknowledge that team success is never the product of any single factor. Still, Brady will be 43 when the 2020 season begins (assuming it starts on time), and he'll also be in a new environment with new coaches and new standards for the first time in his career.
There's no way to know whether Brady's body will begin to betray him, or what effect his new surroundings will have on him and vice versa. But it is possible to assess how Brady might mesh with what the Bucs have and with what head coach Bruce Arians and offensive coordinator Byron Leftwich are trying to do.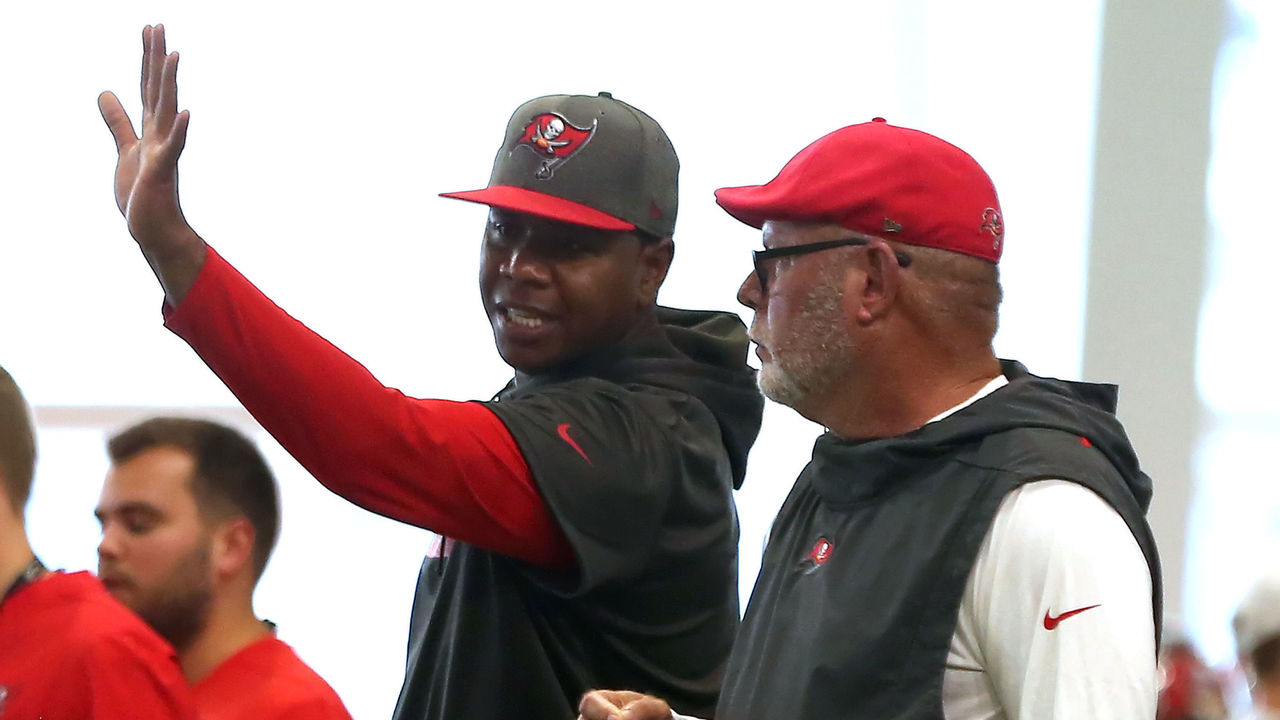 At first glance, Brady's penchant for shorter, quicker throws seems as if it would clash with Arians' predilection for quarterbacks who take deep drops in the pocket and heave the ball downfield. But Arians told NFL Network's Mike Silver he'd keep an open mind about this, and he's willing to collaborate with Brady and to adapt where necessary.
Arians has worked with Peyton Manning, Ben Roethlisberger, Andrew Luck, Carson Palmer, Jameis Winston, and Ryan Fitzpatrick, among others. So he knows a thing or two about dealing with different QBs - and differing egos. "We'll probably meet somewhere in the middle," he told Silver.
This an important detail. The evidence that Brady's arm has declined is mixed. In 2018 and 2019, per PFF, his average depth of target was just 8.4 yards. According to Football Outsiders, his percentage of failed completions - completed passes that fail to pick up 45% of needed yards on first down, 60% on second down, or 100% on third and fourth down - ranked 27th in the league (27.9). In addition, Brady's 6.6% drop in failed completions from 2018 to 2019 was the biggest decline in the NFL.
In isolation, this would seem to indicate that Brady's arm strength is deteriorating. But he also lacked help these last two seasons. In 2017, when the Patriots had speedster Brandin Cooks to stretch the field, Brady's average depth of target was 10.4 yards, per PFF. But by 2019, his stable of pass catchers capable of getting open had pretty much vanished, at least after the Pats' flirtations with Antonio Brown and Josh Gordon came to an end.
FiveThirtyEight's Neil Paine ran Brady's top three pass catchers through Pro Football Reference's Approximate Value metric and determined that last year's trio of Julian Edelman, Phillip Dorsett, and Jakobi Meyers had the lowest AV of any wideout group Brady's worked with since 2013. Brady was thus forced to hold the ball longer - his average time to throw from 2018 to 2019 jumped from 2.62 seconds to 2.75 seconds, according to Next Gen Stats - and to check down more frequently.
And yet, as the clip ESPN's Dan Orlovsky put together shows, Brady could still put plenty of zip on downfield throws outside the hash marks - exactly the kind of passes that require decent arm strength:
Bucs GM Jason Licht also talked up Brady's arm strength in an appearance Monday on ESPN's "Get Up."
"The tape showed to us that he had plenty of arm. In fact, we thought that he had an ideal arm for Bruce in his system," Licht said. "He can still throw it deep. We felt like the mobility was still the same as he's always had, which, he's never been able to outrun anybody. But he certainly is good in the pocket in terms of eluding pressure and with his poise and his instincts.
"We did not see a decline in his arm talent whatsoever. And, in fact, we feel like he could still play for over two years for us, and hopefully that's the case."
Brady will have better weapons in Tampa Bay than he had last season in New England. Wideout Mike Evans is one of the best in the league, and his combination of size and speed makes him the most complete target for Brady since Randy Moss.
Chris Godwin is another terrific talent. As Sports Illustrated's Andy Benoit pointed out, Arians' affinity for using tight split formations - whereby a slot receiver lines up close to the tackles - is ideally suited for pick plays and rub routes across the middle. It's thus possible to envision Godwin sometimes playing the role Edelman did for Brady on such plays. And Godwin can thrive on out routes; per The Athletic's Ted Nguyen, he had 19 catches for 223 yards on those routes last season.
The Bucs have a pair of solid tight ends in O.J. Howard and Cameron Brate, which creates another set of options for Brady, Arians, and Leftwich to tinker with. And Arians told reporters last week that the Bucs would "love to have a pass-catching back" to complement Ronald Jones. It's no secret that running backs were a big part of Brady's pass-catching arsenal in New England.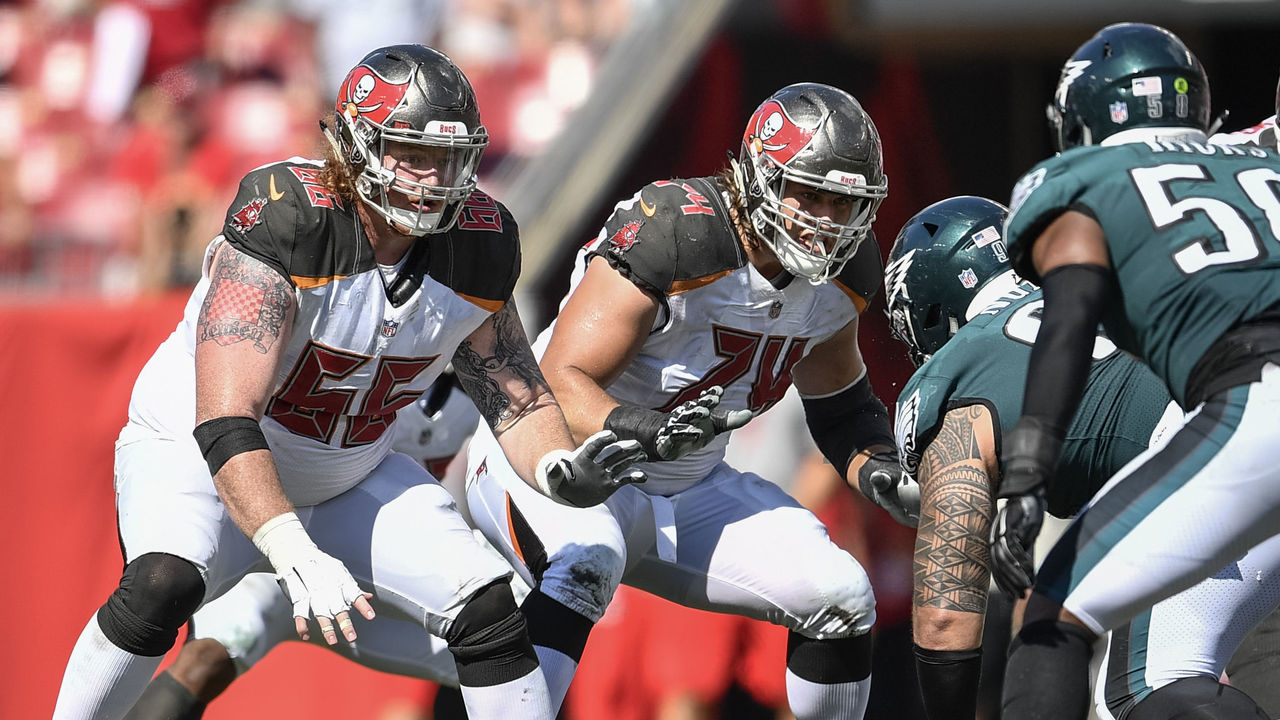 Lastly, there's the offensive line. Center Ryan Jensen and left guard Ali Marpet both ranked in the top 10 at their respective positions last season in pass block win rate. But the Bucs aren't nearly as strong on the outside. Tackle could be a position they attack in the draft, though trading with Washington to acquire Trent Williams is another possible option. Why this is important: Brady's adjusted completion percentage - which factors in drops, throwaways, batted passes, spikes, and being hit when throwing - was 59.5 last season, which ranked 21st in the league, per PFF.
All told, there seems to be enough of a foundation in place in for Brady to play well with the Bucs. He apparently thought so, too, according to what Licht also had to say during his "Get Up" appearance. "It was almost like a recruitment on his part," the GM said, "telling us why it would make sense for him to come to Tampa Bay."
It does make some sense, but it's also going to be different. Brady's made his living in the AFC East, where every other team has spent the last 20 years largely involved in a clown-car pileup. He's now in a new setting, and he'll have to face off twice each against Drew Brees, Matt Ryan, and Teddy Bridgewater. Meanwhile, Father Time will be checking his watch.
Dom Cosentino is a senior features writer at theScore.