Offseason grades: Breaking down the moves in the Pacific Division
The NBA offseason did not disappoint, and following a frenzy of draft-day movement and busy free-agency period, the 2021-22 season has started to shape up. Here, we look at the changes that each team made during the summer and what it means for the upcoming campaign.
The Pacific Division is arguably the NBA's deepest, with last season's Western Conference finalists among the group of teams. The Phoenix Suns might be on the cusp of something special after last campaign's Finals run. Meanwhile, the Los Angeles Lakers will continue to be in the title conversation with LeBron James and Anthony Davis on their roster.
The Los Angeles Clippers and Golden State Warriors could also find themselves in contention, but both are missing key players due to injury. Even the Sacramento Kings have a shot at the play-in tournament with their talented backcourt.
Check out the previous editions right here:
Atlantic | Central | Southeast
Northwest | Pacific | Southwest
Phoenix Suns
Last season: 51-21 (.708)
Departed: Torrey Craig (IND); Jevon Carter (BKN); E'Twaun Moore (ORL); Langston Galloway (GSW); Ty-Shon Alexander (Europe)
Drafted: None
Re-signed: Chris Paul; Cameron Payne; Frank Kaminsky; Abdel Nadar
Added: Landry Shamet (BKN); JaVale McGee (DEN); Elfrid Payton (NYK); Chandler Hutchison (WAS); Chasson Randle (ORL)
Phoenix is primed for a deep postseason run with both Paul and Payne back in the fold. Paul's new four-year, $120-million contract raised some eyebrows, but the Suns have some insurance with his salary only partially guaranteed for 2023-24 and unguaranteed over the final year. The front office re-signing Payne for just a $6.3 million annual average salary was another piece of good business.
The club's one glaring hole was at the five with backup big man Dario Saric out indefinitely due to a torn ACL. McGee is a serviceable replacement, and his rebounding and shot-blocking will benefit a squad that finished outside the top 20 in both categories during the 2020-21 campaign.
The additions of Shamet and Payton round out an improved second unit. While Phoenix gave up a first-round pick to acquire Shamet, that won't mean much with the team in win-now mode. Payton isn't a bad option for a third point guard and has the experience to fill in should Paul or Payne miss any time.
Aside from inking Deandre Ayton and Mikal Bridges to long-term extensions, it's hard to imagine a better offseason for the Suns.
Grade: A-
Los Angeles Lakers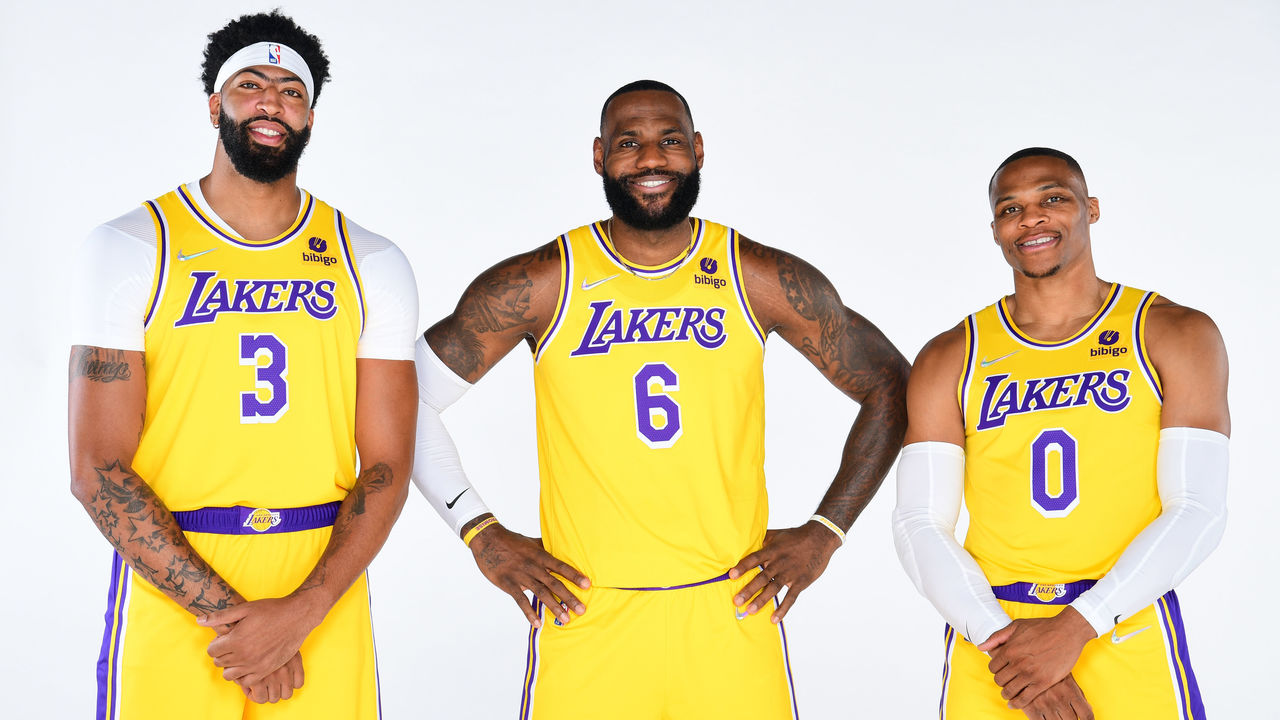 Last season: 42-30 (.583)
Departed: Kyle Kuzma (WAS); Montrezl Harrell (WAS); Kentavious Caldwell-Pope (WAS); Alex Caruso (CHI); Markieff Morris (MIA); Dennis Schroder (BOS); Ben McLemore (POR); Andre Drummond (PHI); Jared Dudley (retired); Marc Gasol (FA); Kostas Antetokounmpo (Europe); Wesley Matthews (FA); Alfonzo McKinnie (FA); Devontae Cacok (BKN)
Drafted: None
Re-signed: Talen Horton-Tucker
Added: Russell Westbrook (WAS); Carmelo Anthony (POR); Dwight Howard (PHI); Rajon Rondo (LAC); Deandre Jordan (BKN); Trevor Ariza (MIA); Kendrick Nunn (MIA); Malik Monk (CHO); Wayne Ellington (DET); Kent Bazemore (GSW); Joel Ayayi (Gonzaga); Austin Reaves (Oklahoma)
The Lakers made wholesale changes this summer after a disappointing first-round playoff exit. With only James, Davis, and Horton-Tucker returning from last year's roster, there'll certainly be some growing pains as the squad gets accustomed to playing with one another.
Trading for the ball-dominant Westbrook was an interesting decision, considering Los Angeles reportedly had discussions with Sacramento for sharpshooter Buddy Hield. Westbrook's ability to attack the rim and create for others should help the Lakers' 24th-ranked offense, but he has never shot the ball well from downtown. On the flip side, no player has drained more triples over the past two seasons than Hield.
However, L.A. did well to add some proven outside threats - Nunn, Ellington, Ariza, Bazemore, and Monk - at a low cost. Surrounding James with a plethora of shooters has been a formula for success in years past. If Davis primarily plays center, the club can maximize its spacing.
Additionally, the Lakers brought back a pair of familiar faces in Rondo and Howard, but how much do they have left in the tank? Rondo lost his spot in the Clippers' playoff rotation last campaign, and Howard is turning 36 in December. With a 37-year-old Anthony also on the roster, it's fair to be concerned about a veteran side whose two biggest stars missed a large chunk of action a year ago.
Grade: C+
Los Angeles Clippers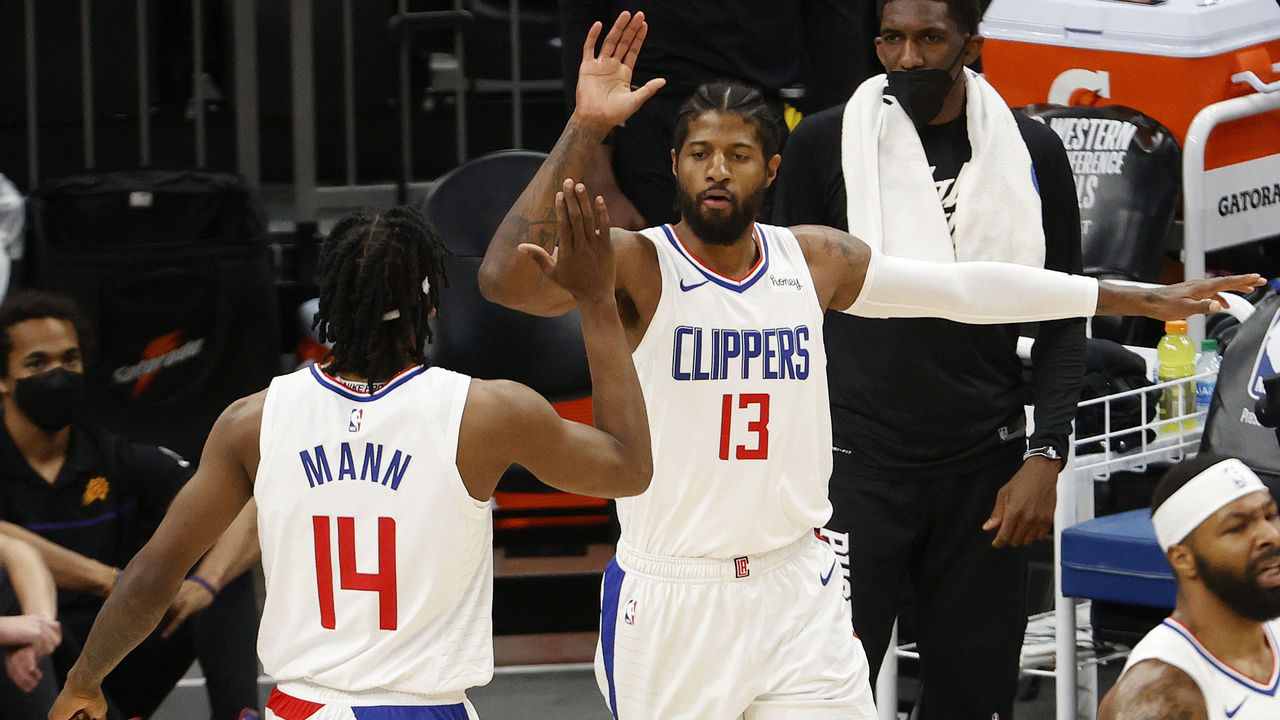 Last season: 47-25 (.653)
Departed: Patrick Beverley (MIN); Rajon Rondo (LAL); DeMarcus Cousins (FA); Patrick Patterson (POR); Daniel Oturu (CHI)
Drafted: Keon Johnson (No. 21 via NYK); Jason Preston (No. 33 via ORL); Brandon Boston (No. 51 via NOP)
Re-signed: Kawhi Leonard; Nicolas Batum; Reggie Jackson; Amir Coffey
Added: Eric Bledsoe (NOP); Justise Winslow (MEM); Harry Giles (POR); Isaiah Hartenstein (CLE)
Like Phoenix, the Clippers re-signed all of their key free agents. Los Angeles secured Leonard's services through at least 2023-24, while Batum and Jackson both agreed to team-friendly deals.
Swapping Rondo and the defensive-minded Beverley for Bledsoe was a savvy move as it provided the club with an $8.3-million trade exception and $30 million reduction in their luxury-tax bill. Bledsoe's offensive numbers dipped last season, but the Clippers' excellent 3-point shooting will open up driving lanes for him and provide playmaking opportunities. A bounce-back campaign from Bledsoe will go a long way in offsetting some of Leonard's scoring.
Winslow is a low-risk flier at two years and $8 million. The Duke product has proven to be a multi-positional defender and solid secondary playmaker when healthy. Los Angeles also had a sneakily good draft, trading for Preston - one of college basketball's top passers last season - as well as former five-star prospects Johnson and Boston.
Considering how financially limited the Clippers were, the front office has done a great job putting the team in position for a fourth straight playoff appearance. However, their ceiling ultimately hinges on Leonard's return.
Grade: A
Golden State Warriors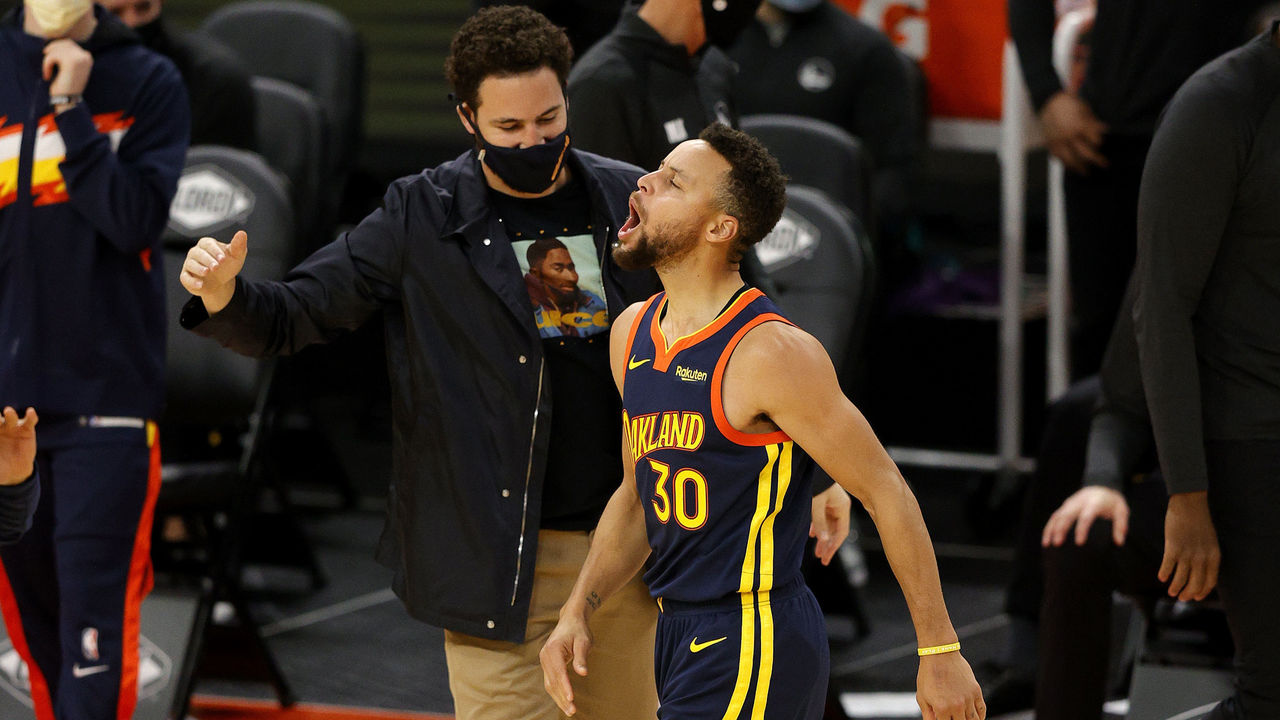 Last season: 39-33 (.542)
Departed: Kelly Oubre (CHO); Kent Bazemore (LAL); Eric Paschall (UTA); Alen Smailagic (Europe); Nico Mannion (Europe)
Drafted: Jonathan Kuminga (No. 7); Moses Moody (No. 14)
Re-signed: Jordan Bell
Added: Andre Iguodala (MIA); Nemanja Bjelica (MIA); Otto Porter (ORL); Avery Bradley (HOU); Langston Galloway (GSW); Chris Chiozza (BKN)
Golden State didn't acquire another star to complement its core, but Bob Myers did the next best thing. Despite the club's financial constraints, he managed to ink Iguodala, Porter, and Bjelica, all for the veterans minimum, to strengthen the Warriors' second unit.
Iguodala continues to defend at a high level, and his leadership is a welcome addition, especially for the franchise's younger players. Porter's 3-and-D skill set will be an asset if he can finally stay healthy for an entire campaign. Bjelica gives head coach Steve Kerr a stretch big to pair alongside Draymond Green.
While it's still unknown how much Kuminga and Moody will factor into this season's rotation, both players showed a lot of promise during summer league play. Kuminga, a consensus top-five draft pick for most of the year, flashed his two-way star potential. Meanwhile, Moody's 3-point shooting and defensive versatility may earn him some minutes early on with Klay Thompson still on the sideline.
Most importantly, Golden State signed Stephen Curry to a four-year, $215-million contract extension through the 2025-26 campaign.
Grade: A-
Sacramento Kings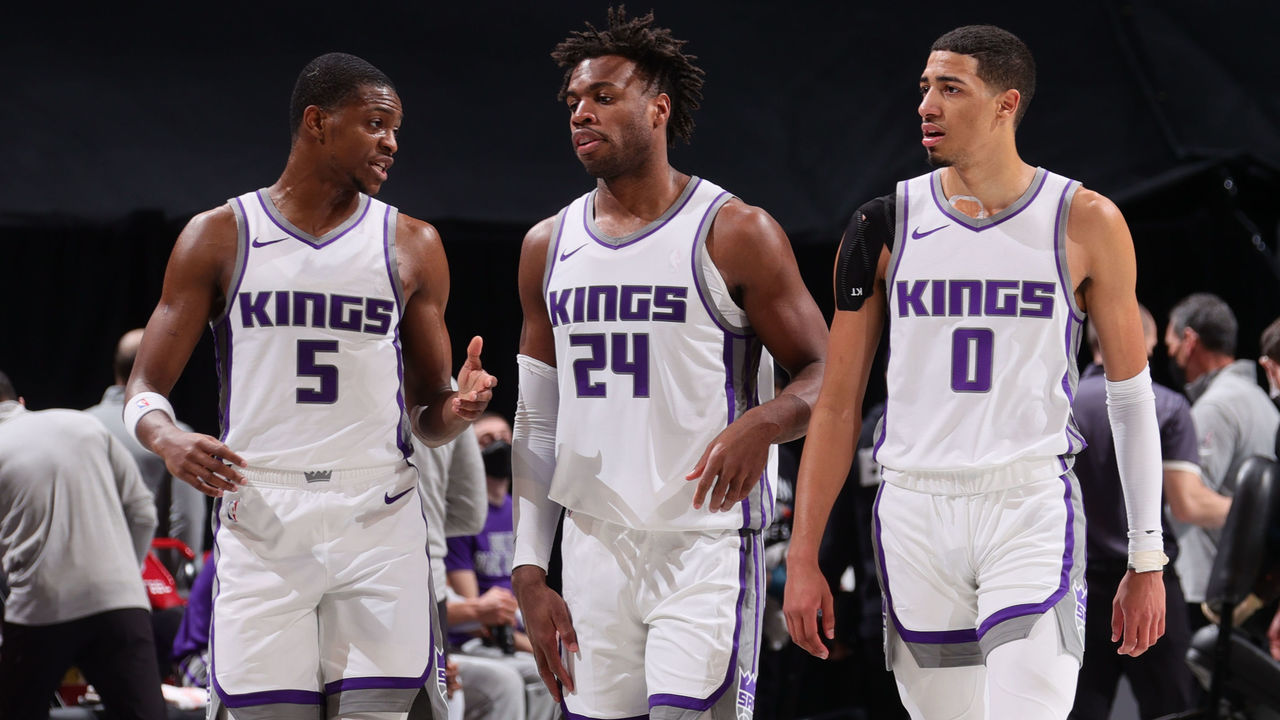 Last season: 31-41 (.431)
Departed: Delon Wright (ATL); Hassan Whiteside (UTA); Kyle Guy (CLE); Justin James (UTA)
Drafted: Davion Mitchell (No. 9); Neemias Queta (No. 39)
Re-signed: Richaun Holmes; Moe Harkless; Terence Davis
Added: Tristan Thompson (BOS); Alex Len (WAS)
Sacramento has posted two straight 31-win seasons under Luke Walton, and it's hard to see the team improving much on that mark in the 2021-22 campaign. There's no question the Kings have more depth than a year ago, but they've created quite a logjam at the point guard and center positions.
Re-signing Holmes to a long-term deal was needed. However, it wasn't necessary to trade for Thompson and sign Len, with Marvin Bagley, Damian Jones, Chimezie Metu, and Queta all capable of playing at the five.
The backcourt is the squad's biggest strength, but Walton will have his work cut out as he figures out how to distribute those minutes. It's going to be tough to keep Mitchell off the floor if his co-MVP summer league performance carries over. Sacramento registered the Association's second-worst single-season defensive rating of all time in 2020-21 and would undoubtedly benefit from Mitchell's tenacious on-ball defending.
Walton frequently used a three-guard lineup last campaign consisting of Hield, De'Aaron Fox, and Tyrese Haliburton. The bench boss will likely deploy a similar strategy to get Mitchell into the rotation, but the best long-term move might be trading Hield. The sixth-year guard has reportedly been at odds with the Kings in the past and was nearly moved to the Lakers this offseason. Sacramento is just $5.5 million under the luxury tax threshold, and dealing Hield would create more flexibility as well as playing time for Mitchell.
Grade: C
Comments
✕
Offseason grades: Breaking down the moves in the Pacific Division
  Got something to say? Leave a comment below!