In a new recurring segment, theScore highlights the week's lighter moments from around the basketball universe. Here's what caught our eye this week.
No. 39 in the program, No. 1 in the bathroom
Custom video service Cameo is celebrity culture at its purest. Everyone of moderate fame, from analog clock aficionado Flavor Flav to Joe "Joey Pants" Pantoliano, will send you a short video message - for the right price.
The service can prove lucrative for someone like Los Angeles Lakers center Dwight Howard, who's seemingly decided to monetize his previously unprofitable ... toilet time?
Dwight charges $250 a pop for this uniquely personal experience. Hefty. For that much, you could rent a copy of 2004's "The Perfect Score," then have former Los Angeles Clippers big Darius Miles explain his acting process over a dozen $20 clips.
Baby Yoda, doo doo doo doo doo doo
Oscar-nominated actress (and occasional Baron Davis snogging partner) Laura Dern left a red-carpet reporter speechless at Monday night's Gotham Awards, dropping a bombshell revelation: She'd recently spotted everyone's favorite animatronic puppet at an NBA game.
Later in the week, the "Star Wars: The Last Jedi" actress added some context to her eyebrow-raising comments.
"Well, I love the NBA, so when I got asked about where I might see him, I couldn't help but say an NBA game," Dern told ESPN's Tim Bontemps at Wednesday's Heat-Celtics game. "But he's here. I saw him."
... Sure.
The bear perplexities
The next time somebody tells you your degree in interpretive dance is useless, just show them this video.
It will confirm their assessment, but at least you can have a laugh about it while you re-evaluate the choices you've made.
Marv's mishaps
Tuesday's Clippers-Trail Blazers game featured some challenging moments for TNT play-by-play man Marv Albert.
At one point, he flip-flopped between crediting a three to Paul George, then Carmelo Anthony, and finally back to PG.
Later, in even more hilariously erroneous fashion, he confused the teams' centers.
In Marv's defense, some fans pointed out the Clippers' Buffalo Braves throwbacks look pretty similar to one of the Blazers' kits. On the other hand, there is at least one very obvious visual clue distinguishing Ivica Zubac from Hassan Whiteside ...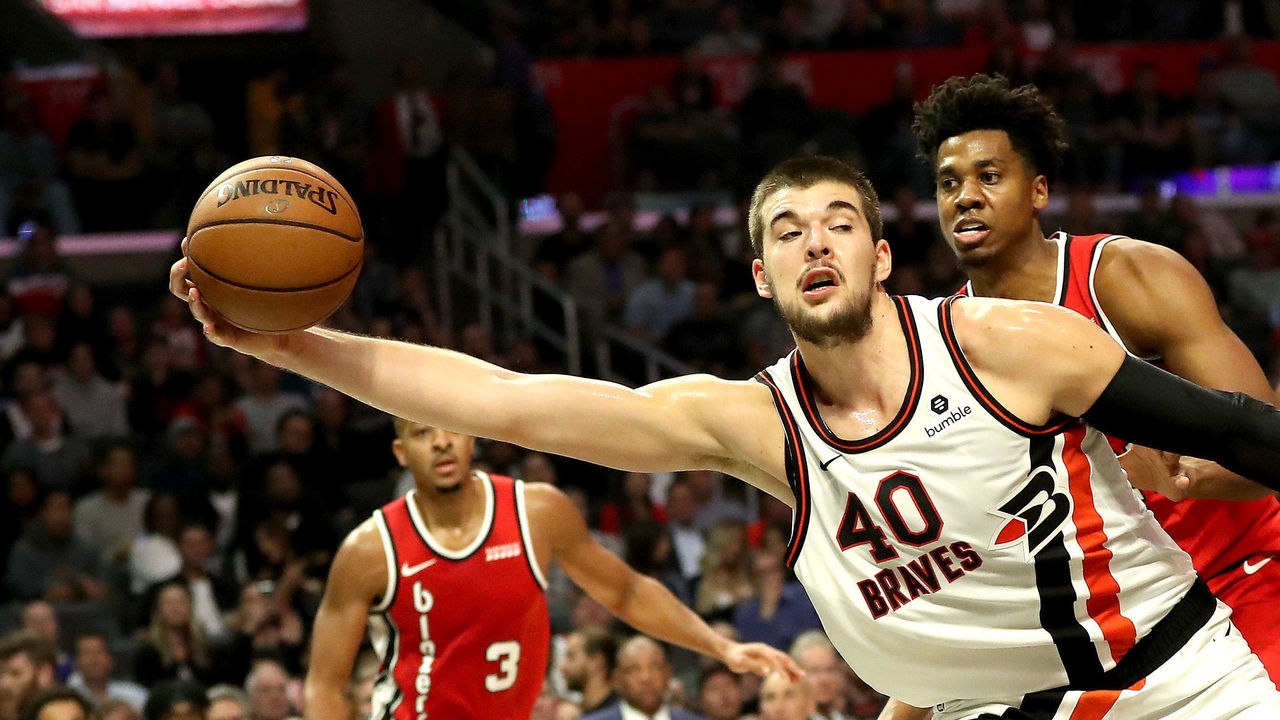 P-A-R-T-Why?
The internet is convinced one of the characters on the current season of celebrity music competition show "The Masked Singer" is injured Indiana Pacers guard Victor Oladipo.
Performing clandestinely in the guise of a giant snot-rocket, "Thingamajig" impressed the judges so much this week that they opted to send a professional singer - Destiny Child's Michelle Williams - packing instead.
Oladipo Thingamajig even earned a resounding "Woo!" of approval from panelist Robin Thicke. What a week.
Powell doinks dome
It's unclear why the Dallas Mavericks chose to include footage of Dwight Powell smashing his head into a doorframe in a recent behind-the-scenes video.
In any case, rather than immediately enter the NBA's concussion protocol, Powell proceeded to have his best outing of the season so far.
Which came first?
For those who like pointless charts, here's a breakdown of Sir Charles' long-range accuracy over the years:
| Years | 3-pointers | Eggs |
| --- | --- | --- |
| 1984-00 | 26.6% | 0% |
| 2019-20 | 0% | 100% |
Come back next week for more oddities, inanities, and obscenities from the wonderful world of basketball.