Leading up to the 2019-20 season, theScore's Joe Wolfond, Chicco Nacion, John Chick, Jonathan Soveta, and Andrew Joe Potter will be counting down the top 30 players in the NBA today. We'll reveal five every day until the eve of opening night.
Players who are set to miss the entire season due to injury, such as Kevin Durant and John Wall, were not considered. Let the debate begin.
30-26 | 25-21 | 20-16 | 15-11 | 10-6 | 5-1
10. Damian Lillard, Trail Blazers
Does any superstar in the league have a higher Q Rating than Lillard does? Perennially lauded as one of the best leaders and culture-setters in the NBA, the 29-year-old continues to raise the floor in Portland with a dynamic skill set that he augments every year. It's hard to bet against the Trail Blazers making the postseason as long as Lillard is there splashing threes from 30 feet out, warping defenses with his gravity and ever-improving pick-and-roll playmaking, and suiting up for 75-plus games.
Despite finding redemption in last year's playoffs and inking a supermax extension this offseason, the guy who plays with an Oregon-sized chip on his shoulder has given himself and his team a new imperative for 2019-20.
"It wasn't, 'Let's make the playoffs and then do this or that,'" Lillard told The Athletic's Jason Quick of what he said to the rest of the Blazers at their first team dinner. "It was, 'Let's win the championship.'"
This year will test the limits of Lillard's on- and off-court leadership. Jusuf Nurkic is going to miss the majority of the season, and Portland brought in the notoriously disgruntled Hassan Whiteside to spell him. After several years of relative stasis, the front office overhauled the roster around Lillard and CJ McCollum, importing a host of new role players who have to familiarize themselves with Terry Stotts' system and the lead guard who orchestrates it. Lillard will need to help get everyone on the same page and facilitate that much more with Nurkic sidelined. Fortunately, he's never shied away from a challenge. - Wolfond
9. Joel Embiid, 76ers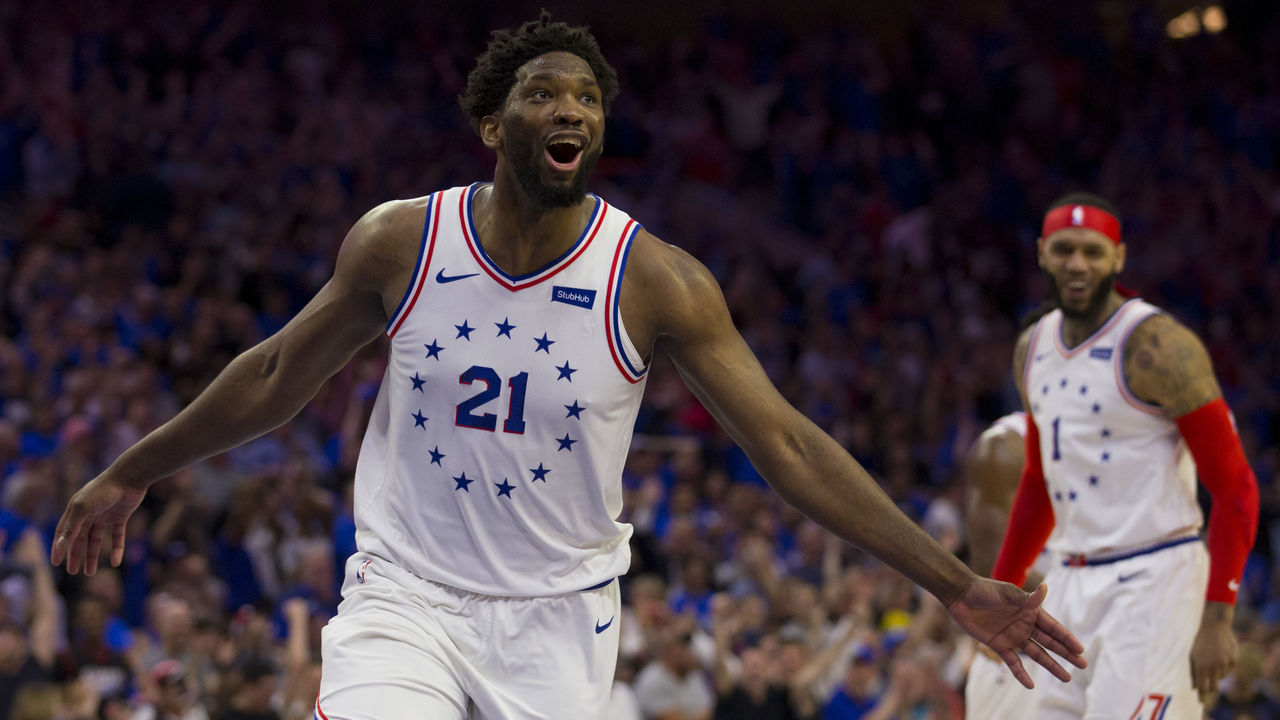 The questions surrounding Embiid have always been about his health. A stress fracture in his lower back kept him from being the No. 1 overall pick in 2014, while a pair of surgeries on his right foot pushed back his rookie campaign by two years. But since his debut in 2016, Embiid has proven he's one of the top players in the game.
He averaged career highs in points (27.5) and rebounds (13.6) last year, finishing fourth and second in the league, respectively. Embiid was nearly unstoppable in post-up situations, averaging 8.5 points per game in them - his third consecutive campaign in which he ranked second among all qualified players. He's also one of the better passing centers in the Association, as his 18.4 assist percentage placed in the 92nd percentile among big men, according to Cleaning the Glass.
The 25-year-old wasn't always at his best during the Philadelphia 76ers' playoff run last season, but the free-agent signing of Al Horford should help Embiid stay fresh. - Nacion
8. Paul George, Clippers
While Russell Westbrook would have continued to be the spiritual heartbeat of the Oklahoma City Thunder had both players stayed with the franchise, George established himself as the team's most important player midway through last season.
George set a new career high in scoring (28 points per game) and matched his best in assists (4.1). He produces in so many different ways, too: his 37.2% success rate on pull-up 3-pointers exceeded that of James Harden (36.3%); the 1.02 points he scored per possession as a pick-and-roll ball-handler edged out Chris Paul (0.87); his 0.92 points per isolation possession bested Lillard's (0.87).
The key difference between George and those other great scoring threats is that the Los Angeles Clippers star also has the size to dominate guards and forwards alike on the defensive end. Thanks to his 6-foot-9 frame and well-honed timing, he became the first player since Shawn Marion in 2004-05 to average at least eight rebounds and two steals per game. It's almost unfair that the Clippers' defense gets to slot George beside the equally impressive Kawhi Leonard this season. - Potter
7. Nikola Jokic, Nuggets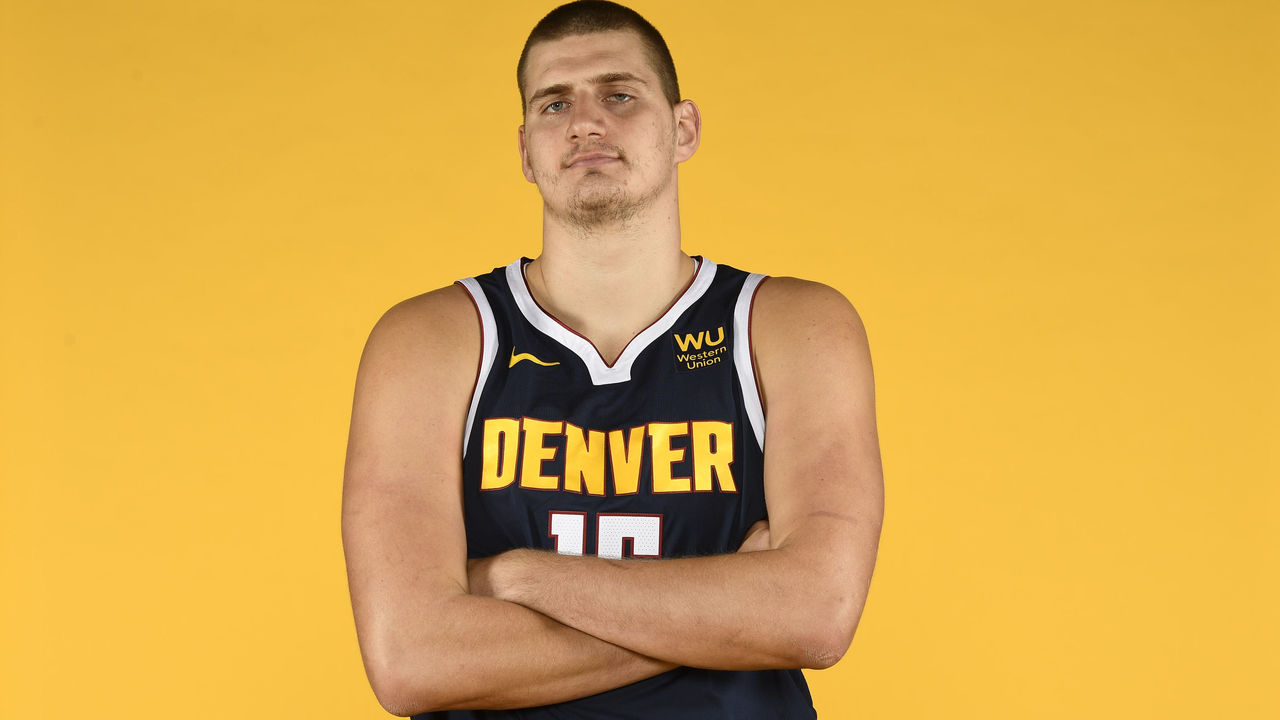 It takes a special player to crack the league's top 10 while possessing the bicep definition of a middle-aged plumber. Jokic's weight gain coming into camp this season may set off alarm bells, but the All-NBA center says he has a strategic post advantage by playing above 270 lbs.
Either way, his weight hasn't affected his passing ability, which, in just four NBA seasons, ranks as all-time elite. Only Wilt Chamberlain has averaged a higher number of assists in a single season by a center, but it's also Jokic's court sense and the ensuing highlight-style manner in which he finds his teammates that makes him special.
While he ticked down as a perimeter shooter last season, he made almost 40% from deep in 2017-18. He's also improved as a defender. While he doesn't rack up blocks as other big men do, he disrupts passing lanes, strips balls away, and posted a 1.9 steal percentage last season - good for the 93rd percentile for NBA pivots, according to Cleaning The Glass. - Chick
6. Anthony Davis, Lakers
Davis' unique skill set makes him an absolute menace to defend. Thanks to his high school stint as a point guard, he handles and passes the ball much better than you'd expect a big man to. And while he can throw it down on nearly whomever he pleases, he's also a crafty finisher at the rim. Oh, and he's already got three All-Defensive team selections under his belt in seven seasons.
All of that is why fans of 28 teams desperately begged for the New Orleans Pelicans to ship him anywhere other than the Los Angeles Lakers. Take preseason displays with the tiniest grain of salt, obviously, but Davis' new pairing with LeBron James is already proving fruitful (and slightly terrifying); the former recorded a 22-point double-double in his unofficial team debut, during which James also had eight assists - three of them to Davis.
With James locked in for the next two seasons, the Lakers could have filled out the rest of their roster with minimum-deal players after adding Davis and still would have likely sailed into the playoffs. Instead, they added effective role players like Danny Green, Quinn Cook, and Jared Dudley, but Davis is the chip that makes them legitimate championship contenders again. - Soveta