Leading up to the 2019-20 season, theScore's Joe Wolfond, Chicco Nacion, John Chick, Jonathan Soveta, and Andrew Joe Potter will be counting down the top 30 players in the NBA today. We'll reveal five every day until the eve of opening night.
Players who are set to miss the entire season due to injury, such as Kevin Durant and John Wall, were not considered. Let the debate begin.
30-26 | 25-21 | 20-16 | 15-11 | 10-6 | 5-1
15. Rudy Gobert, Jazz
Gobert anchored Utah's second-ranked defense, which has finished in the top five in each of the last three years. The Frenchman's gritty work was recognized once again, as he won his second straight Defensive Player of the Year award and made the NBA All-Defensive first team for the third consecutive campaign.
The 27-year-old is one of the league's premier rim-protectors, finishing third among qualified players with 2.31 blocks per contest this past season and placing in the 94th percentile among big men with a 3.7 block percentage, according to Cleaning the Glass. Gobert's 7-foot-9 wingspan allows him to impact the game without even touching the ball, too; he was second in the NBA with 15.8 contested shots per game.
Gobert's biggest offensive contribution is through his screen-setting. For the third straight season, he led the Association in screen assists per game. - Nacion
14. Blake Griffin, Pistons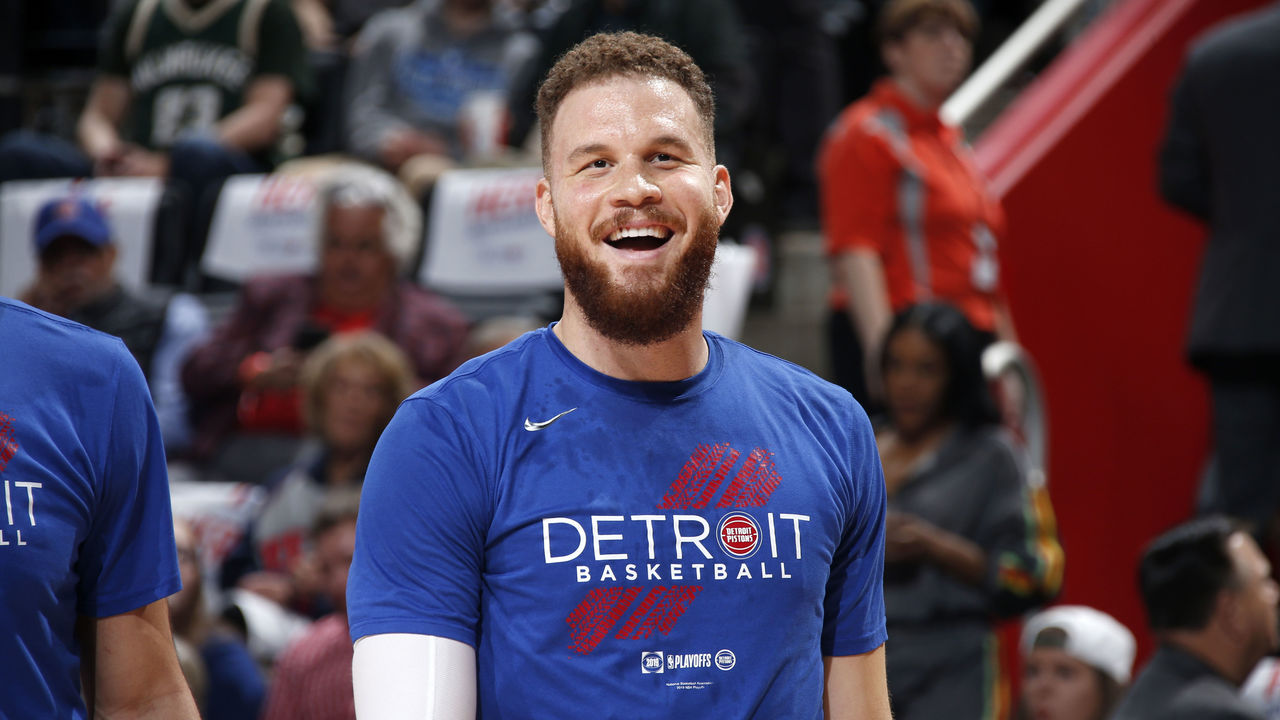 Griffin was a human highlight reel when he entered the league, posterizing shot-blockers, charge-takers, and automobiles alike while making the Los Angeles Clippers appointment viewing. But like a modern-day Icarus, Griffin's propensity for launching his body skyward proved to be his undoing. His violent style of play caught up to him and almost derailed a promising career.
However, Griffin has completely reinvented his game during the last two seasons, transitioning from being an above-the-rim dynamo to a prototypical point forward. Griffin scored a career-best 24.5 points per game in his first full season with the Pistons. A massive increase in 3-point shots - he took 522 last year after totaling 590 through his first eight seasons - on reasonably efficient 36.1% shooting helped balance out the diminished threat in the paint. And he led all Pistons players with 5.4 assists per game.
Injuries are still a concern. While Griffin was marvelous in the regular season, he was banged up for the Pistons' first-round playoff series against the Milwaukee Bucks. Coach Dwane Casey will have to more cautiously manage the big man's workload this year, but, on any given night, the new-look Griffin is among the best players in the league. - Potter
13. Jimmy Butler, Heat
For a guy who says he only wants to win, it was odd to see Butler turn his back on a championship contender in Philadelphia to take the reins of a middling Heat squad. But that's always been the central conflict for Butler, who's onto his fourth team in the last three years; he wants to win, but on his own terms.
For that reason, Miami is actually an ideal landing spot for him. Not only is this as businesslike an organization as there is in the NBA - a place where Butler's bare-knuckled, kill-or-be-killed approach to the game will blend in rather than stick out - but it's also a team that will be unquestionably his. There won't be a power struggle or a philosophical clash. Unlike in Philly, Butler will be able to run as many pick-and-rolls as his heart desires.
Miami has gotten by on toughness, physicality, intelligence, and defense since the "Heatles" era ended. Butler gives his new team an added dose of all those things, while also serving as the high-end creator they've long been missing.
The Heat nearly made the playoffs last year despite lacking an above-average primary playmaker and owning the league's worst offensive rating (94.7) in the clutch. Fortunately for them, Butler is a born closer who can turn a bunch of their narrow losses into narrow wins. In 107 clutch minutes with the 76ers last season, he averaged 28.7 points per 36 on 60% true shooting with a plus-8.9 net rating. - Wolfond
12. Karl-Anthony Towns, Timberwolves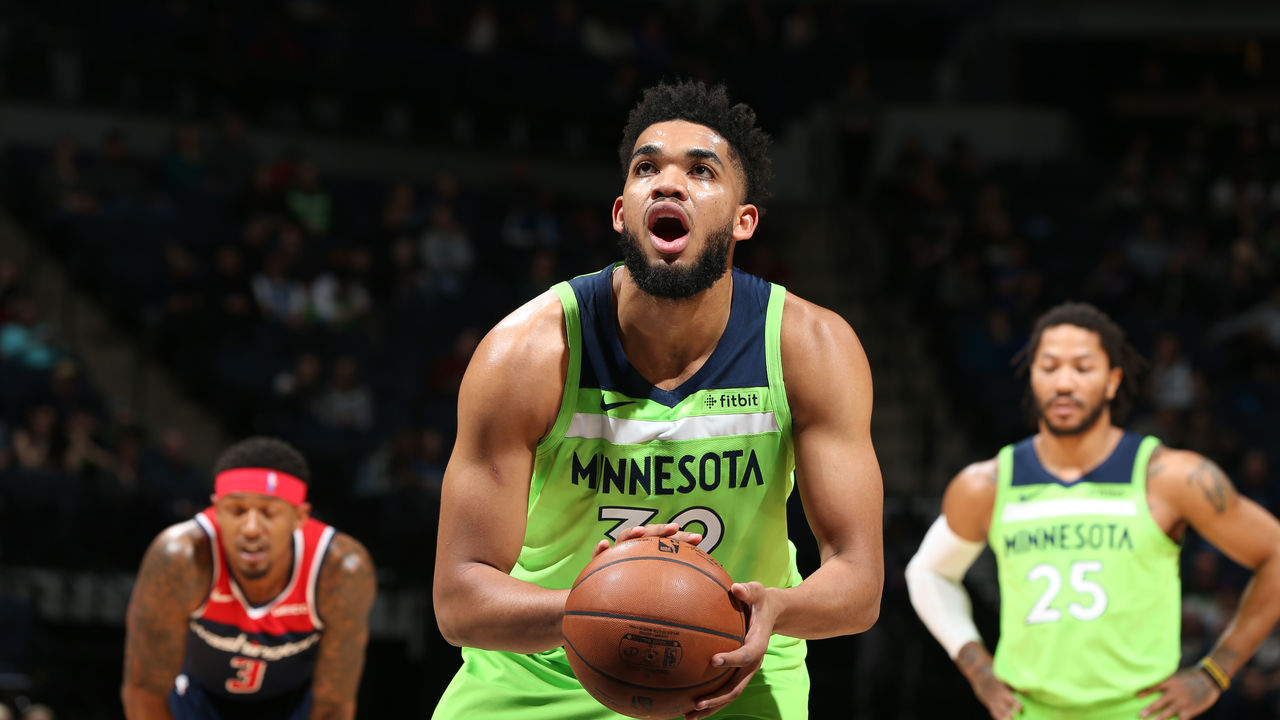 Correlation does not imply causation. Yes, the Timberwolves have, for the most part, been generally atrocious for the majority of Towns' career. That is no fault of the 23-year-old center, though, who has been one of the best big men since he was drafted first overall in 2015.
The Kentucky product has averaged double-doubles with ease during each of his first four seasons, doing so with at least 20 points every year after his rookie campaign. He's also been historically durable in that stretch. He had never missed a game until last season after 303 consecutive starts - the longest such streak to open a career since the league began tracking starters in 1970-71 - before finally sitting out in February with a concussion he suffered in a car accident.
After the Butler experience quickly turned sour a year ago, the Timberwolves will likely attempt a proper rebuild based around Towns. That's easier said than done, of course, considering the $122 million still owed to Andrew Wiggins. But Towns is simply too good to continue wasting away without direction. - Soveta
11. Kyrie Irving, Nets
Can Irving ever be happy? He's now removed himself from two contending teams over the last three summers in search of greener pastures. He also has something of a free pass this season, with the Nets' championship hopes likely on hold until Durant is ready to return.
From a production standpoint, he will be the man in Brooklyn. There are only three NBA players over the last three seasons to average more than 20 points per game and hit over 40% of their 3-point shots, and two of them form the Golden State Warriors' backcourt. The other is Irving.
From a team standpoint, however, will he endear himself to his mostly younger Nets teammates? While he's poised to carry the load offensively and put up big numbers this season, it's a dynamic he had issues with last year in Boston - poisoning the team chemistry in the process. - Chick